August 2012
See on Scoop.it – Fuji X-Pro1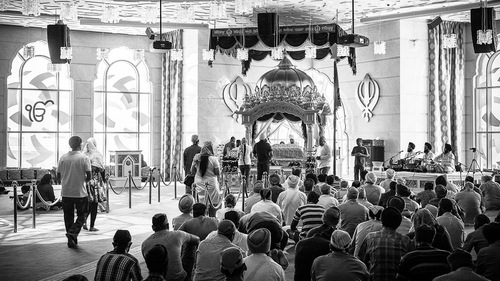 A colleague of mine had been telling me about the new Sikh Temple that just opened in Dubai for a while, and unfortunately, our busy traveling schedules had not coincided until yesterday. It was quite a humbling experience to be able to enter a Gurdwara for the first time, as there was no awkwardness eventhough I clearly looked out of place there. We went upstairs during prayer, followed by a great meal in the downstairs area of the temple, where volunteers serve delicious vegetarian food to anyone that needs it, or visit the temple. Below are some photos I managed to take; did not want to take too many and upset someone!
See on www.stephangeyer.com
See on Scoop.it – Fuji X-Pro1


Une fois n'est pas coutume sur ce photoblog, parlons un peu technique photo. Un billet inspiré par mes 3 semaines au Groeland (un séjour en kayak et en autonomie dans la baie de Disko). Pour ce voyage, 2 appareils avaient rejoint mon sac : mon fidèle Nikon D700 avec le polyvalent 24-120/f4 et, après de nombreuses hésitations, mon récent Fuji Xpro-1 et 2 objectifs (le 18 et le 35). Mon idée était la suivante : privilégier le Nikon, plus endurant, pour les prises de photo depuis le Kayak et le Fuji une fois à terre.
See more pictures:
http://cyrildhenin.photoshelter.com/gallery/Groenland-Selection/G0000Sp9k7OMC5AA/C0000PaJ5t.yelmQ
Google Translation
http://translate.google.com/translate?sl=fr&tl=en&js=n&prev=_t&hl=de&ie=UTF-8&layout=2&eotf=1&u=http%3A%2F%2Fwww.zoneapart.com%2Fphotoblog%2F2012%2F08%2F3-semaines-groenland-fuji-xpro-1%2F&act=url
See on www.zoneapart.com
See on Scoop.it – Fuji X-Pro1

Today some images we shot last week during the glamour workshop with Simone. Shot with the Fuji X pro 1.

These shots were all done with two strobes on the background metering 3 stops over the main light (2.5 is in theory enough but in practice 3 stops makes sure everything is nice and even), remember that is metered reflective, not incident. For the mainlight I used the Elinchrom Maxilight with grid placed behind the model aimed at the surface of the cube and her face. This is a setup that is very nice for this kind of shots and gives a nice edge light on the model.

See on www.frankdoorhof.com
See on Scoop.it – Fuji X-Pro1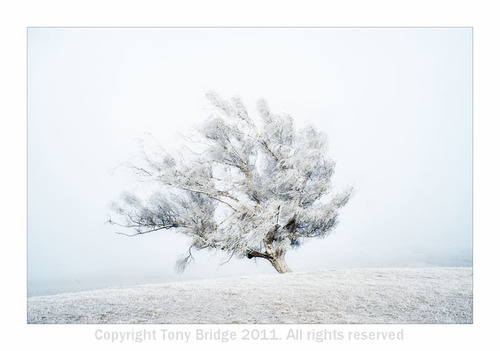 This week's blog posts are kind of in two parts: having owned the X pro for a couple of months now, I have had plenty of time to get to know it, and for it to get to know me. I suspect we have reached the point where we have an amicable accommodation, and as a result it has become my daily. I now find that I really only get out the Big Boys Toy when there is a job for it to do (grand landscape, studio portraiture and the like). For the rest of the time my XPro-1 follows me everywhere. And, having had time to get to know its little foibles, I have come to a sense of how it works for me, and the way I like it to sit be set up. When I wrote my formal review, one or two of the people who came and visited the blog asked me what my settings were. I did not share these at the time, since I was still working them out for myself. But now I have had time to consolidate the way that I work, I would like to share this with you.
See on www.thistonybridge.com
See on Scoop.it – Fuji X-Pro1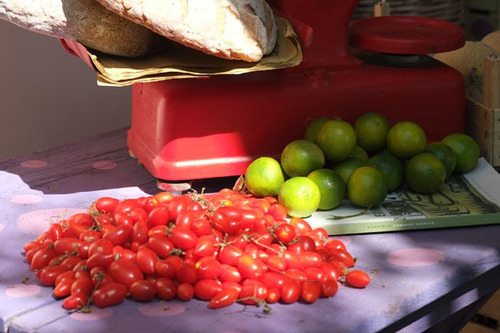 Whether the X-Pro1 is worth the real money needed to buy it you will need to weigh up for yourself. If faster and better autofocus, more silent operation and speedy performance are important to you, save your cash and resist the charm of the X-Pro1's cool retro looks, as you would be seriously disappointed. That said, if visual excellence is what you are really looking for, then I would just say that this is a unique and amazing camera that, in its class, can deliver unbeatable image quality that is worth every penny…
See on www.reghardware.com
See on Scoop.it – Fuji X-Pro1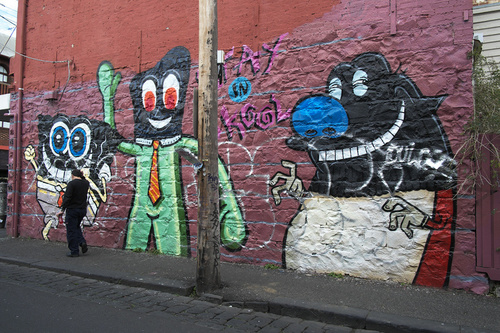 Melbourne has a reputation for having the best of a lot of things, best coffee in Australia, best cafes in the Australia, now I am adding the best graffiti artists in Australia or maybe the world? Melbourne is famous for it's laneway culture, walk around the many city lanes and find some amazing artworks and coffee shops which will feature in coming months.
One day last week I walked the length of Brunswick Street (North to South) on the hunt for graffiti with the Fuji X-Pro1 and 3 lenses. The results were interesting even the laneways close to the city have things going on there.
See on www.rogergould.com.au
See on Scoop.it – Fuji X-Pro1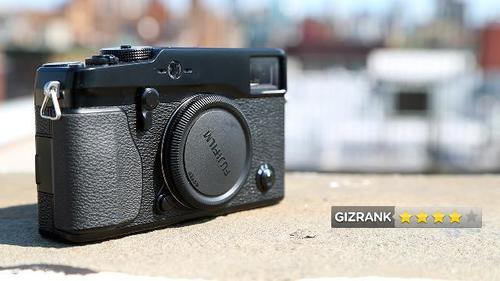 Mirrorless cameras are generally geared toward the enthusiast or semi-pro consumer. Some companies, like Canon with its new EOS M offering, are seeking to cater to a broader market in features and styling. But not one of them can match the astronomically expensive FujiFilm X-Pro1 for pure photo-nerdery.
What Is It?
A relatively compact, retro-styled camera that delivers DSLR-quality images with a great deal of creative control.
Who's It For?
Camera lovers who want something easily toteable, that will utilise their technical skills, and that will reinforce their sense of photographic style.
Why Does It Matter?
It marks one of the most serious attempts by any company to satisfy such a niche market of hardcore enthusiasts. This camera was not built for widespread adoption; to be honest, it's rare to see a company put so much consideration into a product that satisfies the desires of so few.
See on www.gizmodo.com.au
See on Scoop.it – Fuji X-Pro1

Fujifilm appears to have incorporated a lot of the X100 feedback in the X-Pro1's design and it is great that they did this. There are numerous improvements the bottom line is that you are getting DSLR image quality in a compact, functional body with high quality optics. Current X100 owners will feel right at home and it should not take too much time for a new user to become familiar with the X-Pro1. The build quality is excellent, just like the X100. Fujifilm have done a great job with this system and I look forward to it expanding over time. I like the X-Pro1 so much that I have just pre-ordered the body and all 3 lenses. I am confident enough in the camera to use it for paid client work.
See on fujifilm-x.com
See on Scoop.it – Fuji X-Pro1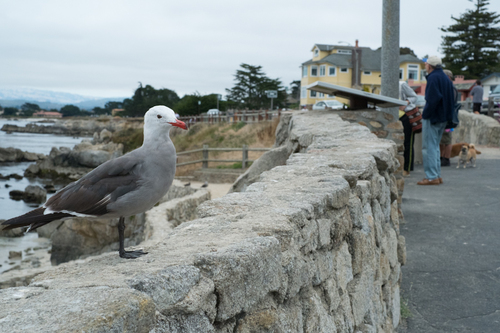 Crowds of people, jellyfish, sea otters in buckets. The day after I shot a wedding in Pacific Grove, we headed to the aquarium and I tested the low-light capabilities of the Fuji XPro1. Overall I'm pretty happy with the results, and it also gave me the chance to practice manual focus.
See on www.tristancrane.com
See on Scoop.it – Fuji X-Pro1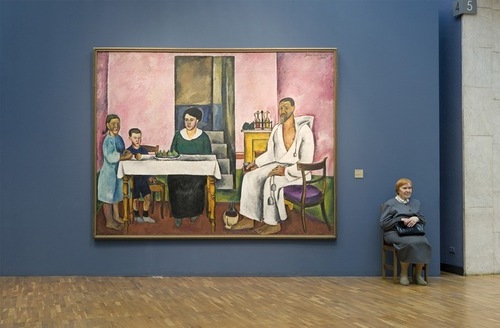 In his series 'Guardians', photographer Andy Freeberg portraits elder women, who sit in Russian art museums and guard the collections. When looking at the paintings and sculptures, the presence of the women becomes an inherent part of viewing the artwork itself. Freeberg found the guards as intriguing to observe as the pieces they watch over. In conversation they told him how much they like being among Russia's great art. A woman in Moscow's State Tretyakov Gallery Museum even returns on her day off to sit in front of a painting that reminds her of her childhood home. Another guard travels three hours each day to work, since at home she would just sit on her porch and complain about her illnesses, 'as old women do.' Besides their stiff sitting posture and the motionless look there is a strange relation between the ladies and the works they watch over which adds a humorous touch to the series.
See on www.ignant.de