November 2012
The much anticipated Fujifilm X-E1 arrived in Canada early last week and I've had mine for about 5 days not. I was hoping for some better weather on the west coast to take some better test shots, but it hasn't stopped raining. A few days isn't enough time with the X-E1 to warrant a complete review, but it's about perfect to know if you'll love or hate a camera. So there are some quick pros and cons.
The Good
The X-E1 is smaller, and lighter I thought. When the specs were first published I thought the size would about the same as my Konica Hexar rangefinder. The Hexar has been my travel camera for years and I've been actively looking for a digital equivalent to replace it; I was ok having a camera of that size. Opening the box I found a camera much closer in size to my Canon Canonet. The X-E1 holds well, with buttons that don't get in the way of shooting.
Autofocus is faster than anticipated. After reading all of the pre-production previews I came to think that the AF was going to be terribly slow. It's not. In good light AF is quite snappy. In low light the lens will hunt a bit if the contrast is too low, and can take a bit longer to lock on. Now it may not be as fast as the Olympus E-M5, but for a mirrorless camera the speed is quit good.
AF accuracy. When the X-E1 AF locks on it's dead on, even at f/1.4. I can't even say that about my Nikon system shooting at f/1.4. This is where Fuji trumps Olympus in AF. As much as Olympus has super fast AF it's not always accurate; Fuji's may be slower but it's dead on.
Manual dials. I do like the manual dials on the camera. It brings me back to shooting old film bodies. The dials are firm and shouldn't move when in a bag.
Amazing image quality. This is the kicker, the X-E1′s images quality is the best in the mirrorless camera category. And I'd even go as far as it rivals some of the best SLRs on the market. The images are sharp and contrasty with very good colour rendition.
Very good high-ISO performance . High-ISO noise is virtually non-existant in the native 200-6400 range.
Sans AA filter. Lack of an anti-aliasing filter results in much sharper images.
Good EVF. The EVF is good. Super high resolution, high contrast, and good color rendition. The only small drawback is it's slightly slower refresh rate. You'll notice it if you're looking for it. If you press the shutter release half way, the refresh rate become much much better. Not sure why that is, or if it was intentional by Fuji.
It's a sexy camera. Let's be honest, the X-E1 is a good looking camera. There are some rumours floating around the web talking about how the name suggests SeXy-One. Either way, it definitely works well as an accessory to a blazer and a good pair of shoes. Now if I can only find a simple brown leather strap for mine.
The Bad ….
See the full review on blog.iansheh.com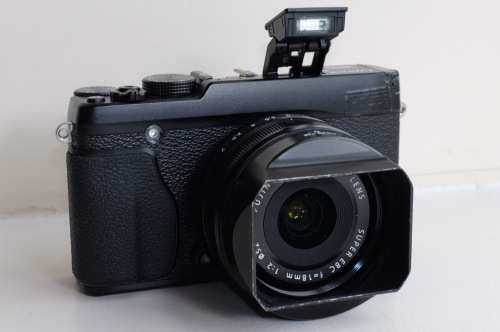 Conclusion
This is another great camera from Fujifilm, worthy of the X-Series badge. The perfect price-point to compete with cameras such as the NEX-7 and OM-D. Buy the NEX-7 if you want the advantages of a larger sensor, buy the OM-D for their great primes, buy the X-E1 if you want both of these in one system! For me it's not just the beautiful body that draws me to the Fujifilm X-Series cameras, it's the whole package that make this the best mirrorless system around. Fujifilm have shown their genuine enthusiasm for photography, it is reflected in their cameras. One of the things you can always be assured of when buying a Fujifilm X-camera is that they are committed to continuing to develop the camera even after they have released it and you'll benefit from firmware updates that will keep on improving that already great camera well into the future. You won't be sold out with a replacement model 6 or 9 months down the line, leaving you with a worthless camera that the manufacturer considers obsolete. If you love your X100 but want an interchangeable version then this is the camera for you, you'll feel right at home with it straight away. If you're looking for a second body to the X-Pro1 this is also the perfect companion, with a few of advantages over the X-Pro1 that you might just find useful.
Overall Score: 4.5/5
Build Quality: 4/5
Image Quality: 5/5
Ease of Use: 4.5/5
Features: 4.5/5
Price: 5
See the full review on www.photomadd.com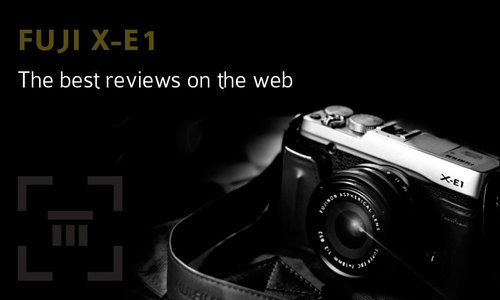 If you are looking for meaningful Fuji X-E1 reviews on the web, following my curation here on tomen.de
Feel free to share this link – wherever you want  :-)
See all reviews on http://www.tomen.de/category/fuji-x-e1/review/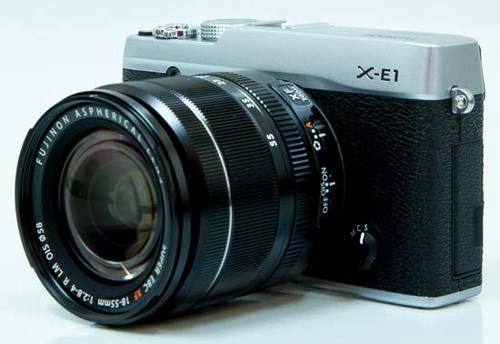 Smaller, lighter and significantly cheaper than the X-Pro1, whilst offering the same outstanding and image quality and impeccable handling, there's certainly an awful lot to like about the new Fujifilm X-E1. The main sacrifice is the removal of the innovative Hybrid optical/electronic viewfinder, replaced instead by one of the highest resolution and best electronic viewfinders currently available – indeed the X-E1's viewfinder is so good that we hardly missed using the X-Pro1's optical finder. Although not as fast as some compact system cameras (most notably the Olympus OM-D E-M5), the X-E1 is certainly responsive enough to capture most candid moments, although we'd probably stop short at out-and-out sports photography. The X-E1 delivers exactly the same excellent image quality as its big brother. Noise is noticeable only by its almost complete absence throughout the ISO range of 100-25,600, while the Dynamic Range function helps to boost contrast and detail. The new 18-55mm lens is also worthy of mention, with the fast maximum apertures making it easy to creatively throw the background out of focus, and delivering sharp results throughout the focal range. The X-E1 is certainly right up there with the best APS-C sensor cameras on the market, and some full-frame models too. The Fujifilm X-E1 feels even more like the natural interchangeable lens evolution of the incredibly popular X-100 camera than the X-Pro1 did, offering refined, intuitive handling, fantastic image quality, premium build quality and five high-quality lenses on launch. It addresses most of the key faults that afflicted the X-Pro1 when it was initially launched – slightly sluggish auto-focusing, slow write speeds, and the hybrid viewfinder which didn't lend itself so well to interchangeable lenses – at a much more attractive price point. Retailing for £749 in the UK and $1000 in the US for the body-only, or £1149 / $1399 with the new 18-55mm f/2.8-4 OIS lens, means that you can buy the X-E1 with a great kit lens for less than the body-only launch price of the X-Pro1 (although obviously this is now significantly less). It also pits the X-E1 directly against the Olympus OM-D E-M5 and the Sony NEX-7, both of which are great cameras, but both of which are quite different in their approach. The Fujifilm X-E1 is so much more than just a cut-down, cheaper version of the X-Pro1 – it's a compelling camera in its own right.
Ratings (out of 5)
Design: 4.5
Features: 4.5
Ease-of-use: 5
Image Quality: 5
Value for money: 4.5
See on www.photographyblog.com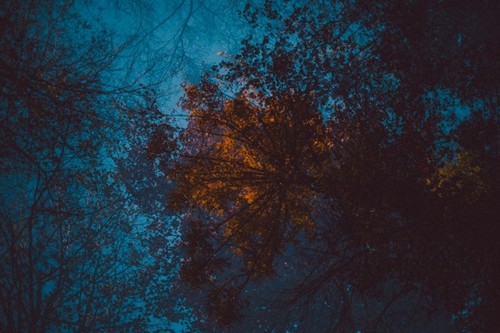 Als ich ein kleines Kind war, haben Bäume eine spezielle Faszination auf mich ausgeübt. Ihre friedvollen, aber auch bedrohlichen Charaktere inspirierten, den ein oder anderen halluzinogenen Fiebertraum. Der Wald als Ort der Stille, mit seinem einmaligen Geruch und der Entwicklung fernab von allen technisiertem, ist für mich ein Gegengewicht zur digitalen Welt. Wenn ich meine Kamera auspacke, werde ich eingesogen. 20 Bilder, entstanden an einem Sonntagnachmittag.
See on www.janfervers.com

I recently got my Fujifilm X-E1 body and was immediately very impressed with the AF speed, as was everyone else who tried it. It appeared snappier than the X-Pro1, but although I knew the X-Pro1 had improved lately with the new v2.0 firmware, I wanted to see if there was actually any difference between the two with the same lens attached. Wilkinson Cameras in Kendal kindly lent me a 2nd 35mm lens for the weekend so I could try out both cameras side-by-side with the same lens. Having the same lens was essential because the AF performance on these cameras depends greatly on the lens attached. I chose the 35mm as I thought that it is probably the lens most people own and use as their primary lens. It's also the middle performer in terms of AF speed so we can get a good comparison out of it. The video of the comparison is posted below. I won't ruin the result for you by telling you here – watch the video and see for yourself! I think most people will be quite surprised by the conclusion.
See on www.photomadd.com
Where I live in Southern California ("The Valley") it's rare that we get really thick fog this far inland…it's even more rare that we get really thick fog this far inland, and I'm not too lazy to wake-up and photograph. So, it was a rare occasion indeed last weekend that I got a chance to capture some images at the park around the corner. I love fog because it creates a clutter-free background with just about anything, which is important to me when I shoot. Early morning is also great at the park because there's a relative lack of people getting in my way. Still, several runners stopped and just stared at me as I photographed, no doubt thinking, "what the hell is he taking a picture of??!" (which is a typical reaction for me). All images are taken with the Fuji X-Pro1 with 35mm lens.
See on jeffseltzerphotography.com
Test of the fujifilm X-pro1. Unfortunately the camera has no full manual mode. So the ISO gets ajusted automatically.
Check www.danielfeidal.com for nice pictures!
See on www.youtube.com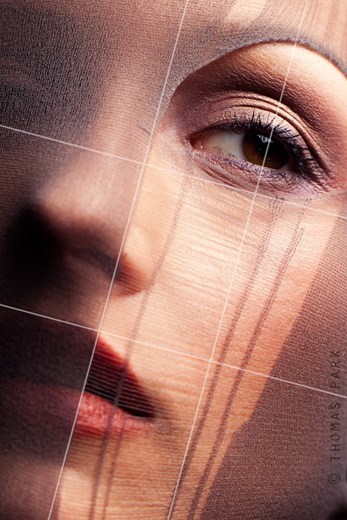 There are no rules for good photographs, there are only good photographs – Ansel Adams
In a previous article, I discussed several so-called 'rules of composition'. Compositional rules, however, can be polarizing and divisive. Is this because as artists, we prize independence and don't like to, 'color in between the lines'? Or is it because we've all experienced disappointment when slavish application of the Golden Ratio still produces drab and lifeless images? Certainly, great works of art have been produced throughout history that paid no heed to pre-determined compositional rules. You may ask then, if compelling art is not created by simply following rules, what's the point of learning the rules in the first place? That's a great question.
Now this is not going to be an article suggesting that all compositional rules are 'bad' or 'wrong'. Instead, what follows is a look at the rationale behind some established compositional rules. I'd argue that by understanding the intent behind a rule, we can subvert or break the rule to create drama or focus the viewer's attention in creative and novel ways. Let's begin with an example from another visual medium: drawing.
A story about eyes
Many years ago, my great-uncle – an accomplished painter and sculptor – was teaching me how to draw portraits. He suggested placing the eyes at the vertical midway point of the head. This 'rule' won't be surprising for anyone with a drawing background, but for many people, the idea that the eyes are halfway down the face is unintuitive – it seems too low! I recently had a conversation with a friend who received the same advice from his father, despite the fact that he and I grew up in different countries. The fact that two artists from opposite sides of the planet were taught the same 'rule of eyes' points to one source of artistic rules: observations about the natural world. In reality, are everybody's eyes exactly halfway down their face? No, but it's a good starting point that is visually pleasing and conforms to our expectations of illustrated portraits. In fact, a distinguishing feature of children's drawings of people is that the eyes are placed 'too high up' on the face. This is a simple rule that helps us to draw a more realistic portrait. Just as importantly, however, understanding this rule allows us to make deliberate choices. We can draw a face with the eyes in the middle of the face for a natural look. We can instead place the eyes above the midway mark to give the drawing a more child-like quality. Or we can place the eyes below the midway mark to make the drawing look furtive or comical.
See on www.dpreview.com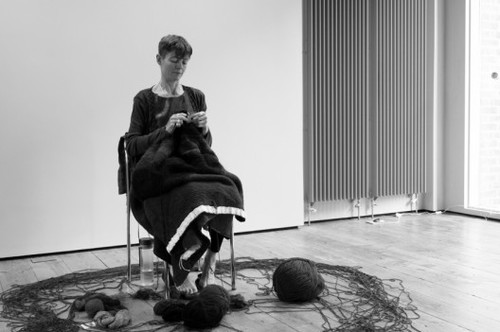 I paid a visit to R-Space with the X-E1 and 18-55mm lens to experiment in a different type of photographic environment. The R-Space Gallery was home of the 'Mak-9 Things that fall in between exhibition' and currently houses the work of brilliantly talented Rachel Gomme a solo performance artist who uses knitting as a metaphor. Rachel was knitting constantly from 11am to 4pm and presented a year long knitting experience, a visual timeline in yarn throughout 2010. Today was the opening performance that offered visitors a chance to learn and take part in the creation of 'the memory of yarn' with tutors on hand to teach a number of different techniques. It was great to revisit this brilliant, creative space and catch up with what Anthea and Robert have planned for the months ahead. As well as visual installation each exhibit in R-Space is accompanied by a series of workshops and artists talks. It is a gallery worth following on Facebook. There were still some remnants of the Mak9 exhibition left from last June, this really is a striking location. Lotus Dewit's amazing insects still remain on the old toilet. Scarily real, this is a place where time has stood still. A house filled with history is a perfect location for a creative space focusing on craft and visual arts and the R-Space team really maximise its potential. All photos were taken with the Fujifilm X-E1 with 18-55mm zoom lens.
See on www.flixelpix.com