November 2012
If it were a review of the quality of images produced by the Fujifilm X-E1 and a description of the main operational characteristics of this test would be the world's shortest. Want to know how are the pictures from the new CSC Fuji?
Want to know how are the Raw processed with Adobe?
Want to know how is the autofocus?
Want to know what time of writing?
Everything is the same X-Pro1.
Point … the end … goodbye. But first things first and we start from the obvious differences…..
Google Translater (ENG)
http://bit.ly/TkKJYk
See on www.riflessifotografici.com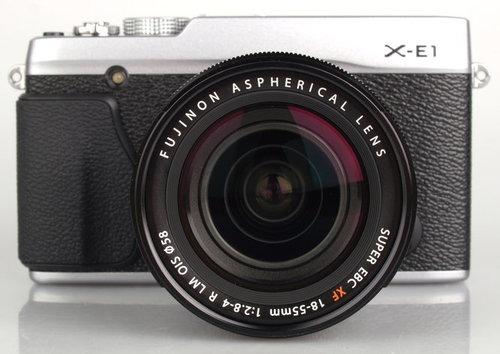 The Fujifilm X-Pro1 and X-E1 are the definition of retro digital cameras, and the moment you pick it up, you'll be reminded of an old film camera from the past. With manual controls on the lens and body it is very easy to adjust settings and the menus and controls are well thought out and easy to get to grips with. The electronic viewfinder is excellent with an extremely high resolution and is great to use, although it's a shame the 2.8inch screen isn't larger and a higher resolution. The Fujifilm X-E1 is more compact than the X-Pro1, and also 100g lighter, but it is still quite a large camera, and feels extremely well built. Focus speed and responsiveness is good, and the camera takes excellent photos with extremely impressive noise performance, with a good 18-55mm kit lens with built in optical image stabilisation. Although the price is still quite high compared to the competitors with many of them available for less money with kit lens. The X-E1 is available for £729 body only, which is good value for money, however, each Fujinon lens available is around £425+ so the price quickly jumps to the top of the premium mirrorless market. Another limiting factor of the system is the choice of lenses, with few lenses made by third parties available. If you have the money, then the X-E1 is an excellent camera, and the lenses available are excellent, particularly the primes. The Fujifilm X-E1 produces images with extremely low noise, and excellent colour.
Fujifilm X-E1 Pros
Brighter than normal kit lens (f2.8 – f/4)
Impressive noise performance up to ISO6400
Impressive colour reproduction
Great build quality and handling
Film simulation modes
High resolution EVF
Good panoramics
Fujifilm X-E1 Cons
Indoor white balance could be better
Expensive lenses / price of kit
Kit lens could be wider
Exposure compensation dial easy to knock
FEATURES 5/5
HANDLING 4.5/5
PERFORMANCE 4.5/5
VALUE FOR MONEY 3.5/5
VERDICT 4.5/5
-> highly recommended
See on www.ephotozine.com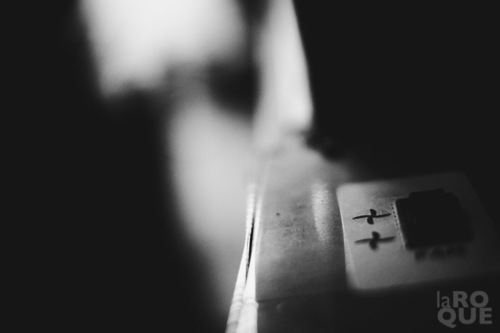 I've been cooped up these past few days, doing all the peripheral messing around that surrounds a photography business. The stuff where you don't get to take pictures. I get itchy when I don't take pictures. You wouldn't like me when I'm itchy…
So this afternoon I took a break and walked around that room in the house where we never spend any time. The one with the furnace and the mess of things we don't use everyday but keep around for some reason. The next season, a camping trip, the kids getting married. Just in case you know? I used the X-Pro1 and an Eye-Fi Pro X2 card I got recently for a job. I needed a way to shoot tethered and this was the only way to do it. It works, although it has a tendency to seriously slow down at times and I haven't yet figured out the reason. Shooting RAW brings it to its knees but the files do get there eventually. Today it worked like a charm: I was shooting monochrome jpegs and using Lightroom's Auto Import watch folder — the pictures were all waiting for me, ready to be edited by the time I sat down at the iMac. Cool…..
UPDATE Nov, 26th: I did some further testing with the Eye-Fi card (btw I'm using the older 8GB Pro X2 not the newer 16GB). Bottom line: if you want to use this for tethered shooting use an ad-hoc network. I'm not talking about a small speed increase, on my network a single raw file transfer went from several minutes (!) to under 30 seconds. JPEGs just zip by. Here's a quick primer on how to create an ad-hoc network on a Mac:
Click the wi-fi icon in the menubar and select Create Network…
Choose a name, select 128 bit security and choose a password. The Mac will create the network and the wi-fi icon will change accordingly.
Once this is done you'll need to add this new network to your Eye-Fi card by plugging it into your computer like you did the first time you set it up. You'll only need to do this once so it's no big deal. One thing to remember: you can't save an ad-hoc network configuration, it needs to be created each time you want to use it. So make sure to note the name and password you entered in Eye-Fi Center and use this every time you create the network — otherwise the card won't regognize it and you'll need to plug it in the computer again.
See on www.laroquephoto.com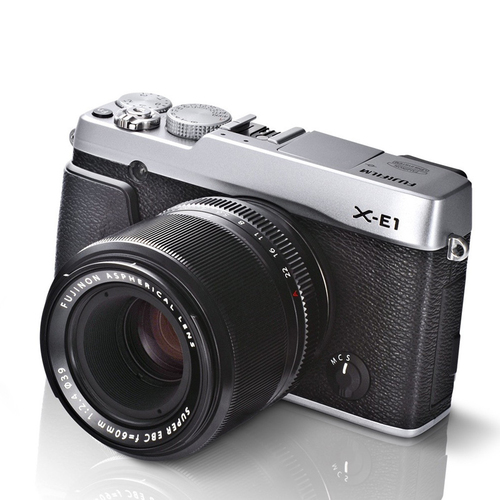 Fujifilm X-E1 review – Verdict
While it may appear to be simply a stripped down, more affordable X-Pro1 to tempt more people into Fujifilm's CSC family, that would be doing the X-E1 a great disservice. Similar in size to the X100, and combined with a similar premium finish that won over so many fans to Fujifilm's retro-inspired compact, the X-E1 manages to feel more refined and balanced as soon as you pick it up compared to the rather chunky X-Pro1. And while it forgoes the smart Hybrid viewfinder of the X-Pro1, the payback is the sharper, crisper EVF in the X-E1 that more than makes up for this, though you could feel a little short-changed with the fairly underwhelming rear screen. The X-E1's AF, though improved from the original X-Pro1's focusing, it's still not as fast or as responsive as systems found in the competition, while the video capabilities aren't as comprehensive either. These points aside, and the X-E1 is a joy to shoot with. The back-to-basics philosophy won't be for everyone, but it means its quick and easy to set-up and shoot with, while the Quick menu offers access to other key shooting controls. The real jewel in the crown of the X-E1 is its sensor. The quality of the results and the detail rendered is excellent, delivering images that are some of, if not the best we've seen from an APS-C sized sensor. While it may be a bit more of a niche camera than some other models, those who opt for the X-E1 will be rewarded with a camera that looks the part, handles well and delivers images beyond what its price may suggest.
See on www.whatdigitalcamera.com
Wow, more than 1.000000 clicks on my Scoop.it page this year!
Thank you so much for your supporting :-)
Here some stats about this page:
more than 1150 posts about the Fuji X-Pro1 and X-E1
more than 500 stories about all kind of Fuji X-System Photographers
more than 300 reviews about the Fuji X-Pro1 and X-E1
more than 200 posts about lenses for Fuji X-Systems
more than 100 articles about the aspects of digital photography
If you have great pictures, storys about Fuji Photographers, reviews, tips and tricks, rumors, comparision tests, impressions and more about the Fujifilm X-Pro1 – X-E1 and there lenses, feel free to send me your suggestion :-)
Hope of further collaboration and good light for everyone :-)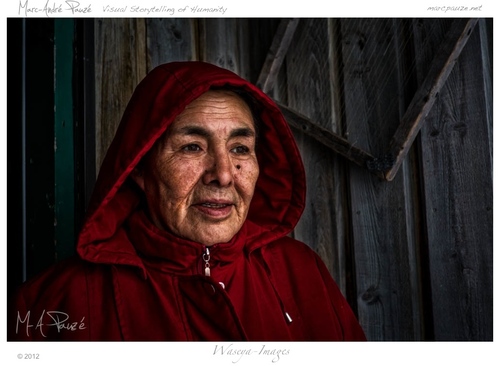 Summary: Alice Annanack Baron, three months after the polar bear attack, greets me on the porch of her house. She is finally back home after many surgeries to her hand and scalp. The bear scalped her and his teeth and claws were just a few centimeters of her temporal artery. She still have nightmares and she is afraid of darkness. Will she ever go back on the land ? She has doubt. Her husband, Tommy, her hero, goes through tough times. Only a month after the attack, he lost a brother to the river, on a hunting trip. As both of them accompany me the door, Alice adds:
"Winter is finally here, she says, like to make sure the summer of her meeting with nanook is something of the past.

About Marc-André Pauzé:
As a health professional and award-winner photographer-documentarist-writer, Marc-André Pauzé has a mission, being a storyteller of the human condition and to bear witness to the eternal struggle for human rights and social justice by combining documentary work with respect to the human dignity of his subjects.

See more on waseyaimages.net


All my Canon gear went on ebay, and I ordered a black X-E1 with the 35mm f1.4 (53mm equivalent) and 60mm f2.4 macro (90mm equivalent). While an 18mm (27mm equivalent) lens was also available, there is a 14mm (21mm equivalent) lens due out soon, along with a promise by Zeiss to make several lenses, including a 12mm (18mm equivalent), so I decided to wait a while to make a decision on these. So what is it like? The build quality is fantastic – it feels even nicer than my X100 – and the dials have a more positive feel i.e. I don't expect to be able to knock the exposure compensation dial by accident. It certainly feels much nicer in the hand than my Canon 40D. The weight and size are 'just right' – much less than my DSLR and lens. The lenses come with metal hoods! This adds to the feel-good factor, as I found it annoying when paying even more for a Canon lenses, that I was then expected to pay out a crazy amount of money for a plastic hood. However, the design of the lens cap on the 35mm hood is poor – it will fall off with the slightest knock. Because of the shape of the end of the hood, I can't conveniently use the push on inner lens cap with it. The 60mm, however, has a hood design that allows the cap to be pushed on and off while the hood is on. The EVF is superb, and my worries over no OVF are unnecessary. There is no pixelation, and it is bright and contrasty with natural colours. The only criticism I would make is that the refresh rate lags very slightly when panning fast. However, this is not a sports camera, so that isn't really an issue for me. Even in bright Australian sunshine at midday, the EVF is very usable, although not as bright as an OVF. One of the nice things is that in dark conditions, you can see much better than an OVF, as the EVF has automatic gain control. Couple this with fantastic high ISO performance, and this is a great street shooter (see my earlier post – Available Light with the FujiFilm X-E1). ISO goes up to 25,600, with 6,400 available in auto-ISO. The photos are very good, even at 6,400 ISO, with little noise. Autofocus is absolutely fine for me, but I don't shoot sports. It is quick enough in decent light, but can hunt a little in poor light. It isn't as fast as my Canon L lenses, but it is highly accurate. I have an energetic 4-year-old, and I would struggle to keep up with his antics, so I will get the 18-55 zoom for those situations, as the autofocus is supposed to be a lot faster, as well as having OIS (image stabilisation). Anyone who moans about APS-C sensors not being able to achieve shallow DOF needs to look at the X-E1 + 35/1.4. Not only does it have shallow DOF, but nicely rendered out of focus areas. I need to get more experience with it, but so far I am really, really impressed with what can be achieved. The X-E1 has a pop-up flash that is great for fill on a bright day, and is of a design that lets you tilt it with your finger to bounce it off a ceiling. Unfortunately, the the flash is deployed by pressing a button on the rear of the camera, and I wonder if this will get released while in a camera bag if pressed up against something. It might have been better as a slide switch. There is a hot shoe which can take more powerful flash units. I love the look that the whole combination of the lens, sensor and film emulations gives. I just want to go out and shoot with this thing all day…..
See more on photomojomike.com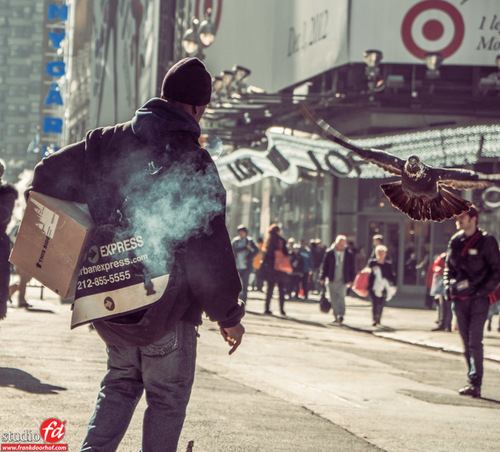 How is the sharpness of the Fuji 18-55 lens
Well according to some people all zooms are "evil" and only primes are great, well I don't agree…. I do find that GOOD primes are sharper than most zooms, however I find primes for street style photography rather limited and in the end it's all about getting the shot. And let's be honest in the studio primes are great but on the street I think they aren't, and let's look at the focus point of the Fuji series……yep it's the perfect travel/street syle camera. Now some people will not agree about this prime story from me, but imagine it like this "Sometimes you want to show a whole person, sometimes just a face, with a prime you can't switch that fast (change lenses), with a very good zoom this problem is solved.
How is the focus in the X-E1
VERY VERY good, since the 2.0 upgrade the X-pro1 was already a huge improvement, and for my "Feeling" the X-E1 seems a bit faster and more accurate, but I would have to have them next to each other, this however…. proves that Fuji is making a very fine camera with the E-1M. It's a street photographers dream camera.
How is the EVF
Well this was something I was very afraid off in the start but seeing the fact I was already used to the Fuji cameras my "switch" to an EVF was much less problematic than I thought. For the Sony I can say that the EVF is VERY fast, it's a very accurate tool for seeing what you're doing, and then you press the shutter button and you have what you see, I call it WYGISWYS (What You Get Is What You See). For the X-E1 the story is about the same, the EVF looks really good and is very fast, I would have to do a test side to side to make a real decision but how the EVF performances now….. I think both do MORE than fine with an EFV. Do remember you will have to get used to the EVF, but if you do, there probably is no turning back.
Part 1 of Frank's trip to New York
See on www.frankdoorhof.com
It is an illusion that photos are made with the camera… they are made with the eye, heart and head. – Henri Cartier-Bresson
The photograph itself doesn't interest me. I want only to capture a minute part of reality. – Henri Cartier-Bresson
What reinforces the content of a photograph is the sense of rhythm – the relationship between shapes and values. – Henri Cartier-Bresson
To me, photography is the simultaneous recognition, in a fraction of a second, of the significance of an event.- Henri Cartier-Bresson
Photography is nothing–it's life that interests me. – Henri Cartier-Bresson
Pictures, regardless of how they are created and recreated, are intended to be looked at. This brings to the forefront not the technology of imaging, which of course is important, but rather what we might call the eyenology (seeing). – Henri Cartier-Bresson
To photograph is to hold one's breath, when all faculties converge to capture fleeting reality. It's at that precise moment that mastering an image becomes a great physical and intellectual joy. – Henri Cartier-Bresson
To take photographs means to recognize – simultaneously and within a fraction of a second – both the fact itself and the rigorous organization of visually perceived forms that give it meaning. It is putting one's head, one's eye and one's heart on the same axis. – Henri Cartier-Bresson
In a portrait, I'm looking for the silence in somebody. – Henri Cartier-Bresson
Photography has not changed since its origin except in its technical aspects, which for me are not important. – Henri Cartier-Bresson
Photography appears to be an easy activity; in fact it is a varied and ambiguous process in which the only common denominator among its practitioners is in the instrument. – Henri Cartier-Bresson
Memory is very important, the memory of each photo taken, flowing at the same speed as the event. During the work, you have to be sure that you haven't left any holes, that you've captured everything, because afterwards it will be too late.- Henri Cartier-Bresson
The creative act lasts but a brief moment, a lightning instant of give-and-take, just long enough for you to level the camera and to trap the fleeting prey in your little box. – Henri Cartier-Bresson
Photographers deal in things which are continually vanishing and when they have vanished there is no contrivance on earth which can make them come back again. – Henri Cartier-Bresson
In photography, the smallest thing can be a great subject. The little, human detail can become a Leitmotiv.- Henri Cartier-Bresson
Reality offers us such wealth that we must cut some of it out on the spot, simplify. The question is, do we always cut out what we should? While we're working, we must be conscious of what we're doing. Sometimes we have the feeling that we've taken a great photo, and yet we continue to unfold. We must avoid however, snapping away, shooting quickly and without thought, overloading ourselves with unnecessary images that clutter our memory and diminish the clarity of the whole. – Henri Cartier-Bresson
Memory is very important, the memory of each photo taken, flowing at the same speed as the event. During the work, you have to be sure that you haven't left any holes, that you've captured everything, because afterwards it will be too late. – Henri Cartier-Bresson
The most difficult thing for me is a portrait. You have to try and put your camera between the skin of a person and his shirt. – Henri Cartier-Bresson
The creative act lasts but a brief moment, a lightning instant of give-and-take, just long enough for you to level the camera and to trap the fleeting prey in your little box. – Henri Cartier-Bresson
In photography, visual organization can stem only from a developed instinct. – Henri Cartier-Bresson
Your first 10,000 photographs are your worst. – Henri Cartier-Bresson
Photography is an immediate reaction, drawing a meditation. – Henri Cartier-Bresson
The picture is good or not from the moment it was caught in the camera. – Henri Cartier-Bresson
Had to shoot an assignment in New York last weekend, I thought, since we were renting a studio in the Chelsea/Meat packing area and our hotel was 2 blocks away, that we would stay put in that community and just walk to the studio, restaurants and stores, etc. Since I did not have much free time, I brought the XPro everywhere and shot what I saw. over three days, I think I ended up with about 50 or so good images in my 10 min walks. Here are a few….
Visit Bob's Webite here.
See on www.seriouscompacts.com