November 2012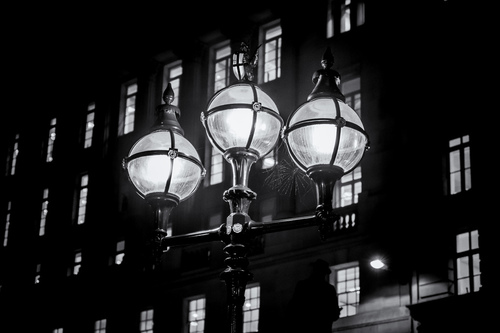 This is a very good lens and should be in any self respecting Fuji X-Pro1 or X-E1 owners bag. It feels solid and is very well screwed together. I've had rubbish weather to test out this lens and I'm upset I cannot replicate the very bright conditions on Sunday when I first road tested the lens. Nonetheless the rubbish weather has enabled me to confirm the lens OIS works well…
Using it with the X-Pro1 OVF takes some getting used to in that the size of the frame is tiny at full zoom. That say, it is perfect for action shots as you can see what is happening around the frame. I didn't mind using it with the OVF in that way but I preferred to use it with the EVF. The lens has a fast and (scarily) quiet auto-focus mechanism and uses an internal focusing system, which means the front element and filter thread does not rotate on focus. Focus speed is very good, much better than any of the primes except the 18mm, and I suspect the original primes will be quietly upgraded to use the linear motors used in this lens over time. However, sometime the 18-55 feels more inaccurate at focusing than the primes. This seems to be some that was addressed in firmware for the primes so I wouldn't be too worried about it right now. The lens is very sharp and compares well with constant aperture zooms I have used. By way of comparison I think it compares favourably to the 12-35 for M43s in that it is almost as quick to focus, is ultra sharp (though the sensor helps here) and the OIS is very good. Also the 12-35 suffers badly from CA on Olympus bodies. The 18-55mm only really loses out because of its aperture – ultimately the 12-35mm is better in low light because of that. Distortion isn't too bad and is only really noticeable for me at 18mm (note, distortion is corrected in body). There is some barreling at 18mm, but no pincushion distortion I noticed at the 55mm setting. Bokeh is very good at 55mm but is a little busy at 18mm. Vignetting is not a problem. Quibbles aside this is a very good lens and is a steal for the £529 I've seen it advertised for. Basically, get it as soon as you can. You won't regret it!
See on sgoldswoblog.wordpress.com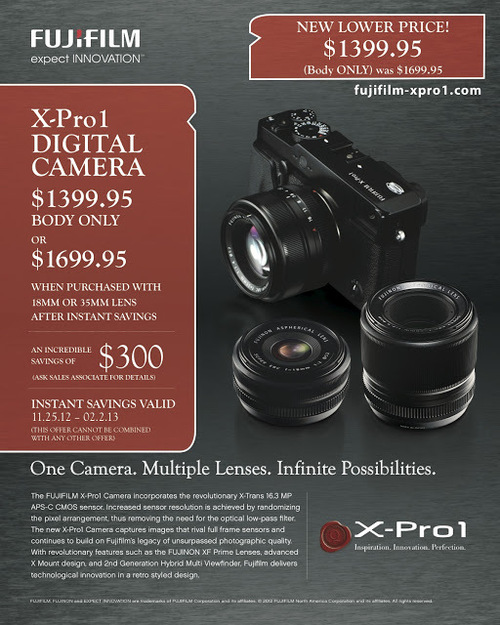 The [amazon_link id="B006UV6YMQ" target="_blank" container="" container_class="" ]Fujifilm X-PRO1[/amazon_link] is making a move!
To spur on holiday sales Fujifilm (USA) is reducing the price of the X-Pro1 from Nov 25th to Feb 2, 2013. The price will move from $1699.95 for the body to $1399.95. There is also a combo savings when the camera is bought with the XF18mm or XF35mm lens. The price for this set is $1699.95. Both are a $300 savings off the current pricing. The Fujifilm X-E1 body and kits have now shipped in the USA and dealers will see their stock levels increasing over the next week or two. I am sure the reviews will be coming in as the camera gets into more hands. From the early reports I've seen the 16MP XTrans sensor is performing excellently and the camera is a great addition to the X-Series. Shipments of the XF18-55 lens will also be ramping up shortly. The status of the XF14mm lens is still in a holding pattern and I'd like to be cautious on its arrival date and just sayit should be a few weeks or so. I am sure it will be on many photographers holiday list….
See more on brandonremler.blogspot.de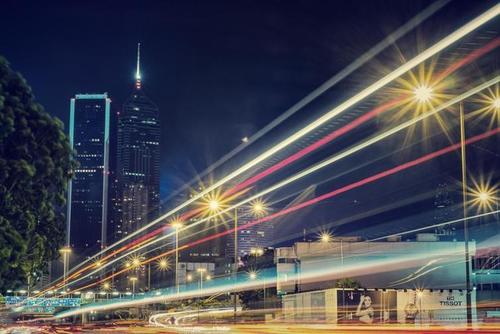 Ich habe schon seit einiger Zeit meine Fuji x-pro1 und bin nach wie vor sehr begeistert von dieser Kamera. Ganz besonders interessant finde ich die kamerainterne jpg Engine. Ich bin mit meiner anderen Kamera (Canon 5D MkII) eigentlich ein absoluter RAW Shooter. Bei der x-pro1 allerdings habe ich aber aus zwei Gründen diese Angewohnheit abgelegt. Zum einen, weil die OOC jpgs so gut sind, dass sie so gut wie kaum eine Korrektur benötigen und man die tollen Fujifarben hat. Zum anderen, da es nur sehr wenige RAW Konverter gibt, welche mit den x-pro1/x-e1 RAW's umgehen können. Mir sind im Grunde nur drei bekannt: Lightroom 4, Raw Photo Processor (RPP) und Silkypix. Letzterer ist der x-pro1 im Lieferumfang in Version 3 mit beigefügt.
RPP habe ich einmal zum Testen geöffnet, aber ich finde es sehr kompliziert oder besser sehr benutzerunfreundlich, und das Ergebnis, das ich herausbekam, war hässlich. Muss freilich nicht für jeden gelten, ich für meinen Teil habe den aber wieder von der Festplatte geschmissen.
Lightroom ist ein alter und sehr guter Bekannter von mir. Ich bin absolut überzeugter Lightroom Benutzer. Auch wenn ich Lightroom schätze, so kann man nicht von der Hand weisen, dass Lightroom die x-pro RAW's beim Schärfen nicht sauber verarbeitet. Es kommt zu aquarellartigen Konturen. Bei Silkypix ist dies nicht so. Silkypix schärft sauber ohne aquarellartigen Konturen. Das war einer der Hauptgründe für mich, warum ich mir diesen RAW-Konverter denn genauer anschauen wollte. Silkypix Pro 5 gibt es für Mac und Windows Rechner und es lässt sich eine 30 Tage Testversion auf der Homepage des Herstellers herunterladen. Die Version 5 kommt etwas benutzerfreundlicher und mit mehr Einstellmöglichkeiten als die der Kamera beiliegende Version daher. Im Gegensatz zu Lightroom benötigt Silkypix aber zwingend eine längere Einarbeitungsphase. Viele Entwicklungsfunktionen sind nicht gleich offensichtlich. Es gibt ferner eine Vielzahl von (Vor-)Einstellungen, um Silkypix seinem gewohnten/gewünschtem Workflow anzupassen. Hier bin ich noch am rumexperimentieren…..
Google Translater (ENG):
http://bit.ly/Y1Za6h
See on www.qimago.de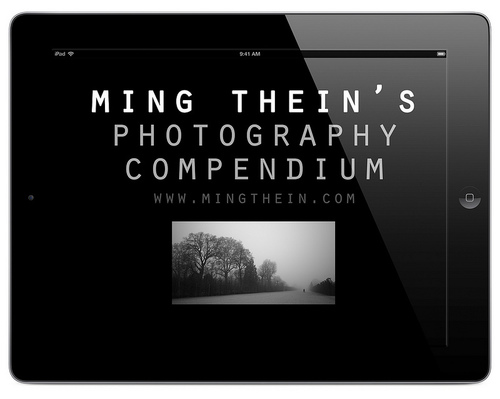 … now available for $1.99 on the Apple App Store!

There are a million and one camera apps out there. But how many of them actually teach you about photography? What if you want to know, say, what comatic aberration is? Or perhaps you need some help with Photoshop, a dose of pictorial inspiration, a camera review, a concise opinion on whether a particular lens is worth buying, or a deconstructivist philosophical article to figure out exactly what's missing from your images?

Brought to you by renown photographer and writer Ming Thein of www.mingthein.com, the Photographic Compendium covers all of these things:

Dictionary
The photographic dictionary contains most of the commonly-encountered technical terms (email us if you've got one that isn't included, and we'll do our best) and common acronyms used in photography today.

Camerapedia
If you need to figure out whether you should buy lens A or lens B, look no further. This section includes a concise opinion on every single piece of equipment that Ming Thein has ever used – quite a lot, considering he used to review cameras for a living. It's a living document and will continue to be regularly updated as more new equipment is released. Ming will also only opine on things he's actually used and shot with.

Training videos
One of the more popular things Ming has done is the Photoshop Workflow for Photographers DVD – we've now expanded on that, with new images and new individual segments for specific purposes; video on demand lets you buy only the segments you need, and get them straight away. No more waiting for the postman! We also plan to continually release new segments on a regular basis – some dealing with more advanced retouching or editing techniques, some dealing with new images, some camera-specific. You can also request a video. For iPads with Retina display the videos are delivered in HD. We also use a global content distribution network to ensure that you have quick access to our high quality videos.

Photo stream
Think of it as your daily inspiration – this feed pulls the latest images from Ming Thein's own photographic work.

Blog aggregator
A bonus feature to cache the most recent articles to read offline – handy if you don't have an internet connection. And we all know that the images are best appreciated on a larger screen than your phone.

See more on blog.mingthein.com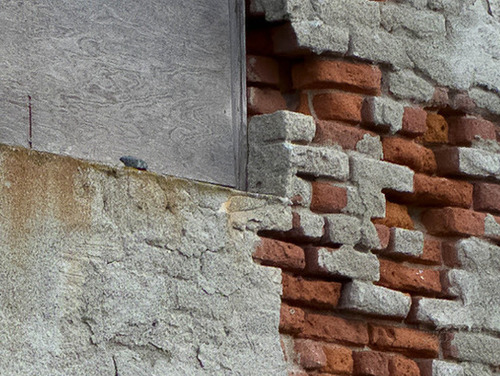 Just a small follow up on all the RAW experimentation I've been doing with the FujiFilm X-Pro1 RAF files. Here's an interactive mouseover table to see the differences. Areas too look for are in the wood grain (you'll see a lot of colour or chroma noise in the different examples), Smearing of details (look at the texture of the walls to see how it gets smeared and creates the water colour effect), Aliasing issues (look on hard contrast edges to see a zipper aliasing effect), and lastly loss of details (in the red brick you'll see the various levels of details in the pores of the brick).
Some quick comments:
DCRAW 9.16: Gives the highest details, however has aliasing artifacts. Some chroma noise (even after filtering). Command line prompt only. Requires some technical know how. I use VNG interpolation and 15 pass median filtering.
1/2 Median: Is the filtering I apply to DCRAW to combat the aliasing artifacts. Requires a program that has Median filtering, and very process intensive.
Raw Photo Processor (RPP 4.7): Utilizes DCRAW and acts as front end. Works very well for details, but aliasing and chroma noise is high. My technique of 15 passes of median averaging in DCRAW clears up more chroma noise than what is produced by this program.
Graphic Converter (Patched): Patched with DCRAW 9.16 gives very similar results to RPP however this program is much friendlier to use than RPP and has some real nice post processing options. Could almost be used as an all in one solution.
In Camera JPG: The default standard. Still exhibits some detail smearing compared to something like DCRAW output, but has no aliasing or chroma noise artifacts.
SilkPix Developer Pro 5: The software that is part of Fuji's RAW processing uses an older SilkyPix engine. This current version is very clean however does show some chroma smearing (look at the green colour that appears under the window ledge and the loss of other colours). Shows very little chroma noise and no real aliasing errors. Very clean output and slightly softer than raw DCRAW output, but lot less aliasing even over the 1/2 Pixel Median filter. I would highly recommend this option if it weren't for the fact that the cost of the software is pretty high.
FujiFilm Raw File Converter: This software bundled with the camera uses an older SilkyPix engine. It does a pretty good job, but the interface is very difficult to use and understand. Compared to the latests version of SilkPix it exhibits chroma noise and some detail smearing.
Lightroom 4.3: Has low amounts of chroma noise, but very heavy detail smearing. Loss of details but no aliasing artifacts. Even at 100% it's hard to see the 'Watercolour' effect if you don't know what to look for. I suspect a very heavy pre-demosaic median filter and bicubic interpolation algorithm is the cause of the issues. However it's still one of the easiest to use, and if you can handle some of the image quality loss, most likely won't notice the detail loss.
See full article on frontallobbings.blogspot.de


If you're looking for a small mirrorless camera with a viewfinder, the Fuji X-E1 and Sony NEX-6 are two of the best options out there. But which is the better choice for your style of shooting? The Camera Store's Chris Niccolls and Dave Paul put these two powerful compacts to the test!

See on www.youtube.com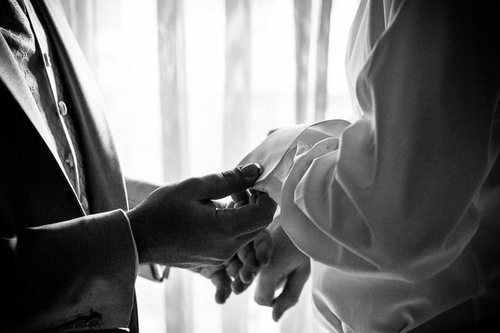 Big weddings, small cameras. Here are the pro tips you need to survive.
…. as always, I learned more in a day's live shooting than you ever can in hours of studying forums, reading manuals or even in safe practise shoots. At one point you just have to make a leap of faith and deal with anything that turns up. None of this is really news but here are my main pieces of advice from the day:
Forget multi shots – I typically leave a Nikon in "continuous low" mode and shoot either single shots or "double taps". In marginal light the second frame is usually sharper. Forget that. On an X-Pro 1 or X-E1 (can I just call them X-CSCs and we'll agree it means this?) the burst mode can lock your camera for a considerable time. Stick to single shots – first shot is the best, right?
You'll need spare batteries. More than you think. An X-CSC goes from "everything is great" to "I don't have enough battery to turn on the low battery warning" in about 2 shots. Change early, change often. In 8 hours' shooting I made it all the way to the 5th battery I had with me. The 16GB cards I had in each camera weren't full.
 The Q button is your friend. I have a number of shooting profiles set up under the quick menu which are identical on both cameras and can swap to my preferred black and white or macro settings at the push of about 4 buttons.
 Auto ISO is not your friend. This has been pointed out all over the web and hopefully Fuji will fix it in a firmware upgrade. The floor setting for shutter speed in auto ISO are way too low. If you shoot auto ISO you will get blurry pictures. I can handhold an X-CSC at slower speeds than a DSLR but still I got blurred pictures if I nudged it to auto ISO.
Strong backlighting can confuse autofocus. When a subject has their back to a bright window I'll often dial in +2 EV of compensation or more on a Nikon. On the Fujis +2 is your max and there seems to be a risk that the autofocus will be wildly out.
I took the EF-20 flashgun. This isn't really versatile enough for me. I shoot a lot of available light (or off camera lit pictures) but when I need flash I need more. I'll look at some other options – there seem to be plenty.
Speaking of flash, the X-E1 hotshoe seems to have a little play in it. I was using a remote trigger to run my Strobeam lights. This has worked perfectly on a number of cameras but if it gets the tiniest knock in the X-E1 then it won't make contact and the lights won't fire. If you're shooting on flash then consider leaving image review set to "on 1.5s" so you can double check. I usually leave it off to avoid confusing myself.
I would have changed to using the X-Pro 1 with flash but for some reason I couldn't get it to fire at all – I know that's my fault. It will be a menu setting.
It's too slow (for me) to change AF point on the fly in a live fire environment. Focus and recompose. Be careful with that at f/1.4….
Fuji need to make a decent portrait lens stat. Sadly it's not yet on their roadmap. If the 18-55 is anything to go by then the 55-200 could be quite nice but at f/4.8 it will be a little "slow" for me. I had the Nikon 105 DC and adapter handy but didn't feel confident nailing focus with it on the day.
See on words.peoplebyryan.com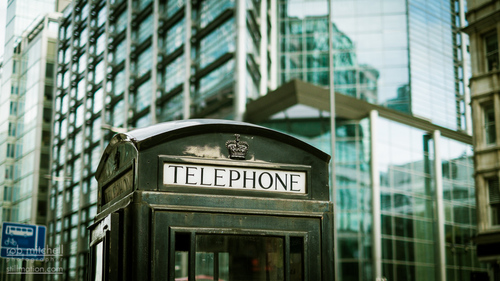 Two Things that were remedied yesterday with a brief trip to London, combined with a few hours of just walking around town and making photos for nobody else but me. I met up with a couple of colleague photographers, Matt and Pete to do nothing more than relax, catch up with life and make photos of the London streets. All 3 of us had our Fujifilm cameras with us. I had my X-Pro1, Pete his X-Pro1 plus X-E1 and Matt his X100. If you haven't yet tried shooting with one of the 'X' series from Fujifilm and are looking for a camera that is different, lighter, less imposing but not as petite as a Micro 4/3 camera, give the one of the X's a go. The image quality is stunning and being slightly bigger than M4/3 cameras, they feel better in the hand. Handling is an acquired taste and can be frustrating when you're handling a DSLR day-in and day-out, but most people who have used an 'X' have enjoyed it. Shooting with a Fujifilm system camera is a breath of fresh air. Simple.

Enough wordage, a few images from my X-Pro1 follow.


See on www.stillmation.com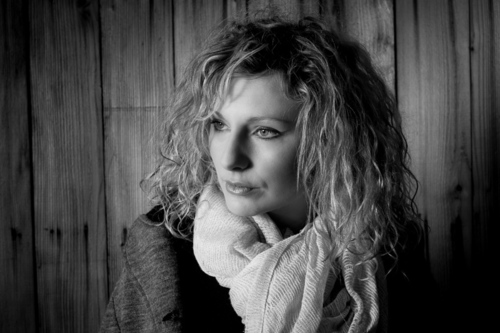 There are worse places to spend your weekend than Paris. Certainly if you are surrounded by fun people with a true passion for photography. I was asked to do a half day workshop by a French photography store called Lovinpix. It's a young company that aims to offer not only equipment but also technical advice and workshops. Their website is only in French at the moment, but they are working hard on an English version. I'm more of an outdoor person than a city guy but I'm always happy to make an exception when it comes to Paris. I just love the vibe of this city. On top of that Paris has been the place to be for photography, pretty much since the invention of the photographic progress. The guys form Lovinpix really want to mix this heritage with a modern approach and I'm happy I could be part of one of their first initiatives. The workshop was about down and dirty guerrilla style photography in the streets of Paris. We started out with a little exercise on mixing flash with ambient light. My French is not too bad but I have very little experience teaching photography in French so that was a bit of a challenge in the beginning. Luckily I was assisted by Nicolas Vallet, who co-founded a French website dedicated to off-camera flash, called Strobi.fr. He helped me finding the right words and his knowledge of the area was very helpful too. Niko is an excellent photographer and has great teaching skills, which was a great advantage for the participants and for myself.
See more picture on bertstephani.com
See on Scoop.it – Fuji X-Pro1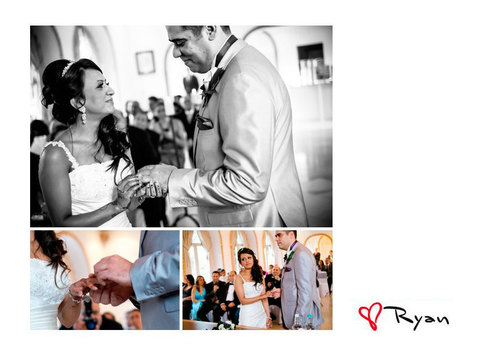 On the most beautiful Autumn day of the year, I headed over to Northbrook Park in Surrey for Kinari and Zaf's wedding. It was kind of an odd feeling when I arrived. For various reasons I hadn't had chance to meet up with Kinari and Zaf before their wedding and we'd done everything by phone and email. But the odd thing was, I knew lots of the people there. There were several people whose wedding I had photographed amongst the guests and all day people kept coming up to me and saying "oh yes, you did my sister's/daughter's/brother's/friend's wedding." Including one couple whose wedding I'd photographed almost exactly 6 years ago. What a lovely warm welcome. Just as well, because the day was beautiful but cold. Beautiful like this…
Jonathan Ryan photographs Kinari and Zaf's wedding at Northbrook Park with a selection of Fuji cameras…
See on peoplebyryan.com