Dezember 2012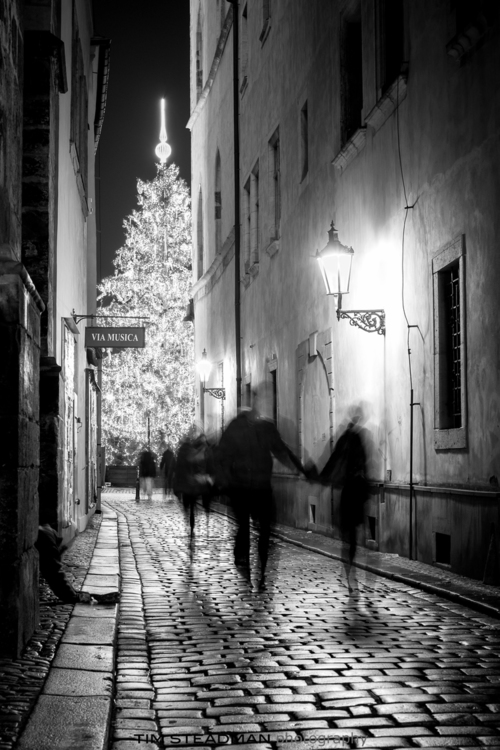 Below are a few photos taken in Prague during the Christmas Market this past week.  It is a magical city that really turns on its charm during the Christmas season (maybe except for the time the local school kids danced to Gangnam style on the large stage :) ).  All photos taken with the Fuji X Pro-1 with 18mm or 35mm lens.  Photos processed in Lightroom.
Tim Steadman is a freelance photographer based in New Delhi, India, specializing in portrait and travel documentary photography.
See more pictures on timsteadmantravel.squarespace.com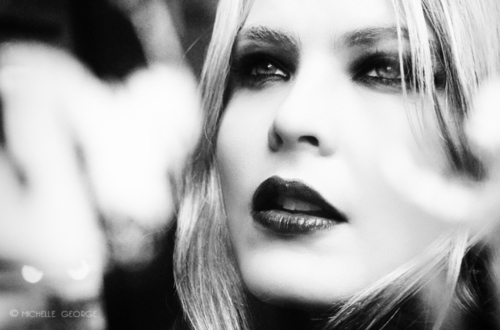 After a passionate yet somewhat impetuous relationship with the Fujifilm X-Pro 1 I couldn't resist a little fling with his younger brother the Fujifilm X-E1 I'd spend sleepless nights wondering if he could deliver the same image quality as the X pro 1 but at almost half the cost of the Fuji X Pro 1 I was in serious doubt… Appearance wise, albeit the slimed down body, slightly smaller LCD, additional pop-up flash, but lack of the much talk about hybrid view finder, the look and function of these camera are almost identical, to the point that they could be twin – they both posses the X-Trans CMOS sensor, 16 million pixels resolution and a high ISO sensitivity which all attribute to the X pro 1's outstanding image quality. Though, the thing that really enticed me into this adulterous fling was the new.Fujinon XF Lens: XF18-55mm F2.8-4 R LM OIS kit zoom lens.
Admittedly I could have purchased this separately to use solely with the X pro 1 but the kit price and buzz surrounding the X-E1 was just too tempting…and as Oscar Wild states 'I can resist everything but temptation' ) My first though was to take this seedy affair around the back streets of soho, mainly to test out the infamous noise free high IOS settings and also the new built in pop-up flash; However as me and the lovely model Allana from Milk management set out on our quest, it was clear life had other plans for us:) As the temperature that night slowly decreased to sub zero temperatures and drunken tourist tried to muscle in on our shoot. We only managed to get a handful of shots around Soho
See more pictures on creativelondonphotographer.wordpress.com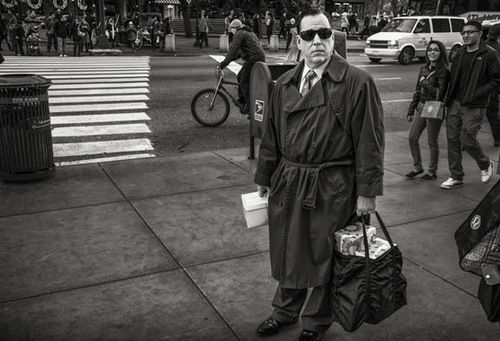 After reviewing my images from my outing on the streets of New York, one thing is very clear to me. I need more time with this lens to get my zoom/longer focal length chops back to snuff.
Drat it! I guess I'll just have to go out and shoot a lot more. Just to recap what I said yesterday: the focus speed is very good at 18mm and 35mm but a little slower (not by a big factor) at 55mm, the IOS (image stabilization) works extraordinarily well so that I can hand hold at 1/30th second and get good shots, I miss not having the aperture indications on the aperture ring but as this is a variable aperture lens (f2.8-f4) those indications would be meaningless, and the lens hood mounting leaves something to be desired in terms of a secure fit on the front of the lens.
The images below were shot RAW, processed minimally in Lightroom and then put through my workflow with NIK filters. The first two shots below were at a focal length of 18mm, f6.4, and 1/125th second. Since I keep my camera set on auto ISO it varies – the first shot was at ISO 5000 and the second at ISO 6400. In my film days an ISO of 6400 would have resulted in practically no definition in the small details. The first NIK processing is with Dfine to manage the contrast noise, then into Color Efex Pro 4 to optimize the color contrast with my special (wink wink) tweaks, and lastly into Silver Efex Pro 2 for the conversion also with my special (wink wink wink) tweaks.
In the first two images, the woman on the right was quite striking looking (nothing gets my camera finger more twitchy than a pretty lady) and yet so sad…..
See on genelowinger.blogspot.com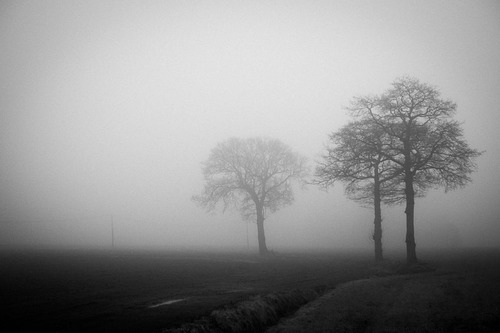 I drive 8 times a week through the Belgium countryside. Always the same road. This morning the fog was so beautiful I had to photograph it. The Fuji X-pro1 is so small it is always with me. The 35mm did the rest. B&W conversion in Ligthroom.
See more pictures on michielfokkema.wordpress.com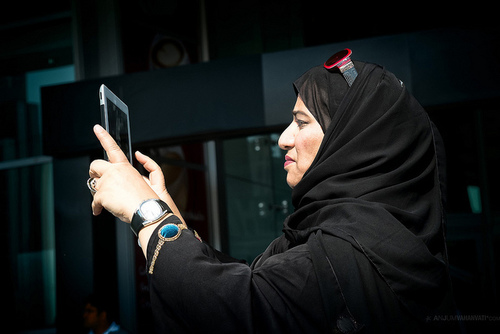 For most people Fuji might not sound like a worthy contender when they consider getting a camera in the world of Nikon's and Canon's. Where it is always about the big 2, Fuji hit the sweet spot since the launch of X100 which I have been drooling over for a long time. Since the X100, there has been X10, X-Pro 1 and very recently X-E1. You don't say No to Fuji when you are offered to take the amazing X-Pro 1 for a ride. Thanks to my friend Brian for recommending me to Fujifilm Middle East and a big thanks to Fujifilm ME for letting me have the X-Pro 1 along with the fantastic prime lenses to cover the 41st National Day Celebrations in the UAE.Its been a couple of weeks with the equipment and I was surprised how my initial 'jeez' changed to 'omg' in a short while when you spend some time the the camera. I am primarily a Nikon user along with my always in the bag cam being a m4/3 lumix. I do keep trying various brands very often, so I didn't really need to open up the users manual to figure out the X-Pro. Most stuff you need is right there at your finger tips. All we basically need for making a picture is a good eye and nailing down the exposure triangle (Aperture, Shutter, ISO). Selecting focus points could have been improved as its a bit of hassle to dig in deep. And how I wish I had spare set of batteries for that day. Focusing, a bit on the slower side but you get used to it and can figure out how to make it behave to your liking. Patience pays off when the images pop up on you big screen. The X-Pro 1 has been in the market for a while now and there will be enough reviews that show the Pros & Cons, so I don't have to talk about most of the things all over again……
See full article on anjumvahanvati.com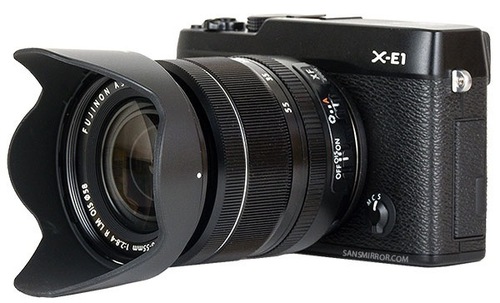 Final Words
I liked the X-Pro1. I like the X-E1 just a tiny bit more, mostly because of the slightly smaller size and diopter on the EVF. In shooting with the X-Pro1 I found that, over time, I relied upon the optical side of the hybrid viewfinder less and less. Lenses poke into the frame in the optical view, and getting precise framing with the optical view is not possible. Given my personal preference for getting framing dead on in camera, if possible, I flipped the switch to the EVF an awful lot on my X-Pro1. With the X-E1 I'm not really missing the optical viewfinder; I don't find myself trying to flip out of the EVF view. Given that we now have a very capable zoom lens in the XF mount (the 18-55mm f/2.8-4), the reliance on an EVF goes up a little more. I do wish the EVF had a higher refresh rate, but I can live with what Fujifilm gave us, especially at the price point. Since I try not to keep cameras around that I'm not using, I can also speak to the ultimate decider: I've decided to sell my X-Pro1. I don't need two XF bodies, and I value the compactness of the X-E1 more than the hybrid viewfinder of the X-Pro1, so it's an easy decision. Aside: I'd guess that Fujifilm will update the X-Pro1 in 2013. In so doing, I also suspect that they would try to add a few features to differentiate that model from the X-E1. There aren't a lot of obvious such features, but a positionable LCD might be one. Both are good cameras, and you need to make sure that none of the small list of differences tilts you one way or the other, but in terms of performance, they're essentially equal. The great JPEG quality Fujifilm is known for is present equally in both cameras. The handling is the same, though slightly miniaturized in a couple of places on the X-E1. The raw files are the same. The build quality is in the same league with both. In short, near identical twins, with only a couple of small feature differences differentiating them. The lower price helps tilt things the X-E1's way, too. At the US$1000 body price, it's going up against the NEX-6 and NEX-7, the Olympus OM-D E-M5, and not much else. And it holds its own on the image quality side. Indeed, the X-E1 would be the best low light camera of that group. It would also be the slowest focusing camera of that group. The X-E1 has the most straightforward and understandable controls and menus of that group. The OM-D E-M5 has a wider range of lenses and accessories, but the existing Fujifilm lenses are all quite good—there's not a truly weak performer in the bunch (at least so far). Note that the X-Pro1, at US$400 more, has only the hybrid viewfinder to further stand out against those competitors. So kudos to Fujifilm. They took a fine camera, did some careful liposuction and one feature cut, and didn't harm the patient at all. If anything, they created a slightly more compelling product due to the lower price point. One last point: if you're into Leica lenses, the X-E1 is like the X-Pro1: with the Fujifilm M-mount adapter and the built-in lens corrections, these X-Trans cameras are the best crop sensor Leica M-mount option out there.

Recommended

Features — Other than sensor stabilization, nothing to complain about.

Performance — the most controversial of my ratings, I'm sure. Thing is, for image quality it's probably a four star product despite the color smearing issue. But all the battery and focus performance factors would be a two compared to the competition (in other words, lower than average). A lot of you will see this differently than I. Image quality hounds would likely give this camera four stars. I, however, believe that performance is the sum of the parts, thus my rating.

Value — Another area where I'm going to get disagreement. The lower price with basically only the removal of the hybrid viewfinder as a significant change pushes this camera slightly towards being a good value. That's especially true if you are a low light shooter, shoot with M-mount lenses, or can get by with the very good 18-55mm f/2.8-4 zoom.

See full review on www.sansmirror.com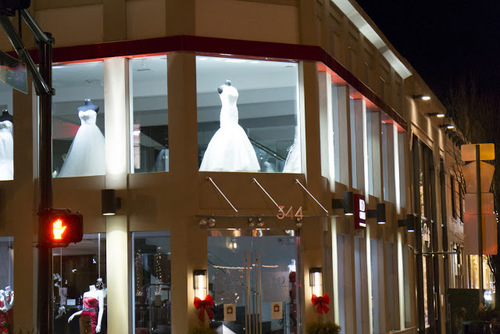 …. I looked for chromatic aberration at 18mm, and found it. It's about the same as the CA on the prime 18mm lens – so that's no big deal, easily corrected in Lightroom. I turned off the image stabilization on the zoom (more about the IS later) and took a few test shots at 18mm and 35mm so that I could compare the sharpness to the two prime lenses. At 18mm it's pretty much the same. At 35mm the prime has a thick hair's advantage.
I didn't have any complaints about the focus speed of the prime lenses right out of the box, clearly this wasn't a clunky DSLR with huge, heavy lenses so I had realistic expectations. After the firmware updates the speed of focus was a non-issue for me. At 18mm and 35mm the auto focus speed of the zoom lens is the same as the primes. The response is a little slower at 55mm, but I don't have the 60mm prime to compare.
I had only one lens for my Nikon D700 with image stabilization, a 70-300 f3.5-5.6 zoom. I rarely used the lens, so I have nothing to which I can compare the Fuji's IS. I am, however, totally impressed with the increase in flexibility that the IS allows. I have been able to hand hold the camera and shoot comfortably at shutter speeds down to 1/30th second. I pushed some shots one stop slower – to 1/15th sec. – and the results are quite satisfactory considering that the slower shutter speed buys some ISO speed and lower noise in the image.
The first of these shots was taken at 1/60th second, f4, ISO 5000, these are jpegs, generated from raw data by Lightroom, without any processing…..
See on genelowinger.blogspot.de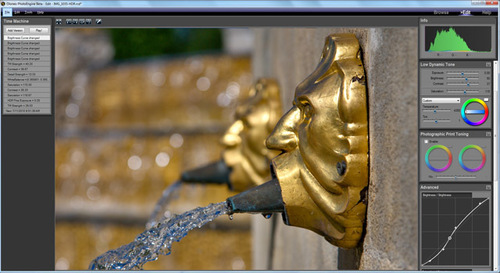 It is now a fast and easy process to modify lighting or to recover details in a deeply under- or overexposed picture. By merging multiple photos of the same scene, Oloneo PhotoEngine not only offers an almost unlimited control over exposure and lighting but also provides a new level of creativity in digital photography…..

New in Version 1.1.400.318 | June 29, 2012
New supported or updated camera raw file formats 1.1.400318
Adobe: DNG v1.4 and lower (Adobe Camera Raw 7.1, Lightroom 4.1, Photoshop CS6)
Canon: EOS-1D X, EOS 5D Mark III, PowerShot G1 X, PowerShot S100
Nikon : D4, D800, D800E, D3200, Nikon 1 J1, Nikon 1 V1
Sony: SLT-A37, SLT-A57, NEX-7, NEX-C3, NEX-F3
Fujifilm: X-Pro1, X-S1, FinePix X10, FinePix F770EXR, FinePix HS30EXR
Olympus: OM-D E-M5
Panasonic: Lumix DMC-GF5, Lumix DMC-GX1
Samsung: NX200
Download Trial Version here (only Windows):
http://www.oloneo.com/en/page/download_form.html?product_id=pe1&type=trial

See on www.oloneo.com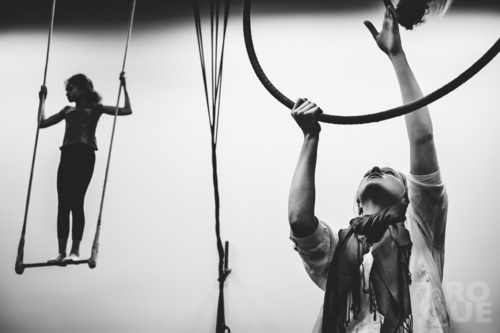 Great shots from Montreal area photographer Patrick La Roque

Thomas Menk's insight:
"I think I see still images the way others perceive a film sequence. It's all a movie in my mind. Scenes & stories." Patrick La Roque
See on www.laroquephoto.com
Le Fuji X-Pro 1 a été lancé avec 3 optiques lumineuses: 18mm f2 (équivalent 28mm), 35mm f1.4 (équivalent 50mm), 60mm f2.4 macro (équivalent 90mm)… soit à peu près la triplette idéale pour les photographes amateurs de focales fixes. J'ai donc pris l'ensemble, même si côté grand angle j'aurais peut-être préféré quelque chose d'encore plus large (21mm ou 24mm), étant habitué au 17–40mm sur mon 5D. Ca tombe bien, un 14mm sortira justement en janvier, même si je tente d'éviter de faire une collection d'objectifs: on a vite fait de croire que l'on ferait mieux avec "la" focale que l'on a pas, mais c'est oublier qu'on peut déjà faire de bonnes photos avec celles que l'on a :-)
Les 3 optiques sont bien construites, entièrement en métal – aluminium je pense, et pourtant particulièrement légères, à tel point que le 18mm passerait pour un jouet… ce qu'il n'est pas! Chacune arbore une bague de mise au point et – particularité et force du système Fuji, une bague contrôlant l'ouverture de l'objectif. Cette dernière peut être placée en position A pour revenir en mode automatique. Les 2 bagues sont électroniques. Comprenez par cela qu'elles n'actionnent pas directement l'objectif. Comme indiqué dans la première partie, malgré mes appréhensions – et la déception à l'époque du X100 – la mise au point manuelle est tout à fait agréable, surtout depuis les mises à jour du firmware. Fuji est à l'écoute de ses utilisateurs, ce qui mérite d'être salué. La bague d'ouverture, discrètement cranté par tiers de valeurs, est un plaisir à utiliser. Enfin, sur les 3 objectifs, les bagues sont bien dimensionnées et tombent naturellement sous la main.
See full article on www.digitlife.fr