April 2013


London-Paris, Paris-Saint Brieuc, Saint Brieuc-Lamballe, Lamballe-Paimpol. Then, Paimpol-Saint Brieuc-Rennes-Paris-London, all in just six days…what an adventure! Isabelle & Florent's wedding : SIMPLY AMAZING! I can't wait to share it…this is just a preview. Isa (Elisabeth) et Flo (Zacharie) Félicitations and thank you for having me along.

"I would love for you to check out this international wedding I documented last weekend in France, every single image is from the x-pro-1. I used two of these "magical boxes" + the 18mm & 35mm lenses exclusively for this wedding. The more I use it, the more I love it. – Vincent"

See more pictures on vopoku.com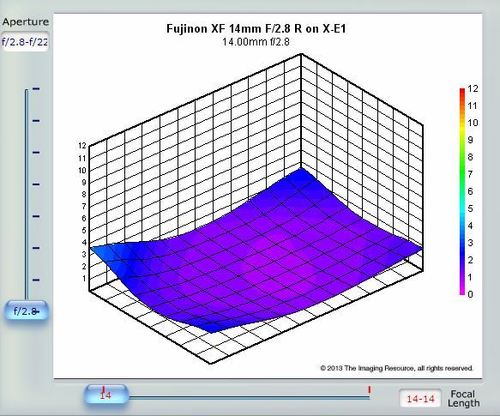 The Fujinon XF 14mm ƒ/2.8 R was released in February 2013, offering a wide-angle field of view for Fuji's X-mount camera bodies. At the time of writing, this includes the Fuji X-E1 and the X-Pro1. Both of these bodies use an APS-C sensor with a 1.5x "crop factor", thus the 14mm lens offers an equivalent field of view of 21mm. The lens ships with a petal-shaped hood, takes 58mm filters and is available now for around $900.
Please note that if you're an existing X-E1 or X-Pro1 user, you'll want to upgrade the firmware of your camera to the latest version to ensure compatibility with this lens; happily, the lens also comes with an SD card with the firmware ready for you to install.
Sharpness
The Fujinon 14mm produces very sharp images. Used at its widest aperture of ƒ/2.8, the resulting image is sharp throughout the majority of the center of the image, moving to notably soft corners. Stopping down reduces the impact of corner softness; stopping down to ƒ/4 produces results which are almost tack-sharp, and these results are essentially the same with the lens stopped to subsequently smaller apertures. Diffraction limiting begins to set in at ƒ/11, but overall sharpness isn't really impacted until ƒ/16, where edge-to-edge sharpness is just slightly soft. Fully stopped-down at ƒ/22, the lens produces images that are somewhat soft, but not exceptionally so.
Chromatic Aberration
Results for chromatic aberration were excellent; looking at the sample images, I'm hard-pressed to see any color shifts at all.
Shading ("Vignetting")
There is always some light corner shading when using this lens: we note extreme corners that are 1/3EV darker than the center. When set to ƒ/5.6 or ƒ/8, it's slightly less: either way, it's not especially significant.
Distortion
Remarkably, there is no distortion at all for images shot with the 14mm ƒ/2.8 R.
Autofocus Operation
The Fujinon 14mm ƒ/2.8 R focus very quickly with an electrical motor housed in the lens. The lens focuses from infinity to close-focus in less than a second: it's fast, and locks on to your target easily. The front element does not rotate, making life that little bit easier for polarizer users.
Macro
The 14mm ƒ/2.8 was not designed as a macro lens, and offers only 0.12x magnification, with a minimum close-focusing distance of just over seven inches.
Build Quality and Handling
The Fuji XF 14mm ƒ/2.8 R is a well-built lens, harkening back to the days of metal rangefinder cameras. It's significantly larger and heavier than the other prime lenses available for the camera system, but the lens still handles very well on either body. The lens is textured in a satin black finish. There are two rings for this lens: a focusing ring, and an aperture ring, something of a rarity in modern digital cameras. The aperture ring sits closer to the lens body, around 3/8" wide, with click-stops between aperture settings. We found the aperture ring a bit looser than we would like, which means if you like the be able to move quickly between settings, you'll be happy with this action. There is a selector which allows you to choose between manual aperture selection, and automatic aperture selection. The focusing ring is about 5/8" wide, made of polycarbonate with deep grooves that offer excellent tactile feel. The X-Pro camera concept uses a fly-by-wire in its lens focusing method, so the focusing ring is not actually directly connected to the lens elements in a mechanical way. Rather, turning the focusing ring moves the elements electronically. Unlike the other prime lenses in the series, the 14mm uses hard stops at either end, offering around 120 degrees of turning action, and there is no lens extension when the lens is focused. It's worth noting that the manual focusing system is engaged by sliding back the focusing ring to reveal a distance scale etched in feet and meters. While there is no depth-of-field information on the lens, the X-Pro 1 offers a distance scale on its LCD or viewfinder readout. The 14mm ƒ/2.8 R lens hood is a petal-shaped hood that attaches by a bayonet mount. The hood can be reversed for storage and its interior is painted a matte black to reduce stray light. The hood is 1 1/2" long, adding about 1 1/4" of length to the lens when attached.
Alternatives
Currently, there are no third-party lenses offered in the Fuji XF mount. However, there are several lens adapters which allow non-Fuji lenses to be mounted on the X-Pro 1. Fuji's own M-mount adapter allows Leica M, Carl Zeiss and Voigtlander lenses to be used, and some comparable focal lengths would be found in the Carl Zeiss Distagon T*15mm F2.8 ZM or the Voigtlander L Super Wide-Heliar 15mm F4.5 Aspherical.
Fujinon XF 18mm ƒ/2 R ~$600
While not as wide as the Fujinon 14mm, the 18mm opens up a stop faster, offering a choice between light-gathering ability and wide-angle. Optically, the lenses are both of very high quality: the 18mm might be a hair sharper, but the 14mm has very impressive results for distortion (as in, there is none).
Conclusion
There's no question Fuji has spent a lot of time on this lens: Sharpness at ƒ/2.8 is very good, and excellent at ƒ/4 or smaller; distortion is non-existent (quite a feat in and of itself on a wide-angle lens), and chromatic aberration is also hard to come by. While the price tag for this lens might be high, there's no doubt that you get what you pay for.
See on slrgear.com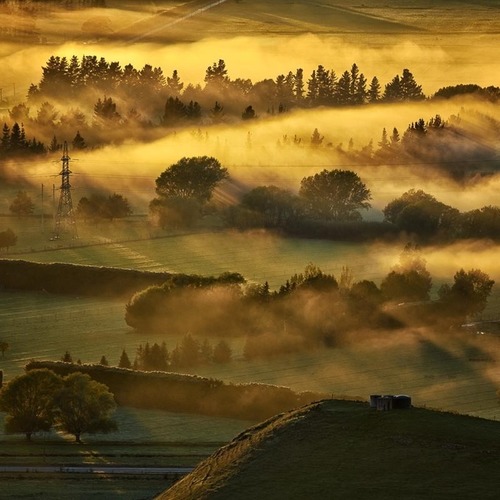 I have a favourite place, about 25 minutes' drive from my home, where I like to go and make photographs. It is a great place to visit and as I am coming to understand its particular rhythms, I am learning to predict its moods and sense the best times to be there. Dawn is an especially great time to go, particularly in autumn, when the valley floor is covered in mists and mystery. The local farmer is happy to allow me up on his property, where I can see over the plains and watch the turn of the day and the cycle of the weather. It is the perfect place to go and test equipment, particularly a camera's ability to resolve fine and complex detail. For the last week or so I have been test-driving a pre-production version of Fujifilm's new Fujinon 55-200mm F3.5-4.8 R LM OIS zoom lens. Pre-release is probably a better descriptor since it is clearly obvious that full release versions will be the same as my tester. And what better place to take it for a workout than my torture-test place? But first a little background. When Fujifilm first released the X-Pro 1 the beginning of 2012, they did a brave thing; they released only three lenses, all of them fixed focal-length prime lenses. They went for the classic 28 mm, 50 mm and 90 mm equivalent focal lengths, the stalwart of photographers for decades. However, if you had a thing for wide, then the wide-angle was not wide enough, and if a telephoto was your thing, then the 60/90 mm simply did not reach far enough. But it was a good start. And the lenses were stunningly, glitteringly sharp, due in part to the superior Fuji optics and in part to the fact that the sensor had no anti-aliasing filter. Later in 2012, with the release of the X-E1, Fujifilm supplied the first zoom lens, an 18-55 (28-82 equivalent)  lens, which enabled greater flexibility and focal length choice. Not only that, but the lens was stabilised, which made it possible to hand-hold down to very slow shutter speeds. Needless to say, this camera/lens combination has proved very popular. Later in 2012, we were able to acquire the new and exceptional 14mm (21mm equivalent) lens, which allowed us to have a wider reach. Now all we X-philes needed, we said, is a decent telephoto zoom lens. The 18-55 LM OIS had proved to be just as stellar as the prime lenses, somewhat giving the lie to the idea that zooms are inherently softer than primes. So we  waited in anticipation, looking forward to getting our hands on this new and longer zoom.
Now the wait is over (well, almost).
Fujifilm are now about to release the Fujinon 55-200mm (83-300 equiv.) F3.5-4.8 R LM OIS lens next month. Its specifications, from Fujifilm publicity material are as follows:  – Image stabilization that allows the use of shutter speeds 4.5 stops slower;
Uses two linear stepper motors for high-speed AF and quiet operation, making the lens suitable for video recording as well
Features two ED lens elements including one Super ED lens element that boasts performance equivalent to that of fluorite lenses; controlling chromatic aberrations, which typically occur in long focal lengths, to produce images that resolve well corner-to-corner across the its entire zoom range
Applying FUJINON's proprietary "HT-EBC (High Transmittance Electron Beam Coating)" on the entire lens surface to achieve a highly preventative measure against reflections and to control flair and ghosting
Offering the minimum working distance of 1.1m across the entire zoom range to enable telephoto close-ups, capturing a small part of a subject
Featuring a 1/3EV step aperture ring so that users can easily adjust the aperture whilst holding the camera up to their eye
The focus ring and aperture ring are made from metal and have been designed to have a high quality feel, with the benefit of being extra robust.
Okay, much of that is marketing speak, but after a week of using it out in the field, I would have to say that all of it is true……
See full article on www.thistonybridge.com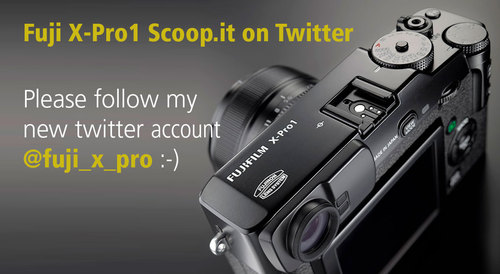 Aspects of Digital Photography focusing on the Fuji X-Pro1, X-E1 and X100s – photographer, reviews, samples and more …
Please follow my twitter account @fuji_x_pro
Following on Twitter twitter.com
I've had the Fuji X-E1 for a little over a week now and thought I love the Fuji X system, there are things that I'm not 100% happy with and would like to see an improvement to in their next iterations. Here is my Fuji X-Pro2 and X-E2 wish list.
Phase Detection Autofocus on the Fuji X-Pro2 and X-E2
With the announcement of the Fuji X100s, we are finally getting phase detection autofocus on Fuji X bodies. The X100s is said to be the fastest Fuji X camera to date. I'm sure that the next camera in the Fuji X-Pro series will definitely be getting phase detection, but it would be awesome to see it implemented better than that of the Fuji X100s. At the moment, the Fuji X100s only have phase detect autofocus built into the sensor on only the center autofocus point. Having phase detection built into more focus point would take the Fuji X-Pro series to the next level and bring it closer to matching semi-pro DSLR cameras.
20-24 Megapixels on the Fuji X-Pro2 and X-E2
I'm happy with the 16 megapixels of the Fuji X-E1 but having come from the Canon 5D Mark II, I miss those extra pixels and the flexibility that comes with having them. If Fuji can up their megapixel count without sacrificing dynamic range and high ISO performance, I'll be a very happy man.
More Responsive Electronic Viewfinder on the Fuji X-Pro2 and X-E2
The Electronic viewfinder on the Fuji X-Pro1 is good as it is, and it is even better on the Fuji X-E1. Despite the already outstanding technology that is put into the electronic viewfinder technology, it hasn't come close to matching the experience of shooting with an optical viewfinder. I'm happy with the X-E1 EVF, but any improvement on the technology behind it will be a plus…..

See on www.camcrunch.com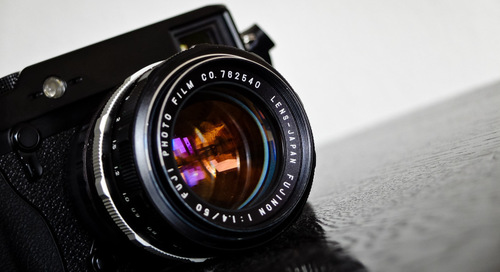 As I venture further into the world of photography I have developed a defining fascination of old lenses. They have a character that has been long lost in the production of clinical-looking perfect rendering glass for the ultra-modern digital cameras of today. What is super fun about my Fujifilm X-mount system, is that you can adapt almost any lens mount via an adapter. So possibilities to use these old lenses are nearly endless. For the old Pentax M42 screw-mount you can get a LOT of great glass for a very reasonable price. Cream of the crop are the old Takumar lenses, but also many old DDR and USSR lenses like Praktika, and Zeiss Jena lenses are really cool. I was fortunate enough to get a hold of a rare Fujinon 50mm f/1.4. It came attached to a Fujica ST705W, and I got it REALLY cheap. The lens was in excellent condition. No fungus or inter-elemental dust of any kind. Of course the white marking had been yellowed by wear and nicotine. I restored the outer elements of the lens using silkmatté spray car-finish and white+green acryllic paint for the markings. I now have a mint condition, 38 y.o. vintage lens for the bargain price of $50 (incl. the great Fujica ST705W, which I will make a little review of when I get some rolls of film developed and scanned)
I have bought a cheap adapter for the M42 to X mount on ebay, and the 50mm turns into a great 75mm FOV equivalent f/1.4 for my APS-C Fujifilm X-Pro1.
"They don't build 'em like they used to"

The build of this lens is FANTASTIC! It's all metal and glass. It's amazingly sturdy and the aperture ring clicks in great defined clicks. The focus ring is fluid in its turning and a joy to use.  I have handled alot of lenses, and the feel of these vintage lenses simply cannot be matched by todays production standards, except maybe for the Leica lenses, and to some extent the Zeiss lenses. The era of plastic certainly isn't doing anyone any favours in terms of durability and look & feel! I am simply amazed that I am using something from 1978 and it feels brand spanking new!

"Sharp is great, but so is softness and character"

So what makes this lens so great is its character. It seems that with the digital era came the pursuit and quest to get everything razor sharp, and noiseless. While great and practical, the results can often lack defining character. This is where I like the look and quirkyness of the old lenses. You get some unique looking shots, that you simply cannot achieve with modern day lenses. The Fujinon 50mm f/1.4 is quite soft when shot wide open. But stop it down to f/2 and it is rather sharp. However that wideopen softness gives it a dreamy look and feel to portraits. There is some chromatic aberration visible when shot in harsh sunlight, but if you attach a 3-stop ND filter everything looks great. The Bokeh is very pleasing. Soft and round out of focus specular highlights, and its not messy, but rather fluid and soft. For object separation this lens is fantastic. The soft dreamy look at f/1.4 is really essential to the shots that can be achieved with this lens. When you stop it down a few steps to f/2.8 you can get very sharp results. I prefer the soft look approach, since I would use a more modern lens if I wanted that super corrected sharpness. However, the possibility to achieve sharpness is definitely there. Color rendering is a pleasing warm colour. Colours are saturated and there is great blue/yellow separation. This must be due to great coating of the elements…..
See more pictures on jonasraskphotography.com
The other day while going through my blog reading, I happen to come to Lloyd Chambers web site http://diglloyd.com.  Which I must say is a very good review site, albeit a paid subscription is required.  Mr. Chambers had a done a recent review of the new Fuji X100S. It appears Mr. Chambers is not a fan of the Fuji X-Trans sensor, which appears in the new X100S, X-Pro1 and XE-1.  There are plenty of examples in his review showing "artifacts" or smearing of fine detail.  The examples include a piece of worn fabric, a paper label form a bottle and a leafy scene all presented at "actual pixel size", which I take to mean at 100%.  These appear on the "free"part of his site, dated 23 April. Later on I visited Ken Rockwell's site  http://www.kenrockwell.com  where I noticed he had also done a recent review of theFuji X100S.  In the review there were also examples, which looked entirely different then from diglloyd's.  Even though there were some similar examples (e.g. a rope net and a brocade like fabric, both which can be viewed at 100%) there isn't any of the smearing of fine detail that diglloyd's has shown. Now let me make this clear, I am an owner of the Fuji X-Pro 1 and I do love my camera.  It may not have the professional build quality of a Leica.  Nor is it the end all camera.  But it is a joy to use and produces some pretty good files.  The X-Pro 1 has been in my possession for over a year now.  So it is safe to say I do know a little about the camera.  As of yet I have not experienced the same effects from "artifacts" or smearing of fine detail that Mr. Chambers has shown.  Really! To try and at least bring to rest in my mind I decided to do a little test.  In thinking about this test, I chose four pieces of material, that I thought would present some difficulty to the sensor's ability to avoid smearing and or moire effect.  In addition I chose red material as I thought this would also test the sensor. Shot in RAW and Fine jpeg.  For the test I used four different RAW converters; Adobe Camera RAW 7.4, SilkyPix which came with the Camera, Raw Photo Processor 64 and Apple's newest update to Aperture.  Along with a SOOC jpeg.
See on gambofoto.blogspot.de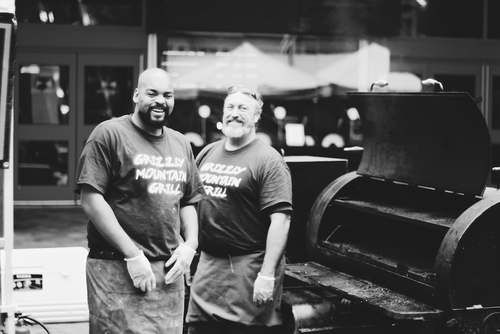 Following up on Part 1 of Fujinon Fast Lens Alternative, here i show the Konica 57mm 1.4 which is much closer to the recently announced yet to be released Fujinon 56mm 1.2. This has to be one of my favorite lenses from Konica, it's got serious mojo in terms of the way it renders on the X-Trans Sensor. Fantastic saturation, color and pop… Wide open you get that lens softness – not to be confused as a flaw. In Leica land they call this glow, go figure. All shots in Raw @ f/1.4 processed in Aperture with minimal tweaking except B&W conversions using my Tri-X preset. Other than that everything else is straight out of camera in Raw.

See on blog.ikphotography.com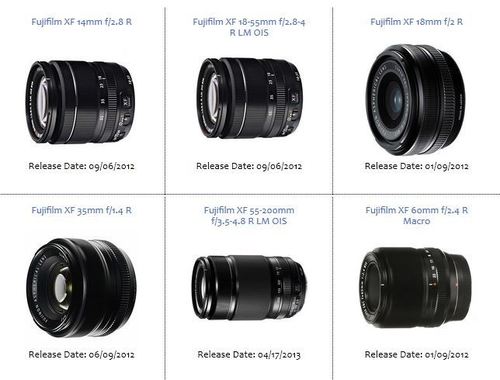 We have been incredibly busy during the last few months, working on building our very own Lens Database. As of today, the database contains 400 lenses and we are continuously working on adding more lenses from different manufacturers. You might be wondering about why there is a need to have our own database at Photography Life, when there are plenty of lens databases on the Internet. After I went through a dozen different sites about a year ago, I realized that most sites contain very little information about lenses. While manufacturer specifications are mostly there, such important data as lens construction and MTF charts is typically missing. On top of that, very few sites provide image samples from lenses – images are often too small to look at even on a mobile device.
Here is the Fuji Lens Database ….
See on photographylife.com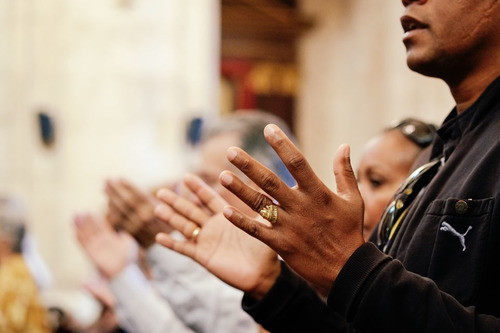 This is the second year when the Cuban government gave as holyday the "Holy Friday". I was there I decide to take some pictures in a country with different king of religion and religious cultures.

La Habana have a little more of two million peoples in the viacrusis we are no more 300 peoples.

I took these images just with the Fuji XE1 and the 18-55mm.
Thx Pascual for sharing your pictures!

See more pictures on www.pascualrico.com