Juni 2013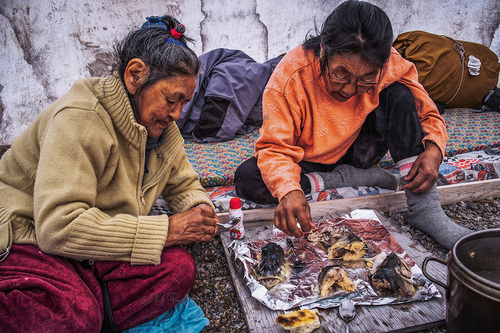 Last Saturday, I went to visit Selima and Minnie, at their traditional campsite. Once there, it didn't take long I receive an invitation to come in the tent to have some lunch (arctic char, banik and tea). I sat on the ground with them, and they told me stories of their younger years. They are both 66, but still very active.
" Last night, before climbing in our sleeping bags, I went out and fire my rifle in the four directions to let animals know we were there " said Minnie with a grin on her face.
Selima was very open. When asked about tundra herbs to make tea, she said that she knew a lot, but don't drink them anymore because she had so many cups in her younger years.
After lunch, Minnie took her beading out and her friend looked at her work. The " tupik " (tent) was kept very clean, free of any fish tiny bits, not to draw bears. Selima wrapped the small leftovers in aluminum foil and put it in the stove.
"There will be no smell" she said, closing the metal plate forming the stove top opening.
After a while, they looked by the tupik's entrance……
See more pictures on marcpauze.photoshelter.com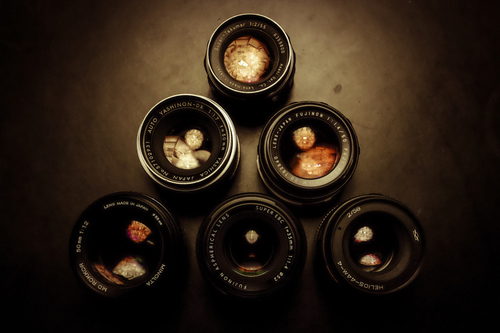 So, today I wanted to share a little something that I did last night. I have been collecting vintage prime lenses around the 50 mm FOV for a couple of months now. I'm really fond of each and every one of them. However they do render so differently. It is, by now, no secret that I REALLY like my Helios 44m-4 58mm f/2 lens. But how would it stack up against all my other primes, such as the excellent Super-takumar 55mm /f2 or the beast of a minolta 50mm f/1.2? What I really like about these vintage lenses is their ability to render black and white. This is due to their old coating which doesn't supply much contrast, so for b&w I have a lot more dynamic range, and I can play with contrast in post process. Coupled with the high ISO look of the X-Pro1 you get some output files that looks VERY film like. So, thats what I tried to set up. I did a simple test setup. I set it up at night, with low light as to get grain from hi ISO, I took a shot in colour and subsequently did a straight desaturation to black & white. The test enviroment featured a messy background so as to compare bokeh quality.
The lenses tested are:
Asahi Pentax Super-Takumar 55mm f/2
Fujinon M42 50mm f/1.4
Helios 44m-4 58mm f/2
Yashinon DX 50mm f/1.7
Minolta Rokkor MD 50mm f/1.2
Fujinon XF 35mm f/1.4
See on jonasraskphotography.com
Back in January I cheekily asked Fuji if I could borrow an X-E1 from them. I never thought they would agree but they did! I was very intrigued by it and thought that its extra flexibility over my X100 would be a great benefit to me. I was, and still am, most interested in the fantastic 35mm f1.4 lens as the results I'd seen from it are nothing short of spectacular. Fuji sent me an X-E1 to test but they sent it with the 18-55mm, a lens I had no interest in.
One of my main reasons for getting the X100 was to strip down my equipment and concentrate on just one lens. I had sold my old DSLR and 24-70mm f2.8 to get it so to get to use another zoom wasn't what I'd hoped for but I was still super thrilled to have been given the opportunity to use one. It was before my X Photographer status too. So I eagerly put the lens on the body, raised it to my eye and nearly dropped it! It was so front heavy. The X-E1 has the same lack of grip that my X100 has so to mount a fairly heavy lens (by Fuji standards)  on the front seemed very out of place but this wasn't to be what I disliked about this setup…..
See more great pictures on paulpride.com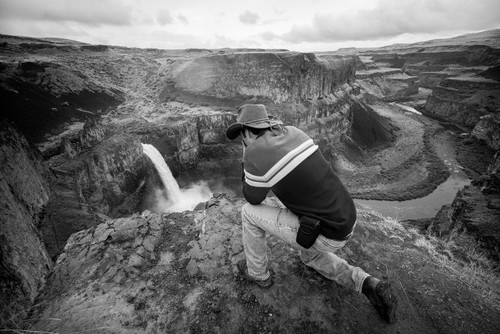 About a week ago Zeiss sent me their two newest lenses for the Fuji X system, which are also available for the Sony NEX camera system. The Zeiss Touit 32 1.8 and the Zeiss Touit 12 2.8. These lenses were highly welcomed to the mirrorless world of Fuji and Sony as it would be two more super high quality lenses for these two systems. With a lack of really HQ lenses for the Sony NEX these Zeiss offerings are pretty exciting to  those who shoot with a NEX body. But these lenses do not come cheap. At $1250 for the ultra wide 12mm f/2.8 and $900 for the 32 f/1.8 these will set you back a pretty penny. So the question is, are they worth the cost? ….

See more pictures on www.stevehuffphoto.com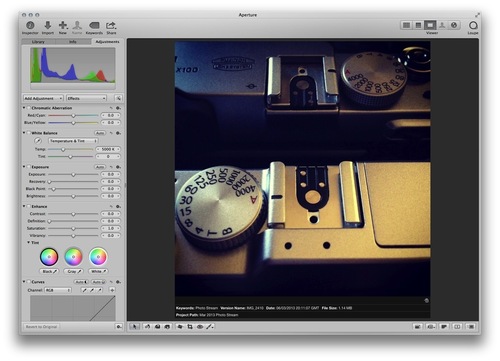 A little while ago Apple finally added support for the Fuji X-Trans series of cameras into Aperture. With their non-bayer sensor design I had previously been skeptical that it would ever happen, but as an owner of a Fuji XE-1 I was delighted that it did. The quality of Aperture's conversion was a little difficult to quantify at first. On the one hand it seems to render detail and colour much better than other converters, particularly Lightroom, and it doesn't suffer from the fractal pattern issue that Lightroom conversions seem to suffer from in fine detail. On the other hand the control of moire is not great, and you can get some pretty bad patterns and colour noise depending on the source material. Since it came out, I've been going back and forward on whether or not I prefer it to Lightroom….
See on theapertureblog.com
I see lots of questions regarding moving from a DSLR to the Fuji X pro system, whilst I have moved fully into the Fuji camp and have been extremly happy with my choice, many will be somewhat disappointed with the system. The Fuji Xpro 1 is a visual delight, and engineered to a really high standard, the image delivery is incredible, colour accuracy is superb. The recent firmware upgrades are a welcome addition, (these really should have been implemented a long time ago). Just having the ability to quickly change focus area on the thumbpad is joyous. I usually see the grumbles about autofocus speed to be the main gripe, and one that leads folk to stay with the DSLR. However if you persevere and learn how to use the camera, learn how to overcome its focus issues, you will be so pleased with the image results. Once focus is found its totally bang on. I have always loved Fuji for their approach to applying their knowledge gained in film development, and applying this to their digital camera systems. The jpegs are faultless, I looked at raw files and found no real gains to be had by using raw mode, this applies only to my thinking and I am not wishing to create a raw/jpeg debate. It suits my workflow. I remain totally in love with the system, but sometimes get quite infuriated at Fuji seemingly lack of understanding when it comes to camera ergonomics. Why produce a lovely little handgrip, that leaves you no access to the battery/card chamber, go figure!! Generally speaking the niggles I have with this little beauty are forgiven when I see the results from the Xtrans sensor printed as a 40×30 print…..
See on www.thebigpicturegallery.com
Named after Latin American independence hero Simon Bolivar, who had a hand in the liberation of Panama, Venezuela, Peru, Bolivia and Colombia from their Spanish overlords, Bolivia is a landlocked country in South America. Having lost its sole access to the ocean and its mineral rich Atacama and Antofagasta region to Chile during the War of the Pacific, Bolivia nonetheless remains abundantly rich in natural resources but ironically, is also one of the poorest countries in Latin America.
We had heard little about the country prior to our visit but a month in the country had given us an insight into the lives of Bolivians and its extremely varied landscape, from the arid altiplano of Uyuni and the Chilean border, to the colonial riches of Sucre, from the highest capital city in the world La Paz to the tranquil town of Copacabana by the shores of Lake Titicaca. Like its landscape, Bolivians are a huge mish mash of varied cultures and languages, chief amongst them, Spanish, Quechua, Aymara and Guarani.
My experience of interaction with Bolivians gave me the impression that they are a hardworking, hardy and extremely proud people, more reserved than their neighbours up north in Peru and down south in Chile but with a warmth that lies just below the surface, if you would but take the time to know them. I captured these portraits of people at work, at play and most of all, at ease during my month in Bolivia. They offer me a peek into a culture so unique and different from my own…..
See more pictures on handcarryonly.com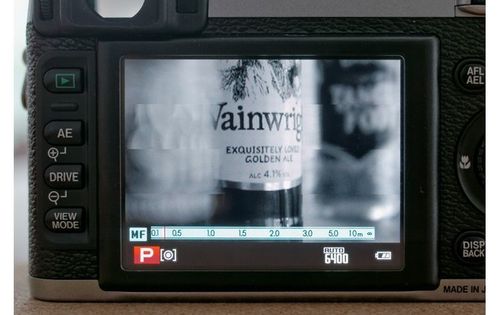 £1,000 is a huge amount of money to spend on a compact camera, but the X100S has the charisma and charm to make people suspend their rational judgement. The gorgeous retro design closely resembles its little sibling, the Fujifilm X20, but manages to look even more handsome in its slightly larger body. The retro styling is more than skin deep, though. There's an aperture ring on the lens and shutter speed dial on the top of the camera, recalling film cameras from a time before automatic exposure. Both controls have settings marked A for auto, and selecting program, aperture-priority, shutter-priority and manual exposure is simply achieved with these two controls – there's no need for a mode dial…..
Verdict:A stunning design and jaw-dropping image quality – worth the high price

See on www.expertreviews.co.uk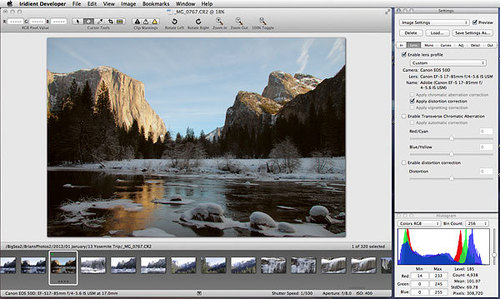 Iridient Developer 2.1.1 is now available with all new, native demosaic processing for the Fuji X-Trans models!!
This release includes support for 14 more RAW camera models, reduces memory usage of the new noise reduction algorithms introduced in version 2.1 by 25% and fixes preview display issues on Retina screens when using custom rotation and/or orientation settings. Odd noise issues with Sigma X3F images, especially from older SD models (particularly hot speckles and/or pink/magenta blocking issues) introduced in the version 2.1 update have been resolved as well…..
See on www.iridientdigital.com
I went to Paris last week for business, but had a free evening to spend with a friend there. We decided to do some long exposure photography.
Normally long exposures are useful to blur out moving water in landscapes. Here we actually "blurred" out people, sometimes even removing them entirely! It's quite a funny feeling when you look at your picture after the long exposure.
As the weather was quite overcast, it was nice to have some moving clouds in there too. It was really a nice evening (thanks Jerome)! The joy of traveling with the Fuji X-Pro1 is that the equipment is considerably lighter than a DSLR kit. I could even take a small tripod (a gorillapod) instead of a huge and heavy one.
My friend Jerome on the other hand, had a Canon EOS-5D MkII and a big tripod; that did attract attention. At one point, in the Jardins des Tuilleries park, a car with park maintainers pulled up to us and asked if he had a permit. They claimed that he was a "professional" because of the tripod! On the other hand, I think they didn't even notice my Fuji hanging on the gorillapod on a fence! Another great reason for being a Fuji Ninja! ….
See more pictures on blog.danielpfund.com