August 2013
what a really luck guy I am…
a few days ago I just walked in the local photostore to pick up some equipment for my loewe photobag and while paying couldn't help asking for a delivering date of the fujinon xf27 – the answer came immediate and really unexpected: "yes, we do have one in stock since yesterday!"  BONG :-)) after testing af speed and minimal focus distance with a few shots inside the store it took me another hour of thinking and googling, but then returned back and bought the lens. why did I hesitate? well, I've not been quite sure, if the lens was worth buying or if it's better to wait for the xf23 prime? on the pro side, since I'm not owning a prime lens near the 35mm ff-format, it definitely does fit well in my existing xf-collection (14, 18-55, 60, 55-200). besides that, I assumed, that I can benefit from the pancake size, offering low weight and a "stealth mode"-design due its smallness, which for sure is also practicable for street-photography. the xf35 prime on the other hand will offer two stops more – from f2.8 down to f1.4 – and will certainly play in it's own optical class, providing a different – higher level – playground for us photographers. for those now asking: what about the xf35? I can respond, that I personally prefer the 41mm focal length of the xf27 over the 53mm of the xf35, seeing the latter already more at the beginning of tele. the fact that the xf27 will therefore allow me easier picture composition in every day shooting, destroyed my last doubts……
See more pictures on www.refro.at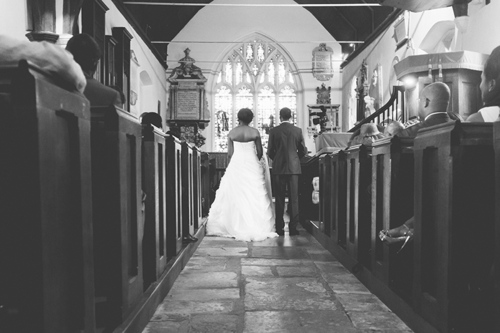 I decided to introduce my travel camera into my wedding kit bag this  season and am loving it! The X100s is a brilliant compliment to my two X-Pro 1s. Things are still in the early stages but it looks so promising.  I am finding that the 35mm focal length is a joy to work with and it compliments the 50mm focal length for a days coverage.

All images in this post are a combination of my x100s and one of my X-Pro 1s with the 35mm 1.4 lens.
See more pictures on vopoku.com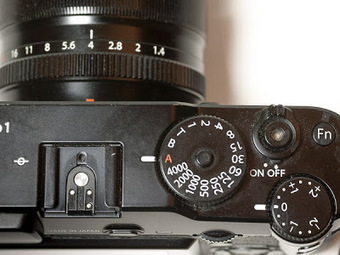 Fujifilm's designers are in a tight spot: they based their design on the best elements of simple cameras, but no digital camera is simple thanks to the demands of the typical "what-about-my-astrophotography" camera buyer. I do not envy their position. That said, it's to Fujifilm's credit that critics are mostly clamoring for a slightly more polished camera instead of kvetching about image quality. I say give them another round to take advantage of better electronics and user feedback. While I may eat these words later, I'm optimistic Fujifilm will deliver. I mean, have you seen the reviews of the X100S? David Hobby called it "damn close" to a perfect camera; Luminous Landscape left little puddles of drool all over their website. More than some other manufacturers, I get the sense that Fujifilm is hungry to do better. Each round of cameras is exponentially better than their last. They're getting better at high-end digital cameras faster than the competition is getting better at doing, well, anything interesting. So while the X-Pro1 is not quite the simpler digital camera some of us are clamoring for and that will never come – hell, even Leicas do video now – they've definitely got my attention.
See on www.thewsreviews.com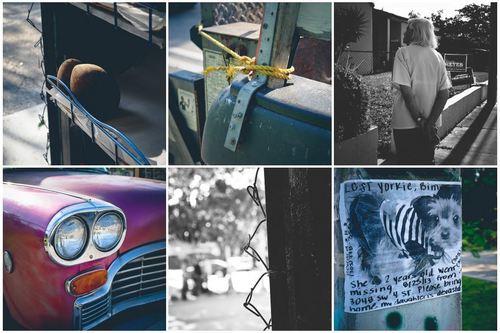 A few days ago I tweeted that I had gotten an idea for a post. It dawned on me that back when I shot film I was never worried about a color palette. I shot Kodak TRI-X 400 on a Canon F1 and that's about it. My only concern was composition and doing my thing in the darkroom and printing process. Yes, I dodged and burned but that was about it. I never uploaded to the web, I mean it was 1994. Fast forward to today and all of a sudden we are faced with a multitude of things: camera model, full frame, aps-c, m43, high ISO, raw vs jpeg, lightroom, photoshop, ACR, and the list goes on. Isn't that quite a list? I think so. Then all of a sudden Fuji comes out with the X-Series cameras and takes us back to our roots of film shooting in classic 35mm format. Simple dials, simple controls, aperture rings on lenses, classic aesthetics, and all with an immense IQ punch rivaling full frame goodness. With that said, breathe, shoot, and rekindle yourself with photography once again ― Fuji X-Series.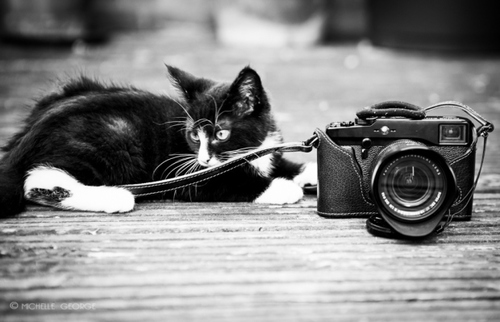 As I'm generally using the Fuji X Pro 1 in controlled environments with either models or actors following my direction what better way to test out the Auto Focus speed and accuracy than to test run it with my new kitten Marlon…as you can guess he's extremely hyperactive and doesn't take direction too well. I mainly took advantage of the fantastic ISO and set it around 500 to 1250 so I could have a fast shutter speed to capture movement…..
See more pictures on creativelondonphotographer.wordpress.com
These are all just boldfaced statements about how I feel or what I think. They're just my ideas & if they differ from other people's, that is fine. Different strokes, and all that.
1. People rave about the quality of the jPegs from X-Trans cameras. Yep, they're pretty good. But I feel RAW is still better. More headroom, as they say.
2. Capture One is the best. Maybe Iridient Developer 2.2 gets more detail (important when you're printing pixels), and maybe others do this or that, but for overall use as a RAW importer / converter / etc., I think Capture One comes out trumps. Overall, I find Capture One processed RAW files look best. But hey, it's a personal thing, and also, depending on what's being looked at, it really is splitting hairs at times.
3. Lots of stuff on the inter-naught about the pixel peeping results from the X-Trans sensors. "Watercolour effect," and all that. However, I haven't noticed anyone writing about the horrible smudged effect at the transitional edges of shadows. I first noticed it before I had bought my X100s, when I downloaded someone's example X-Pro1 files (so, it's not just me doing something odd on import). It looks like someone has taken some nugget (shoe polish) on a brush and dabbed it along the edges of shadows. I've never seen this before, so presumably it is an X-Trans thing. But it is also software compounded, as it is worse in jPegs, worse if soft-proofing and worse in Aperture than Lightroom. It also seems to show up more in out of focus areas….
I grew up surrounded by the flatness that is the prairies, which although beautiful in their own right, ever since we moved to a city just outside of the Rocky's I've been pining to see the view from atop a mountain. Yesterday my buddy Jeremy and I set out to finally conquer that need and hike up to the summit of Mt. Yamnuska. With my backpack filled with snacks and water, and my beloved X-Pro1 clipped to my chest strap, we set off on our 4.5hr hike. And that was the last photo that my X-Pro1 would take on this trip. Why? Because it took a dive off a cliff. Yep, I realized that from this point on we would be doing a lot of scrambling over rock areas and decided that the X-Pro1 dangling off my chest strap wasn't going to be a good idea. At that point I un-clipped my chest strap, and well, the camera slipped right through my fingers and landed on a pile of scree right by the cliff edge. For those of you who don't know what scree is, it's a whole bunch of small loose rock, a.k.a. slippery and dangerous. So, rather than risk my life to save a camera, I just sat there with what I am sure was a ridiculous look on my face as I watched it slowly start to slide off the side of the mountain. It then fell through the air and bounced off a huge boulder, then continued it's plunge onto another ledge. Jeremy, being that sweet fella that he is (and much more experienced scrambler) offered to go down and retrieve my beloved camera for me…..
See on nathanelson.com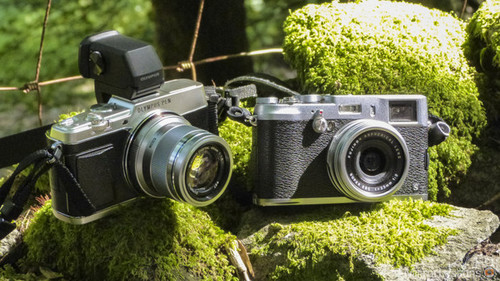 A few months ago, we pitted the then brand-new Fujifilm X100s against the OM-D E-M5, Olympus' Micro 4/3s flagship, to see which camera would emerge victorious. As it turned out, it was impossible to definitively say that one camera was better than the other as they have been designed for very different purposes. Though I risk giving away the punchline of this article in the very first paragraph, I'll blurt it out anyway: the same stands for the E-P5 and the X100s. The E-P5 is an MILC (mirrorless interchangeable lens camera) with a Micro Four Thirds sensor, and is very similar to the E-M5 in terms of specifications despite actually being the successor to the Pen E-P3. Thanks to its unique array of features, it can easily be considered a new reference for Olympus–that is, until the new OM-D E-M1 arrives later this year. The X100s, on the other hand, has a fixed 35mm lens and an APS-C X-Trans II sensor, and remains one of two Fujifilm flagships alongside the interchangeable X-Pro 1. Due to its interchangeable nature, the E-P5 can be used for a wide variety of genres whereas the X100s is intended mainly for street photography. The former is faster and has better stabilisation, whereas the latter produces more attractive film-like colours…..
The Fujifilm XF 55-200mm f/3.5~4.8 R LM OIS is a decent performer.  It is sharp, the OIS is effective and it balances nicely on an X-Pro1 body (but not so much on the X-E1).  For stationary subjects, AF is good (but not great), and given the current state of continuous AF on the X-Pro1 and X-E1, I won't be using it for any of my action work (wildlife and sports). I have been on the fence as to whether I would keep this lens – not because it is bad, in fact, it is quite good.  I initially purchased my X-Pro1 system because of the high quality, fast and small prime lenses – I am not a fan of variable aperture zoom lenses.  But for now, I will keep this lens as it is the only way to go beyond 60mm with the "X" system and still have auto focus – plus optically, it delivers the goods.So for now, I will be holding onto it.  For me, it is a compromise but if you don't mind variable aperture zooms, then you will probably like this lens a lot…..
See on roel.me

---
Fujifilm Fujinon XF55-200mm F3.5-4.8
Do you love my work and want to support me? If you're planning on buying camera gear, you can check out above-noted links. Prices remain the same for you, but a small percentage of your purchase value is valued back to me. Thank you!
---