Aspects of Digital Photography
There have been a few film versus digital articles here and there on the interwebs, but seems like very few have approached the subject in a scientific fashion or with the advice of both film and digital experts. However, with the help of Joe Cornish (a landscape photographer who made his living shooting on medium and large format but now shoots Phase One IQ280s), Chris Ireland (who sells Phase One cameras), and myself, Tim Parkin, (I shoot film and run a drum scanning service), a definitive test was born. The first part of the test compared large/medium format film with medium format digital, and a subsequent part was a comparison of high end DSLRs using the Nikon D800E. The results may surprise a few people. Here's our comparison of the Nikon D800E and a Mamiya 7 medium format camera (both using ~25mm equivalent lenses): First of all here's the full photo view showing the cropped area we'll be looking at and a comparisons in color (Fuji Velvia 100F) and black and white (Adox CMS 20) film ….
Source: petapixel.com
The Zone System (ZS) can be an integral and important part of any digital photographer's workflow because it allows you to plan and predict an image's tonal values rather than letting the camera make the decision. The computerized metering systems in modern cameras are really amazing, and a lot of the time they will give you practical exposures, but in difficult or extreme lighting situations, the scale of the subject's brightness is simply greater than the camera's technology can handle.
The Zone System:
Lets you be aware of whether, or how much, the scene brightness exceeds your camera's limits
Lets you make an intelligent decision about how to expose when the tones/contrast in a scene are "bigger" than what your camera can capture
Helps you avoid blown-out highlights
Lets you know how much exposure range you need for successful HDR captures
The Zone System 101
To use the Zone System effectively in the digital world, you need to understand a few of its basic principles: The ZS was originally conceived by Ansel Adams and fellow photo instructor Fred Archer as a tool to give photographers working with black-and-white negative film (no digital back then!) the ability to plan and control the effects of exposure and development. They created a "scale" of tones from black to white and assigned each one a number, with "I" being almost pure black and "IX" or "X" being nearly white or white.  Zone "V" is middle gray, and each "Zone" is one stop lighter or darker than its neighbor. In the digital age, image contrast can be easily increased post-capture, but there is no practical means of reducing image contrast in a single capture. Pre-exposure can enhance shadow tonality, but this requires the ability to double-expose, and High Dynamic Range techniques (HDR) require three or more exposures for best results. Sophisticated "evaluative" metering modes in modern cameras can handle many complicated shooting situations, but if the contrast of the scene exceeds the recording scale of the camera, something's gotta give. This is where the ZS can help……..
Source: www.alanrossphotography.com
I am not at the top. I'm not even skating the middle, but I have been doing this photography thing for a while, and there are some things I've learned along the way that I thought I would put out to the universe. Mainly because these things were bouncing around in my head and it's nice to put things out there… so here they are.
#1. It's Okay to Compare
…because it's going to happen anyway. I don't care if you're a 14 year old who has just picked up a camera for the first time or if you're Annie Leibovitz, you're always going to compare yourself and your work with other people. Here's the important part, though: don't let it stop you! They are them and you are you. They take those photos, and sure they're cool, but that's their brain, and you know what? You know what they don't have? Your brain! Your brain — and imagination — is full of stuff that isn't inside theirs! And lets just stop and celebrate that for a sec.Pretty cool, huh? You can't let what they're doing stop you. Let it inspire you, let it spur you on. You have to keep on the path you are on and if you keep trying, you'll start taking photos where you look at the finished project and think, "yeah, I created that… I rock!" And you do……..
Source: petapixel.com

Iconic Swiss photographer takes us on a journey through six images from his archive, photographing figures like Che Guevara chain-smoking in his office in 1963, Pablo Picasso in Cannes in 1957 and American G.I.s being entertained in a brothel in Seoul in 1961. Burri also recalls his iconic 1960 São Paulo photograph 'Men on a Rooftop, 1960′, shooting the San Cristobal Stables in Mexico city in 1976 and the reopening of the Suez Canal in 1974, explaining why modern techniques like photoshopping are getting in the way of our pursuit for the truth….
Source: vimeo.com
---
Leica M Monochrom
Do you love my work and want to support me? If you're planning on buying camera gear, you can check out above-noted links. Prices remain the same for you, but a small percentage of your purchase value is valued back to me. Thank you!
---
I recently picked up a copy of "The Mind's Eye" – which is a great compilation of thoughts and philosophies Henri Cartier-Bresson wrote. Aperture published this great volume (as they are an amazing non-profit dedicated to promoting photography, education, and great ideas). Ever since I have been back home, I have been dedicating more of my energy, attention, and focus to great photography books – and trying to distill the information. I've learned all of these great lessons personally– and I want to share that information with you. Henri Cartier-Bresson was one of the first street photographers who deeply inspired my photography and work. Of course– whenever you Google "Street photography" he is always the photographer that comes up the first (then the fact that he shot with a Leica camera, which takes a lot of photographers, including myself, down a rabbit hole of wanting to purchase a Leica camera to get great shots like him)……..
Source: erickimphotography.com
---
Leica M-P 240
Do you love my work and want to support me? If you're planning on buying camera gear, you can check out above-noted links. Prices remain the same for you, but a small percentage of your purchase value is valued back to me. Thank you!
---
How many of us would love to photograph perfect strangers, but the idea of talking to people, let along taking their picture, seems impossible.  This is a series that looks at situations around the world, where I have met complete strangers, taken their picture and walked with more than a smile. Last year, B&H Photo invited me to speak about the topic and when they reviewed my slides they were skeptical.  They did not know if a guide on photographing strangers would be that interesting…well 132,000 views and counting it seems like there are a few people out there who would like to know how to do this more easily.  So welcome to the new series "How to talk to Strangers" and we hope that it encourages you to get out there, take some pictures and make a few unexpected friends along the way……
Source: www.adammarelliphoto.com

---
Leica M-P 240
Do you love my work and want to support me? If you're planning on buying camera gear, you can check out above-noted links. Prices remain the same for you, but a small percentage of your purchase value is valued back to me. Thank you!
---
Vivian Maier, who worked mostly in domestic service, mostly in Chicago, was a serious photographer who shot some 100,000 images over upward of 40 years. Although those who knew her — primarily the children in her care; she had no real intimates — were aware that she took pictures, she never published or exhibited them, and rarely showed them to others. Her work came to general attention only when, in 2007, two years before her death, five storage lockers on which she had failed to keep up payments were emptied and their contents auctioned off. By the time the buyers realized what they had on their hands, she had died. John Maloof, who bought most of it, put up a selection of scans on a website, which immediately went viral; Maier posthumously became a media sensation. Maloof's VIVIAN MAIER: A Photographer Found (Harper ­Design, $80), with text by Marvin Heiferman, is already the fifth book of her photographs to have been published…….
Source: www.nytimes.com

---
Leica M-P 240
Do you love my work and want to support me? If you're planning on buying camera gear, you can check out above-noted links. Prices remain the same for you, but a small percentage of your purchase value is valued back to me. Thank you!
---
Is it the best job ever? Well yeah, sometimes, most of the time really, but it also comes along with some bullsh** that not everybody realizes. I know that most people would imagine being a photographer is all glamour, all fun, all exciting… well here's some things that really happen…
1. You end up spending a lot of time on your own
Because if photography is your job, then editing can take up a ton of time, and that means being stuck inside for days sometimes staring at a screen… on your own. You stare outside at the beautiful sun waiting for your eyes to adjust because they've been glued to an image you've been working on for the last two hours and don't even know what it is anymore because square eyes do seem to exist. It's not all bad, you can work to music, or a series you're working your way through in the background, but it is lonely, and you do start to feel antsy… or even sad. BUT it's your job isn't it, so you just have to keep on it till it's done, because paychecks are harder to come by, and the sooner it's done, the sooner you can get paid……..
Source: petapixel.com
---
I've struggled a bit for a title to today's essay. Through the course of my investigation into other forms of art – perhaps investigation is a bit too strong a word; meandering or exploration is probably closer – I've noticed that photography stands apart for two reasons: perception, and origin. They're really one and the same if you dig a bit deeper, and this also applies to a lesser extent to its derivatives – film/ video, mixed media etc. I suspect I may open a can of worms with this piece, but I'm also hoping it's going to provoke some interesting discussion below the line in the manner of some of the classic posts of old. Let's start with the simpler of the two: origin. Photography is what I think of as a secondary medium. For the most part, the output is a recreation or representation of something, where the something – the originating object, subject or scene – is clearly defined and recognisable in its original form. There is no attempt to suggest that a photograph is anything other than a facsimile of the scene, with adjustments for the bias of the observer – the photographer……..
Source: blog.mingthein.com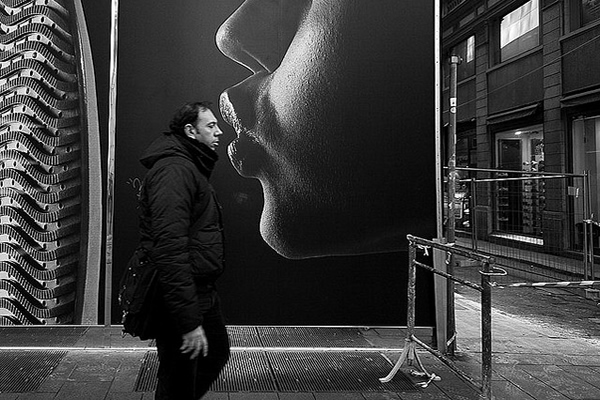 Know Your Equipment
Whatever camera you use, you must know your equipment thoroughly. You need to have a mind map of your camera. You must now waste time struggling with the exposure dials – It must be part of your sub-conscious. You must be able to adjust the camera's setting without removing your eye from the view finder. The only way to master this is to practice.
Check your local listings
Street Photography is not just about shooting on the streets. Anything you shoot in any public place comes under Street Photography. Check your local newspaper everyday and list out the events and incidents happening around you. Select your interesting topic or event and go there. The advantage of listings is there are always interesting photographs you can shoot……..
Source: 121clicks.com