Aspects of Digital Photography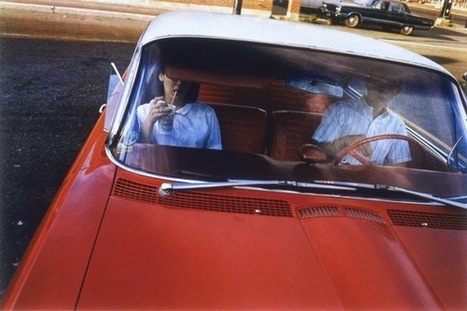 Ich versuche mich fortlaufend fotografisch weiterzuentwickeln, und auf diesem Weg bin ich eigentlich ständig auf der Suche nach Inspiration. Eine solche Inspiration habe ich vor einigen Monaten erhalten, als ich zufällig auf einen Dokumentarfilm über den Fotografen William Eggleston gestoßen bin. Schande über mein Haupt, ich kannte ihn bis dato nicht, aber der Film hat mich sehr neugierig gemacht und ich habe mich weiter mit seiner Arbeit beschäftigt. Ich kann vorwegnehmen, dass die Arbeit von Eggleston einige meiner bisherigen fotografischen Denkmuster, insbesondere in Bezug auf Street Photography, geändert hat. Die Einflüsse Egglestons auf mich habe ich unten in 5 Punkten zusammengefasst…….
Source: www.oz50.de
Too many times have I heard the complaint that social media, despite the connotation of its name, has rendered us more antisocial than ever before. Locked away in our rooms, we chat with individuals who play no part in our actual day-to-day existence, tricking ourselves into believing that our social life is much richer than it actually is. This is why Mathieu and I are both firm believers that the "social media cycle" isn't complete until online relationships are taken offline. As friendly as you can become with people via a social platform such as Twitter or Google+, there is nothing quite comparable to meeting someone face-to-face……

The Netherlands, Germany, Italy, Spain, Ireland, the USA, Canada and the UK–eight nations enjoying one another's company under one roof in the cosmopolitan city of London, all thanks to relationships being taken from the superficial online realm to the geniune offline world. This is the true definition of social media, and the spirit with which LNDNWLK came into being……..

Source: www.bestmirrorlesscamerareviews.com
Ian Plant's book Visual Flow: Mastering the Art of Composition belongs on the digital bookshelf of every serious photographer. It is a hugely informative, well-analyzed and finely crafted work on a truly important aspect of creative photography (or other visual art): composition. Visual Flow is a thinking person's approach to composition (which is the only way to truly create images, rather than "capturing" them), and the thoughtful explanations honestly provide a deeper level to the reader's understanding of composition. Since that is really the point of buying a book on composition, I will say this up front: you can learn about creating art by reading this book. This book is an in-depth work, with a lot of thought put into defining the whys behind the "rules". Visual Flow also includes plenty of healthy explanations of the whys behind breaking the "rules". It is so popular, in some circles, to pay lip service to being a "rule-breaker". To read some forums, it seems nearly mandatory to discuss the importance of rule-breaking. So much so that people have a tendency to boast about the rules that they are breaking almost before they even learn what the rules are……..
Source: photographytricks.com
Ich beginne diesen Artikel mit einem komischen Gefühl im Bauch. Ich habe schon oft darüber nachgedacht, dieses Thema anzuschneiden, hier in unserem Magazin. In meinem Kopf fliegen tausend Argumente hin und her und dieser Artikel ist der Versuch, diese zu ordnen. Wie Ihr schon lesen könnt, drehen sich meine Gedanken um einen Themenkomplex, der nicht ganz leicht zu fassen ist. Wenn ich versuche, das alles in einen Satz zu packen, dann würde sich das so lesen: Alles wird erklärt. Ich schreibe hier nichts Neues. Jede Person kennt diese Artikel und Programme, in denen alles, was mit der Fotografie zu tun hat, erklärt wird. Wie man tolle Landschaftsfotos macht, welches Licht für ein Portrait gut ist und weshalb ein Blitz bei einem Makro so wichtig ist. Mein ungutes Gefühl gilt jedoch nicht den Artikeln und Workshops, die insbesondere Technik erklären. Mit Technik meine ich, wie man Negative entwickelt, was Bokeh ist und wie in Lightroom die Datenbank aufgebaut ist. Dies hat meiner Meinung nach absolute Berechtigung und ist auch notwendig. Worum es mir geht, ist das Erklären von wie man ein geiles Bild macht………
Source: kwerfeldein.de
Street photography might seem daunting to some, I know quite a few folks that are intensely interested but never make the jump. To rememediate, here's 10 street photography tips for beginners to get started shooting.

1) Street Photography Doesn't start in the streets
Before I hit the streets, there's usually a mode of transportation to get there. That can be a bus, a car, whatever. The thing is, I never assume the shoot starts when I actually reach my destination. I have my personal driver, I mean wife that drives me on occasion but it's mainly bus and train……
Source: www.theinspiredeye.net
The Decisive Moment is a book by Henri Cartier-Bresson. More than that, though, the decisive moment is the fraction of a second in which photography matters. The decisive moment is about capturing the right expression, the right emotion in your subject. While many have already written about it, I will take a very pragmatic approach to the decisive moment and how to capture it. Incredibly enough, to capture the decisive moment, you need to listen to yourself more than you may think. In my experience, it is about being calm, letting go of everything else and focussing on your subject. Do you want to know how to capture the decisive moment in your photographs? If so, read the next paragraph trying to free your mind from pre-concepts you may have……
Source: photographers.fabyandcarlo.com
For more information on Camera Raw 8.6 and Lightroom 5.6 – including new camera support and bug fixes – please view the release notes on the Lightroom Journal blog. Or, click here for Camera Raw and click here for Lightroom…..
Source: blogs.adobe.com
So why am I back pedaling now? I started shooting personal work with my little Fuji. Then I pulled it out on jobs from time to time because I loved that little camera. Then I used it more. Then I got the X-Pro1. Then I started seeing my Fuji images in print. Then I started putting the Q&A book together and I had the chance to run pages of test prints for the book. I printed every type of image I had from every camera I had owned. Studio shots. High ISO shots. Portraits. Street photos. I cropped into some images and enlarged them to full page. I received the test prints back and I taped them to the wall and took one step back. My Fuji images ran side by side with D3 and 5d2 images without a single noticeable drop in quality. If anything, my Fuji images were just a tad sharper. My PhaseOne medium format images were the only images that had a noticeable change in quality when I looked at everything side by side…….
Source: dedpxl.com
Zack Arias is one of the biggest names in photography education of recent years. He built his name on the idea that a photographer can use one light to create stunning images. Today, I am sharing a recent video Zack did tackling the age old (haha, not really) question of Full Frame Sensors vs APS-C Sensors. "I have said, in the past, that you should move toward full frame sensors. I have always championed full frame sensors." Zack states in the description of his video, "At the end of the day, full frame sensors beat APS sized and smaller sensors." …….
Source: www.slrlounge.com
Ever since Silo park opened to the public and was transformed into a recreation area, it has become an increasingly popular photographic subject. The tall standing towers, with stairs spiralling to the top, are perfect for symmetric, abstract, fine art images. The key when chasing symmetric patterns is discovering the element which breaks the symmetry, regaining balance and automatically providing the focal point for your eye to gravitate to. Consider the first image, the stairs are balanced with the black cut out on the bottom right. Without these two elements, and just the pipe guiding your eye to the top of the tower, there is very little interest. The tower as a whole is symmetric, including the placement of the pipe running up the middle. But the inclusion of the stairs and the tower cutout break the symmetry and encourage your eye to wander throughout……
Source: www.bokeh-monster.com