Reviews


German review on youtube!

Die Systemkamera Fujifilm X-E1 überzeugt durch hervorragende Bildqualität auch bei hohen ISO-Einstellungen. Selbst bei ISO 25600 zeigen die Aufnahmen noch viel Details.

See on www.youtube.com
This is the X-E1′s, Fuji's latest compact system camera. It's an addition to Fuji's premium X range and is the second camera in the series to feature interchangeable lenses. It features the same 16 million pixel sensor, processor and lens mount as the popular X Pro1. Looking at the two cameras side by side reveals lots of similarities, but the X-E1 is smaller, partly due to the lack of the hybrid optical and electronic viewfinder found on the X Pro1.
Instead, the X-E1 uses an electronic only device. While some may object to not having the option to use an optical viewfinder, in practice we've found that the high resolution device is more than adequate, and in fact even preferable in some cases to using the optical finder which is a part of the X Pro 1's hybrid device.
There's no mode dial on the X-E1, instead you control various parameters via an aperture ring on the lens, shutter speed dial on the top of the camera and an exposure compensation dial here.
Although there's no "fully automatic" mode, you can get pretty close by setting both the aperture and shutter speed wheel to automatic.
The body of the camera is fairly large, with a nice chunky grip and an imitation leather covering. These make it pretty easy to shoot with the camera one-handed if you need to. On the back of the camera there's also a fairly extensive range of buttons. The majority of regularly used settings can be accessed via this Q button. It's recessed into the grip, which makes the camera nice and sleek but unfortunately can make it a little tricky to find the button when using the camera with the EVF. You can change the drive mode via this button – so you can choose between single shooting, the various bracketing modes and continuous shooting. Right at the bottom here you'll also find video mode – there's no direct buttons on the body to activate video shooting, which may be a little frustrating if you like to shoot movies often. This button on the bottom is what you need to use to change the autofocus point. After pressing it, use the arrow keys here to choose the point you want. It's fairly easy to use – even when holding the camera up to the eye – but a touchscreen would have made selecting a point much quicker. The rear LCD screen is slightly smaller than the X Pro1′s, and a has a much lower resolution at 460 thousand dots. That said, it's still a good performer with reflections and glare kept to a minimum, even in bright light. It can also be seen from a wide range of angles, so although it's not a vari-angle or articulating screen, you can still shoot reasonably well from awkward positions. An eye sensor next to the EVF recognises when you lift the camera to your eye to automatically switch off the LCD screen and activate the EVF. Handily, if you hit this View Mode button, you can switch the Eye Sensor on or off, meaning if you only want to use the EVF or the LCD screen for some reason, it won't keep switching between.
One of the key criticisms of the X Pro1 was its focusing speed. Fuji has addressed that issue with a new firmware version, available for both the X-Pro1 and already installed on the X-E1 as standard. This significantly improves focusing time, making it as quick and easy to use as many other compact system cameras on the market.
We anticipated great things from the Fuji X-E1, since it shares the same sensor as the excellent X Pro1. Happily, we've found that the camera is capable of producing images which are punchy, sharp and full of detail. The new high quality kit lens – an 18-55mm optic with a maximum aperture of f/2.8 at the widest end – is a great addition to the line-up and makes the whole system a lot more flexible for use everyday.
See full article on Digital Camera World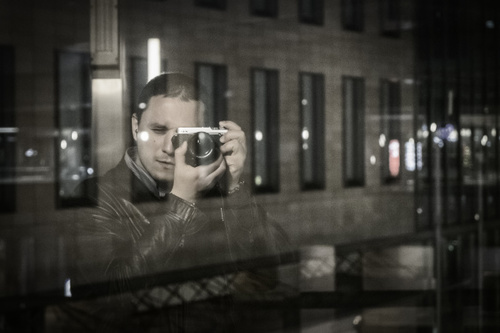 I have been using the Fuji X-E1 since the official release date of the camera on the 17th of November. Rather than showing you performance charts or trying to convince you that this camera is the best in the world just because I love it, I will first give you the context in which I decided to buy an X-E1: what other cameras I am/have been using, what i was looking for exactly in a new camera, what other brands/models I did consider, and why I ended up choosing the Fuji in the end. In my opinion, these are an important part of any review, because what matters for me might not be what matters for YOU. All cameras come with pros and cons, so you need to be aware of the trade-offs that come with each model, in order to make the best investment decision for YOU……

Conclusion: The Fuji X-E1is a beautifully designed camera, aiming first at the photographer rather than the geek inside us. Its command dials and intuitive Q menu invite us to free our mind from the unnecessary and take more time to think of our pictures instead of the technical details. It produces outstanding images even at high ISO, and the in-camera JPEG engine renders files with sharp details and vivid colors, depending on the "film simulation" mode that you choose. However, no camera is perfect, and the X-E1 is to be avoided if you are allergic to manual focusing, as the autofocus may struggle in low light. Also, as a camera designed primarily for photographers, the X-E1 is light on video modes… In the end, it all comes down to what is important for you, and if you are looking for a lightweight camera with outstanding image quality in all light conditions for still subjects, the Fuji X-E1 is exactly what you need.
See on grittymonkey.wordpress.com
The Verdict
In our opinion, the Fujifilm X-E1 is one of the most — if not the most — beautiful digital cameras on the market today, on par with the X-Pro1 and the X100. Someone clearly forgot to tell Fujifilm that digital cameras aren't supposed to look this good.

The X-E1 is also a true joy to use, especially for photographers who love shooting with older manual film cameras that feature similar designs and controls. If that describes you, you finally have an even more affordable option than the X-Pro1 to cross the analog-to-digital bridge to.

At $1000, the camera is $400 cheaper than its higher-tier sibling. However, what you lose in a major feature — the hybrid viewfinder — you gain in portability due to its smaller size and lighter weight.
With a DSLR-sized sensor at its core and the same manual features at your fingertips, the X-E1 makes for a fine DSLR replacement for everyday photography. Just make sure you can live with the slightly slower AF and the lack of an OVF. If you're sure you can, then go out and buy this camera — it's worth every penny.
See full review on www.petapixel.com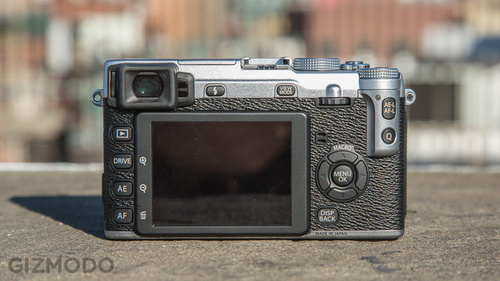 The Fuji X-Pro1was a hit. But at $1700 for the body alone, it was (and still is) bonkers expensive. The new X-E1 is Fuji's reaction to that. With a pared down body and new kit lens, Fuji could maintain its enthusiast appeal—and attract a broader market.

What Is It.
Another Leica-lookalike mirrorless cam from Fuji. Basically, it's the X-Pro1 minus an optical viewfinder, plus a pop-up flash, and for a lot less money—$1000, body-only.

Who's It For?
Purist photographers who want high image quality over versatility.

Test Notes
We love the plentiful bracketing options. You can bracket exposure, ISO, dynamic range, and even Fuji's film simulations (essentially color profile presets).The shutter-speed wheel is a bit tough to rotate. You usually need two fingers to turn it, where it would be great to just use your thumb.Fuji's lens lineup is limited. Only a 18mm f/2, 35mm f/1.4, and 60mm f/2.4 are available, with another 6 or so lenses arriving in the next year, according to this lens roadmap. 'Til now, at least, all of Fuji's lenses have been of great quality at moderate prices.

Should You Buy It?
Absolutely, for stellar images. But not if you want bells and whistles. This isn't a camera for video, for in-camera effects, wi-fi, or scene modes. It's for unadulterated photography, with fantastic image quality and control. The caveats include mediocre autofocus, crappy video mode, and weird RAW noise patterns. But this is a good low-cost alternative to the X-Pro1. Aside from that model's better build quality, are nearly zero qualities that we miss on this lower-priced camera. If you're in the market for this, consider a few alternatives—there's the Sony NEX-7, which is due for a refresh in 2013, and could be a bargain. The Sony NEX-6 is definitely more versatile, but it's slightly behind in control scheme. Then, the Olympus OMD-EM5 rules the world of auto-focus—but it can't match the sheer image quality of the X-E1.

See on gizmodo.com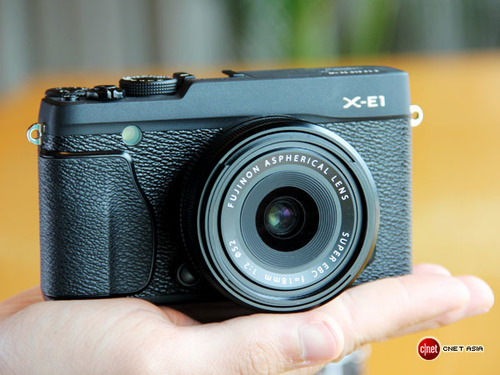 The X-E1 is touted as an affordable alternative to the X-Pro1, but is it good enough to replace it? See how it performs.

The good:
Superb image quality and low-light performance; faster AF performance than X-Pro1; good ergonomics; versatile pop-up flash.
The bad:
Lack of a dedicated movie button; AF accuracy needs to be improved; pricier than competing models.

Following the success of the X-Pro1, Fujifilm has launched yet another mirrorless interchangeable lens camera (ILC), the Fujifilm X-E1. Slated as a more affordable model, this 16.3-megapixel, APS-C ILC now comes in a more compact form factor and sees the inclusion of a pop-up flash and an electronic viewfinder (instead of the hybrid viewfinder in the X-Pro1). Other improvements include a diopter adjustment control for bespectacled shutterbugs, as well as an improved autofocus (AF) algorithm that promises faster AF speeds. Capable of capturing 6 frames-per-second (fps) in burst mode shooting, the X-E1 also records 1080p full-HD videos at 24 fps. The Fujifilm X-E1 with XF 18-55mm F2.8-4 R LM OIS zoom lens now retails at S$2,099 in Singapore stores.

Conclusion
The Fujifilm X-E1 is a very capable performer and seems like a downsized version of the X-Pro1. It features the same image quality and handling as the X-Pro1 but at a lower price point. It also has other useful improvements such as faster autofocus and superb high-ISO noise performance that most enthusiasts would appreciate. Overall, we think that the X-E1 will appeal to those who've been holding out on the company's flagship mirrorless OIC due to its high price, as we as to serious enthusiasts who appreciate the mix of retro styling and manual controls.

CNET Editors' rating: 4 / 5 stars
Performance: 8
Image Quality: 9
Design: 8
Features: 7

See full review on asia.cnet.com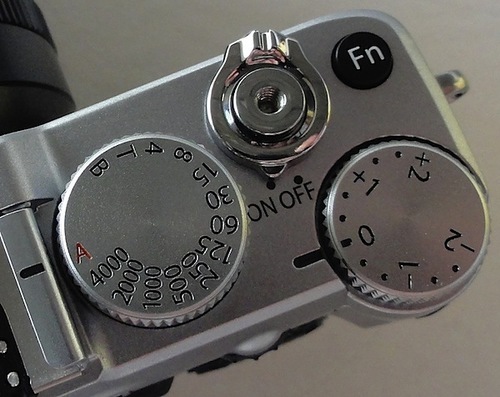 When the X-Pro1 was announced to a surprised market earlier in 2012 I then remarked on my scepticism at the release of a magnesium alloy bodied, mirrorless interchangeable lens camera.
Then it sunk in and I added that other companies had performed 'major rethinks about the future of upper level digital cameras: like Olympus with its retro OM-D and Nikon with its bare bones N1.'
It was obvious that Fujifilm had done 'a mighty rethink about gaps in the pro market and come up with a camera that has some pretty clever answers to some profound questions.' Since then there have been other models in the X-mount line and the XE-1 is the latest.

Fujifilm XE-1 Review Verdict

Quality:
well above average.

Why you'd buy the Fujifilm XE-1:
you have the skills to exploit it.

Why you wouldn't:
the LCD screen does not tilt.
The X-mount series of cameras goes from strength to strength. This sits easily into the lineup.

A fine successor to the X-Pro1.

See on digital-photography-school.com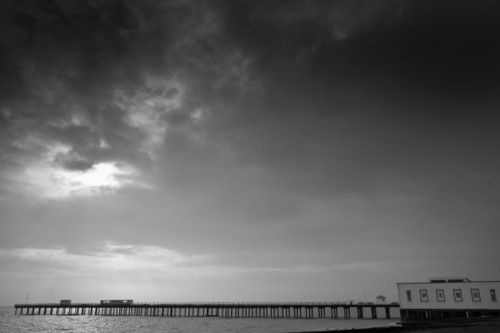 Fujifilm X-E1: Verdict

While it might be tempting to think of the X-E1 as a stripped back X-Pro1, that does it something of a disservice in that the X-E1 is a great camera in its own right. Gifted with the same premium grade construction and finish, the X-E1 feels more refined and balanced than it's more expensive sibling. While some may lament the removal of the hybrid viewfinder found in the X-Pro1, the truth is that the X-E1's sharper, crisper EVF more than makes up for this, though the rear screen remains, at 2.8in and 460k-dots, somewhat underpowered for a camera of this price. Our only other issue is the autofocus performance and while this has certainly been improved from the X-Pro1, it's still not as fast or as responsive as what's offered by other CSCs. These issues aside, and the X-E1 is a joy to shoot with. By far the biggest selling point of the X-E1, however, is its sensor. The quality of the results and the detail rendered is excellent, delivering images that are some of, if not the best we've seen from an APS-C sized sensor.

Score 8/10

Scores In Detail
Build Quality 8/10
Design & Features 8/10
Image Quality 9/10
Value 8/10

See full review on www.trustedreviews.com
Fazit
Die Fujifilm X-E1 ist schon ein feines Stück Kamera. Da freut sich jeder Lichtstrahl, der durch die lichtstarke Optik auf den Sensor trifft. Und der Fotograf freut sich über eine Kamera, die sich nicht nur edel anfühlt, sondern auch edel zu bedienen ist. Meine Betonung liegt dabei auf dem Wort "Fotograf". Die Kamera verlangt einen qualifizierten Bediener, dem die Begriffe Belichtungszeit und Blende nicht nur vom hören-sagen bekannt sind. Denn auf spaßige kleine Helfer in Form von Motivprogrammen oder gar einer intelligenten Automatik muss man bei der X-E1 verzichten – Handarbeit ist gefragt. Wer die in Perfektion beherrscht, wird mit fantastischer Bildqualität belohnt und vielfältigen Möglichkeiten der Bildgestaltung. Dabei unterstützen der extrem fein auflösende elektronische Sucher und der helle Kontrollmonitor. Wenn der jetzt noch ein Klappmodell mit Touchscreen wäre, ja dann … ist gut, ich höre ja schon auf mit meinen Wünschen zu nerven. Immerhin sorgt die elektronische Wasserwaage dafür, dass ein kippender Horizont der Vergangenheit angehört.Fotografen, die in ihren analogen Zeiten vor allem Filme in der grünen Verpackung gekauft haben, werden sich freuen, dass ihre Filme in der X-E1 digital zur Verfügung stehen. Und das mit ISO-Empfindlichkeiten, von denen sie damals nicht mal geträumt haben. Hätte man im Analog-Zeitalter einen Farbfilm auf sagenhafte ISO 6400 gepusht, hätte man vor lauter Körnigkeit jedes Silberkorn per Handschlag begrüßen können. Über sowas kann die X-E1 nur lachen. Sie liefert bei ISO 6400 Fotos ab, die mich begeistern. Dass ich dann auch noch mit meinem Lieblingsfilm – dem Velvia – Videos in toller Qualität drehen kann, ist mir eine Freude. Wer nicht einfach nur eine Knipse sucht, sondern eine Kamera, die einen fordert, begeistert, schmeichelt und bei jedem Augenkontakt glücklich macht, eine Kamera, die nicht mit Elektronik vollgestopft ist, sondern sich auf das wesentliche der Fotografie konzentriert, der wird die Fujifilm X-E1 nicht mehr hergeben wollen. Der wird sehnsüchtig darauf warten, jedes neue Objektiv auspacken zu dürfen und das erste mal, das satte Einrasten des Bajonetts zu hören. Schön, dass es solche Kamera noch gibt – und das zu einem durchaus vernünftigen Preis.
See full review on www.ralfs-foto-bude.de
Fujifilm X-E1 Review on Youtube by WhatDigitalCamera
See on www.youtube.com