Reviews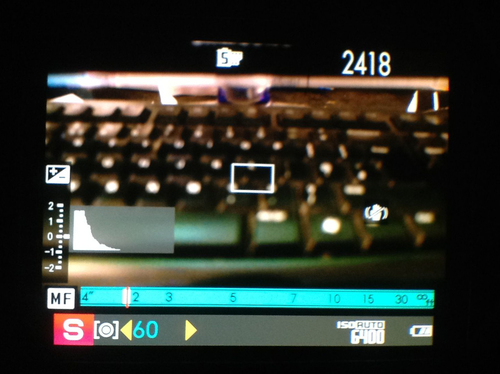 My thoughts:
If you are coming from a DSLR you will have a bit of a learning curve. The camera behaves very differently to a DSLR. It makes you think and slow down. You cant brute force your way through a shoot. You have to be more thoughtful and considerate. This is a big plus in many ways. I like this about it. My first reaction was give me the through the lens view of a DSLR. I was frustrated. This camera will initially frustrate you, the electronic viewfinder is irritating at first, this comes from not understanding what the camera is all about though. Be prepared for this. You need to learn to shoot in a different way. I felt like I was on a steep learning curve. I even questioned if I had done the right thing. But then I said to myself I need to really shoot this camera how it was asking me to shoot it. And then it came to life. You have to stop thinking how a DSLR thinks. This is hard to put into words. In many ways this camera is faster than a DSLR, bare with me. If the DSLR were a machine gun then the X-E1 is a sniper rifle. You cant shoot a sniper rifle like a machine gun and so you have to change the way you shoot. The X-E1 is about the single shot – nailed it way of shooting. This is a delightful way to make photographs and it can be faster. Once you are in the right frame of mind it is addictive and each click is rewarding. The pictures are stunning. I can imagine putting the D700 in the boot of the car for large sections of a wedding and just go around with this tiny camera.
Light bulb moment:
I can work faster than with a DSLR. This didn't actually occur to me at first. Im working faster, because im doing less. Pulling the camera to my eye, a couple of clicks to correct the exposure and I have the shot. One shot, done. Im working more easily because im getting DSLR performance in a tiny camera. Spend a 10 hour day with this lightweight camera and it feels like the X-E1 leans back and says "told you so". With its awesome ISO, colour rendition, white balance, skin tone and exposure metering. This camera just handles it. This feels like a more pure way of doing photography, even though its reliant on new technology, its more about the moment. Now I have a camera I can really take everywhere and Im shooting more than before but Im shooting far fewer shots to get any job done. For all the speed of a DSLR they need constant review and checking. This camera is more than that though. Its size and look make people not pay attention and you get those shots you wouldnt otherwise. Its just so much fun to use you want to take it everywhere and shoot it all the time, which can only be a good thing.
This is why I love this camera. Each image feels special and thought out. I had got used to just running and gunning too much with a DSLR. This camera is a dream for natural light shooters. A lot of its benefits are lost on people that use flash extensively I expect
I started writing this review after 3 days of ownership and now it has nearly been a week. Going back to my D700, the D700 feels faster in terms of autofocus, really much faster, but it feels remote. I dont feel as connected to the camera. I have started to feel like the X-E1 really sucks you in and makes you shoot its way. Like it has a style and a way where a DSLR has none. It commands your attention and says "you better think about this" but in the way a good teacher might rather than being difficult. My D700 in comparison feels like it is saying "yeah ok do what you like". To conclude I would say this camera is not a DSLR replacement, I would not be without my D700. That was never my intention. I wanted a 2 camera setup for professional work. But it will become my primary camera. I still love my D700. I like each for different reasons and they fill different roles.
See full review on martincastein.com
I have tested a few of the newer advanced mirrorless cameras this year (Panasonic GX1, Olympus E-M5, Fuji X-Pro 1) and the X-E1 is absolutely my favourite. First, a few notes on the camera:
The size is comparable to the Fuji X100 with the only difference being the lens protrusion. This doesn't bother me much since it was never going to be a pocket camera anyway. It works great with a wrist strap or even a neck strap. The camera fits well in my hand, but I do think the addon grip may be a good idea if using only a wrist strap as it can be difficult to keep hold of the camera while walking around given its slim profile.
The build quality is good and it feels solid to me. I have the black model, and the paint has already started to chip off around the popup flash area. It's very minor and could easily be filled in with a black pen. It is very stealthy and nobody batted an eyelid when I pointed it at them. I blacked out the X-E1 logo on the front with a black chinagraph (grease) pencil because I think it stands out way too much.
The camera is very responsive and settings changes are immediate. Usability is much, much better than the E-M5 which I found was a little sluggish to respond when turning the dials.
The image quality is absolutely outstanding (on par with the X-Pro 1) and is astonishing given the camera's APS-C sensor size. With the 35mm lens in particular, it is on par with the my old Nikon D700 (a full frame beast). High ISO noise is very well controlled. I don't do much ISO 6400 shooting, but when I did noise was certainly not a factor when reviewing the files.
Developing the files in Lightroom is a little painful, if only because Lightroom seems to load X-Pro1 & X-E1 files at about 1/8th of the speed it loads normal RAW files. I wasn't concerned with any of the smearing junk that people babble on about. It just didn't affect any of the photos I took enough for me to care.
While it does indeed sound like the perfect travel camera, there are some things that really piss me off about this thing:
Fuji needs to implement a minimum shutter speed for auto ISO. The X100 has it, so I can't understand why their 'pro' class doesn't. The camera chooses 1/equiv focal length which is OK for the 35mm lens (it chooses 1/52), but rubbish for the zoom – 1/30 at 18mm is pretty useless for most things.
While auto ISO works in manual exposure mode, the exposure compensation dial does not. This is stupid, because you can't adjust the ISO setting the camera chooses automatically. My Nikon cameras have this and I use it all the time. And yes, I know how to choose a manual ISO speed – but that doesn't mean it's the only way to do things.
The AF point selection drives me nuts. I don't see any reason to have to press the stupid AF button first. The 4-way selector should just allow you to move the points. The 'macro' button should be moved to where the AF button is.
The thumb wheel dial thing is totally underused. It does come in handy for zooming in to check images at 100% though (press it inwards in viewing mode).
The EVF was an initial point of concern. I'm used to using optical viewfinders so this was kind of new to me, but I am totally happy with how it is implemented. It behaves more or less like an optical viewfinder (it's not WYSIWIG in manual mode) and the lag is minimal. I don't really like how the 'view mode' button works. There should be an option to have ONLY the EVF on, and just switch off the LCD completely during shooting, only having it come on to review images.
The battery life is actually better than I expected, but still poor overall. I carried around 2 spares with me and only ended up having to use one of them towards the end of each day. I mostly used the EVF with the LCD set to the info pane. I guess this uses the least battery power of the available combinations.
The flash bounces easily and has enough power for smaller rooms with light ceilings. I wish there was an easier way to control the flash compensation though, and I don't understand why you can only compensate up or down by 2/3 of a stop.
When set to lock exposure, AF-L/AE-L does not lock white balance. This is irritating if you are trying to take photos to stitch later and the colour temperature changes between each frame (e.g. in mixed lighting situations).
Overall, the camera works very very well. To get the most of it though, you do have to treat it differently than you would a DSLR. So here's another bunch of bullet points about the main differences and how I deal with them:
Single point AF is the only real usable autofocus mode on this camera. The continuous AF mode is a waste of time. If you want to take photographs of moving subjects or action, then you need to anticipate where the subject is going to be, pre-focus to that area and then sit tight and hope they walk into that spot before you hit the shutter fully. If you try and treat this camera's focus system like you would a DSLR, you will be disappointed. In order to do this you need to be aware of how much depth of field you're working with, and this can be tricky for beginners.
The contrast detection AF system of this camera is very different to the system that DSLRs use. You really need to understand how CDAF systems work in order to get the most of it. I suggest reading the manual if you don't already know. Once you know the limitations of the AF system, you can work around them with ease.
I didn't really use manual focus extensively (why would I with 2 AF lenses with me?) but it does work much better on this camera than on DSLRs, particularly due to the magnification you get by pressing that thumb wheel thing. I've never used focus peaking so I have no clue of the value it would add to manual focusing.
OK enough writing: here are a few more samples before we get onto the lenses…..
See pictures and more on www.25daysoff.com
If it were a review of the quality of images produced by the Fujifilm X-E1 and a description of the main operational characteristics of this test would be the world's shortest. Want to know how are the pictures from the new CSC Fuji?
Want to know how are the Raw processed with Adobe?
Want to know how is the autofocus?
Want to know what time of writing?
Everything is the same X-Pro1.
Point … the end … goodbye. But first things first and we start from the obvious differences…..
Google Translater (ENG)
http://bit.ly/TkKJYk
See on www.riflessifotografici.com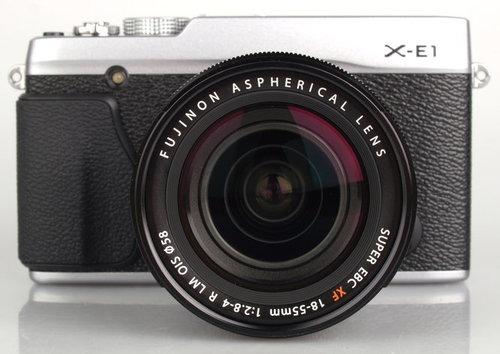 The Fujifilm X-Pro1 and X-E1 are the definition of retro digital cameras, and the moment you pick it up, you'll be reminded of an old film camera from the past. With manual controls on the lens and body it is very easy to adjust settings and the menus and controls are well thought out and easy to get to grips with. The electronic viewfinder is excellent with an extremely high resolution and is great to use, although it's a shame the 2.8inch screen isn't larger and a higher resolution. The Fujifilm X-E1 is more compact than the X-Pro1, and also 100g lighter, but it is still quite a large camera, and feels extremely well built. Focus speed and responsiveness is good, and the camera takes excellent photos with extremely impressive noise performance, with a good 18-55mm kit lens with built in optical image stabilisation. Although the price is still quite high compared to the competitors with many of them available for less money with kit lens. The X-E1 is available for £729 body only, which is good value for money, however, each Fujinon lens available is around £425+ so the price quickly jumps to the top of the premium mirrorless market. Another limiting factor of the system is the choice of lenses, with few lenses made by third parties available. If you have the money, then the X-E1 is an excellent camera, and the lenses available are excellent, particularly the primes. The Fujifilm X-E1 produces images with extremely low noise, and excellent colour.
Fujifilm X-E1 Pros
Brighter than normal kit lens (f2.8 – f/4)
Impressive noise performance up to ISO6400
Impressive colour reproduction
Great build quality and handling
Film simulation modes
High resolution EVF
Good panoramics
Fujifilm X-E1 Cons
Indoor white balance could be better
Expensive lenses / price of kit
Kit lens could be wider
Exposure compensation dial easy to knock
FEATURES 5/5
HANDLING 4.5/5
PERFORMANCE 4.5/5
VALUE FOR MONEY 3.5/5
VERDICT 4.5/5
-> highly recommended
See on www.ephotozine.com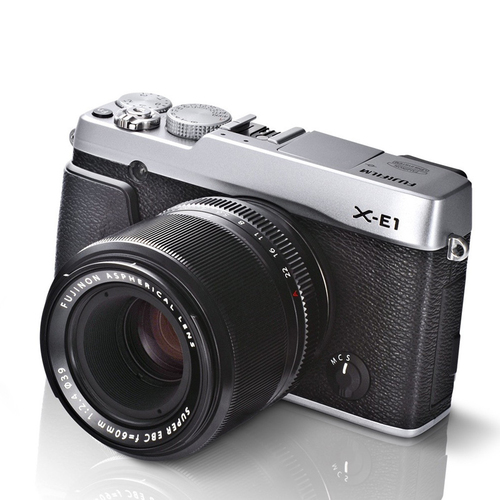 Fujifilm X-E1 review – Verdict
While it may appear to be simply a stripped down, more affordable X-Pro1 to tempt more people into Fujifilm's CSC family, that would be doing the X-E1 a great disservice. Similar in size to the X100, and combined with a similar premium finish that won over so many fans to Fujifilm's retro-inspired compact, the X-E1 manages to feel more refined and balanced as soon as you pick it up compared to the rather chunky X-Pro1. And while it forgoes the smart Hybrid viewfinder of the X-Pro1, the payback is the sharper, crisper EVF in the X-E1 that more than makes up for this, though you could feel a little short-changed with the fairly underwhelming rear screen. The X-E1′s AF, though improved from the original X-Pro1′s focusing, it's still not as fast or as responsive as systems found in the competition, while the video capabilities aren't as comprehensive either. These points aside, and the X-E1 is a joy to shoot with. The back-to-basics philosophy won't be for everyone, but it means its quick and easy to set-up and shoot with, while the Quick menu offers access to other key shooting controls. The real jewel in the crown of the X-E1 is its sensor. The quality of the results and the detail rendered is excellent, delivering images that are some of, if not the best we've seen from an APS-C sized sensor. While it may be a bit more of a niche camera than some other models, those who opt for the X-E1 will be rewarded with a camera that looks the part, handles well and delivers images beyond what its price may suggest.
See on www.whatdigitalcamera.com


All my Canon gear went on ebay, and I ordered a black X-E1 with the 35mm f1.4 (53mm equivalent) and 60mm f2.4 macro (90mm equivalent). While an 18mm (27mm equivalent) lens was also available, there is a 14mm (21mm equivalent) lens due out soon, along with a promise by Zeiss to make several lenses, including a 12mm (18mm equivalent), so I decided to wait a while to make a decision on these. So what is it like? The build quality is fantastic – it feels even nicer than my X100 – and the dials have a more positive feel i.e. I don't expect to be able to knock the exposure compensation dial by accident. It certainly feels much nicer in the hand than my Canon 40D. The weight and size are 'just right' – much less than my DSLR and lens. The lenses come with metal hoods! This adds to the feel-good factor, as I found it annoying when paying even more for a Canon lenses, that I was then expected to pay out a crazy amount of money for a plastic hood. However, the design of the lens cap on the 35mm hood is poor – it will fall off with the slightest knock. Because of the shape of the end of the hood, I can't conveniently use the push on inner lens cap with it. The 60mm, however, has a hood design that allows the cap to be pushed on and off while the hood is on. The EVF is superb, and my worries over no OVF are unnecessary. There is no pixelation, and it is bright and contrasty with natural colours. The only criticism I would make is that the refresh rate lags very slightly when panning fast. However, this is not a sports camera, so that isn't really an issue for me. Even in bright Australian sunshine at midday, the EVF is very usable, although not as bright as an OVF. One of the nice things is that in dark conditions, you can see much better than an OVF, as the EVF has automatic gain control. Couple this with fantastic high ISO performance, and this is a great street shooter (see my earlier post – Available Light with the FujiFilm X-E1). ISO goes up to 25,600, with 6,400 available in auto-ISO. The photos are very good, even at 6,400 ISO, with little noise. Autofocus is absolutely fine for me, but I don't shoot sports. It is quick enough in decent light, but can hunt a little in poor light. It isn't as fast as my Canon L lenses, but it is highly accurate. I have an energetic 4-year-old, and I would struggle to keep up with his antics, so I will get the 18-55 zoom for those situations, as the autofocus is supposed to be a lot faster, as well as having OIS (image stabilisation). Anyone who moans about APS-C sensors not being able to achieve shallow DOF needs to look at the X-E1 + 35/1.4. Not only does it have shallow DOF, but nicely rendered out of focus areas. I need to get more experience with it, but so far I am really, really impressed with what can be achieved. The X-E1 has a pop-up flash that is great for fill on a bright day, and is of a design that lets you tilt it with your finger to bounce it off a ceiling. Unfortunately, the the flash is deployed by pressing a button on the rear of the camera, and I wonder if this will get released while in a camera bag if pressed up against something. It might have been better as a slide switch. There is a hot shoe which can take more powerful flash units. I love the look that the whole combination of the lens, sensor and film emulations gives. I just want to go out and shoot with this thing all day…..
See more on photomojomike.com


If you're looking for a small mirrorless camera with a viewfinder, the Fuji X-E1 and Sony NEX-6 are two of the best options out there. But which is the better choice for your style of shooting? The Camera Store's Chris Niccolls and Dave Paul put these two powerful compacts to the test!

See on www.youtube.com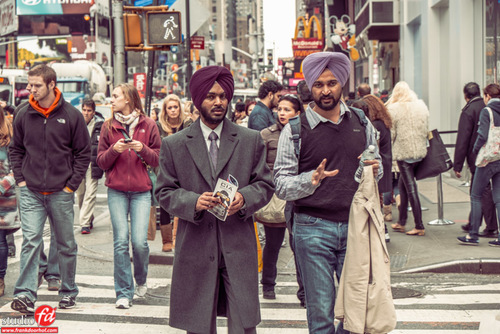 Let me start with the Fuji X-E1. Fuji got me this camera and the 18-55 f2.8-f4 zoom just a few days before we left for New York, so this is really my very first experience with this camera. I saw the camera at Photokina and was immediately very anxious to test this one out, the reason ? very simple, it's actually almost a X-Pro1 but for less money…. and yes it does miss some features and it's a bit smaller, but it has a build in flash (which I call the "Wall-E" strobe because it looks a lot like Wall-E) and it keeps the same image quality from the X-Pro1, which you probably already know is awesome. The moment I got the X-pro1 I was in love with the camera, for street photography and any photography where you don't want to be noticed it's a great "stealth camera", I always call it my "wolf in sheep clothes". There was one thing I really wished for in the system and that was a zoom lens… well Fuji got one (actually more now), for this trip I got the 18-55 with me which is a great walk around lens and gives you a very nice reach. The lens is relatively light stark starting at f2.8 and ending on f4 at the long end. I know that some people will start with "why not a constant f2.8?" but do remember that if you want that the lens would be a lot heavier and bigger and for most situations the f2.8-f4.0 coupled with the great noise performance in the X-E1 and X-pro1 actually work perfectly. Now one of the really nice things about the 18-55 is the fact that's is also a lens with stabilization, and I can report that it works really well. I don't know how many stops it will really do, but trust me when I say…. "it works really well". So how do I like the Fuji X-E1. Well you know from me that I'm always doing reviews from a standpoint of using the camera and not the pixelpeeping and 1:1 comparisons (there are many sites for that) so here is my personal opinion. I love the build in strobe, when shooting the camera for private use the build in strobe is great when you take for example a shot in a restaurant where you want your group to stand out and lower the ambient, it's also great as fill in flash outside and… well where you normally also use an on camera strobe for. Also the speed of the camera is great, the viewfinder is very nice, it responds very quickly and it's sharp enough to judge images. Working with the X-E1 on location is great, focus locks on VERY quickly, this was also a huge difference on the X-Pro1 after the 2.0 upgrade by the way. The image quality is just jaw dropping, the image quality of the X-E1 is without any doubt just as good as the X-Pro1. The only thing you have to note is that when importing the files into Lightroom all images come in cropped to 16:9 mode, so when you import make sure you make a new crop to 100% and sync that to all images…..
See on www.frankdoorhof.com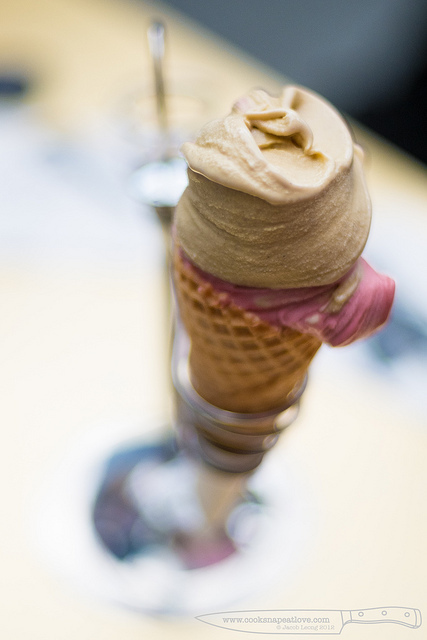 Wait wait, you didn't read the title wrong. Yes this is a review of the new(ish) Fujifilm X-E1, CookSnapEatLove is a blog about food, but it is a blog about food photography as well(ish). I will be writing about my views on this camera and why for someone like me, who almost exclusively shoots food, would sell off his DSLR and lenses to go over to a completely different system. I'll start of by saying that I am not a professional camera reviewer, I am not a professional photographer, this review is by no means and professional one, just another guy who loves a good piece of equipment writing it the way he knows how, by how it feels and works. Like many young photography enthusiasts, I thought the DSLR is the way to go, it still is. I learnt and I'm still learning about the finer aspects of photography: light, composition, technique, and that photography is not auto mode 24/7. But after 5 years, I gave up the DSLR system. Why? Weight. I always carry my stuff around, afterall the best camera is the one you always have with you. If you blew $2000 to $3000 on your camera system, and the "best camera" is your iPhone, it's pretty silly right? So I stuck to that, but the weight was sickening and backaches were becoming a good friend. Then the X system came along, Fujifilm came up with a retro-styled camera system with the capabilities of a cropped sensor DSLR with image qualities that is on par with some full frame systems. But that really means nothing to the average enthusiast, the bottomline? It's small, it's compact, it works like a DSLR and it's sexy as hell. The most important quality though, was that it works well in low light. I've talked about low light in restaurants and how to deal with them, and to me, this aspect of any camera is the deal breaker, no matter how good the other things ah, if it's crap in low light, I will not consider it….
See on www.cooksnapeatlove.com
And what a lovely, compact, lightweight interchangeable lens body it is! In photos, the X-E1 doesn't look all that much smaller than an X-Pro1, however in the hand it somehow works to seem a great deal smaller and lighter than the X-Pro1, mostly in a good way too. The X-E1 is everything I had hoped for in an interchangeable lens successor to the X100… well almost. The only thing I miss is the exceptional Hybrid-VF that both the X100 and the X-Pro1 have. In its place though, the X-E1 has an excellent 2.4 million dot OLED electronic viewfinder, and it is substantially improved over the EVF mode in its predecessors, however sadly the X-E1 does not have the optical viewfinder component. One major benefit I've seen from shooting with the X-E1 for the last few weeks, is the accuracy of the exposure preview in the new EVF. You really can judge what the final shot is going to look like from an exposure standpoint with accurate contrast, white-balance and saturation, far better than the rear-LCD, and there doesn't seem to be any additional shadow or highlight clipping due to the EVF itself, unlike my experience with many other cameras. In addition, the new EVF is sharp, has good eye-relief, has a diopter adjustment again (the X-Pro1 needed accessory thread-in diopters) and it gains up well in very low light levels without getting too grainy, allowing for ease of framing your shot even when you can hardly see the scene with your naked eye!
The loss of the Hybrid-EVF is unfortunate though, since being able to see slightly outside the camera's captured field-of-view in a "rangerfinder-ish" fashion means you get a fraction of a second more warning when something is about to enter the scene, allowing you to perhaps nail that perfect moment. However, one thing that makes losing the Hybrid-VF more palatable, besides the excellent new EVF, is the $700 price drop from the the X-Pro1! The X-E1 body sells for only $999. Apart from the Hybrid-VF, did anything else important get lost? Amazingly enough no… from a performance and image quality standpoint, the X-E1 seems pretty much identical to the X-Pro1. It has the same 16 megapixel X-Trans sensor, sharp due to it not having an anti-aliasing filter, the same newly swift and accurate autofocus, more or less the same controls and ergonomics but in a smaller and lighter body. Really, the only other thing it doesn't have is the rock-solid all-metal construction of the X-Pro1. It does feel lighter and a little cheaper in the hand since a bit more plastic is used in its construction, but after a few minutes of use, the lightness was no longer a distraction and indeed, the lighter weight is quite welcome actually…..
See more on: Mike Mander