Reviews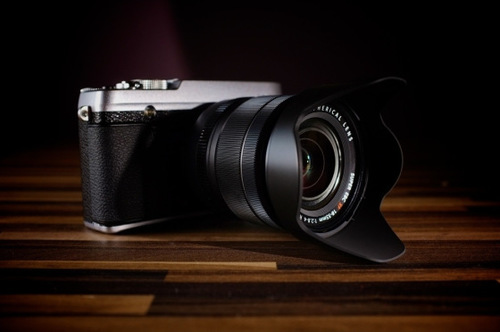 Hi, I thought I would share some shots of the Fuji X-E1 that arrived today, give some brief first impressions and a few quick image samples. The weather has been horrid and I have not been able to get out and stretch the legs of this camera, but I have taken a few quick images to try and get some early feedback and first impressions. I will start with a bunch of sexy shots because this thing is cute thing to look at. As you can see this is a great looking camera and lens, its not as retro as the X100 or the X-Pro1 but it does retain a high level of retro with a cool modern minimalistic style. So my first impression, to be honest I was disappointed when first unwrapping and picking up the body, it was lighter and less well built than I expected. Compared the the all metal X100 I can certainly feel the X-E1 is only half metal and plastic back, the bottom is no where near as solid as the X100, its again only half metal. The dials are much better that the X100 they have more heft and positive in movement. The size is great and virtually exactly the same as X100. The little front bump and designed rear thumb support is a great addition. The quality of the push buttons and the change from a rotation selection wheel to a 4 way selector is also better quality and much better in operation than the X100. At this point I am not over impressed. Unwrapping the lens was good. The 18-55m is a really small lens, very light but well screwed together, with lovely smooth operation of zoom,focus and aperture rings. Very nice action, attaching it to the body is no problem however there remains some slack in the connection once clicked into place, I really don't like it, it seems sloppy engineering not to be completely connected to fit perfectly. Placing the lens and body together made a big difference to how it feels in the hands. I felt a little happier the more I held it. I had to wait some time to charge the battery as it was completely flat. Once charged it was time to set up the Fuji X-E1 and take some shots. The two main things I wanted to review with camera as soon as possible was the new hi resolution EVF and the manual focus operation. I have not checked yet what software revision for the body and lens I am on, I am assuming its up to date, I will look that up later but I can say this is where my initial disappointments started to fade. The EVF is wonderful and much better than the one in the X100. Bright and detailed it does lag but I am used to that anyway, I won't miss the OVF as I don't use it in the X100……

See full article on simonpeckham.wordpress.com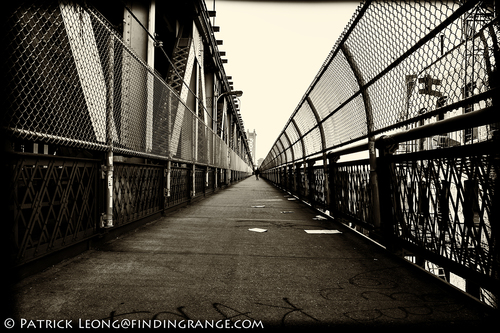 So again, overall, the build quality of this camera is what I have come to expect from Fuji.  When compared to the X-Pro1, I would say that the X-Pro1 has a more solid or confident feel to it.  This could be because the X-Pro1′s entire body is made out of magnesium where as only the top and bottom plate of the X-E1 are made from this material.  The X-Pro1 feels slightly better built but what do you expect?  It's priced 40% higher than the X-E1.  But this should not deter anyone from purchasing the Fuji X-E1 because it is a solid, and wonderful camera that's very rewarding to own. What are other differences between these two cameras?  Well, while the LCD on the X-E1 is smaller, and lower in resolution than the X-Pro1′s, the X-E1 does offer a few things that the X-Pro1 does not.  For example, the X-E1 offers an electronic remote release, built in diopter, an external microphone jack, and a built-in pop up flash.  However, the X-E1 does not offer an X-sync terminal, and it also does not have the shutter speed dial lock of the X-Pro1 that I mentioned before.  The X-E1 also does not have a hybrid viewfinder but Fuji found a great way the remedy this…..

See full article and more pictures on findingrange.com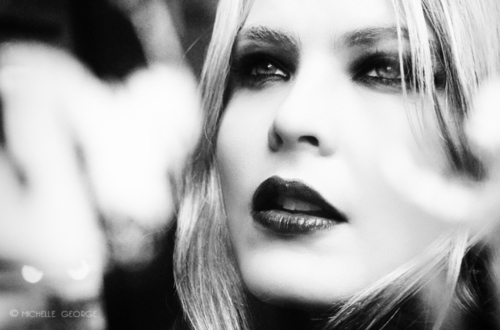 After a passionate yet somewhat impetuous relationship with the Fujifilm X-Pro 1 I couldn't resist a little fling with his younger brother the Fujifilm X-E1 I'd spend sleepless nights wondering if he could deliver the same image quality as the X pro 1 but at almost half the cost of the Fuji X Pro 1 I was in serious doubt… Appearance wise, albeit the slimed down body, slightly smaller LCD, additional pop-up flash, but lack of the much talk about hybrid view finder, the look and function of these camera are almost identical, to the point that they could be twin – they both posses the X-Trans CMOS sensor, 16 million pixels resolution and a high ISO sensitivity which all attribute to the X pro 1's outstanding image quality. Though, the thing that really enticed me into this adulterous fling was the new.Fujinon XF Lens: XF18-55mm F2.8-4 R LM OIS kit zoom lens.
Admittedly I could have purchased this separately to use solely with the X pro 1 but the kit price and buzz surrounding the X-E1 was just too tempting…and as Oscar Wild states 'I can resist everything but temptation' ) My first though was to take this seedy affair around the back streets of soho, mainly to test out the infamous noise free high IOS settings and also the new built in pop-up flash; However as me and the lovely model Allana from Milk management set out on our quest, it was clear life had other plans for us:) As the temperature that night slowly decreased to sub zero temperatures and drunken tourist tried to muscle in on our shoot. We only managed to get a handful of shots around Soho
See more pictures on creativelondonphotographer.wordpress.com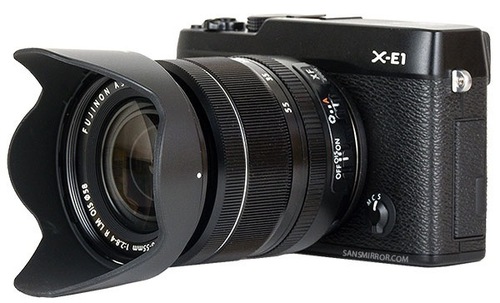 Final Words
I liked the X-Pro1. I like the X-E1 just a tiny bit more, mostly because of the slightly smaller size and diopter on the EVF. In shooting with the X-Pro1 I found that, over time, I relied upon the optical side of the hybrid viewfinder less and less. Lenses poke into the frame in the optical view, and getting precise framing with the optical view is not possible. Given my personal preference for getting framing dead on in camera, if possible, I flipped the switch to the EVF an awful lot on my X-Pro1. With the X-E1 I'm not really missing the optical viewfinder; I don't find myself trying to flip out of the EVF view. Given that we now have a very capable zoom lens in the XF mount (the 18-55mm f/2.8-4), the reliance on an EVF goes up a little more. I do wish the EVF had a higher refresh rate, but I can live with what Fujifilm gave us, especially at the price point. Since I try not to keep cameras around that I'm not using, I can also speak to the ultimate decider: I've decided to sell my X-Pro1. I don't need two XF bodies, and I value the compactness of the X-E1 more than the hybrid viewfinder of the X-Pro1, so it's an easy decision. Aside: I'd guess that Fujifilm will update the X-Pro1 in 2013. In so doing, I also suspect that they would try to add a few features to differentiate that model from the X-E1. There aren't a lot of obvious such features, but a positionable LCD might be one. Both are good cameras, and you need to make sure that none of the small list of differences tilts you one way or the other, but in terms of performance, they're essentially equal. The great JPEG quality Fujifilm is known for is present equally in both cameras. The handling is the same, though slightly miniaturized in a couple of places on the X-E1. The raw files are the same. The build quality is in the same league with both. In short, near identical twins, with only a couple of small feature differences differentiating them. The lower price helps tilt things the X-E1's way, too. At the US$1000 body price, it's going up against the NEX-6 and NEX-7, the Olympus OM-D E-M5, and not much else. And it holds its own on the image quality side. Indeed, the X-E1 would be the best low light camera of that group. It would also be the slowest focusing camera of that group. The X-E1 has the most straightforward and understandable controls and menus of that group. The OM-D E-M5 has a wider range of lenses and accessories, but the existing Fujifilm lenses are all quite good—there's not a truly weak performer in the bunch (at least so far). Note that the X-Pro1, at US$400 more, has only the hybrid viewfinder to further stand out against those competitors. So kudos to Fujifilm. They took a fine camera, did some careful liposuction and one feature cut, and didn't harm the patient at all. If anything, they created a slightly more compelling product due to the lower price point. One last point: if you're into Leica lenses, the X-E1 is like the X-Pro1: with the Fujifilm M-mount adapter and the built-in lens corrections, these X-Trans cameras are the best crop sensor Leica M-mount option out there.

Recommended

Features — Other than sensor stabilization, nothing to complain about.

Performance — the most controversial of my ratings, I'm sure. Thing is, for image quality it's probably a four star product despite the color smearing issue. But all the battery and focus performance factors would be a two compared to the competition (in other words, lower than average). A lot of you will see this differently than I. Image quality hounds would likely give this camera four stars. I, however, believe that performance is the sum of the parts, thus my rating.

Value — Another area where I'm going to get disagreement. The lower price with basically only the removal of the hybrid viewfinder as a significant change pushes this camera slightly towards being a good value. That's especially true if you are a low light shooter, shoot with M-mount lenses, or can get by with the very good 18-55mm f/2.8-4 zoom.

See full review on www.sansmirror.com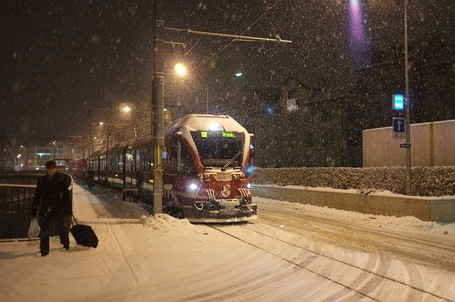 It took a while for my second post in my comparison. The last couple of days have been busy. I've had the chance to shoot the three cameras at some social events here and there – running into many low-light situations. So my next point of comparison is:
Autofocus:
I love the way all three cameras look and handle with all those external controls. And I love the excellent lenses – particularly the Fujinon 35mm 1.4. However, I am again and again frustrated by the performance of the autofocus. From my experience, there is no difference between the Fujifilm X-E1 and the X-Pro1 in terms of autofocus performance with the latest firmware on both cameras. Similar findings have been made elsewhere. Autofocus struggles in low light and with backlit subjects. I came from using manual lenses on a Sony Nex-7, so I am not a "spoiled" DLSR-user, but I somehow feel I am missing much more shots with the Fujifilm X-Pro1 and X-E1 than with manual focussing on the Nex-7 (using focus peaking). I had several situations where the AF (slowly) hunted and my subjects were getting impatient. Of course I am really talking low-light here – shooting around ISO 1600 to 6400 with the lens at 1.4. Quite surprisingly, my impression is that the Fujifilm X100 actually seems to struggle less with autofocus than the other cameras (comparing those with the 35mm 1.4). Maybe the reason is just that the X100 needs to move less glass, so hunting is possibly quicker. Nevertheless, I felt less frustrated with the X100 than with the other two cameras. I would be very interested hearing other peoples thoughts on this.
From the point of view of autofocus performance, I would definitely keep the X100, because the main purpose of that camera (to me) is that it can always with me. For such a camera, I don't expect lightning fast AF performance. However, I would expect a little more from the X-Pro1 and the X-E1.
Autofocus for me is really the one reason that sometimes makes me doubt, whether switching to Fujifilm X system was really the right decision, considering that a small DSLR (e.g. Pentax K-5 II) would just give me much more reliable autofocus. Autofocus is perfectly OK if you shoot outdoors and shoot mainly static or slowly moving subjects. So for one part of my photography this is perfectly OK. However, shooting my children outside, at home or at events is currently another big part of my photography. So I would really like to own a main camera system that can cover both needs……
See Part1
See full article on www.fujifilm-x-opinions.net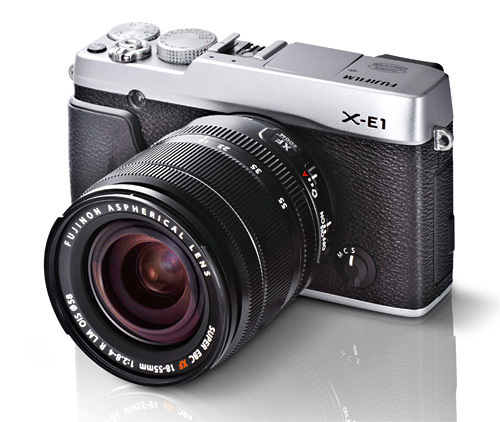 Conclusion:
The Fujifilm X-E1, as a concept, is irresistible. Whoever drew up the design spec for the X-series was either a photographer, or really understood them. As the furthest evolution of the X100 to the X10 and the X-Pro1, the X-E1 and the XF lenses stand as a testament to knowing what photographers want: Small body, large sensor, access to controls, fast lenses and beautiful image quality.
In translating that spec to reality though, some things seem to have been lost in translation. AF performance has improved, but not yet to the level of today's best mirrorless cameras, i.e. current generation Micro Four Thirds or Nikon 1 cameras (at this point, we think Fujifilm should just license the technology from somebody). Changing AF points is a chore, just as it's always been.
The X-Trans sensor giveth and taketh away. It provides exceptional clarity, the kind you can't get with an AA filter in your way, plus exceptional high ISO/low noise performance which easily ranks it among the cream of the APS-C sensor crop. At the same time however, color smearing and edge glows (which might be part of the same phenomena) can happen, so you'll need to decide if the increased acuity is worth the potential trade-off. The RAW image workflow also presents a challenge; if you shoot RAW and work in anything other than Fujifilm's Silkypix, then you might have to consider how best to process your images.
So while we think the X-series is one of the most promising mirrorless systems for photographers, we also think it still has some way to go. The X-E1 is certainly a fine camera which will produce a lot of beautiful images, but it's not perfect by any means. Its faster AF speeds over the X-Pro1 make it an easier camera to love, but it's still a camera for a considered, slower pace of shooting than something with a wicked fast AF like the Olympus E-M5 or a DSLR camera.
And the camera is certainly not for someone who wants to shoot video, while it can shoot 1080/24p video with stereo, you'll notice that there are no video controls placed front and center. This is really a stills camera geared for the stills photographer.
Now, price. The X-E1 is cheaper than the X-Pro1, but it's not cheap by any means. The X-E1 with the XF 18-55mm kit lens will set you back S$2099, while the body alone is S$1499. The X-Pro1 body alone was S$2399. Lest you think that's a massive discount, consider the competition. An XF prime lens will cost you S$899 per lens. If you go body alone with a 35mm f/1.4 prime, that's a retail price of S$2398. Not exactly competitive in a landscape full of mirrorless system cameras going for less. If the retro look and AA filter-less APS-C sensor appeals to you, then maybe. If not, there are other cameras that can get you, if not as good, but good enough image quality for less money.
While using the X-E1, we never felt at any point that it was a diluted version of the X-Pro1. Rather, the X-E1 feels to us like a smaller, concentrated version of its more expensive predecessor, with all its strengths as well as (some) weaknesses.
See full review on www.hardwarezone.com.sg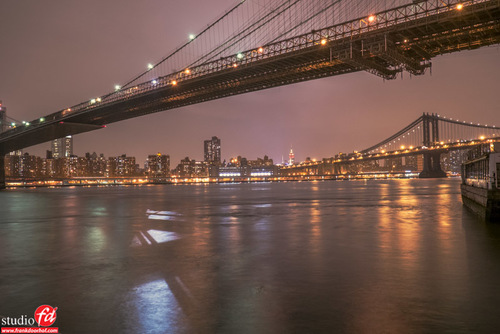 Today attention for the FujiFilm X-E1 or as I call it the Sexy-1.
It's no secret that I absolutly love the FujiFilm cameras. It all started when was handed an FujiFilm X100 during a Photowalk and although at that time I did not like the focus etc. (was solved later) I fell in love with the fact that it felt like a real camera…. now what do I mean with a "real camera". In most smaller cameras you are getting a camera that feels like a digital brick that can take photos, but the whole feel of a camera is gone. Want to change the exposure compensation? go into the menu, want to change the zoom? press a few buttons and it zooms, want to change ISO? go into the menus, want to change … etc.
In other words I love a camera that has a more real camera feel and the FujiFilm cameras have this.
For example the Exposure compensation is right on top of the camera (where it should be), setting the aperture is on the lens itself, zooming (even on the X10) is done on the lens and not via a weird feeling button system, also shutterspeed etc. is all set on top of the camera and if you want everything to be auto… no problem set both on A and you're in auto mode. So now that this is out of the way, let's look at the "sexy-1″……
Thomas Menk's insight:
Frank is an international Fashion and Glamour Photographer and born in Amsterdam (Netherland). He still conducts magazine and advertising shoots, with a particular interest for artists and high fashion, however his main focus is teaching workshops throughout the world.
See full review on www.frankdoorhof.com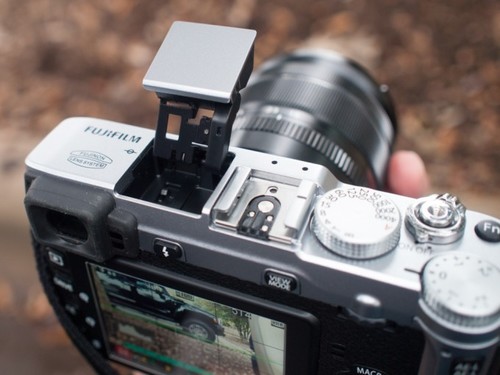 I like this camera, more than I thought I would. After a bit of time with the Olympus E-M5 and Sony NEX-7, I really see the Fuji X-E1 as a clear winner in the IQ and usability areas. It would outright lose in an AF battle, so keep that in mind if that is truly a deciding factor for you. It does seem to be a slightly sexier (physically and IQ wise) option than any of its current competitors. Being the optical viewfinder kind of guy that I am, I would still go for an Fuji X-Pro1 over this (especially with the recent price drop!). But, if squeezing out an extra $400 really isn't an option or you don't care for the hybrid viewfinder on the X-Pro1, this camera is the most viable option on the market for serious shooters looking into the mirrorless market and craving a true manual control experience with a good EVF built right in. Also, if you are one of the millions who are adapting older lenses for use with the X-Series, this camera really is a better choice over the X-Pro1 because of its improved EVF would be much more usable in manually focusing those gorgeous Summicrons. All in all, I would totally see this camera in my bag in the near future, but only after there's an X-Pro1 in there first.
See full article on weeder.org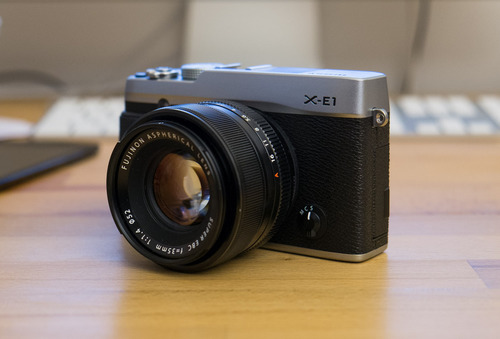 Google Translater (ENG): http://bit.ly/12h3TBQ
Ich verkomme langsam zum Fotografie-Technikblog. Mein Problem ist im Moment, dass ich zwischen diversen Stühlen sitze. Aber eines nach dem Anderen. Ich schrieb in den vergangenen Monaten häufig davon, dass ich eine Kamera suche, die GPS und Wifi eingebaut hat. Jetzt habe ich die X-E1 gekauft, die ohne beides daher kommt. Wie passt das zusammen?
Da ich das Gefühl habe, die Geschichte in letzter Zeit immer wieder zu erzählen, hier nur die Kurzfassung: Meine Canon EOS 450D ist de facto hinüber. Ende Dezember/Anfang Januar bin ich in New York und brauche eine Kamera, also bestellte ich die Canon 6D vor. Amazon sagt aber, die kommt zu spät. Also sondierte ich den Kameramarkt.
Vor einigen Wochen platzte mir dann der Kragen und ich bestellte einfach, was meiner Vorstellung von einer kompakten Kamera am nächsten kam, die Sony Alpha NEX 5R. Obwohl sie mich in Teilen überzeugte, war sie nicht das Richtige. Die Bildleistung war in Ordnung, aber nicht überragend und die Bedienung fühlte sich nicht wie eine Kamera an, sondern wir eine Mischung aus einem Mobiltelefon und einem frühen Telespiel.
Dann las ich von der Fujifilm X-Pro1 und deren Chip, der durch den Verzicht auf einen AA-Filter und eine neue Pixelanordnung knackscharfe Bilder auf Augenhöhe mit einer 5D MarkII machen würde. Dann las ich weiter, dass Fuji den gleichen Chip in der neueren und kompakteren X-E1 verbaut. Das hat mir gereicht und ich habe es ausprobiert…..
See full review on dantz.me
The Fujifilm X (APS-C) "trinity" is complete! Within a couple of weeks I went from having no camera at all (I had just sold my Sony Nex-7 and was waiting for the Fujifilm X-E1) to having the complete set of Fujifilm X cameras with APS-C sensor. Just a quick look back, why this happened:
The Sony Nex-7 was a nice and very capable camera, but it somehow just felt bit more like a computer than a camera and it wasn't that great at high ISO. It seemed to have just a bit too many pixels for the size of the sensor.
Then I read about the Fujifilm X-E1 and felt that this would be a great camera for my needs. At the same time I had also considered an X100 as a camera to have always with me. However, I couldn't justify the cost (knowing that the X-E1 was on order). Just one week after I had received my Fujifilm X-E1, I happened to see a great offer for an almost brand new X100 on ebay for something like 500 USD. So I made up my mind and bought the X100 and – as I wrote in another post – fell in love with this camera (more so than with the X-E1). Despite some small quirks, the X100 (with the latest firmware) feels like an extremely well thought-out camera. And in my opinion the X100 is surprisingly responsive. Actually, it feels more responsive than my X-E1 with the Fujinon 35mm – probably due to heavier glass that has to be moved in the 35mm lens. One of the reasons why I fell in love with the X100 was the great optical viewfinder which brought back fond memories of shooting with rangefinder film cameras some 15 years ago. This made me think if the X-Pro1 wouldn't a better choice for me, because it shares the nice optical viewfinder (OVF) with the X100…..
See full review on www.fujifilm-x-opinions.net