Sample Images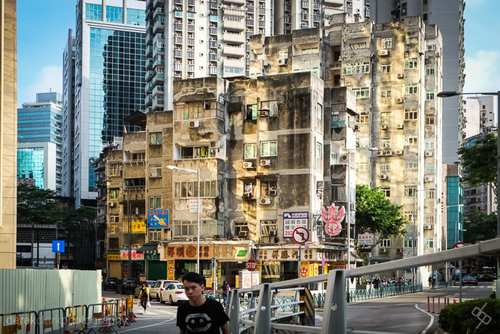 Sometimes life takes us by the hand and helps us to see what otherwise might be missed. It shows you one thing to allow you to see another. You might not realise it at the time, you might not realise it until after it happens, but the aha moment shows it's face and makes you wonder just how the universe nudges us one way or another as we stumble through life.  The divide between rich and poor was projected on the walls of  shops and houses, but first I would be taken on an unexpected journey with the Chinese workers of Taipa and Macau. I woke early and slipped out of the hotel room with my shoes in my hand and my camera bag over my shoulder. This was fast becoming my MO, up early and out either before, or as the sun comes up, leaving the others to sleep. I slipped my shoes on and stepped into the elevator and hit G. The lobby was empty, nobody on the desk and nobody on the door. I stepped outside and felt the Asian heat hanging from the night before. The sun had just came up, but was nothing more than a bright spot in the thick fog. I was in Taipa, but  I has heading to Macau, the Chinese gambling capital……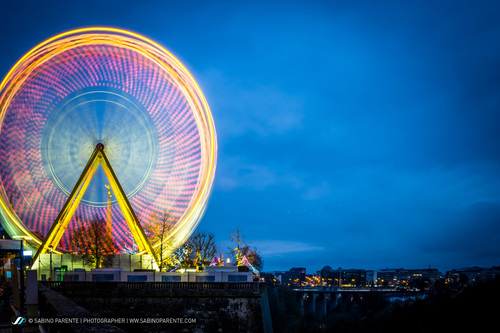 The big wheel dominating the Petrusse valley in Luxembourg, at sunset, create really interesting light trails and I tried to play around this subject to catch unusual frames. I was there just few minutes after the sunset so i can still see some clouds, is not too dark, and I can have the "star" effects on the light lamps, closing the diaphragm at F/22, ISO 200, tripod and, of course, my beloved Fuji X-E1 plus the Fujinon XF 18-55…..
See more pictures on www.sabinoparente.com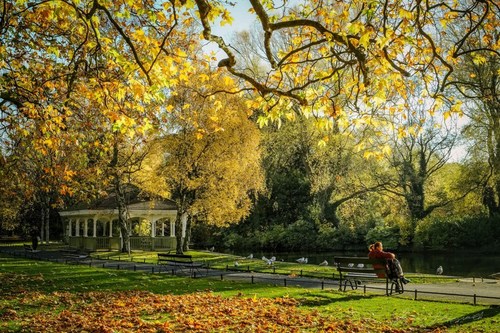 We've been blessed with some spectacular colour this Autumn here in Ireland. Apparently, according to the news, the weather conditions were just right that the colour of the trees here rivalled that of those in New England. Certainly where I live the colours have been amazing. I've been keeping a good photographic document of the progress of my favourite season as it affected one of my favourite parks in the city, and I'm working on making this into a book. However, as the final days of fall give way to winter, the foliage has one last gasp of spectacular colour, and I did my best to capture its grandeur. The following photos were all captured with my little Fuji XE-1 and the 18-55mm lens. I've been pretty skeptical of this lens in the past, but as I've recently discovered, processing your images in Iridient Developer (or Capture one or Photo Ninja apparently) can have a pretty big effect, I decided to give the lens another chance. I was not disappointed, and I'm completely re-evaluating my opinion of it. Technicalities aside, the Fuji's ability to capture colour and the vibrance, made it a perfect choice to chronicle the beauty of the Autumn leaves . I've tweaked these a bit in both Iridient Developer and then further in Lightroom, but I haven't altered the spirit of the images…..
See more pictures on blog.thomasfitzgeraldphotography.com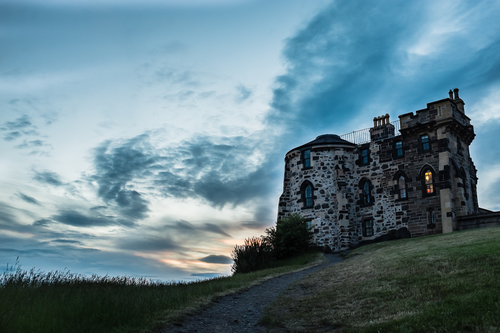 This post is really special to me and has been a long time in the making, so I do hope with all my heart you like it as much as I do. Benny, my best friend, and I have quite a bit in common: a.o. our love for our families, photography, whisky and Scotland. He recently was blessed with a second child, the lovely Lucy, baby-sister to the now 3 y.o. absolutely adorable Jules. In order to celebrate our birthdays (both in July, only about two weeks apart), we decided to take a short trip together in June to the amazing city of Edinburgh. The main focus of this trip was to have a brilliant time, combining sightseeing, photography and various culinary expeditions ;-) Equipment-wise, we both traveled (relatively) light. I had only packed the Fuji X100S and the Fuji X-E1 w/ the XF60mm lens, while Benny brought his Sony Alpha 77 and (my constant infatuation with the X-series cameras may have something to do with this) his newly acquired Fuji X-20 :-) Usually preferring zoom lenses for this kind of adventure, I was quite a bit nervous at the thought of having to rely exclusively on the 23mm fixed X100S lens, with the 60mm X-E1 as a backup for some light tele shots. I can't tell you how many times in the week preceding our trip I packed the excellent XF18-55mm lens, only to remove it from the bag a couple of minutes later. No safety net! …..
See more pictures on www.oliglod.com
These pictures are taken on our vacation to France this year. To travel light I used the Fujifilm X-E1 with the XF35mm F1.4 R and the XF18-55mm F2.8-4 R LM OIS lenses. Most of the pictures are shot in JPG and a few post processed in Lightroom 4.0 ….
See more pictures on rommenphotography.com
Once a church, later a mosque, the Hagia Sophia is a unique place full of history and incredibly mystic, the only building in the world that served to three religions in order: Pagan, Christian Orthodox and Sunni Islam, an important world heritage, 1500 years old. All the picture was taken with my Fuji X-E1 + Fujinon XF 18-55 and som also with the M42 mount old lens Pentacon f2.8. I could not enter with the tripod so all the pictures has been made by hand…..
See more pictures on www.sabinoparente.com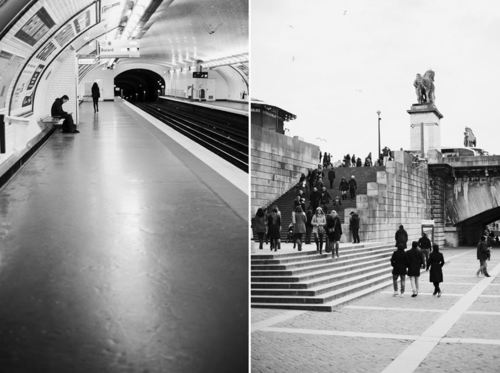 Johnny and I had a wonderful 8 days in Paris earlier this month. It was our first time there together, and we were both completely overwhelmed with how beautiful it was. The city embodies elegance and culture – from the graceful trees to the architecture to the refined cuisine and the visible appreciation for the arts. We were able to visit the Louvre and see the Mona Lisa in person (an incredible experience), hike up to the Basilique du Sacré-Cœur for a panoramic view of Paris, enjoy a boat ride on the Seine, and walk around at the Eiffel Tower. We rode the Metro a few times, met for coffee with a couple of fellow photographers, and visited a flea market to admire some French antiquities. Other than that we just walked around the 11th Arrondissement a lot, where our hotel was, and enjoyed the cafe culture, the numerous camera shops and wonderful restaurants. I really feel incredibly lucky to have been able to travel to so many beautiful places this year. And more than that, to be able to share these experiences with the man I love, who is the most wonderful companion I could ever ask for…..
See more pictures on www.poemswithoutwords.com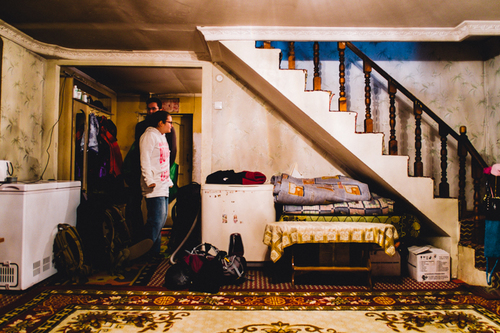 If I had to condense my experiences in Mongolia to a few words, I'd use unpredictable, disorganised, traditional and full of potential. Urban planning within the capital of Ulan Bator is almost non existent, and all the traffic is packed to a few main roads with no agreed upon road laws. The capital is also a real hotpot of different cultures. You can see the western influences in the architecture and imported automobiles, but then around the corner you can bump into a gentleman decked out in full national dress. The national costumes are incredibly colourful and still used in every day wear, and I haven't been able but to admire their beautiful craftsmanship and detail. To quote a gentleman called Woody whom I met at our hostel, you can find silk here, even finer than in China. Straying out of the capital area, the traditional influences are even more at show. We visited a family in the country, and it was like travelling 20 years back in time. No running water, the heating by coal, an outhouse and interior decor that probably hadn't changed for years, but man did I love this experience! I witnessed a real piece of life in Mongolia. One of the biggest reasons why I wanted to visit Mongolia was for its nature. This dream also proved to be our downfall. When we visited the village I described before, our plan was to head out from there to the national park of Gorkhi Terelji come next morning. But during the night, we started experiencing heavy snowfall, almost 5cm in one night and biting cold winds. The roads quickly iced up and no one had changed for their winter tires yet. Foolishly, we didn't let this change our plans and we headed out for the road. Once we had driven out the village, we experienced the last thing you want to experience in a car. A crash. We collided with a car in front of us and that was it for that trip. I sustained a hairline crack in the neck and missed out on a visit to the national park but at least I'm still here. Two working arms and legs. A few days rest and we'll continue our journey with a neck brace! Because our trip to the national park was a bust, I'm expecting to make up for it with some other adventures…….
See on timosoasepp.fi
A year ago today I got my hands on the Fujifilm X-E1. Since then, I've been shooting with it around Tokyo almost daily and some 10,000 shots later it hasn't missed a beat and I still love using this ergonomically sublime little camera. I've seen the camera improve through the various firmware updates – thank you Fujifilm – and have evolved my shooting style to mostly manual (AFL lock) focus and aperture priority or manual exposure settings (auto ISO). Customizations include the Fujifilm half case, a Lensmate thumb grip, a soft release button produced by Map Camera and the front logo muted with a black Mitsubishi chinagraph pencil. I've added the highly portable 27mm XF pancake lens to the excellent 18-55 zoom and, with a spare battery, now have a minimal yet very versatile kit. I look forward to the next 12 months with this delightful camera. Meanwhile my best efforts of the last 12 months can be found here….
See more pictures on basilimobilephotographs.wordpress.com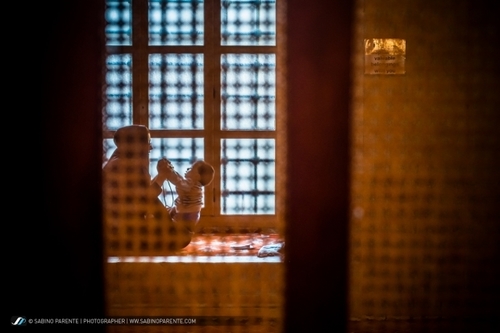 Istanbul, inside the Blue Mosque, there is an "only Women's praying area", a world behind a wooden fence where faith is mixed with love. (Fuji X-E1 +Fujinon XF 35)
See on www.sabinoparente.com