Tips and Tricks
This is an official guidebook for the premium interchangeable lens camera, FUJIFILM X-E1. It is intended to help users enjoy photography even more with tips on how to use each of the various functions. It also includes an interview of photographer and some gallery of their works.
See on fujifilm-x.com
After trading in my Nikon DSLR for a Fuji X-E1, I thought it would be interesting to compare Fuji's film and digital color palettes side by side. One of the most important reasons I made the decision for the X-E1 was for Fuji's colors. I find their palette the most appealing and easy to work with. Many shots look wonderful without processing, and when I do post process for a certain look (such as pastels – more on that in an upcoming post) Fuji colors simply give me the best base to work with. I wanted to see how Fuji's color palette for digital compares to one of my favorite Fuji films: Pro 400H. To test this, I went to the harbor in Baltimore, Ireland (near where I live) on a sunny afternoon and took the following equipment:
Fuji X-E1 & Fujinon 35mm f/1.4
Nikon F100 & Nikkor 50mm f/1.8
I shot the Pro 400H film at about 2 stops overexposed and the X-E1 about 1 stop overexposed. The film scans were not color corrected and I did no color work on the digital images. Below are the results (you can click the images to see them in a larger size).
See on www.rebeccalily.com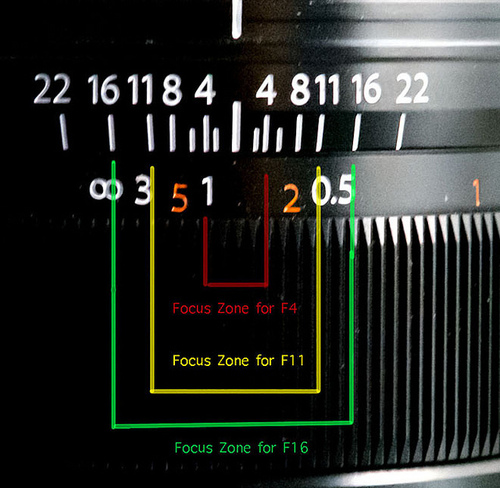 This is a quick guide on how to set up your Fujifilm X-E1 for general street photography: Amazingly easy with the 14mm, since all we have to do is switch to manual focus mode, and check the "zone of acceptable sharpness", indicated on the DOF scale for the chosen aperture. This caused confusion because the digital indicator does not correspond to the markings on the 14mm and some of you emailed, wondering if you were reading the markings incorrectly. For a given image format, depth of field is determined by three factors: the focal length of the lens, the aperture and the camera-to-subject distance. On the Fujinon 14mm, at F16, when focused near the 1m mark, the markings on the lens barrel indicate an acceptable focus zone from infinity to approximately 0.5m. This covers quite a range and I found it to be a realistic estimation of what I consider "sharp enough", your mileage may vary, since the acceptable circle of confusion varies relative to the amount of magnification of your image. The digital DOF indicator shows a much shorter zone when focused near the 1m mark, from about 0.75m to approx 2.5m. (If you are super critical or make huge prints or projections, this might be the scale to go by) which corresponds roughly to the f8 on the lens barrel. When shooting with the 18mmat f5.6 for instance, I found the DOF indicator very conservative and in general assume when focused around the 3m mark to get everything from 2m to approx 5m in focus, the digital scale indicates about 1/2 of that. The only gripe when zone focusing on the 18mm is the lack of a focus lock, see the image below for my solution:) It is very easy to accidentally turn the focus ring and ruin your capture, the rubber band holds the focusing ring in place. Not a problem on the 14mm, since we can check the focus setting right on the lens and don't have to look at the LCD or through the EVF, which allows us to set focus BEFORE we lift the camera to frame the shot. The way Fuji implemented manual focus, in addition to the small size and light weight, makes the Fujinon 14mm a real winner in practical shooting situations…..
See on www.mikekobal.com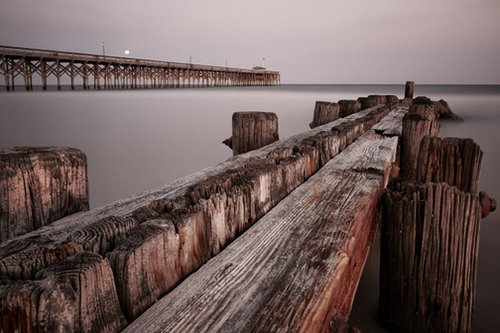 The long exposure game, is one of compromises: fighting too little light, balancing the moon and its reflections, cameras and lenses, camera meter or external meter! Long exposures are one of the more difficult photographic styles and one that takes experience and patience to master.  As such, the photographer needs every helpful trick that they can gather into their bag of tricks in order to generate, stunning etherial images! …..
See tutorial on markhilliardatelier.wordpress.com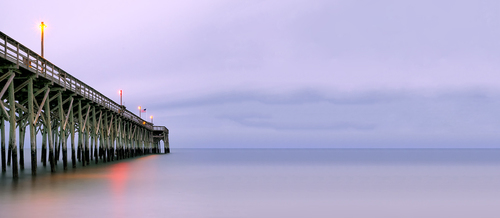 Ultra long exposure photography can be a very fulfilling pursuit and generate etherial images that draw your viewer into them leaving them week in the knees! As a photography master generalist I can tell you that there are a few speciality areas that can really excite me and force my juices to flow!
Specifically they are:
Ultra High Speed photography: Water Drop Collision Photography, Daytime Lightning Photography & Hummingbird Photography
Infrared Photography
Grist Mill Photography
Ultra Long Exposure Photography.
This post is a tutorial on Ultra Long Exposure photography using the Fuji X-E1 camera with its 18-55mm lens, a 6 stop B+W ND filter and a Sekonic L758DR spot meter.
Fuji X-E1 with its 18-55mm lens
The Fuji X-E1 is my 3rd in the Fuji line. I started with the X100 and moved to the X Pro 1 in order to have interchangeable lenses, then to the X-E1 to take advantage of its Electronic Shutter Release. I have always been a Canon shooter with closets full of L lenses.  But due to a spinal operation that went dreadfully wrong I lost 80% use of both hands and arms.  No longer able to hold heavy camera equipment I started on a long journey searching for high quality camera system that was small and light weight and produce world class images.  A long story shortened, I settled on the Fuji X lineup and their fine quality lenses along with a few CV and Leica M mount lenses.
Now, the Fuji X-E1 with its electronic shutter allows me to hook it up to my water drop machine, Lightning Trigger and Hummingbird control system!
The only lacking item is its short lens lineup.  With the introduction of the new 55-210mm lens this spring even that will no longer be a problem for me!
Long exposure has several issues that you must overcome to successfully create the etherial, emotionally charged image.
Long Shutter Speed: Even in low light you will find it difficult to get a shutter speed at f/8 (sharpest).
Difficulty Focusing:  Darkness you know…
Unreliable Metering: Especially with an installed ND filter.
Camera Shake:  Requires a STURDY tripod and REMOTE SHUTTER RELEASE.
The Long shutter speeds generally can range from 15 seconds to 20 minutes. These are difficult to reach unless you shoot at night with light from the moon.  What I find that I do is shoot at dusk on or just before sunrise to overcome this issue.  Usually I will add a Neutral Density Filter (ND) to reduce the total amount of light reaching the image sensor. This will allow you to shoot with more ambient light and generally make this style of photography easier……
See full article on markhilliardatelier.wordpress.com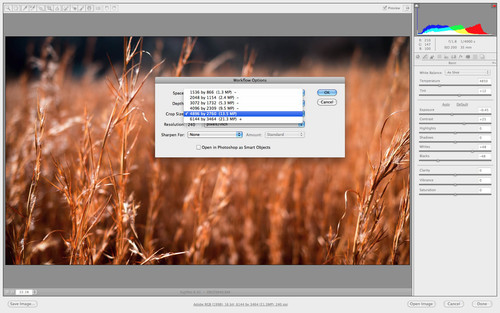 Question by Nino:
If you choose RAW alone or RAW and a smaller JPEG the RAW the file is not full resolution. It is 4896 x 2760. It should be 4896 x 3264. To get the full sized RAW capture you need to choose RAW+(full sized) JPEG. Am I missing something?
Solution by Ryan Williams:
I recall reading that Lightroom (and probably ACR) automatically crops RAWs to 16:9, so you need to go to the crop tool and remove/change the crop. This may only apply to when RAWs are saved in a certain ways though, as you describe.

Nino´s response:
That seems to be exactly what is going on. For conditions I noted at the start of this thread the RAW image opens in ACR cropped to 16:9. You do have to click the crop tool then the crop shows. Hit "esc" and all is fine
See discussion on forums.dpreview.com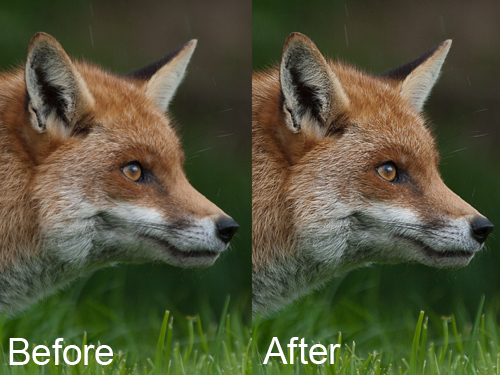 Most people who have experimented in Photoshop, especially those who shoot in raw, will have some experience of trying to sharpen an image. Sharpening increases the contrast between neighbouring pixels resulting in the visual effect of a crisper image. It is typically the last processing step that should be performed on an image and is often used to enhance already well-focussed images or in desperation to try and rescue elements of a photograph that weren't captured in-focus when the shutter was pressed. There are numerous ways to sharpen images in Photoshop, so much so that there is a whole sub-menu of filters dedicated to sharpening, each offering a different amount of control and different levels of success. However, one of the most overlooked filters that can help you achieve better results with more control isn't found in the Sharpen sub-menu, but is in fact found in the, usefully named, Filter -> Other menu: the high pass filter.
I'll take you through a step-by-step guide to using high pass filter and hopefully show you how simple and effective image sharpening can be…..

The benefit of using this method to sharpen your images is that the sharpening effect is applied in a non-destructive fashion, on a duplicate layer, with a very simple to understand parameter (in the Radius value) that controls the magnitude of the sharpening, as well as giving you the ability to fine tune the final effect using the Opacity slider.

See tutorial on digital-photography-school.com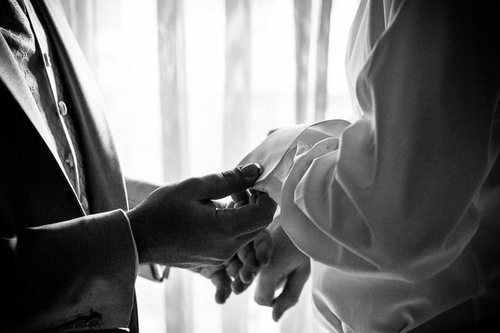 Big weddings, small cameras. Here are the pro tips you need to survive.
…. as always, I learned more in a day's live shooting than you ever can in hours of studying forums, reading manuals or even in safe practise shoots. At one point you just have to make a leap of faith and deal with anything that turns up. None of this is really news but here are my main pieces of advice from the day:
Forget multi shots – I typically leave a Nikon in "continuous low" mode and shoot either single shots or "double taps". In marginal light the second frame is usually sharper. Forget that. On an X-Pro 1 or X-E1 (can I just call them X-CSCs and we'll agree it means this?) the burst mode can lock your camera for a considerable time. Stick to single shots – first shot is the best, right?
You'll need spare batteries. More than you think. An X-CSC goes from "everything is great" to "I don't have enough battery to turn on the low battery warning" in about 2 shots. Change early, change often. In 8 hours' shooting I made it all the way to the 5th battery I had with me. The 16GB cards I had in each camera weren't full.
 The Q button is your friend. I have a number of shooting profiles set up under the quick menu which are identical on both cameras and can swap to my preferred black and white or macro settings at the push of about 4 buttons.
 Auto ISO is not your friend. This has been pointed out all over the web and hopefully Fuji will fix it in a firmware upgrade. The floor setting for shutter speed in auto ISO are way too low. If you shoot auto ISO you will get blurry pictures. I can handhold an X-CSC at slower speeds than a DSLR but still I got blurred pictures if I nudged it to auto ISO.
Strong backlighting can confuse autofocus. When a subject has their back to a bright window I'll often dial in +2 EV of compensation or more on a Nikon. On the Fujis +2 is your max and there seems to be a risk that the autofocus will be wildly out.
I took the EF-20 flashgun. This isn't really versatile enough for me. I shoot a lot of available light (or off camera lit pictures) but when I need flash I need more. I'll look at some other options – there seem to be plenty.
Speaking of flash, the X-E1 hotshoe seems to have a little play in it. I was using a remote trigger to run my Strobeam lights. This has worked perfectly on a number of cameras but if it gets the tiniest knock in the X-E1 then it won't make contact and the lights won't fire. If you're shooting on flash then consider leaving image review set to "on 1.5s" so you can double check. I usually leave it off to avoid confusing myself.
I would have changed to using the X-Pro 1 with flash but for some reason I couldn't get it to fire at all – I know that's my fault. It will be a menu setting.
It's too slow (for me) to change AF point on the fly in a live fire environment. Focus and recompose. Be careful with that at f/1.4….
Fuji need to make a decent portrait lens stat. Sadly it's not yet on their roadmap. If the 18-55 is anything to go by then the 55-200 could be quite nice but at f/4.8 it will be a little "slow" for me. I had the Nikon 105 DC and adapter handy but didn't feel confident nailing focus with it on the day.
See on words.peoplebyryan.com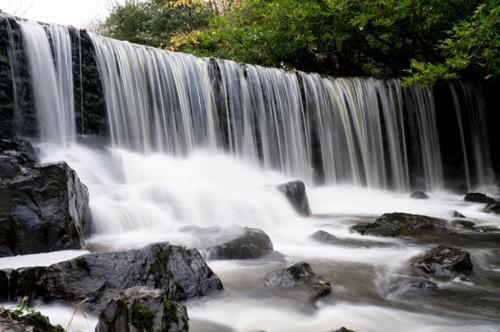 I was asked my opinion on how the Fujinon 18-55mm zoom lens would fare in Long Exposure Photography setting. Equipped with my trusty tripod I thought I would capture a few very quick test shots using the Fuji XE-1 and 18-55mm lens. I headed to the my favourite location and the one I used for the cover of The Long Exposure eBook. Without any ND filters I shot a series of long exposure images between F/18 and F/22 shooting at up to 3 seconds with an ISO of 200. This image is straight out the camera with no post processing.I am shooting RAW with the X-E1 and have noticed that Lightroom 4 crops the X-E1 RAW files on import. It is easily fixed by clicking the "Crop Overlay" tool in the Develop module and setting the size to be "Original". I did put the 18mm (prime) lens on the camera with ND10 filter attached but I actually found I missed the OVF of the X-Pro1 for final framing. It is probably something I will get used to but the real joy has to be just how light the X-E1 is to carry around, it is definitely noticeably lighter than my X-Pro1 (which isn't exactly heavy!). It was liberating to be able to use the zoom lens to frame the shot. With a prime lens the photographer has to zoom with their feet which has obvious limitations at the base of a fast flowing waterfall. With the zoom lens I was able to get tighter (towards the 55mm end of the lens) and retain the f/22 aperture using the manual aperture mode (switch on side of lens).
Using the Zoom. You can view larger version of the photos featured in this post over in the flickr set. I was really impressed at the quality of the images even if they are only 2 second exposure captures at f/22.
If you want to learn how to capture long exposure images with any camera system then check out The Long Exposure ebook http://www.flixelpix.com/featured/the-long-exposure-photography-ebook/
See on www.flixelpix.com