Tips and Tricks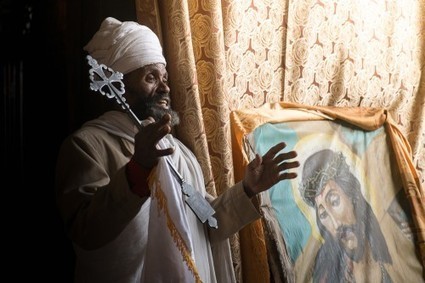 I'm convinced. After a week in Lalibela, Ethiopia, and a safari in Kenya, I'm ready to leave my heavy pro DSLR gear at home more often. I went to Ethiopia with a Fuji XE-1 and a Leica M (240), both with a small kit of lenses (18-55 and 55-200 for the Fuji, and 21mm, 50mm, and 75mm for the Leica), and went mirror-less all week. It wasn't my first time going so light. The last time I went to Italy for a month I brought only the Fuji and 2 lenses, but that trip had less hanging on it, and the conditions were less taxing. Below are my thoughts, in no particular order, after giving these cameras a run for their money. But first, the usual caveat: I like gear. I like the way it feels in my hands when it feels right. I like gear that gets out of the way as much as possible. But I'm OK with constraints, I know there is no perfect camera, and ultimately cameras don't make photographs – photographers do. So don't look for pixel-peeping here. And don't look for me to tell you to get rid of your DLSR gear. For some that might be a great move, for others not so much……
See on davidduchemin.com
Often when you visit a tourist attraction it's hard to get a good photo as there are people milling around everywhere. However there are a few techniques that can be triedto overcome this. Some would suggest taking a number of shots every few seconds (using a tripod)  then combining the photographs in post production to remove the people. On a recent family trip to England I decided to experiment with a Neutral Density filter, the thinking behind this idea was the the longer the shutter was open then the people would be moving and should vanish from the image. When we arrived at St Mary's Lighthouse there were few tourists as the tide was in, as shown in the photograph below…..
It's hard to know where to start. For one, I don't love writ­ing reviews, with lots of tech­ni­cal infor­ma­tion and 100% crops and stuff like that. For another, this cam­era has been out for awhile now, and I don't know that I have a lot to share, other than my own expe­ri­ence with, and opin­ions of, the Fuji sys­tem. I will say that before I bought the Fuji­film X-E1, I had a hard time find­ing reviews with lots of photo sam­ples. They're out there, but many are sur­pris­ingly unhelp­ful. This is not a dig on all the other review­ers, because I found some good opin­ions and some fab­u­lous pho­tos. Rather, I think this is a cam­era that's a lit­tle out of the spot­light, maligned as it was for so long with poor aut­o­fo­cus and quirk­i­ness. So, I'll try to address some things that maybe weren't cov­ered in other reviews or write-ups. I'm also going to just put in a lot of pho­tos from the stuff I've been shoot­ing, and let them speak for themselves. To col­lect the pho­tos for this blog, I tried to use the X-E1 in as many dif­fer­ent sit­u­a­tions as pos­si­ble, and to try to shoot it more or less like I have shot with DSLRs since 2006. I shot por­traits, I shot street pho­tog­ra­phy. I tried action, and wildlife, lifestyle and events. I pulled it out at a wed­ding for can­dids, and it has accom­pa­nied me vir­tu­ally every­where since it arrived. I started with the Fuji­non 18mm f/2, 35mm f/1.4, and 60mm f/2.4 macro, and then added the won­der­ful 55–200 f/3.5–4.8 tele­photo zoom. Most recently I've added an EF-20 speed light, which I'll be try­ing out soon. In some sit­u­a­tions, the lit­tle retro cam­era shined. In oth­ers, it stum­bled. Mostly, though, it's been fun, and a great reminder of how lit­tle the cam­era really mat­ters when it comes to mak­ing photographs……
See more pictures on markschuelerphoto.com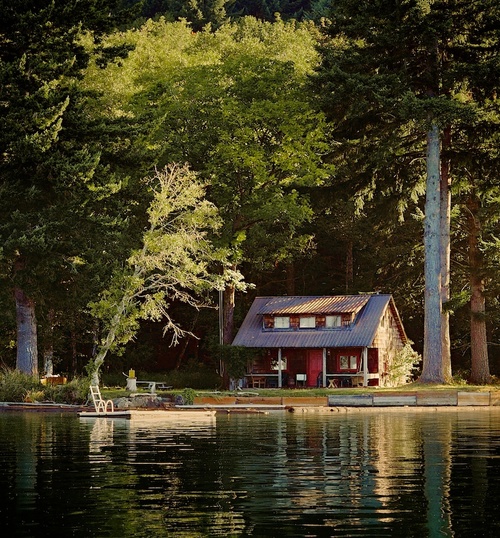 A few weeks back I was sailing along the shoreline of Lake Merwin when I spotted a little rustic cabin nestled into the woods. Thinking it might just make a nice shot, I nosed the sailboat into the small inlet facing the cabin, doing a quick loop looking for an interesting angle. The sun was already higher and brighter than I would prefer, in fact I would be shooting toward the sun, and the shade was extremely dark and blue from reflected sky. I was also single handed in my boat, didn't want to get too close and invade these folk's pristine space, and the dogs were running around deck thinking we might be heading to shore – not exactly the formula for a good picture. But I decided to give it a go anyway, grabbed the camera, spun a few dials, and snapped a few shots as the boat came around the cabin, keeping the boat in line with one leg over the tiller. The result? Out of camera, nothing to write home about. I think I uttered "meh" under my breath, put the camera away, pushed the tiller over and headed back out to open water…..
See on www.adrielhenderson.com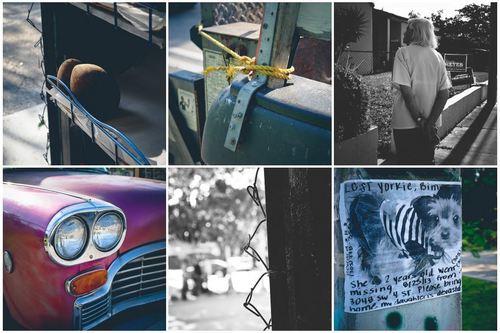 A few days ago I tweeted that I had gotten an idea for a post. It dawned on me that back when I shot film I was never worried about a color palette. I shot Kodak TRI-X 400 on a Canon F1 and that's about it. My only concern was composition and doing my thing in the darkroom and printing process. Yes, I dodged and burned but that was about it. I never uploaded to the web, I mean it was 1994. Fast forward to today and all of a sudden we are faced with a multitude of things: camera model, full frame, aps-c, m43, high ISO, raw vs jpeg, lightroom, photoshop, ACR, and the list goes on. Isn't that quite a list? I think so. Then all of a sudden Fuji comes out with the X-Series cameras and takes us back to our roots of film shooting in classic 35mm format. Simple dials, simple controls, aperture rings on lenses, classic aesthetics, and all with an immense IQ punch rivaling full frame goodness. With that said, breathe, shoot, and rekindle yourself with photography once again ― Fuji X-Series.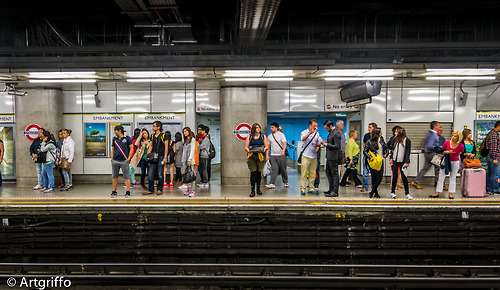 I've posted a number of images on my google+ and artgriffo.tumblr.com blog already. So here are a few recently taken on a photo walk about with my club pals. All images are taken with the Fuji X-E1 and 18-55mm/2.8-4 lens and to my eyes I cannot fault it. I set the camera mainly to 400 iso on aperture priority and set about looking for abstract and street photos. I was particularly pleased with the Monument tube station image (800iso) where the camera proved quite capable of getting the detail from the darker areas and at the same time handling the brighter lights of the station. All the images have been edited in LR4, where I have reduce the highlights and increase the shadow brightness. (a Serge Ramelli tip!) I have enhanced a little colour to taste as it was an overcast day, and with the architecture shot I have used a preset from Trey Ratcliff as a starter and then made some subtle changes to it. Overall I can't think of a single item of this camera that I would want changed. It focuses fast enough for me, its sharp, has a very easy menu to use. The lens is superb (18-55mm/2.8-4) and an absolute joy to use. This setup just makes me want to get out more and shoot ….
See on onecameraonelens.tumblr.com
This is an official guidebook for the premium interchangeable lens camera, FUJIFILM X-E1. It is intended to help users enjoy photography even more with tips on how to use each of the various functions. It also includes an interview of photographer and some gallery of their works.
See on fujifilm-x.com
After trading in my Nikon DSLR for a Fuji X-E1, I thought it would be interesting to compare Fuji's film and digital color palettes side by side. One of the most important reasons I made the decision for the X-E1 was for Fuji's colors. I find their palette the most appealing and easy to work with. Many shots look wonderful without processing, and when I do post process for a certain look (such as pastels – more on that in an upcoming post) Fuji colors simply give me the best base to work with. I wanted to see how Fuji's color palette for digital compares to one of my favorite Fuji films: Pro 400H. To test this, I went to the harbor in Baltimore, Ireland (near where I live) on a sunny afternoon and took the following equipment:
Fuji X-E1 & Fujinon 35mm f/1.4
Nikon F100 & Nikkor 50mm f/1.8
I shot the Pro 400H film at about 2 stops overexposed and the X-E1 about 1 stop overexposed. The film scans were not color corrected and I did no color work on the digital images. Below are the results (you can click the images to see them in a larger size).
See on www.rebeccalily.com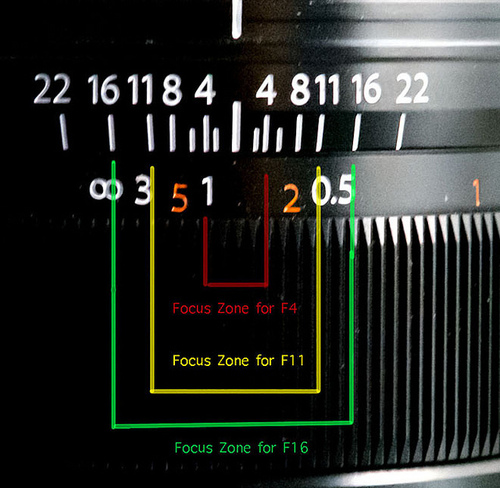 This is a quick guide on how to set up your Fujifilm X-E1 for general street photography: Amazingly easy with the 14mm, since all we have to do is switch to manual focus mode, and check the "zone of acceptable sharpness", indicated on the DOF scale for the chosen aperture. This caused confusion because the digital indicator does not correspond to the markings on the 14mm and some of you emailed, wondering if you were reading the markings incorrectly. For a given image format, depth of field is determined by three factors: the focal length of the lens, the aperture and the camera-to-subject distance. On the Fujinon 14mm, at F16, when focused near the 1m mark, the markings on the lens barrel indicate an acceptable focus zone from infinity to approximately 0.5m. This covers quite a range and I found it to be a realistic estimation of what I consider "sharp enough", your mileage may vary, since the acceptable circle of confusion varies relative to the amount of magnification of your image. The digital DOF indicator shows a much shorter zone when focused near the 1m mark, from about 0.75m to approx 2.5m. (If you are super critical or make huge prints or projections, this might be the scale to go by) which corresponds roughly to the f8 on the lens barrel. When shooting with the 18mmat f5.6 for instance, I found the DOF indicator very conservative and in general assume when focused around the 3m mark to get everything from 2m to approx 5m in focus, the digital scale indicates about 1/2 of that. The only gripe when zone focusing on the 18mm is the lack of a focus lock, see the image below for my solution:) It is very easy to accidentally turn the focus ring and ruin your capture, the rubber band holds the focusing ring in place. Not a problem on the 14mm, since we can check the focus setting right on the lens and don't have to look at the LCD or through the EVF, which allows us to set focus BEFORE we lift the camera to frame the shot. The way Fuji implemented manual focus, in addition to the small size and light weight, makes the Fujinon 14mm a real winner in practical shooting situations…..
See on www.mikekobal.com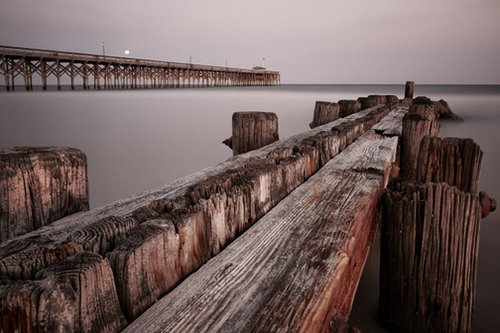 The long exposure game, is one of compromises: fighting too little light, balancing the moon and its reflections, cameras and lenses, camera meter or external meter! Long exposures are one of the more difficult photographic styles and one that takes experience and patience to master.  As such, the photographer needs every helpful trick that they can gather into their bag of tricks in order to generate, stunning etherial images! …..
See tutorial on markhilliardatelier.wordpress.com