Lenses and Accessoires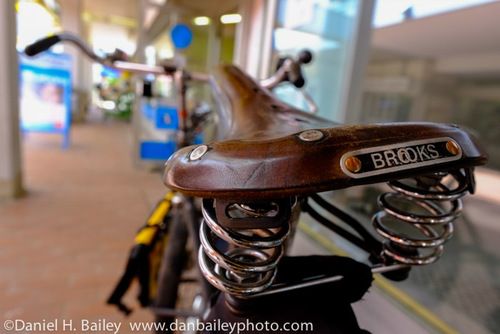 I love wide angle lenses. Always have. As far as I'm concerned, the wider the better, so long as it's a fixed lens. I prefer primes over wide angle zooms for a couple reasons. Fixed lenses are always lighter and more compact, which means that they pack more easily and are that much more non-conspicuous when you're out shooting in the world. Also, it's a very easy lens to shoot one handed with, which I often do while riding bikes, hanging off of a rock face, blocking the sun or directing my subjects with my free hand or shooting while driving/flying. Note, I would NEVER recommend this kind of reckless activity. Wide angle lenses are great for shooting just about everything. They're ideal for landscapes, travel and shooting indoors, and if you want to get right in the middle of the scene and shoot immersive, first person action, then wide is the way to go…..
See on danbaileyphoto.com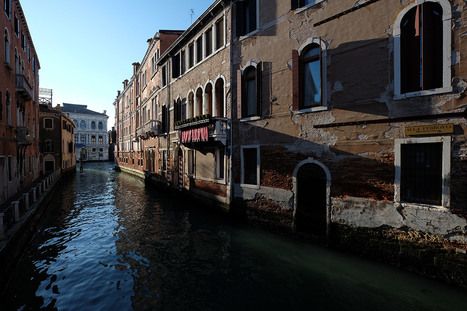 Its ultra wide to standard focal length capabilities make it the perfect choice for shooting dynamic, high impact landscapes images with excellent detail from the foreground to the far distance.
Sample Images with X-E2
See more pictures on www.fujifilm.com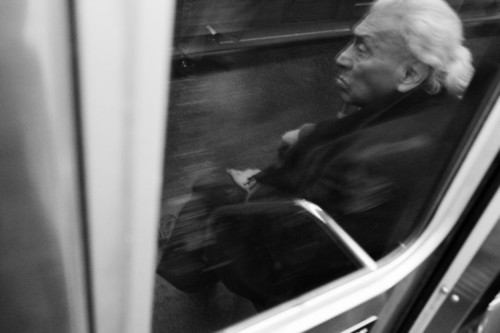 So here is probably the shortest review on a lens in the history of photography. Ready? Do you own a Fuji interchangeable X series camera? Yes? Go buy this lens. That's it. Not sure what else you need from me. The new XF 23mm F1.4 from Fuji is a BEAST. This thing renders stunning images and just gets out of the way. If you grab one lens before you go out to shoot all day, this is the one you'll want. If you really want more detail, read on, otherwise, just go buy this thing and have fun. Can a lens make you a better photographer? Of course not. But – a lens that is built beautifully, performs near flawlessly and produces great image…..
See on fstoppers.com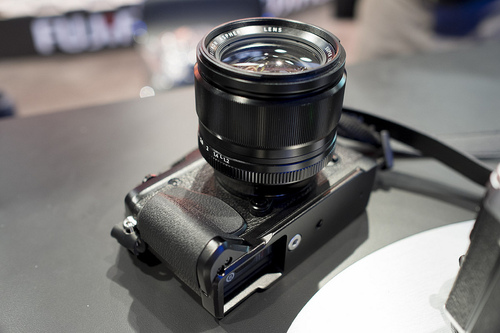 I got a chance to see and try the new Fuji grips this morning – for the X-E1/2 and the X-Pro1. Both grips remind me of RRS equipment – they are very light weight but strong, and are well made – Boxes say made in China on them. Both grips attach using an allen key and screw – so they are not something you'd be taking on and off frequently. They felt good on camera – less obtrusive than the current grips – at least to me……
See on f-sunny.com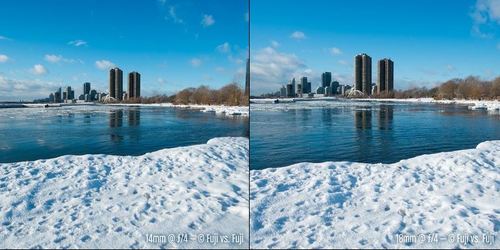 Conclusion
Given the compact size, light weight, and faster aperture, I'd say the FUJINON XF 18mm ƒ/2 was made with street photographers in mind, more so than landscape fans. The creamier bokeh also suggests it could be useful for wife-angle portraiture. In some way, the FUJINON XF 18mm ƒ/2's characterisitcs remind me of the old Nikkor 85mm ƒ/1,4 AF-D; optimized for centre sharpness and soft backgrounds. The FUJINON XF 14mm ƒ/2.8 is stellar, and a must-have for Fuji landscapers. While bigger than the 18mm, it's still relatively small and lightweight. It also provides excellent handling and super sharp images. It currently its own spot in my Billingham.
See on www.fujivsfuji.com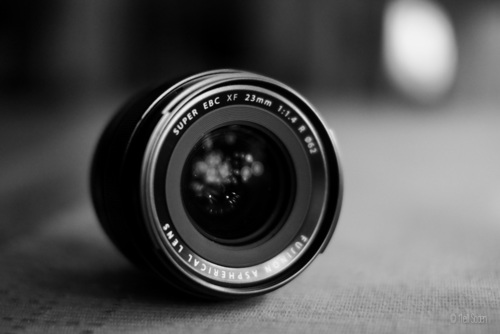 The 23mm is a really good lens, the build and image quality is outstanding. I would say that if you have the X100 or X100S in addition to another Fuji, you don't really need this lens, and the price difference is small. That said, that beautiful f/1.4 can be really handy at times. The aperture ring is much better than on the 35mm. It feels better, more expensive and it is a lot harder to accidently bump. The manual focus is nice, you have to pull the focus ring back to enable it and it gives you all the focus scale you need. The only thing is that the camera (X-E2) stays in manual focus while the ring is pulled back, and it caught me out once or twice.  It is heavier than the 35mm and a bit bulkier. I could not find any faults with the images I got out of this lens. X-E2 review coming soon……
See more pictures on www.neillsoden.co.za
FUJIFILM Corporation (President: Shigehiro Nakajima) has announced the release of the FUJINON XF56mmF1.2 R lens. Available from February 2014, this latest addition to the company's line up of professional-grade lenses for X-series interchangeable-lens cameras features a fast maximum aperture of F1.2, a focal length of 85mm* and delivers beautiful bokeh, making it particularly suitable for high quality portraits. The XF56mmF1.2 R is less than half the size of an equivalent lens on a full-frame camera ** and offers fast, quiet autofocusing that ensures stress-free shooting for both the photographer and the model. It also delivers incredible resolving power for high quality results that are enhanced by the unique skin tone reproduction technology found in Fujifilm's X-mount cameras. Using the XF56mm and selecting one of two PRO Negative modes from the Film Simulation menu on the camera body will ensure users can capture beautiful portraits with rich tonal gradations reminiscent of images from film cameras. Like all other lenses in the XF line up, the XF56mmF1.2 R is designed with an impressive attention to detail. It has a design that sits comfortably in the hand and exterior features including a metal aperture ring for a premium quality feel……
Availability and price: march / $999,- | €1099,-
See on www.fujifilm.com


FUJIFILM Corporation (President: Shigehiro Nakajima) has released its latest roadmap for X mount lenses, adding five new lenses including four zoom lenses to the lineup of X mount products, which are highly regarded for their outstanding resolving power and fast aperture that produces beautiful bokeh. Since first introduced in January 2012, the X mount series of lenses have boasted advanced resolution to all corners of the image, and fast aperture across their focal lengths. They produce sharp images and beautiful bokeh which expands users' expressive potential. The latest roadmap shows that the lineup will be enhanced with the introduction of four new zoom lenses. A bright standard lens XF16-55mmF2.8 R OIS, a bright tele-photo zoom XF50-140mmF2.8 R OIS and a high magnification zoom XF18-135mmF3.5-5.6 R OIS are planned as well as the further addition of a SUPER TELEPHOTO ZOOM LENS and a HIGH SPEED WIDE ANGLE LENS for even creamier bokeh. This will bring the total number of lenses in the X mount lineup to 17. Fujifilm will continue to integrate the rich optical expressions made possible by the X mount lens series with the company's color reproduction and other image processing technologies to further expand its photographic offering……
See on www.fujifilm.com
I was in desperate need of proper camera bag for everyday use. Up until yesterday, I had been carrying my Fuji gear around in a "satchel" made by Fossil. It offered next to no protection, and it's the reason I have a minor ding on the zoom ring of my 35mm ƒ/1.4. I'd been looking for a while, but hadn't found anything I was satisfied with. When I first saw Billingham bags, I wasn't 100% sure about the overall look of them. I liked the styling, but I wasn't crazy about the standard khaki colour, and black just isn't me. I'm much more of an earth tones sort of guy. I also found Billingham's website pretty dreadful. It's in serious need of a rework, and maybe they could add some, I don't know, photos of their camera bags. Anyhow, I was also looking at ONA bags. They have great styling, but their bags are either a little too small (the Bowery), or a little too large (the Brixton). The Brixton was close, but it's pricey at $269, and fairly heavy at 3.1 pounds. Then there's the leather Brixton, at $419 and a full pound heavier. I made the mistake of getting a full leather bag before and I definitely won't do it again. They look fantastic, but they're much too heavy for something that's slung over one shoulder. Your spine will feel it. Another thing I didn't like about the ONA's is the clasp, and last, while Billingham's site needs work, at least it doesn't tell me I need to have Flash installed like ONA's does. It's 2014 people; time to serve up HTML 5 to anything other than iOS devices…..
See on donovanbond.co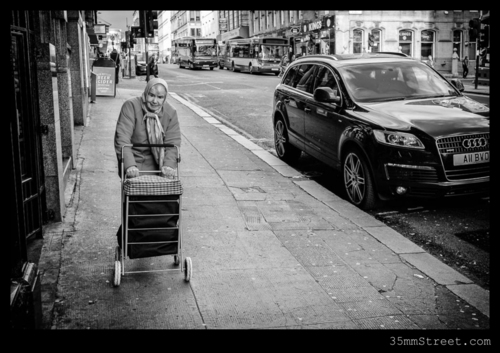 This is a cross post with my blog at Derek Clark Photography for the following reason. When it comes to street photography I've always had my feet planted in the black and white side of the fence as it just looks more interesting to me. It strips away the distraction of colour and narrows the photograph down to composition and content. It also gives street shots a timeless quality. This blog has had only three colour pictures (I think), which were on the earliest posts. Since then it's been B&W all the way and even the post processing has been the exact same home made recipe that I cooked up in Silver Efex Pro way back. But lately I've noticed that some colour street photography has been catching my eye and that's unusual for me. I tend to think colour street shots look a little too bland, but never say never!…..
See more pictures on 35mmstreet.com