Lenses and Accessoires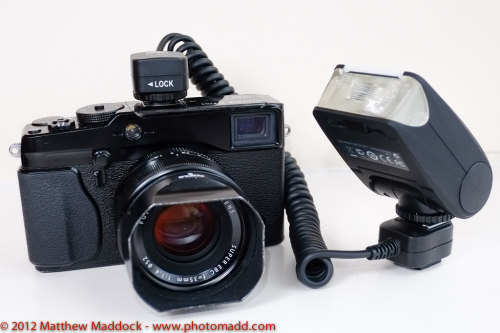 I've been trying to figure out how to get my flash off-camera on my X-Series cameras but still retain TTL function for a while now. I've asked around everywhere but either nobody knows, or nobody seems to agree how to get it done. Fuji don't produce a TTL flash cable themselves, and there are no 3rd party solutions either for the Fujifilm X-Series cameras. I have a radio flash sync system, which is fine when I'm taking photos in a studio type situation where TTL metering doesn't matter, but I wanted something to get the flash off the camera when I was out and about, an easy TTL solution that meant I didn't have to try too hard for quick snaps. Sometimes by the time you've got the flash power right the moment has gone. I've been using the EF-20 and EFX-20 flashes with the X100 off-camera by activating the on-camera flash and firing the EFX-20 flash as a slave (the EF-20 doesn't have a slave mode). This works well in many situations but has a few disadvantages. Firstly, you might not want the on-camera flash to fire – you may only want light from your main flash. Secondly, it's not always 100% reliable, and finally, it doesn't work on the X-Pro1 as it doesn't have an on-board flash!
I've been doing a lot of work improving my flash techniques recently (a long post will be coming up about that soon) and really wanted this sorted out so I decided to take matters into my own hands! I tried out a supposedly universal cable in-store that said it worked with Nikon, Canon and Fujifilm, but it didn't work at all. I wondered if one of the cables from another main manufacturer would work on the X-Series cameras. The two candidates being Nikon and Canon of course. Given the historic connection Fuji had with Nikon producing the S2 and S5 DSLRs I thought that a Nikon lead would be the obvious choice, but having had a look at the two, the connection pin placements on the Canon cables seemed to match better with the pins on the Fuji hot-shoe. With the genuine Canon cables around £50 I just couldn't justify buying one on the off-chance that it worked, but after a search around I found a 3rd party Canon compatible cable by Pixel on Amazon at £16.99 – at that price it was worth a shot! This is the cable I bought – Pixel FC311/s Compact TTL Sync Cord for Canon….

See on www.photomadd.com
A few X-E1 18-55mm Examples by David Cleland (Flixelpix)
Visit David's Website:
http://www.flixelpix.com/
See on www.flickr.com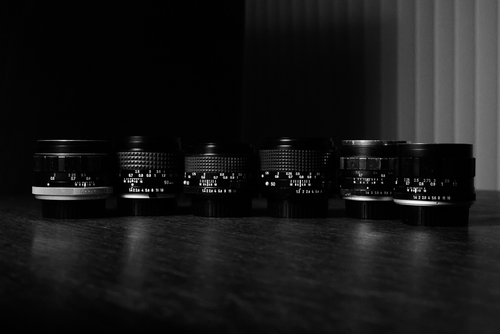 Reminder – This is not scientific, rather a quick test to show how excellent these Minolta fast 50mm lenses truly are at their widest aperture ranging from f/1.2-f/1.4. These are all the fastest 50's i currently own, from plain MD's to Auto Rokkors, they are all fantastic with very slight variations in sharpness between them, however, in my opinion, the early Auto Rokkors take the cake beating out the much revered 50mm 1.4 PG at least in the photos below and also from my experience with all 50's i own. Nonetheless, they are all fantastic performers on the X-Pro 1 regardless of which you choose.
You be the judge… All images shot at their Widest Aperture – Straight Out of Camera JPG B&W with Red Filter -1EV – No Processing…
See more on blog.ikphotography.com
See on Scoop.it – Fuji X-Pro1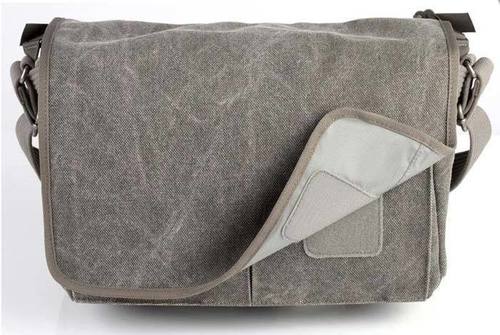 Most photographers that I know are always in search of the perfect camera bag – and I am no different. The problem is, "perfection" doesn't exist. What does exist, however, are camera bags that are perfect for specific applications…
I wondered if there was a high quality bag that was in keeping with the compact (and stylish) nature of these camera systems? I have long been a fan of ThinkTank camera bags – in fact, I currently own five of them and have sold everything else. They are that good. Lifetime warranties, excellent construction, very functional, excellent attention to detail – and designed by photographers for photographers. I am sold on their products. Someone suggested that I try out the Think Tank Retrospective 5  for my Fujifilm X-Pro1 system. I am glad I did – I really love this little bag. It comes in two colours – black and pinestone (which is the one I have and pictured above). Why do I love this little bag?
Pros
perfect for a compact camera system with 2-4 lenses (depending on size), spare memory cards, batteries, etc.
well constructed, well padded and made with high quality materials
lots of interior/exterior pockets to store things
interior is configurable with included Velcro inserts
lightweight (1 kg) and compact (25.4 cm x 21.6 cm x 15.2 cm)
discreet – does not look like a camera bag
rain cover is included
lifetime warranty
Cons
too small to hold a laptop or iPad (but a small tablet device will fit in the front pocket)
the side pockets are very tight and you will not be able to fit much into them
the shoulder strap is unable to detach from the bag in the event you wish to use a different strap
it is such a lovely, compact bag that my wife constantly tries to steal it from me for her micro four thirds system
See on roel.me
See on Scoop.it – Fuji X-Pro1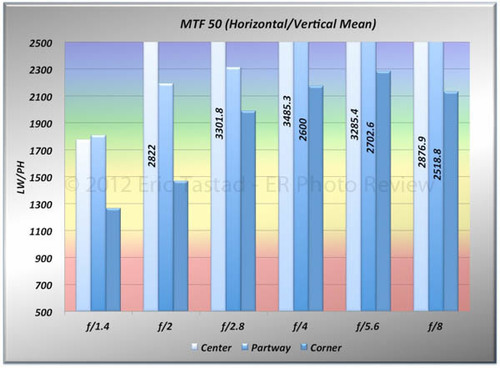 This lens has quickly reached cult status, does this standard live up to the hype? This lens is a beautifully built standard, constructed entirely of metal. At least anything you touch, including the filter threads, which is a nice departure from the standard plastic these days. The aperture ring is reminiscent of older lenses with nice metal knurls and nice positive 1/3 stop click stops. The focus ring is similar quality, also with all metal knurled grip. The hood is nice and positive and the lens has two caps. One that goes on the hood since it is not a reversible style, and a second that goes on the filter thread. Thankfully the cap on the threads can still be removed with the hood in place. The hood has a nice positive bayonet mount which makes it easy to take on and off even with the lens cap on.
The lens is a modern design 8 element lens with 1 aspherical element, and a nice 7 curved bladed diaphragm, which remains fairly circular until about f/2.8 or f/4. By f/5.6 it is mostly polygon. The 52 mm filter threads are standard for many large aperture standard lenses, so filters are easy to find. The lens has a typical minimum focus distance of about 0.3 m and a maximum magnification of 0.17x. It is well weighted at about 187 g, feeling not too heavy nor too light. This lens is nearly the same size as a classic 50 mm f/1.4 lens from the film camera era. In use, the AF motor is a stepper motor style, and it does make audible focus noise, on par with a quieter screw drive system. Focus remains quick if the lens doesn't have to hunt the range, but if it does it takes just over a second to go full range. The lens seems to have a long throw, so it should be very precise, but take a little longer to go end to end. In normal circumstances the lens will focus in just a fraction of a second. The manual focus ring is slightly slippery due to the metal knurls. I think rubber would provide a better grip, but wouldn't last as long or feel as high quality. If you are used to doing quick back and forth motions to manually focus, and stopping on the sharpest point in an instant, this lens won't work great for that. You have to slow it down as it takes a fraction of a second for the motor to respond. The best way to manually focus is to prefocus using the AE-L/AF-L button and tweak manually, but turning quickly back and forth will work if you slow it down just a bit to compensate for the "lag". Now how about the optics in a 35 mm f/1.4? The only other standard class f/1.4 lens designed for APS-C at this time is the Sigma 30mm f/1.4, which is notoriously bad in the corners. Does this slightly longer standard lens do better?
See on erphotoreview.com
See on Scoop.it – Fuji X-Pro1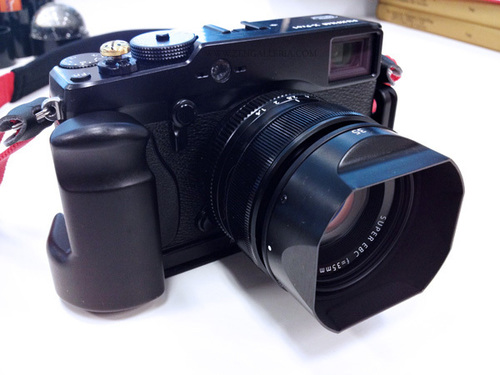 This review is for the Really Right Stuff (RRS) BXPro-1 L-plate with grip for the Fujifilm X-Pro 1 camera. Really Right Stuff is a manufacturer of high quality mounting solutions for all kinds of photographic needs and this is one of their new releases to cater for the needs of X-Pro 1 owners. This particular product is a modular system consisting of three components: the base plate, the secondary "L-plate" and the hand grip. Each component can be purchased separately or in a bundle. The purpose of the "L-plate" is to allow mounting of the camera in either the portrait or landscape orientation without having to flop the tripod's head on its side. This maintains the center of gravity as close to the central axis of the tripod as possible, as well as being far more convenient in the field. This modular system allows you to add or remove any components to suit your needs.
Build quality
The build quality of this L-plate is what everyone is already come to expect from RRS, it is very high quality. The matte finish is smooth and all printed markings are very clear to read. There are no sharp edges. There is absolutely no play or movement in any of the parts. The hand grip's finger grove is deep and comfortable to hold. The grip is quite reminiscent of the ergonomics on large professional level digital SLR's. The hand grip does improve the handling of the X-Pro 1 significantly. This is especially true when you are fiddling with many controls….
See on www.zengalleria.com
See on Scoop.it – Fuji X-Pro1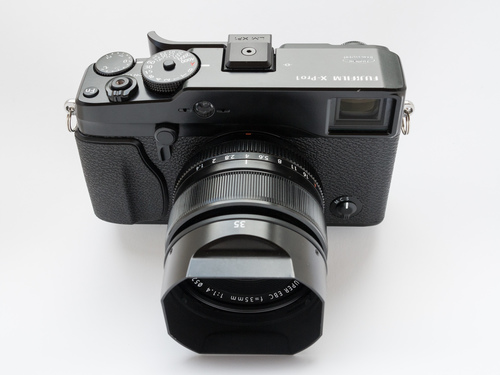 Engineered specifically for the Fujifilm X-Pro1, the sculpted thumbrest relaxes the grip on the camera, reducing camera shake allowing slower shutter speeds. Easily attached via the hot shoe, it is held securely with a machine screw that clamps the hot shoe rails so it can't damage the camera. A silicon bumper under the thumb portion aligns and stabilizes the rest, as well as protects the camera finish…

See on www.lensmateonline.com
See on Scoop.it – Fuji X-Pro1

Excellent lens! Equivalent 42mm ( 35mm format ) i actually like this focal range quite a lot, for me it just seems to work with my style of shooting. This lens is sharp wide open at F2 with a slight touch of softness. Fantastic performance on the X-Pro 1. Very good correction of aberrations without light falloff also wide open. Between f2.8 and 5.6 the optical quality is absolutely fantastic. A complex floating lens elements design. Nice bokeh wide open at F2-5.6. The 28mm F2 Minolta MD has great mechanical construction as with other Minolta lenses of this era. This lens is a gem. Hard to find on the used market, get it if you can. The lens balances well but a tiny bit front heavy on the X-Pro 1 but nothing to be concerned about, would be fantastic with the optional grip which will add some extra weight though not in the territory of DSLR's with comparable focal length. As can be seen on the photo above, its a bit long compared to other Minolta 28mm lenses, its an absolute joy to use, nice smooth rubberized focus grip. Aperture ring has half stops as well…
More reviews of Minolta MF Lenses:
24mm F2.8 Minolta MC
http://blog.ikphotography.com/?page_id=1437
28mm F2 Minolta MD W Rokkor-X
http://blog.ikphotography.com/?p=1370
28mm F2.5 Minolta MC W Rokkor SI – 1st Generation
http://blog.ikphotography.com/?p=1399
28mm F2.8 & 3.5 Minolta MD/MC/Auto Rokkor
http://blog.ikphotography.com/?p=1475
35mm Minolta MD/MC/Auto Rokkor f/2.8
http://blog.ikphotography.com/?p=1660
50mm Minolta MD Rokkor-X f/2
Part1: http://blog.ikphotography.com/?p=1822
Part2: http://blog.ikphotography.com/?p=1860
See on blog.ikphotography.com
See on Scoop.it – Fuji X-Pro1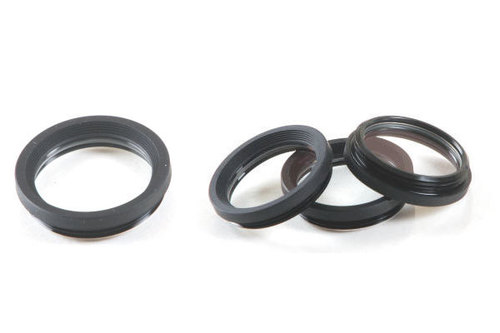 Several readers have mentioned the Fuji X-Pro1′s lack of built-in diopter correction. A commenter named peter [sic—I always reproduce commenter names just as they come in] mentioned this morning that Nikon FM-style diopters fit the Fuji's eyepiece. That's fortunate, because those are the most common aftermarket diopters (well, they're not aftermarket, but they might as well be), and they're widely available. At B&H Photo, they'll be labeled "Diopter for FM3A, FM2, FM, FE2, FE & FA" and they cost $21.95 each. Admittedly, that doesn't help if you don't know what diopter you need, but maybe your optician could help you there. Or perhaps you have another camera on which the diopter correction dial or slider is marked with actual values….
Doug: Some technical notes on dioptric correction lenses.
"Nikon, like Canon and maybe other manufacturers, labels their correction lenses by the total effect when mounted on a camera with the standard –1 diopter viewfinder, so a '–2′ lens has an additional –1. There is no '–1′ correction lens, because that'd be plain glass. There is, however, a '0′ (Nikon seems to call it 'neutral') correction lens that has a +1 correction.
"Dioptric numbers for viewfinders are straightforward. They determine the apparent distance (for eye-focusing) of the viewscreen. They're numbered in –1/meters.
0/neutral: infinity
–0.5: 2 meters
–1 (standard viewfinder): 1 meter
–2: 1/2 meter
–3: 1/3 meter
+anything: Buzz Lightyear territory (infinity and beyond)
See on Scoop.it – Fuji X-Pro1

A dark brown color, aged look, our favourite color, done with one of the best leather on the italian market Produced in a small quantity each year, this type of leather its hard to find. Each leather is worked by tannery for us following our requests, a process which last not less than 15 days for each leather, using the same traditional methods for hundreds years (all vegetable tanned, no chemicals at all). Our leather is very thick (up to 3mm) and was received by natural ageing process to fit Leica owners' taste. Hand made by some of the most skilled italian artisans with more then 30 years of experience in this field. Each half case requires one day of work, all process is carefully handmade, the bottom of the case is stiched by hands (not glued to the upper part). The case includes also a neck strap (adjustable in lenght up to 120 /125cm ) with the same leather used for the half case. The case is adjusted to fit like a glove to the camera body. The case also features a grip on the front part to aid ergonomical camera handling. A removable LCD protector has been included too. Each case is unique, there arent 2 identic cases couse eache leather is unique, the aging process (also hand done) its different on each case (so some case could be more homogenous, some will have some streaks, tonality could be
different also). This is not a defect, but the result a of a long hand made hand work, we dont produce hundreds of "identical copies" like in a industrial process.

See on www.angelo-pelle.com