Lenses and Accessoires
With miraculous timing, the latest Fuji XF 27mm Lens turned up on my doorstep, at the same time as visiting family from Blighty. So it got attached to the X-Pro1 immediately, and got almost exclusive use during a two week blast around California's theme parks and zoos. The lens is very distinctive, and is quite a departure for the X series, in that it's a compact pancake model, with no lens-mounted aperture ring, and no lens hood. This completely changes the look and feel of the camera – making it a very pocketable system, with a very low visual impact (excellent for street work). The lack of hood was a concern at first – but Fuji made great claims for the new lens coating, which have been born-out in use – the lack of hood is a non-issue as far as flare is concerned. The lack of aperture ring was odd at first – it was a key feature of the X system, and indeed the pre-production lens I saw at CES had an aperture ring on it. In practice, I quickly adapted to using the aperture 'dial' on the back of the camera – and although it's a change, it is a complete non-issue in daily use……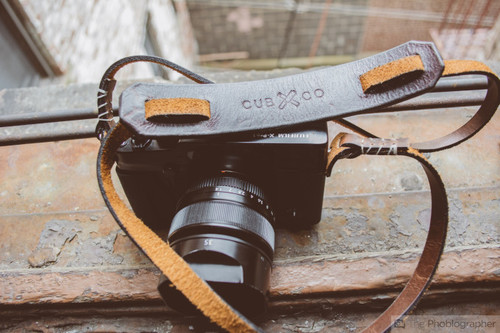 Cub and Company is one of the strap makers in the United States joining the growing list of those getting involved in the fashionable accessory game. Made in Long Island, NY by photographer Joel Chavez, these straps have an alluring vintage appeal to them while maintaining a semi-upscale aesthetic that would appeal to those looking for something with a youthful edge. We wouldn't exactly call them hipster, but we'd sure as hell say that they're for the discerning shooter……
See on www.thephoblographer.com
As the title suggests this is a review/comparison between three equally (or almost equally) priced 50mm lenses.  All used in conjunction with the Fuji X-Pro 1.  However this posting could also have been titled Part II of the Voigtlander Nokton 50mm f/1.5 review. The three lenses in question is of course the Voigtlander, a Nikon 50mm f/1.2 AI-S and a Zeiss ZM 50 mm f/2.0 Planar.  The Voigtlander and Nikon are mine and the Zeiss is borrowed from a friend.  As stated earlier they are all fairly close in price.  There are other 50's in the price range, that may have fit in nicely for the comparisons, but this is what I could get my hands on….
See on gambofoto.blogspot.de
In the final analysis: the 35mm will give you sharper pictures and a wider aperture, but is larger and slower to focus; whereas the 18-55mm is sharper in the centre, but is larger and has a narrower maximum aperture at 27mm. However, I think there is a good place for this lens, even if you don't plan to use it all the time. It's sharp enough, small enough and fast enough to AF that I plan to have it with me when I'm carrying my X-Pro1. The only real downside for me is the price, which was £379 at launch. I don't feel cheated but I think £300-350 would be fairer, given the limitations of the lens. Other than that, I'm very happy with the 27mm…..
See on sgoldswoblog.com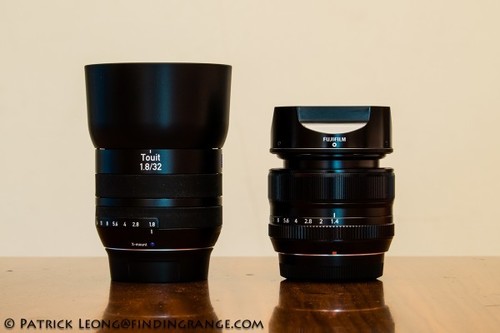 The Fuji XF 35mm F1.4 R lens is one of the most popular lenses for the Fuji X Series.  It was the lens that I was looking forward to most when I first purchased my X-Pro1, and I'm sure it's a first lens for many people.  It's fast, it's well built, it's compact, and it produces fantastic image quality.  Recently though, Zeiss has entered the game with their Zeiss Touit series of lenses. So far, Zeiss has produced two lenses for the X Series: a 12mm F2.8 and a 32mm F1.8.  I really enjoyed my time with the 12mm F2.8.  However, that's not to say that Fuji's XF 14mm is bad in any way. In fact, I've only heard great things about the Fuji.  But the Zeiss is a great option as well if you want something wider than a 21mm equivalent. With the Zeiss 32mm, things are a little different because I believe the focal length is a lot closer to Fuji's XF 35mm lens yet it costs $300 more.  If you think about it, that's 50% more then the XF 35mm, which many think is one of the best lenses for the Fuji X Series.  Is the Zeiss worth the extra money?…..
See on findingrange.com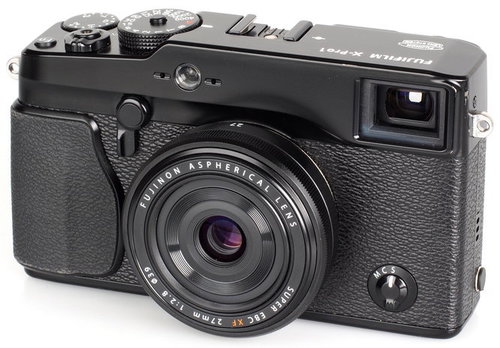 Gary Wolstenholme reviews the Fujifilm Fujinon XF 27mm f/2.8 compact prime lens, with a field of view equivalent to a 41mm lens on a 35mm camera and a bright f/2.8 aperture…
Value for money
This lens currently retails for around £380, which seems a touch expensive for a pancake lens with a maximum aperture of f/2.8. For example, Olympus do a 17mm f/2.8 pancake lens for Micro Four Thirds system cameras that costs around £200 and Sony offer a 20mm f/2.8 pancake lens for their NEX series cameras for around £300.
Fujifilm Fujinon XF 27mm f/2.8 Verdict
Those looking for as compact a lens as possible for their X-series camera have no other option as lightweight and compact as this lens available to them at the moment. This lens delivers very high levels of sharpness in the centre of the frame, and although adequate, the performance towards the edges of the frame isn't on quite the same level.
The price at launch may seem slightly high when compared to established lenses available for other camera formats, but as this lens is freshly launched, that may change in time. However as the build quality of this lens is so high, that goes some way towards justifying a higher price tag.
Fujifilm Fujinon XF 27mm f/2.8 Pros
Great sharpness in the centre
Good build quality
Low falloff and distortion
Low CA
Fujifilm Fujinon XF 27mm f/2.8 Cons
Autofocus can hunt in low light and at close distances
Not as sharp towards the edges of the frame
Loss of contrast when shooting into the light

See on www.ephotozine.com
So it has been a funny old week in my new office, not a million miles away from Liverpool Street. We've had a dead mouse in a desk, builders playing a girder and spanner symphony across the road and a seemingly endless walk to the kitchen….
See on sgoldswoblog.com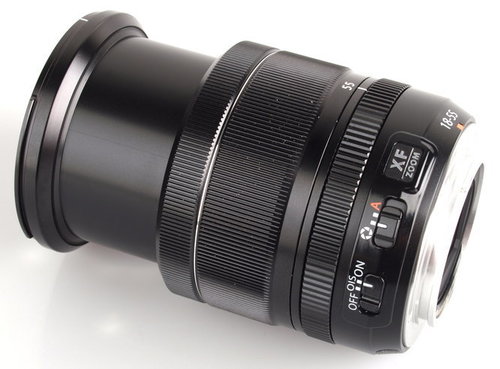 Value for money
This lens currently retails for around £480, which seems reasonable enough for a premium zoom lens with a brighter than normal f/2.8-4 maximum aperture. Around £100 has been slashed off the price since launch and it seems to have levelled out at this price point. As there are currently no third party manufacturers producing zoom lenses for Fuji X-series cameras, Fujifilm has a monopoly on lenses for the system.
Fujifilm Fujinon XF 18-55mm f/2.8-4 R LM OIS Verdict
Overall, this lens is a solid performer, producing images with excellent sharpness, especially in the centre of the image area. Great build quality and handling characteristics accompany the decent optical performance, which in turn makes the £480 asking price seem quite reasonable.
Fujifilm Fujinon XF 18-55mm f/2.8-4 OIS Pros
Excellent sharpness in the centre throughout the zoom range
Good build quality
Low distortion
Quick to focus
Effective optical stabiliser
Fujifilm Fujinon XF 18-55mm f/2.8-4 OIS Cons
Not as sharp towards the edges of the frame
CA levels a little high at 35mm

See on www.ephotozine.com
On Monday the 23rd, Fujifilm released the firmware 3.00 for the X-Pro1 / X-E1 models. A couple of days later, they withdrew the firmware because it had been causing malfunctions in the movie mode. They restored it soon after, and the new version 3.01 works like a charm. There are several interesting updates, not least of which is the enhanced autofocus, but the feature that interests me the most is the new focus peaking function for manual focusing. A feature seen only on the X100s and X20 so far, Fujifilm is now implementing it on the X-Pro1 and X-E1 as well. It is a really great update and others brands should take note. Fujifilm has always been generous with firmware updates and this is probably the best example.
I've always considered the Fuji X-Pro1 an alternative to Leica, even though its sensor is smaller (APS-C vs Full Frame). The retro / rangefinder design, the quality of the build, the quality of the lenses and the attention to detail makes it extremely desirable to professionals. This is, I suppose, why among the official Fujifilm accessories for the camera, you will find a Leica M mount adapter with signal contacts, a function button and menu settings with different functions. A coincidence? I don't think so. Unfortunately, I didn't have this wonderful adapter but a simpler one by Quenox…..
Loving the finger grip and Swiss Arca plate for the Fuji X-pro… at last a plate that works and has access to the battery and memory cards !!! Ever since the early days of being a photographer I have liked having my camera on a tripod.   Shooting Landscapes or portraits I have always found that having a stable camera is just of great advantage…..
See on www.davepiper.org.uk