Lenses and Accessoires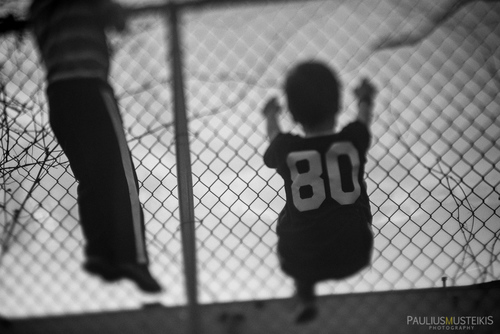 Last Friday I picked up my non functional Olympus RC 35 that was hiding in the deep closet. I picked up this fine little 35mm rangefinder, gently took it apart and dismounted 42mm f/2.8 Olympus Zuiko lens. Afterwards I took the lens apart and took the shutter and aperture blades out. So in the end all I had left was a little peace of beautiful and non working vintage glass. So first of all I tried modified Olympus 42mm f/2.8 Zuiko lens on my DSLR. And it didn't work. And I would assume it didn't work because of large gap between handheld lens and the camera sensor. So then I picked up my Fuji X-Pro1. And that was it! I peaked through viewfinder and saw world turning into an awesome abyss of blur. And I was sold…….
Verdict
The Fujinon XF 23mm f/1.4 R is a highly attractive addition to the Fujifilm lens lineup. It combines an ultra-large aperture with high quality results. At large aperture settings the center quality is already pretty high whereas the borders/corners are at least on a good level. The resolution is much more snappy at f/2.8 and images are tack sharp between f/4 and f/5.6. The low amount of lateral CAs also contributes to the high sharpness perception. Image distortions are nothing to worry about whereas vignetting can be an issue in RAW images at f/1.4 and f/2. However, Fujifilm is relying on image auto-correction so this is usually a lesser issue from a user perspective. Wide-angle lenses tend to produce a quite harsh bokeh (out-of-focus rendition) but the quality of the Fujinon is really good especially around f/2. The build quality of the XF 23mm f/1.4 R is very high and as such in line with most Fujifilm offerings. The lens is mostly made of metal and precisely assembled. Due to its surprisingly low weight of just 300g it may not feel quite as substantial as -say- a Leica lens. However, objectively there's little to complain about except for the lack of weather sealing. The AF isn't overly fast but probably good enough for such a wide-angle lens. If you prefer to focus manually (by wire) every once in a while, the focus clutch mechanism may come handy. We would have preferred a full-time manual focusing mechanism though. Ultra-large aperture lenses tend to be very pricey and in absolute terms this also applies to the Fujinon. However, at less that 1000US$/EUR, it is relatively affordable in our opinion and certainly worth a deeper look. Therefore highly recommended!……
See on www.photozone.de
Recently I spent the day doing a spot of event photography at the Baltic Art Gallery, Gateshead.  The event, Public Sector HR Summit 2014 was a vibrant collection of some of the best speakers on the subject and attracted a good spread of attendees from across the country. As far as photography is concerned it provided something else – a reason to break out the Fuji 55-200mm lens on my X-Pro1 and test not only its telephoto range but also its image stabilisation. The lens is certainly different to use with the Fuji cameras than the primes I have become accustomed to and immediately brings back thoughts of using a DSLR style setup.  It is longer and heavier than my other lenses and with the hood in place it requires a bit more work to remain discrete when zoomed to its fullest extent.  This being said, it is small and nowhere near the heft of something like the Nikon 28-70 I was shooting with on a D700.  Indeed the combined weight of the X-Pro1 and the 55-200mm felt less than that of the 28-70 alone and the overall dimensions are around the same length but about half the width……..
See on www.notofthisearth.co.uk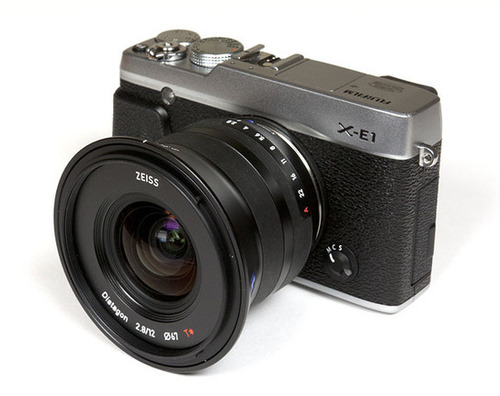 Verdict
Ultra-wide angle lenses are never really perfect. However, within its scope the Zeiss Touit 12mm f/2.8 delivers pretty impressive results. The center quality is great and the border and corner quality are good to very good at mainstream settings. The very low lateral CAs contribute to the high sharpness perception. Distortions and vignetting are usually auto-corrected either by the camera or your favorite RAW converter so you don't have to worry about these aspects from a normal user perspective. However, when looking at the naked raw files, you can spot a few issues. The raw distortions are actually still quite fine at 2% – this is a normal value for such a prime lens and lower than on most conventional zoom lenses for sure. However, the raw vignetting is very high especially at max. aperture. Overall we liked the build quality – and looks – of the Zeiss lens. The incorporated materials are obviously of high quality. However, the implementation of the aperture ring may not be perfect – while it provides distinctive "clicks" you tend to change the setting by (un-)mounting because it turns too easily. Just like on the Zeiss Touit 32mm f/1.8 we weren't totally convinced by the AF but it does an Okay job in terms of AF speed and the generated noise level is quite low. As mentioned we still used an old X-E1 for the test so the AF performance is probably a much lesser issue on the X-E2 and X-T1 anyway. A key question is, of course, how the Zeiss lens performs compared to its nearest rival – the Fujinon XF 14mm f/2.8 R. The Fuji lens is slightly sharper in the image corners at medium apertures but then it's also not quite as wide. These two extra millimeters can make quite a difference. To phrase it differently: the diagonal view angle the Zeiss lens reaches 99 degrees vs 89 degrees for the Fuji lens. Thus if you are after an even more dramatic perspective in your images, the Zeiss may be the more interesting choice…….
See on www.photozone.de
FujiFilm 14mm f2.8
When I finally got this lens, I had my doubts that it might not be wide enough for landscapes.  I like to shoot landscapes at least at 17mm on full frame camera. and this 14mm translates to roughly 21mm, when factoring the crop of Fuji X cameras.  I decided to give it a try.  I was really impressed with the results.  I think 21mm is wide enough for me, although I'm still looking forward to the new 10-24 f4 Fuji lens.  Best of all, all this equipment is light, easily transportable, which makes shooting with it so much more fun. It was a perfect day.  The morning was beautiful and we found a few photographers already positioned at Vermillion lakes waiting for the sunrise.  The weather conditions were quite perfect for a great sunrise shoot.  After the sunrise, we traveled to Lake Louise.  Another great iconic location for landscapes.   A day of beautiful light, beautiful mountains, and great time shooting it all……
See on www.miksmedia.net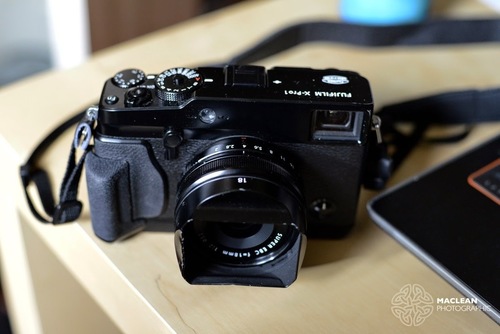 The Fujinon XF 18mm f2R is one of the three original lenses launched with the X-Pro1 in 2012 and was the widest of the trio – 18mm f2, 35mm f1.4 and 60mm f2.4 macro.  Since then there have been a few wide angles lenses added to the X-Series armoury – 14mm f2.8, 10-24mm f4, 23mm f1.4 and Zeiss Touit 12mm f2.8 to name a few – and I feel the little 18mm has become the most underrated gems in the Fujifilm XF lens lineup……
The Fujinon XF18mm f2R is a superb lens and my favourite of the five lenses I own for the X-Series system. Why it gets overlooked in favour of the wider or faster lenses that are available is frankly a shame. I was of the same opinion when I got my X-Pro1 system and thought the 14mm f2.8 would be mu wide angle lens of choice but the reality when I started to use the system in the real world was not as I expected….

See on macleancomms.blogspot.de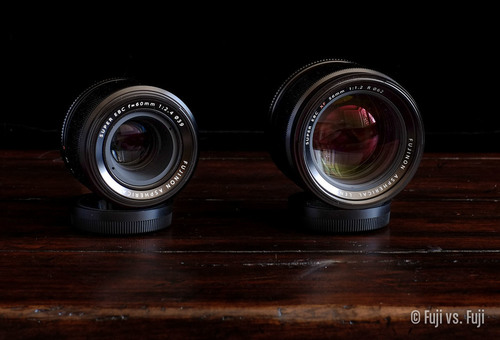 While these lenses are fairly close in focal length, they are clearly built for different purposes. I've been waiting for a portrait lens for almost a year now, ever since I sold my Nikon 85mm ƒ/1.4 AF-D. The FUJINON XF 56mm ƒ/1.2 fills that void admirably aside from the true focal length difference, and is actually usable out to the edges of the frame unlike the Nikon. Finally I can get back to portrait work. The FUJINON XF 60mm ƒ/2.4 Macro seems built for carefully considered images and precise focusing. It was always sort of a stop gap for Fujifilm shooters wanting a flattering portrait lens, and it still is the prime to beat for most flattering focal length in my view. It's a very good lens and does what it does well, but it's not a dedicated portrait lens, nor was it ever intended to be. I always figured I'd borrow a 60mm ƒ/2.4 for this comparison, but with the support of my awesome readers, I was able to afford to buy one, and I'm happy to have it. Not only so I can continue testing and adding to articles like these, but macro work is something I haven't had a chance to do much of and the 60mm ƒ/2.4 is a great starting point. I can also see myself packing it instead of the 56mm ƒ/1.2 for landscape shooting since it's so much lighter and very sharp edge to edge. 39mm filters aren't exactly expensive either…….
See on www.fujivsfuji.com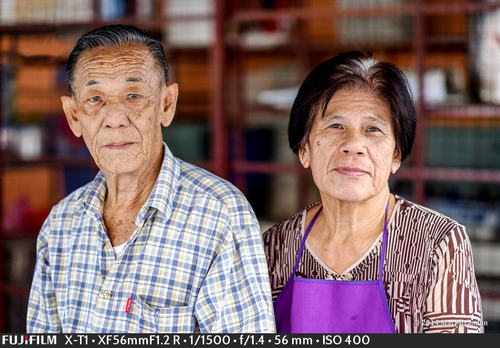 This lens has gotten a lot of attention over the past few weeks since its release and with good reason. It's bee highly anticipated. Fujifilm was lacking a fast lens that could be used as a portrait lens. Being a 56 mm on a cropped sensor it gives an 85 mm focal length equivalent and at f/1.2 it is smoking fast. For those newbie photographers, a "fast" lens doesn't mean how fast it focuses. It means it allows a lot of light in so the shutter speed can be faster in a lower light situation. With a wide open f-stop of f/1.2 this is really fast! As I have said in the past, when I was shooting Canon I always shot with two bodies over my shoulders: one camera with the 16-35 mm and the other with the Canon 85 mm f/1.2. I loved this lens. But it had its issues, it was slow to find the focus. It liked to hunt. But the dreamy bokeh it gave at f/1.2 made it almost ok… almost. The Fujinon XF56mm f/1.2 R is the X-System equivalent. But can it compare?…..
See on www.thedigitaltrekker.com
Summary
Pros:
Solid casing made of metal,
Sensational image quality in the frame centre,
Excellent correction of the chromatic aberration (longitudinal and lateral),
Imperceptible spherical aberration,
Negligible distortion,
Very low astigmatism,
Good work against bright light,
Fast, accurate and silent autofocus.
Cons:
The Fujinon XF 14 mm f/2.8 R is an expensive lens. Its price is comparable to the price of the Zeiss Touit 2.8/12, a device more difficult to construct (because of a larger angle of view) which we tested not so long ago. If we deal with such expensive instruments our demands are very high and every slip-up in our test can be pretty costly. The Fujinon had no slip-ups. It's obvious the exorbitant price is combined with zero tolerance for mechanical and optical compromise. You get a solidly build instrument which is optically excellent and will work very well in practice….
See on www.lenstip.com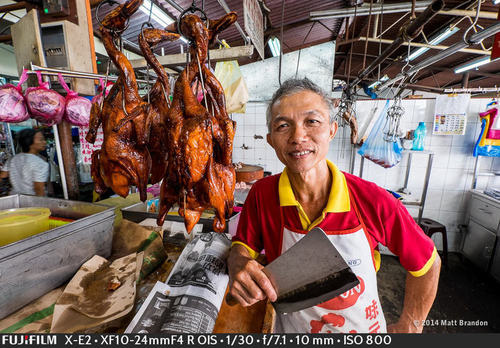 Last week my friends at Fujifilm Malaysia loaned me two of their latest and greatest lenses to play with and asked me if I would share my thoughts. I have been waiting for these two new lenses probably more than any of the other lenses in their entire lineup. The two lenses are the XF10-24mm f/4 R OIS and the XF56mm f/1.2 R. On a cropped sensor, such as the two cameras I am shooting with – the Fujifilm X-E2 and the X-T1 – they represent a full frame focal length equivalent of 15-36 mm and 85 mm respectively. I recently bought the X-T1, but I do not plan to review the X-T1 as it may be one of the most reviewed cameras on the planet, to date. It definitely is the most reviewed Fujifilm camera till now. In this post I want to give my thoughts on the XF10-24mm f/4 R OIS. Later in the week we will look at the XF56mm f/1.2 R. This lens is sold in the USA for around $1,000, but costs a bit more here in Malaysia (I have been quoted RM 4,300 or US $1,300). The build is just like all the other Fujinon lenses; it's metal and built like a tank. Being a zoom lens it doesn't have the aperture markings on the lens barrel like the primes lenses do. I really wish Fuji would figure out a way to do this…..
See on www.thedigitaltrekker.com