Lenses and Accessoires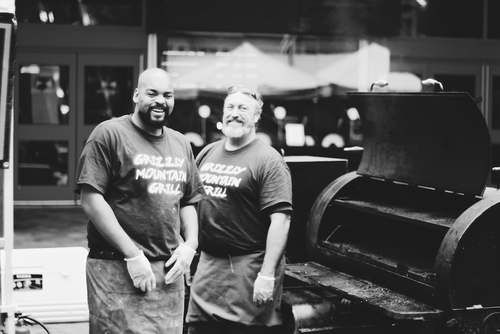 Following up on Part 1 of Fujinon Fast Lens Alternative, here i show the Konica 57mm 1.4 which is much closer to the recently announced yet to be released Fujinon 56mm 1.2. This has to be one of my favorite lenses from Konica, it's got serious mojo in terms of the way it renders on the X-Trans Sensor. Fantastic saturation, color and pop… Wide open you get that lens softness – not to be confused as a flaw. In Leica land they call this glow, go figure. All shots in Raw @ f/1.4 processed in Aperture with minimal tweaking except B&W conversions using my Tri-X preset. Other than that everything else is straight out of camera in Raw.

See on blog.ikphotography.com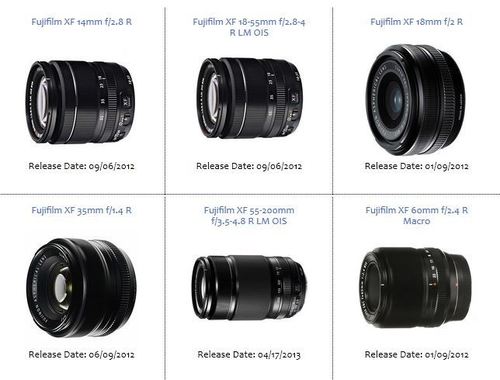 We have been incredibly busy during the last few months, working on building our very own Lens Database. As of today, the database contains 400 lenses and we are continuously working on adding more lenses from different manufacturers. You might be wondering about why there is a need to have our own database at Photography Life, when there are plenty of lens databases on the Internet. After I went through a dozen different sites about a year ago, I realized that most sites contain very little information about lenses. While manufacturer specifications are mostly there, such important data as lens construction and MTF charts is typically missing. On top of that, very few sites provide image samples from lenses – images are often too small to look at even on a mobile device.
Here is the Fuji Lens Database ….
See on photographylife.com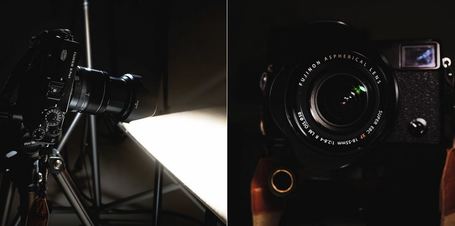 I'll put my cards on the table right away: I've developed a slightly tumultuous relationship with zooms. They're very useful tools but I've come to realize they also tend to drive me into what I'd call visual laziness. When I decided to jump to the X system as my one and only kit, I also embraced the fact that I'd be shooting with nothing but primes. In fact much of that decision was coloured by my experience with the X100's fixed focal length and the way it affected my shooting reflexes. Not that this was anything new: I used Nikon primes as well. But committing to a single focal length for extended periods of time wasn't something I'd really done before. When I shoot a prime I need to move — Obviously; I need to walk in order to alter my distance to the subject; and while I walk my brain works, and when my brain works it notices its surroundings and finds details or angles I often would've overlooked otherwise. But with a zoom… No matter how much I try, it's always much too easy to fall back to those old reflexes. Twist in, twist out. Maybe if we stopped calling them zooms in the first place. That word doesn't do justice to what's going on optically. Maybe instead we could describe them as multi-focal lenses. There's definitely something pretty fantastic about having the equivalent of 8 primes on a single lens… IF you use it as such. IF you understand how to use each individual focal length in the right context, and how each one changes the entire aspect of an image way beyond making things look nearer or closer. Compression, distortion, spatial perception. Of course you can also use it to get a closer shot of that mountain way out there; but perhaps if you actually GO to the mountain, something amazing will happen along the way. Right, so where was I? Ah yes: no zooms for me. Huh…

SOLD?

Absolutely. As surprised as I am to say this, it's a no brainer. Until we get the extremely anticipated 56mm f/1.2 — yes, it's now 1.2!!!!! — This will be my 85ish equivalent. It's a great lens to have in my arsenal, especially for studio work. If you're looking for an all around travel zoom lens, this will certainly do the job and then some. Personally, I still prefer something smaller and less visible and the X100S remains the ultimate travel solution for me. As I said earlier, I like committing to a single focal length and forcing my brain to make the most out of it. But I love what Fuji has done with this lens. And it certainly bodes well for the upcoming XF 55–200mm. More random images below…….
See more pictures on www.laroquephoto.com
Today Digital Photo and Practical Photography got an exclusive hands-on preview of Fujifilm's brand-new XF55-200mm f/3.5-4.8 R LM OIS lens – the first telephoto zoom to be added to the Fuji X-mount system. Constructed with 14 elements in 10 groups, it features built-in image stabilisation, bragging sharp shots with shutter speeds up to 4.5 stops slower than normal, along with two liner AF motors for quick and quiet focusing.
When attached to the X-Pro1 and X-E1, the lens felt well weighted and balanced in the hand, benefitting from a large rubberised zoom ring, along with full metal Aperture and focus rings for an all-round quality feel.
For further specs, please see the full press release below.
FUJIFILM Corporation (President: Shigehiro Nakajima) is proud to announce the launch of the new "FUJINON XF55-200mmF3.5-4.8 R LM OIS" lens for the FUJIFILM X-Pro1 and X-E1 compact system cameras. FUJINON XF lenses feature advanced lens engineering, capable of drawing the maximum performance out of the highly-descriptive "X-Trans CMOS Sensor" in the FUJIFILM X-Pro1 and X-E1 cameras.  The new FUJINON XF55-200mm lens produces sharp images across its entire zoom range, well resolved corner-to-corner.  The fast F3.5-4.8 lens facilitates image capture in scenes requiring a fast shutter speed.  Its image stabilisation function enables the use of shutter speeds 4.5 stops slower, preventing camera shake even when shooting hand-held in low-light, or at a stopped down aperture. Furthermore, it is built to include two linear motors for high-speed AF of 0.28 seconds, instantaneously focusing on your subject….
See on www.photoanswers.co.uk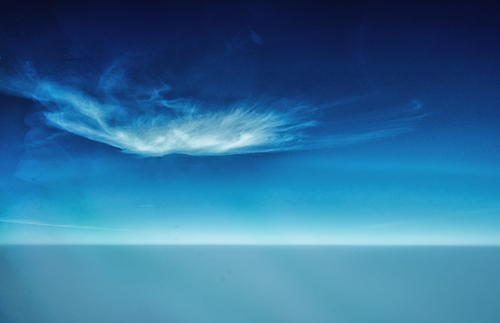 Endlich hat meine Firma mich mal wieder nach Hong Kong geschickt. Das passte vor allem deshalb sehr gut, da ich mir erst kürzlich das Fujinon xf 14mm für meine x-pro gekauft hatte. Vor meinem Trip habe ich natürlich wieder die meiste Zeit des Kofferpackens mit dem packen meiner Kameratasche verbracht. Erst alle Objektive rein, dann wieder raus. Eine Minute später, dann doch noch zum 14er das 35er getan. Wieder etwas später wurde dann noch die OM-D meiner Frau rein getan…stillschweigend ihr Einverständnis vorausgesetzt. Das ging eine ganze Weile so, bis ich am Ende mich an meine x100 Tage erinnert habe. Da habe ich ziemlich genau ein Jahr nur mit einem 23mm (35mm auf KB) Objektiv fotografiert, und ich habe es geliebt, also habe ich lediglich das 14er eingepackt und die Oly mit einem 20mm (40mm auf KB) als Absicherung mit rein. Da mir selbst das dann zu schwer wurde, habe ich die OM-D am Ende im Hotel gelassen und bin nur mit der x-pro und dem 14er losgezogen. 14mm (21mm auf KB) ist für Street schon eine feine Sache, aber auch nicht ganz einfach. Ich übe aber daran und kann nur sagen, dass das Fotografieren mit dem 14er an der x-pro richtig viel Spass macht! Fujifilm hat da eine richtig tolle Optik auf den Markt gebracht und das mit der DOF Skala am Objektiv macht vor allem auch Street so sehr viel schneller! Viele der Fotos in diesem Artikel sind entstanden indem ich die Kamera auf f8 hatte und auf mittels DOF-Skala den Bereich ca.1-unendlich scharf gestellt habe, so konnte ich blitzschnell, wohl wissend das der Fokus in diesem Bereich sitzen wird, die Kamera ans Auge nehmen und mich nur noch auf die Komposition konzentrieren.

Danke Fujifilm für dieses tolle Objektiv! Ein Traum!

Okay, genug geschrieben! Ach vielleicht eins noch: Ich habe eine super Lösung für die "Copy-Watch"-Stalker entdeckt! Einfach die Kamera hochheben und notfalls abdrücken, das letzte Bild zeigt ein Ergebniss der Taktik…danach war Ruhe im Karton! Hier also Hong Kong mit meinen Augen
See more pictures on www.qimago.de
I have spent a few weeks with the new Fuji XF 14mm f2.8 R lens. I had heard good things about it, yet it was not love at first sight for me. And that is not to say that it is not a pretty lens. It is very attractive looking and the markings for the DOF indicator clearly separates it from the rest of the current Fujinon XF lens lineup. But the timing for getting the XF 14mm was a bit off for me. I had just finished some intense testing of the Samyang 8mm f2.8 fisheye and absolutely loved the 180° field of view and image quality. And my main lens for the X-Pro 1 has been the light and very compact XF 18mm lens for the past year. Compared to the XF 18mm the XF 14mm is big (41mm/1.6″ vs. 58mm/2.28″) and heavy (116g/0.26lb vs. 235g/0.52lb). Will I be using the XF 14mm enough to justify the purchase? After all it is currently the most expensive X-Mount lens made by Fuji. And in the end it is only 4mm wider than the XF 18mm and even one stop slower.
Anyway, I now had the lens in my hands and did what I always do when I get new gear – I attached it to the camera, emptied my camera bag and locked all other lenses and camera bodies into my closet. The best way to get familiar with new gear fast is to use it intensely and exclusively.
So I went out on my first stroll with the new lens. But when I stepped out of my door I felt an unfamiliar strong pull on my camera strap (which I lug across my shoulder like a messenger bag). Not only is the XF 14mm heavier, it also sticks out longer to change the weight balance a bit into the "uncomfortable" department. Additionally, I do not like the style of lenshood that the XF 14mm requires. The XF 18mm and 35mm lenses have small and unobtrusive square lens hoods. But this is the Tulip style lens hood that draws much more attention and makes the camera look bigger than it is – not good for a stealthy aspiring street photographer…..
After tons of photos in all different lighting situations I am nothing short of impressed. I hear a few complaints about the price of this lens. And at a MSRP of EUR 899,- / USD 899,- it does not generally appear to be a bargain for a Fujinon XF lens at first sight. But imagine you could buy a Leica 14mm f2.8 lens for this price – you would not think twice. And from my image quality point of view I would say that the XF 14mm is the most Leica like wide angle lens I have tried so far.
If you take a look at it from this point of view the lens is almost a bargain! :)
+ Great image quality, color and contrast
+ DOF scale on the lens
+ Handles flare well
+ Value for money!
o Normal wide angle vignetting
o 58mm filter thread vs. 52mm on XF18 and 35mm
o 1 f-stop slower than the XF 18mm lens
- Weight and size
- Bulky lens hood
See on fujixfiles.blogspot.de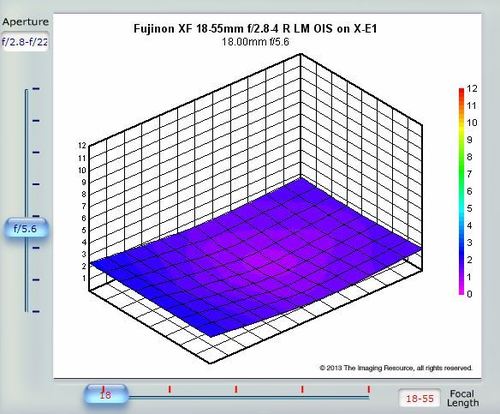 The Fujinon XF 18-55mm ƒ/2.8-4 R LM OIS is Fujifilm's first zoom lens for the X-mount; it's also Fujifilm's first optically-stabilized lens. While 18-55mm is a common range for APS-C kit lenses, the variable aperture of ƒ/2.8-4 is uncommonly bright. The X-mount lens will only mount to Fujifilm digital SLR cameras with sub-frame (APS-C) sensors. Thus, for this particular lens, it will exhibit an effective focal length of 27-84mm. This lens isn't a "constant" lens, in that as you increase the focal length, both the minimum and maximum aperture increases.
The lens is available now with a petal-shaped lens hood, takes 58mm filters, and retails for around $700.

Sharpness
The Fujinon 18-55mm lens is surprisingly sharp, and seems to be calibrated for its best performance in its wider apertures. Used wide open, the lens performs very well (there are very sharp images to be had at 35mm and its widest setting there, ƒ/3.6). If there's any doubt about which focal length to choose – 35mm is it, as the lens is consistently sharp from ƒ/3.6 through to ƒ/11.
Other apertures are a bit more variable. At the wider end, 24mm is very good when used wide open; stop down to ƒ/4 and it's great all the way through to ƒ/11. 18mm and 55mm are a bit more variable: performance is still very good, just not quite as great as we note at 24mm and 35mm.
Diffraction limiting begins to set it at ƒ/16, with a slight impact on overall image sharpness, and ƒ/22 shows moderately soft results.

Chromatic Aberration
While our test results show some significant impact with regard to chromatic aberration, looking at the sample images, I would be hard pressed to describe it. If it's anywhere, it would be in the extreme corners.

Shading ("Vignetting")
There is only a slight amount of corner shading for the 18-55mm Fujinon, and that is at the 18mm setting: even then, the extreme corners are only a quarter-stop darker than the center. This is very close to negligible.

Distortion
Distortion results are surprisingly good for a kit zoom lens, suggesting that there is a bit of correction going on under the hood with the X-E1. At the wide end, there is only slight barrel distortion (+0.3%), and even less pincushion distortion at 55mm (-0.1%). There is a nice point of parity at 28mm, where there is essentially no distortion.

Autofocus Operation
The Fujinon 18-55mm uses an electrical autofocus system, which is very fast. The design is fly-by-wire, so there is no direct connection between the focusing ring and the autofocus system: autofocus results are very quick, and near-silent. Attached 58mm filters will not rotate.
Macro
The 18-55mm kit lens isn't great for macro, offering just 0.08x magnification at 18mm, and 0.15x magnification at 55mm. The minimum close-focusing distance is a foot at 18mm, and 18 inches at 55mm.
Build Quality and Handling
The Fuji XF 18-55mm ƒ/2.8-4 R LM OIS is a well-built lens, harkening back to the days of metal rangefinder cameras. It's small and it isn't all that heavy (just under 12 oz), textured in a satin black finish. The lens features optical image stabilization, which is activated or deactivated with a dedicated "OIS" switch.

Conclusion
Fujifilm has done very well with this lens, making it more than "just" a kit lens, and perhaps justifying its comparatively hefty price tag. Given that the lens is available in a kit with Fuji X-mount camera bodies, this isn't necessarily a factor: but if you're a prime lens shooter looking for something a bit more convenient, you probably won't be disappointed with the 18-55mm.

See on slrgear.com
Fujifilm is committed to the entire X-Series line of advanced digital cameras and FUJINON XF lens, and is issuing an updated XF lens roadmap following the initial XF lens roadmap released in June 2012.
With 10 FUJINON XF lenses and the new three X-Mount lenses that Carl Zeiss announced in September 2012, there will soon be 13 high-performance lenses available for the X-Mount system to meet the needs of every photographer and support a wide range of photography from  ultra-wide-angle at 10-24mm(15-36mm*1) to super-telephoto of 55-200mm (83-300mm*1.)

End 2013
In late 2013, Fujifilm will deliver the pancake XF27mm (41mm*1) F2.8 high performance single focal length lens. Fujifilm will then launch the super wide zoom XF10mm-24mm (15-36mm*1) F4 lens with optical image stabilization and the single focal length XF23mm (35mm*1) F1.4 lens.

Early 2014
In early 2014, FUJINON will launch its premier prime portrait lens, the XF56mm (84mm*1) F1.2R.
See on www.dpreview.com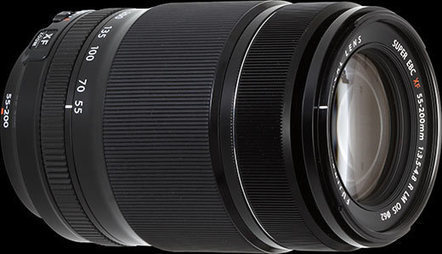 Over the past few years, the digital camera market has been transformed by the arrival of mirrorless system cameras. Freed from film-era design constraints, these can provide image quality to match SLRs in a much more portable form factor. Entry-level models provide compact-camera like handling and simplicity, while high-end cameras such as the Sony NEX-7, Olympus OM-D E-M5 and Fujifilm X-E1 are able to offer a full set of enthusiast-friendly manual controls in smaller, more discreet systems, and with relatively few compromises. However to persuade buyers to forsake their SLRs, the camera companies also need to offer lens lines that will cover their needs. While most manufacturers have attacked the mirrorless market from the bottom up, Fujifilm's approach has been the opposite, starting with unashamedly top-end X-Pro1 followed up by the more enthusiast-oriented X-E1. The company's lens line reflects this – instead of starting out with entry-level kit zooms, it took the decidedly unusual step of launching with three fixed-focal length primes. The first zoom appeared with the X-E1, but the XF 18-55mm F2.8-4.5 R LM OIS is no ordinary 'kit' lens, offering premium optics and a faster maximum aperture.
The XF 55-200mm F3.5-4.8 R LM OIS telephoto zoom follows in the same vein – according to Fujifilm the aim is to provide premium optical quality and construction alongside class-leading image stabilization. Like the 18-55mm it features a relatively fast maximum aperture, gathering half a stop more light than most similar zooms for SLRs, and it uses a pair of linear stepper motors for near-silent autofocus. As with the other XF lenses, it also offers all-metal barrel construction and an on-lens aperture control ring. The overall picture is of a decidedly premium lens, that's quite unlike the inexpensive 55-200mm F4-5.6 telezooms for APS-C SLRs.
Headline features55-200mm focal length (83-300mm equivalent)Relatively fast F3.5-4.8 maximum apertureOptical image stabilization; 4.5 stops claimed benefitAperture ring on lensX mount for Fujifilm X system mirrorless cameras

See on www.dpreview.com
The Fuji Guys give you a quick look at the current Fujinon XF Lenses including the new Fujifilm Fujinon XF55-200mm (83-300mm) F3.5-F4.8 R LM OIS
See on www.youtube.com