Lenses and Accessoires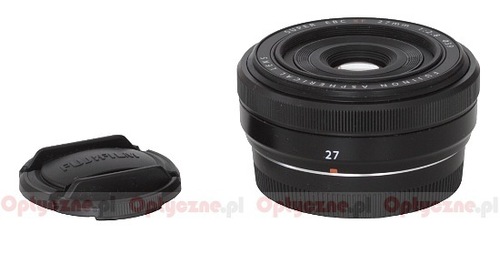 "Pancake" lenses have been present and used in photography for many years; still only nowadays you can notice the real proliferation of those devices. It is connected to the launch of mirrorless systems which simply love small physical dimensions of lenses. No wonder every mirrorless system offers pancake instruments in their line-up. When it comes to the Fujifilm X system its users got the small Fujinon XF 18 mm F/2.0 lens at the very beginning, right after the launch. In June 2013 the X system line-up was enlarged by another tiny 2.8/27 lens. We like "pancakes": they are perfect for mirrorless cameras, and testing them is a real pleasure. As soon as the new Fujinon appeared in Poland we decided to take a closer look at it……
Summery:
Pros:
small and neat casing,
excellent image quality in the frame centre,
negligible chromatic aberration,
well corrected spherical aberration,
low astigmatism,
fast and accurate autofocus.
Cons:
high vignetting,
weak image quality on the edge of the frame near the maximum relative
aperture,
exorbitant price ……
See on www.lenstip.com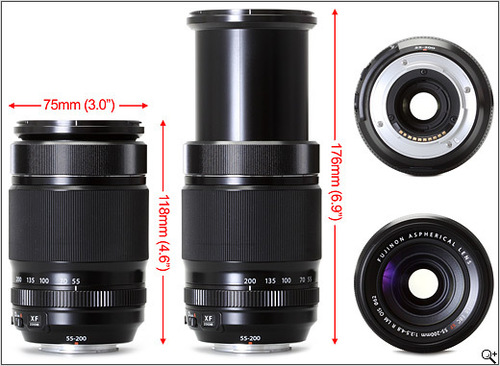 …..
Overall conclusion
The XF 55-200mm F3.5-4.8 R LM OIS is the first telephoto zoom in Fujifilm's X system, and is clearly designed to be paired with the XF 18-55mm F2.8-4 R LM OIS by X-E1 and X-Pro1 owners. It shares the same basic design philosophy and high standard of construction, with an all-metal barrel and (unmarked) aperture control ring. It's clear from the moment you pick the lens up that it's a very different proposition to a typical 55-200mm F4-5.6 SLR kit zoom. This impression continues while you shoot with the lens. Operationally it feels impressively refined, with essentially silent autofocus and image stabilization. It can take a little while to adapt to using a lens with control three rings, for zoom, aperture and focusing, but this is aided by their well-considered layout and feel. The zoom ring falls naturally to hand and is impressively smooth and well-damped; likewise the manual focus ring, which can be operated simply by reaching forward with your forefinger. The aperture ring has sufficiently positive click stops that you're unlikely to change it accidentally, but it can also be operated quickly by reaching back with your ring finger. Once you get used to it, this provides quick, fluid control. Autofocus is on a par with what we've come to expect from Fujifilm – it's pretty quick, and unlikely to upset anyone who's already shooting with the X system……
See on www.dpreview.com
New Fuji product flyer with images of the coming Fujinon Super EBC XF 56 mm f/1.2 R and Fujinon Super EBC XF 10–24 mm f/4 R LM OIS lenses
See PDF on www.fujifilm.com
I was invited to visit Moore Farms in Lake City South Carolina last week to evaluate them as a workshop location for future workshops.  They have developed a great botanical garden destination that has more plant potential than most other places that I have visited! For the visit I decided to take along my Fuji X Pro 1, Fuji X100s, Fuji 18-55 and the Fuji 55-200mm lens.  I also picked up the new Photoasy Extension Tube Set which has a 10mm tube and a 16mm tube with the communications connections so that the camera can still talk to the lens!  This was ONLY available on Ebay but recently Amazon Prime has started offering this great set! The ENTIRE time I was shooting the X Pro 1 it had the Fuji 55-200mm lens installed with the 16mm extension tube.  I shot on the tripod the entire time with a remote shutter release.  A lot of my shooting with in high sunlight (sometime you cannot help this) and I forgot to bring along a translucent panel to modify the light to a more gentle form.  All of these things aside the camera/lens/tube combination worked great!  I am VERY pleased with the results (please view the Passion Flower above!).  I used an aperture of f/5.6 or f/8 (subject dependent) the entire time and usually had the lens set between 180mm to 200mm…..
See mpre pictures on markhilliardatelier.wordpress.com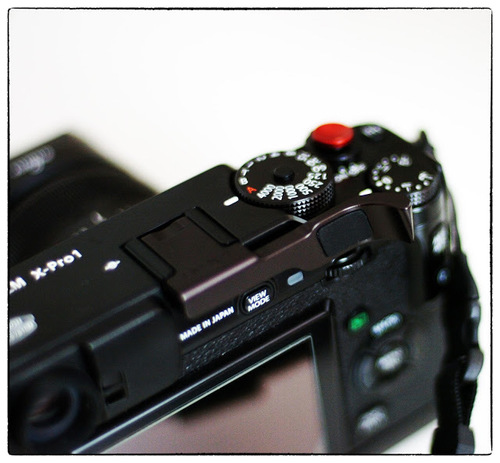 So I ordered the Thumbrest from Lensmate on the Monday sitting at my Mac from the USA 18.00 GMT. I ordered two items from Amazon at the same time: both items coming apparently from Germany to me in Scotland. The Lensmate thumbrest was in my door and on my camera on Thursday. Pretty impressive service. I'm still waiting ten days later for the Amazon items from Germany. So that rant out of the way: let's get down to the nuts and bolts of this little third party add-on for the X-Pro1. I've coloured the Lensmate in the above picture slightly so that it can be clearly viewed against the black body of the X-Pro1. In the flesh it's an almost perfect match in both colour and finish of the camera body. I had looked at the possibility of purchasing the Thumbs Up EP-75 from match technical; it looks good but is nearly double the price and to be completely honest I wanted to see what the newer version of the Lensmate (earlier versions had a screw in allen bolt) would look like before I committed to buying…..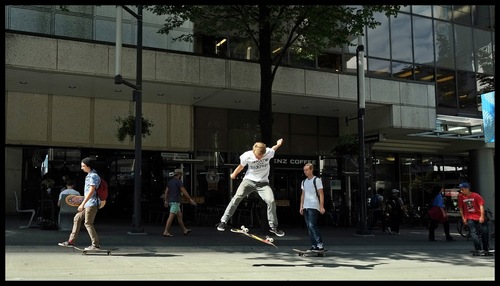 It seemed unlikely a few years ago that Fujifilm would join Leica in the world of digital ILC (interchangeable lens camera) rangefinders. Many manufacturers have dabbled in rangefinders in the past, but since the 1980′s, most have decided to leave it to Leica to rule as king in this category and move on to SLRs, point and shoots.and other mixed categories. In recent years, many manufacturers have decided to create rangefinder-ish cameras with electronic viewfinders (EVF) in the ILC market, but many still prefer having a real optical viewfinder (OVF). That's why many offer the ability to mount an external OVF via the flash hotshoe; although there's no ability to see any exposure info, no focus, or parallax correction. Fuji's move into the digital rangefinder market has had such an impact, we forget that this system is still pretty new. Fuji's first digital ILC rangefinder camera was the X-Pro 1 back in March of 2012. This X-mount system doesn't feel like it's just over a year old, with 4 camera bodies, 8 lenses (3 more on its way), and lots of after-market support. Like any new system, the X-Pro 1 had some issues when it first came out, but most weren't too critical…but some were. Leica had 60 years to refine and define their M-mount cameras and lenses, so I think Fuji has done pretty well for 18 months. Much of the improvements were a matter of firmware updates and not hardware changes, as the X series cameras and lenses are pretty solid. Fuji's latest firmware update 3.0 for the flagship X-Pro 1 is suppose to be one the most significant updates thus far, and I had the pleasure of testing it out with the super awesome 14mm F/2.8 lens, as well as the 18mm F/2. Let's see how this camera and lenses performed…..
See on www.bigheadtaco.com
It's been six months since I purchased the X-Pro1. During that time, it has been with me to San Diego, the Sequoia and Kings Canyon National Parks, San Francisco, the Oregon Coast, and numerous beaches throughout Southern California. It has handled the windy, sandy, and wet conditions I photograph in and even survived (thus far) a three foot drop that landed it in a puddle of water at Cape Perpetua. (Unfortunately, my XF 14mm lens didn't fare so well.) Having put the X-Pro1 through its paces, I figured this was a good time to share my thoughts on using it for landscape photography…..
See more pictures on stephenip.com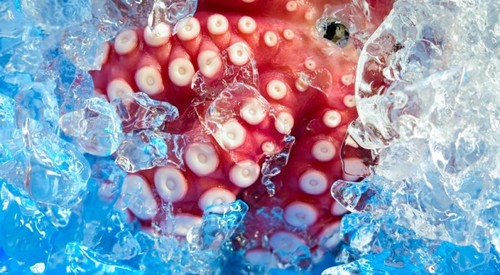 I just got back from an amazing week in Tokyo. It was an incredible honor to be invited by Fujifilm Japan together with some people that I greatly admire: David Hobby aka Strobist, Zack Arias and Kevin Mullins. My brain is still processing all the meetings and discussions we had with the smartest and kindest people at Fuji HQ. I'll report on that later. Next to the official part, we got to test the new Fujinon XF 23mm f/1.4 R. The lens does look and feel the part. It's a bit chunky but in a good way, this is after all the kind of fast prime lens you expect to last for many years. I'm sure the petal-shaped lens hood does a great job in keeping stray light out of the lens but it's a huge ugly plastic thing. I've never bought a 3rd party lens hood in my life, but if someone makes a more compact one in the same style as the ones on the 35 and 18mm, I'd probably get one. What's one of the first things every photographer does when he gets a new lens in his hands? Test if it's sharp wide open. And yep, that looks pretty sharp to me…..
See more pictures on confessionsxl.com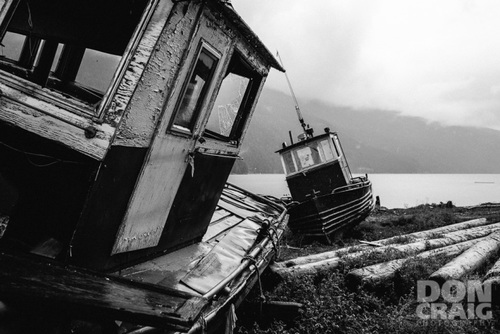 Sitting on the edge of a misty lake, a saw mill waits to be demolished. During a recent road trip, a friend suggested a location that I might find interesting. She was right! Together, we explored an abandoned saw mill. Rain poured down. Inside, light pierced the darkness. Outside, discarded remnants of former working lives lay at acute angles. It was a fascinating place to photograph and I feel fortunate to have had the opportunity before it is destroyed….
Notes: All photos shot with the Fujifilm X-Pro 1 and the XF18-55mm lens…
See more pictures on doncraigphoto.com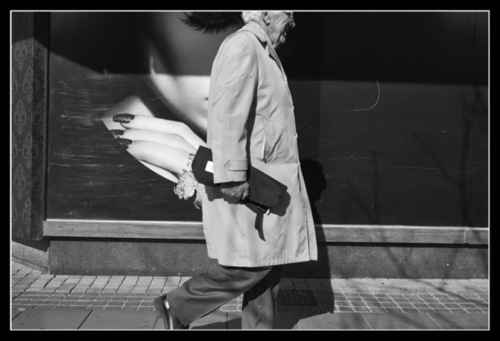 These days I get asked a lot, it would seem, what camera to buy for travel or street photography. The conversation usually goes something like this:
Tell me, Tony, what camera should I buy? I want something light and portable, that I can put in my pocket. Easy, I reply. Use your Galaxy/iPhone/HTC/Windows Phone. I do. At that point their seriousphotographer genes rebel and protest. But I want a viewfinder. I like viewfinders. I need a viewfinder. And I want quality. I want to be able to make an exhibition/competitionwinning print. At that point I put away my BIGBOYSTOY gorilla suit, race for the nearest phone box and change into my silver lycra Captain Mirrorless uniform. (Swirls cape dramatically and returns to conversation…)
An APS-C sensor OK? Yes.
But portable? Yes.
How portable? I want it to fit in my pocket.
Easy, I reply. Use your Galaxy/iPhone/HTC/Windows Phone. I do.
Well…it doesn't have to be that small. I want a real camera. With a viewfinder…..
See on www.thistonybridge.com