Lenses and Accessoires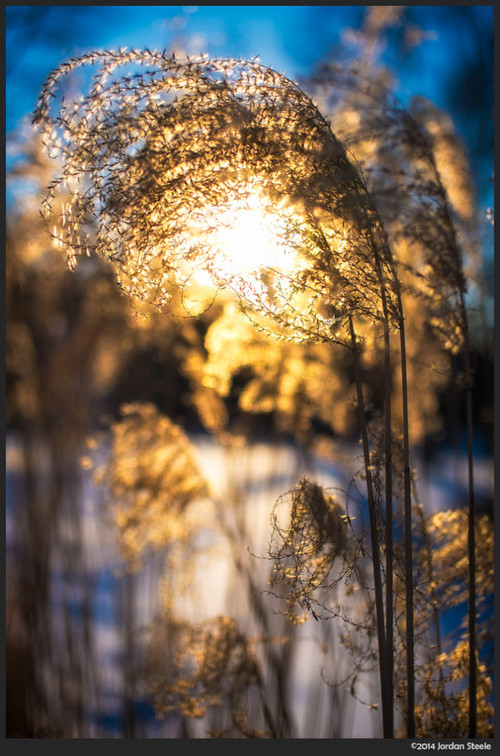 When Zeiss announced the Touit 32mm f/1.8, my first thought was, "this had better be one heck of an optic for that price."  And indeed, to justify the $1,000 price tag on the Fuji X mount, it did need to be exceptional.  Unfortunately, the Zeiss Touit 32mm f/1.8 is merely 'very good.'  As a result, the high price tag is rather hard to justify, especially when Fuji's own 35mm f/1.4 is 2/3 stop faster and has several advantages over this Zeiss lens. However, if you're looking for very high image sharpness at wide apertures and the classic high contrast rich color Zeiss look, the price tag may not be a deterrent.  Indeed, Zeiss have created a lens that is very sharp right from f/1.8 and produces images with saturated color and high contrast.  On the down side, the Touit 32mm surprisingly doesn't ever reach outstanding territory on the image edges with regards to sharpness, and suffers from somewhat nervous bokeh at f/1.8. While chromatic aberrations are present at all apertures, the Touit 32mm does have remarkable resistance to flare and good control of other lens aberrations, resulting in images that for the most part are quite impressive right out of camera.  The Zeiss Touit 32mm f/1.8 Planar T* is a very good lens, but it falls short of exceptional.   That makes it incredibly hard to recommend in lieu of the Fuji XF 35mm f/1.4……
See on admiringlight.com
When I decided to ditch the DSLR, the lens I knew I was going to miss the most was Nikon's 14-24 ultra-wide zoom. When my FAS (Fuji Acquisition Syndrome) first began, the 10-24mm ƒ/4 was already on the roadmap so I knew I'd eventually be ok. With an equivalent focal length of 15mm at the wide end, it's the slightest bit less wide, but it also reaches out to just past 35mm equivalent so it's more than a reasonable tradeoff. It's also an ƒ/4 fixed aperture, which of course, is a little slower the the ƒ/2.8 of the 14-24. But then the 10-24mm ƒ/4 has OIS (or VR or IS in Nikon's and Canon's parlance, respectively), which gets you extra handheld stability in low light. In fact, it would be more accurate to describe the 10-24mm ƒ/4 was a 16-35 VR that goes much, much wider. And it's smaller. And lighter. And the build is better. I would chose this lens any day over any of the ultra wide zoom offerings from the full frame systems. The rings on this lens are all very satisfying. Not quite as satisfying as the 56mm ƒ/1.2, but really, nothing is. The inner-most ring which controls the aperture has the exact same feel as the FUJINON XF 18-55mm ƒ/2.8-4. The zoom ring is a little stiffer than the 18-55mm. Whether or not this is better will come down to preference. I should note again that I'm working with a pre-production unit so things could be different with the shipping product. The focus ring also feels just like the split focus ring on the kit lens. Nice and smooth…….
See more pictures on www.fujivsfuji.com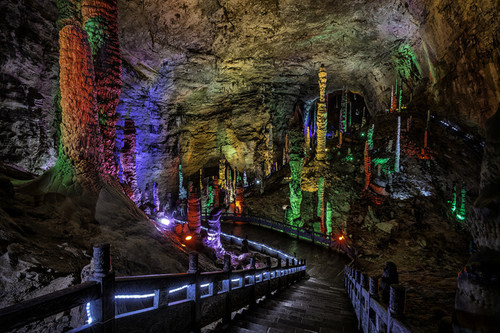 If you've been reading my recent posts, you'll noticed that I have started using the Fujifilm X-Pro1 a lot more frequently than before. Even though I've owned the camera for over 7 months now… it wasn't until the past 3 months that it has become my camera of choice. A worthy replacement for my Canon 5D MkII. So what kick-start this camera revolution? It all boils down to the camera's performance in "low-light"… and I mean really low-light (as in a cave). Sure, in the current technological environment I'd say every camera performs well under good light (even my iPhone 5). However, it's only when a camera has a special ability to capture details, textures etc… under the most challenging of lights will it earn my trust. It was a risk. One that paid off big time for me … I brought the Fujifilm X-Pro1 (with the Carl Zeiss 12mm lens) into a environment that "makes or breaks"… the Yellow Stone Cave in Hunan China. The Yellow Stone Cave is one of the most intriguing cave network in the world – in fact it's the biggest in the world and only about one tenth of the whole cave is open to visitors. This is where I challenged the X-Pro1 to the "low-light" test…..
See on thehumancamera.com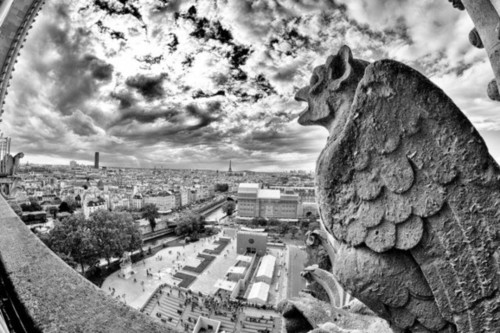 My evolution into an all-Fuji toolkit has had an empty hole: the ultra-wide. I do a lot of wide work, and have daily relied upon the Canon 10-22mm, which is an absolutely superb lens. Fuji's product roadmap has them releasing an XF 10-24mm sometime in March 2014. It will be a half-stop slower than the Canon, but it will fill a serious optic need that's kept me tied to Canon. One of the primary reasons for the move to Fuji was smaller, lighter, less obtrusive gear for documentary work. Having to lug the Canon along to get the utility of the 10-22mm is unfortunate. So while I wait for Fuji to get its manufacturing act ramped up, Rokinon's lens makers offer an engaging and fun fill in. While I had a few off brand lenses when I first started as a photographer, I quickly replaced them all as soon as I could. I've kept the tradition of sticking to lenses within the brand ever since. (That hasn't been true of accessories, but glass is a separate issue.) There are many benefits of buying within a brand, especially with digital bodies and the communication that needs to go on between lens and the camera's computer…….
See on www.stevehuffphoto.com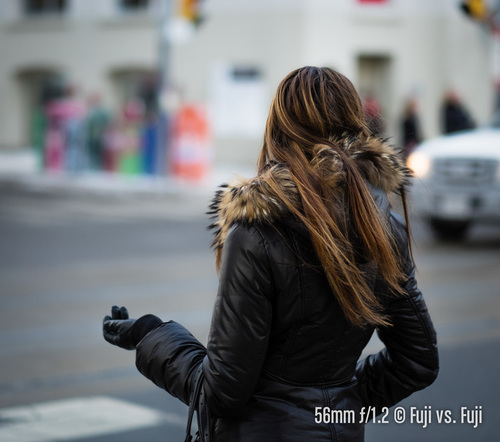 If you've visited this site before, you might already know that this lens is part of my "Ultimate Prime Kit," which consists of the 14mm ƒ/2.8, the 23mm ƒ/1.4, and the 56mm ƒ/1.2. These lenses all have excellent handling traits with one potential exception being the 14mm ƒ/2.8. Some people were finding the aperture ring a little loose on the 14mm. In fact, the first one I got was a little loose. Fortunately, I was able to exchange for one that is nice and tight. From my sample size of three 23mm ƒ/1.4's, there have been no issues with aperture rings and happily, even the pre-production unit of the 56mm ƒ/1.2 has an excellent aperture ring. The way it gracefully slides into automatic aperture mode is just like my 23mm ƒ/1.4. Though I don't think you'll want to use this lens like that too often. Switching between apertures has just the right amount give. I don't find it moves out of my chosen aperture too easily. The focus ring on the 56mm ƒ/1.2 is a different story. It might be my favourite focus ring of any lens I've ever used. Ever. This includes a bunch of Nikon AIS lenses which are regarded by many as the gold standard of focus ring dampening. The 56mm ƒ/1.2 has a gloriously "heavy" feel and weight to the ring. It's yearning for you to flick the switch to MF……
See more pictures on www.fujivsfuji.com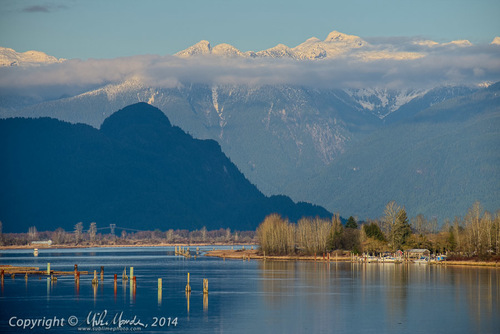 This gallery has images shot with my Fujifilm X-E2 body and mainly the Fujifilm XC 50-230mm f/4.5-6.7 OIS zoom. Only frames 1, 2, 5, and 11 were shot with the Fujifilm XF 55-200mm f/3.5-4.8R OIS zoom. Photos 1-4 were take from the Pitt River Bridge. Photo 5 was at the shore of the Fraser River in Coquitlam and photos 6-10 were taken on a foggy evening just west of Granville Island. Photos 11-13 were taken at Vanier Park, 14-23 were taken at Boundary Bay, just east of Tsawwassen and lastly, 24-25 were taken east of Kilby, BC. Only photos 5-11 were taken with a tripod, the rest were handheld……
See more pictures on www.sublimephoto.com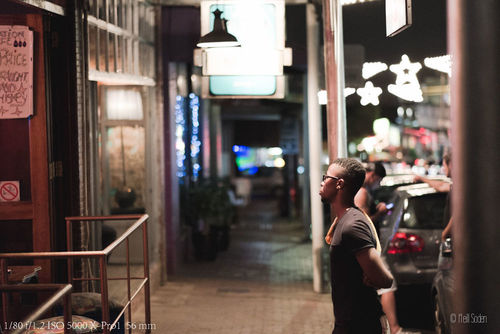 I have not had too much time to post about the X-T1 and even less time to play with the new 56mm, but last night I was out and took the 56mm with me and used it on my trusty X-Pro1. As always, walking anywhere in Jo'burg can feel a little dodgy at times, but Melville has quite a vibe and a very busy nightlife on Thursdays. Which made for a nice opportunity to steal some shots…..
See more pictures on www.neillsoden.co.za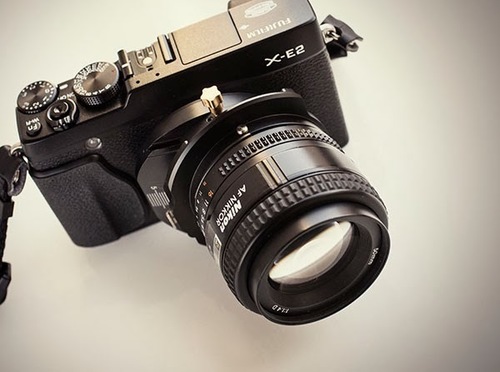 One of my favorite lenses for still life photography is the Nikon 85mm tilt-shift macro. I like working my lenses with wide open apertures, but at close distances where the depth of field is at it narrowest I often lose too much detail in the subject. Stopping the lens down increases the depth of field for to include more in focus, but it also destroys the totally out of focus bokeh of a wide open aperture. The tilt shift lens allows me to selectively include more areas in focus while still maintaining a wide open aperture and good bokeh. I often do a lot of spontaneous still life photos at home where I have a soft window light, but I keep my Nikon tilt-shift at the studio. On ebay I found a tilt-shift adapter made by Kipon to fit the Fuji X cameras. Kipon makes a several models for adapting a variety of lens types. I was interested in the Nikon to Fuji X series, which I wanted to use with 50mm and 35mm Nikon D lenses, and a 60mm Nikon macro giving me effective focal lengths of 75mm, 50mm, and 90mm on my Fuji X-E2. The adapter also comes in a Nikon G mount which adds aperture control……
Some­where along the line, I decided that the ideal every­day Fuji kit for me was either the X-E1 or X-E2, the Fuji­non 18mm f/2 XF R, the Fuji­non 35mm f/1.4 XF R, and the Fuji­non XF 18–55 f/2.8–4 R LM OIS. I was prompted to blog about this lens after I did Google search after Google search look­ing for opin­ions and exam­ples of real-world exam­ples of the lens's bokeh at 55mm. Obvi­ously, the 60mm macro is going to have 'bet­ter' bokeh with it's faster aper­ture and slight focal length edge, but I wanted to quan­tify things a lit­tle more. If I were going to travel some­where, I would take one of the two lenses and leave the other at home, so for me it mattered–was the 18–55 good enough at 55mm to func­tion as a por­trait lens as well as being a ver­sa­tile, com­pact, do-everything lens?….
See more pictures on markschuelerphoto.com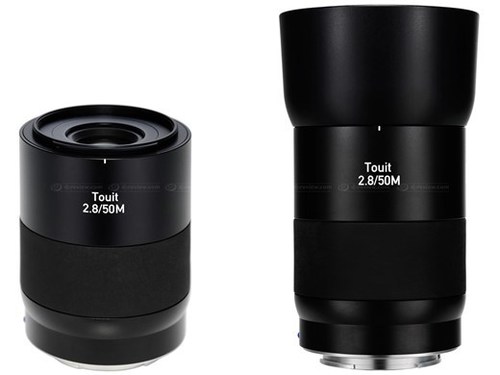 Zeiss has announced an addition to its Touit family of lenses, in the shape of a 50mm F2.8 Macro. The Touit 2.8/50M is designed for mirrorless cameras with APS-C sensors, and will come in Sony E and Fujifilm X mounts; with an aperture ring on the latter. With an angle of view equivalent to 75mm on full frame, it offers 1:1 magnification for close-up shooting.  Like the other Touit lenses it includes autofocus, but no image stabilisation. It will go on sale in March 2014 with a recommended price of EUR 755 (excl. VAT.) or US$ 999 (excl. VAT)….
See on www.dpreview.com