Firmware & Software
…by far the best place of Fuji relevant stories

#x100 #xpro1 #xe1 #xe2 #x100s #x100t #xt1 #xt10 #xphotographer #reviews #stories #manuals #philosophy #quotes #samples #tutorials #comparisons ……
Source: flipboard.com

---
Fujinon XF Lenses
Do you love my work and want to support me? If you're planning on buying camera gear, you can check out above-noted links. Prices remain the same for you, but a small percentage of your purchase value is valued back to me. Thank you!
---
The firmware update Ver.3.40 from Ver.3.30 incorporates the following issues:
Regarding operations of items below 1 "X-Pro1 New Features Guide [Ver.3.40 or later]" in this website.
X-Pro1 New Features Guide [Ver.3.40 or later] (PDF: 391KB)
1. AF+MF
"AF+MF" function enables seamless manual focusing. After half pressing the shutter to autofocus on the subject, fine adjustment can then be made using the manual focus ring.
Source: www.fujifilm.com

---
Fuji X-Pro1
Do you love my work and want to support me? If you're planning on buying camera gear, you can check out above-noted links. Prices remain the same for you, but a small percentage of your purchase value is valued back to me. Thank you!
---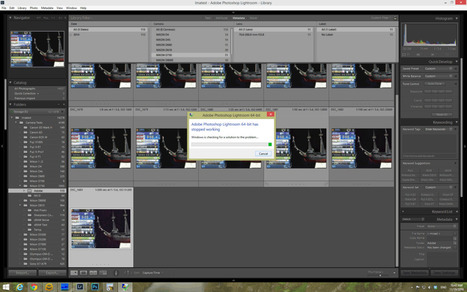 I will be honest, I am not a fan of Adobe as a company. I never liked their business model: their practice of gobbling up competition (sometimes out of fear), their Creative Cloud extortion and their sleazy management that only cares about their next quarter revenues. But most of all, I never liked Adobe's poor software development practices. In my past tech life, Adobe products were always a big pain due to numerous security holes and huge, frequent updates. In fact, Adobe has been notoriously bad with releasing poorly tested software with too many security holes. In 2011, Adobe dominated Kaspersky Lab's top ten PC vulnerabilities list, with "extremely critical" security vulnerabilities that allowed attackers to gain access to computer systems and execute arbitrary code. These security vulnerabilities spanned several Adobe products, which most PCs had at the time and even today: Adobe Reader and Adobe Flash Player. No wonder Apple did not want to support flash in its iOS (which thankfully resulted in the slow demise of the Adobe Flash), since Flash was a very badly written, resource intensive platform to begin with. Although Steve Jobs mostly blamed Adobe Flash for being a PC-era platform, two of the biggest reasons why Flash support was excluded from iOS were in fact related to security and stability concerns……..
Source: photographylife.com
Reducing noise in a digital photo is a hot topic, particularly for photographers who frequently shoot at high ISOs. Even if you're not a typical low light shooter, the temptation may arise with some of the newer digital cameras that offer incredibly high ISO speeds which still produce pretty pleasing images, even with noise. There are many factors that can produce noise in your images, and there are many ways to reduce or sometimes even avoid noise all together. This article in particular will highlight one post-processing trick to reduce noise using a third party plugin called Photo Ninja. Made by the folks over at PictureCode, Photo Ninja is a RAW converter for both Windows and Mac OS X computers. It uses a built-in browser to open most RAW file formats, as well as JPEG and TIFF images. It also integrates well with many photo browsing and editing applications including Adobe Photoshop and Lightroom. The plugin has been around since 2003 when it was launched under the name Noise Ninja. Today, the current product has expanded and is now known as Photo Ninja,  and it offers a host of editing adjustments with its signature Noise Ninja 3.0 included……..
Source: digital-photography-school.com
Today Adobe released Photoshop CC 2014.2, this post covers the updates to this amazing release, there will be upcoming posts covering some of the items in much more detail. Creative Cloud Libraries. This new addition to the Creative Cloud will allow you to download graphics from the Adobe Market and have them available to inside both Illustrator and Photoshop. The Libraries panel also allows you to add fonts, graphics, PSD's, colours etc all within the Photoshop and Illustrators. Any content here will be synced automatically to your Creative Cloud storage area. This feature is a wonderful enhancement if you have ever wanted to have a global set of favourites to your workflow. Of course you can create new libraries at any time to organise your content based on your preference……
Source: blogs.adobe.com
Tonality Pro Verdict
There's no doubt that there is a lot of functionality here for quite a modest stake. The ability to use layers to stack effects and the texture overlays make it possible to get lots of creative effects. Some of the film emulation presets look pretty much like the others, but there are enough presets across the board to give you specific effects that suit everything from portraits to landscapes and HDR projects. It's also a bonus that a number of effects actually use colour as well as mono. The app is fast at providing previews and has a lot of different looks it can bring to your projects. It's not as wide ranging as Alien Skin's Exposure but then it is a great deal cheaper and easily represents the best budget option for those wanting stylish or grungy black and white conversions.
Source: www.ephotozine.com
In this special episode of Adobe Creative Cloud TV, Terry White shows off the NEW features in the October 2014 release of Photoshop CC…..
Source: www.youtube.com
As many of my long time readers know I've spent quite a bit of time going back and forward between different raw converters trying to get the best out of Fuji's X-Trans files. While I use Lightroom as my main photo management and digital darkroom application, I've found that whet it comes to images from Fuji's cameras you can get better results from a third party converter. In the past I've looked at both Iridient Developer and Photo Ninja, and for a while I preferred Iridient Developer. Lately, I've been giving Photo Ninja another workout, and after using it for a while now, and having come up with some new default sharpening settings, I'm absolutely loving the results I'm getting…….
The firmware update Ver. 3.30 from Ver. 3.20 incorporates the following issues:
Addition of compatibility with "XF18-135mmF3.5-5.6 R LM OIS WR"
To ensure that autofocus performs as expected, upgrade the firmware for the camera.
Change of aperture display for zoom lenses
Display of aperture value when zooming with the shutter button pressed halfway will become same as the display when zooming without the shutter button pressed.
Source: www.fujifilm.com
Conclusion and some more
So which one is best….? It seems Capture One right? Well at first glance I would also say yes, but again it's not the complete story, to get a real winner we have to look at much more and that would go way too deep for this blogpost, but let's just scratch the surface for what I use. Lightroom is awesome for keeping my catalogue, creating smart albums, books, printing etc. it's in my opinion not beat by DxO and Capture One in that aspect, so without ANY doubt I would choose Lightroom for this purpose. DxO is awesome for noise reduction, optical corrections with a click, adjustments via the autosettings, integration with filmpack and user styles are also very very good and the end results are just a big step above Lightroom, plus with the newest version the integration with Lightroom is almost seamless so you can now actually stay within Lightroom but still use DxO optics, a HUGE plus for the people that need speed but also want a big step up from Lightrooms processing power…..
Source: www.frankdoorhof.com