Firmware & Software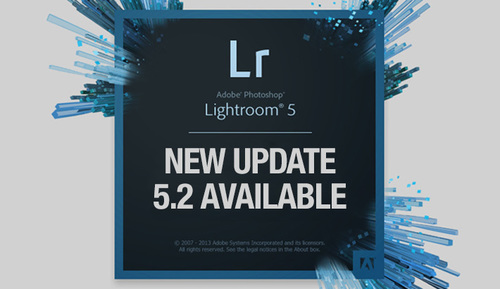 Lightroom released their lastest update today (5.2) which added some new features, addressed some bugs introduced in previous versions and added additional camera raw support as well as more lens profiles. Here's a break down of what has been added and fixed.
New Features in Lightroom 5.2
A Smoothness adjustment slider has been added to the Detail Panel under Color Noise Reduction. This helps to reduce low-frequency color mottling artifacts
Refinements to the Spot Healing Tool: New Feather control – Auto find source method now works better for images with textured areas like rocks, bark, and foliage – Auto find source method now prefers source areas within the crop rectangle
Auto Exposure has been improved to be more consistent across images and across different image sizes.
Smart Preview size has been updated to 2560 pixels on the long edge.
Refinements to the Local Adjustment Brush: – Right Click (PC) / Control-click (Mac) on a brush adjustment pin to bring up a context menu to duplicate or delete – Control+Alt+Drag (PC) / Command+Option+Drag (Mac) on a brush adjustment pin to clone (duplicate) that adjustment……
See on fstoppers.com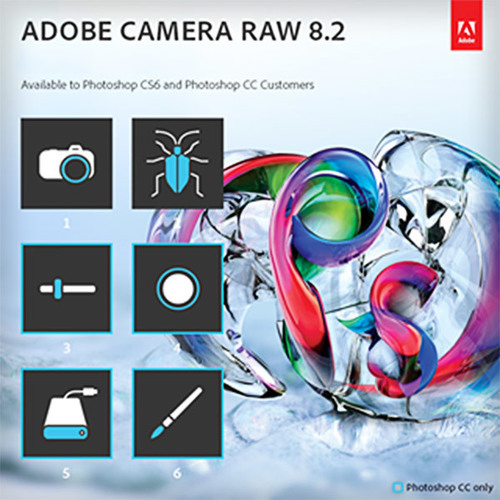 Adobe has released Camera Raw 8.2 and Lightroom 5.2, as final versions of updates that were originally posted as 'release candidates'. ACR 8.2 is designed to work with Photoshop CC but, as promised, is also compatible with Photoshop CS6. Both updates bring support for 16 additional cameras, including the Canon EOS 70D, Fujifilm X-M1, and Sony RX100 II, along with new lens profiles and bug fixes.  For users of older Photoshop versions, Adobe DNG Converter 8.2 is also now available…..

Fujifilm X-M1 now supported
See on www.dpreview.com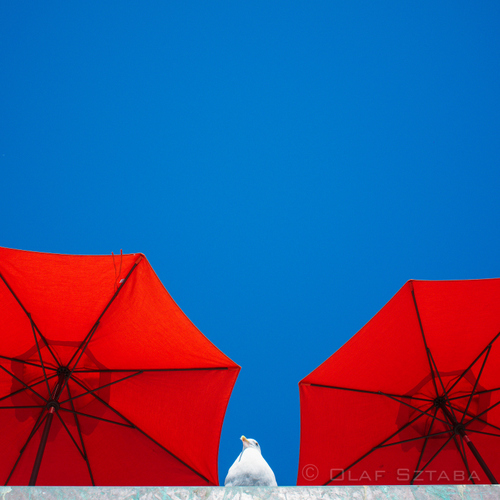 When Fuji introduced the X-Trans Sensor there was great excitement in the photographic community. The APS-C sensor that could challenge full format cameras was something that hadn't been done before. Indeed, the JPEGs from Fuji X-Trans cameras have been spectacular. For the RAW shooters, however, it wasn't all roses. The RAW saga with the X-Trans Sensor started when Adobe issued its support for the sensor (I didn't mention Silkypix since nobody wanted to learn this unintuitive software). Anticipation and excitement turned into a spate of cries and accusations. What happened to the details that are supposed to be present in the files of an aliasing-filter-free camera with a revolutionary sensor? They were simply not there for many. Then there was Capture One. Along with the support came a sigh of relief, as the files from C1 show a much better rendition of tiny things. All pixel peepers went berserk with 100%, 200% and __% comparisons between different RAW processors. As usual with the Internet, everyone saw something different but in general the majority crowned the C1 as the best bet for the X-Trans sensor files treatment. Then, almost out of the blue came a little known software, Iridient Developer. I have to admit that my early reaction was sceptical. If Adobe couldn't do it, why would they do it? One weekend I decided to download a trial version of Iridient Developer and take a look. From the first I liked the simple, logical layout. I processed a few files and exported them to Lightroom. Then when nobody was watching I indulged myself in an orgy of pixel peeping. What a party it was! First on my agenda were some photos of dusty old trucks. The difference was clear. I could see every imperfection on the hood and tire marks I hadn't seen before. In fact, the details I saw approached the details on the D800 files. Unbelievable! Grinning happily, I went back to the Iridient Developer site and bought the full version. More processing followed and after a few days of comparing the files with the C1 and Lightroom, my conclusion was in: This is the best processing software for X-Trans Sensor files if you are looking for razor-sharp details!….
See more pictures on olafphotoblog.com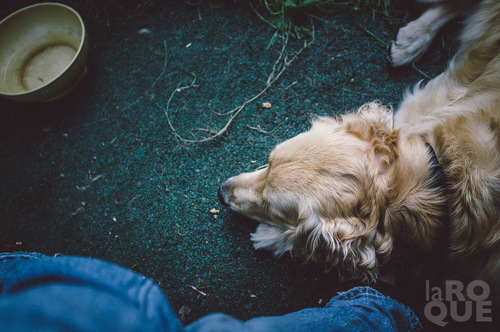 In the small world of film emulation there's an 800 pound gorilla standing in the corner: VSCO. I've never been shy about my use of VSCO Film on this blog and most of you probably know I've had an ongoing relationship with these guys for the past year or so, getting a chance at times to test some of their upcoming products. Here's the thing: I really like what they do and I happen to think they do it extremely well. A success borne of quality IMHO. They're also involved with the photographic community in ways that go beyond purely mercantile considerations which is all to their honor. When I received an email about the new Replichrome film emulation product from the folks at Totally Rad, I admit my initial reaction was… Meh. Yet-another-film-emulation-preset-package taking on VSCO. The fact that their PR email was rather aggressive in directly attacking them didn't exactly make me feel warm and fuzzy either: I prefer products to focus on their own strengths and individuality. But then this probably highlights how entrenched VSCO has become in this sector. Still, given the complimentary download they'd sent me I felt it was only fair to try it out. So I did….
See more pictures on www.laroquephoto.com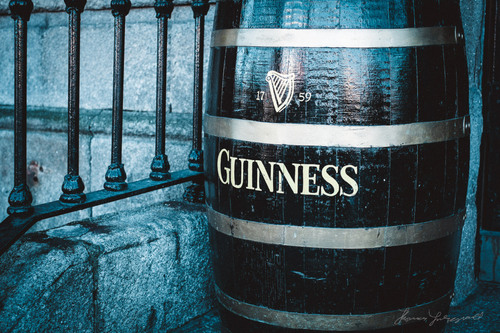 Up till now, when to comes to serious and accurate film simulation presets for Adobe's Lightroom and Camera Raw, for the longest time there has really only been one choice. That choice was Visual Supply company, commonly known as VSCO. Its range of film presets are superb, and accurately match a range of common print, and more recently, instant and slide film stocks. But now there is a new player in the film simulation market. It's a new product from an established name in the photo processing world. The company is Totally Rad, and they have been making actions and plug-ins for Photoshop for many years. Their new product is called "Replichrome" and it is the result of nearly three years worth of work. They carefully profiled cameras and film by shooting negative and scanning it, and then using that to create colour profiles for various digital cameras so that it matches the scanned negative. The result they argue, is an incredibly accurate simulation of traditional print film for digital photography. So what's it like in reality? I've been playing with it over the weekend and I have to say, it certainly seems accurate. It's been a while since I've shot film, and I can't definitively judge how close it is to actually shooting film. to do that I would have to actually go out and shoot the same scene on negative and digital and compare the processed results to the film. But it feels right. It looks like film, and as far as your audience is concerned, at the end of the day that's all that matters……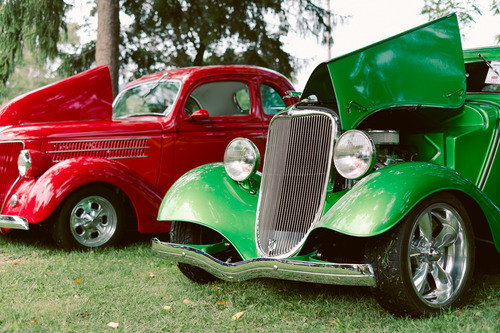 Recently, I decided to leave the DSLR game and start shooting the Fuji X series exclusively for my job. Being a predominantly film shooter, I'm usually not into the color palette that most digital sensors have to offer. Well, the Fuji X-Pro 1 really changed that for me. I love the colors that I get straight out of camera with it, but it's still a digital sensor. There's always a small adjustment that can be made. Like I said, I shoot film all of the time. Though it's mostly black and white film, I still love shooting color film from time to time. Kodak Portra 160 and Fuji 400H are my two favorites. I always try to get that look digitally, but have never had good luck with it until now. A woman by the name of Rebecca Lily has created a set of presets to use in Lightroom, Rebecca's Pro Set II, specifically designed for the Fuji X users that want to give their images that little touch to emulate the film look. I try to do as little as possible when editing a digital photo and these presets work great for that. I've used the VSCO presets before and those are great, but this set is unique and has a LOT more to choose from. I'm particularly a fan of the Pastel choices that it has to offer….
See on downriverframes.tumblr.com
Apple has released RAW Compatibility Update version 4.08 for Aperture, iPhoto '11, and Mac OS X in general. This update adds support for the following cameras:
Canon EOS 70D
Fujifilm X-M1
Leica M
Leica M Monochrom
Nikon Coolpix P330
Pentax 645D
Sony Cyber-shot DSC-RX1R
Sony Cyber-shot DSC-RX100 II
You can download the new software via the System Update feature in Mac OS X, or by using the source link below. Source: Apple
See on www.dpreview.com


Just for fun, I'm doing a little giveaway here on my blog! As a photographer who shoots both Fujifilm and a Fuji X-E1 digital camera, I've had great interest in emulating the pastel look of overexposed, pro lab scanned Fuji Pro 400H film for my digital work to get cohesive results with both mediums. What began as a personal quest has found its way into my upcoming Pro Set II for Lightroom and ACR, which will be released next week. So, here is the challenge: look at the above images (you can click to see them larger). Then post in the comments what you think each image was shot on, Fujifilm Pro 400H, or the Fuji X-E1 post-processed in Lightroom with one of my new Pro presets.
The first one to guess both correctly wins, and gets to choose between:
3 boxes (15 rolls) of 120 Fujifilm Pro 400H
My new Lightroom & ACR Pro Set II …
See on www.rebeccalily.com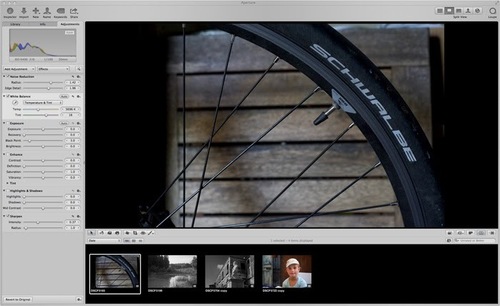 As the title suggests this is the third and for the time being the last of my RAW converter comparisons.  This time we will look at how each converter handles high ISO's files, conversions to black and white (monochrome), skin tones and leafy landscapes.  In the first comparison I left all of the examples at the default settings.  This time I tried to get the most out of each image in each of the seven converters.  For these comparisons the converters will be presented in alphabetical order and not in preference. In addition to the six previously used converters, I have added Lightroom 4.4 and upgraded Iridient Developer to 2.2.  These are not the only RAW converters out there.  AccuRaw to name one, however I feel these are the most accessible and known programs, albeit a couple are Mac only….
See on gambofoto.blogspot.de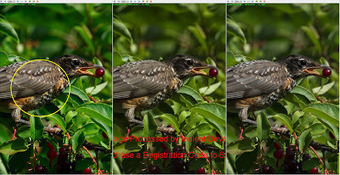 Iridient Developer is arguably the best RAW converter  for Fuji X-Trans raw files. About a month ago I tested Iridient 2.1 and was really impressed. My review is here. The latest 2.2 update brought additional features, improvements and bug fixes for Fujifilm X.
New Features:
New, smoother "Soft Look" demosaic option for Fuji X-Trans models.
Added support for Fujifilm RAW daylight, cloudy and tungsten white balance presets for most recent models. Added support for automatic RAW lens distortion and vignetting correction metadata for many Fujifilm models. Support for Fujifilm X-M1 ….
See on vkphotoblog.blogspot.de