Firmware & Software
Adobe has released the first beta version of their popular photo editing and library management tool – Adobe Lightroom, which now reached version 5. This update includes all the features in Lightroom 4, especially the new cameras added in the 4.4 update. I am a long time user of Lightroom, and have used it as my photo editing tool of choice for both my Canon DSLRs and my new Fuji cameras. I really like the integrated approach Lightroom has for both image library management, keywording, image adjustment (the main photo editing module) and printing or exporting. For me Adobe Lightroom has almost replaced Photoshop, for most of my images. I say almost because some image adjustments could only be done in Photoshop. At least until Lightroom 5.
Important updates:
upgraded spot removal tool (with brush system)
offline images editing
auto-adjustments to straighten photos
new tool: radial gradient filter – the best thing since, well…linear gradients
support for a ton of new cameras, of interest to me being the Fuji X-E1 and X100s
Will I get the Lightroom 5 upgrade? Let's start the beta test……
See on andreinicoara.com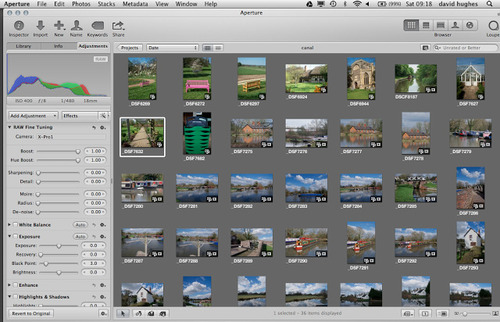 This morning I've been processing a few and uploading them to picture library websites. At the moment I'm bulk processing the files initially in Aperture, using a preset that gives me good control over highlights but adds no sharpening, saving them as .tif files and then finishing them off in Photoshop. I'm doing it this way, because I'm still unconvinced by many of the Aperture settings, I don't know it as well as Photoshop and like all other versions I've used, its pretty slow, even on on my i7 laptop. So its a two software programme conversion which is not ideal, but I find it worth doing because of the sharp files that are produced.
Over a year ago, I declared that the results I got from the Fuji X-Pro 1 were the best image quality I'd ever seen from a camera I owned. Despite all the problems with the raw files, I still stuck by that, mainly based on what I had seen using Raw Photo Processor 64. This software did produce excellent images which showed that sharpness this sensor is capable of. However I found it difficult to get the colour I liked from that software. No such problems with Aperture however. The colour is excellent. I'm able to get my digital version of Fuji Velvia without any problems. (Incidentally the Velvia option for jpgs. on the Fuji cameras is actually nothing like it.) I do prefer the colour much more than the Adobe rendition which is somewhat muted and desaturated. Seemingly a consequence of what Adobe are doing to the files to cut down colour noise.
The Aperture solution is much more to my taste and lets me decide how much noise reduction I want to use and on what parts of the image. I prefer it because it simply 'lets more through'. Adobe, Capture One and the Fuji / Silkypix software all seem intent on filtering the raw files before letting us work on them. I don't really see what they are afraid of and what they are so keen to filter out. The X-E1 files via Aperture remind me a lot of Leica M9 files. Yes there is some colour noise, yes there is some moire, but its far from a serious problem and it can be easily removed either globally or selectively in the file, without seriously affecting the sharpness and colour rendition. I can't believe that Apple are any better at working the demosiacing algorithms than the engineers at Adobe etc. I think that they have just made different choices and are pretty much letting what the camera takes stand, so that we can make our own choices. I can't say this for certain of course, but it does seem to me that is what is happening. Anyway, whatever the reasons, the X-E1 now turns out really good files that are what I've wanted to see for the last year. And so yet again, this time with some justification, I can say that the X-Trans sensor image quality are the best I've used. With the top-class jpgs., class-leading high ISO performance and now ultra-sharp low ISO images I haven't used anything better. The question of course, is where do Fuji go from here? There are two things I think that need to be adressed. The first of course is how do PC users get the options that Aperture and Raw Photo Processor 64 offer? Since both are Mac only programmes, they only have   Photoshop / Lightroom, Capture One and Fuji / Silkypix, in my opinion the worst three options, to choose from. The second is an improvement to the cameras.
Fuji have produced a sensor that can handle pretty much anything. With its peerless ISO performance I can't think of any photographic work that is beyond it. The files upsize to 24MP with no problem at all, so lack of pixels isn't a problem. The quality of the sensor means that there is no need to go to 35mm size to get low noise. And Fuji have shown that they have lost none of their skills as lensmakers. The problem however is in the cameras. Fuji could probably grab more of a share of all kinds of markets, including the professional one, with this sensor technology, if they just sorted out a few things. Battery life has to be longer and there has to be a proper power use meter. AF certainly has to be faster, the menu system has to be overhauled and they have to get serious about video. I know a lot of people don't care about it, but a lot do and this is an area that is going to become more and more important as time passes. Just bringing it up to standard of my Nikon 1 V1 in terms of all this would be a start. While I've been raving about how great the V1 is to use, the Fuji is vastly superior in tems of image quality and I can't see how a few simple tweaks can't be implemented fairly easily. Plus Fuji have to decide if they are serious about manual focus third-party lenses being used on their camera. In which case they have to add focus peaking ASAP. Like most companies I imagine that they really want to say 'We don't really want you using other peoples stuff, we would much rather you buy the Fuji lenses'. But Sony offer it, as now do Leica. Its what people want, just read the forums.
I doubt we are going to see a 'Pro DSLR like' manifestation of the X-Trans sensor. I think Fuji are wedded to the Rangefinderesque, Lookaleica, old-school design ethic, but that doesn't make 'Pro' type features impossible. The X-E1 is in fact a really nice camera for handling with a good EVF and live view screen. Its just that when I use it, I'm constantly aware of the absences I outlined above. I really need to know how much battery power I have left, as I missed a great shot yesterday because the camera ran out of power at the crucial time. If I had known how much juice I had left then I would have changed the battery before. Plus 150 shots on one battery just isn't good enough. Using my Voigtlander 90mm I would have appreciated focus peaking and there were occasions when the AF 'hunted' in decent light, which again is not good enough.
To my mind, Fuji have done the hard part, producing a sensational sensor, which achieves the impossible of producing files at low ISO's that aren't far off the Sigma DP Merrills I had, but with better colour and of course much superior high ISO perfromance. Surely it isn't that difficult to get the cameras better? ….
See on soundimageplus.blogspot.de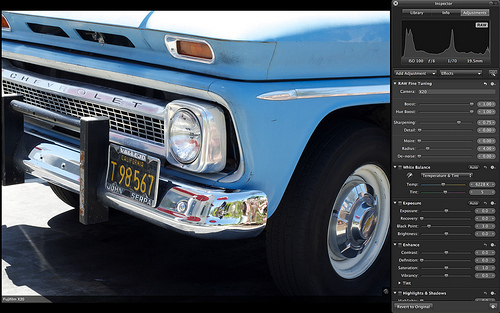 Adobe made a little noise with the release of Lightroom 4.4 and its working closely with Fufifilm to provide top notch decoding of .RAF files from Fujifilm X-Pro1, X-E1, X100S, and X-20 cameras. This lead to some speculation that Apple would be left out in the cold with Raw decoding for X-Trans sensors.
Well, apparently not. Apple today released Raw Compatibility Update v4.05 with support for these very same cameras. So how do these two applications stack up for Fujifilm camera owners?
No image editing was enabled in either application. Files were saved out at the highest export settings. So what you see here is essentially how each application decoded the .RAF files from a Fujifilm X-20 camera. (Imagine how the Raw files from the X100S look!). In my opinion, both applications do an excellent job of handling .RAF files. And the fact that both Apple and Adobe had the RAW updates so quickly after the release of the new X-Trans cameras (X-20 & X100S), says that both are taking these cameras seriously. Well done….
See on thedigitalstory.com
As mentioned earlier, Apple have updated their camera raw support to finally bring Aperture and iPhoto support for Fuji's X-Trans camera's raw files. I've downloaded the Camera Raw update and I've been playing around for the last little while, and I have to say, I'm extremely impressed. I haven't given it a full run through, but already I like what I see. The files seem to be much sharper and retain much more detail that Lightroom's efforts, and it doesn't mangle fine detail like Lightroom does. It's really impressive, and I'm glad Apple took the time to do X-Trans support right. Here's a quick example of what I mean. This is an image that I took recently. This is at the default settings……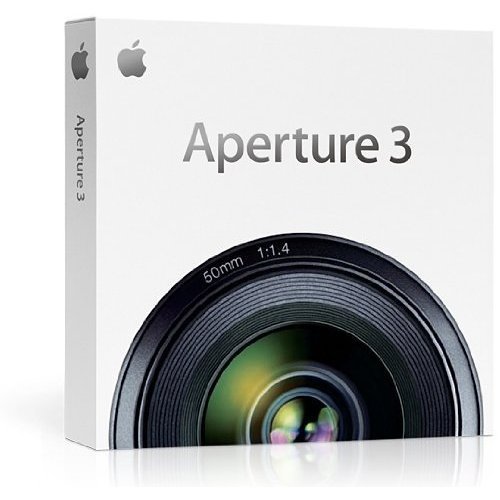 This update adds RAW image compatibility for the following cameras to Aperture 3 and iPhoto '11:
Fujifilm X20
Fujifilm X100S
Fujifilm X-E1
Fujifilm X-Pro1
For more information on supported RAW formats, see http://support.apple.com/kb/HT5371.
See on support.apple.com

At the launch of the XF55-200mmF3.5-4.8 R LM OIS lens, Fujifilm will upgrade the firmware for both the X-Pro1 and X-E1 cameras. Thanks to a new algorithm, the firmware will be able to harness the full capability of the lens enabling both cameras to search the contrast AF quickly throughout the full range of focal length. The focus speed will be as fast as 0.7 sec. even if it searches from infinity to the Minimum Object Distance at the telephoto end. By upgrading your X-Pro1 or X-E1 with new firmware you will also improve the AF speed with other existing XF lenses.

*** The firmware will be available to download from www.fujifilm.com nearer the launch of the XF55-200mmF3.5-4.8R LM.
See on www.fujifilm.com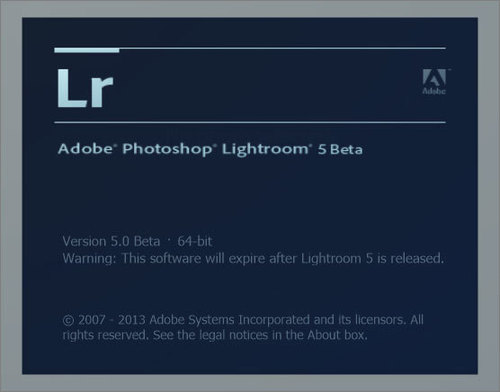 A little more than a year ago, Adobe released its most recent major update to Photoshop Lightroom — the company's flagship photography workflow application — after a two-month open beta program. Today, the company takes the wraps off a beta release of the followup, continuing a tradition of public beta that stretches right back to Lightroom's formative days. The latest Lightroom 5 betabrings several interesting new features, including a radial gradient tool, a more advanced healing brush and a clever automatic perspective correction tool. But for our money, the feature which stands out is support for offline image editing, or what Adobe calls Smart Previews.
If you're one of the many photographers who take advantage of Adobe's license terms allowing use of a desktop and laptop on the same Lightroom license, chances are you've hit a certain dilemma. You're out in the field with the laptop, yet you want to browse your existing catalog and perhaps tweak a few photos — but you've not brought the catalog's contents with you. The laptop drive doesn't have enough storage space for all your photos, and you didn't think you'd need to carry your bulky external drives with you. Or perhaps you're not even using external drives — maybe your catalog is shared across the network from your desktop machine. Either way, you don't have access to the files you need. That's the problem Smart Previews aims to solve. Lightroom 5 public beta can automatically generate reduced-resolution copies of your images on external drives and network shares, suitable for the smaller storage space available on your laptop. And it will let you edit these images just as if the files were online. Of course, some edits won't be meaningful on reduced-res previews. For example, you'll likely want to forgo tools like noise reduction and sharpening, where information at the pixel level is key. However, for many tools such as cropping, tweaking color and so on, that reduced-resolution file will still be enough to get the job done, or at least to get you in the ballpark while an editing idea is fresh in your mind. The clever bit happens when the offline media comes back online — go back into the images, and your edits are applied to the originals automatically. This is very clever stuff, and something we have a feeling many photographers will welcome with open arms…..
See on www.imaging-resource.com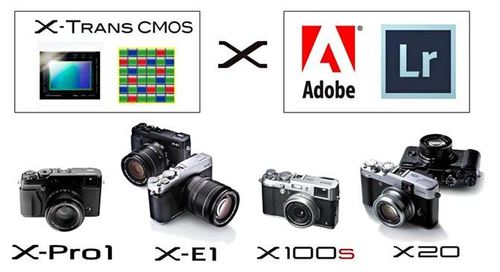 FUJIFILM Corporation (President: Shigehiro Nakajima) announced that Fujifilm and Adobe Systems Incorporated have been working together to improve image processing of X-Trans and EXR-Sensor based raw captures. X-Trans CMOS has a new type of sensor filter array developed by Fujifilm to improve image quality. The release of Adobe® Photoshop® Lightroom® 4.4 and Adobe Camera Raw 7.4 today offers significant improvements in the processing of X-Trans raw files for the X100S, X20, X-Pro1 and X-E1, resulting in better Moire reduction and enhanced performance in color reproduction. "We worked closely with Fujifilm to increase the quality of image processing of X-Trans and EXR-Sensor based raw captures," said Tom Hogarty, group product manager, Adobe. "Lightroom 4.4 and Adobe Camera Raw 7.4 demonstrate the results of this cooperation and provide remarkable improvements in the raw file rendering." Lightroom is the essential digital photography workflow solution, helping amateur and professional photographers quickly import, manage, enhance and showcase all their images within one application. The Photoshop Camera Raw plug-in provides fast and easy access to raw image formats produced by many leading digital cameras.
See on www.fujifilm.com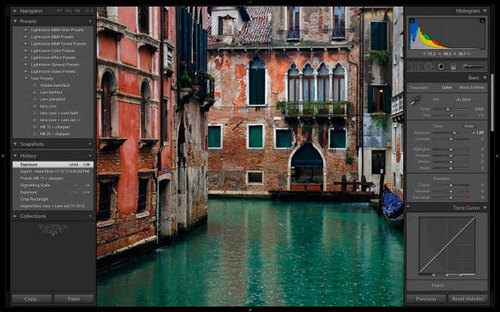 Lightroom 4.4 is now available as a final release on Adobe.com and through the update mechanism in Lightroom 4.  The goal of this release is to provide additional camera raw support, lens profile support and address bugs that were introduced in previous releases of Lightroom. Changes to Existing Camera Support:Lightroom 4.4  includes a correction to the demosaic algorithms for Fujifilm cameras with the X-Trans sensor.
This specifically impacts the following cameras:
Fujifilm X-Pro1
Fujifilm X-E1
Fujifilm X100S
Fujifilm X20
See on blogs.adobe.com
Google recently announced the opportunity to purchase the entire suite of Nik software modules for the bargain price of $149. This bundle originally cost $500, putting it outside the price range of all but the more serious photographers with deeper pockets. At $149, however, this suite will appeal to a much broader range of photographers. Nik's $149 suite represents one of the best values relative to photo editing software. I would strongly urge people to capitalize on this pricing while it lasts.
See on www.niksoftware.com