Fuji X-Pro1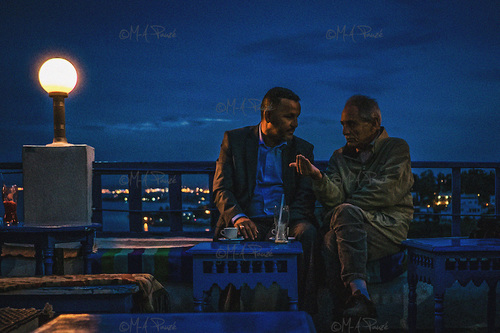 Two years after the revolution that have seen the end of Zine el-Abidine Ben Ali dictatorship and a democratic process somewhat chaotic, the World Social Forum open in Tunis. The New Tunisia in the making faces many challenges. After decades with a lack of free speech capacity, Tunisians are more than happy to express their political point of views. With economic problems, unemployment and renewed cultural identity, it is difficult for the society to define itself….
(A reportage done at 90% with the Fuji X-Pro1)
See more pictures on marcpauze.photoshelter.com
…..
My opinion is, that the xPro1 is doing a very good job but the M is a bit better.
The question now is,  would I go back to Leica?
Well, a though question – I still love the Leica feeling, the way to take pictures and the Leica look of the M – but after shooting for one hour with the rangefinder, my eye problem were back. But, even if I wouldn't have the issues with my eye, I am not sure if I would purchase the new M. With a 35 mm lens the M costs around 8000€ – 9000€.  That is a lot of money!
There was a customer at the Leica store who was asking me if the new M is worth it?
If you have the money and you love shooting with Leica YES! Instead purchasing the new M getting a used M9 or M-E – NO! The M9 is not as good as the xPro1! You get the much better package & deal with the Fujis! I will stick with Fuji! They make a brilliant job! Using the xpro1, x100 etc. is fun, it is light, fantastic lenses and the IQ is awesome and I don't have any eye problems!
…so, what about the RAW workflow?
Last week I decided to give another try – to work just with the jpegs and change a bit my settings. But it seems that the RAW file issue is now solved!  Today Adobe released the new version of Lightroom. It includes now a correction to the demosaic algorithms for Fujifilm cameras with the X-Trans sensor. YEAH – problem solved! I just downloaded the new version and I am thrilled!  The files look awesome… I can get now the look I want and cant wait to start my editing process. My pictures are getting back their soul and that feels damn good!
So, back to old habits?
No – I am looking forward to I stick with Fuji – for two reasons: First of all they make fantastic cameras and lenses and secondly they hear what customers say! They improved the X100 after getting feedback from Pro photographers and customers and worked together with Adobe to solve the RAW Processing problem. I just purchased the new x100S and I'm very curious to find out about the faster AF and improvements!
Is Fuji the new Leica?
In my opinion, NO – Leica will always be Leica. These are 2 different camera systems and brands… Owning a Leica is much more than owning a camera or a tool to take pictures with. You'll get a hand crafted camera with soul. It is a lifestyle and everyone who ever owned a Leica knows what I try to say.
See full article on nicole-struppert-rwec.squarespace.com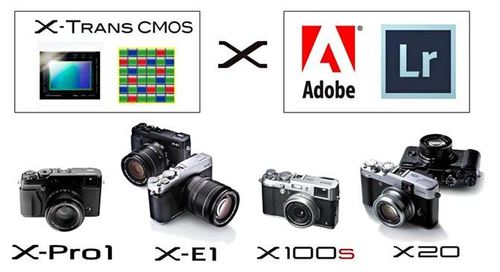 FUJIFILM Corporation (President: Shigehiro Nakajima) announced that Fujifilm and Adobe Systems Incorporated have been working together to improve image processing of X-Trans and EXR-Sensor based raw captures. X-Trans CMOS has a new type of sensor filter array developed by Fujifilm to improve image quality. The release of Adobe® Photoshop® Lightroom® 4.4 and Adobe Camera Raw 7.4 today offers significant improvements in the processing of X-Trans raw files for the X100S, X20, X-Pro1 and X-E1, resulting in better Moire reduction and enhanced performance in color reproduction. "We worked closely with Fujifilm to increase the quality of image processing of X-Trans and EXR-Sensor based raw captures," said Tom Hogarty, group product manager, Adobe. "Lightroom 4.4 and Adobe Camera Raw 7.4 demonstrate the results of this cooperation and provide remarkable improvements in the raw file rendering." Lightroom is the essential digital photography workflow solution, helping amateur and professional photographers quickly import, manage, enhance and showcase all their images within one application. The Photoshop Camera Raw plug-in provides fast and easy access to raw image formats produced by many leading digital cameras.
See on www.fujifilm.com
The small island of Fuerteventura is just off the coast of Africa and while it was snowing in the UK we basked in 26º sunshine. This is just the second time I've shot with Carla so I arranged a recce and a practice shoot the day before the workshop. I had done a provisional recce of the island and a shoot with my mate and fellow tutor Martin Hill at the same time in 2012. So we knew it was going to be amazing. This recce with Carla was just to refresh my memory and check that everything was still okay. Together we mapped out our shoot locations, decided on the styling for each zone and planned the lighting set ups…..
See on www.prophotonut.com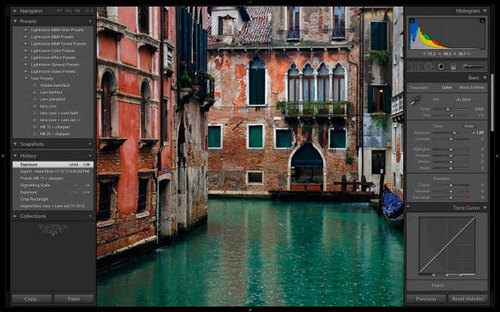 Lightroom 4.4 is now available as a final release on Adobe.com and through the update mechanism in Lightroom 4.  The goal of this release is to provide additional camera raw support, lens profile support and address bugs that were introduced in previous releases of Lightroom. Changes to Existing Camera Support:Lightroom 4.4  includes a correction to the demosaic algorithms for Fujifilm cameras with the X-Trans sensor.
This specifically impacts the following cameras:
Fujifilm X-Pro1
Fujifilm X-E1
Fujifilm X100S
Fujifilm X20
See on blogs.adobe.com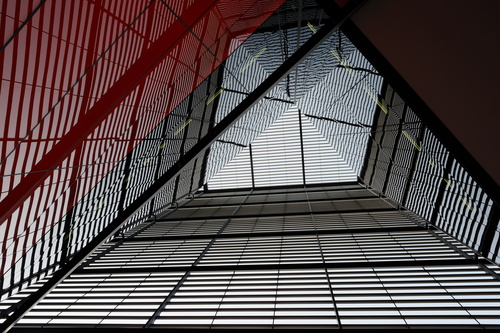 Overall conclusion
The XF 14mm F2.8 R is a relatively rare example of a genuinely wideangle, high quality prime lens for any camera type other than full frame SLRs. The closest comparisons lie with the Olympus M.Zuiko Digital ED 12mm 1:2 for Micro Four Thirds and Pentax's smc DA 15mm F4 ED AL Limited for its APS-C SLRs, both of which also offer premium metal-barrelled construction and 'proper' manual focus rings with distance and depth of field scales. Indeed the 14mm's push/pull manual focus switchover mechanism bears more than a passing resemblance to Olympus's version. They're not strictly alternatives, of course; they all work on different camera systems. But of the three, the 14mm offers the widest view.
The 14mm is a pretty expensive optic, so needs to perform well to justify its price. Thankfully, it does just that – in fact it turns out to be an exceptionally good lens. At the apertures you'd most often shoot a wideangle it's exceptionally sharp right across the frame, and it's almost perfectly-corrected for distortion and chromatic aberration. Vignetting is quite strong at F2.8, and never quite goes away on stopping down; however it'll only be visible to RAW shooters, as it's corrected automatically by the camera's JPEG processing. The drop-off in brightness across the frame is also quite gradual, rather than abrupt in the extreme corners, which means that visually it's not so objectionable anyway.
Perhaps the nearest the lens has to a real flaw is rather soft edges and corners when shot at F2.8. This could be a real problem for photographers who shoot a lot handheld in low light, especially as there's no image stabilization available. But as sharpness picks up dramatically even at F4, and wideangles can safely be shot at relatively slow shutter speeds without fear of camera shake (allowing use of smaller apertures without having to raise the ISO) we suspect it won't be too much of a concern for the majority of users.
Autofocus isn't especially fast, but it's very accurate, and for many typical uses of a wideangle lens focus speed isn't especially important anyway. Manual focus is extremely well-implemented; the focus ring is well-damped and very responsive, making precise manual focusing very straightforward. Switching from auto to manual focus is very quick, requiring just a quick pull back on the focus ring. This reveals a distance and depth for field scale for zone focusing, which many users will be pleased to hear is calibrated conventionally, as opposed to the very conservative version Fujifilm displays in X-system camera viewfinders.
One point worth knowing, though, is that there's no way of combining auto and manual focus, so you can't use AF to prefocus then make adjustments manually. Instead switching the lens from AF to manual resets it to the last-used manual focus position. But again, this is a function that's arguably rather less useful on a wideangle lens than on a telephoto. Overall the 14mm offers perhaps the most convincing implementation of MF we've yet seen on an 'focus-by-wire lens, and is streets ahead of the existing XF lenses.
Build quality is very good, with the metal-skinned barrel and chunky metal focus ring offering a real feeling of solidity. On our sample this was slightly let down down by rather loose click-stops on the aperture ring, making it too easy to change by accident. Of course with the aperture setting constantly displayed in the viewfinder there's less risk of shooting lots of images at the wrong setting, but this does demand you get into the habit of checking your settings whenever you take the camera out of the bag for shooting.
See on www.dpreview.com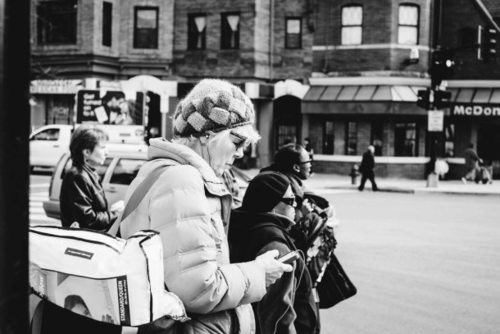 I've been trying to shoot more people lately. It's not always easy though, especially for someone like me. I was raised to be considerate of others, so the cognitive dissonance that comes with traditional street photography is often hard to shake. Still, I persevere. I wait. I sneak around, or I distract and disarm. Then I take my shot. It's never been ideal and every now and then I even need to shoot blind. Missed opportunities abound. I feel like a creep most of the time. But sometimes I'm not creepy enough. The other day, I had to eat my lunch at a restaurant while listening to some airhead 'like' talk endlessly about 'like' utter nonsense. I wanted to walk up to her, take a few shots, and then do some show and tell on here for everyone's benefit. Maybe if it had lasted just a little bit longer… but I've already given her more props than she deserves! DC is full of interesting people. Some are more unique and 'photogenic' than others. The city itself is constantly evolving, but I have a feeling the cast of characters will remain largely unchanged. If I can capture some of these characters in this particular space and time, I'll be satisfied. The most memorable street photos usually tell a story. Maybe I'm biased, but I'd like to think that most of the images below tell some kind of story. Some are obviously better than others. Surely I'm not lying when I say that I've come a long way from my last similar post… but I also know that I still have a long way to go. All of these pictures were taken sometime in the last few weeks with my Fuji X-Pro1. If you follow my blog, you know I only have the 35mm lens (for now). As you'll see, I still haven't been able to get very close to my subjects. I'm not sure that I'll ever be comfortable getting up in someone's face for a candid shot, but I'll keep trying to move closer. And I'm still getting a wider lens, although I'm not sure which one yet.
See more pictures on blog.karimhaddad.com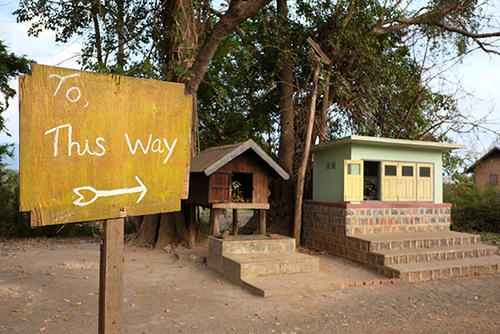 Having a background of photography and graphic arts, I am always looking for the odd sign or notice that will put a smile on my face. A few turned up in Myanmar as you will see below. Also interesting was the car and driving laws. The cars are right hand drive, just like Australia but instead of driving on the left side of the road they drive on the right side. Confusing to an Australian driver! This came about in a government move to further remove memories of the British occupation, so on a given day all cars moved to the other side of the road. To add to the mix there are also a number of left hand drive cars as well. The number plates on cars, buses and trucks are in the native language as seen below, but taxis are now getting English language number plates. As a tourist how do you report a misbehaving taxi driver if you can't read the taxi number plate? Easy, put English language plates on them. Another odd thing is that there are no motorcycles on the road in Yangon (was Rangoon) the story is a general's car was run into by a motorcycle so he banned them all from the city. Don't worry there are plenty of motorcycles in Mandalay to make up for it. All pictures taken on a Fuji X-Pro1.
See more pictures on www.rogergould.com.au
Wie Millionen Iren in aller Welt feiern auch die Münchner Iren und ihre Freunde ihren Nationalfeiertag. Am 17. März fand in München die Parade zwischen Münchner Freiheit und Odeonsplatz statt. Das Motto lautete – Let´s paint the town green! Und während der Winter den Norden Deutschlands noch fest im Griff hat konnten wir uns in München über etwas Sonne freuen. Beste Voraussetzungen also, die Parade mit der Fuji X-Pro1 und dem Fujinon XF 18-55 F2.8-4 R LM OIS zu begleiten. Die Flexibilität des Zooms kam mir dabei wirklich entgegen und so konnte ich problemlos zwischen Weitwinkel und leichter Telebrennweite wählen. Außerdem ist die Fuji für solche Zwecke natürlich besonders geeignet, da sie wesentlich unauffälliger als eine große DSLR ist. Dies hatte ich zu Beginn meiner Arbeit mit den Fuji X Kameras oft unterschätzt. Aber es macht wirklich einen Unterschied ob man einer Person mit einer X-Pro1 oder mit der D800 vor der Nase rumfuchtelt. Einziger Wermutstropfen: Der manchmal verflixte Autofokus – ja auch mit dem Zoom gibt´s Momente wo die Kamera partout nicht scharf stellen will…und der Moment ist dann vorbei…die Parade weitergezogen. Nach all den neuesten Firmware updates habe ich sogar manchmal das Gefühl, dass das 35er in manchen Situationen schneller fokusiert. Ich werde das in den nächsten Wochen mal genauer vergleichen und wieder berichten. Bis dahin – enjoy the pics!
See more pictures on www.cleareye-photography.com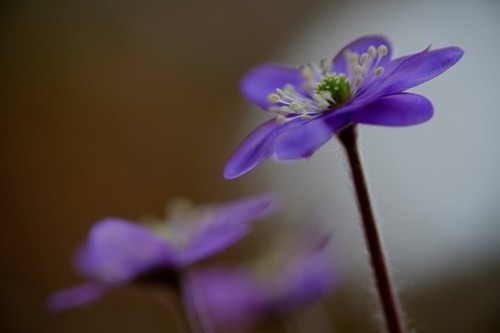 I am a happy owner of a Fuji 60mm XF macro lens for a month by now. Here I will write down the most common experiences what I had with it.
All of these pictures what you see, are the original jpegs. Just right from the fuji X-E1.

Lets start with the bad news. The autofocus is far from good. It is slow, and sometimes it has difficulties to find the focus even in normal light. It can struggle really hard. I found for the best solution if I switch to manual mode. Like that I can focus with the AE-L/AF-L button, and  in the same time I can override manually. It worked quite well like this. The manual focus is really strange… But not as terrible as the people write it on forums. (Except when you need to focus from the closest of the fairest distance. That is awful.)
Before it I used a 105mm Vr Nikkor, so I can make some comparison….
Conclusion:
It is a very well built, tough little lens. With very good sharpness and details. The autofocus sometimes is a pain, but in manual focus it's working well. Mostly when you use it for close subjects. (And for what else would you use a macro lens? By the way, it wouldn't be bad for portraits too. I will use, I am sure!) Actually the use of the manual focus and the electronic viewfinder together, was absolutely amazing for macro photography. I think, we will work very well together with this lens.
See full article on lightandnaturephoto.com