Fuji X-Pro1
I'd like to apologize in advance: if you were hoping not to feel the urge to part with some of your money, I don't think this review will be much help. As I told my buddy Morten Byskov in an email when I first got my hands on this lens: damn. When I originally reviewed the X-Pro1 I defined it as something that was clearly "part of a system", as a camera that by its very nature felt much less intimate than the X100 (the only other X camera at the time). Much has changed since I wrote that review: more X bodies have appeared, the entire ecosystem has exploded with stellar Fuji offerings as well as Zeiss and other third-party lenses added to the mix for good measure; it's rather phenomenal when you think about it — it hasn't been that long. But while I came to love the X-Pro1 just as much as the X100 — albeit for different reasons — it still always felt like an extremely refined cog in an ever evolving system. Until now. With the introduction of the XF 23mm f1.4 R lens (B&H), Fuji finally brings the long-awaited 35mm field of view to the X-series, something that was previously only available with an X100/S or via an adapted lens. We could certainly argue about the why's of such a long delay for an indisputably classic focal length — marketing conspiracies et all — but I doubt anyone will be faulting the execution: saying this was worth the wait is a serious understatement There are many intangibles about using a camera, the way it sits in our hands, how different pieces come together and fall into place. At the risk of sounding way too hyperbolic, here's the short version of this review: I feel as though the X-Pro1 has just found its long lost sibling – The balance, the size, the weight, the focusing, the build… Everything about this lens feels exactly right to me. Soul mates, baby…..
See on www.laroquephoto.com

---
Fujifilm Fujinon XF 23mm F1.4
Do you love my work and want to support me? If you're planning on buying camera gear, you can check out above-noted links. Prices remain the same for you, but a small percentage of your purchase value is valued back to me. Thank you!
---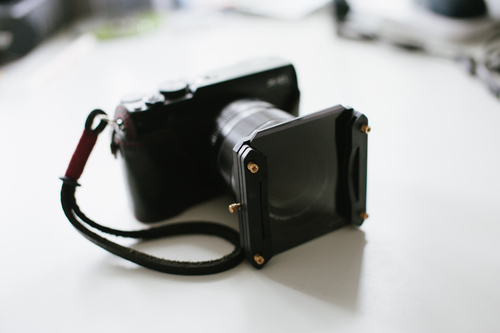 When I found out my college roommate's bachelor party was going to take place in the famous Yosemite National Park (Ansel Adams, anyone?), I knew I had to get my gear ready for landscapes.  I normally shoot portraits only, so my landscape gear was lacking. I have a LEE filter system for my Nikon D700 system which I love, but I didn't want to haul 2.25lbs for the D700 body only.  So first step was to get a smaller camera system.  I sold my Olympus OM-D E-M5 when I got back from Italy because I wasn't in love with the aspect ratio.  I felt like 14mm wasn't all that wide and cropping from 4:3 to 3:2 made it even worse.  I heard great things about the Fuji X system so I decide to give it a try and bought a gently used Fuji X-E1 and 18-55mm f/2.8-4 off of Craigslist.  I also got a Fuji 35mm 1.4 for casual shooting, but that's for another post. I got the camera ready, but now I needed some filters.  I knew I wanted graduated filters because all serious landscape photographers use them.  Yosemite National Park is known for its amazing landscapes, I knew I had to get some so I wouldn't have any regrets of cheaping out after coming back.  So the hunt began. I'll be honest, I mainly settled on the Hitech filters due to price.  When I searched for LEE filters for the D700, the price differential wasn't very big, so I went with LEE.  However, with LEE's Seven5 system costing significantly more (and harder to find in stock), I decided to give Hitech a try despite mixed reviews on their larger filters.  I figured with the entire system being so cheap, it would be a small gamble…….
See on ericchan.me
We recently went to Venice for a city break armed with both our Fuji X – E1 with the kit 18-55mm lens and our Canon 400D, which was firing through the barrel of a Sigma 70 – 300mm zoom.  Because the Fuji zoom lens is an above average stock lens we had most bases covered with this set up. Back home though and  we decided to give some thought to adding a lens to our kit but the question was what to go for? To help with this decision, I looked through our photos to see how we were shooting and it seems that with the Fuji X-E1 we shoot wide at 18mm, as below,  or on full zoom at 55mm as above. We rarely shot somewhere in between. At 18mm I was either shooting at around f8 to f10 doing cityscapes or I wanted the lowest aperture I could get f2.8, or I was at 55mm zooming in close to get the detail as with the carnival masks shot above. With the Canon we were picking out stuff further afield and getting the detail up close and dirty. Peanut especially enjoys the zoom work and snaffled perhaps our favourite shot of the trip, capturing the two gondoliers chatting below at 190mm. This points us to a number of possible lenses then. First, as we like 18 mm, we could go for the 18mm F2 R and enjoy the lovely possibilities offered by the even lower F2 aperture.  Looking back on our photos and seeing the proportion of our photos shot at this length makes this at first seem a great choice. The camera would be smaller still and even lighter and 70% of our photos would be covered by this lens……..
See more pictures on picturebeast.wordpress.com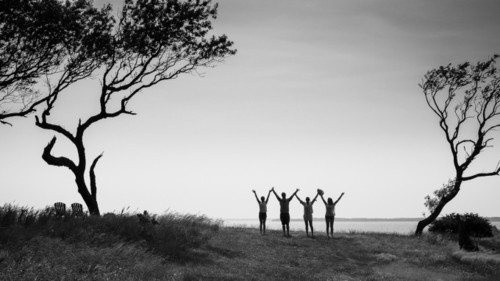 I am a Swedish photographer based in Uppsala, north of Stockholm. This summer I have been lucky enough to travel for 5 weeks to the US, France and the west coast of Sweden thanks to hospitable friends. I would like to share my pictures with you and your readers. They are all taken with the Fuji X-Pro1 and 35mm f/1.4. I recently read your thoughts on the new Fujifilm X-A1 and your take on the X-trans sensor, or the lack thereof. After shooting with the X-Pro1 for little over a year, I dare say I have some experience with the sensor. And I agree with you! In fact, I dislike the way my OOC files turn out. It is not uncommon that the pictures look kind of smeared. Especially soft objects, like leaves or skin, despite being in perfect focus. However, I have always found it to work well as a monochrome camera. I am huge B&W fan. For a long time, I did some "pixel peeping", or at least kind of; 100% zoom to check that I nailed focus etc. I'm not a rich guy, and when I put over 2'000 USD last year on the camera and lens, knowingly sacrificing AF-speed for IQ, I was kind of expecting greatness. At first, I felt a tad disappointed. Now, a year later, I have stopped the intense pixel peeping and focus on the final image…….
See more pictures on www.stevehuffphoto.com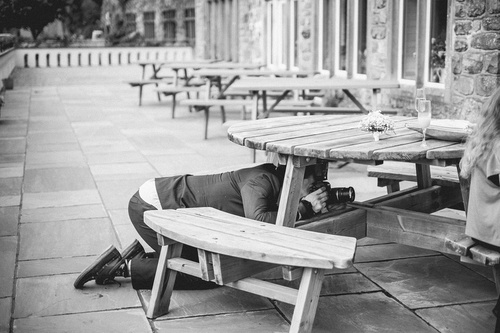 One thing I have always had the back of my mind is shooting a full wedding with an XE1 / Xpro1, fuji haven't quite got there with the lens selection for me to really try this just yet but I can see the future fast approaching [56mm!]. The other day i got the chance to take on a second shooting job at a wedding in monmouth, fuji in hand I set out for some experimentation. I've mentioned second shooting on here before, that is being the second photographer at the wedding, this has several advantages and is great for learning and pushing the bar. Being the primary photographer you have certain commitments, that is a commitment to deliver a service and product that reflects your abilities, this leaves little room for experiments as after all it's someones wedding day. I would never be so bold as to try out a new technique or piece of equipment until I was sure I had enough quality images to complete the assignment. This is where second shooting comes in, there is very little pressure and as such you can experiment and try new techniques, that if they fail or look unimpressive you haven't jeopardised someones wedding photography. I was working along side Richard Walton, a photographer that I have worked with before, as always his energy and creativity shone through which is great to see. With Rich taking the posed shots and main photographs for the day I could try out some new ideas, the main one for this wedding being shooting with the Fuji XE1 exclusively. Ever since I started using the XE1 and 35mm 1.4 lens for wedding photography I have been confident of shooting an entire wedding with it, but also dreading letting go of the reach and comfort of my DSLR thus the reason for usually using them both. But at this wedding it was fuji all the way, and I am really pleased with the results. There were times I wished for more reach, faster focus and an optical viewfinder but being limited to one focal length and travelling light allowed my creativity to come through, I have to move much closer to people to fill the frame and compensate for the slightly sluggish autofocus of the XE1……..
See more pictures on www.colinnichollsphotography.com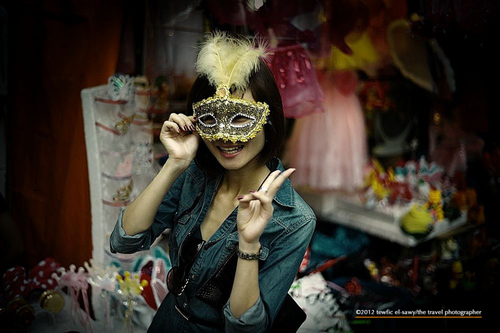 This is gallery of photographs made with a Fuji X Pro-1 and a Fujinon 18mm, and a Leica M9 with a Elmarit 28mm a few days before Hanoi's Tết Trung Thu festival (also known as the Mid-Autumn Festival). Traditionally, the festival celebrated harvest and is held on the 15th day of the eighth month in the Chinese calendar. In recent years, it's an occasion for young women (and men) to walk the streets of Hanoi's Old Quarter to show off new clothes, and to wear over-sized fake eyeglasses, and Minnie Mouse ears or antlers on their heads. The young women parading the street were very keen to be photographed, and seeing my cameras, asked to be photographed…making the 'V' sign and tilting their heads. I was told the 'V' sign denotes positivity, and is widely spread a gesture amongst the Asian youth that says "I feel happy, and life is good." …
See more pictures on thestreetleica.wordpress.com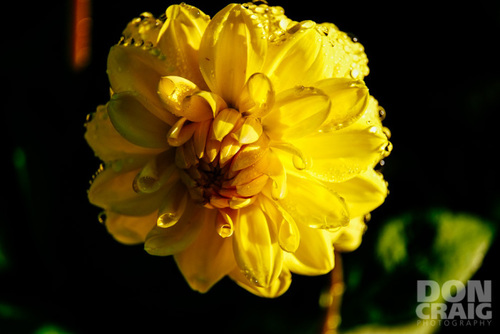 As great as the Fujifilm X-cameras and Fujinon XF lens are for my personal and freelance photography, I also try to use them for my day job. I shoot for a living, as a photographer for the government of British Columbia. At work, I have a couple of full-frame DSLRs with fast zooms (24-70mm and 70-200mm). I use them when appropriate, but in most cases, I would prefer to use my X-cameras and XF lenses. One situation that has always required the use of the DSLRs has been shooting indoor events, like conferences, which require a fast, long zoom. In these circumstances, I will carry my X-Pro1 with the XF35mm lens and a DSLR with a 70-200mm f2.8 lens. This past week, I was shooting a four day conference in Vancouver and I was able to leave the DSLRs back at the office. I used only my X100s and XP1 with a variety of lenses. The missing lens that allowed me to do this was the Fujinon XF55-200mm zoom, which Fujifilm Canada loaned to me to test. Based upon other reviews of the lens, I believed that I could make it work for me, but I did have reservations about the variable maximum aperture of f3.5-4.8. So, how did it go shooting for a week with this long zoom? ……
See on doncraigphoto.com

---
Fujifilm Fujinon XF55-200mm F3.5-4.8
Do you love my work and want to support me? If you're planning on buying camera gear, you can check out above-noted links. Prices remain the same for you, but a small percentage of your purchase value is valued back to me. Thank you!
---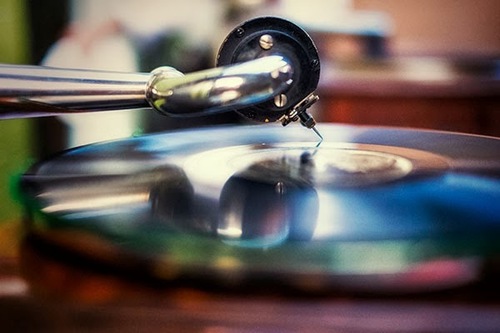 The traditional method of shooting close-up photographs is with a macro lens mounted on the camera, and, no doubt about it, this method provides the highest image quality when this is what is required. True macro lenses focus from infinity down to a 1:1 reproduction and are noted for their high resolution and lack of distortion. Fuji has a 60mm macro in its line up of lenses and Zeiss is planning to add a 50mm to the mix shortly. For precision macro work, this would be the way to go. Sometimes, however, I like to break the mold and move into some more innovative ways of shooting close-ups. The procedure is simple, but the results can often be visually interesting and, for me, more exciting creatively. The first part of my equation is to use a very fast aperture lens, usually a normal of portrait focal length, although sometimes I have used an extremely long telephoto for even more dramatic effects. I use the lens wide open, typically at f/1.4. Used in close at this aperture the lens is going to produce an exceptionally shallow depth of field…..
I work in an Animation and Illustration studio in London. Our building is currently at the start of a big refurbishment project. Our company has been in the building for 17 years and this is the first time it will have been properly updated. I got into the office before anyone else this morning so wondered around with my camera and took some shots to document the changes that are starting to happen. There are all sorts of things piled up, from artist materials to old computers. Some of which to go into storage, the rest waiting to be collected and thrown out or recycled. As furniture gets dismantled and electrical wires ripped out, it all makes for some interesting photos. I hope to document the progress the building work takes….
See more pictures on samburtonphoto.com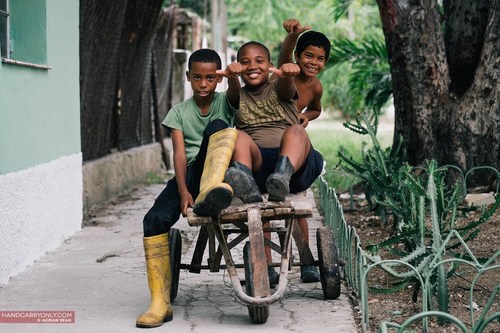 You would think that all the years of international isolation, economic sanctions and general hardship would have exacted a devastating toll on the people on the island of Cuba. That they would be angry, hostile and bitter with Americans and the outside world in general, seen as more or less responsible for making life harder than it already is, severely limited purchasing choices for everyday items and inflated prices.

You could not be further from the truth.

Cubans are an extremely hardy bunch, and a people determined to make the proverbial lemon aid from the over abundance of lemons being hurled at them. The seem to be to be determined to enjoy life, and make do with what they have. In the absence of a proliferation of mobile phones and first world gadgets, the art of conversation is still very much alive in Cuba. Everywhere you look, instead of people intently staring away at their mobile devices, as is common in so much of the rest of the world, people linger, make eye contact, and talk. A lot. Neighbours talking to neighbours, vendors talking to customers, fathers talking to sons, sons talking to uncles, brothers talking to sisters. In short, everyone was talking to everyone else, even to us. Hailing from a country where kids text each other from across the table, I cannot tell you how refreshing this is. Despite our barely functional Spanish language ability, it was still highly fulfilling being a part of so many conversations with so many Cubanos. It shed light on how they live their lives (as best as they can with limited resources), what they thought of the rest of the world (come and see beautiful Cuba!) and their vision of Cuba to come (changes, albeit poco un poco)……
See on handcarryonly.com