Fuji X-Pro1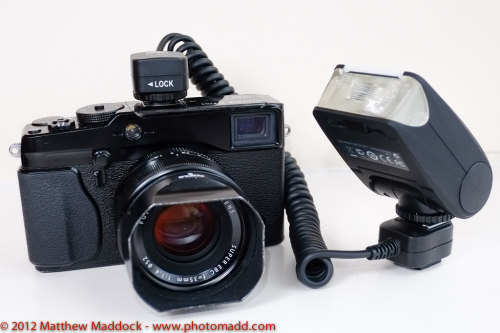 I've been trying to figure out how to get my flash off-camera on my X-Series cameras but still retain TTL function for a while now. I've asked around everywhere but either nobody knows, or nobody seems to agree how to get it done. Fuji don't produce a TTL flash cable themselves, and there are no 3rd party solutions either for the Fujifilm X-Series cameras. I have a radio flash sync system, which is fine when I'm taking photos in a studio type situation where TTL metering doesn't matter, but I wanted something to get the flash off the camera when I was out and about, an easy TTL solution that meant I didn't have to try too hard for quick snaps. Sometimes by the time you've got the flash power right the moment has gone. I've been using the EF-20 and EFX-20 flashes with the X100 off-camera by activating the on-camera flash and firing the EFX-20 flash as a slave (the EF-20 doesn't have a slave mode). This works well in many situations but has a few disadvantages. Firstly, you might not want the on-camera flash to fire – you may only want light from your main flash. Secondly, it's not always 100% reliable, and finally, it doesn't work on the X-Pro1 as it doesn't have an on-board flash!
I've been doing a lot of work improving my flash techniques recently (a long post will be coming up about that soon) and really wanted this sorted out so I decided to take matters into my own hands! I tried out a supposedly universal cable in-store that said it worked with Nikon, Canon and Fujifilm, but it didn't work at all. I wondered if one of the cables from another main manufacturer would work on the X-Series cameras. The two candidates being Nikon and Canon of course. Given the historic connection Fuji had with Nikon producing the S2 and S5 DSLRs I thought that a Nikon lead would be the obvious choice, but having had a look at the two, the connection pin placements on the Canon cables seemed to match better with the pins on the Fuji hot-shoe. With the genuine Canon cables around £50 I just couldn't justify buying one on the off-chance that it worked, but after a search around I found a 3rd party Canon compatible cable by Pixel on Amazon at £16.99 – at that price it was worth a shot! This is the cable I bought – Pixel FC311/s Compact TTL Sync Cord for Canon….

See on www.photomadd.com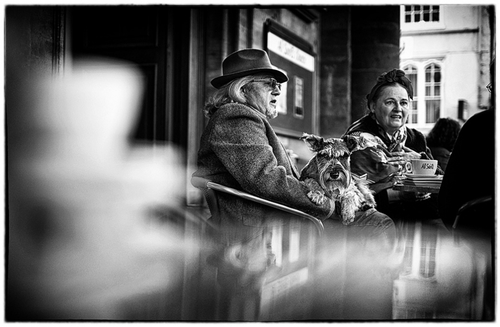 A couple of weeks back I had a Saturday off (I don't get many) and had the choice of going shopping or getting out with my camera, the shopping trip almost won but I didn't fancy leaving my cameras to collect dust so I signed myself up to an event called the Worldwide Photo Walk. I soon discovered this didn't actually involve walking around the world or even going on a trip anywhere more exotic than Northampton town centre. The Worldwide Photo Walk is organised each year by Scott Kelby and encourages photographers to meet up and do some street photography, events take place on the same day at many locations around the world with a prize for the winner of each walk and a prize for the overall winner. I'm not really into competitions but did fancy some street photography. The day came and I met up with 20 photographers for a coffee in the middle of Northampton and was handed a route map, looking around I noticed everyone had brought along a DSLR and I had just my Fuji X-Pro1 and a single lens which in my opinion is an excellent camera for street photography as it's small, discreet and importantly for me is not a heavy brick like most DSLR cameras.
So off I went for two hours looking for something a little different. In the end the best photograph from the day was one I took while sat in the cafe drinking coffee, I love the family resemblance between the dog and his owner. The photograph was taken on a Fuji X-Pro1 with Fujinon 35mm F1.4 lens. The photograph has won the Northamptonshire heat of the Worldwide Photo Walk and will now go through to the worldwide competition.

See on www.weddingphotojournalist.co.uk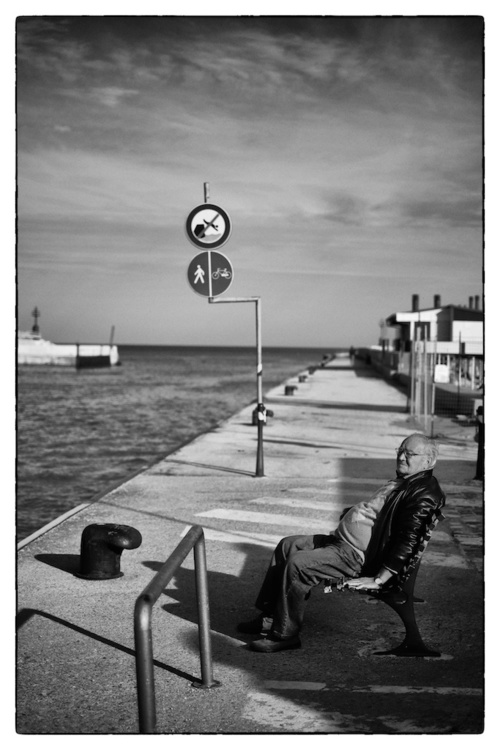 Ecco qualche scatto dalla Fuji x-pro1 convertito in B&N con Nik Silver Efex Pro 2.
See on www.gabrielenastro.com

Most people think the digital cameras histogram only shows you your exposure. Few realize that it can also tell you a lot about image quality. Some of you may have heard the saying: "Exposing to the right" But what does it really mean? If I told you that the histogram was a graphical representation of your digital cameras sensor and the distribution of tones in an image you would probably reply ………"Well So What!" But if I told you you that, by understanding how it works, you could possibly increase the image quality of your
picture by another 10-20% then that might surprize you! Digital cameras can't see as well as the human eye. Where you and I can see up to 16 stops of light and shade,Black & White film can see around 11 stops (see diag. below), but the digital cameras censor, (like slide film) can only see around 5 stops. Even if this number increases as technology advances, the theory behind how to expose an image, based on the histogram is still sound. What you must first understand is, the histogram is divided up into five bands of equal width. So you could suggest that each band represents one stop of dynamic range. If these bands all recorded the same amount of information, then life might be a lot simpler, but they don't! Instead 50% of the tonal values are recoded in the brightest stop of the histogram. (zone VII on our diagram) half as many in the second stop and so on. With most digital cameras recording RAW images in 12 bit, this gives us 4096 potential tonal values in an image. If 50% are in the brightest stop, that = 2048 tonal values. In Zone VI the are 1024, Zone V = 512 Zone IV = 256 and Zone III only 128……
See on www.my-photo-school.com
Socorro High School, New Mexico. Clock strikes 7pm, the wind dies down, the air is dry and warm from another hot day in the desert. The Warriors football team and the crowd are pumped for Friday Night Lights. The local heroes emerge in appropriate epic gladiator fashion from the locker room under a clear sky. The national anthem silences the crowd in respect before the kick-off ignites the noise and cheering. It is game time. While the hopes and dreams of an entire town may or may not entirely be resting on the shoulders of the Socorro Warriors, the feeling of support and community is strongly present. Twice I had the pleasure of standing on the sidelines of Socorro High School stadium and photograph the warriors. Have been an NFL fan for decades but never attended a live game, these were my first live Football experiences. Friday Night Lights with the Socorro Warriors. It was a perfect first two lives game. Still wanting to see college and NFL games but this was perfect. Being allowed to photograph from the sidelines, seeing and hearing the action up close, players run, block, tackle, smash into each other, feeling the community spirit and support, the coaches calling plays and coaching their heart out, cheer leaders working the crowd, kids looking up to their heroes, smell of popcorn, zebra stribed judges, runs, passes, catches, touchdowns and cries of joy and frustration. First and 10, hut hut. I use my Fuji X-Pro1 and Leica M6 to document the games, not obvious cameras for sports and my range is limited to 50mm – bit this works very much in my favor. I must work and create compositions that work in 50mm, no heavy zooming and speedy DSLR servo drive focus and shooting, have to really fight for the one shot. Must compose, wait, anticipate. One shot. I admit to being quite inspired by David Burnett and his Olympics images. Wandering the sidelines I find elements to use in compositions, anticipate the plays, hope they evolve in the direction of my composition and if not, I wait for the next play. I use high contrasty black and white as it lends a dramatic timeless quality to the players and emphasizes the lights against the black sky, a black sky I very much like. Circling the field I must anticipate plays, fill the frame with action on and off the field. Or sometimes just fill the frame with blackness. It's a struggle, a challenge and it is an exceptional fun shoot.

See on www.flemmingbojensen.com
…. great video :-)))

Made by Sony Australia to debunk the DSLR "Big is better" myth. These are the DSLR clueless – all the gear and no idea. Remind you of someone?

See on www.youtube.com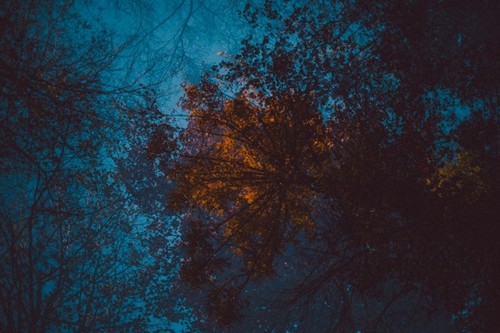 Als ich ein kleines Kind war, haben Bäume eine spezielle Faszination auf mich ausgeübt. Ihre friedvollen, aber auch bedrohlichen Charaktere inspirierten, den ein oder anderen halluzinogenen Fiebertraum. Der Wald als Ort der Stille, mit seinem einmaligen Geruch und der Entwicklung fernab von allen technisiertem, ist für mich ein Gegengewicht zur digitalen Welt. Wenn ich meine Kamera auspacke, werde ich eingesogen. 20 Bilder, entstanden an einem Sonntagnachmittag.
See on www.janfervers.com

I recently got my Fujifilm X-E1 body and was immediately very impressed with the AF speed, as was everyone else who tried it. It appeared snappier than the X-Pro1, but although I knew the X-Pro1 had improved lately with the new v2.0 firmware, I wanted to see if there was actually any difference between the two with the same lens attached. Wilkinson Cameras in Kendal kindly lent me a 2nd 35mm lens for the weekend so I could try out both cameras side-by-side with the same lens. Having the same lens was essential because the AF performance on these cameras depends greatly on the lens attached. I chose the 35mm as I thought that it is probably the lens most people own and use as their primary lens. It's also the middle performer in terms of AF speed so we can get a good comparison out of it. The video of the comparison is posted below. I won't ruin the result for you by telling you here – watch the video and see for yourself! I think most people will be quite surprised by the conclusion.
See on www.photomadd.com
Where I live in Southern California ("The Valley") it's rare that we get really thick fog this far inland…it's even more rare that we get really thick fog this far inland, and I'm not too lazy to wake-up and photograph. So, it was a rare occasion indeed last weekend that I got a chance to capture some images at the park around the corner. I love fog because it creates a clutter-free background with just about anything, which is important to me when I shoot. Early morning is also great at the park because there's a relative lack of people getting in my way. Still, several runners stopped and just stared at me as I photographed, no doubt thinking, "what the hell is he taking a picture of??!" (which is a typical reaction for me). All images are taken with the Fuji X-Pro1 with 35mm lens.
See on jeffseltzerphotography.com
Test of the fujifilm X-pro1. Unfortunately the camera has no full manual mode. So the ISO gets ajusted automatically.
Check www.danielfeidal.com for nice pictures!
See on www.youtube.com