Fuji X-Pro1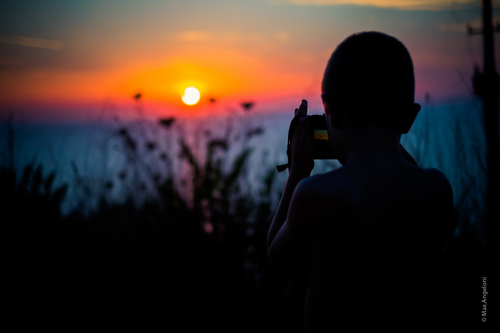 Premessa. Ormai ci siamo lasciati alle spalle il Photokina anche se il tam tam mediatico, pilotato ad arte, aveva già svelato tutto le novità con largo anticipo. Paradossalmente l'anticipare così tanto l'annuncio dei prodotti fotografici fa sembrare gli stessi già vecchi e superati al momento della presentazione ufficiale e roba da archeologia industriale impolverata al momento dell'immissione sul mercato. Così il Photokina non è stata l'illustrazione degli sforzi prodotti dalle varie case produttrici ma l'inizio del nuovo chiacchiericcio sulle future alchimie tecnologiche che verranno durante il prossimo futuro. E allora? E allora io arrivo per ultimo…come sempre. Come sempre perché questo ritmo accelerato con il quale si parla di quello che dovrà avvenire, fa andare tutti di fretta. Una fretta che non va d'accordo con l'analisi di uno mezzo destinato alla fotografia… o almeno… non va d'accordo se l'analisi vuole essere realmente approfondita… comparativa e obiettiva. Quando leggerete queste righe sospese nella rete, probabilmente sarà già vecchia la nuova CSC Fujifilm X-E1… vecchia, ma ancora lungi dall'essere commercializzata ovviamente. E la XPro1? Non lo so… per molti è un oggetto ormai svelato da tempo immemore… per me un piccolo universo così ricco che mi costringe a riscrivere interi capitoli della mia analisi ogni giorno… in ogni momento che scopro qualcosa di nuovo in questo piccolo cristallo pieno di sfaccettature. Ma andiamo con ordine. Come ho più volte scritto il feeling tra me e le CSC (Compact System Camera) non era mai scattato. Vuoi per i sensori che per dimensioni non consentono né di avere la resa degli obiettivi dei formati maggiori, né la miniaturizzazione delle ottiche delle compatte. Vuoi perché se il sensore è di generose dimensioni il corredo ottiche è scadente…deludente e inappropriato. Vuoi perché una volta manca il mirino, vuoi perché una volta i corpi sono troppo grandi, vuoi perché una volta sono troppo piccoli ma io non le ho mai digerite…..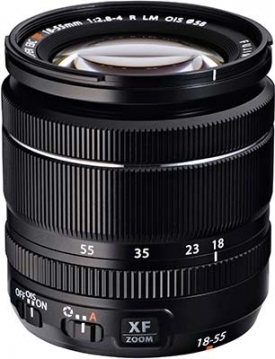 The Fujifilm XF 18-55mm F2.8-4 R LM OIS is much more than just a standard kit lens. It's remarkably sharp in the image centre almost throughout the entire focal range, except at full 55mm telephoto where optimum sharpness isn't achieved until f/8. Similarly edge sharpness is also commendably high at most settings, with the same exception of the 55mm focal length. The fast maximum apertures of f/2.8 at 18mm and f/4 at 55mm make it easy to creatively throw the background out of focus, with the seven-blade iris diaphragm achieving some appealing bokeh effects. Vignetting is practically a non-issue, and chromatic aberrations are present but very well-controlled. There is some barreling at the 18mm wide-angle focal length, but no pincushion distortion of note at the 55mm setting. The lens' macro performance is rather unremarkable but its close-focus point of 30cm still comes in handy when including a foreground interest in the image, as you often do in landscape and architectural photography. The lens also benefits from a fast and quiet auto-focus mechanism, generously wide zoom ring and a welcome aperture ring which makes it quick, easy and precise to set this key element of exposure. The lens mount is, thankfully, made of metal and, thanks to an internal focusing (IF) system, the front element and filter thread does not rotate on focus, which is very good news for those using polarisers and ND grads on a regular basis. The only real fly in the ointment is the price – at around £599 / $799 this isn't exactly a cheap lens, which may hold back many enthusiasts, especially in the current economic climate. Compared to a similarly specced DSLR lens with fast apertures, however, it could be viewed as something of a bargain, especially when you consider that the Fujifilm 18mm and 35mm primes are even more expensive. And if you're looking to buy a body to go with it, then the new X-E1 and 18-55mm kit is a veritable steal.
Ratings (out of 5)
Design: 4.5
Features: 4
Ease-of-use: 4.5
Image Quality: 4.5
Value for money: 4
See on www.photographyblog.com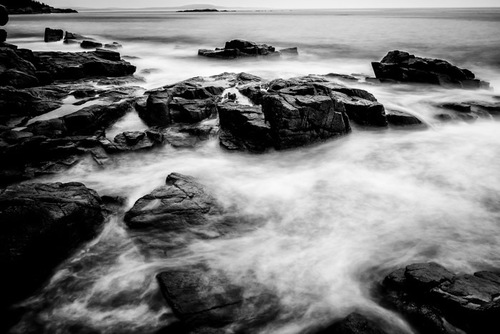 There's a lot of discussion out there about what makes a great landscape camera. This month's Outdoor Photographer magazine has a feature article on which camera to buy. The article touches on a few mirrorless camera examples but they're mostly fixed lens cameras. For whatever reason, given the mirrorless technology that's now available, a full blown, mirror slapping camera body is still considered superior. In the article, the tips they share don't lean towards landscape photography with a mirrorless camera. There's even a story on PetaPixel about photographer Gordon Laing being denied a permit into Antelope Canyon because he had a mirrorless camera. Clearly, mirrorless cameras haven't been embraced yet for what I'll call "heavy lifting" in the landscape photography arena. The mirrorless camera category is a very exciting segment right now. It's a rapidly changing, ever updating segment with a lot of fierce competition and oneupmanship taking place. Whether you like micro 4/3 cameras or something larger with a APS-C sized sensor or even a Leica with its full frame sensor, it all boils down to your needs, pocketbook and the subject matter you want to capture. In my case, I was lugging either a Canon 7D or a 5D Mark II and several associated lenses, along with a tripod, into the field. That kit weighed a lot and I'm not always interested in carrying that much weight on my back. I began to consider mirrorless options when I started carrying a used Fujifilm X100. I fell in love with the camera because of its simplicity of operation and image quality. But it fell seriously short for me as a landscape camera because I wanted the ability to zoom in and out without always relying on my feet to do the zooming. After a lot of research, I settled on a Fujifilm X-Pro1 and its APS-C sensor and the 3 associated prime lenses ranging in focal length from 18mm to 60mm. The combined weight of that kit was significantly lower which made hiking with gear more fun and easier on the knees…..

See on www.fstopguy.com
More than 250 curated reviews since Feb. 2012!
If you are looking for meaningful [wpseo]Fuji X-Pro1[/wpseo] reviews on the web, following my curation here on [wpseo]tomen.de[/wpseo].
Feel free to share this link – wherever you want :-)
See all reviews on http://www.tomen.de/category/fuji-x-pro1/reviews/
or my scoop.it page [wpseo]http://www.scoop.it/t/fuji-x-pro1/[/wpseo]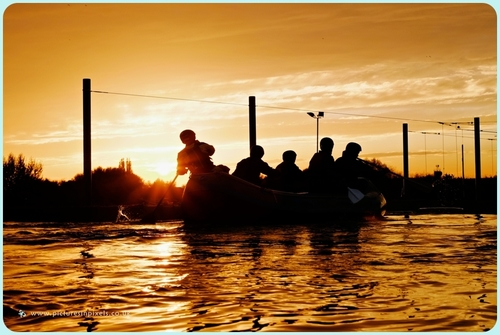 As mentioned in my last blog I recently took delivery of the Fuji X-Pro1 to which impressed me a great deal. For me it's not so much what the camera does (although it helps). To me it's more about how the cameras feels and how much I enjoy using it too.
The Fuji has impressed me a great deal. In my hands it feels great, the build quality and detailing is fantastic. The controls are logically placed, it's an absolute joy to use. In fact this camera has impressed me so much, I made the decision to switch my entire professional set up to Fuji, switching from Nikon. Now I know many fan boys will scoff and that's fine. But at the end of the day I need to have a system I enjoy using that delivers the goods in terms of quality. For me both of those factors come hand in hand when I shoot. My Nikon kit was due for an upgrade and although it served me well, very well in fact. I felt the new offerings didn't offer me what I wanted. As well as that it left me slightly confused as to where Nikon were heading. The Fuji system however offered me everything I was after and in a form factor that was smaller and lighter. Plus they even published a road map to show me their future plans. This alone gave me confidence it was the right choice. So this week all of my Nikon kit was sold and replaced with another Fuji X-Pro1 and an X-E1. Plus the full current lens portfolio. So now I am a full time Fuji Professional and so far loving every minute of it. As I know most people don't read this bit I may as well shut up now and stick some pictures below.

See on www.picturesinpixels.co.uk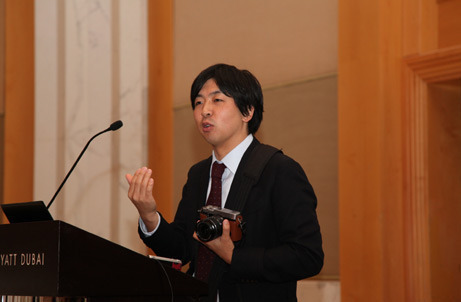 Photo: Keitaro So, General Manager, Fujifilm Electronics Imaging Division

Fujifilm, a specialist in cameras and imaging technology, has launched the exclusive X-Series Club in an effort to bring together passionate photographers in the UAE. The X-Series club concept was developed for Fujifilm's social media page fans across Facebook and Twitter, who found the need for such a platform and use models from the acclaimed Fujifilm X-Series: X100, X10, X-S1 and X-Pro1. The club promises members a wide variety of activities ranging from photography workshops and community events to enjoyable experiments with the X-Series models in adventurous settings. The first X-Series Club activity called the '7 Avatars of UAE' will take members to the seven Emirates over the next seven months. Each month, club members will find themselves in a different Emirate where they can capture the regions essence.
Every trip promises to show participants an array of culture, heritage, architecture, the desert, the sea and nature's beauty in different forms. These visits will be an exhilarating journey with like-minded people. "The X-Series is a very special range for Fujifilm, made with groundbreaking technology and embodied in a traditional chassis of ergonomic perfection to capture precious moments. The X-Series Club has been conceptualized to involve and educate our customers in the UAE and moreover is a token of our appreciation to their great response," said Keitaro So, General Manager, Fujifilm Electronics Imaging Division, MENA. He added, "The X-Series Club is our way of engaging photographers and providing a great platform to develop their skills. The '7 Avatars of UAE' event, which is exclusively for the Fujifilm X-Series Club members, will showcase the different facets of the UAE in various perspectives. We are sure that members will have a great experience and will relish the opportunity to enjoy their photography along with networking with fellow enthusiasts." Middle East business and financial news, directory and current events. AME Info provides constant business and news updates.

See on www.ameinfo.com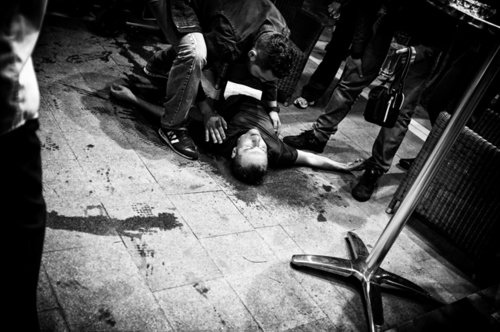 I'm proud to announce the launch of The Kage Collective (pronounced Kaji), a project I'm involved in with fellow photographers Patrick LaRoque (Canada), Paul Pride (England, UK) and Robert Catto (Australia), with me (Derek Clark Scotland, UK).
As you will see from the Kage Collective website, we are a group of international photographers shooting documentary projects about a wide variety of subjects. The one common thread that runs through the project and the thing that not only brought us together, but also binds us, is that we shoot with the Fujifilm X series cameras. At the moment the X100, X-Pro1 and X-E1 are the models being used by the collective, but I'm sure other models will become available to us, and of course we can't wait to get our hands on the new XF lenses as they come available. Kage Collective has been simmering away in the background for a few months, taking shape and getting refined ready for todays launch. It's been difficult not to let it slip a few times, especially on Twitter. I'm excited and thrilled to be a part of this collective and couldn't wish for a better group of photographers to collaborate with. To say we're on the same wavelength would be an understatement! So please take a look at the brand new Kage Collective website (built by our very own Patrick LaRoque) and have a look at our launch stories. The site will be updated regularly and will definitely give us all a bit of pressure to go out with our Fuji X cameras and document life as we see it!
See more on www.derekclarkphotography.com
The difference could not be more stark, after 2 months of being surrounded largely by nature, mountains, forests, the ocean, deserts and mostly small towns, I find myself thrust into the third largest city on the planet, São Paulo. Where there was the silence of the night, occasionally punctuated by animal sounds, now police sirens and the low mechanical drone of twenty four hour traffic are omnipresent. Where there used to be mile after mile of arid bush, now people fill every square inch of available space, all going about their separate chores. This was supposed to be familiar territory for me, having grown up in Singapore and living in London, but someone, it seems strangely alien, perhaps what the prodigal son might have felt when he first arrived home, a sort of reverse culture shock perhaps. I know my mind will switch modes to accomodate The City but for now, the African bush is a temptress in my head.
Adrian Seah:
I left my job as an advertising Creative Director in August 2012 to travel Africa and South America for a year with my wife, documenting these beautiful places with my Fuji X-Pro1.
See on handcarryonly.com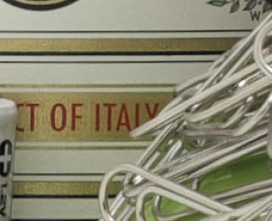 Well, I wasn't expecting to come back to the topic of Fuji, the X-Pro1 and its X-Trans sensor. However, I have been putting a lot of work into the suppression of artifacts when demosaicing. A lot more work than I had intended to, but that's another story. This is for a new product that I hope to release in a few weeks time (several months later than I'd hoped). But I did stumble into a better understanding of the nature of the chroma smearing (or watercolor effect, as it has also become known). The previous posts about Demosaicing the Fuji X-Pro1 are here, here and here. In previous posts, I compared renderings from Adobe Camera Raw, SILKYPIX and Fuji's in-camera JPEG processing, as well as DCRAW and RPP. Finally, I compared those renderings to renderings from PhotoRaw, both in its "retail" configuration, and in modified form with post demosiac filtering. Practically, DCRAW and RPP were pretty much outclassed — they use VNG algorithms that generate substantial zipper effects. In post three, I hypothesized that the chroma smearing effect that you see very visibly in the ACR conversion, and to a lesser extent in the SILKYPIX conversion, was due to filtering, possibly mean filtering post demosaic. I now think that I was probably wrong, or at least partially wrong – the effect is due to filtering, but not mean filtering post demosaic. Rather, it's as a result of filtering during the demosaic process itself…..
See more on chromasoft.blogspot.fr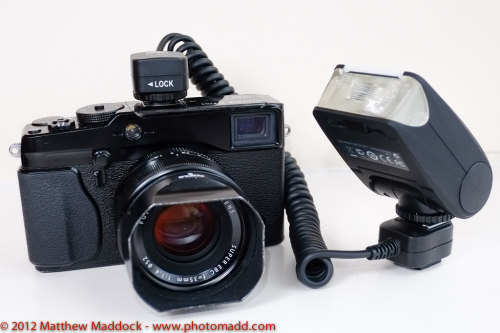 I've been trying to figure out how to get my flash off-camera on my X-Series cameras but still retain TTL function for a while now. I've asked around everywhere but either nobody knows, or nobody seems to agree how to get it done. Fuji don't produce a TTL flash cable themselves, and there are no 3rd party solutions either for the Fujifilm X-Series cameras. I have a radio flash sync system, which is fine when I'm taking photos in a studio type situation where TTL metering doesn't matter, but I wanted something to get the flash off the camera when I was out and about, an easy TTL solution that meant I didn't have to try too hard for quick snaps. Sometimes by the time you've got the flash power right the moment has gone. I've been using the EF-20 and EFX-20 flashes with the X100 off-camera by activating the on-camera flash and firing the EFX-20 flash as a slave (the EF-20 doesn't have a slave mode). This works well in many situations but has a few disadvantages. Firstly, you might not want the on-camera flash to fire – you may only want light from your main flash. Secondly, it's not always 100% reliable, and finally, it doesn't work on the X-Pro1 as it doesn't have an on-board flash!
I've been doing a lot of work improving my flash techniques recently (a long post will be coming up about that soon) and really wanted this sorted out so I decided to take matters into my own hands! I tried out a supposedly universal cable in-store that said it worked with Nikon, Canon and Fujifilm, but it didn't work at all. I wondered if one of the cables from another main manufacturer would work on the X-Series cameras. The two candidates being Nikon and Canon of course. Given the historic connection Fuji had with Nikon producing the S2 and S5 DSLRs I thought that a Nikon lead would be the obvious choice, but having had a look at the two, the connection pin placements on the Canon cables seemed to match better with the pins on the Fuji hot-shoe. With the genuine Canon cables around £50 I just couldn't justify buying one on the off-chance that it worked, but after a search around I found a 3rd party Canon compatible cable by Pixel on Amazon at £16.99 – at that price it was worth a shot! This is the cable I bought – Pixel FC311/s Compact TTL Sync Cord for Canon….

See on www.photomadd.com