Fuji X-Pro1
I didn't have a videographer for today's shoot but I captured some clips during the shoot and shot a little intro, just to show you my set up for the shoot. Hope you enjoy !

See on www.youtube.com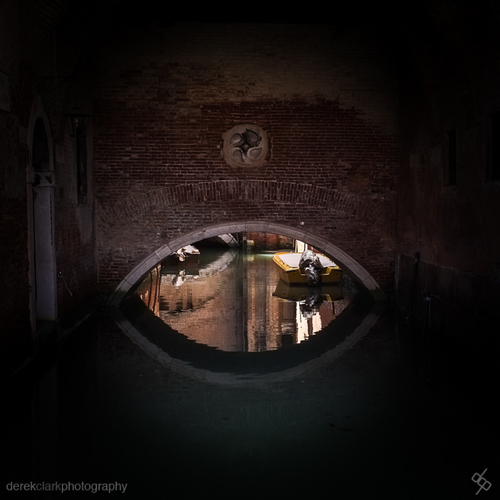 This post is just about showing a few shots from Italy. I have hundreds sitting on my hard drive, so I thought it would be a good idea to throw a few up here. These shots are from Verona, Venice, and Jesolo. They were all taken with either the Fuji X100 with it's built in 23mm f2 lens or the X-Pro1 with the 18mm f2. I'll note which is which at the bottom of the post.
See more pictures on www.derekclarkphotography.com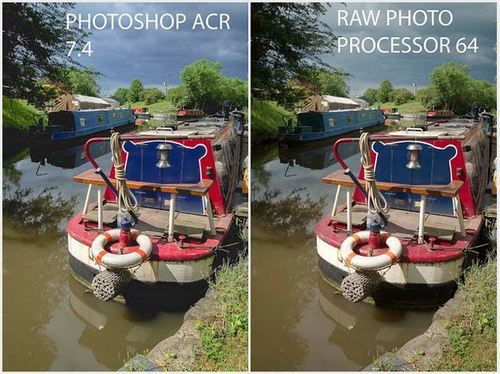 I've done a comparison on a Fuji X-Pro 1 file using The new Photoshop ACR 7.4 and Raw Photo Processor 64, the excellent Mac platform raw converter. Different software but I processed each with no sharpening added and only added a slight amount in Photoshop later. I used the same values for each file. Click on the link for the full-size high-res file. As many who have tried the new ACR are saying, the files are slightly softer than they were before, but unlike the previous ACR conversion, it is now possible to add sharpening to these X-Trans files without creating unpleasant artefacts. RPP still produces slightly sharper results to my eyes, but there isn't a lot in it.
After waiting a long time to see this, I spent yesterday working on some X-Pro 1 files and it was pleasing to see the results. I have been so frustrated by the fact that I knew that there was more in the files, but was unable to get to it. RPP is great and I recommend it, but Photoshop is the cornerstone of my processing workflow and I know it well and how to get what I want from it. So for any camera I use, proper support is essential. It is now finally available.
So what went on? Was this a spat between Fuji and Adobe? Did Adobe just take their time to get round to this? We will never know the whole story, but it has been a long wait. As you know I baled out on the X-Pro 1 early when it looked like there wasn't going to be decent ACR support and I've had lots of files sitting on my hard drives that I haven't done much with, since I wasn't keen to upload what I considered to be sub-standard versions to my picture libraries. I can now get some really nice files from my original raws and they do have a different 'look' to conventional bayer sensor files.  With the ACR conversions and indeed with the RPP ones as well, there isn't that classic non-AA filter look. But then with the different sensor array I'm not sure that there would be. What is extraordinary is the ability to produce 'clean' files at high(er) ISO's. I believe it would be perfectly feasible to shoot high-quality landscape at ISO 400 and even ISO 800 with an x-trans sensor and I'm seeing a 2-stop improvement in noise levels over virtually everything else I use. This has all sorts of advantages in terms of narrower apertures and higher shutter speeds when shooting in good light, which for what I do is a good thing.
I've been very critical of this whole raw conversion saga and indeed seem to have developed somewhat of a reputation as a 'Fuji basher', but my only concern was to see a realisation of the FULL potential of these files. We do now have that and I'm glad to become a Fuji X-Trans enthusiast at long last. But lets be honest, its been a long and unnecessary wait and thats not really good enough.  For those who had the patience to stick with it, welcome to your new camera!
See on soundimageplus.blogspot.fr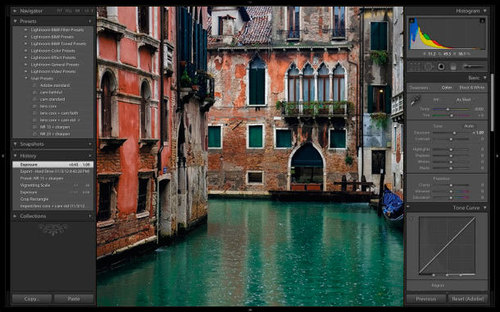 Lightroom 4.4 Release Candidate includes a correction to the demosaic algorithms for Fujifilm cameras with the X-Trans sensor.
This specifically impacts the following cameras:
Fujifilm X-Pro1
Fujifilm X-E1
Fujifilm X100S
Fujifilm X20
New Camera Support
The following new cameras are now supported:
Canon EOS 1D C
Casio Exilim EX-ZR700
Fujifilm X100s
Fujifilm X20
Hasselblad Lunar
Leica M
Nikon 1 V3
Nikon 1 S1
Pentax MX-1
New Lens Profile Support:
Canon 24-70 f/4L IS
Sigma 18-250mm F3.5-6.3 DC MACRO HSM
Sigma APO MACRO 180mm F2.8 EX DG OS HSM
Sigma 35mm F1.4 DG HSM A012
Sigma 17-70mm F2.8-4 DC MACRO OS HSM C013
Fixed Issues
The following issues have been fixed in Lightroom 4.4 release candidate:
The crop overlay tool resized incorrectly when used in conjunction with the "Constrain to Crop" checkbox in the Lens Correction panel
Background graphics were not correctly rendered within the Book Module
The supplied lens profile for the Sony RX-1 did not contain vignette information
Previews of photos in portrait orientation were blurry when viewed in the filmstrip in the Develop module. (Mac only)
Stack badges displayed the wrong count when creating new stack that included a preexisting stack.
The Filter scrollbar within the Library module was not rendering properly.
See on labs.adobe.com
Camera Raw 7.4 Release Candidate includes a correction to the demosaic algorithms for Fujifilm cameras with the X-Trans sensor.
This specifically impacts the following cameras:
Fujifilm X-Pro1
Fujifilm X-E1
Fujifilm X100S
Fujifilm X20
New Camera Support:
The following new cameras are now supported:
Canon EOS 1D
Casio Exilim EX-ZR700
Fujifilm X100s
Fujifilm X20
Hasselblad Lunar
Leica M
Nikon 1 V3
Nikon 1 S1
Pentax MX-1
New Lens Profile Support:
Canon 24-70 f/4L IS – Canon
Sigma 18-250mm F3.5-6.3 DC MACRO HSM -  Sony, Pentax
Sigma APO MACRO 180mm F2.8 EX DG OS HSM – Sony
Sigma 35mm F1.4 DG HSM A012 – Canon, Sigma, Nikon
Sigma 17-70mm F2.8-4 DC MACRO OS HSM C013 – Canon, Sigma
Fixed Issues:
The following issues have been fixed in Camera Raw 7.4 release candidate:
The grayscale visualization associated with Noise Reduction Luminance was visible after mouse release.  This occurred when positive Clarity was present.
The command/control + A "select all" keyboard shortcut did not select all photos.
Modifying the brush size using the Right-click + Drag method did not increase or decrease the brush size by the desired amount.
The crop overlay tool resized incorrectly when used in conjunction with the "Constrain to Crop" checkbox in the Lens Correction panel.
Hovering the mouse over a local adjustment pin would turn off the desired mask.
Horizontal artifacts occasionally appeared in DNG files.
Improved interactive performance at intermediate zoom levels (e.g., 33% and 66%)
See on labs.adobe.com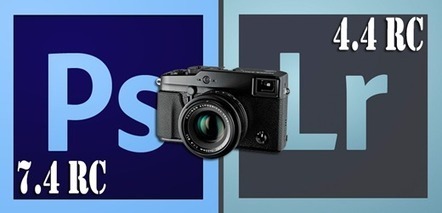 With the posting of ACR 7.4 and Lightroom 7.4 'release candidates' (RC), Adobe has updated its raw processing algorithms for Fujifilm's X-Trans sensor cameras, the X-Pro1, X-E1, X100s and X20. This move comes in response to months of online user requests for improved raw processing of the X-Pro1, Fujifilm's flagship mirrorless interchangeable lens model. It is rare that Adobe's Camera Raw team revisits its demosaicing process for previously supported cameras, so we were excited to try out this latest version with some X-Pro1 raw files and compare results to the previous version of ACR, Capture One Pro 7 and Fujifilm's own in-camera conversion. To provide some context, the vast majority of digital cameras ever made perceive color using what's known as a Bayer Color Filter Array, named after the late Kodak engineer Bryce Bayer. For its recent cameras, Fujifilm has developed its own color filter array pattern, which it calls X-Trans. The idea behind X-Trans is that its pattern repeats less often than the Bayer pattern, rendering redundant the low-pass filter that usually protects against moiré. The disadvantage of creating a non-standard color filter array (especially one that took two years to develop the demosaicing algorithm for), is that third-party software makers have to do a lot more work to provide Raw support. Adobe was one of the first third-party software makers to provide Raw support for the Fujifilm X-Pro1, but the results often fell short of the standard set by the camera's own JPEG engine, in terms of rendering fine detail. So let's see what changes Adobe has made…..
Summary:
While it's important to recognize that ACR 7.3 and earlier was certainly very usable for many types of X-Pro1 images – especially if they weren't subjected to 100% view scrutiny – there's no question that with the 7.4 release candidate, Adobe has substantially improved their raw processing for the camera's X-Trans sensor. Our hats are off to Adobe for committing the not-insignificant resources necessary to improve support for X-Trans sensor cameras with relatively limited market share. The results speak for themselves and we feel confident in saying that ACR 7.4 RC is the update that X-Pro1 users have long been waiting for. Default settings offer a useful comparison of a raw engine's demosaicing capabilities but of course you'll want to tweak these parameters to get the most out of any raw file. In re-processing dozens of X-Pro1 images with ACR 7.4 we found that they all benefited from slightly more aggressive than usual sharpening, with a higher radius value than we'd typically use. You can download the original Raw files below to try your hand with your own settings in the raw processor of your choice. Share your findings with the community in the comments section. We'd love to hear what works best for you.
See on www.dpreview.com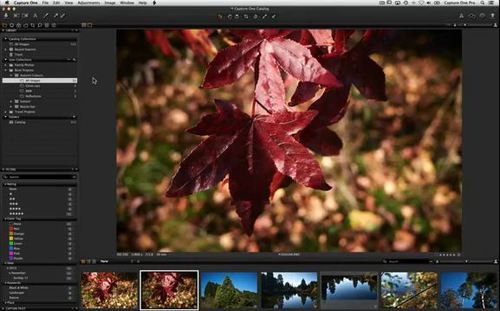 Capture One Express 7 offers dedicated photographers a revolution in image quality. You get precise colors and incredible detail from tailor-made camera profiles that bring out the best in your camera. It is a powerful tool containing flexible photo management, essential adjustment tools and fast performance in one integrated package.
Capture One Express Released with X support.  1/3 the price of Pro!
Thx to Dave Jones for suggestion :-)

Introduction to Capture One Express 7 | Phase One



See on www.phaseone.com
I was watching the sky last week out of a bedroom window, a storm had just cleared, I watched and took images of it over half an hour or so. Given the restriction on my viewpoint I wanted to see what sort of images i would get over a few days. It was quite challenging, but spending the same amount of time at the window at around the same time of day, made me think quite alot about other people who have a restricted view on the world. Makes you think? All the images were shot with a Fuji X pro 1 and a zuiko 100mm f2.8 lens. The images were all shot as jpegs. The fuji produces such wonderful colour, its very accurate and shows the scene exactly as i saw it. This camera continues to suprise me everyday. So much so in fact that the Nikons are getting very dusty.
See more pictures on www.thebigpicturegallery.com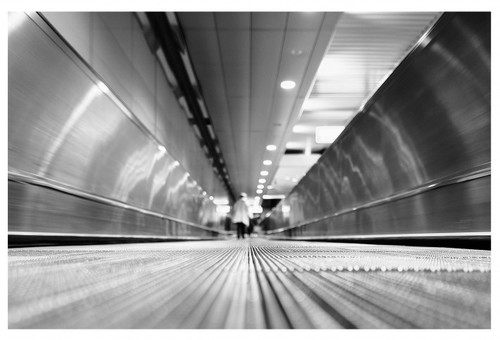 London photographer Dave Kai-Piper, who is an one of the more active members of the Fstoppers Facebook group took off to explore the United States this summer with his Fuji X-Pro1. He traveled super light on his journey and rarely used anything more than natural light to journal his expedition. I love his series that he has slowly been revealing through our FB group so I caught up with him over chat to share some of his work with you guys. Click the jump for photos and a word from Dave. Enjoy!

From DKP:

"The shot in the subway is particularly fun. Shot under under Times Square NYC, this just uses the natural light from the Subway. Being able to really open up the lens to 1.4 /2.8 can really help you work with available light, Playing about with your white balance can also help at times to create interesting lighting. As I think over the gallery, 90% of the images are shot just with natural light. I guess this is mostly due to the shooting style of the X-Pro 1. Most of the time when I am travelling, there is just no time to set up lights or space to carry them. Also, I found that it is quite refreshing to just leave all the kit behind and travel super light. The photograph of Stephanie in the swimming pool was shot using some fill light from an Orbis ringflash. Using the same set up as the cover shot for Photo Professional last year, most of the shot is natural light with a tiny amount of fill being provided from the flash. Having the extra light from the flash does help add a little gloss and shine also….
See more pictures on fstoppers.com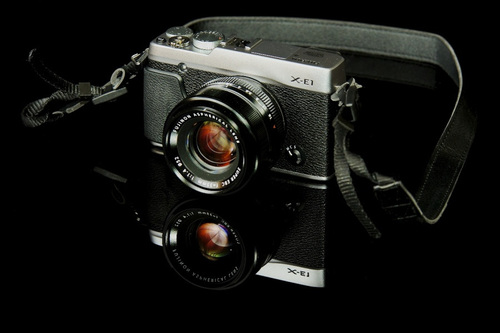 A few weeks ago I saw a blog post tutorial that showed how to create black background with a reflective photo effect using a clear plate of glass and a black sheet.  The simple method was to put your subject on the glass, put the black sheet behind them both, shoot slightly from above, and when the flash light hit everything it would turn the clear glass into a reflective element that appeared solid black as it reflected both the subject and the black sheet behind it. The problem was I don't have any panes of glass lying around. I was thinking of going to a glazier to get a small piece made for me so I could try this but as I googled around I discovered another option: black plexiglass acrylic sheets.  I was able to buy a 24″ x 48″ sheet that is 1/4 inch thick for $44, and I don't think I could get a piece of glass that size for that little, and this weighs less. It arrived last week and I played with it last weekend, and was rather pleased with the results. I still used a black sheet in the background to minimize the chance that additional reflections would interfere with the clean surface. I had one Speedlight on a stand shooting through an umbrella, and metered using TTL auto settings. I had my camera on Aperture priority so I could control depth of field, and even at f/11 I see that it's probably not broad enough to get the entire subject in focus so when I go back to this method I will adjust. Depending on the subject, I found that I would need to adjust the TTL metering sometimes within the range of +1.= to -1.0, but an even 0.0 usually came out right. The biggest issue was dust. If you try doing this I highly recommend getting a good dust cloth. The plastic company also recommend a specific cleaning agent I will look into. But don't ignore that your subject will also have dust on it. In the shot above I was able to make most of the dust that accumulated on the plastic surface  disappear using a simple black brush in Photoshop, but removing dust spots from the subject is harder – I managed to get about half of the but cannot do much about the rest. I would recommend carefully cleaning everything before you start, and several times along the way on a long shoot. As I look at the images I took over the course of maybe an hour, there is visibly more dust on the plastic at the end of the session than there was at the beginning.  Unless you are doing your shoot in a technological Clean Room where they make computer chips or something similar, I think it is likely that having a dust fee surface when you start will be no guarantor of a dust free surface when you are done. Finally, my subject above is my fairly new Fujifilm X-E1, which is an absolutely gorgeous camera. Here it is sporting the 35mm f/1.4 Prime Lens and original strap. I recently sold my Micro Four-Thirds Gear to switch over to the Fuji system.  Explaining that decision would require doubling the length of this post, so I will defer it to another day, but for now I'll just make it clear that I still love the Micro 4/3s system and note that it could very well be the right solution for you….
See more pictures on toomuchglass.net