Fuji X-Pro1
Here the elements speak. Art and Matter combined — fiber artist and silversmith. Each one speaking in a voice of passion, precision and intensity; their gestures delicate, precious, attentive and rooted in technical mastery. When the Art of Aubusson tapestry  encounters traditional cutlery… The resulting creations are nothing less than astonishing. This is a world of contrasts, from the soft and quiet whispers of the loom to the fiery depths of the forge. It echoes the surrounding countryside and its dense forests where the sun can rip through the undergrowth in one sharp, blinding fury. Surrounded by tens of coloured balls of twine, Marie-Armelle works patiently, repeating century-old gestures recognized as part of the UNESCO World Heritage. Each and every new piece of Aubusson tapestry destined to grace a knife. From the small room where she toils you can hear the clanging of the hammer falling on the anvil, the old bellows awakening the soul locked inside the metal… This is where David conquers the elements, hours upon hours spent hammering the blades, cutting, sharpening, sanding, polishing… I'd like to invite you here, to spend a few hours or a few days in the heart of La Creuse. To breathe, to smell, to observe and listen. To discover the authenticity of two artisans, two unique savoir-faire's — borne of tradition and modernity……..
Source: www.kagecollective.com
David Kingham is a landscape photographer with years of experience and a known track record of going great lengths to capture spectacular landscapes. He is constantly searching for the ideal camera and lens combo to facilitate longer travel with more energy when he arrives. Find out how Fuji's new mirror-less line of cameras and interchangeable X-mount lenses tested for his needs. As a landscape photographer that hikes a considerable amount I am always looking for ways to lighten my load on and off the trail. After switching to full frame DSLRs years ago, I had never considered the Fuji system due to the cropped (APS-C) sensor. Despite being convinced I'd never go back to a crop sensors, I couldn't help my curiosity after hearing so many great reviews coming from Fuji converts. Borrowlenses.com was kind enough to send me the following bodies and lenses to review……
Source: www.borrowlenses.com
Le salaryman
Au Japon, ou plutôt à Tokyo on s'habille en costume noir pour aller travailler dans son entreprise. Ces hommes ont des horaires assez difficiles, debout très tôt et au lit très tard.
Série
Une série un peu contrastée ( au Japon il y a Moriyama donc ça peu passer ) sur mes rencontres de la journée.
Matériel
Toutes les photos ont été prises avec le Fuji X-Pro 1 comme objectifs j'ai utilisé le 35mm ainsi que le 18mm. Pour ce genre de traitement, un point and shoot ou un smartphone feraient l'affaire.
Traitement
Pas grand chose pour le traitement: simplement assez dur. J'ai amélioré mes images dans lightroom avant d'utiliser SilverEfex pour le passage au noir et blanc.

Source: www.nicolaslambert.be

Buy now from Amazon.com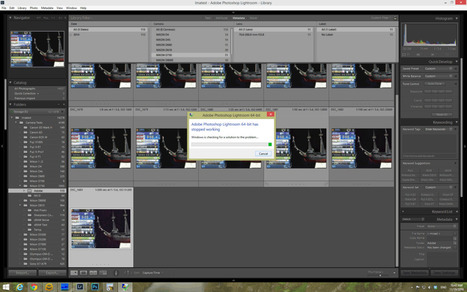 I will be honest, I am not a fan of Adobe as a company. I never liked their business model: their practice of gobbling up competition (sometimes out of fear), their Creative Cloud extortion and their sleazy management that only cares about their next quarter revenues. But most of all, I never liked Adobe's poor software development practices. In my past tech life, Adobe products were always a big pain due to numerous security holes and huge, frequent updates. In fact, Adobe has been notoriously bad with releasing poorly tested software with too many security holes. In 2011, Adobe dominated Kaspersky Lab's top ten PC vulnerabilities list, with "extremely critical" security vulnerabilities that allowed attackers to gain access to computer systems and execute arbitrary code. These security vulnerabilities spanned several Adobe products, which most PCs had at the time and even today: Adobe Reader and Adobe Flash Player. No wonder Apple did not want to support flash in its iOS (which thankfully resulted in the slow demise of the Adobe Flash), since Flash was a very badly written, resource intensive platform to begin with. Although Steve Jobs mostly blamed Adobe Flash for being a PC-era platform, two of the biggest reasons why Flash support was excluded from iOS were in fact related to security and stability concerns……..
Source: photographylife.com
Sharp, sharp, sharp! The XF 23mm f/1.4R on the X-T1 with Face Detection enabled nails focus on my never-standing-still sons eyes every-time. After 11 months I still cant believe the consistency of the nailed results that I'm getting with the this lens even wide open! That about covers it. In full frame terms the XF 23mm Fujinon lens has an angle of view equivalent to a 35mm lens. Even though up until recently I preferred a 28mm angle of view for my street and everyday wide angle stuff, I'm finding that the 35mm equivalent lens from Fujifilm to be so impressive in its overall performance that the extra few mm towards the long end don't seem to bother me. Since switching over to Fuji, I have used the XF 23mm lens for nearly everything such as reportage, portraits, weddings, street, fashion, concerts, lightning, landscapes, kids and the list goes on…….
I've been using FujiFilm X-Series Camera's ever since I got serious about original content on this site. To me they epitomise what a modern camera should be. A great sensor coupled with a stylish body that stands the test of time. I still use my original X100 alongside the X-Pro1 that I used in this post even after all these years. This is not an extensive review of the the XF23mm f1.4 lens. I am not going to be focussing on the technical details or pixel peeping. There are far too many sites that do that and I find that people are too obsessed spending hours looking at blown up images finding flaws when photography to me is about taking a camera and capturing the world! What I will be focussing on is the usability and shooting experience for someone who just wants to go out there and shoot images and has an X-series camera that has an interchangeable mount and may be considering this lens. The first thing that you notice about this lens is the build quality and the heft. At its current price point it commands a premium compared to the first batch of FujiFilm Lenses but you can see that you are getting a lot for your money. On the APSC sensor of the camera this equates to a standard 35mm field of view which happens to be my favourite. The lens has 11 elements in 8 groups including an aspherical one. 7 rounded diaphragm blades and stops down to f/16 in 3 stop increments…..
Fujifilm is announcing brand new Macro extension tubes today. They are called the MCEX-11 and MCEX-16–and both have electronic contacts for auto exposure. Not much information is available, but we know that the Fujifilm X-Series Macro Tubes will cost $99.95 when they launch in December. From the company's press release, we can tell that the focusing range will be limited. In fact, Fujifilm cites needing to move the camera back and forth. In fact, the Fujifilm system has a Macro mode that lets every lens focus closer than normal. We assume that they will work with all of the company's lenses as well as those offerings from Zeiss. On top of the lenses, a new software will be coming that will let many of their camera shoot while tethered. It's called HS-V5 and will let the user adjust the settings either via the camera or the PC if they wish. The software will also allow the user to manage the images–just like many other options available out there. But today, they're also announcing a new firmware update for the XE-2, XE-1, X Pro 1 and the X30 are all getting new firmware. Those details are after the jump…..
Source: www.thephoblographer.com
FUJIFILM Corporation will be releasing firmware upgrades for its premium interchangeable lens cameras; X-E2, X-Pro1 and X-E1 to enhance functionality. Fujifilm is striving to keep the level of technology offered on this model as up to date as possible so that purchasers of X-series cameras will have greater longevity of use.
[ Firmware versions ]
FUJIFILM X-E2 : Version 3.00
FUJIFILM X-Pro1 : Version 3.40
FUJIFILM X-E1 : Version 2.40
[ Scheduled release date of the firmware ]
18th December 2014
[ Main feature updates from the firmware for X-E2 model ]
1. New Classic Chrome Film Simulation
The X Series' Film Simulation modes represent Fujifilm's wealth of experience in color reproduction technology. "Classic Chrome", which delivers subtle colors and beautifully muted tones reminiscent of vintage reversal film, has been newly added to the existing selection.
2. Interval timer shooting
The new Interval timer shooting function allows X-E2 users to capture time lapse photography. Set the starting time, the shooting interval (1 sec. to 24 hr.) and finally the number of frames (1 – 999), and the camera does the rest.
3. Enhanced wireless function for shooting from your smartphone or tablet devices*
By downloading the free FUJIFILM Camera Remote** app to your smartphone or tablet devices, users can use the Remote Control function, which allows a wealth of control, even from a distance. This functionality is great for a wide variety of shots, including group photos, self-portraits and animals in their natural habitat.
* Android™, smartphone and table devices, iPhone / iPad.
**After updating the Firmware Version 3.00, FUJIFILM Camera Application app can not be used.
Requires installation of FUJIFILM Camera Remote app to your smartphone or tablet devices.
[ Feature updates from the firmware for X-E2 / X-Pro1 and X-E1 models ]
4. AF+MF
"AF+MF" function enables seamless manual focusing. After half pressing the shutter to autofocus on the subject, fine adjustment can then be made using the manual focus ring.
Source: www.fujifilm.com
FUJIFILM Corporation is pleased to announce that two new dedicated X-Mount system Macro Extension Tubes; the MCEX-11 and MCEX-16, will be available from the middle of December 2014. Macro extension tubes are inserted between the lens and the camera body and increase the distance between the lens elements and the sensor enabling users to focus on subjects much closer to the camera.
1) Two types (11mm, 16mm) will be available.
You can choose from the two types of tubes depending on the level of magnification you require.
2) Electronic contacts allow you to shoot with AF and AE using the tube.
Electronic connections automatically pass information between Fujinon X-Mount lenses and Fujifilm X-series camera bodies so you can still use autofocus and control the aperture while using the tubes.
3) Designed exclusively for the XF lenses and X-series cameras
The mount rings of both tubes are made of high-grade solid metal and are precisely manufactured to suit the XF lenses and the X-series interchangeable cameras perfectly.
4) Maximum Magnification of the Macro Extension Tube
The table below details the Working Distance (distance from the top of the lens barrel to the subject) and the Shortest Shooting Distance (distance from the image sensor to the subject) of each of the current Fujinon X Mount lenses with and without the tubes attached. Some tubes do not work with some lenses. These are indicated below by the grey boxes. The shooting distance and shooting magnification change according to the position of the focusing lens group. The table shows reference values for when the focusing lens group is in the position to shoot the closest object……..
Source: www.fujifilm.com
Fujifilm has announced two macro extension tubes for its X-series interchangeable lens cameras, the MCEX-11 and MCEX-16. Compatible with Fuji's XF and XC lenses, they offer full AE function and are designed to 'seamlessly blend into the original look and feel of the X-series'. The MCEX-11 and MCEX-16 will be available in mid-December for $99.95. Also making its debut is Fuji's PC Tethered Shooting Software HS-V5 for Windows v1.0. It provides two operation modes, Camera Mode and PC Mode for making exposure adjustments either on the camera or connected computer. Macro tubes and tethering software may appeal to a smaller portion of Fujifilm's X-series owners, but their introduction signals a continued commitment from Fujifilm to build a viable system for serious photographers. Fujifilm has also given a December 18 release date for X-T1 firmware promised at Photokina. The firmware v3.0 brings features such as 1/32000sec electronic shutter, 'Classic Chrome' film simulation mode and direct AF area selection to both original black and newer silver X-T1 models. The Fujifilm X-E2 also gets a December 18 firmware v3.0, adding Classic Chrome, interval timer shooting and WLAN remote control with use of the Camera Remote app. The Fujifilm X-E1 and X-Pro1 (also available December 18) are provided firmware updates adding AF+MF control for all X-mount lenses, and the X30's update (available now) improves the autofocus lock function……
Source: www.dpreview.com