Fuji X-Pro1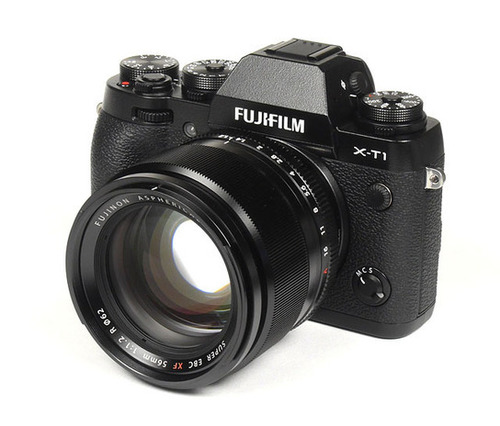 Verdict:
The Fujinon XF 56mm f/1.2 R mimics pretty much the behaviour of the Fujinon XF 23mm f/1.4 R – and that's a good thing really. It combines an ultra-large aperture with high quality results. At large aperture settings the center quality is already pretty high whereas the borders/corners are at least on a good level. The resolution is much more snappy at f/2.8 and images are very sharp across the image field between f/4 and f/8. The very low amount of lateral CAs also contributes to the high sharpness perception. Image distortions are nothing to worry about whereas vignetting can be an issue in RAW images at f/1.2 and f/1.6. However, Fujifilm is relying on image auto-correction so this is usually a lesser issue from a user perspective. The rendering of the bokeh is impressive thanks to a smooth blur and good out-of-focus highlights. There is, of course, some bokeh fringing but that's true for the vast majority of lenses in this aperture class. The build quality of the XF 56mm f/1.2 R is very high and as such in line with the other Fujinon XF lenses. It is mostly made of metal and precisely assembled although we miss a weather sealing which should be standard at this price point. The AF is pretty fast on the X-T1 although the combo is still stays a little short of what we can experience on similar DSLRs-based combos. As already mention, the Fujinon is a bit pricey in absolute terms but high speed simply comes at a price. However, when looking at the results, it is a fair offering and simply also an obvious choice for Fujifilm users looking for an ultra-fast lens for street or portrait photography. Therefore highly recommended! ……..
See on www.photozone.de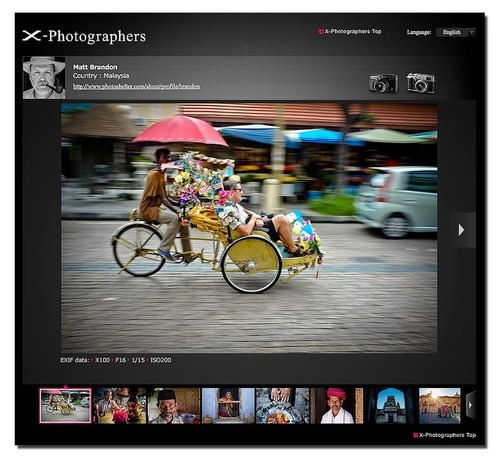 I am excited to announce that I am now listed as an Fujifilm X-Photographer. I, along with Malaysian Photographers Kim Boon and Jessica Chan have been inducted into this hall of X-system photographers.  You can visit my X-Photographer page HERE.
What is and X-Photographer? An X-Photographer is a photographer who, of course, uses the Fujifilm x-system camera and lenses. They are photographers that stand out to Fujifilm and showcase the abilities of this system. What they are not are bound by any contract, no agreement to kiss-up or hype Fujifilm in anyway. I have been told I should be honest about my thoughts on the x-system gear, both the good about it, as well as the bad. This has always been my style. I am brutally honest and over-the-top giddy at times. You may ask what do I get out of it? On occasion Fujifilm Malaysia will send me a pre-production lens or camera that I can try out and review. This is great for my blog and I learn whether I want a lens that way……..
See on www.thedigitaltrekker.com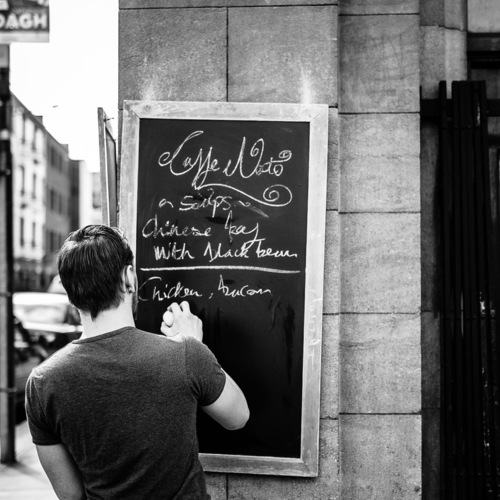 The last couple of months my go to camera for street photography and actually for everything else was the Fuji X100s. As I was getting ready for my next photo walk in the city I checked my equipment and realized that some of the batteries needed to be charged, but the charger just gave up, it didn't work anymore. What to do now, I had a few photo shoot coming up where I was going to use the X100s, but I had only 3 fully charged batteries left, so there goes my little friend back to the bag and I grabbed my old friend, the Fuji X-Pro1 with the 35mm lens. Uh, I missed this beast. And shame on me because of thinking of selling it and get a new X-T1 instead. I'm sure the X-T1 is great and I was really looking forward to try it out but after holding it in my hand for a minute in a camera shop, I still don't know. So we will see if the final nail in the coffin of my Canon kit will be the X-T1 or some other future Fuji camera. (If somebody from Fuji reads this and want to make my decision easier by lending me an X-T1, I wouldn't say no.)…….
See on gaborimages.blogspot.de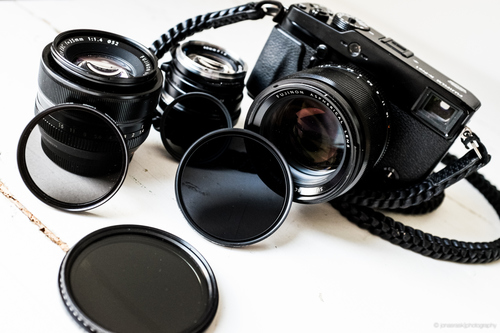 A little warning for my fellow photographers today. I like to shoot high speed prime lenses. That should no longer be a secret to the people who follow this blog. Ever since I started going "collectors heaven" with the old 50 mm lenses I have been needing ND filters in all shapes and sizes. And trust me on this DON'T BUY VARIABLE ND FILTERS! They will mess up your gorgeous bokeh, and specular highlights! What a variable ND filter really is, is two pieces of polarising glass. One linear, one circular. You twist the filter to offset the polarisation. Polarized at a 90 degree angle, the filter lets in zero light. at 0 degrees it lets in 100% light. (Basic high school physics :-P) What this sadly does is introduce artefacts into your out of focus areas. And before you start saying that this is only true on cheap filter brands… trust me…it's not! I've tried variable ND's from the following companies, and ALL with no exception show this issue! ……
See on jonasraskphotography.com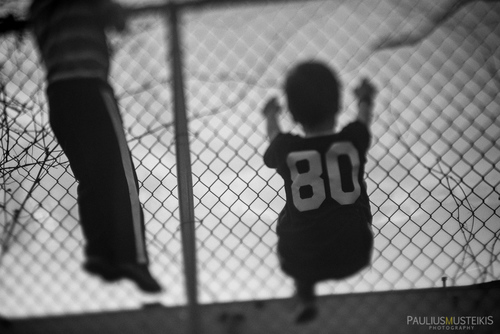 Last Friday I picked up my non functional Olympus RC 35 that was hiding in the deep closet. I picked up this fine little 35mm rangefinder, gently took it apart and dismounted 42mm f/2.8 Olympus Zuiko lens. Afterwards I took the lens apart and took the shutter and aperture blades out. So in the end all I had left was a little peace of beautiful and non working vintage glass. So first of all I tried modified Olympus 42mm f/2.8 Zuiko lens on my DSLR. And it didn't work. And I would assume it didn't work because of large gap between handheld lens and the camera sensor. So then I picked up my Fuji X-Pro1. And that was it! I peaked through viewfinder and saw world turning into an awesome abyss of blur. And I was sold…….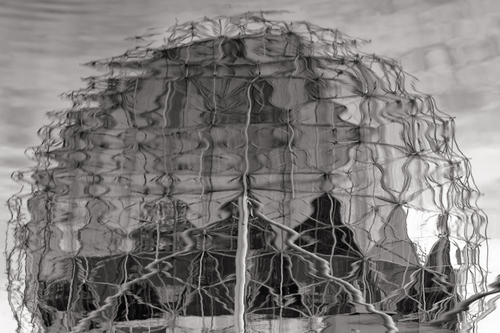 Last weekend we left home at 4:30 AM to capture Vancouver at its best. The hourly weather forecast was right and we encountered very contrasty weather conditions with stunningly rich skies and beautiful light. All we had to worry about was composition. It is something we spend a lot of time working on in the field. This is especially challenging in an urban environment when you have so many elements competing for the spot inside your frame. Pre-visualization, positioning of the camera and a rigorous elimination process are essential. In this post we would like to share with you B&W images shot with the Fuji X-T1 coupled with XF 14mm F2.8 & 56mm F1.2 lenses. We also worked with our Fuji X100S……
See on olafphotoblog.com
Replichrome II includes presets for Fuji™, Agfa™ and Kodak™ slide films. This set contains multiple versions of each slide film, using both Nortitsu™ and Epson™ scanners. Slide films are known for their exceptional color quality and high contrast and are particularly well-suited for landscape, fashion and reportage photography……

Astia 100F™ :: Calibrated / + / – / –
Astia 100F™ :: Noritsu / P / + / – / –
Provia 100F™ :: Calibrated / + / -
Provia 100F™ :: Noritsu / P / + / -
Provia 400X™ :: Calibrated / NoGr / + / -
Provia 400X™ :: Noritsu / NoGr / + / -
Sensia 400™ :: Calibrated / NoGr / + / ++
Sensia 400™ :: Noritsu / NoGr / + / ++
Velvia 50™ :: Calibrated / + / ++ / -
Velvia 50™ :: Noritsu / L / + / ++ / -
Velvia 100™ :: Calibrated / P / + / -
Velvia 100™ :: Noritsu / + / -
E100G™ :: Calibrated / + / -
E100G™ :: Noritsu / + / -
E100VS™ :: Calibrated / L / – / + / ++
E100VS™ :: Noritsu / + / ++
E200™ :: Calibrated / NoGr / + / ++
E200™ :: Noritsu / NoGr / + / ++
Ektachrome 64X™ :: Calibrated / + / ++
Ektachrome 64X™ :: Noritsu / + / ++
Panther 400X™ :: Calibrated / NoGr / + / ++
Panther 400X™ :: Noritsu / NoGr / + / ++
EPP 100™ :: Calibrated / + / -
EPP 100™ :: Noritsu / + / -
P800-1600™ :: Calibrated / NoGr / + / -
P800-1600™ :: Noritsu / NoGr /
Agfa 200RS™ :: Calibrated / Gr / NoGr / + / -
Agfa 200RS™ :: Noritsu/ NoGr / + / -
Agfa 1000RS™ :: Calibrated / NoGr / + / ++ / -
Agfa 1000RS™ :: Noritsu / NoGr / + / ++ / -
Agfa CTX 100™ :: Calibrated / +
Agfa CTX 100™ :: Noritsu / +
Agfa RSXII 50™ :: Calibrated / + / -
Agfa RSXII 50™ :: Noritsu / + / -
Agfa Scala 200X™ :: BW / NoGr / + / -
Scotch Chrome 100™ :: Calibrated / +
Scotch Chrome 100™ :: Noritsu / + …….
See on www.gettotallyrad.com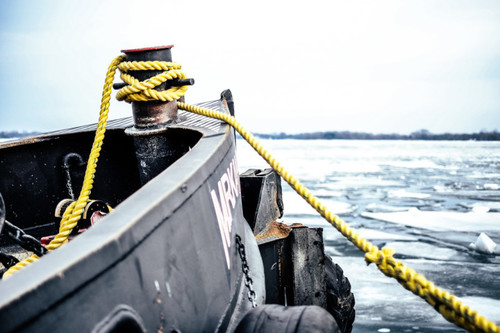 Welcome to our series of 100 interviews we will be holding with professional photographers who use mirrorless cameras for work! "Switching to a smaller and lighter system" has become somewhat of a buzz phrase as of late, but many working photographers take this philosophy seriously. From medical reasons such as resolving back and shoulder pain to the simple realisation that bigger does not mean better, photographers are turning to mirrorless systems now more than ever before. This week's interview is with Othman Kammah, a Fuji X Ambassador, founding member of FujiTuesday, traveller and street photographer from Toronto, Canada…….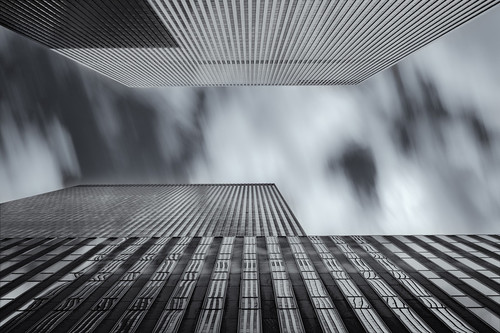 As a large part of my photography happens on the wider end of the focal lengths,  I was excited when Fujifilm announced the release of their new Fujinon XF 10-24mm f4 lens earlier this year. Even though I do have the ultra sharp XF 14mm 2.8 lens, I've been on the lookout for a wider X-series lens for some time now.While Fujifilm Middle East was kind enough to borrow me a production model of the 10-24mm lens, I was able to test it over a two week period in places like Amsterdam, New York, Abu Dhabi and of course in and around Dubai. Even though slightly larger than what I expected, mounted on the new battery grip equipped Fujifilm X-T1, the lens felt perfectly balanced…….
See on bjornmoerman.blogspot.ae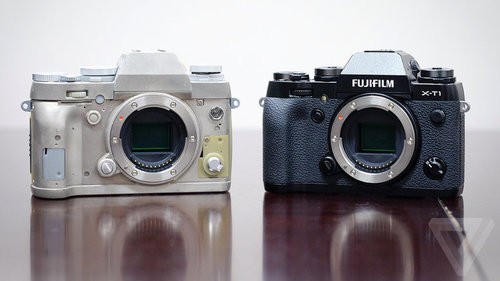 For a very long time, the conventional wisdom has been that if you want to take great photos, you buy a DSLR from Canon or Nikon. But cameras don't need to be as big to achieve the same quality these days. Fujifilm has built up a strong reputation among photographers since it released the unique X100 in 2011, and the company's X-series of mirrorless cameras are winning fans for their focus on physical controls, fast lenses, and head-turning design. The latest model, the X-T1, received a glowing review from The Verge last month; it's Fujifilm's best, most reliable camera to date, but also one that represents a stylistic shift for the company. And as the team behind the product tells me, every tiny detail was agonized over before it came to life. The X-T1's new direction ran the risk of disappointing Fujifilm fans. Every X-series mirrorless camera to date had featured a slick, compact rangefinder-style design that took cues from the likes of Leica and Contax, but Fujifilm started afresh with a silhouette that looks much closer to an SLR. It's an interesting move — while mirrorless cameras haven't yet made much impact on DSLR sales, they fill a similar role to light, travel-friendly rangefinders did in the film era. With the X-T1, however, Fujifilm is making a statement that its mirrorless cameras can compete on the same level as SLRs……
See on www.theverge.com