Fuji X-Pro1


By now you have probably heard about Adobe's decision to stop development of Adobe Creative Suite (which includes such software as Photoshop and Illustrator) and move to a completely different subscription-only model. In short, Adobe does not want to sell packaged versions of its software anymore and wants you to instead pay for select software packages or the whole Creative Suite on a monthly basis. For example, today you can purchase Adobe Photoshop CS6 for $599 and own the software, which means that you can install it on your computer and use it whenever you want without limitations. With the new Adobe pricing strategy, you will no longer be able to purchase Photoshop that way – you will have to get a $20 per month subscription for using Photoshop alone (or $50 for the whole Creative Suite). There will be no other option. Software will be delivered over the Internet and once you get it installed, it will make occasional requests over the Internet to Adobe.com to verify your subscription level. Creative Cloud will work the same way that CS6 works today, except it will require an active subscription. When traveling without any Internet connectivity, the software will work for a limited amount of time (something like 30 days) before ceasing to work and requiring you to connect to the Internet.Our readers might be wondering what we at Photography Life think about Adobe's new pricing policy, so here is my personal take. I think this is by far the most arrogant and selfish decision on behalf of Adobe. While I actively use Photoshop, Illustrator and Lightroom software for my work, I am already considering alternatives at this point. Not because I find the pricing to be too high, but because I think what Adobe is doing is simply wrong. Read on to find out why.
…..
What Adobe should have done, is give its customer two options – a boxed version with an upgrade path, essentially continuing the Creative Suite line, and a choice to go to the cloud. People that would benefit from collaboration and other benefits of the cloud would choose a subscription model, while everyone else would stay happy with their "owned" copies of the software.
See on photographylife.com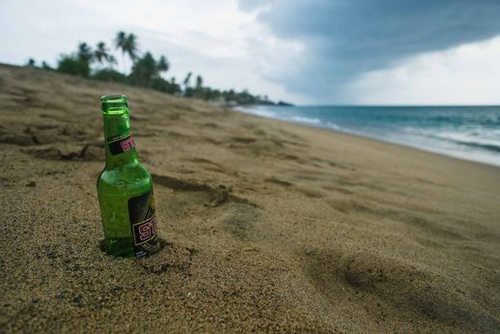 When I told people I was going to Trinidad, a few of them asked me, "what about Tobago?" Of course, my friends and I always planned on visiting both islands during our trip, but "Trinidad & Tobago" is simply too long a name for any country to have, and I'm too lazy to say the whole thing every time I refer to the place. Plus, all I got was one stamp on my passport! I decided to split this series in two mainly because I didn't want it to be too long, but it's just as well. Although the two islands  do have some things in common, overall, they are markedly different. Trinidad is much bigger; it's more like a country, with several grimy urban areas. Tobago is a lot smaller and it caters more to tourists. In fact some of the people we met there, didn't even bother to visit Trinidad. Their loss. We rented a car at the airport from a local business owner whose picture I sincerely regret not taking. He was a big guy who told us not to worry about big companies run by white people, and we were happy to give him our business. We ended up with an old Nissan, a real hoopty… but a solid one that never broke down on us. I waited at the above location as my friends sorted the hotel room. We all ate lunch at said location – chicken, rice, beans, and a local dish called callaloo. We had left Trinidad at noon, and we finally got settled a little past 3pm. The hotel was right on the beach. The only problem is it was a ridiculously long walk from the lobby/car, and there was a wire right in front of our balcony spoling the view. Things could have been much worse. As soon as we got to the beach we were accosted by a local dred trying to peddle his wares… I'm not sure if he actually made them or if that even matters. If any of us had been alone, we probably would have shooed him away, but we ended up talking to AUF for a while. Sure enough, like some typical tourists, all three of us now have a bamboo incense holder with his name engraved on it. Ha! He was not the only person we met on the beach that afternoon. Roger – the other dred pictured below – seemed more reasonable, and he wasn't trying to sell anything special. The big kid on the other hand was all about trying to take us on some fishing expedition. Of course, he failed, repeatedly. There were more… some cool, others not…..

See on blog.karimhaddad.com
Avere tre giorni di tempo per organizzare e realizzare un test di un obiettivo non è esattamente il sogno di chiunque debba scrivere una recensione. L'idea di essere il primo a poterlo fare però rischiava di essere una tentazione irresistibile e così è stato. Il nuovo Fujinon XF-14 Super EBC è arrivato in redazione giovedì sera, mentre a Milano il tempo cominciava a volgere al brutto, complicando ulteriormente le cose nella pianificazione dei test da compiere entro lunedì mattina, data di riconsegna del nuovo obiettivo. Tolto dalla sua confezione il 14mm ha fatto subito una buona impressione "fisica". Corpo metallico dall'aspetto solido, generoso paraluce e un fermo per la ghiera della messa a fuoco tanto utile quanto ben congegnato. La ghiera che regola il diaframma, invece, è sembrata subito piuttosto lasca e troppo sensibile così come peraltro ci era stato detto dai responsabili Fujifilm al momento dell'invio, spiegando che si trattava di un "difetto" dei primi sample disponibili per i test. Dopo aver passato un po' di tempo a soppesare fisicamente l'XF-14 ho deciso di cominciare dalle odiate foto di "gattini" e simili che tanto spopolano su FB e Flickr e che personalmente tollero poco. Questa specie di contrappasso era però inevitabile: tutto sommato la pelliccia della più piccola dei miei tre mici sarebbe stato un buon banco di prova per capire le doti del nuovo obiettivo almeno quanto a definizione e capacità di restituire i particolari anche più piccoli. Più o meno all'ora del tramonto ho così scattato una serie di ritratti a distanza piuttosto ravvicinata e variando sia diaframma che ISO, operando sempre in priorità di apertura. Le immagini analizzate successivamente hanno fornito un primo riscontro positivo. Come si vede facilmente ingrandendo l'immagine in scala 1:1, il Fujinon 14mm ha garantito un'ottima definizione di tutti i dettagli anche dei più piccoli, come per esempio il riflesso delle ciglia all'interno dell'iride o la trama della pelliccia in tutte le sue sfumature. Al centro l'immagine è perfetta e solo allontanandosi verso le zone più periferiche dell'inquadratura si può trovare una lieve perdita di dettaglio, cui però non corrisponde una caduta di luce. La distorsione prospettica è quella tipica di una lunghezza focale così corta ma non è eccessiva e, gestendo bene l'inquadratura, le linee curve sono quasi invisibili. Per riuscirci, se non si ha un treppiede a disposizione, meglio affidarsi alla "bolla digitale" della X-Pro 1 usata per il test…..
See on fotoup.net
Quella che state per leggere è la sintesi di una prova talmente lunga da essere stata suddivisa in due sessioni distinte. La prima, svoltasi nella tarda primavera scorsa ci ha permesso di effettuare una serie di test di studio standard, la valutazione sul corpo macchina e sulla sua ergonomia, ma anche di mettere alla prova la X-Pro 1 su una serie di lavori come un matrimonio, alcuni fotoreport di una serie di eventi, dei ritratti editoriali e più di una sessione di fotografia per così dire street (una piccola selezione di queste immagini è contenuta nella gallery di questo articolo). E' in questa fase che ci siamo fatti una prima idea precisa della natura dell'ammiraglia mirrorless targata Fujifilm, una macchina nata con l'ambizione di sifdare le reflex, perfino nel mercato professionale, proponendosi come alternativa più leggera e meno ingombrante ma capace della medesima qualità, delle eredi digitali del formato 35mm. In questa prima parte di prova abbiamo valutato tutte le funzioni della macchina, dalla sua facilità d'uso a quella dei suoi menu di gestione, passando per tutte le opzioni messe a disposizione come per esempio la doppia esposizione e i preset derivati direttamente da alcune delle pellicole più famose prodotte da Fujifilm come Provia e Velvia. Visto il look retrò in questa prima fase ci siamo inoltre concentrati sulle immagini in bianco e nero con il duplice obiettivo di verificare le prestazioni di una delle caratteristiche peculiari dell'innovativo sensore della X-Pro 1. In questi test sono stati valutati in ugual misura sia i file JPG prodotti con i diversi preset BN, sia i file RAW per analizzare la qualità del file e la sua capacità di resistere agli stress della postpruzione. Ciò che restava da capire era se, al di là di intenzioni e dichiarazioni marketing, la X-Pro 1 potesse davvero competere "sul campo" come una fotocamera professionale. Per questo, d'accordo con Fujifilm Italia, abbiamo programmato un secondo test, ben più impegnativo e della durata di un mese, periodo in cui la piccola Fujifilm è stata scarrozzata su e giù per gli altopiani turchi in compagnia dell'equipaggiamento reflex d'ordinanza, con l'obiettivo di documentare una serie di siti di interesse archeologico, paesaggistico e artistico, come le valli della Cappadocia e i resti di Efeso, Hierapolis e Aphrodisia…..
See more pictures on fotoup.net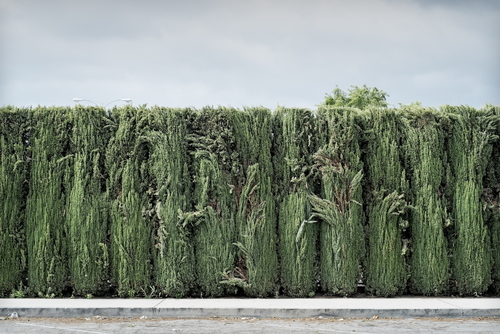 I'm starting a collection of "Outtakes." These are images that I like, but don't seem to fit an existing portfolio. I don't want them to go unnoticed, though. Fuji X-pro1.
See on jeffseltzerphotography.com
Zeiss hat uns die Möglichkeit gegeben, die neuen Zeiss Touit Objektive für Fuji X und Sony NEX live auszuprobieren. Die gezeigten Motive wurden uns im Rahmen eines Fotospaziergangs durch München präsentiert, alle Bilder sind OOC JPEGs aus einer Fuji X-Pro 1. Zu einigen Bildern habe ich unbearbeitete 100% Crops angehängt.
Eventuelle Fehlbelichtungen und gestalterische Mängel sind bitte mir anzulasten und nicht den Objektiven ;)
Vom Handling und der Wertigkeit der Objektive sind es richtige Sahnestückchen, die auf jeden Fall ihre Fan-Gemeinde finden werden!
See more pictures on www.systemkamera-forum.de
Trinity College, founded in 1592, is the sole constituent college of the University of Dublin in Ireland. It is one of the seven ancient universities of Britain and Ireland, as well as Ireland's oldest university. The College's Library is the largest library in Ireland. The main chamber of the old library, the Long Room which you can see in the photographs, was built between 1712 and 1732 and houses the library's oldest books. By the 1850′s the room needed to be expanded as the shelves were filled, and so the roof was raised to accommodate an upper gallery. My wife Rebecca and I had planned to visit this library for a long time, but were never able to make time for it when we went to Dublin. Last week we were finally able to go and take pictures at Trinity College. I shot my Hasselblad outside and then switched to the X-Pro1 inside the library. Rebecca shot this entirely on film with her Contax 645 and I am very excited to see her results as soon as we get the scans back. All the shots below were taken with the Fuji X-Pro1 and the Fujinon 35mm 1.4 lens…..
See on www.johnnypatience.com
At some point Fuji is going to disappoint me. They'll have to let me down, I just know they will. Everything follows this basic, unforgiving law of averages right? But at the risk of coming off as some sort of fanboi, that day hasn't come and I'm again forced to swoon over an upcoming X-series product: the Fujinon XF 55–200mm F3.5–4.8 R LM OIS. This lens isn't out yet but Fujifilm Canada sent me a pre-production unit to test — with all the caveats this involves. A telephoto is the one thing I've been missing most on this system so I was eager to try it out. I had to install a new firmware version in order for the camera to recognize it but everything went without a hitch. I was warned by Billy (Luong, of the Fuji Guys) that there were still improvements being made (the zoom itself is way too stiff but this won't be in the final version), and Tokyo has put an embargo on any full size images until everything has been ironed out. But I'll tell you this: if this is the level of image quality in the pre-production unit… Man, we're in for a serious treat. The contrast, sharpness and highlight rendition is right up there with the 35mm f/1.4. My initial feeling is that it even surpasses it. The OIS feels like a Steady-Cam; Manual focussing follows in the footsteps of the 14mm and 18–55mm and keeps me eating my own words about fly by wire. And when mounted on my X-Pro1 the entire kit feels like it's at least half the weight of my old Nikon 70–200 2.8 on its own. I can't wait to shoot portraits with this lens but for now, a few images from my backyard (moments after the lens got here and a few after dinner) just to give you an idea of what it looks like wide open — which of course will vary based on focal length. Make sure you hover over the lightbox images to get the exif data. One more detail: minimum focussing distance seems to be a little over 3 feet, a bit more on the long end. Enabling macro mode on the camera doesn't seem to do anything.
See more picures on www.laroquephoto.com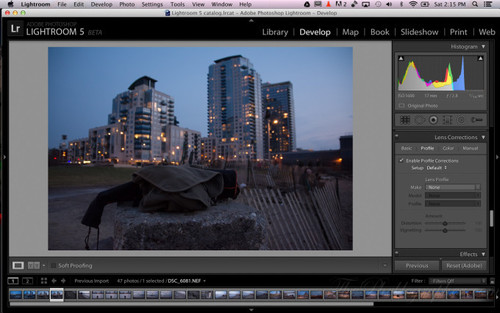 With today's announcement of Adobe Photoshop CC and the previous announcement of Adobe Lightroom 5 Beta, we have a very good idea of who each product is tailored to. However, many people don't know if they need Photoshop or Lightroom–and many by default just end up purchasing Photoshop. But if you're trying to figure out which one is for you, here's a quick guide that won't get too technical.
For those just stepping into the world of photography, you'll very quickly get blinded by the term, "I'll Photoshop it." While the program allows for lots of work to be done on an image, keep in mind just that–the emphasis is on one image. That is generally good for:
A retoucher working very heavily on a set of images but focusing on one at a time.
A wedding photographer needing to fully edit 200 images before shipping them off to the couple
Commercial photographers working to ensure that their client has the best image they possibly can deliver
Working with images where you'll need to insert text and all.
Remember though, if you're shooting loads of images, culling through those picture and editing each is going to be a tedious process that will eventually eat away at your computer's RAM……
See on www.thephoblographer.com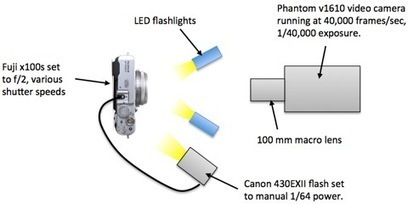 After reading the great reviews of the Fuji x100s, I decided to take the leap and buy one. I've been getting more interested in street photography lately, and this camera seemed like a good fit. Plus, its supposed to sync at all shutter speeds, which is great for flash photography outside in bright sun. David Hobby and Zack Arias both have nice in-depth reviews.
But, things are rarely perfect. It turns out that the x100s can't sync at f/2 unless you're at around 1/1000 or slower on the shutter. Nice but, still, I was curious why that is. So I decided to run some tests to figure it out.
Phantom to the rescue
I used a high-speed video camera to watch the action of the shutter in relation to when the flash was fired. The setup is shown in the sketch below. The x100s sat on a table looking into the lens of a Phantom v1610 high-speed video camera, which was set to record at 40,000 frames/sec. A Cannon 430EXII flash was connected to the x100s via an OCF cord. The flash was set to manual, and aimed such that a little of its light could be seen in the video. The main purpose of the flash was just to add a timing mark to the video. Most of the light for the Phantom came from two LED flashlights (it has a really sensitive sensor). I know, a real strobist would have done a better job on the lighting, but I didn't have a lot of time to play with it.
The video camera was set to trigger when the flash fired. So, when the shutter release was pressed on the Fuji, the flash fired, and the Phantom recorded the Fuji shutter motion. I made several recordings at various shutter speeds on the Fuji, all at f/2, no ND filter active. ……
See on www.khousen.com