Fuji X-Pro1
With so much love, I bought this camera twice. I sold it twice. The first time I sold this camera, I thought I was better than that. Then I realised, I wasn't. It's the second time I sold it, I'm in love with someone else now. So, this is to tribute my love towards Fujifilm X-Pro1. The camera is brilliant. It's quite big for a snap camera, but it's not as heavy. It's got great controls, but it's not really a one-hand controllable camera. It has a great optical viewfinder, but I stopped using it almost straight after I got this camera. It has awesome dial controls, but they're a little too easy to turn and number of times you have to check if the EV dial hasn't been moved. Or if you're using manual shutter speed, you have to check you are still in that same speed……
Source: lukelee.photography
9 time Grammy award winner John Legend, performed at the recent Singapore Grandprix 2014. We were fortunate to catch his one hour live performance. Fantastic piano play, amazing band and fabulous singing! I brought my Xpro-1 to the concert as well, but given my longest XF lens is the 35mm 1.4, I decided to bring my old Minolta MD 135mm F2.8 lens mounted via an adapter. My trusty Ricoh GR covered the wide angle shots……
Source: lucpher.wordpress.com
The Fujinon XF60mm macro lens has a magnification factor of 1:2. There are various other options like the pricey Zeiss 50mm macro, which is a true 1:1 autofocus lens or vintage manual lenses like Minolta 50mm or 100mm using a converter. I just posted some few sample images here and don´t go into details, since you find a very good article at Lichtklicker. All images shot with the X-E2, Fujinon 60mm macro lens and Raynox DCR-250 using Velvia filmsimulation……
Source: mingart.de
Earlier this month I took a trip down to Exmoor and Dartmoor, two landscapes that I've often wanted to explore, both are uniquely different and yet share a certain wildness and beauty. Exmoor is the master of variety with its hills, heather and the moorland sweeping towards a pebbled coastline beyond. Dartmoor is rugged, with it's tors and sparse, expansive terrain. Both have wild ponies roaming the moorland, adding to the mystery and atmosphere, but my images of them I'm saving for a separate post. This photo set is all about the landscapes, captured on my Fujifilm X-T1 with my newly acquired 10-24mm. I hadn't realised how much I missed an ultra wide until I buckled and purchased this lens, and I'm so glad I did. The 14mm was sharp and beautiful, a prime to it's very soul, but the 10-24mm has a versatility that cannot be denied, and I really need that when I'm in the field. The weather was ideal, with the autumnal combination of mist and sunshine in the mornings at sunrise with the transitional colours of the moorland turning purple to orange. The evenings brought great light, but really, for me it's always about the mornings. I hope you enjoy……
Last week we were at photokina, the world's largest imaging fair, from Tuesday 16th to Sunday 21st September. It's been a complete blast and this post will hopefully highlight the bits you missed if you couldn't make it to Cologne this year. Our booth was big. It was made up with lots of different sections covering many different areas of our business, all with the same common goal – helping people with photography. Some were printed on FUJIFLEX Crystal Archive Printing Material and others on Fujicolor Crystal Archive Digital Paper but they were all amazingly good to look at. We've combined our X series cameras with many years' experience of printing and finally the creativity of real users of our cameras to create a truly awe inspiring array of beautiful prints. Many visitors to the stand told us that they thought these were the best prints on display at the show………
Source: fujifilmblog.wordpress.com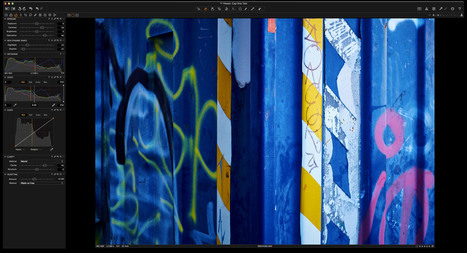 I've covered post processing of Fuji X-Trans files fairly extensively over the last two years on this blog. In particular I've discussed how using a third party raw converter can give you much better results than just using Lightroom or Camera Raw. I've used and written about Photo Ninja and Iridient Developer the most, but since Phase One have released Capture One Pro 8, I've been giving that a good work out too (and I'll have a report on that in a week or two). One of the things that I've noticed though, is that usually, when you talk about one piece of software, someone will invariably tell you "how much better" the other is. There seems to be a lot of strong opinion as to which is the best. Some people swear by Photo Ninja, others swear by Capture One. In terms of pure image quality, a lot of it is quite subjective, and personally I've changed my mind over the last little while. To put it diplomatically, all three of the main third party converters have image quality that is sufficiently better than Lightroom or even Fuji's own Raw converter that picking between them comes down to your personal perceptions…..
In the summer of 1982 I was stationed in Okinawa, Japan, as a U.S. Marine. My unit trained in mainland a couple times per year, giving me the opportunity to visit Tokyo. It was this point in my life that I discovered photography, and purchased my first 35mm SLR camera, a Yashica if I remember right. The city was a never ending playground for photography, and I went through many rolls of film, learning to use my new toy. Looking back now I wish that I had taken more photos……..
Source: thomasalanphoto.com
Conclusion:

At the end of this quick photo shoot, I knew that Canon was a thing of the past in my life. Fujifilm has won my heart with the X-T1 mirrorless camera body and their superb XF56mmF1.2 R lens. I honestly, at this point, cannot see myself ever going back to a bulky DSLR. I just have no interest any longer, as I'm getting mind-blowing images with my Fuji, and it has, without question, reignited a major passion for the purity of photography that I haven't felt since I first picked up a camera. I love the X-T1… and I LOVE this lens! Highly recommended! =)
Source: www.kristamichaels.com
A small story of the Portuguese fisherman told in a collection of images. Captured with Fuji XT-1 & Fuji 23mm 1.4….
Source: www.afshoot.com
Here's the second set of images that I shot with my X100s while in Paris. The first set of images were shot in Italy which can be seen in this post: http://www.dpreview.com/forums/post/54391556 Thanks for looking…..
Source: www.dpreview.com