Fuji X-Pro1
Back in the Spring I visited Italy with the family. It was my first big trip DSLR-free, traveling just with the Fuji X-T1 and X100s. It was so pleasant not lugging around heavy gear all trip. I didn't get hardly any dedicated photography time this trip, with most images taken quickly on the go. A lot of the street photography images were even shot "from the hip". We visited Venice, Montepulciano (and some nearby Tuscan countryside), and Rome. The trip was too short by half, but it whet the appetite and I anxiously await visiting the country again in the future…….
Source: rodneyboles.com
My work with the X-Pro1 & the X-T1
Source: fujixpro.tumblr.com
So after scouring the internet I discovered this little beauty… The Helios 44M 58mm f2, it is a m42 lens and I picked it up attached to a mint Praktica MTL-5 SLR, on eBay for under £15. Bargain. So after a little play I have some sample shots for you to check out, yes I know I didn't have a cool model to hand today, I didn't get to shoot anything particularly interesting. It rained hard when I got to the city centre and I don't particularly get on with the rain! But I think these samples prove a good point, this lens, as with many other great legacy lenses, is well worth a punt if you can hack manual focusing. With the X-Series cameras I like to use peak highlights to help me out. I do think the XT-1 that I have is better for focusing manually but then the X-Pro1 is better, in my opinion, than my Nikon D600 for manual focus. At least to me it's clearer. Well check the shots out… look for the out of focus areas in particular, the bokeh. That's the point of this lens……….
Source: www.damianbrownphotography.co.uk
The Old Forge at Welbourn, Lincolnshire. All images taken with the Fuji X-E1 and Samyang 12mm NCS CS F2.0. I've had an ideal opportunity to put my Samyang 12mm X-Mount lens to good use. The confined space of this wonderful old forge in Welbourn was both challenging to photograph and captivating to see as a working piece of history. The forge would have been the working home of smithy's and farriers, serving the local community with everything from horseshoes to wheel rings. It's a heritage site and is full of interesting old pieces from a bygone era. I had very little space in which to manoeuvre and the lighting was supplied by  a couple of windows and little else. I'm guessing the room size was in the order of 20ft on the longest side. I used upto ISO 1600 and shot mostly between F2 and F4.0……
Source: www.surroundinglight.com
One of the very first Fuji 56mm f/1.2 lenses in North America found its way into my hands a few months ago and I've been shooting with it ever since as it has become my go-to portrait lens for the Fuji X-Mount system and likely for all camera systems.  The Fuji 56mm f/1.2 is both sharp where it needs to be and has a pleasing, smooth bokeh in the out of focus areas helping to nicely isolate your subject from the background. So, how does the lens perform?  This portrait was an informal shot made in available light in the middle of a lunchroom of James A. Martin, during a visit to Janelia Farm back in March.  The lens grabbed his attention and he came over to introduce himself and to see the camera (Fuji X-T1 and this lens).  You can see the razor thin focal plane of this lens when opened wide up at f/1.2, but you can also see how sharp it is within the plane of focus as well as the beautiful out of focus quality or bokeh.  Like I said, its the new go-to lens for portraits……
Source: prometheus.med.utah.edu
Chettinad, the name reminds one of tasty spicy south Indian food loaded with chilly and peppers guaranteed to set your mouth on fire. Ask most people and they will be hard pressed to point out Chettinad on a map. It does not exist. Chettinad is the name of a `group of villiages sourrounding the town of Karaikudi in the south Indian State of Tamil Nadu. Villages such as Athangudi, Devakottai, and Kanadukathan located in the heart of Chettinad have a large number of traditional homes. The Chettiar community who inhabit this region are a wealthy group of businessmen who made their money in banking, trade and business. Starting around the late 1800's and early 1900's their prosperity and fame grew and over time they moved out of Chettinad to larger cities such as Chennai and overseas to Singapore and Malyasia with the aim of expanding their business. Having hear so much about the lifestyle and the homes of the Chettiar community, I decided it was worth a trip to see for myself and make some photographs of a dying lifestyle. Armed with a X Pro1 and a 18~55mm Fuji f2.8 lens I set off.  The Fuji X Pro has been with me a short while but I hadn't really found my way around the various controls. Most pictures were are ISO 400 and for the dark interiors pushed to ISO 1600. I could not hav dreamed of using such high ISO on my now ancient Nikon D100…..
Source: www.pbase.com
… more pictures by Ashok:
http://www.pbase.com/chubbix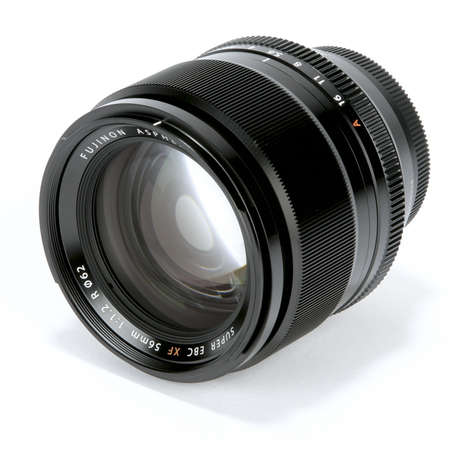 Damien Demolder tests Fujifilm's new wide-aperture portrait lens for the X series – a lens with a focal length that emulates the legendary 85mm

Verdict:
The Fujinon XF 56mm f/1.2 R is an interesting lens and Fuji is sure to do well with it. It is an important focal length for establishing oneself as a serious camera brand, because it is one that 'serious' photographers will want to use – and it has the kind of gaping wide aperture that gets attention and people talking……

Source: www.amateurphotographer.co.uk
I have used this lens to shoot images for the last several mini-reviews, an ongoing commercial project, and a number of upcoming Headfonia earphone/amp reviews. It is tack-sharp, feather-light, and cheap as chips.  Wide-open it is slightly sharper than my favourite enlarging lens, the 80/4 Rodagon, which goes used for 150-250$, and which came attached to the not-excellent Horseman VCC Pro. Wide open, it sits at f//5,6, however. At f/5,6, the two lenses are neck and neck. The Fujinon-EX goes for 70$ USD and down. It is slightly wider/larger than the Rodagon, and is easier to handle. Unfortunately, it is built to Fisher Price, not to Rodenstock, standards. It's not just Fujifilm's excess use of chintzy plastic parts. It's their insistence on trying to be clever. The 360 degree rotatable mount lets light in to bounce around the inner lens. I had to pad it with gauze. Secondly, its 'illuminated' aperture window lets even more light into the lens. I had to gauze, gaffer tape, and otherwise, patch it. it took me about an hour to get it in ship shape. Its machine quality is poor: parts get stuck much easier than the Rodagon…….
Source: ohm-image.net
ypically, all-in-one zooms are full of compromises that cut to the core of their quality level. Convenient they are, but at what price?  There has been an enthusiastic anticipation of the Fujinon XF 18-135mm F3.5-5.6 R LM OIS WR zoom because most of us have a trust based on experience and know that if anyone could pull off a decent do-everything lens it would be Fuji. Not that we would expect such a lens design to come up to the optical quality level of the Fuji primes, but perhaps it could approach the level of the top notch Fuji standard zooms, such as the 18-55mm and 55-200mm. With this in mind, I conducted some of my tests by comparing the new lenses performance to that of the other two zooms. I wanted to know whether this lens could be a substitute for both of the others in a compact do-it-all walk-around kit…..
I ordered the Fujinon XF 27mm pancake lens at the beginning of April when Fuji was having their latest round of lens rebates. Unfortunately, the lens has been backordered since that time and I wasn't going to have it for our trip to Vancouver. Since I was hoping to use the XF 27mm in Vancouver as a general purpose, walkaround lens, I decided to rent one. Having read numerous reviews, including this one at photozone, I knew that the XF 27mm was a well regarded lens amongst Fuji X users. Now having spent a week with it, I must admit that I too am quite impressed with this nifty little lens. In fact, the XF 27mm was on my X-T1 most of the time during our trip. I only switched to the XF 14mm or XF 35mm when I needed to go wider or wanted images with a more shallow depth of field. Essentially, I used the X-T1 and XF 27mm combination in the same way I normally use the X100S…..

Source: stephenip.com