Photographer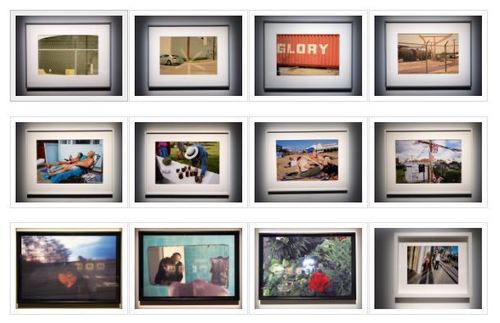 Last week in Omotesando Hills, near Harajuku Station in Tokyo, I saw an exhibition of photographs produced by some quite famous photographers ("heavyweights") using Fujifilm X-Series cameras.
And the photographers certainly are heavyweights – namely, William Eggleston, Martin Parr, Nan Goldin, Stephen Shore, Ryan McGinley and Terry Richardson.
The exhibition itself, produced by Fujifilm (& some co-sponsors), was called "⎡Photography⎦ Fine Art Photographer x Fujifilm X Series." It will open in New York at the Aperture Gallery (opening reception tomorrow evening), where it is simply called Photography. I must admit that I felt somewhat ambivalent about the whole affair as I was travelling into Tokyo. Upon learning of the show, my first thought was "cool!" Later however, I began to feel sceptical. Clearly, there was a marketing element to this whole production, and I started to wonder just how much I would be seeing of "art" and how much would be "images as advertising?"
I could envisage several possibilities. Foremost in my mind was the possibility that it might simply be a cold and cynical ploy from a marketing department.
Happily however, that was not the case. Clearly, all involved are benefiting from this. The photographers (presumably) get access to free equipment (and possibly more), and both sides of the party get exposure. But the whole deal had more of a mutual "this is exciting" feel to it, rather than cold calculation.
I was quite taken by some of the photographs, and the whole day's adventure was well worth the effort. So much so, that I want to talk more about the photographs themselves in a separate post soon. Here's some overview shots of the show (click on them to see larger).
See more pictures on fujifilmxseries.wordpress.com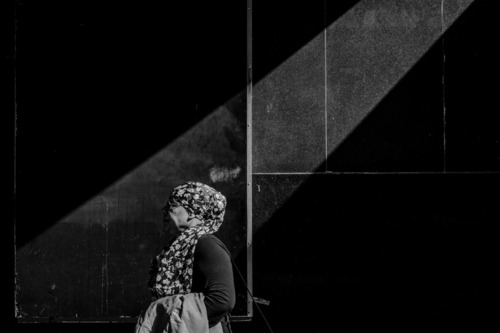 Lady in Ray – Black and White Image by Rinzi Ruiz

Rinzi Ruiz is a Los Angeles based street photographer. He is playing with Lights and Shadow and creats perfect black and white images. One of my favourite!
Visit his website at: http://www.rinziruizphotography.com/
See more pictures on streetzen.tumblr.com
Just before Christmas I spend a long weekend in London, the main reason was to visit as many photographic exhibitions as possible. Friday Day 1 I spent looking around the victoria and albert museum where they have the Light from the Middle East: New Photography exhibition on. Plus all the other exhibits in the victoria and albert museum are well worth seeing. After that I had time to look around the natural history museum, a museum I haven't been to since I was at school. Saturday Day 2 had a delayed start due to 3:30am late night in Camden at the Underworld with some great friends, but I did manage to get to The Tate Modern where they had a William Klein and Daido Moriyama exhibition. Sunday Day 3 was just spent walking around London doing the bit of Christmas street photography using my Fuji x pro 1 and a 18mm F2 lens, here are a few images from my three day London trip, shame the weather was so bad but I did get some great skys, well it is England in December! I would encourage anybody to spend a day or two in London looking around the Art galleries and Museums, most are free to enter.

Peter is a Documentary Wedding Photographer based in Harpenden. Covering weddings, and engagements, in Harpenden, Redbourn, St Albans, Hertfordshire and the surrounding counties. With a non-intrusive reportage style with a mix of contemporary wedding photography.
See more pictures on blog.peterhearlphotography.co.uk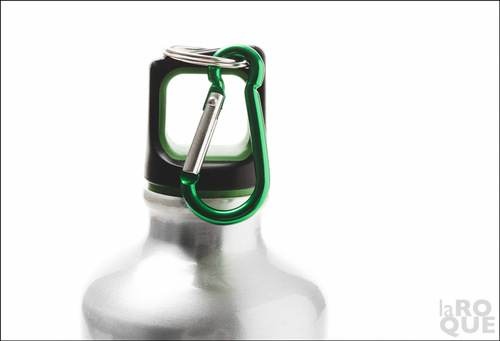 I've read a few reviews of the X-Pro1 dismissing its use in the studio, confining it purely to the realm of event and documentary photography. Obviously this a genre at which it excels and the core of the system's philosophy. But as most of you know these cameras have now become my main system, not merely a fun add-on. Which means they ARE used for studio jobs. All kinds of studio jobs.
I recently did a shoot for Serdy Media, a production company which owns several specialized TV stations in Quebec — namely Zeste and Évasion, the french food and travel channels. This was a studio product shoot for their new online boutiques. After thoroughly testing the setup, I decided to again forego my Nikon kit and do the entire session using only the X-Pro1 and the 35mm Fujinon XF f/1.4 lens. It worked beautifully.

The X-Pro1 actually has several things going for it for this type of work:
The ability to use the rear LCD for live view without changing how you usually work with the camera.
The two zoom levels with built-in sharpening to pinpoint the focus.
Large focus point coverage.
Horizon line and framing guides.
The ability to switch the same lens to macro mode for detail shots.
No mirror to deal with. Combined with the timer function this is as stable as it gets.

All of this makes for a very easy going experience and allows for extremely precise work. The two points of contention when it comes to shooting this camera for studio and/or flash photography are 1) sync speed and 2) tethering. The sync speed obviously wasn't an issue in this case. As for tethering, I've discussed my solution in another post already: an Eye-Fi Pro X2 card. To be honest this was definitely the weakest link in the chain, and I was very fortunate to work with a client who didn't mind the glacial speed at which photos were getting transferred to the computer. But I didn't like it. I made jokes about it but it bugged the hell out of me the entire time. I'm glad further testing has revealed an ad-hoc network to be exponentially faster. I won't get caught with this problem again.
See full article and more pictures on www.laroquephoto.com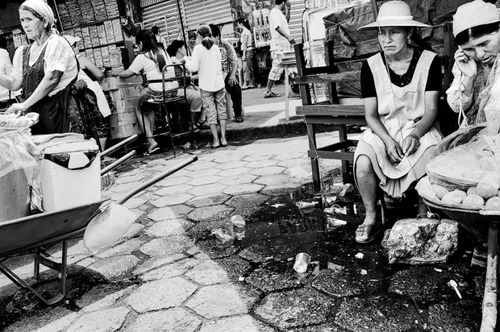 Bolivia, Santa Cruz de la Sierra, December 2011. The camera stares at, grins at me lying on my hostel bed in tropical heat–I shoot angry glares back. The camera has been kicking my butt every day for some weeks and I hate it right now. Despise photography. But I need to pick it up and go create something. Need an outlet. A dark storm hovers in my mind, I am depressed, all purpose seems lost and recent events including a suicide made me fall in a black hole devoid of all light. I walk the world feeling completely disconnected from human life. Despising myself and my existence. As always, light this bright casts some very dark shadows. Despite an abundance of sun light in tropical Santa Cruz I have been in the shadows for days. I like extremes–I seek extremes. Fitting then I guess, that I am in the darkest of moods in the brightest of warm tropical weather. Get out. Walk. Standing still never worked for me. Must keep moving. Or shadows catch up. Grab the damn camera and walk, walk the streets of this hot, weird and interesting melting pot of a city. Get out of this hostel from hell. Walk, damn legs, walk. A market appears. A gigantic chaotic market bigger than any market I have seen in Asia or anywhere else. A world inside a world. No hiding here. Not a single gringo in sight anywhere. I break out the camera. Channel my darkness into looking, seeing, shooting, making images…..

Memories are funny. These words are written about a year after the images were made. And I want to return to Bolivia. Have been on my mind recently. Calls me back. It is one of the hardest places to work in that I have experienced. I was in a dark, dark place for the 10 days I was there. But it was a very interesting place filled with awesome people and places of contrast and extremes. That's why I want to return of course. The challenge. And I need the extremes. To create. To feel alive.
See on www.flemmingbojensen.com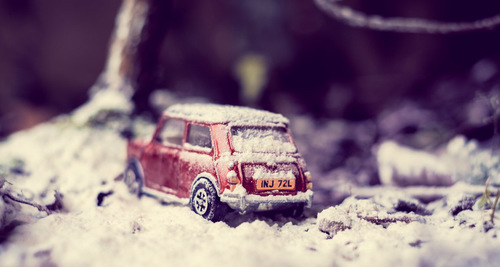 I recently acquired two little, vintage dinky mini cars and normally would have reached for a 50mm lens and a sub f/2.0 aperture to create a miniature world effect. The Fujinon 35mm lens at f/1.4 is equivalent to a 53mm lens at f/2.0 on a full frame camera so I began to wonder if I need to turn to 50mm to achieve the depth of field I was looking for. Starting of with the Fujifilm X-E1 & 18-55mm XF Lens">18-55mm zoom lens I shot a number of photos of the car (setting the X-E1 on macro mode). You can see from the following two images to get the scale right meant framing at 35mm-55mm….

You can see that moving between the 18-55 zoom and 35mm prime offered different focal lengths and I could adjust the scale of the car. I think both the 18-55mm zoom and 35mm prime worked well to achieve a 'slight' sense of reality. I am genuinely beginning to wonder if I really need to retain a full frame camera given the quality of photographs I can achieve with the fujinon lenses. I know there is an even finer DoF offered with f/1.4 on full frame but I am just not sure how often I actually need it.

Note: All photos were captured on the Fujifilm X-E1 and either the 18-55mm zoom lens or 35mm prime lens.

See on www.flixelpix.com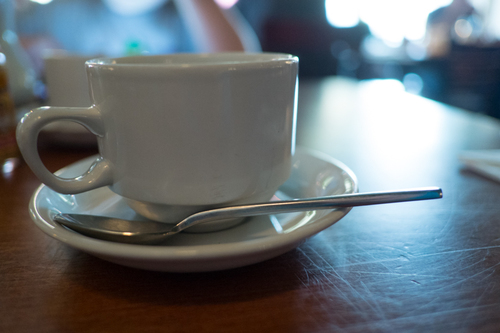 The camera is easy to hold and feels good in the hand. It has a good weight, without feeling too heavy but does feel solid and well made. The controls were fairly easy to figure out and after a couple of hours I was pretty much familiar with the controls and their functions. I've never used Fuji before so I had no previous experience to help/hinder me. the buttons and dials all feel positive and are well placed, they just "feel" like they are in the right place…after only a few minutes, it felt natural, as if I had been using one for ages…this has got to be good, right? Around 60% of my business is weddings and I could easily use this camera for a whole day and not end up with a sore back as I usually do! Another big benefit is that fact that it doesn't scream "pro camera!" It's size and styling make it less obtrusive and obvious and people really don't take much notice of it. We often do pre wedding shoots, and shots on a wedding day, in public places, and big cameras usually mean some attention from the public. The X-Pro 1 doesn't have this issue, even the people I photographed, friends and family, felt is was easier and more comfortable for them, and they are used to me and my cameras! You'll see from some of the images that I went to a cafe bar with my little boy (who is a legend by the way and really puts up with my constantly taking photos of him!). It was really quite dark, I'll come to ISO performance later… the issue was that it was really busy, with people on the tables all around us and I was taking lots of shots. I can't remember a single person even taking any notice of me and the little camera. Not sure this would have been the case f I has been using my D800 and 24-70 2.8! My point is this: we specialise in documentary wedding photography, and at a wedding, I think this camera will allow us to get closer to people and capture images without the intrusion a pro DSLR camera/lens combo can often bring. This means more natural images and a less obvious presence of the photographer, this is good!…..
See full review on ianmacmichaelphotography.blogspot.de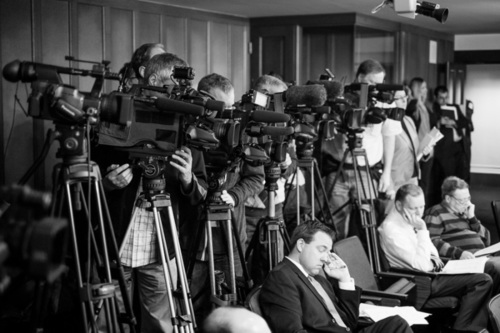 While shooting at a recent press conference, I realized that I have made some adjustments to how I focus the X-P1. So, along with adding the latest firmware updates to my Fuji X-Pro1 and XF lenses, I have also updated my focusing technique slightly to speed up automated Manual Focus. Normally while shooting in MF, I use the AF-L button to quickly focus on the subject and then hit the command dial to zoom in on the focus area. In this view, I adjust the focus by manually rotating the lens focus ring. This works well enough, but I have found with the 60mm lens in particular, the initial attempt to focus, especially using the OVF, can take longer than I would like. A faster way to use this technique seems to be to reverse the focusing operation. First I hit the command dial for the zoomed preview of the area I want to be in focus and then I hit the AF-L button. The camera, again particularly with the longer focal length of the 60mm lens, snaps onto focus quickly and consistently. Then I can half-press the shutter release or hit the command dial to return to the normal view for composing and shooting. I was also using the X-100 during the event and this technique worked with it as well. Great to have both Fuji cameras to shoot work events, particularly with available light. Thank you Fuji for producing such great, fast lenses. But don't you think it's time to release the 23mm and long zoom? I do!!!
See on doncraigphoto.wordpress.com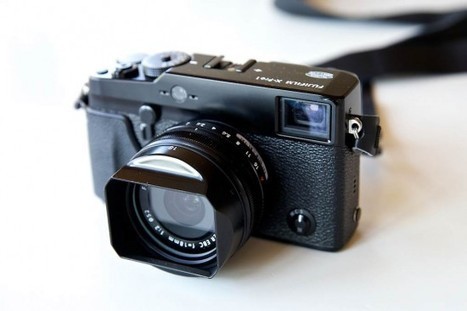 Wrestling with whether to keep one expensive camera or buy a different one doesn't rate on the scale of real problems, but I've been torn recently about whether or not to keep my Fuji X-Pro1. I've finally decided to sell it, and here's why. The bottom line is that I just don't like using it very much. The autofocus is frustratingly unpredictable, even with the latest firmware updates, and to me the camera feels unresponsive and a bit of a struggle. It's a testament to the quality of the Fuji X-Pro1 that it's been a hard choice, and it's a testament to its quirks and frustrations that it had to go. The image quality it delivers when everything clicks is undeniable, but if you don't enjoy using the camera and feel you're missing shots, then even capturing great ones some of the time doesn't help much in the end. I appreciate its retro design, the simplicity of its layout and the lack of extra bells and whistles, but I draw the line at dodgy focusing and an all-round laggy feeling. It came to a head in a well-lit cafe in Taos with my daughter. She was sitting across the table from me and had her back to a window about ten feet behind her. I lifted the camera to photograph her, and I got the red box of uncertainty as I tried to focus. I moved focus slightly, got it again, and then I tried an area of greater contrast, and then the lens went back and forth a couple of times, before it finally focussed for me. But by that time, whatever fleeting expression I'd wanted to capture had gone, and I didn't want to take the photograph any more. I wanted to throw the camera on the floor. This wasn't an isolated incident, either. If you find yourself talking to your camera with a slightly incredulous "Oh, come on. Really?" tone to your voice, then things aren't going well. Online you can compare specs and sample files till the cows come home, but it's very hard to get a sense of how a particular camera handles for you. Even people who shoot similar subjects to you might do so in a slightly different way, or be more proficient at certain techniques, or not even notice some things that will annoy you immensely. I rented the X-Pro1 before I bought it, and its clear strengths are beguiling. To the point where I enthusiastically overlooked some of its weaknesses. Just walking around taking photographs of things, this camera performs brilliantly, and looks great doing it. But walking around taking photos is only a small part of what I need a camera to be good at. When I photograph events, editorial projects, or children, I need the autofocus to be fast and reliable. I knew this, and hoped the X-Pro1 would work like that for me. It doesn't – at least, it doesn't do that enough of the time for me. At a couple of the events I've shot where I used it in addition to my DSLR, there were several times when the folks I'd asked to photograph had to stand there for an extra long time as their natural smiles turned forced while I waited for the X-Pro1 to sort itself out. Which isn't to say that others can't and won't do great work with this camera – Kevin Mulllins is doing excellent documentary wedding work with it, for example. But if it's not working for me in those circumstances, and I can't trust it to deliver if people are paying me, then it had better be a fun walk around camera for the amount it costs. Which again, for me, it wasn't, because of the way that I like to walk around. When I shoot casually at home – family shots of whatever we're up to – I'm after passing moments when my daughter's looking a particular way, or reacting to something's that's just been said (I'm not going to pose her and ask her to hold still). Some of the time I can be deliberate and patient: set things up and wait for the moment – which works with this camera – but some of the time I can't, and I've missed that shot forever. (It's worth pointing out of course, that you can be deliberate and patient with a faster camera if you want to, but you can't be fast with a slower camera.)……
See more on www.clearingthevision.com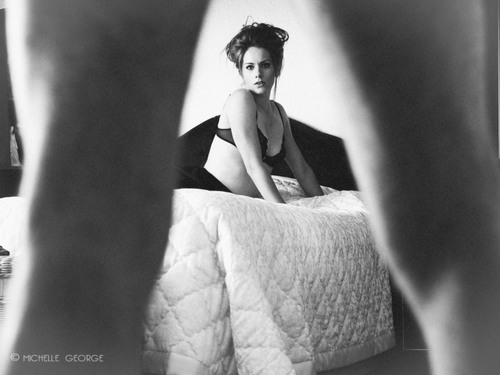 In continuing to honor my love of cinema and the X pro 1 and to also take advantage of my Parents being away on holiday:) I decided to shoot on location at their home in Epping Forest (which by the way has gorgeous natural light). I wanted to shoot something that looked like stills from a movie rather than a fashion editorial piece.
I will now let the pictures write the following 1000 words…
All shots taken using the Fuji X pro 1 with the 35 mm lens, albeit the black and white close up where I used the 60mm lens (possible my favorite, though still needs slight more improvement on the auto focus). A special shout out to models Jake Doughty and Sky Seraphin who had literally just met 30 mins prior to shooting so I think an applaud goes out to them for pulling off the chemistry on set…..
See more pictures on creativelondonphotographer.wordpress.com