Reviews
See on Scoop.it – Fuji X-Pro1

I was very excited when I found out that there will be an adapter to connect Canon EOS EF lenses to the Fujifim X-Pro 1 mount, and ordered it right away. I currently own the Fujinon XF 18mm and 35mm lenses that cover my mainly used focal length. But I have some nice Canon EOS EF lenses that I want to use when I need a bit more focal reach. Obviously there are two caveat when using Canon EOS EF lenses on a X-Pro 1….

See on fujixfiles.blogspot.de
See on Scoop.it – Fuji X-Pro1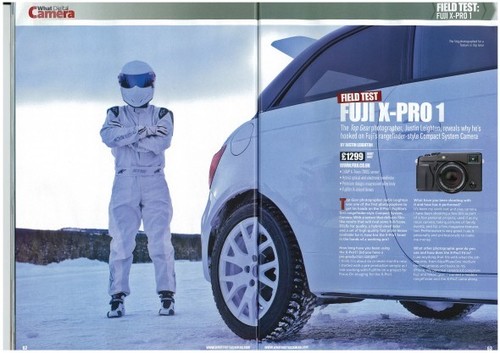 Top Gear photographer Justin Leighton checks out the excellent Fuji X-Pro 1
… me talking about the Fuji XPro1 … my current fav bit of kit … But its in Russia with my assistant Valentina Q… making probably better pictures than I take…

See on www.justinleighton.com
See on Scoop.it – Fuji X-Pro1

I have had the Fujifilm X-Pro1 a few months now. I am not the type of photographer who takes photographs every day (or even every week) but I have had enough time to play with the camera to form some opinions. The photographs shown here show real world situations an average amateur photographer may find themselves in. They were taken around my house, at a friend's BBQ, at the local county fair and while on vacation.
For the record, the shots shown below were taken with either the XF18mmF2 R or the XF35mmF1.4 R. The camera and lenses are all running with the latest firmware versions at the time of this review (Camera: 1.10, Lenses: 1.01).

See on blurdotblog.com
See on Scoop.it – Fuji X-Pro1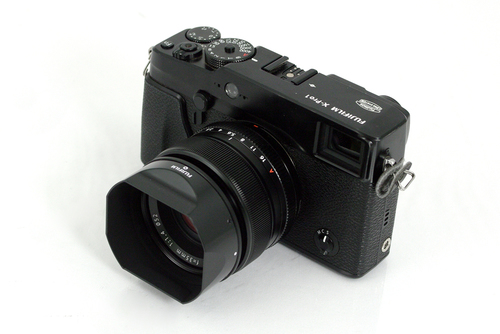 The X-Pro1 is a camera that's hard not to like – the retro rangefinder look is cool, controls are nicely placed and materials, build quality and overall fit and finish are quite nice. Auto focus and shutter lag performance are good, as is image quality – combine this with ISO performance that, frankly, sets a new standard for APS-C sensor cameras to my eye and it's clear Fuji has done a lot of things right with their latest mirrorless, interchangeable lens offering. I just can't get over that ISO performance, and the minimal range of shooting options actually makes this a fun camera to shoot.

See on www.digitalcamerareview.com
See on Scoop.it – Fuji X-Pro1

Sometime in the winter I started to hear about a new pretender to the X100 crown. A bigger sister that was to go by the name of the X-Pro1, was to be better in every respect than the X100 and would offer ultimate luxury with interchangeable lenses. I couldn't wait, of course, and I was lucky enough to get a review model from the good folks at Professional Photographer magazine (the loan, by the way, was enough to make me purchase the entire system from Wex Photographic as soon as it was commercially available)….

See on blog.wexphotographic.com
See on Scoop.it – Fuji X-Pro1

I honestly have no idea. I'm not on a mission to find the best mirror less / 4/3rds camera on the planet. I wanted a small camera that I could carry with me at all times that had great image quality. The x100 was put in my hands at a workshop I was teaching and I haven't looked back since. I know the OM-D is a sexy little camera that has a lot of options and, from what I've read, outperforms the x100 / xPro in some areas. I can't tell you though how much I love the Fuji hybrid viewfinder in the x100 and xPro. I use the OVF a lot and love it a lot…
See on zarias.tumblr.com
See on Scoop.it – Fuji X-Pro1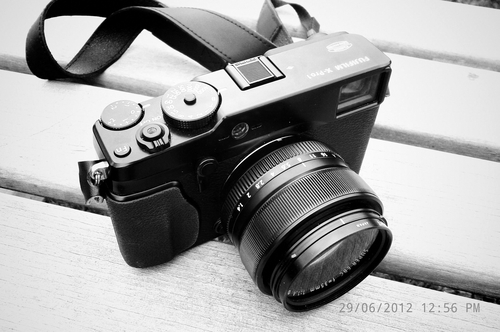 This is a straight forward review of the Fuji X-Pro1 camera, not too much digital tech talk, just my opinions. I hope you find it useful.
This is a great camera that takes beautiful images that have a sharp film-like look. The camera is small (ish) and very light. The Fuji lenses are lovely, but I suppose you'd expect nothing less with their experience in that field. Of course the wealth of many many manual focus lenses with the various adapters is a definite bonus. The camera is a little quirky to get used to, especially if you've come from a DSLR, but when you do you'll love it. A friend of mine referred to his X100 as being 'addictive' to use and I kind of understand where he is coming from with the X-Pro1.

See on andrewnewson.co.uk
See on Scoop.it – Fuji X-Pro1

As much as I love my canon 5D mark ii, I have to admit that after my trip to New York I was starting to resent it somewhat. Not only was it weighty and a heavy burden to lug around all day. It also stuck out like a proverbial sore thump, not a good thing if you're a street photographer, where discretion is key. I also accidentally whacked myself in the face with it at one point, this was NOT a pleasant experience! No wonder I started to covert the Lecia M9 the smallest full-format digital camera in the world, but as desirable as this lightweight camera appeared I just couldn't justify spending around £10,000 on a new piece of equipment so back to London I went with my 5D between my legs. ….then a few weeks later, as I was walking down Wardour street, cupids arrow struck….there it was, sitting in Calumets window display: the Fuji X-pro 1….
See on Scoop.it – Fuji X-Pro1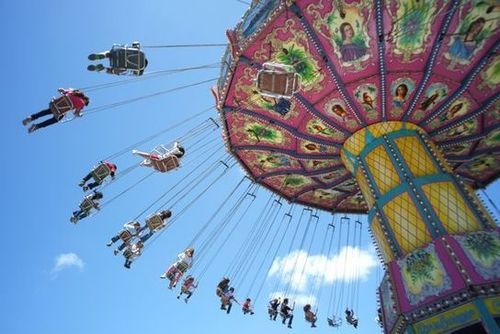 The Fuji X-Pro1 has the balance of looks, performance, and features, that edge out the Sony NEX-7 to be the closest "Leica on a budget" camera. This is my opinion, and honestly, much of this conclusion comes purely from a subjective point of view. Some people have told me that they like the color rendition of the Fuji X-Pro1, but prefer the flexibility and features of the Sony NEX-7. Others prefer the form factor and handling of the Sony NEX-7, but like the OVF/EVF of the Fuji X-Pro1.

See on photoheadonline.com