Sample Images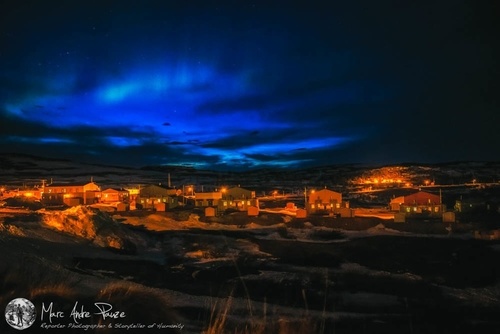 This week was a special mix of satisfaction, surprise and anger. First I went for a walk at 23h30 and was in awe under the sky still lit, helped by some Aurora Borealis. Then the next day, I saw the Inuit version of "The Hockey Night in Canada" as young boys were playing in the streets despite the ferocious cold wind. The anger came with a letter from Getty Images wich I describe in a precedent post. After having spent most of the week-end questioning myself about the Getty Issue and decided to fight back, I went on a walk without any other goal than observing and exploring, as I often do. I stumble upon this little Inuk, who can't wait any longer to make sand castle. A few feet away, the sea ice is still covering part of the bay, although it is shattered and flowing slowly to the Ungava. Wanting to see how much ice was left, I climb a nearby mountain and walked over to the big bay. Here're a few pictures from the week and from this climb. Although summer seems a long way, the small boy on the beach was already in his summer play. No more time to waste. Text & Photographs © Marc-André Pauzé – all rights reserved. You can diffuse and share on your social media using the buttons on the upper left side of the window, but the use of the picture is restricted through Stipple. Make sure you link back to this site and credit the author. Please forgive if there are any grammatical errors, my main language is french. To see the pictures in maximum size, click on one of them and change using the arrows of your keyboards or by clicking on the right edge of the picture…..
See on waseyaimages.net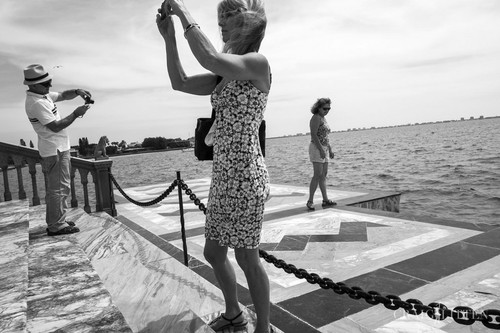 I'm a photojournalist by profession, a documentary photographer by choice, and a street photographer in my heart, but before all of that, I just love photography, and l love to take pictures. Enter in the Fuji X-Pro 1. Very recently, less than one month ago, I sold all of my DSLRs, fast glass and long lenses and purchased two Fuji X-Pro 1 bodies, the XF 18mm f/2 (approx. 28mm equivalent), the XF 35mm f/1.4 (approx. 50mm equivalent), and the XF 18-55 zoom and I couldn't be happier. For nearly two decades I've wanted a Leica film body (M6), but in my career as a newspaper photojournalist and with all of the professional sports I had to cover, I just couldn't justify it. In the late 90s I bought the amazing Contax G2 and loved it dearly. But as film started to fade and digital started to pick up speed, the M6 dream also faded. I finally sold the Contax in 2005 while it was still had value. As Leica released the M8, and I saw that the price was significantly higher than the already pricy M6 (I was never really interested in the M7), and that it was not a full frame sensor (because I really wanted a 35mm Summicron–Leica's 35mm f/2 lens), I lost interest. Then the Leica M9 was released which caught my attention, but I knew that as a working photographer, I could never afford nor justify the cost of one camera and one lens, let alone a complete system. I love Leica, but it simply cannot be justified in its cost (for me personally), thus out of my reach. Leica used to be the camera of the working photojournalist, and many legends of photography have made iconic photographs with them, but the world has changed, and making a living with photography is harder than ever. With new amazing technology, and steep competition, working photographers are now using new tools that get the job done. There was a time in my career that if a photographer showed up for an assignment with anything but a Nikon or a Canon, they were looked at as an amateur, but not anymore. One of the big attractions of the Leica, to me, is its simplicity; in this it's unbeaten still today. I applaud Leica for (mostly) remaining true to its heritage with the digital M cameras, and I hope they always will. No other camera system even comes close to the workmanship and quality build and materials of a Leica. If you've ever held a Leica lens, you know exactly what I'm talking about. Fuji, analogously, has invented a camera system that gets back to the basics. Things like a real shutter speed dial, check, a real aperture dial, check, a real optical viewfinder, check. But Fuji also added a real exposure compensation dial that's even better than the ones the old Nikon's used to have on their film bodies. Also, the wondrous beauty of Fuji's hybrid viewfinder, where the user can switch, on the fly, from optical (OVF) to electronic (EVF), is the icing on the cake to me. This camera is a breath of fresh air to photograph with. The buttons are perfectly placed and they are few (only what's needed). Today I chose to slow down and shoot just for the sheer joy of it. While photographing with the X-Pro 1 I was able to switched from optical finder, to rear LCD, to electronic viewfinder, to changing the ISO, the aperture, etc., etc. all effortlessly and without a thought. It was so much fun. In fact, it was pure joy. I really haven't had this much fun shooting with any camera since my Contax G2. Imagine that, a professional photographer actually enjoying shooting when not getting paid to do so. (By the slightest chance if anyone from Fuji happens to read this article, I ask you to PLEASE not change a single thing on the X-Pro 1 camera body with the future X-Pro camera body, but instead just install dual, quad-core processors (for a little more speed) and we're good to go. This camera is that good! …..
See more pictures on streetphotoworkshops.com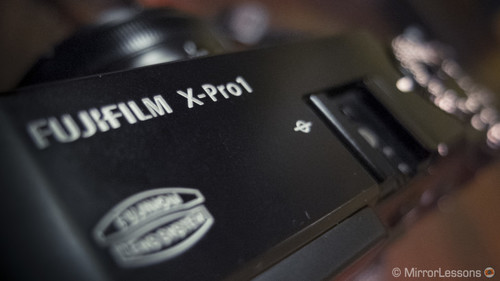 Since a few days isn't enough time to write a review with a capital "R", I thought it would be more interesting to share my initial thoughts about the camera and the X system in general. The Fuji X-Pro 1 is one of the cameras that has deeply captured my interest since its release, and now that I've had the chance to test it, I'm trying to figure out if it is a system that I could embrace for my personal projects or work. I had the chance to play around with it two weekends ago. Heather and I went to Genova in the Liguria region, chasing the sun, as the weather is very unpredictable these days in northern Italy. Luckily for us, the day was wonderful and I was able test the camera along many of the small streets of the old city, as well as along the Costa Ligure. Genova is a very interesting city to photograph: the old part of town consists of very small and narrow streets that create contrasted scenes where shadows are sliced in half. An inspiring way to begin my photographic day. My initial feeling when holding the X Pro 1 for the first time was actually strange, because I found it bigger than I had expected. After several years of DSLR shooting, I shouldn't have been surprised, but at the same time I had become so used to the small size of the Olympus OM-D and the Fuji X100s that all of a sudden, the X-Pro 1 looked like a big camera to me! But it only took a few hours to get used to it, and to realize it isn't that big in the end. The size, the design, and the "philosophy" behind it clearly reminds me of another camera, the Leica M series. It is clear to me that Fujifilm wants to offer a professional system in a smaller and cheaper package without compromise in terms of sensor and lens quality. Of course, there are many differences between the two systems and since I am not a Leica expert, I won't go in that direction. For me, it is enough to say that the "Pro" term used to name this camera is substantiated by the camera itself: it is solid, feels nice and steady in my hand, and has an all metal build. From the first test shots after unboxing the camera, you recognize that this camera exudes quality … and isn't half bad to look at as well! ….
See more pictures on www.bestmirrorlesscamerareviews.com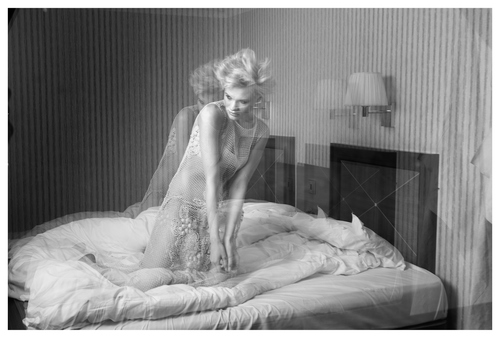 A little blog about shooting Mixed light set ups with the Fuji X-Pro
It seems to be that most people first looked at the Fuji X -Series cameras as street style cameras or reportage cameras.  At least this might of been how they were first marketed.  It was quickly very evident that the camera system was more than capable for much more. A fashion photographers dream is a quick, simple, stripped down camera that packs a punch. Super sharp and super punchy. Shooting natural light is a lot of fun with these cameras as it does let you travel with smaller kit bags and encourages freedom and movement. Being able to use the "photographers eye" to work with natural light can be super rewarding.
For my work, I love to create a mix of the two. As much as I love the lighting styles of people like Joey L and Damien Lovegrove. I am trying to work out what my lighting style still is. Maybe one day I might work it out !! The Fuji works great in the studio, on location and a mix of the two. Which is what I like to to..   Using speed lights, mixing them with naturally created light and additive lighting styles is just so much fun. Playing about with light can be very rewarding. When syncing the X-Pro, you have a number of options. It is great having the back up Sync port for a cable, but I use the Pocketwizard triggers. I do find that keeping the shutter around 1/60th of a second works well compared to the 1/125th that most people would be used to with a DSLR. Also.. when in the studio or using strobe lighting, I tend to go for the 18-55 zoom lens for some reason over the faster primes. I think this is the idea that if I don't need a fast lens  I might as well have the OS lens or the chance to zoom. It would be nice to have the X-Pro shoot using some kind of tethering to Lightroom or Capture one though, maybe some day !! The other thing that would be nice, which I am sure they will change for the next iteration of the X-Pro is to have the screen show the exposure rather than balance the LCD and only leave you to gauge exposure using the +/- meter. Trying to balance out all your tones can be hard, and shooting with colour filter or grad filters is not much fun either. Maybe also a dedicated X- Sync mode would be nice.. Kinda something like Pentax have. I am a big fan of the Pentax shooting modes…..
See more pictures on www.davepiper.org.uk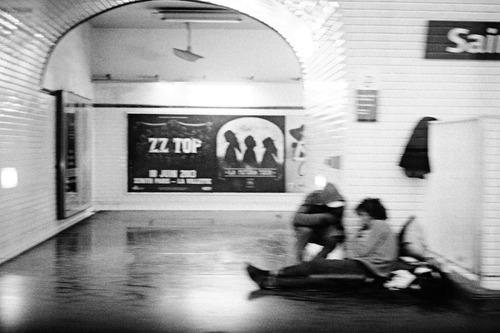 b/w . paris . france

Fuji X-Pro1 with 35mm f1.4 and Minolta MD Rokkor 50mm 1.4 …

See more pictures on nighlines.tumblr.com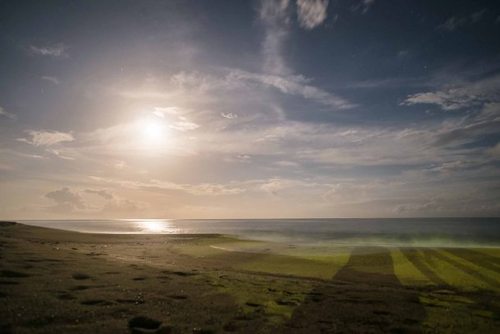 I've had my X-Pro1 for about five months now, and I'd like to think I've put it to good use. Up until recently, all I had was the 35mm lens, which I'm very fond of. I've been wanting a wider lens for a while, but I was torn between Fuji's 18mm and the 14mm. The difference in focal length was only one of the reasons I chose the XF 14mm 2.8 R. I first put it to use on my trip to Trinidad & Tobago. My very first shots were taken at Reagan National Airport, but I used it quite a bit throughout the whole trip. When my friends and I got to the beach, I had the 14mm locked in. I wasn't too pleased with a lot of the shots I got, but one of the main reasons for that was the overcast weather.  At first, I wasn't sure whether or not the lens or the weather were to blame, but now I'm sure it was the latter. I took many other pictures in Trinidad, mostly on the beach. Unfortunately, I didn't do any street photography on the entire trip, but when we got the beach in Tobago, I put the 14mm to the test once again. Unfortunately, the weather wasn't cooperating as much as I would have liked, but I still think I got some good shots. The 14mm was often my lens of choice during the trip, not because I preferred it to the 35mm, but because I wanted to put it to the test as much as possible. But while I was shooting with it, I sometimes found myself wishing I had the other lens on. The opposite wasn't true as often. Don't get me wrong, the 14mm is a great lens, but the 35mm has it beat when it comes to image quality. The larger aperture surely has something to do with it, but that can't be all. I'm no technical expert when it comes to lenses – I just go by what I see. The shot below was taken a little past 3am. It's an 8.5 second exposure that was shot wide open at 2.8. I was trying to shoot the moon, and my friends' shadows got in the way. When we saw the image in the viewfinder, we decided to position ourselves in the shot. The results were pretty cool……..
PROS:
nice and wide with very little distortion
great bokeh when shooting objects up close
distance and depth of field indicator
smooth manual focus ring
superior image quality
solid build and feel
great lens hood
CONS:
price $900
somewhat heavy
outside gathers dust very easily
not always as sharp as one would like
sometimes yields problems with blown highlights and shadows
CONCLUSION: 
This is a great lens, although I'm still not sure that I wouldn't have been better off with the 18mm. I'm all about the image quality, and it seems the 14mm might lag slightly behind in that regard. But the extra width and other features make up for the slight difference in sharpness between the two lenses. The images shot with the 14mm look great and they're virtually free of distortion. Manual focusing is very smooth, and the sliding ring that reveals a distance and depth-of-field indicator is a very useful feature. The 35mm is still my preferred lens of the two, and although it is my choice for a walk-around lens, I will be using the 14mm a lot more in the weeks and months ahead. I'm looking forward to seeing what it can do with sweeping landscapes and on the streets. Of course I'll be sharing the results. I don't think I'll be buying anymore lenses anytime soon.
See more on blog.karimhaddad.com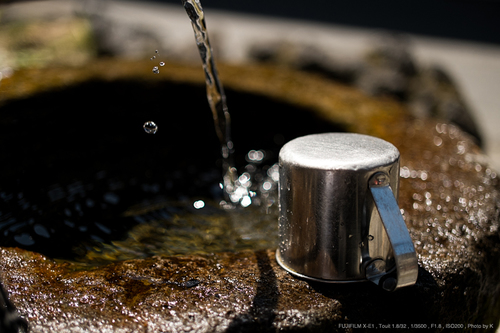 Sample Shots with Carl Zeiss Touit 1.8/32 and FUJIFILM X-E1
See more pictures on photo.yodobashi.com


Salzburg train station in Austria. For this trip I mainly used Fujifilm XF 14mm f/2.8.
Post process: Fuji RAW (RAF) + Adobe Lightroom 4 + VSCO PX-70 and PX-680 film simulation + Adobe photoshop for architecture/Barrel Distortion for 14mm lens.
See more pictures on faranstudio.com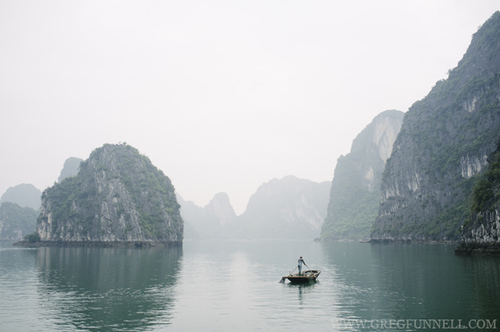 The other day I had to make a call I never wanted to have to make. At 28 I needed to see a chiropractor – some would call it the photographers curse, a curse that unfortunately goes with the territory. Lugging heavy camera gear around, usually with it hanging from the neck, waist or one shoulder eventually takes its toll. This realisation along with some other vague and equally suspicious excuses was one of the reasons I'd been interested getting myself one of Fujifilm's X-Series cameras – the thought of having a camera that was small and light and could maybe even supplement my heavy old SLR was appealing. I knew they would probably never replace my SLR for work but as everyday cameras they seemed to offer a good compromise. In 2011 I bought the Fujifilm x100, a camera I loved to hate, a camera that for me was so nearly there in terms of what I personally was after but somehow not quite. It looked fantastic (for some reason more of an appeal to me than it really should be) and contained pretty much my perfect carry around set-up; packing an equivalent of 35mm f/2 lens. It was almost too silent when it took a photo (to the point where at times I wasn't even sure it had taken) but is small size and discretion were a big plus for me, the whole thing could slip in my pocket and yet it felt good in the hand with a nice weight. The whole manual shutter and aperture operation were a total winner for me. I think Fuji had finally realised that most camera manufacturers seemed to have failed to realise, photographers are creatures of habit, we are by and large dinosaurs, and we like what we know, and what we know works. So many cameras that come on to the market aren't aimed at dinosaurs, they are aimed at the mass consumer. Manual shutter dials and aperture rings disappeared from all but 'pro' cameras because they seemed archaic. This may well be the case but equally they were a tried and tested function that had been the norm for decades, and yet within a matter of years digital cameras had consigned them to the graveyard, much to the annoyance of the dinosaurs. Fuji it seems finally cottoned onto this and their x-series cameras are evidence of that – they're a nod to a system that is tried and tested. Nevertheless with the x100 they still managed to get a few things wrong. They may have designed the hardware well but the internals, the menu system, was a generally nonsensical and the camera had a habit of not responding particularly fast, it was sluggish, not much but just enough, and it acted at time likes a despondent child. Luckily Fuji were a company that actually listened to its customers and the firmware updates did start to tackle these problems…….
See more pictures on www.focus52.blogspot.co.uk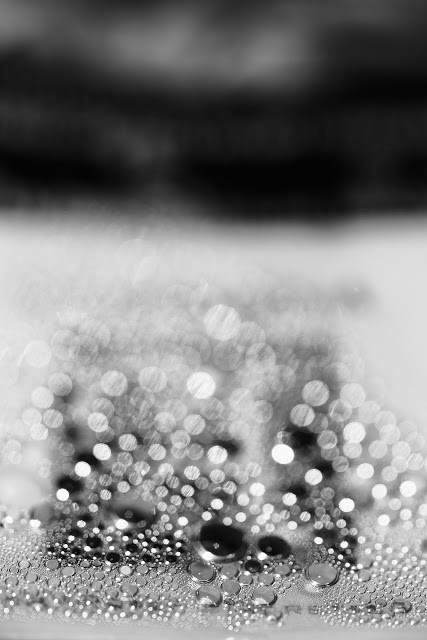 Random Pictures From The Fuji X-Pro1 – Keith Low
See on www.keithlowphoto.com