Fashion Photography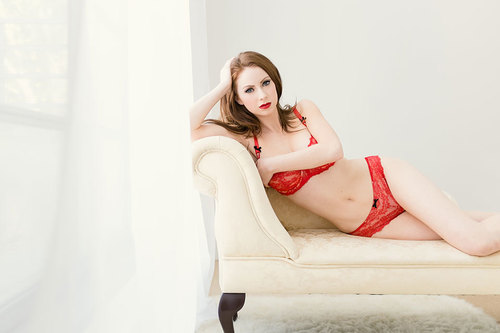 Is the Fuji x100s really a compact camera? You may know already that I have personally fallen in love with the new Fuji X series. The X-Pro1 had become my main body, replacing the Canon 5D Mk II. I said "had become", because the there is a new kid on the block who totally stole my heart. The Fuji x100s arrived on the scene thanks to a kind loan from Fuji and made its big brother look chunky, big and slow. Everything I had to get used to with the X-Pro1 have been fixed or improved in the Fuji x100s.
The question is: would I use the Fuji x100s professionally for our Boudoir Photography?

Fuji x100s: kudos to Fuji
The Fuji x100s is a beautiful camera. What do I think the "s" at the end of its name stand for? "Steroids"? "Super"? "Simply brilliant"? All of those. This camera is the natural extension of my hands and eyes. The Fuji x100s is a tiny camera, unobtrusive yet powerful. Do you remember the "pain points" I underlined while reviewing the X-Pro1? Fuji worked hard on those. The Fuji x100s is free from them. The focus speed is truly impressive. It still struggle under certain circumstances, as while backlighting your subject, but it is from another planet in comparison with the previous one. The other point I noticed that was solved is the lag between the pressing of the buttons. This little camera is quick, and when you press the button, it clicks. Would I use the Fuji x100s professionally for our Boudoir Photography? I am already doing it! ….
See more pictures on fabyandcarlo.com
Here is a gallery of pictures taken by Damien Lovegrove with the fabulous Fujifilm XF 60mm f/2.4 macro prime lens. All the pictures were shot on the Fujifilm X-Pro1 camera……
See more pictures on www.lovegrovephotography.com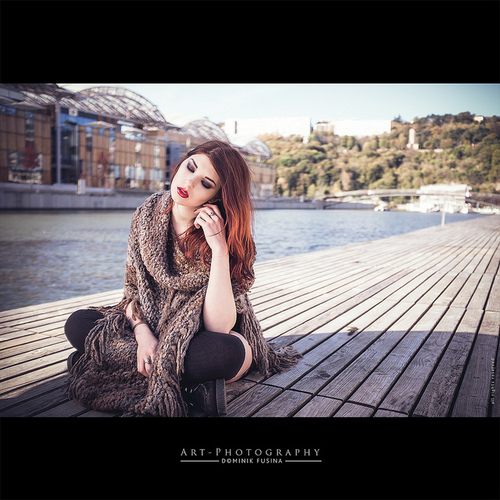 J'aime relever les défis, aussi bien techniques que créatifs. Mercredi dernier, j'ai décidé de réaliser un shooting mode en délaissant de nouveau mon NIKON D3s au détriment de deux petits boitiers, mais pas n'importe lesquels : mon FUJI x-PRO1 et mon x100s. Voici le résultat de cette séance. La FUJI attitude :) Pour celles et ceux qui me suivent sur ma page Fan Facebook (je vous invite d'ailleurs à vous y abonner ! Dediou !), vous vous rappelez probablement d'une séance pin-up réalisée avec Ariana il y a plusieurs mois. J'avais décidé, contre toute attente, de laisser de côté le lourd matos pro pour n'utiliser que le FUJI x100s durant ce shooting Studio. Le résultat avait dépassé de loin mes espérances. Même si j'étais confiant, on a tout de même quelques appréhensions à délaisser du matériel et des habitudes de travail éprouvés pour se risquer dans de nouvelles expérimentations. Peur d'un résultat moyen, de décevoir, de constater a postériori que la qualité n'était pas là et qu'on a gâché toute une magnifique séance. Mais comme certains le savent probablement, je suis un peu fou……
See on photo.fusina.net
…. However when Scot originally turned up he had quiet a bit of facial hair and said he needed to shave but we then decided to keep the facial hair for a few shots to get some edgier portraits with more of a  mean and moody feel too them , less clean cut….  I achieved this  using the FUJINON LENS XF60mmF2.4 R on the Fuji X pro 1 with my  ETC Source Four Junior and various gobo's as the light source…….
This is the last post from my recent trip to Asia. I managed to squeeze in a short 1:1 training session with one of my delegates before I headed off to the airport to fly back home. Here are a few of the gems we shot at a city centre park on the site of an old fort Soon I will be able to work this fabulous camera with just fast primes. The imminent 23mm lens is one I've been waiting for since day 1 and the 56mm f/1.2 due out in February will be immense.
Model: Gabrielle at Basic models Singapore
Make up and styling: Gabrielle
Camera: Fujifilm X-Pro1, 35mm f/1.4 prime lens and 18-55mm & 55-200mm zoom lenses
See on www.prophotonut.com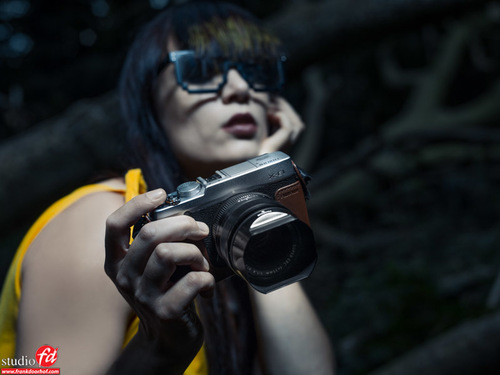 Shooting models during workshops is fun of course, but most of the times in normal work you will be asked to shoot not only the model but also "something else" this can vary from the clothing, hats to …. well actually anything. It's no secret I love vintage cameras and I like the look of the FujiFilm X-E1 so I thought it would be fun to create a series with this camera as the main focus of attention. As mentioned many times on the blog I always believe in giving my clients a lot of different looks to choose from so also in this case we shot with natural light and several different strobe setups. I hope you like the outcome…..
See more pictures on www.frankdoorhof.com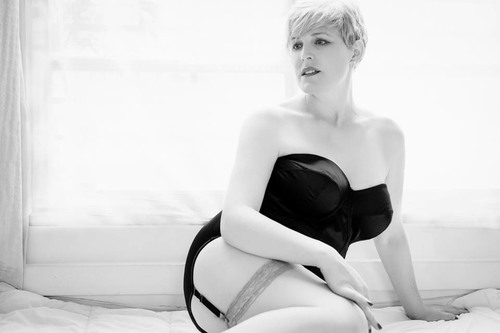 It has been a couple of weeks I have been able to field test the Fuji X-Pro1, and I am already using it as main camera for out work as London Boudoir Photography. I have been in love with that camera for a long time, and now that I can use it regularly I love its concept even more. I have used a specific word, "concept" as it is very important to understand that the Fuji X-Pro1 is not a DSLR and if you expect it to behave like one you will be highly disappointed by it. That said, my journey with this camera had been phenomenal so far, with just few hiccups when I expected it to behave like a DLSR. Lately, I have been looking for a camera that was "less" than my Canon 5DMkII. Don't get me wrong, I don't mean a cheap point and shoot, but a camera that was lighter, less bulky and that would allow me to be more important than the camera itself. When Fabiana had the possibility to have it in her hands, she immediately noticed the difference in weight: its six hundred grams, comprehensive of the lens, were absolutely nothing compared with the almost two kilos of the 5DMkII with a 85mm lens on it. Keep your camera in your hands for hours and hours and you will notice the difference as well! There is also another huge advantage I have found in the Fuji X-Pro1 and its unobtrusiveness: being a left-eye shooter, I have always given my right eye a minor impact in the way I photograph. Now that I use this camera, which is much smaller than the others, I have moved my right eye in the viewfinder; why? That's simple; I use my right eye for checking the exposure, locking the focus and framing, but then I switch all my attention to my left eye. That one sees the real photograph I want! I am still a left-eye shooter, but I can now focus all my attention to my subjects with an eye unobstructed by a viewfinder that limits my ability to see the moment. We specialise in Boudoir Photography, so you have to expect our subjects to be quite intimidated of posing half naked in front of our cameras. A smaller, unobtrusive camera works wonder in lowering the gap and relaxing our customers! This is an A-M-A-Z-I-N-G thing that the Fuji X-Pro1 allows me to do…..
See more pictures on fabyandcarlo.com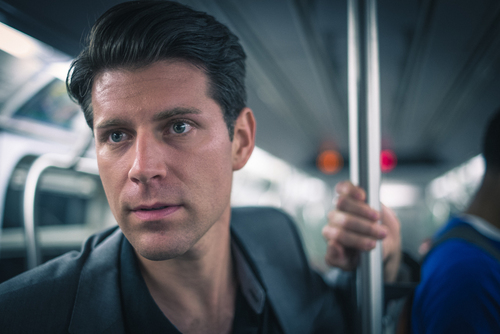 Often times in the summer I find myself needing a recharge creatively. It's hot outside, business is usually slower, and a cold beverage by the pool seems to be the only thing on my mind. So I have to look for a way to shake things up. This year, I decided to spend a week in one of my favorite places with two very good friends. So I jumped on a plane and headed for the Big Apple. A week immersed in the energy that is New York was going to be just what the doctor ordered. Now if you know me at all, you know that I cannot travel without finding a way to include photography on the trip. I had some ideas of what I wanted to shoot this time so I called New York actor Craig Maravich. I had the pleasure of working with Craig a few months ago on the promotional photography for The Arkansas Repertory Theater's production of Arthur Miller's "Death of a Salesman." Thankfully, Craig was just as excited about working with me again as I was with him. So we set it up. After a few days with my friends, wandering the city with nothing but a Fujifilm X-Pro 1 in my hands, I was becoming very inspired about what I wanted to do with Craig's shoot. I really wanted to showcase his unique ability to create characters on the spot, but to do so while capturing him in his city. I was hoping that using the X-Pro 1 would allow me the freedom to do this without causing the normal ruckus that comes with showing up in public spaces with a large DSLR (a Nikon D800 in my case).  Thursday came and I met Craig at my friend and mentor Peter Hurley's studio in Chelsea. The only wardrobe instructions I had given Craig were to show up with a few changes that would represent how he would spend a day in the city. He arrived dressed very casually cool, a look that I liked. We began with some warmup shooting using with the X-Pro 1 and some nice window light.  After a few moments I asked to see what other wardrobe choices Craig had brought. It was then that he revealed a custom made Hugo Boss suit. Instant inspiration…..
See on johndavidpittman.com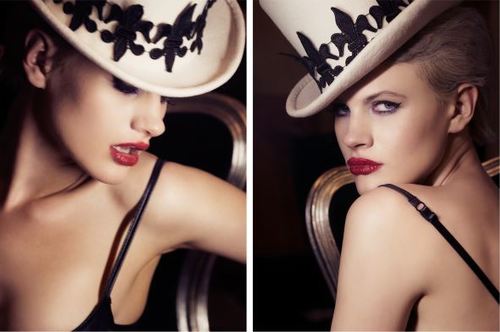 Most people who know me will know how much affinity I have for Fuji Film. Before I loved the X-Pro, I applauded the D800, was inseparable from the Nikon D3x, and was charmed with the Pentax 645. Previous camera champions were the 5D mark 2 or maybe the D700. I love and still use my Nikon D90. (Not so much these day though I have to admit) It is quite apparent that I might be a total geek when it comes to cameras. Not quite the pixel peeping type of geek that goes on forums to debate the sharpness of sensor V's sensor though, for me it is something a little different that makes a camera …. good….   It is not the colour rendition, it is not how fast it auto focuses, or how high the ISO goes. In-fact, I more than likely could not tell you what the mega-pixel count of the X-pro is off the top of my head. It is just not a statistic that is important to me. I could however explain how the sensor of the X-pro is different to a Bayer Sensor, or how that differs over a Foveon Sigma Sensor. I could wax lyrical on why I still love CCD sensors like the one found in the Pentax 645. But to be honest, this is all not related to why I like a camera or not. I could not tell you the frame rate of all of the cameras I have mentioned and I could not tell you which is 'best'. I could not tell you the file sizes or recite the detail spec of the camera like a Star Trek geek could give you chapter and verse of each episode. My love stems from how the camera feels, how it balances, how it empowers me, how it challenges me and ultimately how it helps me do what I want to do. I want a camera that does just what I want and nothing more. I don't NEED Art Filters, or auto-face detection, anti-blink, perfect shot tech messing about with MY photograph. If I was to make a camera I would not even have the option to shoot to JPEG… It would be DNG and that would be the end of that. I would have 3 dials. Shutter Speed, Aperture, ISO and a slot for a battery and a shutter button. What more do you really need ?? Everything else it to make you feel better and something to play with while your not concentrating on your photograph. Before people comment, I have a clear idea that this would not suit everyone. I hear that Nikon are making a system of finger print recognition for the cameras? And no doubt people will find a marketing reason to say why they applaud it. Not for me though….
See on www.davepiper.org.uk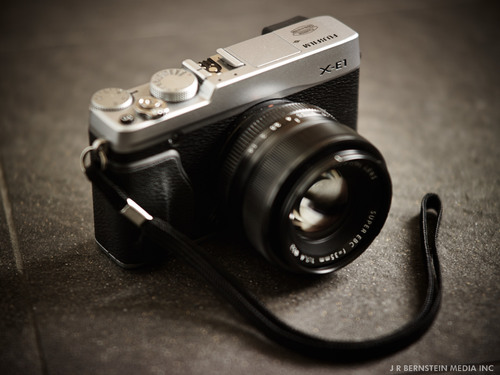 If you have read my Fujifilm X-Pro1 review (which, by now, you should have), you'll know that I was very impressed. So going into this review, and knowing what I knew of the camera, I was somewhat sceptical of the X-E1 living up to my demands. (SPOILER ALERT!) Sadly, I have to confess that my fears were not completely unfounded. In short, the X-E1 is not the camera for me. I'd rather just pony-up the extra $400 to get the X-Pro1. To me, the X-E1 is missing of bit of the magic that the X-Pro1 has. While a little quirky, the X-Pro1 is a splendid camera to use.  The saving-grace of the X-Pro1 is its brilliant hybrid viewfinder. It makes every other minor quibble…well, minor.  But, without the hybrid viewfinder, I found the overall experience of the X-E1 less to my liking……
Conclusion
While I might not love the X-E1 like I do the X-Pro1, it's hard not to at least like it. After all, it performs like a champ, uses the same great range of Fujinon XF lenses as the X-Pro1, is small and light-weight, and looks like a million bucks! For some people, I think the X-E1 is probably the perfect compromise  It has most of the same professional features as the X-Pro1, but is a smaller, lighter, more consumer-friendly package, and would certainly be a welcome gift by any photo enthusiast…..

See more pictures on www.jrbernstein.com