Sample Images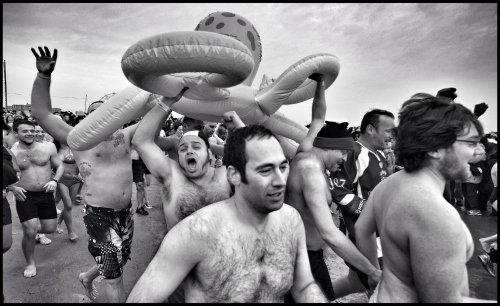 The first day of the New Year is celebrated by New Yorkers at Coney Island in the form of a brisk dip in the Atlantic Ocean. This has turned into an event which is organized by the Polar Bear club of Coney Island, an organization  founded in 1903. This year the event drew close to 4000 viewers and 2500 swimmers in an extremely festive environment filled with characters, personalities and lots of photographers. I was actually quite surprised at how many shooters turned out, the day was a who's who of NY photographers that showed up; from the venerable Harvey Stein, the Daily News veteran  Todd Maisel, iPhone extraordinaire Ben Lowy, man about town Louis Mendez, Brooklyn's Kevin Downs and a motley assortment of many local photographers. I got the idea to shoot the Polar Bears a few days prior (looking for something cool to do New Year's Day) and I texted my friend and fellow photographer Brandon Remler to see if he was game for it, and found out he had already plans to go, so I hitched a ride with him (creative minds think alike aye?)…..
See on suspectphotography.com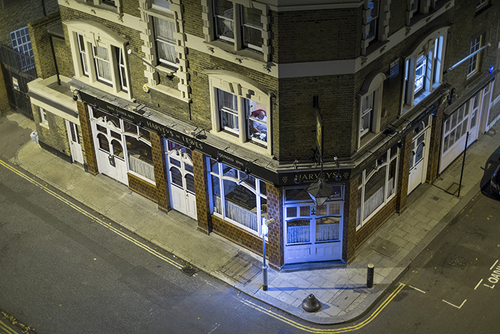 Back in October, I took a very quick trip (another where I only took the Fuji X-Pro1) to London for a meeting to talk about science, the retina and cameras, to meet with friends and family and an added bonus of sitting in on the very first Gulf Photo Plus Popup.  Hey guys, when and where is the next one?  I'm totally going… anywhere on the planet.  You name it. This trip was one of those rare events where things start to line up in a number of places.  I got to do some science and happened to be in town when friends from Virginia were working in London, as well as photographer friends that were giving talks and finally, my aunt and uncle were going to be coming through London when I would be in town.  So, what was already going to be a very busy schedule was almost overwhelmed with activities and crazy with almost no time for sleep.  But you can sleep in the plane on the way back, right?  I had a spectacularly good time seeing and visiting with everyone as well as getting a tour of some pretty cool buildings, visiting with friends and getting to hang out and do the fan boy thing with photographers who's careers I've followed for decades……
See more pictures on prometheus.med.utah.edu
This is the second of a series of articles on the Fuji XPRO. The first was addressing what I like the most of the camera. Here we will have a look of what I consider the short comings.. The "Pro" is not a camera to produce instant results. Its few weaknesses appear after continued use. Its undoubted ergonomics are misleading. The dials are, apparently, where they should be… almost. I say "apparently" and this is the Fuji's catch. Almost everything seems to be where it belongs but the "almost" makes all the difference. It may take some time (in my case quite a bit) to gain control over the camera's features for professional use.
The hardness of the dials. The speed dial falls under your right thumb area, but when you wish to turn it without separating your eye from the viewfinder you meet a resistance that makes handling difficult. It has a safety switch at its center to prevent the wheel from moving accidentally, and this causes the wheel to be resistant. Learning to push the button, turn the wheel without looking and keeping your eye on the viewfinder is a real feat…….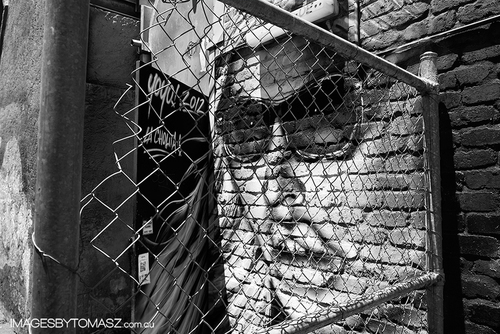 I met up with friend and fellow photographer Ted Dana today and we hit the Perth CBD and Northbridge with camera's at the ready. I'm the first to admit that I tend to neglect street photography a little. I rarely take my camera with me and hit the streets to capture the raw emotion of the city. Its one of my goals for 2014 (I won't say a resolution otherwise it will never happen!). Ted and I had a different approach. Ted was geared up with 2 DSLR bodies, a flash, and a bag full of gear goodies. I took the complete opposite approach. I had my trusty Fuji E-X1, and ND filter and 1 lens. Whilst I would have loved to have access to the kit Ted was carrying around (I wouldnt like all that weight handing on the camera straps though!) I have found that in the past I've been bogged down with too much gear, and decided to take the less is more approach…..
See more pictures on www.imagesbytomasz.com.au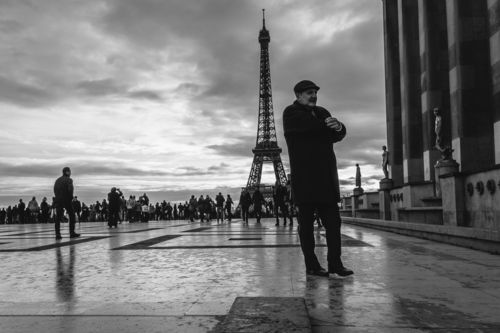 We were lucky enough to go over to Paris for a few days to take in the new year. It really is a beautiful city with plenty to photograph. Its a great place just to wander around and take in the surroundings. The weather wasn't too good for the first couple of days with a lot of rain. It finally cleared on our last day with clear skies and bright winter sunshine. Luckily we had left it to the last day to go up the Eiffel tower. We were only able to get up to the second level as the elevator to the top was broken, this still meant incredible views over the city. Here is a selection of some of my favourite shots from the trip, I plan to post another set soon. All the images were shot with the Fuji X-Pro 1 using the XF 35mm and 18mm lenses, processed with VSCO film and Rebecca Lilly presets…..
See more pictures on samburtonphoto.com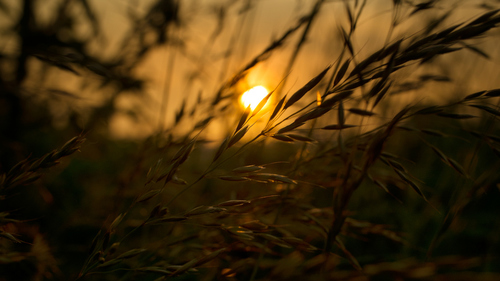 I have tried to include as much as I can can from locations such as Marrakech, London, Washington DC, New York, Bristol, Virginia, Birmingham among many other places. As many you know, I totally love my X-Pro 1.  The 35mm, 18mm, 60mm and 18-55mm lenses in this gallery and I look forward to testing out the new 55-200mm as soon as I can. We love using the CSC Tripod (Keith) from 3 Legged thing and the Lee Filter Seven 5 CSC size Filter kit…..

See more pictures on www.davepiper.org.uk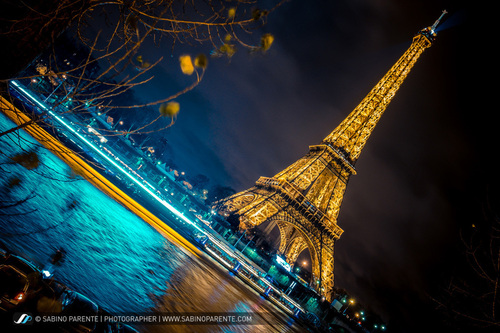 I have been several times in Paris but never had the opportunity to take pictures at the famous Eiffel tower at night. This time was the "reveillons", the new year's eve night and i had the Fuji X-E1 and a tripod with me and the tower was lit up for the celebrations and i could not miss it!….
See on www.sabinoparente.com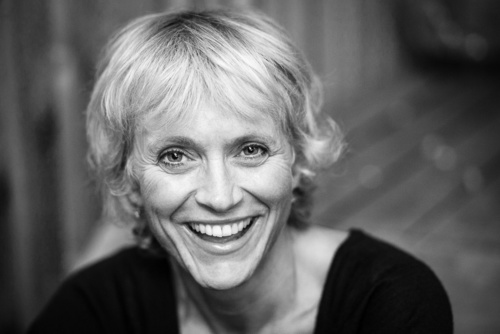 I do social media styled portraits for my friends every year. 2013 was the first time in close to 5 years that I haven't done the images with a DSLR or Medium Format camera. These two samples were made with a Fuji X-Pro1 at ISO 1600 and Canon EOS 5D Mark II at ISO 1250 respectively. Can you tell which is which without looking at the EXIF info at normal web viewing distance?
See on leighmiller.zenfolio.com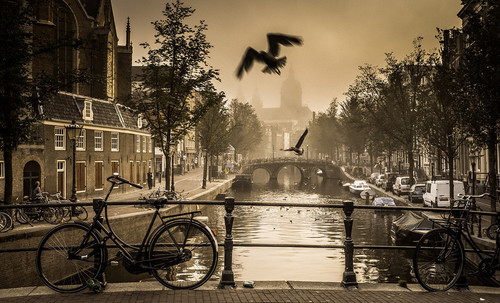 The fuji x100s a.k.a poor man's leika, Hipster hip shooter, Langhorns little lover etc is an amazing camera! A blast from the past with digital refines that simply makes photography fun and professional! The Images below are mainly from Sweden , Denmark and Holland.
See more pictures on www.januslanghorn.com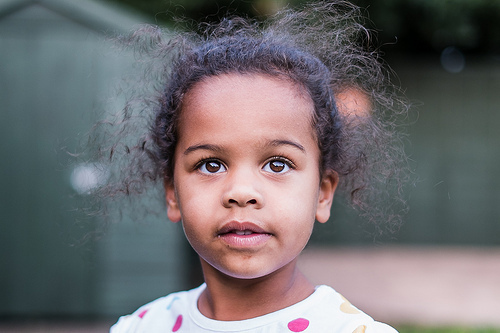 To say I took a while procrastinating over purchasing a micro four thirds/mirrorless camera may be somewhat of an understatement. It took weeks of research, starting with a notion of carrying less kit which grew into an urgency to purchase a back up camera, quickly developing into lusting after Fujifilm's top end X-Pro1. Before I begin to waffle exponentially about my first experiences with the X-Pro1, I'd like to point out that this is unlikely to be one of those in-depth, comprehensive reviews listing the pros and and cons of purchasing such a camera. This whole blog will merely consist of anecdotal musings from a girl who lives and breaths photography. No really, I wake up thinking about photography… I know, that's a bit strange, I'm a bit strange. If you'd like an excellent blow-by-blow account of every feature of the X-Pro1, may I send you over to The Luminous Landscape which goes into intricate detail, the likes of which I'm not even attempting to emulate…..
See on girlbehindthelens.com