Sample Images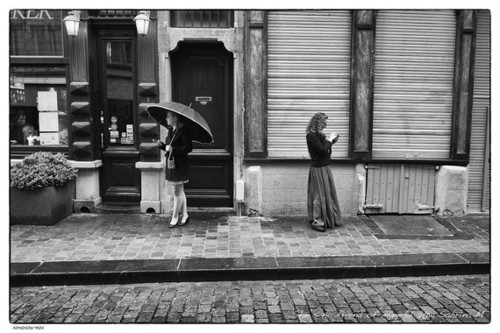 One of the most important things about street photography is to have a keen eye for your surroundings. Sometimes, it's the subtle relationships that make for a great image. Take a quick look at this photo by Flickr user Sabrina M., and you'll notice it has nice framing, strong lines and a pleasing composition. But it's the subtext of the photo — the emotional distance of the two women — that makes it great. The women are standing just a few feet apart, each smoking a cigarette and each seemingly oblivious to the other. It's almost as if they're taking great pains to avoid making eye contact. Are the women using their cell phones because they need to send important texts or is it because it gives them a reason for not making small talk? These are things that Sabrina says went through her mind when she came upon this scene in her hometown of Antwerp, Belgium. This photo was taken near Antwerp's city hall in an area where many of the homes have survived from the 16th Century……..
See on www.huffingtonpost.com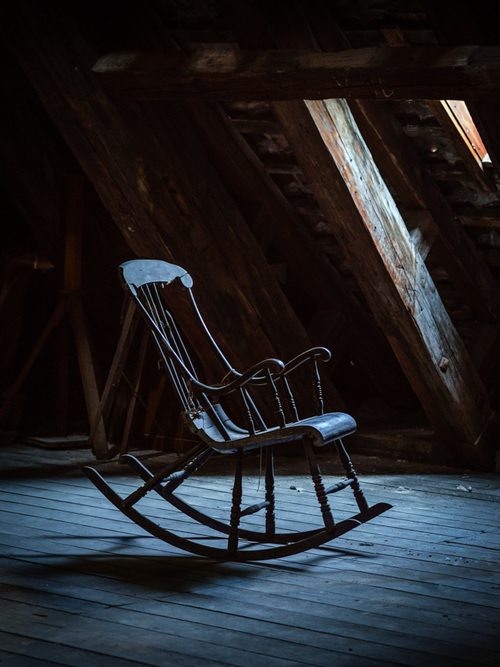 This piece continues my photographic journey around Copenhagen. You can see part 1 by clicking here. Before delving into more photos, let me say a bit about the lenses I took with me. After some deliberation I decided upon the 18, 27 and 60mm primes. That meant leaving the fisheye, 50-230 and my old manual focus optics at home. I think overall the trio I picked out covered 95% of the shooting situations I found myself in. They are all capable performers, their light weight and in particular the small size of the 18 and 27 make them great for travel. You can just put them into a messenger bag or even a coat pocket and blend into the crowd. I've got a great LowerPro backpack that I used to cart my Nikon gear around in, but it's not something I want weighing on my shoulders for hours, especially when walking around all day. The great thing about the Fuji system for travel photography is that it's so compact and lightweight compared to even a small DSLR setup – crucially while still producing top notch results. It's taken awhile for mirrorless cameras to reach this point, but now I know there's no going back…..
See on lightpriority.net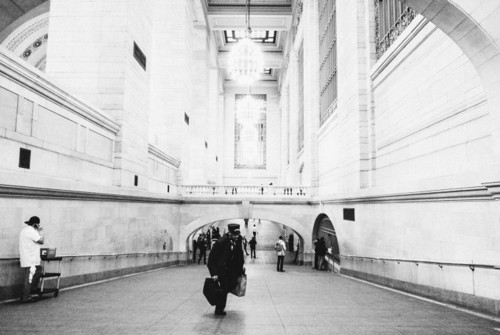 After years of shooting with my Canon 5D and other big camera's I bought a Leica M8.2 a little over a year ago along with two nice Elmarit lenses. In the end, it wasn't for me. I loved shooting with and getting that Leica feeling, but the ISO performances were so bad that I could not justify it. Thought of buying a M9 instead, but even for the extra money I could not just do it. I also bought the Fuji X100S when it came out and loved it. I did sell it after 2 months because the fixed focal length wasn't for me. So I sold everything and bought the Fuji X Pro 1 with the 18mm 2.0 and the 35mm 1.4. Fell in love with it. Wasn't the Leica M but it was what I was looking for. So when I went to New York for the first time in my life (actually flying for the first time in my life after being scared of flying my entire life) I brought the X Pro. One day… I will go back to Leica… but for now… the Fuji helped in capturing the people of New York. Just wanted to share! …….
See on www.stevehuffphoto.com
Out of the morning mist they appear: serious, silent, with a purposeful stride, their bare feet thump the road, completely indifferent to the foreigner with the camera. "Mingalaba!" I try the traditional Burmese greeting, unsure if it will be acknowledged here amongst the Shan. A young Novice flashes me the briefest of smiles and a nod, traditional politeness overcoming Buddhist detachment. At a crossroads the long, snaking line dissolves and they are gone all too quickly. I sit down at the roadside and watch them dart off in a hundred different directions. Myanmar has gifted me another precious little nugget on a trip filled with very special moments……..
See on blog.rosskennedyimages.com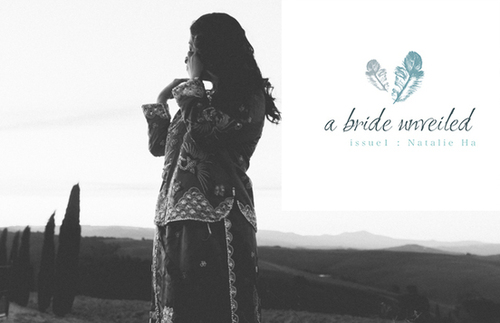 My parents are Chinese, they were born in China, where they lived for a few years and then they moved to Vietnam where they spent a lot of their years. They had to make a run for it when the war started, my mum and dad split the children up, they had five children at the time, dad took the boys and mum took the girls. My mum made it to L.A and my dad went to Hong Kong, and they had to somehow find a way to meet each other again. Eventually my dad also made it to L.A, him and my mum met up and they moved to England. They pretty much trekked around Asia, then to L.A (where they could have settled down) then they moved to England, where I was born……..
See on beautifulblissbridal.com
Each world religion has a place of very special importance where millions of the faithful make their pilgrimage. Similarly, there is a place that every photographer should visit. It is a land like no other. The unconscious beauty of the land captivated us. The abundance of shapes, patterns and colours produces dream-like visuals, which might overwhelm your senses at first. However, if you cut yourself off from the noise of your everyday life, turn off your cellphone, disconnect from the Internet and let your senses wander, you will find yourself in awe. Rolling yellow fields against the blue sky, whirling patterns of cut hay and huge expanses of sand dune-like hills are all a feast for the eyes. The Palouse is an agricultural region in southeastern Washington, which produces mostly wheat and legumes. We couldn't find the origin of the name "Palouse." Some sources claim that the name comes from the Palus tribe, only later converted to Pelouse by the French-Canadian fur traders, which means "land with short thick grass." Later the name was changed to the current Palouse……..
See on olafphotoblog.com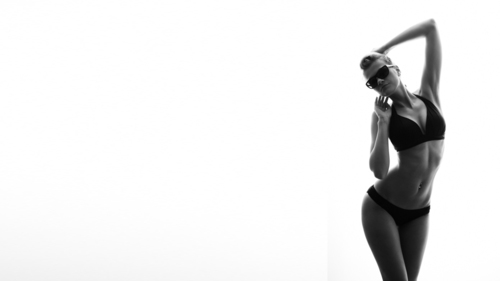 Last time I shot with Erika (here), I ranted how shooting in a small white room is a giant pain in the ass. Light spill, uncontrollable reflections, mental breakdown, suicidal thoughts, etc… Well, this time it's pretty much the opposite. Let's see how we can turn that small white room in to a huge light modifier. When I shoot with natural light I usually tend to a) back light my subjects, or b) use hard, direct sunlight. I hate overcast days and I much rather shoot in high noon on a sunny day than say, during golden hour. I like to have plenty of light. Hard light. Light of the golden hour lacks balls. So, how do you create heavy back light or direct sunlight with strobe?…….
See on timokoponen.blogspot.de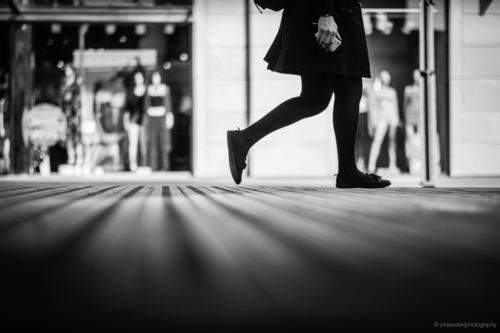 May 2014. Again I have strayed into other areas of photography for a little while. I still shoot street. Below are 14 shots from Århus, Denmark. Captured using the X-Pro1 and the XF 56mm f/1.2 R. This lens is fantastic. Bokeh is so amazing. Focus is fast. And it works so damn well for Narrow DOF street photography. Enjoy…….
See on jonasraskphotography.com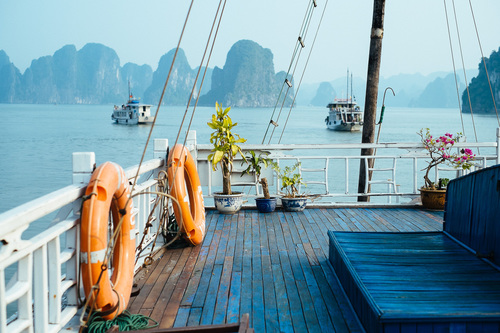 I was the first one who walked upstairs and enjoyed the beautiful scenery. The view was fantastic but what I loved even more was the have a couple of quiet and peaceful minutes on the upper deck of our boat. This is my third trip to Asia. I can remember how I felt before the first one. I was nervous because of the high population density of the places I will see. I go there for business so the only places I usually see are the big cities like Hanoi, Saigon ( HCMC ), Bangkok, Manila or Jakarta. These are all mega cities with more inhabitants than the small country where I was born and live. I lived in Vienna for almost 20 years but Vienna is a city of just 1.7 million, if you add its surroundings it´s 2.5. In the list of the biggest 200 metropolitan areas Vienna ranks 179. In this list Jakarta is second with almost 30 million. Manila made it in the Top10 too. There are a couple of other lists on the internet and there is no standard to tell what a city is and to determine the number of its inhabitants. But it doesn't matter. These cities are really big and can be overwhelming…..