Sample Images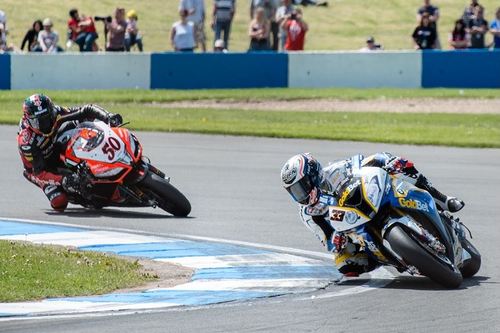 As an ex-I.T. geek, I am really still into my gadgets and my kit, and so when I had the opportunity to try out a couple of new lenses from the very kind people at Fuji, I jumped at the chance. The one I was really interested in was the 55-200mm lens. My gorgeous Fuji XPro-1 camera is so lightweight, that it's ideal for carrying around permanently. I have been in need of a lens with a little reach, too, so this was the perfect opportunity for a play. My first event was a weekend at Donnington race circuit for the World Superbikes championship. A good friend of mine helps to manage a small satellite race team, so we headed on down during weekend of glorious weather, and I used the XPro-1 exclusively. All of the following shots were taken with the XPro-1 and the 55-200mm lens ….
See more pictures on networkedblogs.com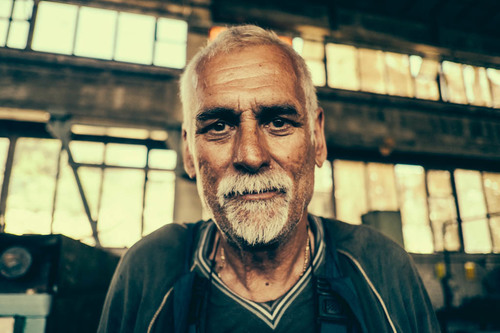 Three words: Skver, Mali, Losinj. I'll take a punt and say there's few people in the world who can explain those words. I'll try. Simply, Mali Losinj is a spectacular Croatian island located in the Adriatic Sea (like all good Croatian islands). And Skver means two things – it's Croatian slang for "shipyard", and it's the name of the most unique experimental contemporary art festival you've never heard of. Every year, local and international contemporary artists invade the rugged workplace of the Mali Losinj ship-workers, installing art into a historic, but still very real and operational shipyard. On the surface, Skver would appear to be the ultimate clash of cultures. The port of Mali Losinj is said to have once held a merchant fleet of ships that was the largest in these parts, rivalling even the merchant fleet of Venice. Today it's a shadow of it's former greatness, and feels semi-abandoned. In contrast to the spectacular scenery to be found all over the island, the shipyard remains a gritty, dirty, and dangerous workplace, where men are men and women aren't seen at all. Helping to inject a little life and new-found interest, Skver has created a now four year old gallery throughout the shipyard. As for "experimental contemporary art", this year the "installations" included an artist sticking a pulsing red light into his eye to self-hypnotise himself whilst digitally painting on his iPad, and projecting the results live onto a shipping container. Clearly, Skver is not a place for classical, or traditional art. Forty-four gallon drums filled with water and wired to home made electronic devices, creating an interactive instrument that emits loud 1980′s video-game-esque bleeps. A cute girl performing tongue twisters from around the world. An old pile of concrete blocks that were swirling with psychedelic projections – and not only that – the discarded bricks were talking to me in an alien language. A huge abandoned Russian ship covered with skillfully projected light paintings. Murals, music, noises, and unexplainable oddities. LSD, not required…..
See on www.yomadic.com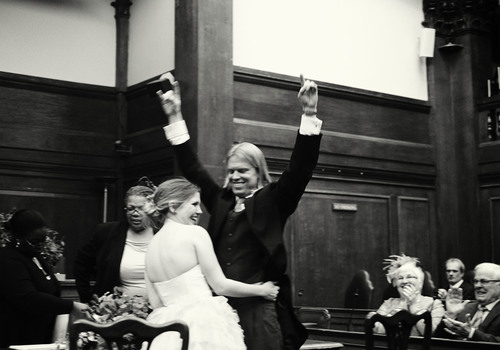 Should have got this post up sooner, but better late than never. Yup that's right, I did a whole wedding with just the Fuji X-Pro1, start to drunken finish. Yes it was my sisters wedding so I didn't have as many pressures, but she didn't book a photographer and left it all to me (almost all of it)! The good thing is, she is really happy with her photos! (not just because she is my sister apparently).  I shall start with what is my probably my favorite photo from the day! The beauty of the X-Pro1 is its small and light. So small and light that for this I didn't even have it in a bag, I just had it on a strap around my neck. So what did I have in my kit that day you may ask? Well it consisted of: Fuji X-Pro1, fujinon 18mm, fujinon 35mm, Fuji EF-X20 Flash. That was all… The lens that was off the camera just about squeezed into my suit pocket, so portable its amazing…
See more pictures on roughly365.wordpress.com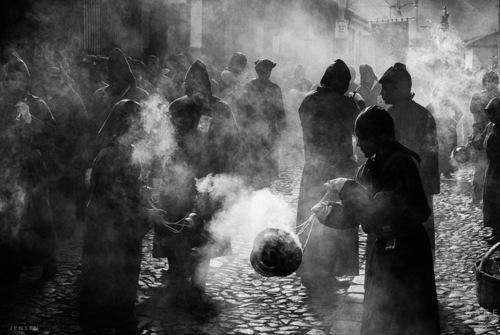 The town of Antigua in Guatemala is home to large, intense Catholic processions. Every Sunday during Lent, thousands of people take to the street as it snakes through impossibly narrow paths. Incense attacks the nostrils and its smoke turns everyone into ghostly silhouettes, scorched by the fiery Guatemalan sun. A chaos of people and the music of the procession. I am not a religious man and do not understand the underlying significance of what is happening. But I watch, amazed, confused, aware of symbols without comprehension. And small moments, moments of great surrealism. Absurd and frightening. I am fascinated by these fleeting instants, and I wonder how many notice them, fragments from a dream, sometimes out of a nightmare…..
See more pictures on www.kagecollective.com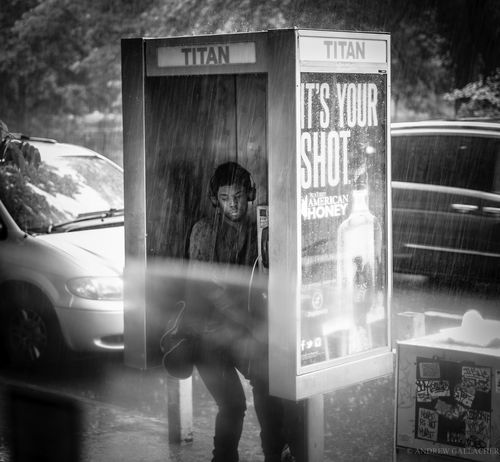 I'm a professional traveler and I don't mean for pleasure. It's the kind of travel that involves a 4:30am phone call and a request to get to Caracas, San Salvador, Port-Au-Prince or swim across the Gulf of Mexico to New Orleans kind of deal. Usually it's a breaking news story in the shape of a riot, coup, flood or earthquake but almost always in fascinating locations and most often places where, by necessity, I have to travel light. Enter my Fuji X-Pro1, a camera that's changed me profoundly as a photographer. I bought mine just over a year ago along with the well regarded 35mm f/1.4 lens and more recently the 18-55 so called 'kit' lens. It's been a revelation; a small camera that people aren't afraid of that takes better pictures than my hulking DSLR and a camera that is, for me at least, an emotional beast. It's hard to explain but I think the Fuji made me slow down, think about each shot carefully, compose and capture. When I'm on assignment (as a reporter not a photographer) I rarely have more than a few minutes to capture interesting places and people and that's the Fuji's biggest strength; because it's compact, it's always with me and that's half the battle. Tucked away in my Retrospective5 bag few people notice it even in the less desirable places that my job takes me to…..
See more pictures on andygallacher.com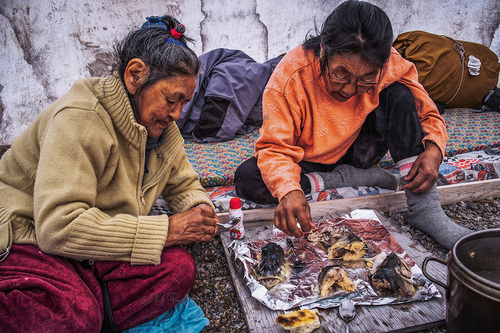 Last Saturday, I went to visit Selima and Minnie, at their traditional campsite. Once there, it didn't take long I receive an invitation to come in the tent to have some lunch (arctic char, banik and tea). I sat on the ground with them, and they told me stories of their younger years. They are both 66, but still very active.
" Last night, before climbing in our sleeping bags, I went out and fire my rifle in the four directions to let animals know we were there " said Minnie with a grin on her face.
Selima was very open. When asked about tundra herbs to make tea, she said that she knew a lot, but don't drink them anymore because she had so many cups in her younger years.
After lunch, Minnie took her beading out and her friend looked at her work. The " tupik " (tent) was kept very clean, free of any fish tiny bits, not to draw bears. Selima wrapped the small leftovers in aluminum foil and put it in the stove.
"There will be no smell" she said, closing the metal plate forming the stove top opening.
After a while, they looked by the tupik's entrance……
See more pictures on marcpauze.photoshelter.com
Named after Latin American independence hero Simon Bolivar, who had a hand in the liberation of Panama, Venezuela, Peru, Bolivia and Colombia from their Spanish overlords, Bolivia is a landlocked country in South America. Having lost its sole access to the ocean and its mineral rich Atacama and Antofagasta region to Chile during the War of the Pacific, Bolivia nonetheless remains abundantly rich in natural resources but ironically, is also one of the poorest countries in Latin America.
We had heard little about the country prior to our visit but a month in the country had given us an insight into the lives of Bolivians and its extremely varied landscape, from the arid altiplano of Uyuni and the Chilean border, to the colonial riches of Sucre, from the highest capital city in the world La Paz to the tranquil town of Copacabana by the shores of Lake Titicaca. Like its landscape, Bolivians are a huge mish mash of varied cultures and languages, chief amongst them, Spanish, Quechua, Aymara and Guarani.
My experience of interaction with Bolivians gave me the impression that they are a hardworking, hardy and extremely proud people, more reserved than their neighbours up north in Peru and down south in Chile but with a warmth that lies just below the surface, if you would but take the time to know them. I captured these portraits of people at work, at play and most of all, at ease during my month in Bolivia. They offer me a peek into a culture so unique and different from my own…..
See more pictures on handcarryonly.com
I went to Paris last week for business, but had a free evening to spend with a friend there. We decided to do some long exposure photography.
Normally long exposures are useful to blur out moving water in landscapes. Here we actually "blurred" out people, sometimes even removing them entirely! It's quite a funny feeling when you look at your picture after the long exposure.
As the weather was quite overcast, it was nice to have some moving clouds in there too. It was really a nice evening (thanks Jerome)! The joy of traveling with the Fuji X-Pro1 is that the equipment is considerably lighter than a DSLR kit. I could even take a small tripod (a gorillapod) instead of a huge and heavy one.
My friend Jerome on the other hand, had a Canon EOS-5D MkII and a big tripod; that did attract attention. At one point, in the Jardins des Tuilleries park, a car with park maintainers pulled up to us and asked if he had a permit. They claimed that he was a "professional" because of the tripod! On the other hand, I think they didn't even notice my Fuji hanging on the gorillapod on a fence! Another great reason for being a Fuji Ninja! ….
See more pictures on blog.danielpfund.com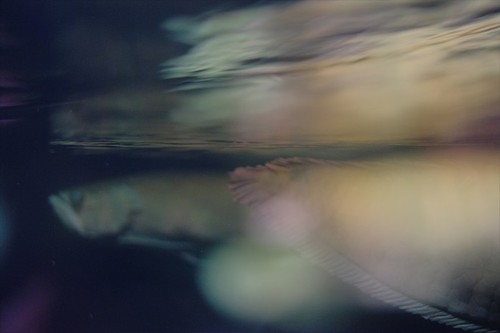 Kleine Kinder gehen gerne in den Zoo. Große auch.
Kleine Kinder essen gerne Kekse. Große auch.
Was dabei rumkommt, wenn man gleichzeitig Mehrfachbelichtungen macht, seht ihr hier. Entstanden im Aquazoo Düsseldorf. Vielen Dank an alle Tiere.
Fuji X-Pro1/ OOC Jpeg
See more pictures on www.janfervers.com