Sample Images
GQ Japan Magazine Shoot, May 2014. All shot on location in London, using natural light and my trusty Fujifilm X100S with wide converter, and XT1 with 14mm Fujinon & 50mm Leica lens. Art comes First shot for GQ Japan by Alex Lambrechts….
Source: alexlambrechts.blogspot.de
The streets in Europe are always full of people.  I guess mostly because they are designed for walking, with wide sidewalks, and easy access to shops and restaurants.  Unlike the city of Edmonton for example, and I would imagine most North American cities.  I can walk my neighborhood, and see maybe 1 or 2 people every couple of hours.  It's silly.  So naturally Europe lends itself to street photography a lot more than North America.  It's a lot easier to sit down in an outdoor cafe, and just point the camera at something interesting.  This was exactly what happened. Walked around the streets of Nuremberg, doing a bit of last minute shopping, and sat down at the cafe, had some cappuccino, and just pointed the camera.  Simple easy and quite rewarding.  No wonder, that a very cool street photographer Valerie Jardin offers street photography workshops in Europe, among other interesting places…….
Source: www.miksmedia.net
In 1984, the very first Winter Olympics taking place in a Communist state was held in the unique and remarkable city of Sarajevo – then a thriving metropolis in the now-defunct host nation Yugoslavia, but these days the modern capital city of Bosnia and Herzegovina. In 2014 – thirty years after the Sarajevo Winter Olympics – the seaside Russian city of Sochi also held the attention of television viewers, in that unique way only a communist nation in a world entranced by western media is capable of doing, as it played host to 22nd Winter Olympiad. Yugoslavia doesn't exist anymore, except in the minds of Yugo-stalgic lovers of all things Tito. Bosnia and Herzegovina is a democracy. Russia is hanging on to communism, but the one thing that the cities of Sochi and Sarajevo share, is an abandoned Winter Olympic site. As Sochi begins it's inevitable decay, perhaps the abandoned Winter Olympic bobsled track, high on Mount Trebević above Sarajevo, will be an eerily accurate bellwether for the future of the area above Sochi's Imeritinsky Beach………
Source: www.yomadic.com
The three-week hiatus in our blog postings was not the result of World Cup fever or some R&R. Quite the opposite! We went away for a photo trip to the spectacular Canadian Rockies and we worked hard (waking up at 3:30 AM everyday!) to get you the best imagery possible. We have a lot of material to share with you – including our latest thoughts about gear and processing. While we go through our work here are some teaser images shot with the Fuji X-T1 paired with the XF 14mm F2.8, XF 56mm F1.2 and Fuji X100S. Stay tuned……..
Source: olafphotoblog.com
Il y a un peu plus de quatre mois, j'ai décidé de switcher de Nikon (D4) à Fuji (X-T1). Depuis ce moment, pour certains, je suis devenu un profond imbécile, un amateur, un fou et/ou un original (les murs ont des oreilles); et pour d'autres, je suis devenu un héro. Peu importe, je m'en fous de ce que les gens pensent de moi (vous devriez essayer, on vit mieux). L'important pour moi est d'avoir trouvé chaussure à mon pied. Certains aiment les grosses bottes renforcées, très lourdes et peu élégantes. D'autres aiment les chaussures anglaises faites à la main, en cuir et très coûteuses. Certains ont des besoins en fonction du métier qu'ils exercent. Un ouvrier sur chantier ne va pas porter des tongues. L'important est de trouver l'outil qui vous convienne en fonction de vos besoin. Dans mon cas, en tant que photographe, le Fujifilm X-T1 me sied parfaitement et répond à mes besoins…….
Source: blog.k-pture.com
I suppose one of the reasons I shoot weddings as a documentary wedding photographer is because I'm interested in human interaction, emotion and I'm essentially an observer of life at these events. When I shoot weddings I'm constantly looking for touch, emotion, eye contact and humour. I love to watch. I love to photograph life. A wedding is huge part of anyone's life, but it's only a small part.  Along the way will be sadness, happiness, pain, laughter and every other emotion that we all experience on a daily basis. We each have a story that forms the fabric of our lives and those stories are so deeply entwined with other peoples' that sometimes we fail to see the real story of our own lives. I love to photograph life, and when I was given the opportunity to photograph the very beginning of a life, a caesarian birth, I was both humbled and excited……..
Source: www.the-owl.co.uk
This is my 4th day designing a street photography course in Budapest, my companion, for this trip a Fuji X-Pro 1 Its another searingly hot day with very little breeze, it's in the mid 30s with a high humidity, quite unpleasant for this chap from England, nevertheless I want to explore  the Jewish Quarter. Budapest has the largest Jewish community in Central Europe so I head  there to check it out. My first port of call is the Great Synagogue, a magnificent looking building from the outside and  literature tells me that it is one of the largest synagogue in Europe. As a street photographer  I wouldn't normally pay to enter a tourist attraction but this is more than that,  I wanted to find out about the history.  It costs 2800 Hufs to enter which is about £8 at the current exchange rate. I have to say it is worth it. It's stunning inside, almost theatre-esk with its balconies and what look like private boxes that seem to go all around, it beautiful and ornate. You are also allowed to take photographs as long as you don't use flash. On entering all ladies have to cover their shoulders and the men must wear a Kippah which are provided. Part of the entrance fee allows you to go to the Jewish museum which has important pieces of art from Hungary and Eastern Europe. Part of the museum has quite shocking images of the persecution of Jews suffered during the war……..
Source: streetphotographycourses.co.uk
Budapest comes alive at night.. Its early June and its starts to get dusk around 9pm, I'm using my Fuji X-Pro 1 tonight and it's a great opportunity to capture the iconic Chain Bridge, illuminated with my Fujinon XF 18mm F2 R lens. Speaking to a local I was told all of the bridges are lit up at 9pm, so having checked out the location earlier I knew exactly where I wanted to capture the bridge from which was from the Buda side of the city and slightly downstream. I always travel light for street photography which means I never take a tripod. Sometimes I do regret this as it does hinder me when capturing movement. But I much prefer nowadays to hand hold so if I am shooting film I always have a couple of rolls of Ilford 3200asa which allows me to walk the streets and hand hold my camera in most situations, but tonight I am shooting with a digital camera. I applied rule number one in the Keith Moss night street photography rulebook and that is to underexpose by one stop. Using the Fuji X-Pro1 which is excellent at high ISO, I set it to 1600 ISO. I used an 18mm F2 Fuji lens which I have to say is excellent, exposure was 60th of a second and I shot at F2.8.. perfect…….
Source: streetphotographycourses.co.uk
Budapest is hot and humid this morning, the temperature is eventually going to rise to 32c.. pretty hot for this Englishman on a street photography mission armed with my Fuji X-Pro 1. I head for the popular Vaci Utca which starts at the Great Central Market and stretches along to Voromarty Ter square and leads you to the famous spectacular Chain Bridge. The street is filled with restaurants and posh shops, high prices and high pressure selling. The prices in the restaurants and cafes are more than double sometimes triple of what I am paying near my apartment. For me its a place that offers the street photographer not a lot, so this area won't be included in my course, but well worth a visit just to have a stroll around and enjoy the atmosphere.. Across the Chain Bridge into Buda the oldest and more historical part of the city, the best of which is situated well above the river Danube so you have to climb.. There are only two ways up, one is the hard way shanks pony the other can only be described as a near vertical funicular which will carry you from the foot of the bridge up to the Royal Palace and the Castle with grace and ease, you can guess which one I took. Once at the top it offers spectacular panoramic views of Pest across the river. You can also see the Hungarian Parliament building which was based on Westminster in London…….
Source: streetphotographycourses.co.uk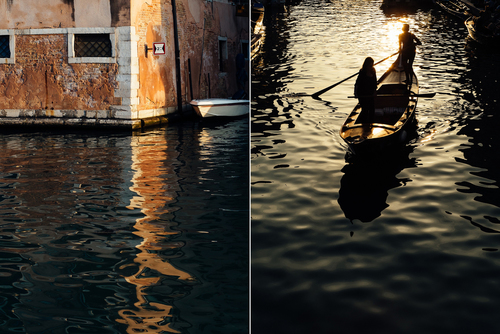 We were lucky enough to spend a long weekend in Venice recently. This was a joint celebration for my mums 60th Birthday and my Aunt taking part in the annual Vogalonga boat race. We have wanted to go to Venice for a long time and were not disappointed. Arriving in Venice is like arriving on a film set. It is like no where else in the world I have been. Its an incredibly beautiful city with lots of culture and amazing architecture. We were treated to four days of perfect weather with blue skies and bright sunshine. Venice is the perfect place just to wonder and get lost. Exploring the alleyways and weaving around the canals is a lot of fun. I took my trusty Xpro1 along to keep the weight down. There were so many incredible sights I didn't know where to point my camera, it really is one of the most photogenic cities I have visited. Here is a selection of my favourite shots from our trip. All taken with the Fuji X-Pro1 with XF 35mm & XF 18mm lenses and edited with VSCO Film……
See on samburtonphoto.com