Sample Images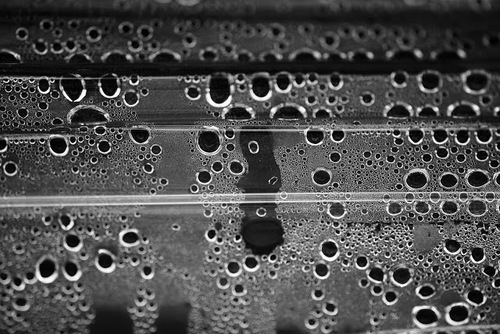 Weeks of shooting lead me to more understanding on this beautiful camera, the more I struggle with it, the more I am attached to it. And I am particularly please on the black and white rendering on the Fuji X. All pictures OOC jpegs  (aka "out of camera") , with monotone mode of the camera, I have already set some custom sharpness, contrast, highlight and shadow tone adjustment from the camera.
See more pictures on www.keithlowphoto.com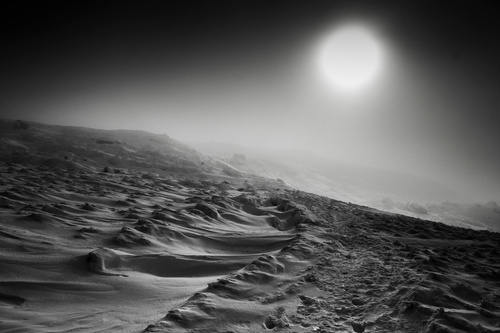 I see many questions about how the Fuji X pro 1 copes with dire weather, so here is a write up of a wintery day out in the Peak District. I got a mail from a friend asking if I wanted to go and explore some climable ice routes in the Peak District, Crowden Clough and the Kinder downfall. The snow had been falling for several days on the tops, and the daily temps over the previous few days had been as low as -10. With that in mind I thought we would get some great pictures. The X pro 1 would be ideal as a travelling partner due to it being so light. I took the 18 and 35 mm lenses, and 3 extra batteries just in case. The weather was glorious as we advanced up Crowden Clough, and did a nice little ice route up the waterfall. The scenery was majestic,with a real Alpine feel to the day. Negotiating our way across to the downfall we encountered heavy drifted snow, and a biting wind, which left the face stinging. The Fuji performed without fuss, even though it had been covered in snow, as I went head first into a snow packed gully. A quick brush down and the camera was fine. As we travelled across to the downfall the weather changed, and we were soon in the middle of a white out. The wind was now Arctic and it became quite a challenge getting through the deep snow, often 3 to 4 feet in places. Once we had reached the downfall it became apparent that the hellish conditions were not to be trifled with, and we decided to head back down before it got dark. As it was we were coming down Jacobs ladder in the gloom with head torches. The weather changes so quickly you can easily be caught out. On the plus side, the X pro caught the changing conditions very well, all images were shot in jpeg mainly using the 18mm, I need to get something wider though and itching to get something around the 12mm mark. The camera was covered in snow several times, due to it being around my neck as I plunged into fairly deep snow gullies. I had taken a couple of really good microfibre cloths with me, a quick wipedown and a focus check was all that was needed. The temperature when the weather changed was around -10 with a severe windchill. I only changed the battery once, and took nearly 200 images. So it performed pretty well, all things considered…..
See more pictures on www.thebigpicturegallery.com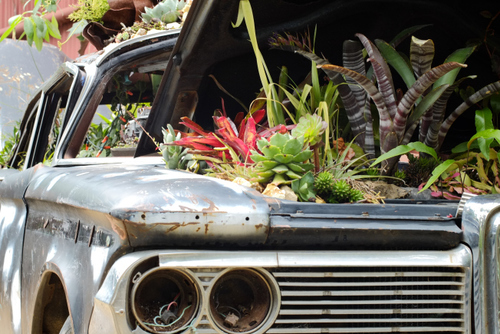 A couple of months ago we stopped in at a spot we'd both been talking about visiting for some time.  That place is Flora Grubb – a little slice of gardening heaven.  Replete with a knowledgeable, friendly staff, a great selection of succulents, high- and low- light indoor and exterior plants, Ritual Coffee and a cat with eyes that shine like pale sapphires, this place is a must-see for decorators, gardeners, plant nerds and admirers of all things tasteful. We spent the better part of an hour strolling the grounds, sipping at lattes and ooo-ing and ahh-ing at the well thought-out appointments throughout the interior and shaded exterior spaces.  I won't spoil all of the fun for prospective visitors, but spotting an entire 60s-era car in the exterior section that is positively bristling with plants made me giggle like a kid.  The succulent centerpiece table (see below for images of both) is a masterpiece of simple, well thought-out beauty and craftsmanship. I work in the plant business.  As such, I am familiar with many of the species I saw here at Flora Grubb because I see them regularly during the course of my work.  Usually, however, when I'm looking at a plant, it is with a critical eye in the context of how it appears to the client, whether it is being cared for properly, how it reflects on my business.  Here, I was able to see their beauty and appeal simply for their own sake.  I even managed to learn several things that I did not know prior to setting foot here in this quiet, beautifully-decorated and -appointed space thanks to Zeni, our very helpful guide. If you're in or near San Francisco, consider spending some time and money here rather than at the big box stores when it's time to tackle that garden project or to add some live, green accents in your home.  It's worth the drive, the plant and accessory selection is out of this world, parking is easy, it's kid friendly and man…that cat's eyes…..
See more pictures on gimletsandfilm.wordpress.com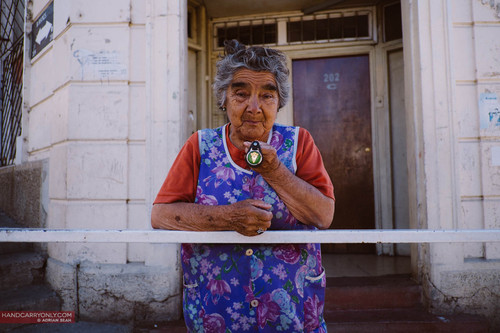 Notwithstanding the fact that we were in Valparaiso over Valentine's Day, there was certainly a passion and a palpable love of life evident in everyday Valparaiso. Be it the group of oldtimers in a band practicing their music on a street corner or the numerous 'Te Quiero', 'Te Amo' graffitied on the walls of the streets by lovelorn young Romeos hoping to impress their respective Juliets, Valparaiso has a sense of energy lacking in many other cities. Ultimately, whilst the architecture, look and feel of a city forms the first impressions on a visitor, it is the inhabitants that define the soul of the city….
See more pictures on handcarryonly.com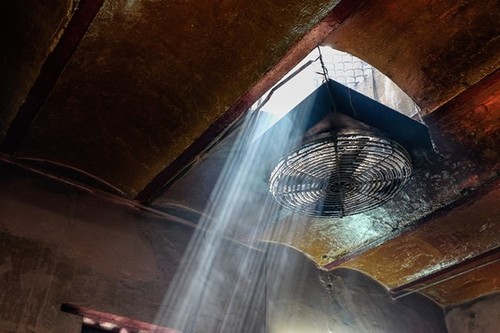 Here are some images I took with the Fujifilm X100S that was loaned to me by my camera vendor in Vietnam. I have used the X100 and am looking to see if the X100S does indeed have the improvements. I tested this camera to see if I should sell my Carl Zeiss 24mm f/1.8 that I use on my Sony NEX-7 and buy this as a second camera. The two will produce the same 35mm equivalent with the aperture almost the same. If I did not have the CZ 24mm, then I would buy the Fujifilm X100S immediately, no doubt. Overall, the Fujifilm X100S produce beautiful and pleasant images right out of the camera, the colors are amazing as all Fujifilm cameras are. The AF is now very fast. Metering is accurate. Noise is one-stop better than all camera I have used and the same as my Canon 5D Mark II images, and this is amazing for APS-C sensor. The .jpgs are absolutely clean with great details. I set everything at 0, no NR, no sharpness, no saturation, vv…
I use 1600 ISO on all the low-light shots as I have no need to go higher. Also, did some macro and fill-in flash toward the end. Yes, that is me, my wife and daughter as models. The camera is easy to use, even my amateur friend took the image pin-sharp. Hope this helps anyone thinking about this camera.
Pros:
16mp sensors is awesome, just like the X-E1 I have tested
ISO & noise control is supreb, one-stop better than my NEX-7
AF is definitely faster. I sold my X100 because of slow AF, no more problem in the AF department
colors rendition is beautiful and better than my Sony
lens is exptremely sharp with details rendition in dark shadow area
dynamic range is totally awesome, make me want to sell my Sony gear
on-camera flash is superb as you can see in some of my fill-in images
silent shutter makes shooting a joy
aperture ring on lens is the best way to control aperture
auto-iso setup is well thought-out and much better than the Sony implementation
good battery life but not great, you will need several extra battery for one day shooting
the Q button implementation is superb offering quick glance and setting changes
ND filter built-in is awesome as I found myself using it on several occasions for f/2.0 shooting
EV compensation dial is the most used dial and every camera should have one dedicated dial
Hybrid OVF/EVF is excellent, though I used EVF 90% of the time
build is excellent and all Fujifilm are "Made In Japan"
Cons:
EVF still have lags, Sony NEX have better EVF
LCD is still primitive compare to my Sony NEX
6fps as compared to 12fps on Sony NEX
only +-1EV for AEB, not good for hand-held HDR
cost $1300, I think about $1100 is the best
screw on wide-angle adapter is not quick
using it with filter, you have to buy adapter
lens cap will drop and lose if you are not careful
See more pictures on forums.dpreview.com
I made the move to mirrorless cameras in 2011 when my out-of-warranty Canon 40D started having shutter issues. Instead of paying for repairs, I decided to sell the last of my DSLR gear and look for a more compact alternative. After trying out two micro four thirds cameras from Panasonic, I went a whole different direction and bought a Fujifilm X100 early last year. Since that time, the X100 has been my only camera that didn't double as a cell phone. It has accompanied me on our local weekend excursions and documented our travels to Hawaii Island, Portland, and Hong Kong. The great thing about the X100 is that it is as simple as it gets; there's no zooming and no changing lenses. It is just an awesome little camera that is fun for shooting. For the most part, I had no issues using a single focal length since I mainly shot with a 50mm prime lens when I used a DSLR. I even enjoyed working within the constraints of the X100 and it made photography fun again. Since I bought the X100 after Fuji announced the X-Pro 1, I knew full well what I was getting into with the X100. I considered the X-Pro 1 briefly but I think at the time, the X100 was exactly the camera I needed. Fast forward a year and the X100 is still the same awesome little camera but I find that my needs have changed. More and more, I am looking for more flexibility and for that reason, I recently purchased the X-Pro 1. I've had the X-Pro 1 paired with the 35mm lens for a few days now and thus far, I'm enjoying shooting at the longer focal length. The two cameras are very similar and the X-Pro 1 is almost as fun to use as the X100. Yes, I know that's a bit surprising, and it's something that I can't really explain. But the X100 is just more fun. With that said, the X-Pro 1 is still a great camera and something that will nicely compliment the X100. Here are some of my first photographs shot with the X-Pro 1 during our recent impromptu road trip to San Diego.

See more pictures on stephenip.com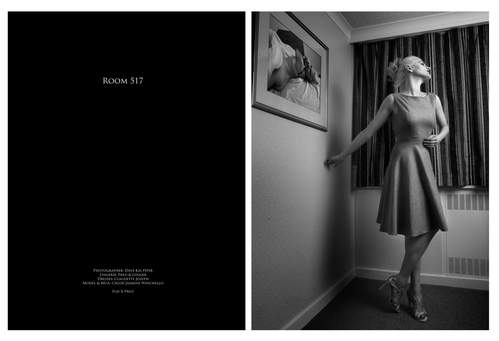 Late Night shoot with the effortlessly stunning Chloe-Jasmine Whichello featuring Lingerie from Fred & Ginger, Dresses are by the lovely Claudette Joseph.
As this was a very unplanned shoot, in fact  zero planning whatsoever,  Chloe-Jasmine found ourselves shooting one evening as I still had the Lingerie with me from a shoot the day before. The Fuji X-Pro always is with me and it was lucky that I also had my Nano Lighting with me also. Totally loved how well it all came out in the end!
We thought we would try something a little 'Newton' ish…
See more pictures on www.davepiper.org.uk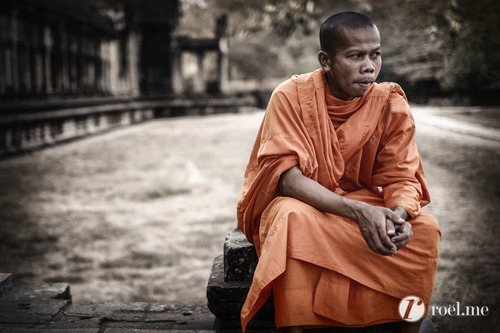 Empires. The world has seen many empires come and go.  No matter how powerful they were, they have all disappeared for various reasons and you can see the remains of them today if you willing to travel. The tiny country of Cambodia in southeast Asia was home to one of humanity's most powerful empires – the Khmers (802 to 1431 AD).  They were ambitious people led by even more ambitious kings who wanted wanted to be worshiped by their subjects – so they declared themselves to be god kings. To demonstrate their status as such, they erected stone temples that were built on a massive scale – unlike anything one could imagine, even to this day.  These temples dwarf most European cathedrals, even though the Khmers built them many centuries before.  They were truly a very advanced civilisation. I recently had the privilege of visiting Siem Reap in northern Cambodia which is an experience I will never forget.  The main reason for my visit was to see (and photograph) these magnificent structures – the other, to spend some time with the Cambodian people (still referred to as "Khmers") who are some of the friendliest on the planet. I spent a lot of time preparing for this trip as I was traveling a great distance and wanted to make sure I had everything I needed with me.  The purpose of this article is to share my experience(s) so that photographers can prepare for their journey to this remarkable part of the world. Keep in mind as you read this that I spent all of my time (nine days) in the Siem Reap area of Cambodia, which is a much longer visit than most.
This article is in four sections:
See more pictures on roel.me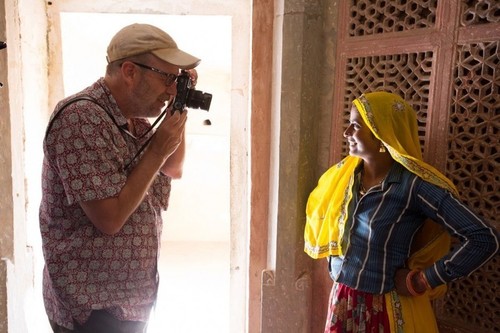 There's a lot of talk these days, both good and bad, about the Fujifilm X Series cameras: the X-Pro1 and the X-E1.  I've been using the X-Pro1 for exactly one year now. Back when I first gave my initial impressions I wasn't sure how I would feel about this camera long term. Well, the jury is out and the verdict is I love it… a lot! So much so, I took it for a month of shooting, an assignment in Africa for The Kilgoris Project then to India for my latest Rajasthan Photo workshop. In Africa I used both my X-Pro1 and my Canon 5D MKIII. Why? Fujifilm just doesn't have the lenses for this little guy to go on Safari. But, then even my 70-200 mm with a 2x converter didn't really deliver on the safari either. The main reason for being in Africa was The Kilgoris Project. I shot this assignment completely with the X-Pro1 and only two lenses: the Fujinon XF35mmF1.4 R and the XF18mmF2 R.  After Africa I went to India to lead my workshop where I shot exclusively the X-Pro1. The main difference in India was I was able to borrow Piet Van den Eynde's new XF14mmF2.8 R and this helped with any frustration I was having not being able to shoot wide enough. Remember, the X-Pro1 and the X-E1 are both cropped APS-C sensors and thus a 18 mm is a 27 mm in a 35mm equivalent. After shooting for a four weeks, two of those weeks with Piet shooting his X-Pro1 and X-E1 and a slew of lenses, I thought it would be a great idea to record Piet and our impressions about the camera, it's lenses and other musings. I also thought you might like to see a gallery of 40 plus images we shot with these camera over the two weeks in India….
Hear the podcast on www.thedigitaltrekker.com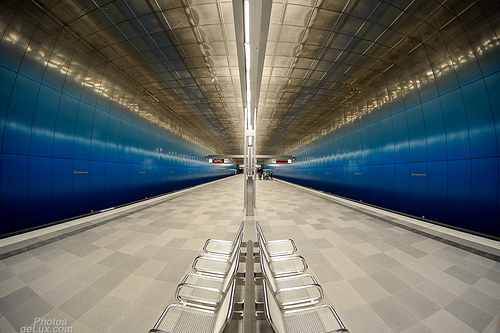 APS-C cameras used to have a few drawbacks compared to full frame cameras:
The smaller sensor produced noisier photos at high ISO and lacked dynamic range.
It is more difficult to produce a photo with shallow depth of field.
Due to the crop factor it was difficult to get a good quality ultra wide angle lens with a larger field of view than 120°
The introduction of the Fuji X-Pro 1 solved No. 1. for me right away. And while No. 2 is based on a law of optics I have found my way of dealing with it by changing my approach on taking those kind of images.
That left No. 3 still to be desired.
I have a Canon EF 15mm fisheye lens for my full frame camera, but when I connect it with an EOS-XF adapter to my X-Pro 1 the APS-C sensor size reduces the effective field of view to about 85° – or the equivalent FOV of a 23mm lens on a full frame camera.  Fuji's currently widest XF lens is the XF 14mm f2.8 with an effective field of view of 90° (equivalent FOV of a 21mm lens on a full frame camera) – and while this lens seems to be very impressive (it is my next review on the list), I had to look elsewhere to go much wider than 90°. My research led me to the Samyang 8mm f2.8 fisheye lens for the Fuji XF mount. The lens promises an effective field of view of 180°! Samyang is a Korean manufacturer and this particular lens is also branded as Rokinon, Bower and Walimex 8mm f2.8 lens and also available for different camera manufacturer mounts.
Throughout my photography career I have had mixed results with 3rd party lenses and ended up staying with the known "big" brands from the respective camera manufacturer. But due to the lack of alternatives and a reasonable street price of around EUR 300 in Europe or USD 300 in the US, I wanted to give the Samyang a try.
After all, a fisheye lens is a specialty lens that should not be overused or you (and your audience) will soon get bored/annoyed by the effect it produces. And I can almost promise you that you will get tired of it after you see all the images in this post, too – so always use a fisheye lens wisely ;)
When the Samyang 8mm f2.8 lens arrived I was surprised! It is small yet very heavy. Compared to the Fuji XF 18mm f2 the Samyang is about the same size but a bit over twice as heavy (116g/4.1oz to 260g/9.2oz)! What did they use to build it – depleted uranium? But Fuji's XF lenses are exceptionally well and light build and compared to the Canon EF 15mm f2.8 fisheye the Samyang is actually a bit lighter.
The Samyang's aperture and focus rings are rather stiff even when compared to my legacy Olympus OM lenses. But this also gives me the feeling that this lens has a solid build quality and I will most likely get used to it over time. The lens is all manual and has no electronic intelligence that get's passed on to the camera body. That has the big disadvantage that your Exif files will not contain any info about the lens and aperture. Luckily you can add a 8mm custom profile to the Fuji X-Pro 1 and if you activate it before you use the Samyang lens, the Exif will at least show 8mm. But the aperture will always read "f1". And while you're in the Fuji's menus make sure that you activate the "shoot without lens" option, as the Fuji will not know that a lens is attached without electronic feedback from the lens.
Enough talk about the specs and feel, let's see what this lens can do! I went out a few times and used this lens in situations where I think that a fisheye can work its magic.
All images were captured in RAW and processed and converted in LightRoom 4.3 with the "old" Adobe RAW converter. The new converter in version 4.4 could improve the image quality.
And as always click on the image to get the option for a bigger version in my Flickr stream…..
See on www.fujixfiles.blogspot.de