Sample Images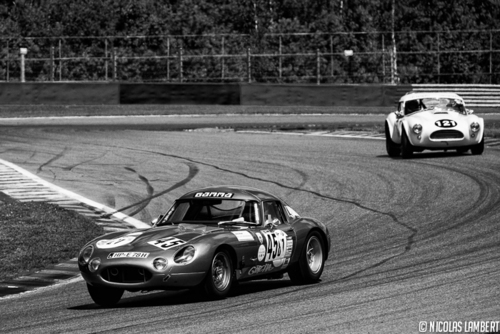 Test
J'avais envie de voir si il était possible de faire des photos de sport avec le Fuji X-Pro 1 et le nouveau 55-200 3,5-4,8 qui vient de sortir. Je craignais pour l'autofocus… Verdict plus bas. Je suis passé sur le circuit de Spa-Francorchamps pour une petite heure, je me suis baladé 30 minutes dans les paddocks puis je suis allé faire quelques photos aux combes (pour les connaisseurs). Je n'ai pas beaucoup bougé de place, donc pas énormément de cadrages différents, malheureusement je n'avais pas beaucoup de temps.
Technique
Pour les photos dans les stands, j'ai simplement utilisé le 18mm 2 et le 35mm 1,4 avec un filtre gris neutre. Car, il est difficile d'utiliser les objectifs à pleine ouverture avec 200 ISO natif et 1/4000 ème de seconde comme vitesse d'obturation la plus rapide, si le soleil sort, il devient difficile de travailler à pleine ouverture. Pour les photos en action, j'ai utilisé le 55-200. Soit avec un réglage d'expo manuel soir avec réglage de la vitesse sur la molette et le réglage de l'ouverture fait par l'appareil. La molette de correction d'exposition entre -0,5 et -1 diaph. Pour le traitement des images, passage dans lightroom (courbe, hautes lumières, …), passage en noir et blanc dans Silver Efex…..
See more pictures on www.nicolaslambert.be

---
Fujifilm Fujinon XF55-200mm F3.5-4.8
Do you love my work and want to support me? If you're planning on buying camera gear, you can check out above-noted links. Prices remain the same for you, but a small percentage of your purchase value is valued back to me. Thank you!
---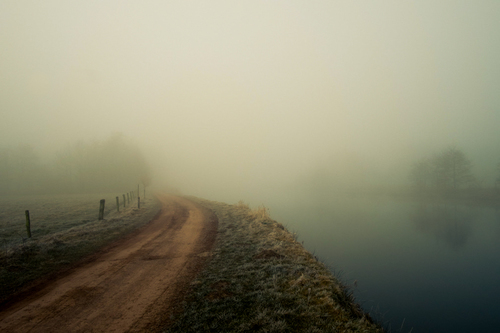 Mist has always fascinated me. It takes away pieces of the framed subject and replaces it with mystic. It sparks my creativity as a photographer, and that of the audience. Peoples imagination gets cranked up. We have our fair share of mist here in the Netherlands. It is the first thing I hope for when I check the weather before I go out taking photos.
I love wandering through the mist. Just me and my camera, lost in a mystical world. It doesn't only have a visual impact, but all sounds are silenced as well.
In the mist I have to work harder to get that specific image I want to show to the viewer. The framing and content is not only choosen by me, but is heavily influenced by the circumstances. But .. in the end it's all worth it.
See more pictures on www.robertpauljansen.com
The Magnolia. Majestic. Colorful. Delicate.
They announce the arrival of spring by opening and exposing their beauty. Just for a short while.. until their beautiful petals falls to the ground and spring proceeds….
See more pictures on www.robertpauljansen.com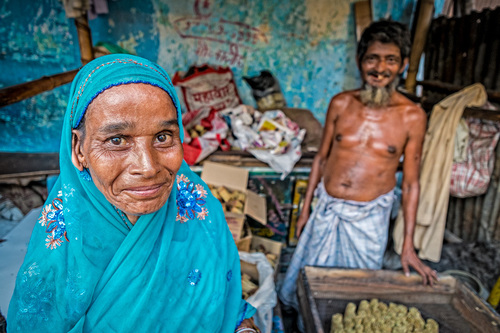 With apologies to Dr. Seuss, this is exactly what a street photographer must do. And if you are walking the streets of Calcutta you might not need to "turn minnows into whales" for you will have "a story that NO ONE could beat!" This was my second visit to Calcutta, also known by its newer and more politically correct name Kolkata. I spent all of last week in this city for work and pleasure, though I had very little time to myself. When I did get a few minutes, I spent them with a local friend and we prowled the city's streets photographing. The days were unusually cool, overcast, rainy and gray. In other words, perfect for street photography. The city has a grittiness to it. It seemed less friendly than last time I visited and more like the big city it is. Perhaps because I had so little time to spend with the people who actually live there, which always tends to make one feel more welcome. Because of this emotion I processed these photos with the idea of communicating that same feeling. I processed the Fujifilm RAW .RAF files in Lightroom and then put the "HDRish," grunge effect using onOne Perfect Effects 4. I photographed all images using my Fujifilm X-Pro1. And even though I took my 35 mm f/1.4 with me, most of the time it stayed in my pocket (literally in my back pocket!). For whatever reason–be it close quarters, the intimacy of my subjects, I am not sure why, but my 14 mm seemed to be glued to my camera…..

See more pictures on www.thedigitaltrekker.com
The loud incessant clanging of cymbals and banging of drums startled me from my afternoon siesta. Momentarily disorientated, my drowsy head took a moment before it registered where I was, our recent spate of bus journeys had blurred the lines between the cities and towns we've stayed in. Sucre. La ciudad blanca, The White City.
We had arrived a couple of days prior, intending to make this a longer than usual stop to fit in another week of Spanish lessons. The cultural capital of Bolivia and named after revolutionary leader Antonio José de Sucre, the city of Sucre is chock full of colonial architecture and a is rightfully a UNESCO World Heritage Site. Perched high up at an elevation of 2810m, the altitude blesses the city with a cool temperate climate all year round. I shock off the remnants of sleep and wandered over to the window, where the celebratory marching band could be heard just round the corner. Not having a clue what the whole thing was about but not wanting to miss anything, I grabbed my camera and ran out the door.
What greeted me was an absolute riot of colour and costumes, a huge parade of people dancing with multiple marching bands, each trying to outdo each other. Little old ladies in sequins and flashy costumes, men in mythical monster outfits, everyone was just dancing and waltzing their way across town. A lady standing beside me noticed my fascination and offered, "La fiesta de San Juan de Dios"
Saint John of God, a 16th century Spanish/Portuguese saint and inspiration behind the worldwide charity Brothers Hospitallers of St. John of God, formed by his followers after his death to care for the sick and suffering everywhere, and in particular, those afflicted with mental illnesses, was having his feast day celebrated in Sucre, to great aplomb. We followed the procession up Calle Junin and towards Plaza Alto de la Alianza, walking though a part of town we hadn't yet visited. Like a noisy river of gyrating and swaying glitter, the procession flowed uptown with huge crowds of people following alongside.
The dark clouds above threatened above but not a drop fell.
See more pictures on handcarryonly.com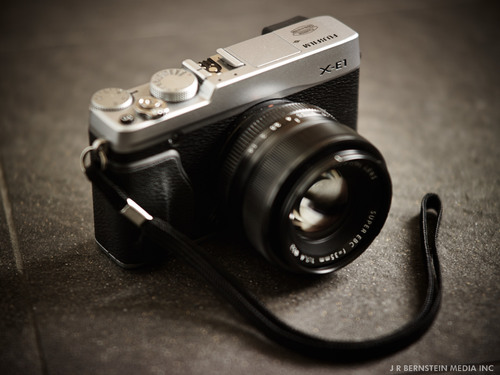 If you have read my Fujifilm X-Pro1 review (which, by now, you should have), you'll know that I was very impressed. So going into this review, and knowing what I knew of the camera, I was somewhat sceptical of the X-E1 living up to my demands. (SPOILER ALERT!) Sadly, I have to confess that my fears were not completely unfounded. In short, the X-E1 is not the camera for me. I'd rather just pony-up the extra $400 to get the X-Pro1. To me, the X-E1 is missing of bit of the magic that the X-Pro1 has. While a little quirky, the X-Pro1 is a splendid camera to use.  The saving-grace of the X-Pro1 is its brilliant hybrid viewfinder. It makes every other minor quibble…well, minor.  But, without the hybrid viewfinder, I found the overall experience of the X-E1 less to my liking……
Conclusion
While I might not love the X-E1 like I do the X-Pro1, it's hard not to at least like it. After all, it performs like a champ, uses the same great range of Fujinon XF lenses as the X-Pro1, is small and light-weight, and looks like a million bucks! For some people, I think the X-E1 is probably the perfect compromise  It has most of the same professional features as the X-Pro1, but is a smaller, lighter, more consumer-friendly package, and would certainly be a welcome gift by any photo enthusiast…..

See more pictures on www.jrbernstein.com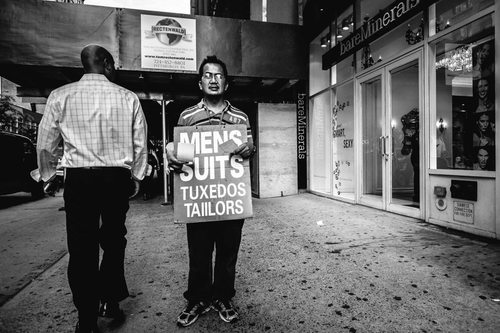 A week ago at this time, I was on a train heading to New York. I was going on business and unfortunately, I was only staying for two days. Despite being off Sunday through Tuesday, I had to rush back for a Saturday shift that none of my colleagues were willing or able to pick up. I would have loved to stay in NYC for a few more days. Although I've been recently trying my hand at street photography, I wouldn't call myself a street photographer. I prefer landscapes and other subjects. Perhaps a big part of that is the city that I've done most of my urban photography in – Washington, DC. Anyone who knows me well will tell you that after 20+ years, I've had enough of this place. I'm long overdue for a change and hope to end up in a 'new' and colorful city very soon. The next chapter of my life likely won't be played out in New York City. But being on the streets there with my Fuji X-Pro1 – even if only for a few rushed hours – was a real pleasure. I could see myself indulging in street photography everyday if I lived there. A marvelous stage with a plethora of various characters. I must go back soon…..
See more pictures on blog.karimhaddad.com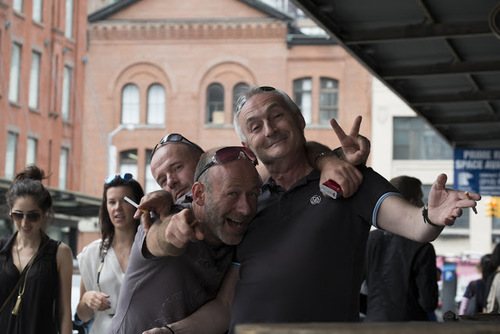 I don't usually talk about equipment stuff or technical settings on this blog, but today will be an exception. I'm off to a bluegrass festival on Sunday to meet up with some old friends from Nashville who will be performing. One of the reasons I splurged on the new Fujinon zoom lens is to be able to shoot concert and festival performances, so this is the first opportunity to put this puppy to the test in a real life situation. I spent the afternoon today in the Chelsea district an the High Line of Manhattan to test out various functions and settings, and to get comfortable with using the EVF. Most importantly to see how sharp the IQ is at the full zoom distance, and to see just how many stops the Optical Image Stabilization will buy for me. I've got a bit more learning to do with using the EVF and the image stabilization, but I'm really pleased with the results I got today. I examined all the images at 100% and was quite surprised to see that I can easily hand hold the camera at 1/60th second. In some cases down to 1/30th second, and in one example below even to 1/15th second (although in a real life situation I wouldn't go slower than 1/60th second).
All the images below were shot RAW and turned into jpegs in Lightroom with no other processing, so there's some noise in the images shot at faster shutter speeds. I'll be posting some of the individual shots in the next few days after I process them for noise and do my usual b/w conversions….
See on genelowinger.blogspot.com
First of all I should tell you that I love looking through a lens to compose and shoot. I have always been partial to reflex cameras, and 4X5 ground glass viewing for that matter, and the few times in the past I have tried rangefinder cameras I was quick to give them up. The little focusing squares in the viewfinder would drive me bananas. In the early 70's I tried the Nikon S2 and SP cameras. I liked that the controls were the same as the Nikon Ftn I had at the time, but the focusing and parallax issues were distracting, I could not work fast. I am also one of those guys who tries to use every millimeter of the frame for composition. You might be surprised but I find I do very little cropping when I know where the frame boundaries are.

Two years ago I had a brief love affair with the Leica M9. I loved the size, the images were fantastic and the Leica glass, well, do I need to tell you? Again, I was vexed by the RF and less than a year after shelling out way too many shekels I bid it farewell….
See on foto-gizmo.blogspot.de
While we continue to shoot almost daily with the X100s and gather our thoughts about this camera, we decided to take a break from the topic and present some images from our recent trip to an unknown British Columbia.
Shooting with wide-angle lenses poses a challenge for many new photographers. This is not a "have it all in" lens. The general idea is to get closer to the subject and be very selective. However, it is not as easy as it sounds. Such an approach may be unnatural to many photographers, especially beginners. As with every lens, it all starts with observation and vision. Keep in mind that not every subject will be suitable for the wide-angle treatment! Our favourite photographs taken with this lens usually consist of a very large distinctive subject, which stands out from its surroundings. The picture with the old yellow house shows our point the best…..
See more pictures on olafphotoblog.com