Street Photography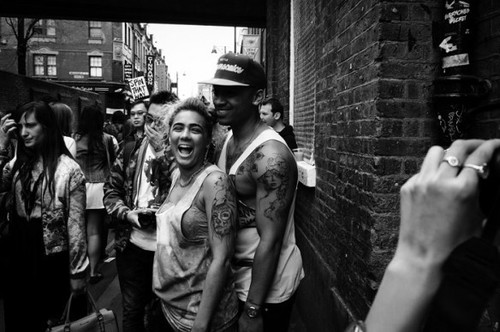 This week we have a guest post from Russell Dawson, a landscape photographer turned street photographer. His journey with the Fuji X-Pro 1 makes for interesting reading. The fixed lens X100 is a well respected street camera so I was excited to hear how Russell found the more adaptable Xpro. Russell Dawson started with Landscapes but has branched into street photography. I bought the Xpro after reading many blogs and reviews. I come from a mainly landscape background and most of my recent shots are on a Nikon D200. I have always been a lone shooter preferring my own company and the great outdoors. Street photography was never a style I thought I would be involved with. The series 'Nothing Lasts Forever', along the Jurassic Coast, is a regular project that has created a book of B&W images which I self published three years ago and the new colour work for an exhibition in August here on the South Coast. I have also had a couple of commissions from magazines and done some commercial work. I also taught photography at the local college and for the local Adult Ed.
Finding my way into street photography
I had made several images of people while on location. But it wasn't something I took too seriously. After having spent the last few years out in the landscape I decided to try a completely different style as a break. I headed into London for a day trip and enjoyed the day much more than I expected to. I came home with some really interesting images and I couldn't wait to shoot the street again……
See more pictures on www.londonstreetphoto.org
While Obama continues to play politics with his Russian and Syrian counterparts in hopes of ridding the world of Assad's chemical weapons, Syrians are getting killed with conventional weapons everyday. There seems to be no end in sight to a bloody civil war that has claimed the lives of over 100,000 people, and made refugees out of at least 2 million more. Most of them came to Lebanon. The UN has registered over 720,000 Syrian refugees here, but the government here says there are over 1 million who have fled the violence back home. Many of them now live in overcrowded urban areas where they are viewed with suspicion and scorn by some of the locals. These pictures were all taken in one of these areas. I had my X-Pro 1 on me but was not able to use it as much as I would have liked. The images here don't even begin to show how difficult life in Sabra must be. It's a place that exemplifies some of Lebanon's biggest problems and how they keep getting more complex with time…..
Thx Karim for sharing the situation in Lebanon and your pictures!
See more pictures on blog.karimhaddad.com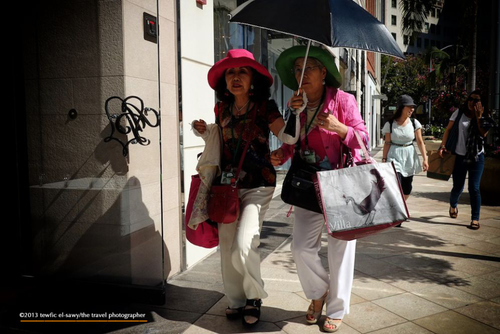 This is gallery of photographs made with the Fuji X Pro-1 and a Fujinon 18mm, and all were shot from the hip (except one). I wanted to be as unobtrusive as possible, and shooting from the hip allowed me to capture candid expressions I may not have been able to otherwise. Rodeo Drive of Beverly Hills, California is a 4 block stretch of road north of Wilshire Boulevard and south of S. Santa Monica Boulevard, known for its luxury-goods stores. The street is home to some of the most sought-after stores, and is the target of Japanese tourists arriving by the busload every day…..
See more pictures on thestreetleica.wordpress.com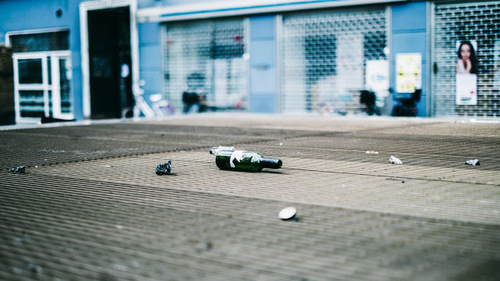 Today was a rainy, dark day. I took my Fuji X-Pro1 out in the rain, brought along an umbrella to protect the camera and myself a bit. Usually sundays in Copenhagen are rather sad and borring. Shops are closed, streets seems empty. Today though, lots of tourists in the streets, a viking market (Not sure, I think that is what was going on) And also a Ironman contest! – Did not expect that.. That gave me something to photograph, try out the focus speed trying to catch focus on the runners, wich went pretty damn bad (I don't blame the camera, more the photographer… me) My camera was set to 16:9 raw+jpeg, but I ended up editing the raw files and cropping to 16:9. Just wanted to try this format, since I never have tried anything else than the standart. All shot with the Fuji 35mm f1.4…..
See more pictures on louwit.blogspot.de
So it has been a funny old week in my new office, not a million miles away from Liverpool Street. We've had a dead mouse in a desk, builders playing a girder and spanner symphony across the road and a seemingly endless walk to the kitchen….
See on sgoldswoblog.com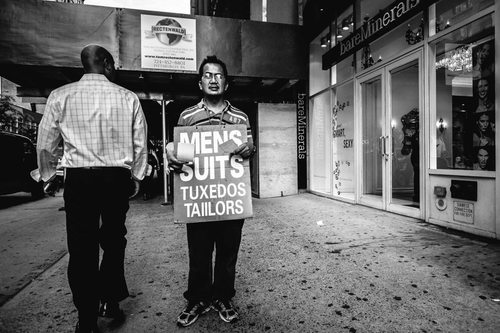 A week ago at this time, I was on a train heading to New York. I was going on business and unfortunately, I was only staying for two days. Despite being off Sunday through Tuesday, I had to rush back for a Saturday shift that none of my colleagues were willing or able to pick up. I would have loved to stay in NYC for a few more days. Although I've been recently trying my hand at street photography, I wouldn't call myself a street photographer. I prefer landscapes and other subjects. Perhaps a big part of that is the city that I've done most of my urban photography in – Washington, DC. Anyone who knows me well will tell you that after 20+ years, I've had enough of this place. I'm long overdue for a change and hope to end up in a 'new' and colorful city very soon. The next chapter of my life likely won't be played out in New York City. But being on the streets there with my Fuji X-Pro1 – even if only for a few rushed hours – was a real pleasure. I could see myself indulging in street photography everyday if I lived there. A marvelous stage with a plethora of various characters. I must go back soon…..
See more pictures on blog.karimhaddad.com
As a genre, street photography defies a single definition. For some, it's simply photography 'that takes place in the street', while for others, it's about capturing 'candid situations', whether or not an actual street is their setting. These two definitions are somewhat in tension, but in practice there's a large overlap in the work of most recognized street photographers. What exactly 'candid' means is not entirely straightforward, however. For some, it means taking a photo in which the subjects do not realize they're being photographed; for others it means sticking a camera right in the face of their subject in order to provoke a reaction.

As far as I can see, the most celebrated examples of street photography fall into four types: surprising juxtapositions or visual puns, as often seen, for example, in the work of Elliott Erwitt; people glowering into the camera, as typified by many of Bruce Gilden's shots; particularly pleasing combinations or correspondences of light, colour, and shade, as is the stock-in-trade of much work featured on Flickr's, Hardcore Street Photography; or penetrating observations on class or social mores, as found in some of Henri Cartier-Bresson's best work.

I find many of these photos fantastic, and recognize the special talent and extended time that must go into them. However, I'm not going to dedicate my life, or even the majority of my photography to this type of work. I'm as interested in photographing the everyday, the commonplace, as I am in capturing the extraordinary scenes that occasionally arise in a quotidian context.

For me, street photography is primarily an exercise in social documentary….
Sample Images Fuji X-Pro1
See pictures on www.larufoto.com
I took a couple of days off this week and was able to spend some time just shooting without the need to be somewhere else.  Not feeling the pressure of time freed me up to be creative and patient, and I believe the images reflect that creativity and patience.  Having the luxury of time totally transforms the street shooting process.  Standing in one spot for twenty minutes waiting for the right shot to come to me is not something I'm able to do ordinarily.  What a treat it was. Yesterday I packed along my X-Pro 1 with 35mm and my X100 for a walk from City Hall to Bush and Market via the Tenderloin. I took my time. Watched what was going on. Soaked it all in. I hadn't walked that way before. I noticed I was being followed and photographed repeatedly by a very animated young woman with a cell phone camera. She approached me at the corner of Turk and Hyde and asked (I'd have said demanded, but the conversation turned out fine) in a very suspicious manner what I was doing, why I was taking pictures. What I did with the photographs once I'd shot them. If I was working with the Police. It was a conversation that will stick with me for awhile because it was the first time that I had had to explain what street photography was to someone who had absolutely no idea what it meant, what it was or why anyone would take photographs of strangers doing seemingly mundane things. To her, I was a threat.  What I was saying didn't make sense, or she didn't initially believe me.  I hadn't taken her photo either before or after the encounter, but it was obvious she was looking out for her neighborhood and I had nothing to hide, so I was open and friendly and took the time to talk with her……
See more pictures on gimletsandfilm.wordpress.com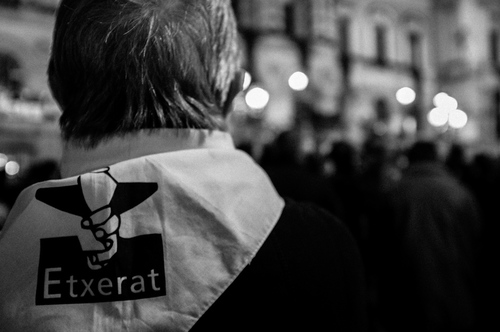 Relatives of Basque political prisoners. Condemned to suffer the dispersion and its consequences to visit relatives and friends.

*Photos of Basque political prisoners relatives from a demostration in Bilbao claiming the respect of the prisoners rights.
Fujifilm X-Pro1 + Fujinon XF 35mm + off camera corded flash
See more pictures on etxebaiker.com