Street Photography
Had to shoot an assignment in New York last weekend, I thought, since we were renting a studio in the Chelsea/Meat packing area and our hotel was 2 blocks away, that we would stay put in that community and just walk to the studio, restaurants and stores, etc. Since I did not have much free time, I brought the XPro everywhere and shot what I saw. over three days, I think I ended up with about 50 or so good images in my 10 min walks. Here are a few….
Visit Bob's Webite here.
See on www.seriouscompacts.com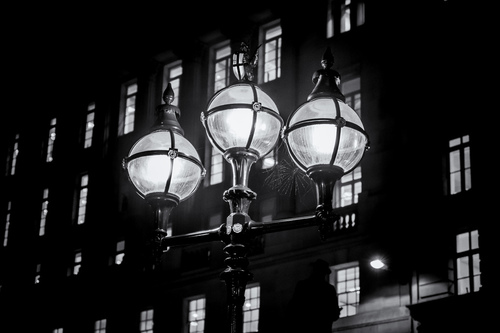 This is a very good lens and should be in any self respecting Fuji X-Pro1 or X-E1 owners bag. It feels solid and is very well screwed together. I've had rubbish weather to test out this lens and I'm upset I cannot replicate the very bright conditions on Sunday when I first road tested the lens. Nonetheless the rubbish weather has enabled me to confirm the lens OIS works well…
Using it with the X-Pro1 OVF takes some getting used to in that the size of the frame is tiny at full zoom. That say, it is perfect for action shots as you can see what is happening around the frame. I didn't mind using it with the OVF in that way but I preferred to use it with the EVF. The lens has a fast and (scarily) quiet auto-focus mechanism and uses an internal focusing system, which means the front element and filter thread does not rotate on focus. Focus speed is very good, much better than any of the primes except the 18mm, and I suspect the original primes will be quietly upgraded to use the linear motors used in this lens over time. However, sometime the 18-55 feels more inaccurate at focusing than the primes. This seems to be some that was addressed in firmware for the primes so I wouldn't be too worried about it right now. The lens is very sharp and compares well with constant aperture zooms I have used. By way of comparison I think it compares favourably to the 12-35 for M43s in that it is almost as quick to focus, is ultra sharp (though the sensor helps here) and the OIS is very good. Also the 12-35 suffers badly from CA on Olympus bodies. The 18-55mm only really loses out because of its aperture – ultimately the 12-35mm is better in low light because of that. Distortion isn't too bad and is only really noticeable for me at 18mm (note, distortion is corrected in body). There is some barreling at 18mm, but no pincushion distortion I noticed at the 55mm setting. Bokeh is very good at 55mm but is a little busy at 18mm. Vignetting is not a problem. Quibbles aside this is a very good lens and is a steal for the £529 I've seen it advertised for. Basically, get it as soon as you can. You won't regret it!
See on sgoldswoblog.wordpress.com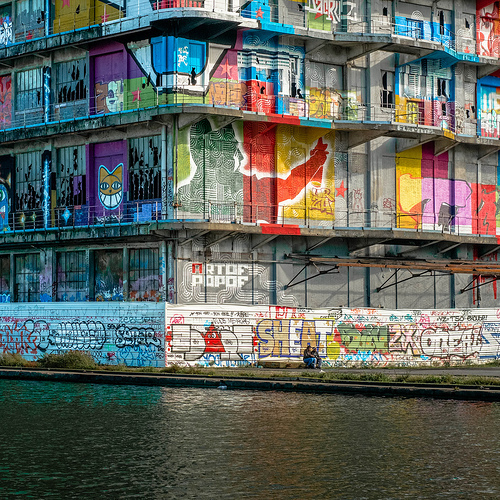 Paris and suburbs in the fall with the x-pro1 by Yann Beauson
See on yannbeauson.wordpress.com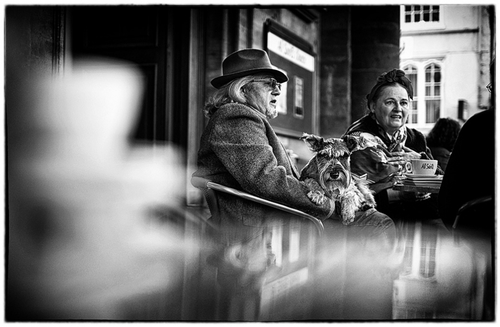 A couple of weeks back I had a Saturday off (I don't get many) and had the choice of going shopping or getting out with my camera, the shopping trip almost won but I didn't fancy leaving my cameras to collect dust so I signed myself up to an event called the Worldwide Photo Walk. I soon discovered this didn't actually involve walking around the world or even going on a trip anywhere more exotic than Northampton town centre. The Worldwide Photo Walk is organised each year by Scott Kelby and encourages photographers to meet up and do some street photography, events take place on the same day at many locations around the world with a prize for the winner of each walk and a prize for the overall winner. I'm not really into competitions but did fancy some street photography. The day came and I met up with 20 photographers for a coffee in the middle of Northampton and was handed a route map, looking around I noticed everyone had brought along a DSLR and I had just my Fuji X-Pro1 and a single lens which in my opinion is an excellent camera for street photography as it's small, discreet and importantly for me is not a heavy brick like most DSLR cameras.
So off I went for two hours looking for something a little different. In the end the best photograph from the day was one I took while sat in the cafe drinking coffee, I love the family resemblance between the dog and his owner. The photograph was taken on a Fuji X-Pro1 with Fujinon 35mm F1.4 lens. The photograph has won the Northamptonshire heat of the Worldwide Photo Walk and will now go through to the worldwide competition.

See on www.weddingphotojournalist.co.uk
See on Scoop.it – Fuji X-Pro1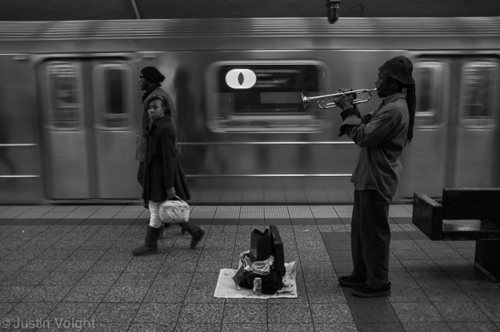 My photoblog has been created exclusively with the Fuji x100 and the x-pro 1. I'm not a reviewer or a gear head. I just have the need to be making images and I prefer Fuji's to any other camera I have ever owned.

See on justinvoight.wordpress.com
See on Scoop.it – Fuji X-Pro1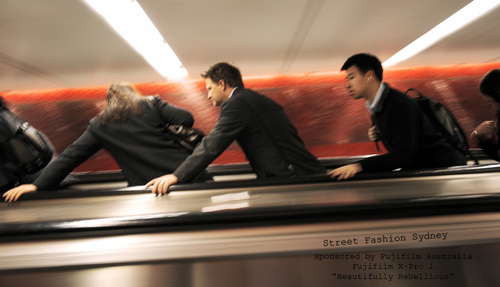 Shooting Street Fashion Sydney (SFS) is all about getting the image as quickly and efficiently as possible. Its about getting a great portrait, a great shot, often in as little as three or four frames. There's not much room for error or messing about with equipment; your attention is on the subject who you don't really know and who out of kindness and courtesy (and maybe knows the blog) is now allowing you to photograph them. You want to respect that kindness with a clean sharp shot that stands out as much as the person you are photographing. And while I had been doing pretty well with my little point & shoot and on occasion with a DSLR I could see that if I wanted to keep SFS up with the fashion blogging pack it was time for a camera upgrade. Thanks to Fujifilm Australia SFS is now shooting with the Fujifilm X-Pro1 and this is the story, a review if you like as to what this camera is like to use in the galleries, in the street and in the studio too. The first thing everyone notices about the X-Pro1 is its great retro styling. It's a Range Finder style camera where you can use the offset eyepiece as either an optical or video viewfinder or you can use the LCD screen on the back as you would with a point and shoot. The camera has all the old school knobs and dials, shutter speed on the top of the body, F-Stops on the lens barrel along with a silky smooth and responsive manual focus ring. The body and lenses are a minimalist shiny black on metal and these distinctive good looks are a real advantage when it comes to catching someone's attention when I ask them if I can take their portrait. While the X-Pro1 has the options of Aperture/Shutter priority or Programme, set with the red A on the Speed and Aperture Dial I like having the traditional layout of apertures on the lens not on a command dial and the same goes for the shutter speed knob on the body. This is a camera that you work with like a traditional film camera and for me that has had positive results in having me think more photographically about what I am doing when I make my shots……
See on Scoop.it – Fuji X-Pro1

Back in 2006 I wrote a .pdf about purism and street photography and posted it on deviantart.com. I featured not only my own work but many of my street-shooting friends from all over the world. Having wrote that it was always in the back of my mind that I wanted to update it. Yes, I could have written something yet I really wanted to do it with video. Until the Canon EOS 5D Mark 2 came about — and with the most recent firmware update — i couldn't have achieved "the look" i wanted. Over the course of two months this summer I enlisted the help of some friends to shoot … I dunno … the next volume or whatever this is. In this video you'll see my work and that of photographers Severin Koller, Frank Jackson and Mario Anzuoni, all with different perspectives for shooting street photography.
There are too many people to thank; please read the credits at the end of part three. I hope you enjoy it. I know that I had an amazing time shooting and editing it….
See Part 1 on vimeo.com
See Part 2 on vimeo.com
See Part 3 on vimeo.com

See on Scoop.it – Fuji X-Pro1


Coming from the X100…there is a learning curve for me…Have to think on my feet more…X100 images seem sharper out of the camera in RAW…which is what I am shooting with the Xpro1
Visit Richard M. Smith's Website:
http://www.photographybyrichardmsmith.com/
See on forums.dpreview.com
See on Scoop.it – Fuji X-Pro1



As promised – here are some more shots from yesterday. I must have made a couple of hundreds of images on maybe five different locations with the two models. Looking through them I didn´t succeed nearly as well with the girl as with the boy when it comes down to picking my favourites, although her best is one of the top five. Since I started out with her, I think I will have to get into the right set of mind faster. I thought I would wear out of inspiration before shooting model number two, but it seems that the opposite happened. Anyway – this set of images have been processed a bit more than the ones I posted yesterday, including Aperture, Topaz B/W and PS. Nothing fancy, but each step adds to the final result. I went for a Grit & Grain style with a tone of lavendel here, which I think serves the settings and the models pretty well.

See part one:
http://sthlmstreet.com/2012/10/14/a-tunnel-vision/

See on sthlmstreet.com
See on Scoop.it – Fuji X-Pro1

Yesterday I spent a great day wondering around London with a few of my photographer mates doing a bit of street photography. I love street photography, it is unpredictable, exciting, challenging but most of all fun. It improves your observational skills no end, you learn to not just look at what is in front of you but to really see what is in front of you. You are constantly looking for colours, shapes, light, emotions, and of course 'the decisive moment'. We began by visiting an area of London I'd not ventured to before, Brick Lane and Hackney. Venturing onto Covent Garden and more central London later in the day. One of my friends Pete is a born and bread east ender and is extremely knowledgable about street art. He took us on a fascinating tour around Hackney and the surrounding areas showing us art by various different writers. I absolutely love how Graffiti has finally been recognised and has now become accepted and in fact encouraged as professional street art, with building owners paying huge money for people to come and produce works of art to adorn their properties. I shot for the majority of the day with my absolutely new favourite combination. The Fujifilm X-Pro1 fitted with the official Leica M mount and the great Voigtlander 25mm f/4 Color Skopar. This manual focus range finder lens, built for use on Leica range finder cameras works so well on the X-Pro1. It is very sharp, easy to use and is absolutely perfect for street photography. I chose to focus the lens using zone focusing. To do this I set the aperture of the lens to f/8 and the focus scale to 2m. This gave me a near focus distance of 1.33m and a far distance of 4.1m, perfect for capturing people going about their business on the street. When I wanted to focus on buildings and other bits in the distance I set the focus scale to 3.89m, the hyperfocal distance at which everything from 1.9m to infinity was in focus…..