Street Photography
Sample Images Fuji X-Pro1
See pictures on www.larufoto.com
I took a couple of days off this week and was able to spend some time just shooting without the need to be somewhere else.  Not feeling the pressure of time freed me up to be creative and patient, and I believe the images reflect that creativity and patience.  Having the luxury of time totally transforms the street shooting process.  Standing in one spot for twenty minutes waiting for the right shot to come to me is not something I'm able to do ordinarily.  What a treat it was. Yesterday I packed along my X-Pro 1 with 35mm and my X100 for a walk from City Hall to Bush and Market via the Tenderloin. I took my time. Watched what was going on. Soaked it all in. I hadn't walked that way before. I noticed I was being followed and photographed repeatedly by a very animated young woman with a cell phone camera. She approached me at the corner of Turk and Hyde and asked (I'd have said demanded, but the conversation turned out fine) in a very suspicious manner what I was doing, why I was taking pictures. What I did with the photographs once I'd shot them. If I was working with the Police. It was a conversation that will stick with me for awhile because it was the first time that I had had to explain what street photography was to someone who had absolutely no idea what it meant, what it was or why anyone would take photographs of strangers doing seemingly mundane things. To her, I was a threat.  What I was saying didn't make sense, or she didn't initially believe me.  I hadn't taken her photo either before or after the encounter, but it was obvious she was looking out for her neighborhood and I had nothing to hide, so I was open and friendly and took the time to talk with her……
See more pictures on gimletsandfilm.wordpress.com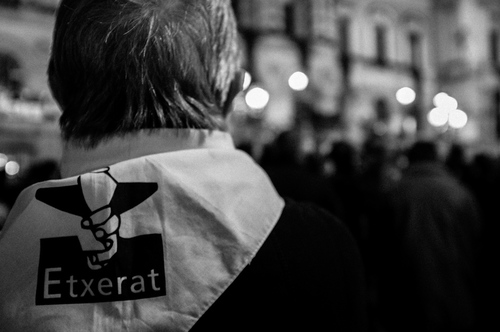 Relatives of Basque political prisoners. Condemned to suffer the dispersion and its consequences to visit relatives and friends.

*Photos of Basque political prisoners relatives from a demostration in Bilbao claiming the respect of the prisoners rights.
Fujifilm X-Pro1 + Fujinon XF 35mm + off camera corded flash
See more pictures on etxebaiker.com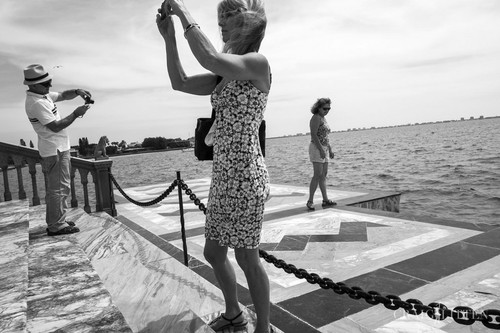 I'm a photojournalist by profession, a documentary photographer by choice, and a street photographer in my heart, but before all of that, I just love photography, and l love to take pictures. Enter in the Fuji X-Pro 1. Very recently, less than one month ago, I sold all of my DSLRs, fast glass and long lenses and purchased two Fuji X-Pro 1 bodies, the XF 18mm f/2 (approx. 28mm equivalent), the XF 35mm f/1.4 (approx. 50mm equivalent), and the XF 18-55 zoom and I couldn't be happier. For nearly two decades I've wanted a Leica film body (M6), but in my career as a newspaper photojournalist and with all of the professional sports I had to cover, I just couldn't justify it. In the late 90s I bought the amazing Contax G2 and loved it dearly. But as film started to fade and digital started to pick up speed, the M6 dream also faded. I finally sold the Contax in 2005 while it was still had value. As Leica released the M8, and I saw that the price was significantly higher than the already pricy M6 (I was never really interested in the M7), and that it was not a full frame sensor (because I really wanted a 35mm Summicron–Leica's 35mm f/2 lens), I lost interest. Then the Leica M9 was released which caught my attention, but I knew that as a working photographer, I could never afford nor justify the cost of one camera and one lens, let alone a complete system. I love Leica, but it simply cannot be justified in its cost (for me personally), thus out of my reach. Leica used to be the camera of the working photojournalist, and many legends of photography have made iconic photographs with them, but the world has changed, and making a living with photography is harder than ever. With new amazing technology, and steep competition, working photographers are now using new tools that get the job done. There was a time in my career that if a photographer showed up for an assignment with anything but a Nikon or a Canon, they were looked at as an amateur, but not anymore. One of the big attractions of the Leica, to me, is its simplicity; in this it's unbeaten still today. I applaud Leica for (mostly) remaining true to its heritage with the digital M cameras, and I hope they always will. No other camera system even comes close to the workmanship and quality build and materials of a Leica. If you've ever held a Leica lens, you know exactly what I'm talking about. Fuji, analogously, has invented a camera system that gets back to the basics. Things like a real shutter speed dial, check, a real aperture dial, check, a real optical viewfinder, check. But Fuji also added a real exposure compensation dial that's even better than the ones the old Nikon's used to have on their film bodies. Also, the wondrous beauty of Fuji's hybrid viewfinder, where the user can switch, on the fly, from optical (OVF) to electronic (EVF), is the icing on the cake to me. This camera is a breath of fresh air to photograph with. The buttons are perfectly placed and they are few (only what's needed). Today I chose to slow down and shoot just for the sheer joy of it. While photographing with the X-Pro 1 I was able to switched from optical finder, to rear LCD, to electronic viewfinder, to changing the ISO, the aperture, etc., etc. all effortlessly and without a thought. It was so much fun. In fact, it was pure joy. I really haven't had this much fun shooting with any camera since my Contax G2. Imagine that, a professional photographer actually enjoying shooting when not getting paid to do so. (By the slightest chance if anyone from Fuji happens to read this article, I ask you to PLEASE not change a single thing on the X-Pro 1 camera body with the future X-Pro camera body, but instead just install dual, quad-core processors (for a little more speed) and we're good to go. This camera is that good! …..
See more pictures on streetphotoworkshops.com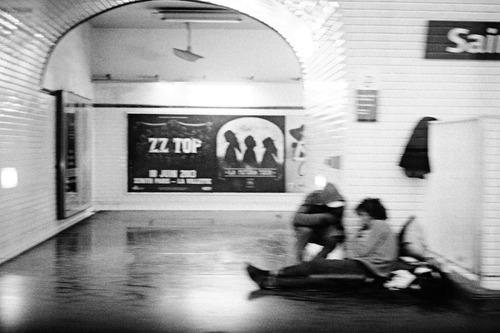 b/w . paris . france

Fuji X-Pro1 with 35mm f1.4 and Minolta MD Rokkor 50mm 1.4 …

See more pictures on nighlines.tumblr.com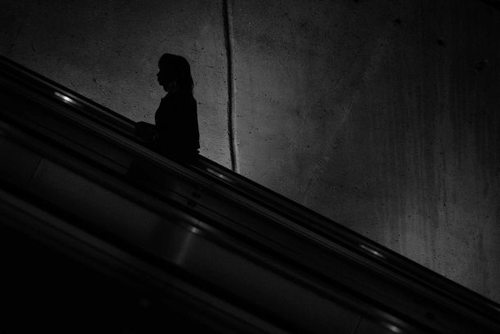 That's what we call the subway in DC. It's usually very crowded and often not working in certain places… but overall it's not too bad (if there's a stop near you). Maybe if I used it more often, I'd be singing a different tune.
A few weeks ago, I went to run an errand near  Capitol Hill. I rode from Woodley Park to Eastern Market and back, transferring trains at Metro Center. Here are some of the pictures I took along the way. They were all shot with my Fuji X-Pro1 and 35mm lens. Nothing too special… but a good reminder that while I'm here, I need to take the metro more often (good thing I'm in Trinidad)!
See on blog.karimhaddad.com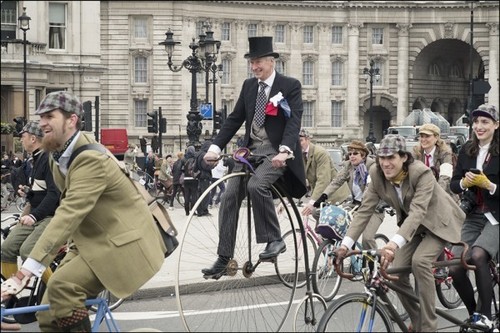 I was shooting around Jermyn Street last year when I was struck by how unstructured our clothes had become particularly for those people not doing white collar jobs.  Sweat tops, sweat pants, overalls, dungarees.  It was all soft and comfortable and easy to move about in but it has also arguably made us soft and sloppy in our posture and gait.  Time was when even factory workers (watch some Mitchell and Kenyon) wore tailored clothes.  Not expensive fabrics of course but the clothes had a structure made up of folds and tucks and pleats all stitched into place all designed to stop us slouching about about.  My father spent a large part of his working life on building sites as a carpenter and I recall him going off to work wearing a dark tweed jacket and heavy wool trousers. The lovely people at Fujifilm UK lent me an X-Pro 1 camera with a 60mm lens and I used the 5th anniversary of The Tweed Run, a sartorial little jaunt through London town on two wheels, as an opportunity to take it for a spin (apologies in advance for the puns). It was all weft and warp.  Before the DuPont family gave us lycra this was the everyday wear of cyclists. 500 riders all in vintage attire with some going the extra mile (again, sorry) with their vintage machines including a penny farthing. Neither age nor gender was a barrier as they rode from Marylebone to Trafalgar Square via Saville Row in their finery.   Most of the participants here would probably be shocked to know that in 1895 someone wrote a List of Don'ts for Women on Bicycles which was published in the New York World newspaper. The woman below (and her partner) had a technical problem and were walking back to the nearest pitstop but not before being stopped several times by tourists to have their photograph taken. I didn't ride (my bike is going for a service) and instead pursued them on foot from Marylebone.  According to their published timetable what should have been a leisurely ride (circa 1910) turned into a sprint which I suspect was an attempt to finish before the predicted downpour so I stuck to fully automatic and let the X-Pro 1 figure everything out …..
See on www.yvessalmon.co.uk
We finally made the trip to Santa Barbara for the weekend.  After over a year of saying that we should, that we would, we did it! My girlfriend graduated from college at UCSB and has a special place in her heart for Santa Barbara.  Having spent one evening there in some forgettable company many years ago, I was eager to see it again through the eyes of someone who had lived some of her formative years here. We stayed at a hotel between East Beach and State Street down by the water and, although the weather was uncooperative for the most part, we spent a great deal of time walking and exploring (well, *I* was exploring – she knew exactly where she was going). I really loved the proximity of everything on State Street:  Fine restaurants, funky bars, cafes, sidewalk bistros, shopping – it's all around you.  The pace emanates a laid back feeling that caused me to slow my usual pace.  To actually FEEL like I was on vacation.  It was a good feeling. The variety of architecture demands your attention.  Given Santa Barbara's history, there is definitely a preponderance of adobe and terra cotta, but throughout the Lower State area there is enough variety to keep your eye entertained and shutter finger itchy.  For neon sign aficionados, there are several examples sprinkled about the area. For this trip, I wanted to be a tourist and to have a light camera close to hand at all times.  The two cameras I brought were (as they have always been) perfect.  I found I preferred the x100 for its wider view and quiet shutter in interior spaces but the X Pro 1 performed admirably when I had it with me.  Images from both cameras are included below.  The X Pro 1 was equipped with the 35mm/1.4. There was so much more to see and to do.  Next time maybe we'll stretch it out by a couple more days.
See more pictures on gimletsandfilm.wordpress.com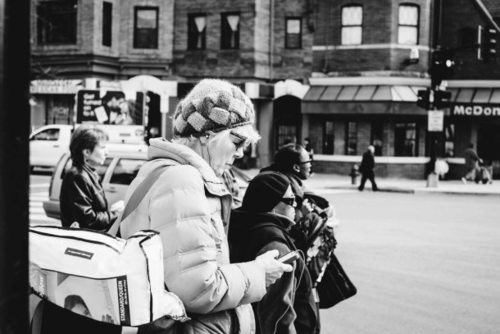 I've been trying to shoot more people lately. It's not always easy though, especially for someone like me. I was raised to be considerate of others, so the cognitive dissonance that comes with traditional street photography is often hard to shake. Still, I persevere. I wait. I sneak around, or I distract and disarm. Then I take my shot. It's never been ideal and every now and then I even need to shoot blind. Missed opportunities abound. I feel like a creep most of the time. But sometimes I'm not creepy enough. The other day, I had to eat my lunch at a restaurant while listening to some airhead 'like' talk endlessly about 'like' utter nonsense. I wanted to walk up to her, take a few shots, and then do some show and tell on here for everyone's benefit. Maybe if it had lasted just a little bit longer… but I've already given her more props than she deserves! DC is full of interesting people. Some are more unique and 'photogenic' than others. The city itself is constantly evolving, but I have a feeling the cast of characters will remain largely unchanged. If I can capture some of these characters in this particular space and time, I'll be satisfied. The most memorable street photos usually tell a story. Maybe I'm biased, but I'd like to think that most of the images below tell some kind of story. Some are obviously better than others. Surely I'm not lying when I say that I've come a long way from my last similar post… but I also know that I still have a long way to go. All of these pictures were taken sometime in the last few weeks with my Fuji X-Pro1. If you follow my blog, you know I only have the 35mm lens (for now). As you'll see, I still haven't been able to get very close to my subjects. I'm not sure that I'll ever be comfortable getting up in someone's face for a candid shot, but I'll keep trying to move closer. And I'm still getting a wider lens, although I'm not sure which one yet.
See more pictures on blog.karimhaddad.com
Wie Millionen Iren in aller Welt feiern auch die Münchner Iren und ihre Freunde ihren Nationalfeiertag. Am 17. März fand in München die Parade zwischen Münchner Freiheit und Odeonsplatz statt. Das Motto lautete – Let´s paint the town green! Und während der Winter den Norden Deutschlands noch fest im Griff hat konnten wir uns in München über etwas Sonne freuen. Beste Voraussetzungen also, die Parade mit der Fuji X-Pro1 und dem Fujinon XF 18-55 F2.8-4 R LM OIS zu begleiten. Die Flexibilität des Zooms kam mir dabei wirklich entgegen und so konnte ich problemlos zwischen Weitwinkel und leichter Telebrennweite wählen. Außerdem ist die Fuji für solche Zwecke natürlich besonders geeignet, da sie wesentlich unauffälliger als eine große DSLR ist. Dies hatte ich zu Beginn meiner Arbeit mit den Fuji X Kameras oft unterschätzt. Aber es macht wirklich einen Unterschied ob man einer Person mit einer X-Pro1 oder mit der D800 vor der Nase rumfuchtelt. Einziger Wermutstropfen: Der manchmal verflixte Autofokus – ja auch mit dem Zoom gibt´s Momente wo die Kamera partout nicht scharf stellen will…und der Moment ist dann vorbei…die Parade weitergezogen. Nach all den neuesten Firmware updates habe ich sogar manchmal das Gefühl, dass das 35er in manchen Situationen schneller fokusiert. Ich werde das in den nächsten Wochen mal genauer vergleichen und wieder berichten. Bis dahin – enjoy the pics!
See more pictures on www.cleareye-photography.com