Street Photography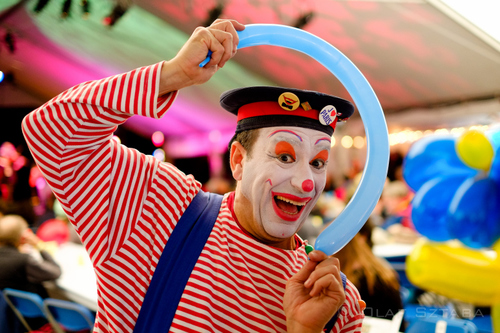 Last weekend I had the chance to visit a "Festival du Bois" in Coquitlam, BC. This festival celebrates French culture with fantastic live performances, exhibits and cuisine. Since I had my Fuji X-Pro1 and XF 35mm F1.4 with me, I took a few images. We usually shoot RAW and process our images with the Capture One Pro 7 and Lightroom 4. However, since many people like to shoot JPGs (for good reasons), we got many inquiries to present some images straight from the camera. Our only comment: to our eye, Fuji has the best Jpegs of all camera manufacturers, period. This is especially true for photographing people – skin tones are just marvellous. See for yourself. All images are jpegs from the camera. Astia (S), Saturation +2, Sharpening +2. WB – Auto, only minor contrast adjustments in Lightroom 4.
See more pictures on olafphotoblog.com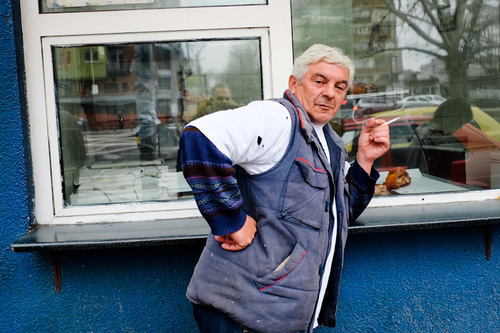 Last time I was in Belgrade, I got bottles of piss thrown at me. Enjoy mate." Despite what it sounded like, that wasn't a warning, as such. "I was in Belgrade in 2010, right wing fascists rioted and torched the city, because pride march was on. Cars were burning outside outside the apartment." That's what two friends told me, when I announced my trip to Serbia. Now that I've been in Belgrade almost a month, I know what the capital city of the former Yugoslavia is like. And, I wish I didn't. Serbians are all too aware that their international reputation may precede them. "They all hate us, they think we're butchers". I'd only met this guy two minutes ago. He opened up his closed bar and poured me a drink. And, he refused my money. Such is the hospitality I have experienced here. Belgrade is a memorable city. A 50 year stint with communism, a three month NATO sponsored bombing campaign in 1999, and a notable millennium or so of history, has created a unique metropolis. Western Europeans think this city is dirty, smoky, and could do with a spruce up. Fortunately, Belgrade is guilty on all three counts. "Those three months in 1999, with the bombs, that was the best time of my life." He poured another drink as I quizzed him about the bombing. It was only 13 years ago that Belgrade was hit, and I could tell by the smile that beamed from his face – he believed what he was saying. Somebody else had told me a similar story – at first the bombing was scary, but before long "you would see the missiles and bombs flying through the air, and you just get used to it". Prince may not have been the only one partying like it was 1999. Apart from the stories of the locals, semi-permanent reminders of this period include a heavily bombed pigeon-pair of modernist communist buildings in the downtown area. The former Ministry of Defense buildings must make it  hard for locals to forget that Belgrade, Serbia, and the entire Balkans region, has a recent history of indescribable horror……..
See more pictures on www.yomadic.com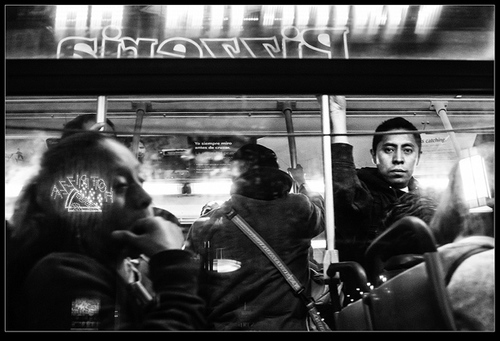 As part of a project focusing on public transportation, Mark Rosales caught this photo of pensive bus passengers and the reflection of a pizzeria on Feb. 19 at the corner of Broadway and 8th Street in downtown L.A. He used a Fujifilm X-Pro 1 with an Olympus OM 24mm Prime Lens.
Rosales typically shoots through the windows of subways and buses, and always asks himself where his subjects are coming from and what their stories are.
"Such a mix of people all coming from different places that led them all to such a confined space and every each one of them going to their own different destinations," he wrote. "You never know what you're going to witness."
See on latimesblogs.latimes.com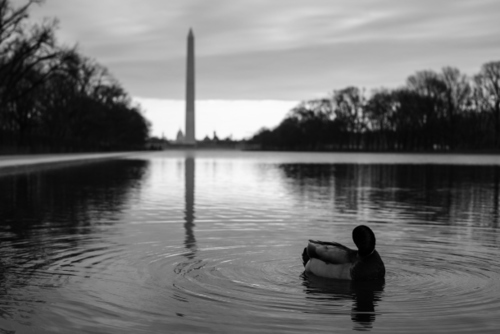 It's not something I'm used to doing. But every now and then, it's good to get out of your comfort zone. Most of my photography so far has been rooted in travel. I've taken quite a few pictures in the DMV, but the majority of them have been urban landscapes near tourist spots. I took my new Fuji out with my 5D recently to the Lincoln Memorial. Both performed splendidly, but there was something special about the look of my Fuji photos, even the ones that weren't necessarily  the best of the shoot. I can't wait to take my new camera with me on a trip overseas. Although the X-Pro1 is not pocket size, it's a lot easier to carry around with than a dSLR. Even after I buy new lenses, I can still carry the whole kit around in a small bag. It also makes me want to take pictures of the most mundane things in my neighborhood that I hadn't bothered to look twice at before. I've started to look around more. I'm not a street photographer by nature, but I can see myself moving further in that direction. It's different. Usually I like to take my time composing shots and exerting as much control as possible. On the streets you have to react quickly and you have very little control over anything. It's not just about shooting in the streets…especially not walls and windows. It's about shooting anywhere in public, anywhere that gives a sense of what life might be like in that time and place. One of the best places for that is any city's public transport system. But for those used to framing photos without people in them, this can all be quite a challenge sometimes. Getting shots of people is tougher than you might think. First and foremost, you need to know your camera – using it should be second nature, as if it was a part of your body. Luckily, the X-Pro1 helps with that. It's only big draw back is the clumsy focal point selection system. Framing shots and getting them in focus can be difficult when you need to move fast. I need to work on my stealth, so I can do my thing without coming off as a weirdo. I don't know whether to smile more, or focus on discretion. The key to taking pictures of people publicly is doing so smoothly. Whether your shooting faces or silhouettes, you need to be like a shadow in the corner. Ideally, you don't want your subject to notice until it's too late. But stealth isn't the only challenge. Movement can also stand between the shooter and the shot he seeks.You can be walking down the street and notice the perfect shot in your peripheral; by the time you get your camera up and fram your shot, it's either too later or you've blown your cover. Other times, your subject is moving in a way that makes it difficult to get the shot. Every now and then you have no control over your motion, like when you're in a moving vehicle. Timing becomes crucial. One of the funnest things about shooting in the streets is the unexpected result. Any shot that conveys the feeling of the moment is usually a keeper (at least in the eyes of the photographer). Not all memorable shots are perfectly framed or well focused. A close up candid of an old wrinkly face is nice, but sometimes a more abstract shot can be just as powerful, especially when it tells a story… no matter how vague……..
See more pictures on blog.karimhaddad.com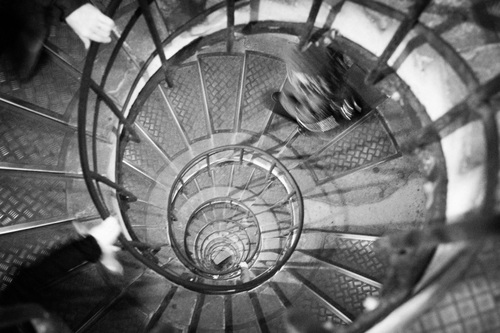 Paris is beautiful.  Whatever the season is. Maybe I like Paris the best in the winter. Less tourists, the foliage is not hiding the beautiful buildings, the wet streets can make nice reflections and the light is soft. On my long walks I certainly am not enjoying to haul around loads of equipment  Ideally my camera gear will fit in a Domke F-803. That results in a Leica M with a few lenses or lately the superb Fuji X-pro1 with the 60mm, 35mm, 18mm and a Voigtlander 15mm. This fits easily in the bag and is so light that I hardly notice carrying it around when I do my photo walks in Paris. The Fuji X-pro1 is even lighter than my Leica M7 and the same is true for its excellent lenses. With the latest firmware update the auto focus is faster than I can do with my Leica. Do the pictures look the same as the analogue ones? No, but the Fuji is the first digital camera I really like and the pictures are different but beautiful.
See more pictures on parisphototours.wordpress.com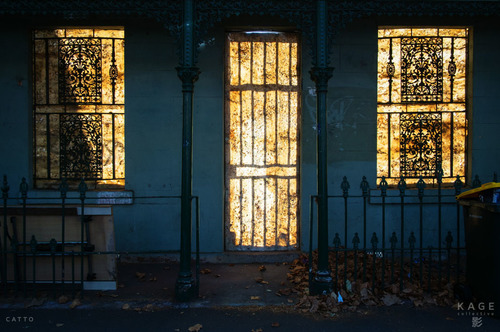 When I first came to Australia fifteen years ago, it was partly because of what a friend at school in Canada had said to me: "I don't know how to describe it, but the colours are brighter there." It's true, certainly – the sun here does seem to cut more, to shine harder; but also the birds, plants and flowers that have grown here are more colourful than those in my home land of pine trees, pink granite and lakes. And it seemed to me that the people had taken that on – had made their cities, cars and houses more colourful. Themselves, too. Moving back here from New Zealand, after fifteen years in a country whose national colour is black, I'm reminded again why I felt that way. The light itself is similar to New Zealand's; but the brightness is somehow, to me, Australian. This is part one of what will be an ongoing project for me, as I test my friend's statement. Some chapters may push back against the theory, others will propel it further – but I'll be interested to see which side wins!

See on www.kagecollective.com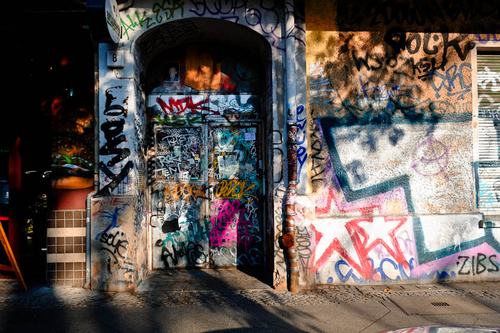 I'm rarely negative on Yomadic. Mainly, because I've been travelling for five months, three continents, and a big handful of countries – so far.  I've gained a big serving of perspective on the world we all live in. Which brings me to Berlin. If there's one thing I truly can't be negative about – its Berlin street art. Call it graffiti if you will. I'll continue to call it street art in this article. I have no preference. Either way, I find it difficult to think of a single example of street art or graffiti that has negatively effected any city, on any country, on Earth. When I say "destroyed", I mean it. As in "we destroyed that breakfast buffet, that bacon was unbelievable!". It's street slang thang. People, it's time for some perspective. Cities around the world spend a sizeable fortune every day, removing street art and graffiti in the name of cleanliness and beautification. As with most things I disagree with, I can only assume this is due to the wishes of a vocal minority. Most cities have far higher priorities than removing graffiti – which by it's very nature is temporary. Indeed, in an Ironic twist, London authorities are now spending serious cash to protect some street art from decay, such is the appeal. Copenhagen Denmark, a success story when it comes to urban planning, embraces street art. As does Berlin. Berlin street art is, in a word, prolific. In areas like Friedrichshain – a hip inner city Berlin district – tags, paintings, murals, political statements, fine art, and sculpture cover everything from houses to shop fronts, to trains and historical monuments. Sometimes, cars. And unless there had been an enormous influx of artists in the last few weeks, it's safe to say nobody is too interested in removing any of the art.
See more pictures on www.yomadic.com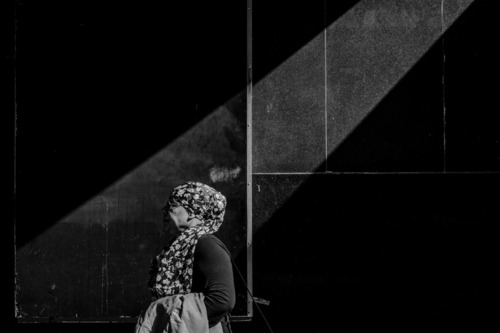 Lady in Ray – Black and White Image by Rinzi Ruiz

Rinzi Ruiz is a Los Angeles based street photographer. He is playing with Lights and Shadow and creats perfect black and white images. One of my favourite!
Visit his website at: http://www.rinziruizphotography.com/
See more pictures on streetzen.tumblr.com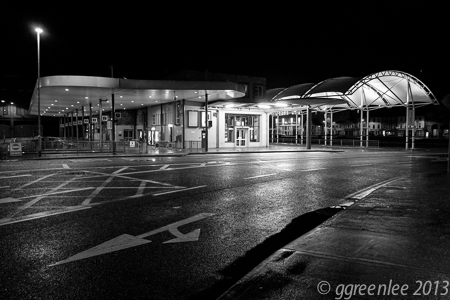 Cork city, at 5am. Irelands second largest city. A ghost town, I walked for over 30 mins before meeting another person. Patrick Street was empty, there wasn't  even a bus at the station. But slowly the workers arrive, and the deliveries start.

All shots Fuji Film X-Pro1, 18mm,  ISO3200, Handled at speeds 1/13-1/250th
See more pictures on wideanglecafe.wordpress.com
The Japanese concept of Wabi-Sabi, as described in Brainpickings, "connotes a way of living that finds beauty in imperfection and accepts the natural cycle of growth and decay. As objects age, it adds on layers of "battle scars" and accumulate what I would term as "character". Urban Decay celebrate these "battle scars" and "character" exhibited in daily Urban objects.

See more pictures on lucpher.wordpress.com