Street Photography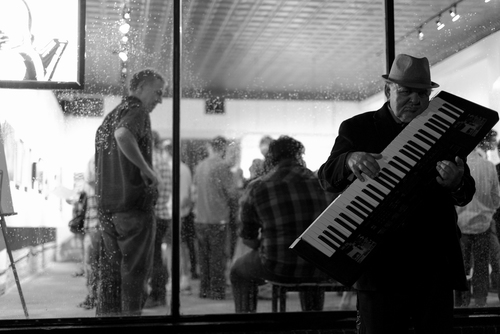 As those who know me personally will know, my digital photographic life has been turned upside-down in recent months by my Fujifilm X100.  This compact, high-quality big-sensor rangefinder-style camera inspired me in ways that no digital camera before was able to do, and completely changed my idea of what the digital side of my workflow should be.  Loving the X100 and wanting to take things to the next step, I have sold off all of my Canon DSLR equipment and have now invested in the X100′s interchangeable-lens big brother, the Fujifilm X-Pro1. I've been shooting with the X-Pro1 and the 35mm (equivalent to a 50mm on a full-frame camera) f/1.4 lens now for several days, and have been continually blown away by the photos I've been getting from it.  I've thrown it into several different situations – portraits, street, concerts, etc. – and have been learning how it behaves and responds.  It's everything I loved about the X100, taken to a new level……
See more pictures on kevinbuchananphoto.com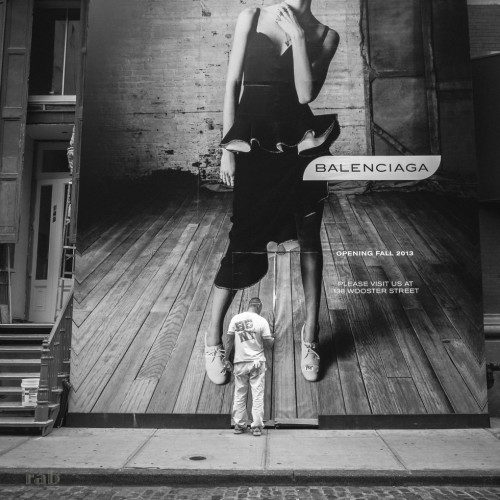 Had an amazing few days walking around Manhattan with my Fujifilm X-Pro1 at the end of last week.  Took along my 18-55mm zoom, 35mm f/1.4 lens and an old Nikon 50mm f/1.4D (using an adapter). On some days I also brought along an old medium format Yashicamat 124G TLR to shoot some film, but haven't developed it yet. This was my 3rd visit in the last four years, and the first using a smaller mirrorless camera instead of a big, bulky, heavy, conspicuous DSLR. What a difference! The Fuji doesn't draw much attention (except from other photographers, who want to ask questions!), making it perfect to blend in on the streets. I could (and did) walk the streets all day without even noticing the gear I was carrying. For outdoor walking around, I would normally set my camera around f/8 1/250th and auto-ISO and zone focus about the distance people would be as I'd pass them by. Camera would be mounted around my neck with the zoom at 18mm, with my finger on the shutter. If I saw something/someone interesting, I'd take a photograph. Didn't always get the shot, but my hit rate was certainly better than if I had tried to bring the camera to my eye and composed a quick shot…….
See more pictures on rodneyboles.com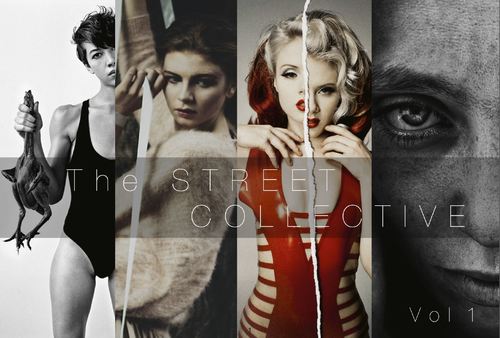 This is the Street Collective.
This is work you must learn from. A collection of the world's best street, documentary, and fine art photographers. It is energetic. Gritty. In your face and brutally honest. It is a genre of photography not for the faint of heart. Or the unsure. These are images that look for that decisive moment in the chaos. In a lot of ways street photography is one of the most accessible genres to shoot. That's because there's no set path, or widely accepted standard. Yet there are some photographers who never stop searching for that perfect moment…..
We've just spent months creating a free e-book with insights from several extremely talented street/doc/fine art photographers. We entitled it "The Street Collective."
The Street Collective was the result of many hours interviewing top photographers such as Bryan Formhals (of LPV Magazine) and World Press Award winner Laura Pannack about their process and how they achieve their unique looks. We did this to help our audience learn what it takes to make great street photography. It's completely free, and we're trying to get the word out about this.
You can see the free e-book here and download your own copy:
See on www.photowhoa.com
When one encounters a new place for the first time, the barrage of new information and stimulus on the brain usually causes it go scrambling to make sense of the situation by comparing it with a mental list of other known destinations. Such was the case for me with Havana, Cuba. As the scenery flashed by outside the window of the taxi from the airport, some of it seemed strangely familiar, whether it resembled a mishmash of other tropical islands I've seen before or if it was just the countless images of Cuba portrayed in books and films that I've watched, I cannot say for certain. There are no shortages of stereotypes for Cuba, old American cars, grand buildings that have seen a better era, the weathered grandma puffing away on a great big cigar … yet what the photos often fail to convey is the sense of celebration about the place, a celebration of life itself, of which is often lived out in the streets. Everywhere you go, there's always the sound of live music around the corner, and everyone seems to be out on the streets, or hanging out of their balconies, trading gossip with neighbours, and just sat in front of their doorways, watching life unfold on the streets. Apart from the slightly annoying habit of taxi touts and jineteros (hustlers trying to sell us everything from cigars, great restaurants to girls, whilst simultaneously attempting to guess our nationality/ethnicity)…..
See more pictures on handcarryonly.com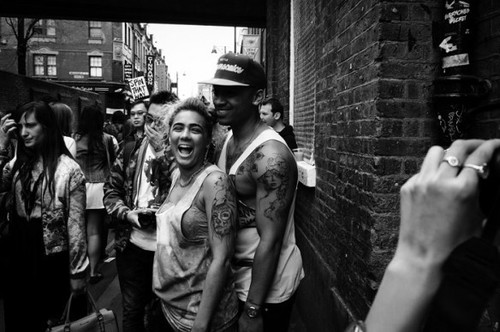 This week we have a guest post from Russell Dawson, a landscape photographer turned street photographer. His journey with the Fuji X-Pro 1 makes for interesting reading. The fixed lens X100 is a well respected street camera so I was excited to hear how Russell found the more adaptable Xpro. Russell Dawson started with Landscapes but has branched into street photography. I bought the Xpro after reading many blogs and reviews. I come from a mainly landscape background and most of my recent shots are on a Nikon D200. I have always been a lone shooter preferring my own company and the great outdoors. Street photography was never a style I thought I would be involved with. The series 'Nothing Lasts Forever', along the Jurassic Coast, is a regular project that has created a book of B&W images which I self published three years ago and the new colour work for an exhibition in August here on the South Coast. I have also had a couple of commissions from magazines and done some commercial work. I also taught photography at the local college and for the local Adult Ed.
Finding my way into street photography
I had made several images of people while on location. But it wasn't something I took too seriously. After having spent the last few years out in the landscape I decided to try a completely different style as a break. I headed into London for a day trip and enjoyed the day much more than I expected to. I came home with some really interesting images and I couldn't wait to shoot the street again……
See more pictures on www.londonstreetphoto.org
While Obama continues to play politics with his Russian and Syrian counterparts in hopes of ridding the world of Assad's chemical weapons, Syrians are getting killed with conventional weapons everyday. There seems to be no end in sight to a bloody civil war that has claimed the lives of over 100,000 people, and made refugees out of at least 2 million more. Most of them came to Lebanon. The UN has registered over 720,000 Syrian refugees here, but the government here says there are over 1 million who have fled the violence back home. Many of them now live in overcrowded urban areas where they are viewed with suspicion and scorn by some of the locals. These pictures were all taken in one of these areas. I had my X-Pro 1 on me but was not able to use it as much as I would have liked. The images here don't even begin to show how difficult life in Sabra must be. It's a place that exemplifies some of Lebanon's biggest problems and how they keep getting more complex with time…..
Thx Karim for sharing the situation in Lebanon and your pictures!
See more pictures on blog.karimhaddad.com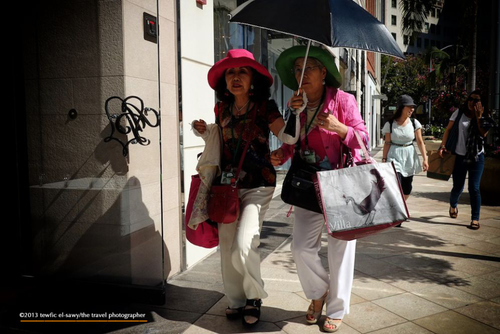 This is gallery of photographs made with the Fuji X Pro-1 and a Fujinon 18mm, and all were shot from the hip (except one). I wanted to be as unobtrusive as possible, and shooting from the hip allowed me to capture candid expressions I may not have been able to otherwise. Rodeo Drive of Beverly Hills, California is a 4 block stretch of road north of Wilshire Boulevard and south of S. Santa Monica Boulevard, known for its luxury-goods stores. The street is home to some of the most sought-after stores, and is the target of Japanese tourists arriving by the busload every day…..
See more pictures on thestreetleica.wordpress.com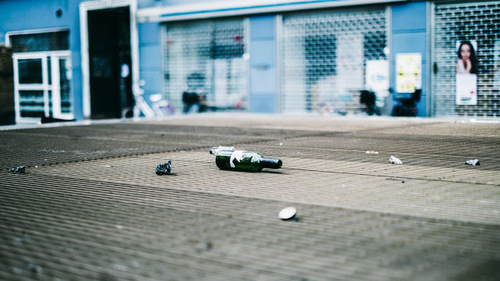 Today was a rainy, dark day. I took my Fuji X-Pro1 out in the rain, brought along an umbrella to protect the camera and myself a bit. Usually sundays in Copenhagen are rather sad and borring. Shops are closed, streets seems empty. Today though, lots of tourists in the streets, a viking market (Not sure, I think that is what was going on) And also a Ironman contest! – Did not expect that.. That gave me something to photograph, try out the focus speed trying to catch focus on the runners, wich went pretty damn bad (I don't blame the camera, more the photographer… me) My camera was set to 16:9 raw+jpeg, but I ended up editing the raw files and cropping to 16:9. Just wanted to try this format, since I never have tried anything else than the standart. All shot with the Fuji 35mm f1.4…..
See more pictures on louwit.blogspot.de
So it has been a funny old week in my new office, not a million miles away from Liverpool Street. We've had a dead mouse in a desk, builders playing a girder and spanner symphony across the road and a seemingly endless walk to the kitchen….
See on sgoldswoblog.com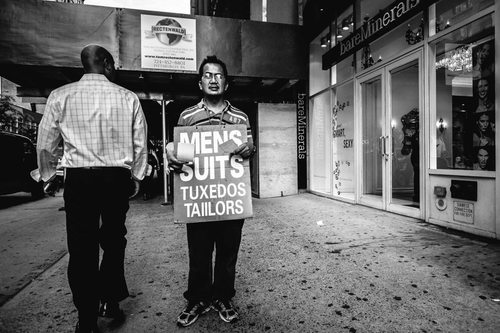 A week ago at this time, I was on a train heading to New York. I was going on business and unfortunately, I was only staying for two days. Despite being off Sunday through Tuesday, I had to rush back for a Saturday shift that none of my colleagues were willing or able to pick up. I would have loved to stay in NYC for a few more days. Although I've been recently trying my hand at street photography, I wouldn't call myself a street photographer. I prefer landscapes and other subjects. Perhaps a big part of that is the city that I've done most of my urban photography in – Washington, DC. Anyone who knows me well will tell you that after 20+ years, I've had enough of this place. I'm long overdue for a change and hope to end up in a 'new' and colorful city very soon. The next chapter of my life likely won't be played out in New York City. But being on the streets there with my Fuji X-Pro1 – even if only for a few rushed hours – was a real pleasure. I could see myself indulging in street photography everyday if I lived there. A marvelous stage with a plethora of various characters. I must go back soon…..
See more pictures on blog.karimhaddad.com