Tips and Tricks
It's been six months since I purchased the X-Pro1. During that time, it has been with me to San Diego, the Sequoia and Kings Canyon National Parks, San Francisco, the Oregon Coast, and numerous beaches throughout Southern California. It has handled the windy, sandy, and wet conditions I photograph in and even survived (thus far) a three foot drop that landed it in a puddle of water at Cape Perpetua. (Unfortunately, my XF 14mm lens didn't fare so well.) Having put the X-Pro1 through its paces, I figured this was a good time to share my thoughts on using it for landscape photography…..
See more pictures on stephenip.com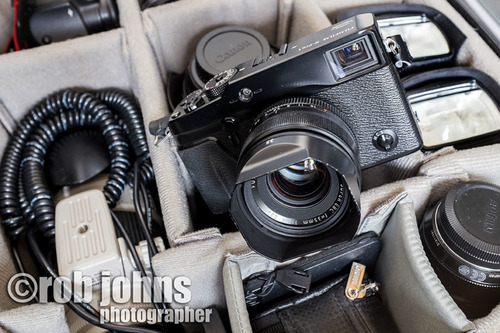 Great imaging quality is one thing but it's certainly not the complete picture. When things go wrong, especially when you're a professional photographer, it's essential to have the support from the manufacturer to get your gear repaired and returned to you as soon as possible. In the past, I've had great customer service from Canon and at the other extreme I've had absolutely lousy customer service from Nikon, you can read about it here. It's no surprise then that I ditched Nikon as soon as possible and switched over to Canon. So what can you expect from Fujifilm? Well, the good news is that they have in place what promises to be a 5 star service for all X-Pro1 owners, not just for professionals, and they make no distinction whether you bought the camera new or used, as long as you have the original purchase receipt, you're good…..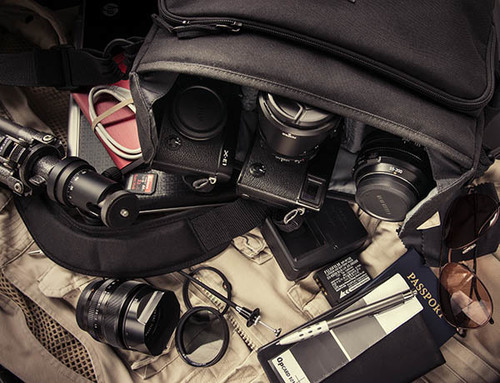 Like many of you, I have been speculating on what my travel gadget bag would look like if I decided to take only a Fuji X-series with me. Makes sense to speculate as the Fuji X system continues to expand to a point where it can be as compete as many pro DSLR systems that have been around for a long time. Nice thing about the Fuji X is how small it is in comparison. By the end of this year the super-wide angle zoom should be available along with the 23mm f/1.4 and a Zeiss macro so we will have a lot of equipment options available to us. Up until now, I have often taken a Fuji X-Pro1 along with me on trips, but only as a backup camera to a complete Nikon system. I would use the Fuji on those occasions where I wanted to walk around casually and not be encumbered with too much stuff.  A few of my friends along with many readers of this blog have mentioned looking forward to travelling with just a light weight Fuji system instead of a heavy DSLR. That is what started me thinking about what such a system would look like for me…..
Kathmandu is a strange mix of Hindu and Buddhist culture. With only a few days to explore my friend Jon and I are sticking around Kathmandu. Our hotel is right across the road from Boudhanath – one of the holiest Buddhist sites in Kathmandu, Nepal. It's also the most photographed spot in the country,  so how do you photograph it in a way completely different than (a) you've done before or (b) like no one else has done? For me, it was trying to look through the obvious and observe what was happening. One of the first things you notice are the masses of people circumnavigating the stupa. I wanted to capture that movement. In fact almost every image of Boudhanath this trip has been about movement. I think it is because there seem to be people everywhere.  I set up my tripod in one of the corners and shot with a slow shutter speed and used the Multiple Exposure feature of the X-Pro1 to show the crowds and the movement….
See on www.thedigitaltrekker.com
The unmodified X Pro 1 is sensitive enough to IR for handheld shooting with a 720nm filter, a short lens, a steady hand and cranked up ISOs…
I managed to lose the Exif, but for this one I used a tripod so I am guessing I stopped down a bit. What I don't like about this photograph is that when you look closely you can see a circular zone of increased brightness. It is noticeable on the trunk. It is a dreaded infrared hotspot. They are very unpredictable – sometimes you get them sometimes you don't, but I have experienced hotspots with the 18mm, 35mm and 60mm fuji lenses. With the 60mm it is hard not to get a hotspot. I have seen reports of no hotspots on the 35 and only hotspots on the 18 when stopped down. This is not my experience. Hotspots are least common on the 35, but they are still present. Hotspots are common on the 18 even when opened up…
See on gearramblings.tumblr.com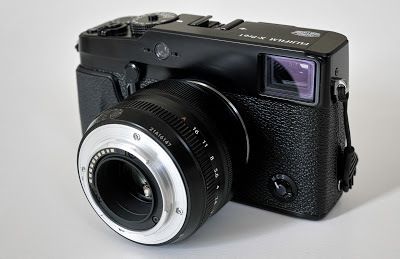 Macro photography is one of the area that I had never really explored. Good macro lenses or close-up filters are not cheap so I decided to try a well known "reverse lens" method just to see if macro photography is for me. All you need is an adapter to mount your lens in reverse, using the filter thread in front rather than actual lens mount at the back.You can easy calculate the diopter power of the reversed lens by dividing 1000 by the focal length. For example, a 35 mm lens gives a 1000/35 = +28.5 diopter…..
See on vkphotoblog.blogspot.de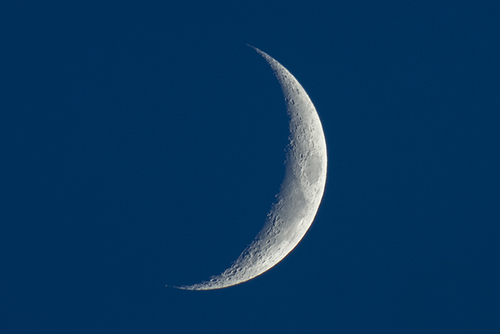 I had an opportunity to go out and do some night photography somewhere dark with the Fuji X-Pro1 camera last weekend and had my mind blown yet again by this little camera system.  I've been experimenting with this camera over the past month, first to get to know it and then with a digiscoping setup.  This particular astrophotography experiment was in the plans for a while and then David Hobby sent me a Tweet with a stunning photo of the Milky Way made with his Fuij and the 35mm, f/1.4.  That photograph appeared in the MeFoto blog today and now I wished that I would have at least tried a longer lens…
See more pictures on prometheus.med.utah.edu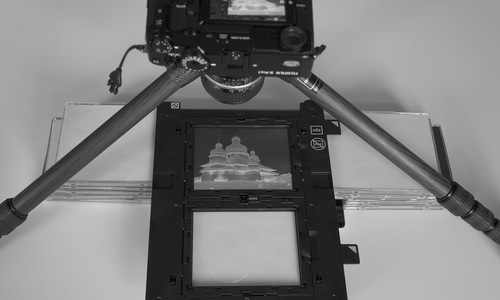 Couple days ago I was scanning some old 4×5 negatives and wondering, is there any other way to make the process faster? Each scan usually takes about 5~7 minutes and files are huge (500 + mb @ 3200 DPI). Can I use a modern digital camera to take a perfect "scan" of the negative? I decided to use one of my old 4×5 negatives to find out how Fujifilm X-Pro1 with Nikkor 28/2.8 CRC lens will stand against Epson V700. Just for fun! The test image  ("St. Elias the Prophet Church") was taken with Toyo 45CF Field Camera + Rodenstock 135mm f/5.6 Apo-Sironar-S Lens, Kodak TMAX 100 developed in Rodinal…..
See on vkphotoblog.blogspot.de
On Monday the 23rd, Fujifilm released the firmware 3.00 for the X-Pro1 / X-E1 models. A couple of days later, they withdrew the firmware because it had been causing malfunctions in the movie mode. They restored it soon after, and the new version 3.01 works like a charm. There are several interesting updates, not least of which is the enhanced autofocus, but the feature that interests me the most is the new focus peaking function for manual focusing. A feature seen only on the X100s and X20 so far, Fujifilm is now implementing it on the X-Pro1 and X-E1 as well. It is a really great update and others brands should take note. Fujifilm has always been generous with firmware updates and this is probably the best example.
I've always considered the Fuji X-Pro1 an alternative to Leica, even though its sensor is smaller (APS-C vs Full Frame). The retro / rangefinder design, the quality of the build, the quality of the lenses and the attention to detail makes it extremely desirable to professionals. This is, I suppose, why among the official Fujifilm accessories for the camera, you will find a Leica M mount adapter with signal contacts, a function button and menu settings with different functions. A coincidence? I don't think so. Unfortunately, I didn't have this wonderful adapter but a simpler one by Quenox…..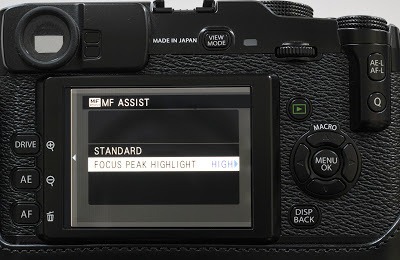 Last week, finally, Fuji implemented a long awaited focus peaking (FP) function with their latest FW update. I consider this and the previous update in June (to use Selector button to move AF point) as the most important, at least for me.  I have and using various old legacy lenses on a regular basis and those two functions are absolutely critical to achieve the best possible results, especially with fast lenses (f/1.8 or faster) when DOF is really thin and/or main focus point is not in the center of the frame. Once I installed all required updates (including 3.01:) I quickly realized that I can't use FP! I just couldn't clearly see FP highlights in the EVF without magnification! Yes, it was clear on LCD and at 3x mag in EVF, but not at default EVF settings. Then I recalled that several months ago, well before FP implementation,  one of the fellow photographers (mark-vdi) suggested to change jpeg setting to increase visibility of what was called "shimmering" effect in a standard manual focus mode. Since I don't care about jpegs I went to Shooting Menu (red icons) # 2 and changed parameters as following: Sharpness=+2, Noise Reduction=-2. I also increased EVF brightness to +1 ( go to Set Up (blue icons) #2, LCD Brightness +1). But you have to do it while looking through the EVF otherwise you will increase LCD brightness instead. Checked again and voilá I could clear see highlights! Now I was ready for the field test…..
See on vkphotoblog.blogspot.ca