Tips and Tricks


The FUJIFILM X-Pro1 Hybrid Viewfinder and how it works at manual focusing: Optical vs. Electronic Viewfinder Demonstration in MF. Filmed through the original viewfinder. Switch between modes as a help for focusing manually.

Estsample test sample Fuji camera: © Maximilian-Weinzierl.de

See on www.youtube.com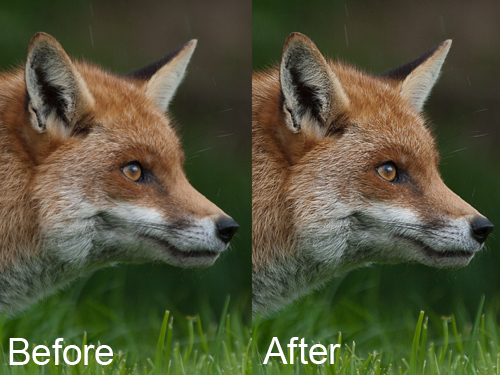 Most people who have experimented in Photoshop, especially those who shoot in raw, will have some experience of trying to sharpen an image. Sharpening increases the contrast between neighbouring pixels resulting in the visual effect of a crisper image. It is typically the last processing step that should be performed on an image and is often used to enhance already well-focussed images or in desperation to try and rescue elements of a photograph that weren't captured in-focus when the shutter was pressed. There are numerous ways to sharpen images in Photoshop, so much so that there is a whole sub-menu of filters dedicated to sharpening, each offering a different amount of control and different levels of success. However, one of the most overlooked filters that can help you achieve better results with more control isn't found in the Sharpen sub-menu, but is in fact found in the, usefully named, Filter -> Other menu: the high pass filter.
I'll take you through a step-by-step guide to using high pass filter and hopefully show you how simple and effective image sharpening can be…..

The benefit of using this method to sharpen your images is that the sharpening effect is applied in a non-destructive fashion, on a duplicate layer, with a very simple to understand parameter (in the Radius value) that controls the magnitude of the sharpening, as well as giving you the ability to fine tune the final effect using the Opacity slider.

See tutorial on digital-photography-school.com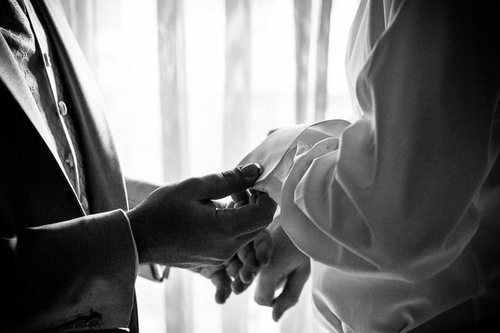 Big weddings, small cameras. Here are the pro tips you need to survive.
…. as always, I learned more in a day's live shooting than you ever can in hours of studying forums, reading manuals or even in safe practise shoots. At one point you just have to make a leap of faith and deal with anything that turns up. None of this is really news but here are my main pieces of advice from the day:
Forget multi shots – I typically leave a Nikon in "continuous low" mode and shoot either single shots or "double taps". In marginal light the second frame is usually sharper. Forget that. On an X-Pro 1 or X-E1 (can I just call them X-CSCs and we'll agree it means this?) the burst mode can lock your camera for a considerable time. Stick to single shots – first shot is the best, right?
You'll need spare batteries. More than you think. An X-CSC goes from "everything is great" to "I don't have enough battery to turn on the low battery warning" in about 2 shots. Change early, change often. In 8 hours' shooting I made it all the way to the 5th battery I had with me. The 16GB cards I had in each camera weren't full.
 The Q button is your friend. I have a number of shooting profiles set up under the quick menu which are identical on both cameras and can swap to my preferred black and white or macro settings at the push of about 4 buttons.
 Auto ISO is not your friend. This has been pointed out all over the web and hopefully Fuji will fix it in a firmware upgrade. The floor setting for shutter speed in auto ISO are way too low. If you shoot auto ISO you will get blurry pictures. I can handhold an X-CSC at slower speeds than a DSLR but still I got blurred pictures if I nudged it to auto ISO.
Strong backlighting can confuse autofocus. When a subject has their back to a bright window I'll often dial in +2 EV of compensation or more on a Nikon. On the Fujis +2 is your max and there seems to be a risk that the autofocus will be wildly out.
I took the EF-20 flashgun. This isn't really versatile enough for me. I shoot a lot of available light (or off camera lit pictures) but when I need flash I need more. I'll look at some other options – there seem to be plenty.
Speaking of flash, the X-E1 hotshoe seems to have a little play in it. I was using a remote trigger to run my Strobeam lights. This has worked perfectly on a number of cameras but if it gets the tiniest knock in the X-E1 then it won't make contact and the lights won't fire. If you're shooting on flash then consider leaving image review set to "on 1.5s" so you can double check. I usually leave it off to avoid confusing myself.
I would have changed to using the X-Pro 1 with flash but for some reason I couldn't get it to fire at all – I know that's my fault. It will be a menu setting.
It's too slow (for me) to change AF point on the fly in a live fire environment. Focus and recompose. Be careful with that at f/1.4….
Fuji need to make a decent portrait lens stat. Sadly it's not yet on their roadmap. If the 18-55 is anything to go by then the 55-200 could be quite nice but at f/4.8 it will be a little "slow" for me. I had the Nikon 105 DC and adapter handy but didn't feel confident nailing focus with it on the day.
See on words.peoplebyryan.com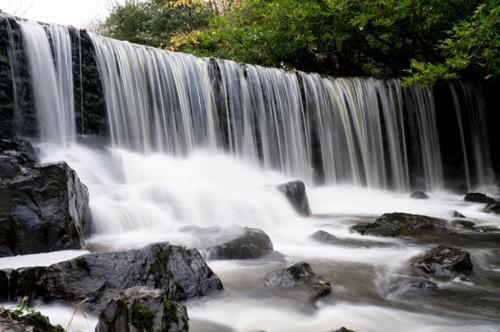 I was asked my opinion on how the Fujinon 18-55mm zoom lens would fare in Long Exposure Photography setting. Equipped with my trusty tripod I thought I would capture a few very quick test shots using the Fuji XE-1 and 18-55mm lens. I headed to the my favourite location and the one I used for the cover of The Long Exposure eBook. Without any ND filters I shot a series of long exposure images between F/18 and F/22 shooting at up to 3 seconds with an ISO of 200. This image is straight out the camera with no post processing.I am shooting RAW with the X-E1 and have noticed that Lightroom 4 crops the X-E1 RAW files on import. It is easily fixed by clicking the "Crop Overlay" tool in the Develop module and setting the size to be "Original". I did put the 18mm (prime) lens on the camera with ND10 filter attached but I actually found I missed the OVF of the X-Pro1 for final framing. It is probably something I will get used to but the real joy has to be just how light the X-E1 is to carry around, it is definitely noticeably lighter than my X-Pro1 (which isn't exactly heavy!). It was liberating to be able to use the zoom lens to frame the shot. With a prime lens the photographer has to zoom with their feet which has obvious limitations at the base of a fast flowing waterfall. With the zoom lens I was able to get tighter (towards the 55mm end of the lens) and retain the f/22 aperture using the manual aperture mode (switch on side of lens).
Using the Zoom. You can view larger version of the photos featured in this post over in the flickr set. I was really impressed at the quality of the images even if they are only 2 second exposure captures at f/22.
If you want to learn how to capture long exposure images with any camera system then check out The Long Exposure ebook http://www.flixelpix.com/featured/the-long-exposure-photography-ebook/
See on www.flixelpix.com
I just got back from leading an advanced photo workshop & excursion to the outer banks on Nags Head Island in the Outer Banks! The subject was HDR and Long Exposure Photography. It was an amazing workshop filled with great students and we visited amazing locations. What was so special about this was the sunrise locations at the Avalon Pier (which was broken into 3 parts) and the Outer Banks Fishing Pier. The wave conditions were a little high due the the North Easter having just passed and made for tough long exposures due the the required shutter speeds!
As you can see with the image on the left, the waters surface was still a little bit misty even with a 30 second exposure. The light was simply too bright and the waves too large to get a slower shutter speed. Still, the image is pleasing and as you can see from the blue sky it is just after the sunrise was finished. Ok, some discussion on equipment is in order here. A sturdy tripod is a must. It must be able to hold the camera steady even if the water washes over the tripod legs. I use a large Gitzo Carbon Fiber Tripod with the Really Right Stuff large ball head on top. The X Pro 1 has the Really Right Stuff L bracket installed. This system works very well.A remote shutter release is also a must. The X Pro 1 can only use a mechanical one so I have two in my bag, a 14 inch and a 40 inch. Both have a BULB lock which enables you to lock the shutter open.A 10 stop and 6 stop ND filter. I like the B+W versions due to their German Schott Glass construction. BUT, be aware, the X Pro 1 (in fact most camera systems) cannot meter through the 10 stop ND filter. If you have a hand held spot meter you can get accurate exposures even with the ND filter!A lens hood is an absolute must for long exposures. This will keep light from striking the objective element of your lens and reducing contrast and causing lens flare.Know where the sun is going to rise! There are several great apps for smart phones out there that will tell you this right on the spot! For rough seas, the longer you can get the exposure the smoother the water will become. The X Pro 1 will allow up to a 30 second exposure in the T mode. You simply use the arrow keys to change the exposure up or down, but 30 seconds is the max. For longer, you must use the BULB mode. The Fuji has a very well designed BULB mode! When you trip the shutter, a counter will start on the back LCD screen counting up! This makes for very easy timing control…..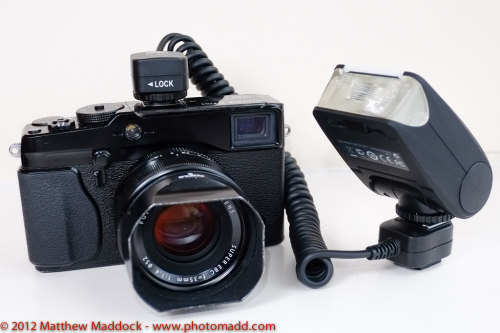 I've been trying to figure out how to get my flash off-camera on my X-Series cameras but still retain TTL function for a while now. I've asked around everywhere but either nobody knows, or nobody seems to agree how to get it done. Fuji don't produce a TTL flash cable themselves, and there are no 3rd party solutions either for the Fujifilm X-Series cameras. I have a radio flash sync system, which is fine when I'm taking photos in a studio type situation where TTL metering doesn't matter, but I wanted something to get the flash off the camera when I was out and about, an easy TTL solution that meant I didn't have to try too hard for quick snaps. Sometimes by the time you've got the flash power right the moment has gone. I've been using the EF-20 and EFX-20 flashes with the X100 off-camera by activating the on-camera flash and firing the EFX-20 flash as a slave (the EF-20 doesn't have a slave mode). This works well in many situations but has a few disadvantages. Firstly, you might not want the on-camera flash to fire – you may only want light from your main flash. Secondly, it's not always 100% reliable, and finally, it doesn't work on the X-Pro1 as it doesn't have an on-board flash!
I've been doing a lot of work improving my flash techniques recently (a long post will be coming up about that soon) and really wanted this sorted out so I decided to take matters into my own hands! I tried out a supposedly universal cable in-store that said it worked with Nikon, Canon and Fujifilm, but it didn't work at all. I wondered if one of the cables from another main manufacturer would work on the X-Series cameras. The two candidates being Nikon and Canon of course. Given the historic connection Fuji had with Nikon producing the S2 and S5 DSLRs I thought that a Nikon lead would be the obvious choice, but having had a look at the two, the connection pin placements on the Canon cables seemed to match better with the pins on the Fuji hot-shoe. With the genuine Canon cables around £50 I just couldn't justify buying one on the off-chance that it worked, but after a search around I found a 3rd party Canon compatible cable by Pixel on Amazon at £16.99 – at that price it was worth a shot! This is the cable I bought – Pixel FC311/s Compact TTL Sync Cord for Canon….

See on www.photomadd.com
Es gibt Kamerahandbücher und es gibt Kamerahandbücher. Die x-pro1 ist nicht meine erste Kamera und das x-pro Handbuch von Rico Pfirstinger ist auch nicht mein erstes Kamerahandbuch. Was ich aber gleich zu Anfang sagen will, das Fujifilm x-pro1 Handbuch von Rico Pfirstinger ist ein sehr gutes Kamerahandbuch und von denen, welche ich bisher besessen habe, definitiv das Beste. Abgesehen davon, dass Rico die oft falsch verstandene Fuji x-pro1 scheinbar in- und auswendig kennt, so bringt er sehr viel technisches Hintergrundwissen zur Technik im Allgemeinen als auch zur fotografischen Praxis zum anderen mit und versteht es diese sehr gut auch dem vielleicht nicht so bewanderten Leser nahe zu bringen. Wie er selber zu Anfang schreibt, sollte eine gewisse fotografische Grundkenntnis vorhanden sein, aber wer sich für so eine Kamera entscheidet, ist meistens kein Anfänger in der Fotografie. Rico taucht immer wieder tiefer in die Kameratechnik der Fujifilm x-pro1 Technik ein ohne sich dabei in allzu viel Details zu verlieren. Tolle und viele Tipps zur praktischen Anwendung findet in den einzelnen Kapitel und Abschnitten. Vor allem Umsteigern von DSLR's dürfte das Kapitel 2.4 "Fokussieren mit der x-pro 1" sehr interessieren. Rico versucht hier sehr schön die Vor- und Nachteile des Autofokus der x-pro heraus zu arbeiten. Und erklärt gleich zu Beginn sehr klar die Unterschiede, die Vor- und Nachteile gegenüber des Autofokus einer DSLR. Umsteigern von DSLR sei vor allem dieses Kapitel nahe gelegt, bevor man vor Frust der Kamera die Schuld gibt. Obwohl ich meine, dass ich die x-pro 1 mittlerweile ganz gut kenne, habe ich wirklich sehr interessante technische Details als auch wertvolle Praxistipps mir herausnehmen können. Alleine das Kaptitel 2.7 "Weissabgleich und jpeg-Einstellungen" ist auch für den Profi sehr interessant. Die zahlreichen jpeg-Einstellungen ermöglichen fast unendlich viele verschiedene Einstellungen und ebenso viele verschiedene Ergebnisse, welche man von der x-pro erhält. Das gesamte Buch ist sehr gut illustriert und äusserst angenehm zu lesen. Für alle x-pro1 Besitzer ist dieses Buch eine klare Empfehlung! x100 Besitzer können aber auch viel für ihre Arbeit mit der Kamera und vor allem den jpeg-Entwicklungen herausholen.
See on www.qimago.de
See on Scoop.it – Fuji X-Pro1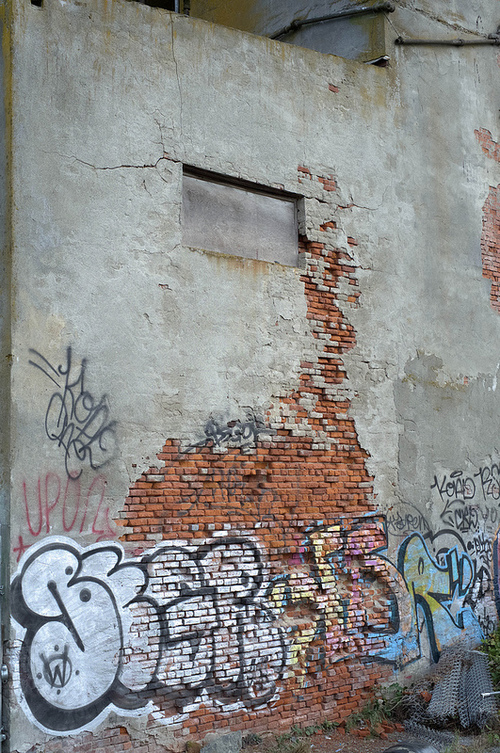 So after playing with this for weeks, I believe this is probably the maximum that we can get out of the Fuji RAF files until the other developers come up with better understanding of the unique X-Trans CMOS sensor. Now this is still not the most ideal workflow for most people. Pixel Peeping aside, the Fuji X files are fantastic, even in Adobe Lightroom. My goal in this was to get a better understanding of what is going on. I wish I knew how to program, because I'd love to create a simpler way to do this. If there's anyone out there that is interested in taking what I've done and turning into a nice little drag and drop application, I think you'd get a lot of fans.
The Process
Using command line DCRAW: dcraw -a -H 0 -o 4 -q 2 -f -m 15 -g 2.4 12.9 -6 -T
Convert TIFF file to LAB file in Photoshop
Resize image 200% with Bicubic Smoother
Select Lightness Channel under channel panel.
Select Median filter under Noise in Filter. Select 1 pixel
Resize image 50% with Bicubic Sharper (Nearest Neighbour is actually a more subtle effect which I kind of prefer)
Save.
SilkyPix and RPP both process very similar files and although I know for certain that RPP uses DCRAW, SilkyPix I believe is a proprietary RAW engine. What I do speculate is the chroma smearing is a result of interpolation errors. Much of it can be suppressed with chroma noise reduction without loss of image quality. However one of the big nagging issues was this 'zipper' aliasing that was happening. After analyzing the files, it seems specifically the red sub-pixels are causing much of this zipper effect, but also part of the interpolation issues. I was able to get rid of a good portion of the chroma smearing by doing 3×3 multi-pass median filtering through DCRAW…..
Full article on following Website:
http://frontallobbings.blogspot.de/2012/11/super-detail-with-fujifilm-x-pro1-raf.html
See on www.flickr.com
See on Scoop.it – Fuji X-Pro1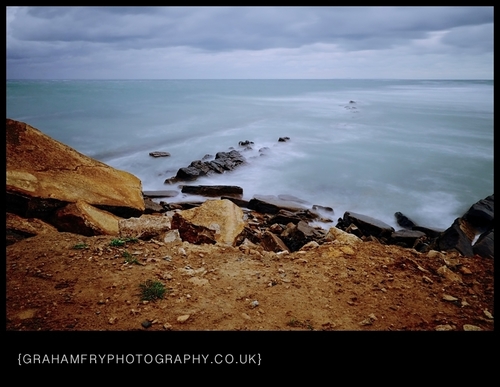 Today, despite the crazy weather I decided to head out to catch a bit of seascape photography in Swanage, Dorset at Peveril Point. I wanted to try using three different lenses to create three different shots of the same piece of coastline.Firstly I tried the Fujifilm 18mm lens, set to f/11 with a B+W 10 stop ND filter to create that classic creamy sea effect. I set the camera up on a tripod, in manual mode with a shutter speed of 8 seconds. When I was happy with this shot, I then tried to make the rocks in the water more of the main feature of the photograph so I switched to the Fujifilm 35mm lens, to compress the foreground and background and to fill more of the frame with the rocks. I also switched to a portrait orientation to enhance the natural perspective of the rocks. I also used the B+W 10 stop ND filter to give it that creamy sea dreamy effect. Because this lens is so sharp I knew it would really create a strong black and white image. Settings were again manual, f/11, 15secs. Finally, something a little different to finish up with. I took the camera off the tripod and switched lenses to the Voigtlander 12mm M mount lens using the Fujifilm M mount adaptor. I laid down on the grass right on the edge of the small cliff I was stood on and framed up another portrait shot of the rocks. I wasn't using a ND filter this time, the lens was again set to f/11and the camera was in Aperture priority giving a shutter speed of 1/220 of a second….
See on Scoop.it – Fuji X-Pro1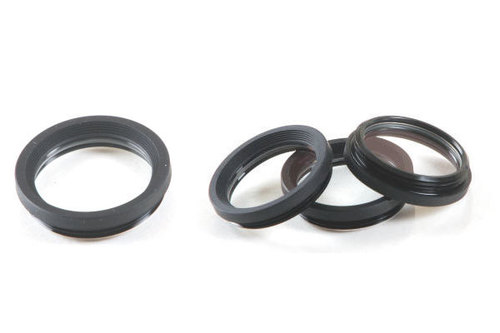 Several readers have mentioned the Fuji X-Pro1′s lack of built-in diopter correction. A commenter named peter [sic—I always reproduce commenter names just as they come in] mentioned this morning that Nikon FM-style diopters fit the Fuji's eyepiece. That's fortunate, because those are the most common aftermarket diopters (well, they're not aftermarket, but they might as well be), and they're widely available. At B&H Photo, they'll be labeled "Diopter for FM3A, FM2, FM, FE2, FE & FA" and they cost $21.95 each. Admittedly, that doesn't help if you don't know what diopter you need, but maybe your optician could help you there. Or perhaps you have another camera on which the diopter correction dial or slider is marked with actual values….
Doug: Some technical notes on dioptric correction lenses.
"Nikon, like Canon and maybe other manufacturers, labels their correction lenses by the total effect when mounted on a camera with the standard –1 diopter viewfinder, so a '–2′ lens has an additional –1. There is no '–1′ correction lens, because that'd be plain glass. There is, however, a '0′ (Nikon seems to call it 'neutral') correction lens that has a +1 correction.
"Dioptric numbers for viewfinders are straightforward. They determine the apparent distance (for eye-focusing) of the viewscreen. They're numbered in –1/meters.
0/neutral: infinity
–0.5: 2 meters
–1 (standard viewfinder): 1 meter
–2: 1/2 meter
–3: 1/3 meter
+anything: Buzz Lightyear territory (infinity and beyond)