Tips and Tricks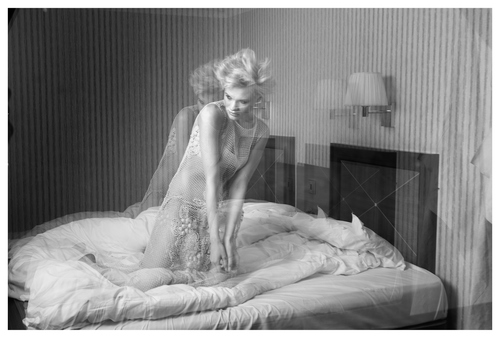 A little blog about shooting Mixed light set ups with the Fuji X-Pro
It seems to be that most people first looked at the Fuji X -Series cameras as street style cameras or reportage cameras.  At least this might of been how they were first marketed.  It was quickly very evident that the camera system was more than capable for much more. A fashion photographers dream is a quick, simple, stripped down camera that packs a punch. Super sharp and super punchy. Shooting natural light is a lot of fun with these cameras as it does let you travel with smaller kit bags and encourages freedom and movement. Being able to use the "photographers eye" to work with natural light can be super rewarding.
For my work, I love to create a mix of the two. As much as I love the lighting styles of people like Joey L and Damien Lovegrove. I am trying to work out what my lighting style still is. Maybe one day I might work it out !! The Fuji works great in the studio, on location and a mix of the two. Which is what I like to to..   Using speed lights, mixing them with naturally created light and additive lighting styles is just so much fun. Playing about with light can be very rewarding. When syncing the X-Pro, you have a number of options. It is great having the back up Sync port for a cable, but I use the Pocketwizard triggers. I do find that keeping the shutter around 1/60th of a second works well compared to the 1/125th that most people would be used to with a DSLR. Also.. when in the studio or using strobe lighting, I tend to go for the 18-55 zoom lens for some reason over the faster primes. I think this is the idea that if I don't need a fast lens  I might as well have the OS lens or the chance to zoom. It would be nice to have the X-Pro shoot using some kind of tethering to Lightroom or Capture one though, maybe some day !! The other thing that would be nice, which I am sure they will change for the next iteration of the X-Pro is to have the screen show the exposure rather than balance the LCD and only leave you to gauge exposure using the +/- meter. Trying to balance out all your tones can be hard, and shooting with colour filter or grad filters is not much fun either. Maybe also a dedicated X- Sync mode would be nice.. Kinda something like Pentax have. I am a big fan of the Pentax shooting modes…..
See more pictures on www.davepiper.org.uk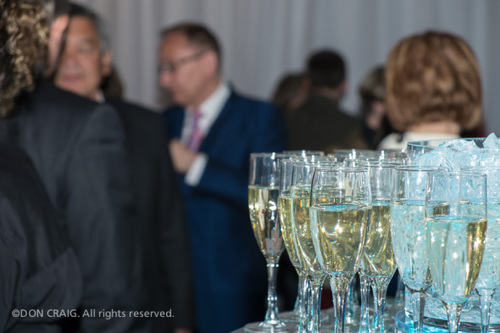 I recently posed this question to colleagues because I have been experiencing the benefits of shooting wide open with one lens and the trials of relying on the variable aperture of the zoom lens. These experiences have led to results with which I'm really happy (portraits shot with the 60mm) and an unhappy photographer (me with the 18-55mm). Let me back up a bit. When the X-Pro 1 arrived on the scene last year, I purchased the three available prime lenses. For what I use them for, I have been very happy with all three. Of the three, the 60mm lens has been used far less than the 18mm and 35mm lenses, restricted to portraits, some close up work and more portraits. That said, despite the focusing quirks of the lens, the results have been very good and recently, as I have better understood how to use it, the results have been outstanding. Having used all three lenses on the X-Pro 1 for work and freelance gigs, plus the X100 on occasion, I was feeling that I needed/wanted to have the 18-55mm f/2.8-4.0 zoom lens to shoot events. The zoom simplifies, to one way of thinking, lens and camera choice and since I shoot with flash indoors and don't have to worry about a fast aperture shooting outside, you would think that this is the ideal event lens. Well, I'm not so sure about that. Earlier this week, I shot an indoor event, an awards dinner and presentation for a freelance client. The end result was that the photos turned out well and I rarely missed a shot, but it wasn't the best shooting experience. And I have to take a good portion of the responsibility for the poor experience part. I will give all of the credit for the good shot results to the lens and camera. So what went wrong you ask? Since I shoot with primes most of the time, using the zoom complicated things. It did give more reach or a wider field of view than with a prime, but I felt like a klutz most of the time. Also, the variable aperture is a pain. Tempting as it might be to set the lens to f/2.8 at the wide end and let the lens stop down as I zoomed to the 55mm end of things, this plays havoc with exposure when I'm shooting with a non-TTL flash. Instead, I set the aperture between f/4 and f/5.6 and left it there, no matter which zoom range I was in. Again, this worked well and I have no complaints with the results, except for those rare occasions when the ambient light was right and I switched off the flash and tried to shoot as wide open as I could. Then, the ISO zoomed to uncomfortable levels, which wouldn't have happened if the lens had a constant aperture of at least f/2.8 or better. Couple this with needing to shoot with the EVF most of the time rather than the OVF and using Auto Focus instead of Automated Manual Focus, which is my preference, it was a frustrating night of shooting. Poor me you say? Well you might. The AF worked as well as can be expected of any lens in the dim light of the event, but it wasn't street fast, which is what I wanted this to be. It wasn't rangefinder fast. So, therein lies the problem. The 18-55mm lens is a really good all around performer (I have made some gorgeous long exposures with it) but not as easy for me to use. There, let me put it this way, the problem is really me and I know it……
See more pictures on doncraigphoto.wordpress.com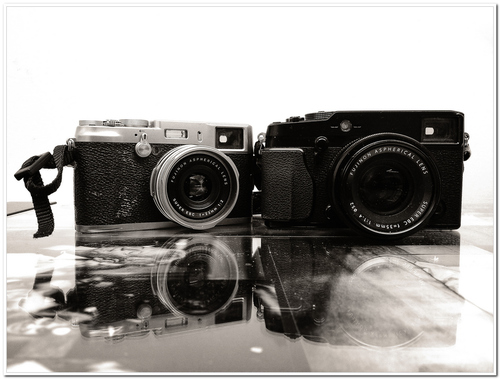 I apologise to any brides who may stumble upon this blog post.  It's going to contain some (hopefully) lovely wedding photography but it will also be quite a technical article based on my Fujifilm X-Pro1 Best Settings and also a one year of use review of the camera. So, a little under a year ago I lucky enough to be given a review copy of the (then new) Fujifilm X-Pro1 by the kind folks at Professional Photographer Magazine.  I used it for a couple of weeks, took it to a couple of weddings and totally fell in love with the camera. Like the X100 before it, the X-Pro1 wasn't perfect, and the auto-focus was a little hit and miss at first glance.  However, just like the X100 Fujifilm have diligently updated the firmware for the camera, and that, coupled with a different mindset to using it compared to using a DSLR has allowed the X-Pro1 to become my favourite camera, probably of all time.  At the time of writing we are on firmware v 2.03 and really the version 2 update affected the AF substantially so I really would ensure you have the latest firmware to get the most out of the cameras. I've been using the camera now for a year, and I have been asked so many times "how I use it", "why I use it" and "what settings I use" so I'm hoping to answer all those questions in this blog post.  Bear with me, if could be a long one……
I was recently lucky enough to have a quick use of the new X100S and I could immediately see how quick the autofocus was and how much smoother and accurate the manual focus was (especially using focus peek).  I have no idea what is in line for the future of the X-Pro1 range but I would hope that Fujifilm continue their fine work with this model and if it inherits the improvements that the X100S has received then it will already be on the right tracks.  As it happens, I've not used the X100S in anger yet but I hope to be shooting with one very soon.  I will, of course, update this section of my blog as soon as I can when I start using it…..
See full article on www.kevinmullinsphotography.co.uk
The Fuji X Pro 1 has turned out to be one of the best Infrared camera systems that I have ever used… period!  The only good Fuji lenses for Infrared have proved to be the 35mm f/1.4, the 18mm f/2 and the new 14mm.  The Viogtlander 75mm f/1.8 has also proved to be a STUNNING lens also!  So, the camera has proven its infrared capability, now it is time to discuss in detail the recipe for post processing!  It is all quite simple but there are a few requirements that you must understand in order to follow my workflow with understanding.
Needed:

Photoshop CS5 or CS6
Nik Filters, Viveza, Define Silver EFX Pro plugins for Photoshop, NOT LIGHTROOM.  (You can now purchase the entire library of Nik filters for $149)
Kromography False Color Action which can be downloaded here from the right menu bar under the box menu.  You can simply  click on it to download to your computer then drag it to photoshop to install.
A converted Infrared camera system capable of generating enough color data to make Faux Color images.  This means 720nm, 665nm, 630nm and 590nm conversions.
The ability and desire to experiment!
As you move your RAW (shoot only RAW for IR because of the ability to shift the white balance easily) onto your computer you should automatically tell yourself that you are going to process each selected image in Faux color and B&W. Sometimes you will notice that the un processed image looks great also (wonderful bronze tones) and decide to do a version like this as well!
Lets talk about the RAW conversion process a little bit.  Photoshops ACR built in RAW converter will NOT apply the white balance correctly and your images will appear deep red.  For this reason I use Capture One version 7 from Phase One.  It is simply the BEST RAW converter that I have ever used.  You can download a trial version and decide for yourself if what I am telling you is true!
See full tutorial on markhilliardatelier.wordpress.com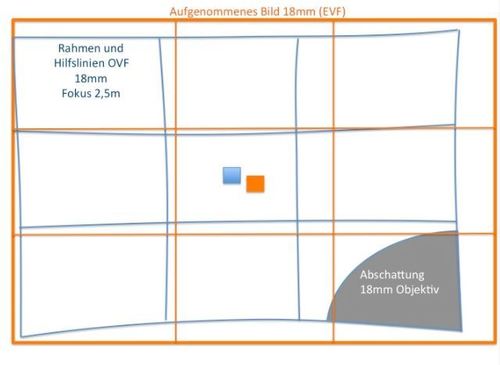 Viele kaufen die X-Pro 1 wegen ihres optischen View-Finders. Auch für mich war das ein wichtiger Grund für die Entscheidung für die XP1. Wer jedoch den OVF, womöglich mit den Hilfslinien, benutzt, zweifelt schnell an seiner Fähigkeit, die Kamera gerade zu halten.  Weder der eingeblendete Rahmen noch die Linien scheinen eine wirkliche Hilfe, wenn es um genaue vertikale oder horizontale Ausrichtung des Bildes geht. Der Horizont oder Gebäude werden immer schief, wenn man sie an den elektronisch eingeblendeten Hilfslinien ausrichtet. Als Ingenieur hat es mich nicht ruhen lassen, mal rauszukriegen, was ich eigentlich wirklich durch den OVF sehe. Hierfür habe ich eine Messung durchgeführt, bei der ich die XP1 mit dem 18 mm und 35 mm Objektiv aufs Stativ gesetzt und durch dem OVF auf eine ca. 2,5 m entfernte Wand geschaut habe. Dann habe ich mit einem Laserpointer den Rahmen und die Hilfslinien auf die Wand markiert und abfotografiert. Die so aufgenommenen Punkte habe ich anschließend interpoliert. Das ganze habe ich auf 2,5 m und unendlich fokussiert. Hier nun die Ergebnisse: Der blaue Rahmen zeigt an, wie der OVF-Rahmen sich in die reale Welt projiziert, der orangefarbene das tatsächlich aufgenommene Bild.
Bewertung und Konsequenz

Man sieht sofort, dass der OVF das Bild verzerrt. Darüber hinaus stimmen die Hilfslinien überhaupt nicht überein. Daher ist eine präzise Ausrichtung des Bildes mit dem OVF nicht ohne weiteres möglich. Aber: Die linke Seite stimmt ziemlich gut. Zusammen mit dem künstlichen Horizont kann man damit die Kamera gut ausrichten und das Bild hinreichend genau einschätzen…..

Was hilft die Erkenntnis? Der OVF kann auch genutzt werden, wenn es auf gerade Horizonte oder vertikale Linien ankommt. Man muss nur wissen, wie!
See on www.face-of-earth.com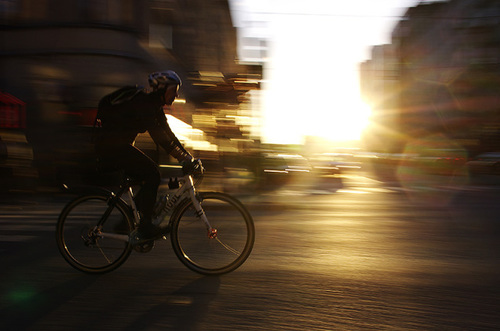 Once a year, in early march, the sun puts up a fantastic lightshow during sun set in one specific stockholm crossing. I discovered this last year and decided to go back sunday weekend when the sun showed up. The plan was to try to evolve the paning shots I did in 2012, but instead I found myself shooting a jumping dog. You got to love the unpredictability of the streets! And I'm really happy for the X-Pro1 OVF. The strong light makes it more or less impossible to shoot into the sun with the EVF. That was my main argument for chosing the X-Pro1 over the X-E1, and I have been proven right more than one time.
See on sthlmstreet.com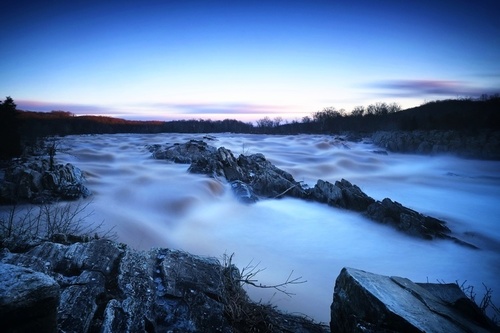 Everyone following me on Instagram knows I've been exploring long exposure landscape photography. Largely new territory for me, so I thought I'd post a little bit about how it's been going. All of these photos have been shot using my X-Pro 1. A terrific camera that I've enjoyed both as an everyday walk about camera and in this case a fully functional, high quality landscape camera.
What do you need?
Let's start with the basics. You'll need a camera, and a set of filters. You can use a screw-in filters, but I would recommend investing in a LEE filter system. What does that mean? You'll screw in an adapter here into your lens, then attach the holder. From there you can insert numerous filters and stack their effects. Here's what this looks like.

Experimentations

Being pretty new to all this, I thought the best thing to do would be to just experiment. Great Falls National Park in Washington DC provided a perfect location to do so….
See on greyscle.com


All double exposures shot in-camera with the X-Pro1 and 35mm f/1.4. Processed in Lightroom using VSCO Film 03.
See more pictures on www.laroquephoto.com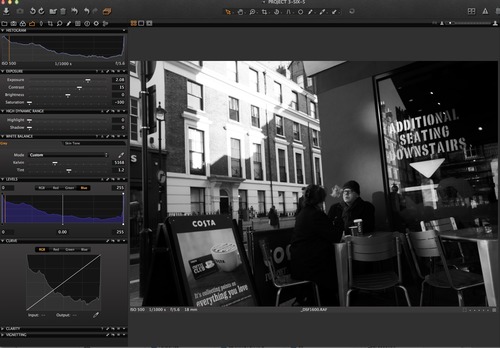 So as day 50 feels like an achievement I thought I would use a couple of photos I took today and discuss my process, from taking the photo to uploading it on my blog! I am by no means an accomplished street photographer having only done it since I started this blog, but I thought some people may like an insight into the way I work my images. I will start by posting today's two images as they were SOOC (straight out of camera) with no adjustments at all. So here they are!
As you can see from the movement between the two images I saw my subject from across the street and approached. I snapped the first shot and incorrectly guessed my range, I could have been closer, the 18mm lens does give you a lot of space, I think sometimes the 35mm would yield me more shots as you can stay further away. As I rounded the corner I fired off another shot. Here I will highlight a mistake, I failed to change my shutter speed from my previous shots in my rush to capture this. This is why they are so dark, although I will say that this high speed shutter helped as I was walking and shooting from the hip. I now shoot all my street photography with the X-Pro1 set to manual focus, effectively setting a focus trap, its usually between 3-4ft. I have found this distance gives the greatest results, especially if I can get my f-stop around 5.6. Another bonus of the X-Pro1 great photos from the ISO range enabling faster shutters and better f-stops. After I was a safe distance from the subject I had a look at the spoils on my screen, I knew instantly i had some images for today's post. At first glance they may not seem great, especially the first one, but i could see something in there I could pull out! This is where the Fuji X-Pro1 file quality really helps. You need the right tools for the job and I always use Capture One Pro, it has its frustrations and yes it does crash a lot but its worth your patience. The process engine is superior to that of Adobe Lightroom in my opinion. I have worked for the last 6/7 years retouching and assisting on the sets of huge advertising campaigns and have never seen or heard of anyone using LR, Capture One would appear to be the industry standard alongside Apple and Eizo products. So from here I get my RAW files into Capture One and begin to see where they want to go and how far I can push and pull them. I would usually process out a file really flat and neutrally balanced and I always disable sharpening too as find it damages the file quality. I will share with you the settings I applied to the shots, I took them in the direction I wanted to go, nothing complicated at all, just exposure adjustment, contrast and desaturation. Keeping it simple seems to work for me! ….
See on roughly365.wordpress.com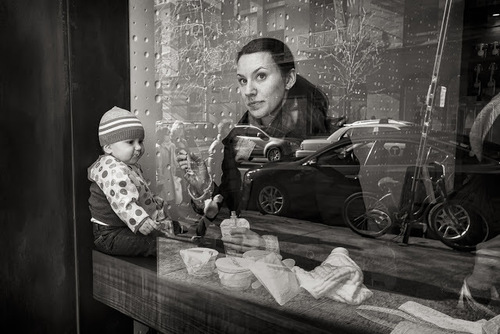 Wow, was it ever cold in New York on Sunday! The wind chill was brutal, but I was itching to try some focus tests and I was blown away by the results. But first some clarification. Hyperfocal distance is the closest distance that a lens will be in focus and still be able to keep focus at infinity reasonably sharp. Zone focusing requires that the lens have distance indications on its barrel for each appropriate aperture setting, thus allowing the photographer to set the range of distances within which any objects will appear reasonably in focus. When I shot film in my Leica M6 I often used zone focusing, but rarely  the hyperfocal distance. With a very wide angle lens, such as the 14mm, I'm shooting to create a perception of great depth, I don't really care that objects in the far distance are out of focus. But when I shoot street, and especially when shooting from the hip, sometimes the autofocus on the camera either doesn't understand what I want to be in focus (it's often an object or person at one side of the frame, while the focus point for the sensor is set for the center of the frame) or the autofocus lag (even at 1/10th second) misses the shot. The first case scenario happens more than I'd like, the second case much less often – so much less that it's not even worth considering.
When I decided to run this test I wanted to err on the side of caution, so I opted to shoot part of the afternoon in autofocus, just to make sure I'd get some good shots to show for my afternoon of braving the cold. The zone focus shots were taken at f8 (less than that would have narrowed the depth of field unacceptable for the test) and 1/250th second, which put my exposures in the high ISO range – not a problem for the X-Pro1 processor. Here's a calculator to play with to discover acceptable in-focus distances. Remember that this calculation has nothing to do with the quality of the lens, the parameters that affect the calculation are the lens focal length, the aperture setting, and the distances involved. All the rest is pure physics and math. If I set my 14mm lens at f8 and the focus at a distance of 4 feet, my nearest acceptable in-focus distance will be a tiny bit over 2 feet away and the farthest will be 243.5 feet. If I set the focus point for 1/2 foot closer, 3.5 feet, that range drops from 1.9 feet to 24.9 feet. So to achieve a difference of about 1/10 foot closer, I'd have to loose about 220 feet in distance. Given the way I shoot, in close, I'd go for the closest possible I can get and still bet some reasonable distance focus. Even at a focus point of 3 feet I can get an acceptable image from 1.75 feet to almost 10 feet. That last zone is probably the best for me. That's why I love using very wide angle lenses. I would suggest to anyone that they play with this calculator to get a feel for how the calculations work, so that out in the field there is a lot less guessing. If you happen to be a math wizard, you might want to make note of these formulae and when your out in the field do your own calculations (while I take the pictures)….
See on genelowinger.blogspot.de