Fuji X-T1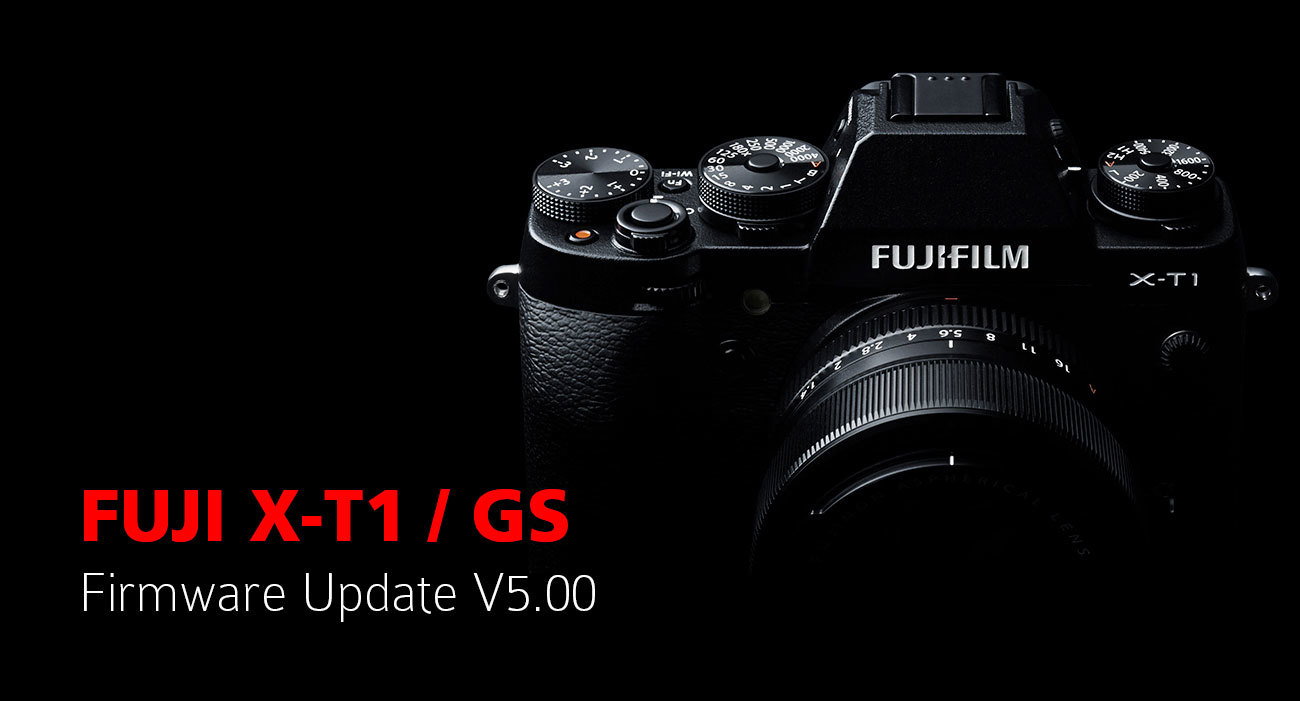 The firmware update Ver.5.00 from Ver.4.31 incorporates the following issues:
For detail about added and changed functions below, refer to "X-T1 New Features Guide[Ver.5.00]".
Compatibility with the Shoe Mount Flash EF-X500.
Additional functions like the multi-flash lighting, high-speed flash sync and so on can be used with the EF-X500.
Accordingly, the FLASH SETTING and the Shooting Menu is dramatically changed.
The items that can be assigned to the Quick Menu have changed.
FLASH FUNCTION SETTINGS and FLASH COMPENSATION have been added due to the compatibility with the Shoe Mount Flash EF-X500.
The roles that can be assigned to the Function buttons have changed.
FLASH FUNCTION SETTINGS, TTL-LOCK and MODELING FLASH have been added due to the compatibility with the Shoe Mount Flash EF-X500……
The X-T1 played a significant role in boosting the popularity of the Fujifilm X series, and so its successor, the X-T2, was naturally the most awaited camera from the brand this year. Indeed, people were more excited about its arrival than that of the X-Pro2, which gave us a sneak peek at the performance we could expect from the X-T2 since they share the same sensor and autofocus system. Given the two-year gap between the X-T1 and X-T2, we were all hoping for many improvements and happily this is the case. With the X-T2, Fujifilm released a camera that feels and handles much better than its predecessor in many ways, though some of the differences are less obvious than you might think……
At the weekend I managed to take the Fuji XT1 out for a full day's photography. In short, I loved using it but there was a nagging concern throughout that my images were being affected by the possible water colour effect. Am I right to be worried or am I imagining problems where there aren't any? Here's an update following the day: Initially I purchased two lenses, a 10-24mm and 18-135mm. The 18-135mm was always going to be a bit of a compromise in terms of image quality but I reasoned that the trade-off between optical performance and the convenience of using one lens was acceptable. In the end, a lot of the images I found unacceptable were shot with this lens so it went back……
Source: Further Fuji Thoughts « The Lightweight Photographer
Well, I'm 25 years old and currently in my final year on my masters in Industrial Design Engineering, here in Gothenburg Sweden. So studying to become an engineer is what I spend most of my time doing actually, although what people see is probably mainly my photography. If I could I would probably want spend most of my life exploring the world as I feel that is the most rewarding and humbling experience you can have. That is also perhaps my biggest goal with my photography – exploring and trying to capture inspiration that I can forward to people among me that see my work. Forwarding the inspiration so to speak……
Source: Interview with Jonas Jacobsson, from Sweden – FUJI X PASSION
This is the second part of my retrospective blog about a trip that took place in Greenland and Iceland two years ago. Equipped with X-T1 and X-E1 with 55-200, 14, 18-55 and 35mm lenses and little prior experience of landscape shooting I trekked some of the most beautiful landscapes on this planet. The trip was organised by Icelandic Mountain Guides. The Icelandic part of the trip was overwelming by its combination of increadible landscapes, light, weather, textures and colours. There is so much beauty packed on this island that once you have visited it – it will always stay in your heart. I was surprised to find out that X-T1 with vertical grip and 55-200 lens attached to it was used most of the time to reach as far and high/low as I could when in the mountains. 14 and 18-55mm lenses were used on a few ocassions when a grand view presenteditself. I guess it also reflects my personal vision of landscapes too. Also my apologies for those who expect large waterfalls – I have not selected any for this blog. The idea was to show Iceland the way it looks from a trek, on the go without a tripod, away from the main tourist path. Post-editing was done in Iridient Developer and Lightroom 6. Click on any image to adjust it to your screen size…….
A few days ago a friend of mine, Chris Murphy, shot me a message that was, more or less, "Model. Smoke bombs. You in?" Being new to Toronto and just itching to shoot I just had to jump at the chance. I packed a few lenses, but for these shots I ended up sticking with the Jupiter 9, and 85mm F2 beauty of a lens. To adapt these to the XT-1 I used the Mitakon Turbo booster II, basically giving a full frame field of view and DOF and, more importantly to me, allowing to to really use every ounce of character that these vintage lenses have. I wanted to keep that vignietting and corner softness and the focal reducer allowed me to do that……
Source: Jupiter 9, Smokebombs, and the Fuji XT-1 — David J. Fulde – Creator
This year I could not travel far, so this is a retrospective blog – two years ago I took my then brand new X-T1 and X-E1 (as a backup) paired with 55-200, 14, 18-55 and 35mm lenses and went trekking in Greenland and Iceland for three weeks on tour organised by Icelandic Mountain Guides. At that point I had little experience in landscape photography and did not know Fuji X series cameras very well. But they were light, compact with great quality sensors and importantly all this gear could fit into one Lowepro 102 AW sling pack withND filters, SD cards and 12 extra batteries. Long distance hiking for days puts certain demands on weight and size and for that Fuji X cameras were ideal. I had X-T1 with vertical grip and 55-200 attached in the main compartment of the pack and X-E1 with 18-55 in the smaller top compartment. The sling pack was always slung on my front, over the rucksak shoulder straps (38l Osprey Kestrel) on my back with my day gear. The combo was very comfortable and well balanced, so I had no restrictions in movement and could get either of the cameras out quickly to take a shot.Post-editing was done in Iridient Developer and Lightroom 6. Click on any image to adjust it to your screen size…….
I am a keen kayaker with a passion for photography so with the estuary and wetlands near my home having prolific birdlife it has been a natural progression to combine both. Using a kayak gives you unique access to the areas you just can't get to on foot or by boat so this means less (usually no) people, which results in more bird activity. But let's face it an open kayak isn't necessarily a camera friendly zone and a DSLR with a zoom lens fitted isn't the most buoyant combination around so it was a bit daunting at first to take this out in my kayak but over the past couple of years I have developed a reasonably successful and safe technique…..
Source: Kayaking with a Fujifilm X-T1 and XF100-400mm – The Fujifilm Blog