Fuji X-T2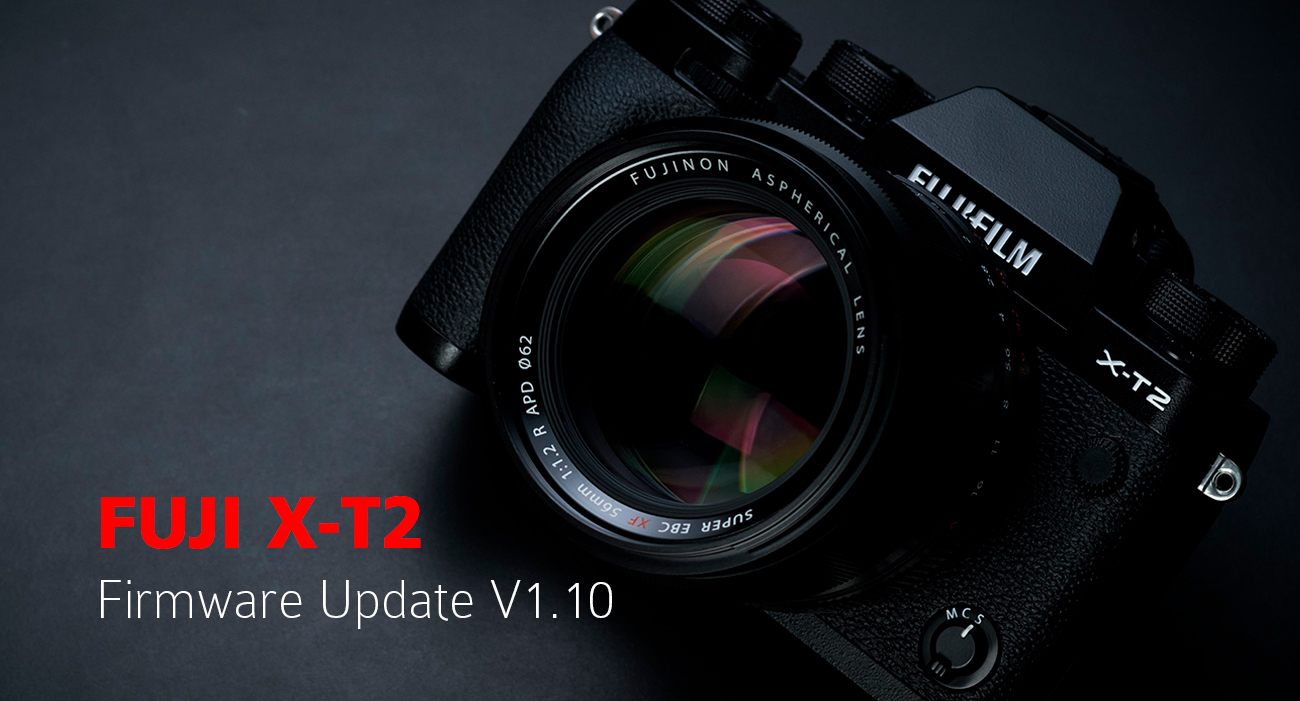 Fujifilm Corporation (President: Kenji Sukeno) has announced that it will release a free firmware upgrade for FUJIFILM X-T2 on November 8, 2016. The updated firmware introduces tethered shooting function which allows users to connect the camera to a computer via a USB cable, allowing you to capture and save your images directly onto computer, and allowing you to control the camera from the computer.
[Improvements with this firmware update]
Tether shooting is available via USB connection. You will require additional software stated below to use the tether shooting function.
– Tether Shooting Plug-in PRO for Adobe® Photoshop® Lightroom® Ver.1.3 or later

*


– Tether Shooting Plug-in for Adobe® Photoshop® Lightroom® Ver.1.3 or later

*


– Tethered Shooting Software HS-V5 Ver.1.3 or later
*

Adobe® Photoshop® Lightroom® 6 or CC is required….
Tether Shooting Plug-in PRO for Adobe® Photoshop® Lightroom®
PC tethered shooting support for FUJIFILM X-T1/X-T2 http://www.fujifilm.com/news/n161031.html
Source: Firmware upgrade for the FUJIFILM X-T2, enabling tether shooting support | Fujifilm Global
The X-T1 played a significant role in boosting the popularity of the Fujifilm X series, and so its successor, the X-T2, was naturally the most awaited camera from the brand this year. Indeed, people were more excited about its arrival than that of the X-Pro2, which gave us a sneak peek at the performance we could expect from the X-T2 since they share the same sensor and autofocus system. Given the two-year gap between the X-T1 and X-T2, we were all hoping for many improvements and happily this is the case. With the X-T2, Fujifilm released a camera that feels and handles much better than its predecessor in many ways, though some of the differences are less obvious than you might think……
Ever since Fujifilm announced their first model in the X-series in 2011, the camera system has been evolving at quite a pace. The number of interchangeable lens cameras in the X-series now stands at eight models, and there's a healthy range of 19 premium XF lenses to choose from – a far cry from the three optics that were initially available with the release of the X-Pro1. Today, it's the X-Pro2 that claims the title of being the flagship model in the line-up; however it's the introduction of the Fujifilm X-T2 that seems to have generated the most interest among admirers and users of the X-series.Unlike it's digital rangefinder-style sister models, the X-T2 is more in keeping with the shape and style of a conventional DSLR……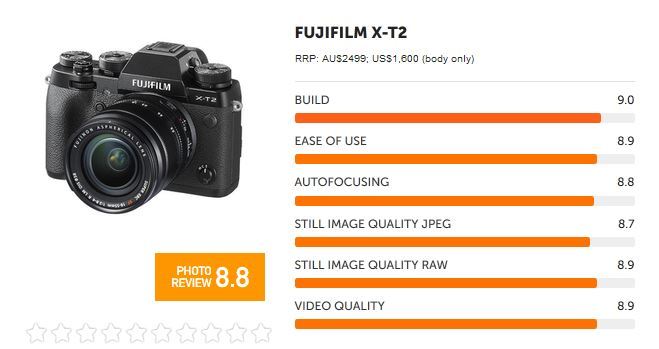 Announced on 7 July, Fujifilm's X-T2 interchangeable-lens mirrorless camera follows in the steps of the X-T1 but brings higher resolution, improved autofocusing and superior movie recording capabilities to a camera with an SLR-like body design. Equipped with the same 24.3-megapixel X-Trans CMOS III sensor as the X-Pro2, it will sit beside that camera at the top of Fujifilm's line-up. The new camera has a splash-resistant body made mainly from magnesium alloy.  With sealing at 63 points to achieve a high level of resistance to dust and moisture, the X-T2 can operate in temperatures as low as -10 degrees Celsius, making it suitable for use in challenging conditions.  No low-pass filter covers the image sensor, enabling Fujifilm to claim the camera can deliver 'the highest performance in the history of X Series'…….
Source: Fujifilm X-T2 – Photo Review
When the first rumoured specs of Fujifilm X-T2 became a public knowledge, I knew I am going to get it. I need a second body. I do own X100S but with fixed 23mm focal length it is not as versatile as I would like it to be. Camera with interchangeable lens is the way to go for me. Also, 23mm (35 equivalent) is not my favourite focal length either. 35mm (or nifty-fity in full frame world) is much more preferred as far as myself concerned. I still love the X100S but if X100T successor comes out, I won't be buying it. Unless I win in lottery. I also skipped X-Pro2 although I was very intrigued by it. X-T2 would is a much better and more versatile camera for what I need. I am slowly getting into more video shooting and X-T2 video capabilities are superior to X-Pro2. No flip screen on X-Pro 2 was also a deal breaker for me. And lastly, I didn't want to pay extra for optical viewfinder. I hardly ever used it on X100S. It makes no sense to me, it doesn't fit my shooting style. If there was an X-E3, with flip screen and 4K video, that would be a  whole different story altogether……..
Source: Fujifilm X-T2 – 10 things I wish were done differently — Richard Simko
For some time now I have been making a personal effort to capture Footscray as I see and experience it so that I can hopefully preserve my own memories of it. My time in Melbourne is quickly coming to an end due to our impending move to Oxford in January. Through my ~5 years living in Melbourne's inner-west I have come to love the elements that make up this place, particularly my home suburb of Footscray. It has an incredibly rich cultural history that has served as a new home for migrants from all over the world and each culture has made its mark on the architecture, food, and character of this wonderful place. Unfortunately, as the area gentrifies I am sure some of the suburb's history will be lost as the facades of streets and generations move on…….
Source: Moments in Time with the FujiFilm X-T2 and Acros Film Simulation – CAVEIRA PHOTOGRAPHY
In meinen ersten Eindrücken zur X-T2 muss ich mich irgendwie etwas undeutlich ausgedrückt haben. Nicht diese Kamera, sondern die X-Pro2 ist der eigentliche Grund für meinen endgültigen kompletten Wechsel zu nur diesem einen System. OK, das ein oder andere Objektiv vielleicht auch noch. Die so betitelte "endgültige Entscheidung" bezog sich nur noch auf das Tüpfelchen auf dem i, nämlich das Vorhandensein einer zweiten, etwas DSLR-artiger ausgelegten Kamera, also der X-T2. Ich weiß, das klingt etwas seltsam, ist doch diese neue Kamera aktuell wahrscheinlich die kompletteste und perfekteste Spiegellose auf dem Markt. Die Konkurrenz hat entweder dann doch auf einen etwas zu kleinen Sensor für manche Bedürfnisse gesetzt (das war für mich letztlich der Grund) oder hat vielleicht sogar größere Sensoren im Angebot, weiß jedoch nicht wirklich, wie man Kameras – von Objektiven mal ganz zu schweigen – für Fotografen baut. Und dann gibt es noch die, die es mal wussten, jetzt aber lieber Sammlerobjekte oder Spezialeditionen ihrer Kameras mit von Werk aus abgeschrammeltem Lack für reiche Menschen auf der ganzen Welt bauen… traurig genug…..
Source: Fuji X – Zwei Seiten einer Medaille – Peter Poete Photography
Ok, so the X-T2 is now available and now every Fujifilm photographer who doesn't already own an X-T2 or X-Pro2 finds themselves in a bit of a dilemma, do you go for the X-T2 or the X-Pro2. On the surface it would seem like an easy decision, the X-T2 has virtually everything that the X-Pro2 has and more, including 4K video, and all while being the cheaper of the two cameras. So clearly, the X-T2 is the better choice, right? Well, as with many things in photography, that is not the whole story, so today we wanted to focus on a few of the reasons to still consider an X-Pro2 now that the X-T2 is available. Though with two cameras as evenly matched in most ways as these cameras are, we fully admit that the list below to be pretty subjective and you may disagree on one point or another. But lets get into it….
Source: 5 Reasons To Still Consider the X-Pro2 Over the X-T2 | FUJI LOVE
Ok ladies and Gents, we all know I love the Fuji camera range, yep some may feel I'm a tad nutty when it comes to my all singing all praise for this fabulous mirrorless range, also some may feel I perhaps get paid by Fuji but alas, no, would be nice, but hey! I make my money as a Wedding Photographer based in Somerset in the UK. and yes it's a profession I'm very proud of and love. I've done the big corporate events over the years and worked on some pretty impressive projects too, Disney is one such company if you want name drops!! its the Wedding industry full time for me now, sorry but corporate wanted me 24/7 and I also want a life, and I'm lovin my profession as never before. So what's my favourite Fuji camera, well at the moment it's the Fuji Xpro2, I love this camera, it's perfect for my style of reportage wedding photography, I can take those reportage moment's, without impacting on the wedding…..
Source: Fuji X-T2 Wedding — Modern Wedding Photography Somerset, Bath and Bristol