Fuji XF Lenses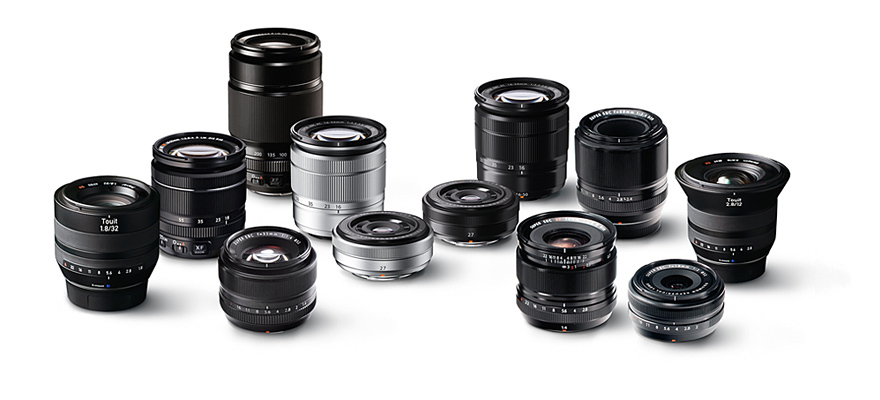 | | | | | |
| --- | --- | --- | --- | --- |
| XF14mmF2.8 R | Ver.3.11 | Improvement of tracking function of parallax correction in the OVF | | |
| XF16mmF1.4 R WR | Ver.1.01 | Improvement of tracking function of parallax correction in the OVF | | |
| XF18mmF2 R | Ver.3.11 | Improvement of tracking function of parallax correction in the OVF | | |
| XF23mmF1.4 R | Ver.1.01 | Improvement of tracking function of parallax correction in the OVF | | |
| XF27mmF2.8 | Ver.1.11 | Improvement of tracking function of parallax correction in the OVF | | |
| XF35mmF1.4 R | Ver.3.11 | Improvement of tracking function of parallax correction in the OVF | | |
| XF60mmF2.4 R Macro | Ver.3.11 | Improvement of tracking function of parallax correction in the OVF | | |
| XF10-24mmF4 R OIS | Ver.1.11 | Improvement of tracking function of parallax correction in the OVF | | |
| XF16-55mmF2.8 R LM WR | Ver.1.12 | Improvement of tracking function of parallax correction in the OVF | | |
| XF18-55mmF2.8-4 R LM OIS | Ver.3.21 | Improvement of tracking function of parallax correction in the OVF | | |
| XF18-135mmF3.5-5.6 R LM OIS WR | Ver.1.11 | Improvement of tracking function of parallax correction in the OVF | | |
| XC16-50mmF3.5-5.6 OIS II | Ver.1.11 | Improvement of tracking function of parallax correction in the OVF | | |
Source: Fujifilm Lenses Updates
The Fujinon XF 50-140mm f/2.8 R LM OIS WR is one of two lenses we received with Fujifilm's X-T2 camera body. Announced on 10 September, 2014, when fitted to the X-T2 this lens has a focal length equivalent to 76-213mm in 35mm format and a constant f/2.8 maximum aperture (which is equivalent to f/4.2 in 35mm format) throughout the zoom range. Twenty dust- and spray resistant seals give this lens the same levels of environmental protection as the X-T2 camera used for this review. The optical design of this lens is complex, consisting of 23 glass elements in 16 groups, with five ED (extra-low dispersion) lens elements and one Super ED lens element that Fujifilm says is 'comparable to a fluorite lens'. Proprietary HT-EBC (High Transmittance Electron Beam Coating) has been applied to all the lens surfaces……
Source: Fujinon XF 50-140mm f/2.8 R LM OIS WR lens – Photo Review
Nach dem erfolgreichen XF35mmF2 R WR bringt Fujifilm mit dem XF23mmF2 R WR eine zweite wetterfeste Festbrennweite mit mittlerer Lichtstärke auf den Markt. Ihre Kegelform prädestiniert diese kompakten Objektive für die X-Pro2, die Mehrzahl der Benutzer dürfte sie jedoch an weniger exotischen Kameras wie der X-T10, X-T1, X-E2 und X-T2 verwenden. Was Sie beim XF23mmF2 R WR erwartet – auch im Vergleich mit dem teureren XF23mmF1.4 R und der klassischen X100T –, verrät Ihnen unser kleiner Testbericht. Überraschung! Das neue XF23mmF2 R WR ist eigentlich gar kein 23mm-Objektiv. Tatsächlich verfügt es über einen Bildwinkel, der über den des teureren XF23mmF1.4 R (und den des in der X100-Serie fest eingebauten 23mm-Objektivs) etwas hinausgeht……
Source: Erste Eindrücke: Das Fujinon XF23mmF2 R WR im Test « Fuji X Secrets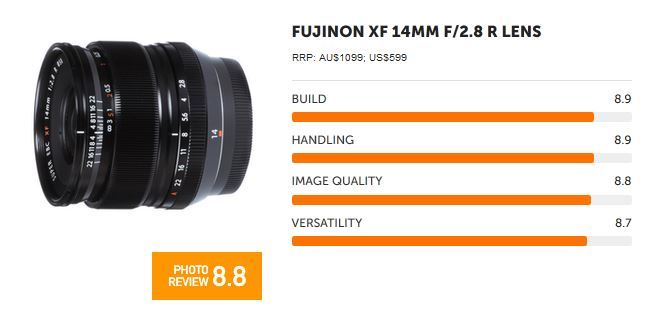 Announced on 6 September, 2012, Fujifilm's Fujinon XF 14mm f/2.8 R lens is an ultra-wide lens prime with an angle of view equivalent to a 21mm lens on a 35mm camera. Combining a wide angle of view with a relatively wide maximum aperture and minimal distortions, this lens is an attractive choice for landscape and architectural photographers. But  the lack of weather sealing will reduce its appeal for some potential purchasers. The optical design of this lens is moderately complex for a prime lens, with 10 elements in seven groups. Two aspherical elements and three extra-low dispersion (ED) elements keep common aberration to a minimum. The lens is supplied with the normal front and end caps plus a petal-shaped hood made from rigid black plastic…….
I read in the week that some people do not trust the reviews by the Fujifilm Ambassadors. I started to question my own thoughts. I decided however that I have always given an open and honest view of the Fujifilm X series. I am not one for long reviews anyway so most of my thoughts and feelings about the X Series are from hands on demonstrations and talking to people out and about on the streets on workshop days and events. I have also never been the pessimistic type and always see the good in all the gear I use and only use very limited functions on the camera so it's not easy for me to start pulling something apart I am passionate about. I was asked by Fujifilm UK to be an Ambassador because of my work and because I had already adopted the Fuji X Series in to my workflow and was enjoying the refreshing change from DSLR to mirrorless. So I was already a fan you could say, but if you know me you will know I am quite blunt and honest about most things and if I did not like the X Series I would have moved to a different brand by now……
This lens is also moisture and dust resistant, which makes it a great pair with the XT-2 or X-Pro 2 – not every XF prime is weather resistant, so this is an important point for photographers who know they'll be exploring outdoors. I put the 16mm through a lot of punishment while testing this lens, particularly in heavy rain. Both the lens and X-Pro 2 are still working smoothly, and I didn't experience any issues at all. It's worth noting that the lens doesn't offer optical stablisation however, which would have made it an absolute low light beast with the fast aperture. One other aspect which was a pleasant surprise is how closely the lens can focus, boasting a minimum focusing distance of 15cm. This was remarkably useful when I was travelling, since I could use it when looking for unique angles for food, landscapes, and other snaps…..
Source: Fujinon XF 16mm f/1.4 R WR Hands-on Review – DigitalRev
Croatia, land of dragons and Rakija, was the site of my most recent European excursion – this time, with a new accessory: Fujifilm's 27mm f2.8 lens. It stayed glued to my camera maybe 90% of the time, and gave me most of my favorite shots from the whole trip. I took over a hundred photos a day with it! Here's why I think it's the best lens I've used for travel. Looking for a technical review? This isn't it – but here are some helpful ones…..
Source: Fuji 27mm F2.8 – The best lens for travel photography: pretty, tiny, and SHARP! – FUJI X PASSION
Compare the Fujifilm 100-400mm f4.5-5.6 R LM OIS WR lens to anything else on the APS-C camera market, and you'll find pretty much no sort of equivalent product. It's weather sealed, has optical image stabilization, doesn't change its aperture very much throughout the range, and is built incredibly well. Then tag onto it the fact that it's made by Fujifilm–one of the best lens makers of all time. Keep moving forward, and consider the fact that you're putting this glass in front of the company's excellent X Trans Sensors; designed by Fujifilm but manufactured by Sony. If you're a sports, photojournalism, wildlife photographer or professional creeper then this lens may indeed by an option that you'll want to consider. Announced quite a while back, the Fujifilm 100-400mm f4.5-5.6 R LM OIS WR may also be the company's most expensive lens. But if you need something like this, it's worth every penny……
Source: Review: Fujifilm 100-400mm f4.5-5.6 R LM OIS WR (Fujifilm X Mount)
One of the main reasons I like photography is it allows me to explore a subject whilst hiding behind my camera. It's like a shield, an excuse to go and do things I would not normally do "naked" without it. I wanted to meet some Sadhu, the holy men of India who dedicate their life to the Hindu religion. Giving up their past, to the extent that the person they were before is officially dead to the Indian government. I wanted to know all about them, any regrets, why do it and what's it like to sleep on a marble floor for the rest of your life? Ever photo assignment delivers its own unique set of issues. After all, good photographers are part creatives, part story tellers and part problem solvers. This trip was to be no different. I had heard of holy city of Pushkar before and had always wanted to visit…….
So, as phase one in India comes to a close, I have time to reflect and debrief a little.The one lesson I have learned on my journey as an image maker is to pace myself. It's hot and very humid here, around 100% humidity and often more than 95 degrees. Hitting it hard for 16hours a day is simply not possible without burning out. So, you cannot achieve as much as you might think here this time of year. Also, you can waste hours of your day trying to navigate the busy city. As a result, I decided to book a car and driver for my shoot days. This is an extra expense sure, but well worth the investment in the time gained back from having a car available to collect me kerbside at the end of the phone. It buys you back precious hours. As well as making it a little easier to navigate a large new city, it also means you can shelter in the air-con of a car every few hours or so at least. Hydration and bathroom breaks are also something that requires consideration, as the areas I'm going into don't really cater for this……