XF 14mm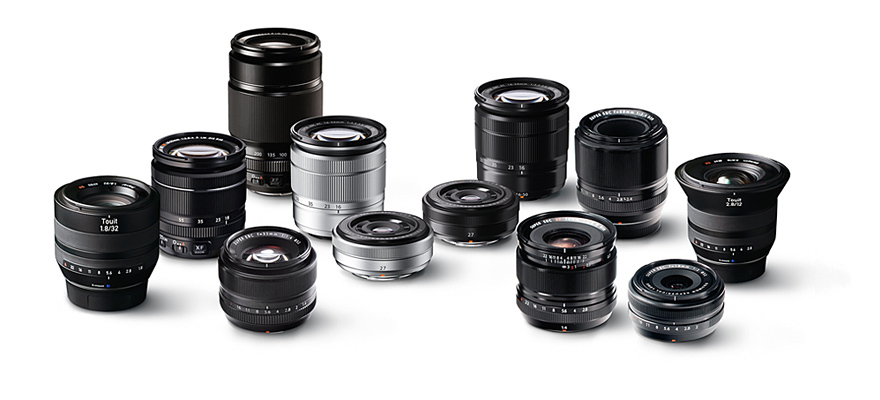 | | | | | |
| --- | --- | --- | --- | --- |
| XF14mmF2.8 R | Ver.3.11 | Improvement of tracking function of parallax correction in the OVF | | |
| XF16mmF1.4 R WR | Ver.1.01 | Improvement of tracking function of parallax correction in the OVF | | |
| XF18mmF2 R | Ver.3.11 | Improvement of tracking function of parallax correction in the OVF | | |
| XF23mmF1.4 R | Ver.1.01 | Improvement of tracking function of parallax correction in the OVF | | |
| XF27mmF2.8 | Ver.1.11 | Improvement of tracking function of parallax correction in the OVF | | |
| XF35mmF1.4 R | Ver.3.11 | Improvement of tracking function of parallax correction in the OVF | | |
| XF60mmF2.4 R Macro | Ver.3.11 | Improvement of tracking function of parallax correction in the OVF | | |
| XF10-24mmF4 R OIS | Ver.1.11 | Improvement of tracking function of parallax correction in the OVF | | |
| XF16-55mmF2.8 R LM WR | Ver.1.12 | Improvement of tracking function of parallax correction in the OVF | | |
| XF18-55mmF2.8-4 R LM OIS | Ver.3.21 | Improvement of tracking function of parallax correction in the OVF | | |
| XF18-135mmF3.5-5.6 R LM OIS WR | Ver.1.11 | Improvement of tracking function of parallax correction in the OVF | | |
| XC16-50mmF3.5-5.6 OIS II | Ver.1.11 | Improvement of tracking function of parallax correction in the OVF | | |
Source: Fujifilm Lenses Updates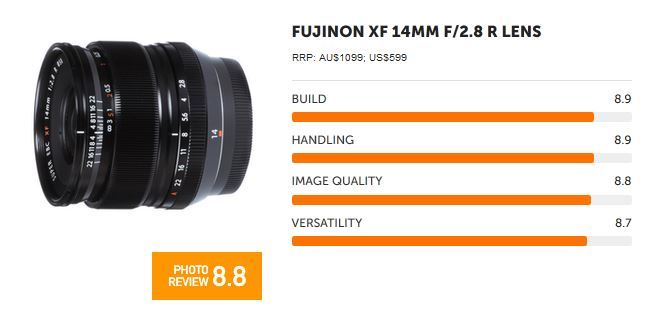 Announced on 6 September, 2012, Fujifilm's Fujinon XF 14mm f/2.8 R lens is an ultra-wide lens prime with an angle of view equivalent to a 21mm lens on a 35mm camera. Combining a wide angle of view with a relatively wide maximum aperture and minimal distortions, this lens is an attractive choice for landscape and architectural photographers. But  the lack of weather sealing will reduce its appeal for some potential purchasers. The optical design of this lens is moderately complex for a prime lens, with 10 elements in seven groups. Two aspherical elements and three extra-low dispersion (ED) elements keep common aberration to a minimum. The lens is supplied with the normal front and end caps plus a petal-shaped hood made from rigid black plastic…….
So, as phase one in India comes to a close, I have time to reflect and debrief a little.The one lesson I have learned on my journey as an image maker is to pace myself. It's hot and very humid here, around 100% humidity and often more than 95 degrees. Hitting it hard for 16hours a day is simply not possible without burning out. So, you cannot achieve as much as you might think here this time of year. Also, you can waste hours of your day trying to navigate the busy city. As a result, I decided to book a car and driver for my shoot days. This is an extra expense sure, but well worth the investment in the time gained back from having a car available to collect me kerbside at the end of the phone. It buys you back precious hours. As well as making it a little easier to navigate a large new city, it also means you can shelter in the air-con of a car every few hours or so at least. Hydration and bathroom breaks are also something that requires consideration, as the areas I'm going into don't really cater for this……
This lens was bought as a replacement for my much loved Samyang 12mm. Now, I think the 12mm is a great lens, but my main gripe had started to become the lack of autofocus, I found this to be most obvious at weddings. I started to look into the 16mm which I have mentioned before by after trying it out it seemed a bit to close in focal length to the 23mm and would mean I'd keep the 12mm to have an ultra wide.So instead out went the 12mm in came the 14mm, and also out went the 18+35 as I don't like having more gear than I need. Here is a quick review of my first few months with this lens, enjoy……..
Source: Fuji 14mm Review — Colin Nicholls | Hereford Wedding Photographer
When Fujifilm Canada asked if I'd be interested in shooting images for a book project (an internal publication I believe), I said sure. When they requested street photography? Awesome. With the XF 14mm lens? Uh oh. The XF 14mm f/2.8 R is fantastic—a lot of photographers have shot the hell out of this lens and wouldn't be caught dead without it in their bag (my friends Bert and Flemming have both done some seriously amazing work with it). But I tend to use it very sparingly, only in very specific situations: when I need a larger field of view (obviously); when I want to accentuate lines and play with geometry; close-up, using distortion as a visual statement of some kind. When it comes to street however…It's never been in my toolbox……
Source: www.laroquephoto.com
6:29. I wake up, even before the phone alarm clock that is scheduled for 6:30. I stood up and quickly dressed my clothes . Before leaving home I still have time to eat an energy bar. I took another put in the pocket in case of the hunger appears. Not long ago I switched to X system Fuji. After some indecision, I ended up selling all Canon equipment that I had: a 5D mkIII, L series lenses and a paraphernalia of other accessories. I bought a Fuji X-T1 with the 18-55mm lens and 55-200mm. I dress the waterproof jacket – there is a possibility of raining during the day – and put the bag with the equipment at the shoulder. It is much lighter now. Much more! It was what I needed. I started to have less courage or patience to load a backpack so heavy on my back…….
Source: www.fujixpassion.com
In my previous blog post of my visit to the Taj Mahal all shots were taken with the kit lens. In this blog post they are taken with my favorite Fuji lens – the XF14/2.8 R. As I moved closer to the Taj Mahal it was clear to me that now is the time for the 14mm lens. I already praised this lens a lot on my blog. If you scroll down to take a look at the tag cloud of my blog you can see that the 14mm is my main lens and there is a reason for it. The 14mm (or 21mm in full frame terms) is a surprisingly flexible lens. It has many advantages not only over the kit lens but also over the 10-24 but of course it depends on your shooting style and subject if you value them as much as I do. Here are the most important ones:

zero distortion
small and light
wide but not too wide
offer a focus clutch for easy manual focus (and zone focus)
uses the same lens hood than the kit lens……..
Source: www.littlebigtravelingcamera.com
When you specialize in one genre of photography it is easy to get comfortable, box yourself in and become lazy about seeing. Contentment and self-assurance are one of the greatest enemies of a creative photographer. It is especially important for those who specialize in travel and landscape photography. Too often we see the same visuals, themes, places or even exactly the same compositions. An antidote to this frame of mind is to try new things even though they may pose a challenge or cause discomfort. Propelled by this aggressive attitude we decided to explore a different type of landscape – one that would not naturally lure the photographer but might provide a great visual reward. I found working with industrial landscapes a difficult but fascinating challenge…….
Source: olafphotoblog.com

---
Fujifilm Fujinon XF 14mm F2.8
Do you love my work and want to support me? If you're planning on buying camera gear, you can check out above-noted links. Prices remain the same for you, but a small percentage of your purchase value is valued back to me. Thank you!
---
Let's be honest: next to the ease-of-use of the Fujifilm X cameras, the advantages of their sensor, the performance of the XF glass and the resulting image quality, many X-shooters just love the retro design and handling of the bodies. Right from the start, with the original X100, we got a compact tool to completely enjoy taking pictures. If you're old enough to have started photography with roll film or 35mm cassettes: just add "again" at the end. In order to augment the "old days" experience, we've been adding leather carrying and wrist straps, half cases, thumb grips, soft releases, old-fashioned cable releases… In the end though, you can't but ask yourself: Why didn't Fujifilm bring us sexier lens hoods? It started rather well actually. The X100's fixed 23mm lens comes with a nice metal vented release. That comes handy when using the optical viewfinder, as less of the field of view is obstructed (as long as the openings are well aligned, hence the bayonet mount)……
Source: fujixtras.blogspot.fr
---
Fujinon XF Lenses
Do you love my work and want to support me? If you're planning on buying camera gear, you can check out above-noted links. Prices remain the same for you, but a small percentage of your purchase value is valued back to me. Thank you!
---
Was für eine Aussage! Im Februar diesen Jahres war ich bei einer Hausschlachtung. So oft gibt es das meines Wissens nicht mehr. Zumindest hier im Ort nicht. Der Mann meiner Cousine, Metzgermeister von Beruf, macht das einmal im Jahr. Von seinen Erzählungen neugierig geworden, bat ich ihn, mir den nächsten Termin der Hausschlachtung mitzuteilen. Das war eben der oben genannte Termin. Kalt war es. Im wahrsten Sinne des Wortes: Saukalt! Wenn ich alles fotografieren wolle, wäre 7:00 Uhr morgens die beste Zeit. Natürlich wollte ich alles dokumentieren. Vom Ausladen des Schweines, anbinden, finaler Schuss…. Ich war also zur angegebener Zeit vor Ort. Alles war vorbereitet. Die Garage, in der das Schlachten stattfinden sollte, war sorgfältig mit Planen ringsum abgehängt worden. Tische wurden heiß abgewaschen, dass es nur so dampfte. Freunde von der Freiwilligen Feuerwehr waren auch schon da. Die hatten schon ein Fass Bier angezapft. Man hat ja schließlich nach dem ersten Kaffee schon wieder Durst! Was jetzt noch fehlte, war die Sau……..
Source: www.peterziegler.net

---
Fujifilm Fujinon XF 23mm F1.4
Do you love my work and want to support me? If you're planning on buying camera gear, you can check out above-noted links. Prices remain the same for you, but a small percentage of your purchase value is valued back to me. Thank you!
---