XF 16mm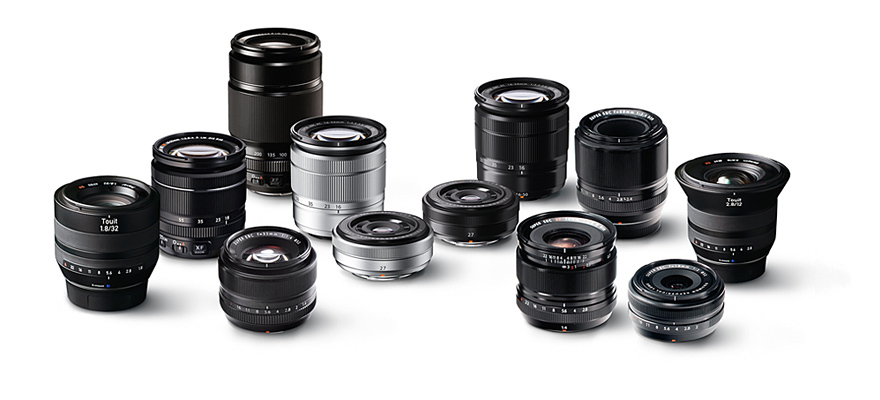 | | | | | |
| --- | --- | --- | --- | --- |
| XF14mmF2.8 R | Ver.3.11 | Improvement of tracking function of parallax correction in the OVF | | |
| XF16mmF1.4 R WR | Ver.1.01 | Improvement of tracking function of parallax correction in the OVF | | |
| XF18mmF2 R | Ver.3.11 | Improvement of tracking function of parallax correction in the OVF | | |
| XF23mmF1.4 R | Ver.1.01 | Improvement of tracking function of parallax correction in the OVF | | |
| XF27mmF2.8 | Ver.1.11 | Improvement of tracking function of parallax correction in the OVF | | |
| XF35mmF1.4 R | Ver.3.11 | Improvement of tracking function of parallax correction in the OVF | | |
| XF60mmF2.4 R Macro | Ver.3.11 | Improvement of tracking function of parallax correction in the OVF | | |
| XF10-24mmF4 R OIS | Ver.1.11 | Improvement of tracking function of parallax correction in the OVF | | |
| XF16-55mmF2.8 R LM WR | Ver.1.12 | Improvement of tracking function of parallax correction in the OVF | | |
| XF18-55mmF2.8-4 R LM OIS | Ver.3.21 | Improvement of tracking function of parallax correction in the OVF | | |
| XF18-135mmF3.5-5.6 R LM OIS WR | Ver.1.11 | Improvement of tracking function of parallax correction in the OVF | | |
| XC16-50mmF3.5-5.6 OIS II | Ver.1.11 | Improvement of tracking function of parallax correction in the OVF | | |
Source: Fujifilm Lenses Updates
This lens is also moisture and dust resistant, which makes it a great pair with the XT-2 or X-Pro 2 – not every XF prime is weather resistant, so this is an important point for photographers who know they'll be exploring outdoors. I put the 16mm through a lot of punishment while testing this lens, particularly in heavy rain. Both the lens and X-Pro 2 are still working smoothly, and I didn't experience any issues at all. It's worth noting that the lens doesn't offer optical stablisation however, which would have made it an absolute low light beast with the fast aperture. One other aspect which was a pleasant surprise is how closely the lens can focus, boasting a minimum focusing distance of 15cm. This was remarkably useful when I was travelling, since I could use it when looking for unique angles for food, landscapes, and other snaps…..
Source: Fujinon XF 16mm f/1.4 R WR Hands-on Review – DigitalRev
Portrait Photographers all over are moving to the Fuji X series for a variety of reasons including, size/form factor, weight, and -ofcourse- Fuji's outstanding colors and jpeg processing. So if you have or are considering a Fujifilm kit for some portrait photography what are some of the good lenses for the system? In this roundup we have 6 incredible lenses for portrait photography on the Fuji X system, plus an added bonus recommendation. So lets jump right into it, shall we? A great low-profile semi compact option for Fuji shooters, the XF 35mm F/2 WR is fast focusing, weather resistant, and offers image quality equal to – and some might say better – its F/1.4 brother in most respects. However, if you are a fan of manual or zone focusing, we would probably suggest grabbing another options instead. Possibly the fastest focusing Fuji lens right now, so if you rely on AF, this is definitely a lens to consider……
Source: 6 Spectacular Portrait Lenses for The Fujifilm X-Series
Welch ein bescheuerter Titel! Das könnte man denken und läge ja auch nicht ganz falsch damit. Aber ohne diese Brennweite geht es wirklich nicht, sie ist sozusagen mein ganz persönliches Fenster zur Welt. Und ja, natürlich meine ich damit den Bildwinkel oder das Sichtfeld, aber ich bin alt und spreche daher trotzdem lieber von Brennweite und meine damit die 24mm aus den Tagen des Kleinbildfilms. Was also nun kommt ist eher eine Hommage an eine "Brennweite". Aber ein bisschen eben auch an ein Objektiv, das diese wieder mit großem Glanz vertreten könnte… Seitdem ich irgendwie das erste Mal das Geld für halbwegs vernünftige und spannende Objektive zusammenbekommen konnte, waren stets zwei Dinge immer dabei: ein Superweitwinkel(zoom) und ein lichtstarkes 24er. Seit meiner Trennung von Nikon besitze ich allerdings aus den verschiedensten Gründen ersteres nicht mehr……
First off, let me start by saying I do not get paid by Fujifilm, nor am I affiliated with them in anyway beside having a love for their products. Secondly, if you want pixel peeping sharpness and noise charts, this isn't the review for that. I review gear in a real world setting. Basically, I do real world, hands on, reviews of my gear after having used said gear for a period of time long enough for me to have gotten used to it. That being said, I have owned the Fuji XF 16R WR for about two months, and I have shot it almost every day during these past two months. I am coming from the tried and true, and I believe, underrated XF 18 f/2, so I kind of made my comparisons on this lens based on my experiences with that lens as well as other Fuji glass I have owned and used (XF 18 f/2, 23 f/1.4, 35 f/1.4, Zeiss Touit 32 f/1.8, and 56 f/1.2…..
The focal length of the XF16mmF1.4 R WR is superb for photographing indoors and outdoors and is often overlooked by many photographers wanting something wide. Being a prime lens you will find it is a welcome challenge in your gear arsenal as you navigate the nonexistent zoom with your legs out in the field. It's this real world experience when composing that will make you feel part of the scene as you live every moment of your surroundings. Combine the small size with a maximum aperture of F1.4 and photographs seem to 'pop' whenever they are printed or presented on a screen. The bokeh performance on this lens is stunning and something many photographers will find appealing when photographing the smaller things in life. If you prefer capturing landscape scenes, you will notice a natural look to them as the lens captures the majority of the surrounds at a 24mm (35mm equivalent) focal length…..
Source: Looking through a new world with the Fujinon XF16mmF1.4 R WR – The Fujifilm Blog
I'm a prime shooter and I live at 50mm (full frame terms). When I switched to Fujifilm, the XF35 1.4 filled that spot with ease. It's my goto lens, I love the images it produces, how it makes me feel and, how I even loved to hate that ugly lens hood. The rest of my kit consists of the the XF23 (35mm) & XF56 (85mm)… That is what I roll with on any given wedding. The XF35 (almost) never leaves my primary camera body. The other body gets fitted with what I think might come in handy.The XF23 is there as my wide angle … to be honest, it's not my thing … I can't explain it. It's supposed to be my storyteller lens but I feel that it never completely tells the story or I can't frame it like I want it … because it's not wide enough or perhaps because it lives too close to my comfort zone (50mm) and it doesn't push me enough. Watching a lot of photographers produce great images with a 24mm focal length , I wanted to try myself …
Source: A wider angle with the Fujinon XF16 « Tom Leuntjens Photography /// Blog
This was the time of actually field testing the 16 mm f1.4 Fuji lens.  Wanted to see if I could live with just that lens for landscape photography, or would I miss the ultra wide zoom.  I love the fact that the 16mm is so bright.  At f1.4 and minimum focusing distance of just 15 cm, it is really easy to throw the background out of focus.  Even though the ultra wide zoom from Fuji is a really really good lens, I think I can sacrifice a little and stick with the 16 mm lens.  Since I don't really have a choice any more, as my wife elusively appropriated that lens for herself…..
Source: www.miksmedia.photography
The "Fujinon Nano-GI XF16mm f/1.4 R WR" lens, to give it it's full name, is one I've been looking forward to for a while.  The majority of my shooting is between 24-50mm (in 35mm full-frame terms).  That range probably makes up about 95% of my images.  With the XF23mm f/1.4 and XF35mm f/1.4 there was a fast aperture hole in that range for me.  Until now I've been using the 18-55mm f/2.8-4 lens to fill that gap.  I never did go for the XF16-55mm f/2.8 lens as it lacked OIS, was far more expensive and much larger than the XF18-55mm, which really is a truly fantastic lens for what many consider to be the Fujifilm 'kit' lens. Now that the XF16mm f/1.4 has been released we have a full range of fast primes at the wide to standard range focal lengths.  If you add in the 56mm and newly released 90mm then there is probably a fast prime lens that would suit pretty much anyone these days who shoot with an X-Series camera……
Source: photomadd.com
When the Fuji 16mm f1.4 was announced, they also announced an accessory lens hood to go with it. This seemed a little strange, as the 16mm comes with a perfectly good lens hood as standard. The standard hood is a modern tulip design, fairly deep and reversible. It's made of high quality plastic, with an open design that allows you to mount circular filters inside it if you so desire. So why release another design of lens hood? Is this just cynical profiteering on poor users infected with gear acquisition syndrome? Lets take a look at the LH-XF16. Looking at the Fuji lens lineup, two very early lenses, the 18mm and the 35mm, were shipped with square metal lens hoods. Unfortunately, they also came with rubber front caps, that are renowned for falling off the hood as soon as they are touched…….
Source: jasonpitcher.com

---
Fujifilm Fujinon XF 16mm F1.4
Do you love my work and want to support me? If you're planning on buying camera gear, you can check out above-noted links. Prices remain the same for you, but a small percentage of your purchase value is valued back to me. Thank you!
---