XF 23mm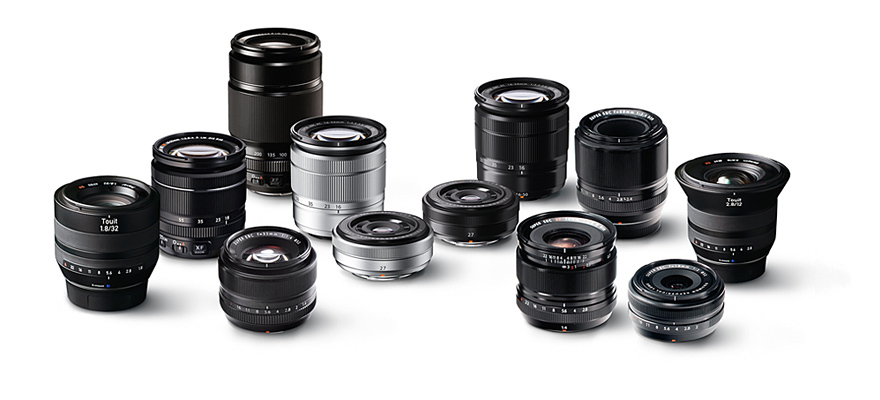 | | | | | |
| --- | --- | --- | --- | --- |
| XF14mmF2.8 R | Ver.3.11 | Improvement of tracking function of parallax correction in the OVF | | |
| XF16mmF1.4 R WR | Ver.1.01 | Improvement of tracking function of parallax correction in the OVF | | |
| XF18mmF2 R | Ver.3.11 | Improvement of tracking function of parallax correction in the OVF | | |
| XF23mmF1.4 R | Ver.1.01 | Improvement of tracking function of parallax correction in the OVF | | |
| XF27mmF2.8 | Ver.1.11 | Improvement of tracking function of parallax correction in the OVF | | |
| XF35mmF1.4 R | Ver.3.11 | Improvement of tracking function of parallax correction in the OVF | | |
| XF60mmF2.4 R Macro | Ver.3.11 | Improvement of tracking function of parallax correction in the OVF | | |
| XF10-24mmF4 R OIS | Ver.1.11 | Improvement of tracking function of parallax correction in the OVF | | |
| XF16-55mmF2.8 R LM WR | Ver.1.12 | Improvement of tracking function of parallax correction in the OVF | | |
| XF18-55mmF2.8-4 R LM OIS | Ver.3.21 | Improvement of tracking function of parallax correction in the OVF | | |
| XF18-135mmF3.5-5.6 R LM OIS WR | Ver.1.11 | Improvement of tracking function of parallax correction in the OVF | | |
| XC16-50mmF3.5-5.6 OIS II | Ver.1.11 | Improvement of tracking function of parallax correction in the OVF | | |
Source: Fujifilm Lenses Updates
Nach dem erfolgreichen XF35mmF2 R WR bringt Fujifilm mit dem XF23mmF2 R WR eine zweite wetterfeste Festbrennweite mit mittlerer Lichtstärke auf den Markt. Ihre Kegelform prädestiniert diese kompakten Objektive für die X-Pro2, die Mehrzahl der Benutzer dürfte sie jedoch an weniger exotischen Kameras wie der X-T10, X-T1, X-E2 und X-T2 verwenden. Was Sie beim XF23mmF2 R WR erwartet – auch im Vergleich mit dem teureren XF23mmF1.4 R und der klassischen X100T –, verrät Ihnen unser kleiner Testbericht. Überraschung! Das neue XF23mmF2 R WR ist eigentlich gar kein 23mm-Objektiv. Tatsächlich verfügt es über einen Bildwinkel, der über den des teureren XF23mmF1.4 R (und den des in der X100-Serie fest eingebauten 23mm-Objektivs) etwas hinausgeht……
Source: Erste Eindrücke: Das Fujinon XF23mmF2 R WR im Test « Fuji X Secrets
One of my favourite songs is  "Forty Six and 2" by Tool. – Divide 46 by 2 and you get? Yeah. You get it. – I have been waiting for this lens for so so long. As in a really long time. It's no secret that my go-to camera as of late is the X-Pro2. But prior to this, it was always the X100 series. It's what started it all for me. The X-Pro2 with the 35mm f/2 is behaving like the X100t in so many ways for. Small, silent, OVF. – Of course by now the X-Pro2 as a camera body is way superior to the X100T in so many ways. – But there was always something missing. That 23! That small inconspicuous lens with the f/2 moniker. Yes, I know there's the completely awesome XF 23mm f/1.4 with bokeh that is out of this world, and color rendering much like the old 35mm f/1.4. But it is simply too big for me when I do street photography. It shouldn't matter much, cause the system is small as is, but it does to me…….
Source: 23 and 2 – A small look at the Fujifilm XF 23mm f/2 WR – jonasrask|photography
As an only child I never experience this term call Sibling Rivalry. Until now with the new Fujinon XF23mm F2 WR. This is not the first sibling rivalry in the X-Series Fujinon family. Last year we had XF 35mm F2 WR vs the classic XF 35mm F1.4. You could read more here :https://ivanjoshualoh.com/2016/01/04/35mm-vs-35mm/ This year, I feel the 23mm siblings is definitely a more heated rivalry in the Fujifilm family. Specially for street photographers; this is the must have  focal length. Now, lets get into the details of this new lens. The XF23mm F2's design follow its cue from its elder brother XF 35mm F2 WR. If you are looking at small lenses in your X-series set-up, look no further. Its has 9 rounded blades in its core……..
FUJIFILM Corporation (President: Kenji Sukeno) has announced that it will release a new "FUJINON lens, the XF23mmF2 R WR," in late September 2016* to join the lineup of interchangeable lenses for X Series digital cameras, known for their outstanding image quality based on the company's proprietary color reproduction technology. The new lens has a highly versatile focal length equivalent to 35mm (in the 35mm film format), covering a range of subjects from snapshots to landscapes and portraits. Its compact and lightweight design with high-speed AF capability, allows users to enjoy taking snapshots with ease. The XF23mmF2 R WR is a wide-angle lens with advanced image resolution, capable of drawing out the full performance of Fujifilm's proprietary X-Trans™ CMOS sensor. The inner-focus AF system** uses a stepping motor*** to drive the focusing group of lens elements for silent and fast autofocus. The metal exterior gives a sense of premium quality and robustness, and the aperture ring and focus ring have been designed for optimum operability. The lens is also weather and dust resistant and operates at temperatures as low as -10°C, making it an ideal choice for outdoor photography. The XF23mmF2 R WR has a similar size and design flair of the existing XF35mmF2 to make up a stylish collection of compact lenses…….
Source: FUJINON XF23mmF2 R WR — compact lens that weighs just 180g and features fast AF for enjoying snapshots | Fujifilm Global
Portrait Photographers all over are moving to the Fuji X series for a variety of reasons including, size/form factor, weight, and -ofcourse- Fuji's outstanding colors and jpeg processing. So if you have or are considering a Fujifilm kit for some portrait photography what are some of the good lenses for the system? In this roundup we have 6 incredible lenses for portrait photography on the Fuji X system, plus an added bonus recommendation. So lets jump right into it, shall we? A great low-profile semi compact option for Fuji shooters, the XF 35mm F/2 WR is fast focusing, weather resistant, and offers image quality equal to – and some might say better – its F/1.4 brother in most respects. However, if you are a fan of manual or zone focusing, we would probably suggest grabbing another options instead. Possibly the fastest focusing Fuji lens right now, so if you rely on AF, this is definitely a lens to consider……
Source: 6 Spectacular Portrait Lenses for The Fujifilm X-Series
Lens choices are incredibly personal, and when buying a prime lens (a fixed focal length lens), there is a lot to consider before locking in your choice. I was faced with this troubling decision when buying the Leica. I had to decide which lens to indulge in, in order to maintain versatility on the street, without limiting my options for travel or the great outdoors. You can probably tell from the title of the post, I decided to go with the 35mm focal length. I have been using this equivalent focal length on the Fujifilm X100T (fixed lens camera) and the XT1/XPRO1/XPRO2 for a long time. It allows you to walk into any situation and get right to work. For most, it is a lens which you work up to using. It is a little on the wide side for distortion free portraits, but you can make it work if you are careful.  And when prowling the streets for unique individuals and candid moments you have to get intimate with your subject to fill the frame, your subject will definitely knowledge your presence…….
Often I hear photographers and reviewers remarking that a certain lens is not sharp in the corners. But is it really not sharp?  Or maybe what you are seeing is the result of a curved field lens being tested against a flat subject.  I wrote about curved field lenses versus flat field lenses with some illustrations on the difference here..  If you are interested, please follow the link and read it.Here is a practical example of what I mean.  The image above was made using the highly touted Fujifilm 23mm f/1.4 XF lens.  The lens is very sharp, even wide open and contains an aspherical element.  I used it to demonstrate that, looking at the image above, one may wrongly conclude that the lens is not sharp in the corners……
Source: www.thewanderinglensman.com
Only three days in any major city is not enough – but that's especially true for Tokyo. This city has always been on my "bucket list" so I was fortunate that circumstances brought me here, if only for a short time. I limited my gear to my Fuji X-T1 and probably my favorite lens,the excellent Fujifilm XF 23mm f/1.4 R, which is perfect for travel. Tokyo is such an interesting place, it's almost overwhelming – there was always something interesting to catch my eye. The X-T1, as always, proved to be a worthy camera in some challenging conditions. I will always remember Tokyo as the city I first used my Pano mode! Lol. Here are some of my favorite shots……..
Source: jeffseltzerphotography.com
Last year Fuji brought out a bit of an oddity, a body cap lens. The XM-FL is only available in Japan as at time of writing. In order to get hold of mine I had to resort to eBay and part with seventy-five quid and get it shipped halfway around the world. Two weeks after pressing the button it arrived; possibly the lightest lens-containing parcel I have ever received. In the box you get the XM-FL and… well that's about it. The instruction sheet is in Japanese (naturally) but a bit of diligent Googling led me to this excellent illustrated run-down on Petapixel. Fuji describes the XM-FL (according to Google Translate) as a "filter lens". In reality it is either a toy lens or a very thick and simultaneously quite clever body cap, depending upon your point of view. It's an all-plastic construction affair with a turret arrangement that changes the function of the unit as you twiddle a dial on the side. That dial has notches so that you can work out which setting is which…….
Source: macfilos.com