Black and White
People familiar with my black and white post processing workflow may conclude that the technique I utilise for black and white post processing isn't that advanced and are merely tricks to obtain a visual effect. It's just partly true, yes, the techniques aren't very advanced at all but no, they're not just tricks to obtain a specific visual effect. The method I developed for myself, called iterative selective gradient masking 2.0 (iSGM2.0) and use in practice, originate from the fundamental notion that I can't and won't let myself be restricted in my artistic expressions by what is seemingly possible with the tools everyone knows for black and white photography post processing: Photoshop, Lightroom and plug-ins like Silver Efex Pro 2 and Topaz to name just a few……..
Source: www.bwvision.com
have been Shooting Street for a very long time now, right from as far back as I can remember so well over 40 years, it's always been a part of me to shoot people as a subject, but when I shoot it has to be candid. True Street as I have always understood it, will not interfere with the dynamic in the street, and this is the Street Photography I love.  I know the point where you press the shutter to being spotted and getting a reaction or creating a reaction, is a very fine line involving fractions of a seconded, and find this point very well discussed in the street world. Street portraits are on the rise but I stopped asking a for portraits years back,  I do ask for the odd one or two if the subject is very exciting but hardly every post the images…..
Source: matthewhartphotography.wordpress.com

---
Fuji X-T1
Do you love my work and want to support me? If you're planning on buying camera gear, you can check out above-noted links. Prices remain the same for you, but a small percentage of your purchase value is valued back to me. Thank you!
---
A couple of days ago, we looked at the inexact science of color and emotion: I don't think anybody is going to argue that the mood and feeling of an image is influenced heavily by the dominant color palette, both in terms of the color of incident/reflected light and the color of the subject elements themselves. But how does this translate to black and white images? Obviously, it's very possible to do since not every monochrome image feels the same. Even within the same sort of general lighting – say low key – it's possible to produce variations in mood. How? As usual, the answer to this question goes back to light. Specifically, quality of light: diffusion, direction, primary and secondary sources, fill or reflection from surrounding objects, and the texture of your primary subjects themselves: what are they reflecting or absorbing? As you can see, there's a huge amount of possibility here for variation – and control. The two main things to consider are direction and diffusion. A backlit image will feel very different to a side lit or front lit one; or worse, one lit from direction along the same axis as the camera (think direct flash)……..
Source: blog.mingthein.com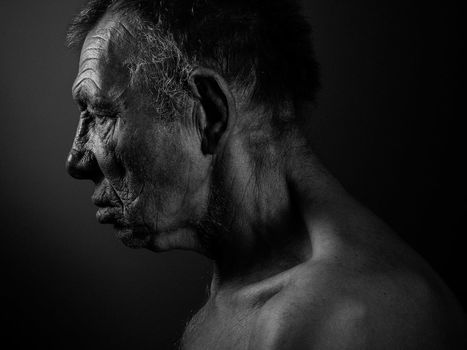 A while ago, I wrote an article on low-contrast B&W conversions with Lightroom. After reading through some of the response the article received I was pleasantly surprised that so many of our readers actually prefer low-contrast look over the ever-popular high-contrast conversions. That is not to say high-contrast B&W photography is in some way inferior, not at all. It is merely the more popular, the more easily accepted sort of look, which is exactly the reason why I saw fit to go against the wave and start with the opposite. Now, ever since I wrote that piece, I've received several requests for a similar article on a high-contrast conversion. This topic is particularly tricky for me since I rarely do high-contrast B&W, but the requests did remind me of one occasion where I was deliberately working towards such a result from the very start. And so, as always, we begin with a photograph……..
Source: photographylife.com
Digital took black-and-white away. To me it's the biggest change about the Digital Transition (which I define as 1994–2011). "Black and white are the colors of photography," said Robert Frank. That "are" would now have to be changed to "were." I've made the point many times that for some of us—those of us who approach working with a camera by learning to see the way the camera and lens sees—being able to convert a color file to B&W is not the same thing as having a camera that only shoots B&W. If the camera natively shoots color, I see in color. Can't help it. People who look at it like it's only a technical question can't see the point in a B&W-only camera; they'd just convert the file. They don't get it: we see with our brains, and if the way you conceive of making pictures is to adapt your brain to the way the camera and lens are recording the image, then you'll only "see" in B&W if that's what your camera is seeing. So for a long time I agitated for dedicated B&W camera, saying I'd buy one when someone made it. Then someone did…Leica. Leica was a slightly more expensive brand of camera in the marketplace when I got into photography, costing a modest 10 to 30% more than similar Nikon equipment. Now, Leicas are Veblen goods marketed mainly to the carriage trade and cost many multiples of what similar equipment costs…..
Source: theonlinephotographer.typepad.com

---
Fuji X100S
Do you love my work and want to support me? If you're planning on buying camera gear, you can check out above-noted links. Prices remain the same for you, but a small percentage of your purchase value is valued back to me. Thank you!
---
I've just read a comment from a photographer who said it's time to stop shooting in black and white. He claimed we don't see the world in black and white and it was something only done in the past due to the limitations at the time and it's time to move on. Here's a number of reasons why I think it's critical to shoot black and white from time to time, and how it can help nurture your photographic eye. Ansel Adams, Cartier Bresson, David Bailey, Karsh, Sebastio Salgado, Albert Watson, Peter Lindbergh, Herb Ritts, Irving Penn, Daidō Moriyama, Sally Mann, Avedon – the list of master photographers, alive or dead, who saw black and white not simply as a technical limitation but as a creative choice, could be an entire article in itself. But why did they choose it? …….
Source: fstoppers.com
Le salaryman
Au Japon, ou plutôt à Tokyo on s'habille en costume noir pour aller travailler dans son entreprise. Ces hommes ont des horaires assez difficiles, debout très tôt et au lit très tard.
Série
Une série un peu contrastée ( au Japon il y a Moriyama donc ça peu passer ) sur mes rencontres de la journée.
Matériel
Toutes les photos ont été prises avec le Fuji X-Pro 1 comme objectifs j'ai utilisé le 35mm ainsi que le 18mm. Pour ce genre de traitement, un point and shoot ou un smartphone feraient l'affaire.
Traitement
Pas grand chose pour le traitement: simplement assez dur. J'ai amélioré mes images dans lightroom avant d'utiliser SilverEfex pour le passage au noir et blanc.

Source: www.nicolaslambert.be

---
Fuji X-Pro1
Do you love my work and want to support me? If you're planning on buying camera gear, you can check out above-noted links. Prices remain the same for you, but a small percentage of your purchase value is valued back to me. Thank you!
---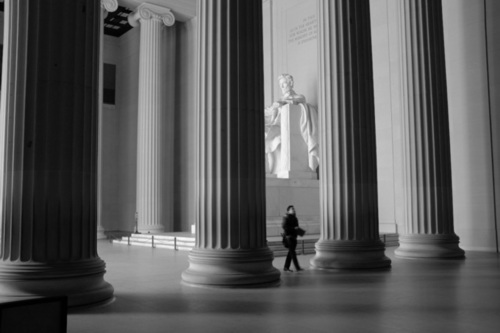 Found myself in the ever snowful Washington, DC the other day.
Thought I'd put the camera through it's paces in B&W mode. Went with the Yellow filter effect. Not much post processing in Lightroom. Little contrast here and there and a couple needed lightening. Otherwise all just out of camera…..

See on www.michaelkircher.com
What a question. Well to be honest I cannot answer this question for you. But I can tell you what I like about black and white photography and how I post process my photographs to give them "my" look. Why do I like black and white photographs? It´s all about the motive! It is not the color that is catching the eye, it is the motive. It is the story the photographer is trying to tell us. Reduced to black and white! What I want to show you with this post is how easy it is to get stunning results out of a picture that in color looks good but is nothing that spectacular. Motives that you have seen many times before but this time the catch your eye. It´s simple! You can use Adobe Lightroom if you have this software. Or as I do most of the time Nik Silver Efex Pro2. I love the Nik software tools. They are so simple to use and the results are awesome……

See on stockografie.de
It is hard to describe what draws us to places like Bodie. Maybe it is the beauty of the forgotten and rusty; maybe it is the dark history or a search for ghosts of the past. One thing is for sure – after documenting all major ghost towns of the West over the last few years we couldn't be more pleased. Each ghost town provided us with great history lessons, unforgettable adventures and beautiful imagery. After visiting Sandon, Cody, Shaniko, Antelope, Elkhorn and Garnet, it was time to set our sights on Bodie – the largest and most popular ghost town in North America. Its reputation preceded it. Quoting from the diary of a girl who was taken to this infamous town: "Goodbye God, I am going to Bodie." Bodie got its name from Waterman S. Body, who discovered gold in 1859 and started yet another gold rush. At its peak, the town had a population of 10,000. While most mining towns of that time couldn't be mistaken for their elegance and law-abiding citizens, Bodie gained an especially bad reputation. Killings, fires, fights and robberies combined with 65 saloons offered all sorts of relaxation to stressed miners……..
See more black and white pictures on olafphotoblog.com