Comparison Test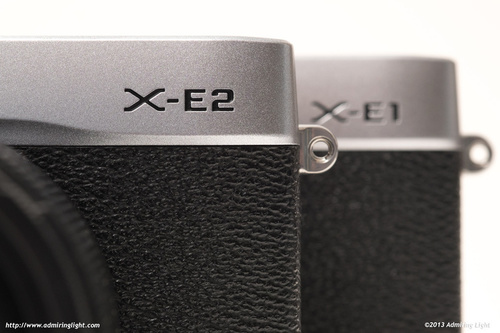 In the second (and last) of my tests between the new Fujifilm X-E2 and X-E1, I take a look at the image quality over the ISO range in RAW, using Lightroom 5.3 RC.  I'd like to do the comparison in Capture One 7 (and I may revisit it later), but right now Capture One doesn't support the X-E2 RAW files. The Fujifilm X-E2 has a number of improvements over the X-E1, though almost none of them relate to image quality.  The X-E2 has a newer sensor, the X-Trans CMOS II, but the primary difference is the addition of phase detection pixels, rather than an improvement in the imaging properties of the sensor.  However, the X-E2 RAW files are 14-bit, vs the 12-bit X-E1 files, so there is potentially an improvement to be had, at least in extreme circumstances.  Let's take a quick look. To set up the test, I took the X-E1 and X-E2 with the Fujinon XF 35mm f/1.4 at f/5.6 and placed each camera on a tripod, focusing on my bookshelf.  I then took the same exposures (same ISO, aperture and shutter speed) for ISO 200, 800, 1600, 3200 and 6400 and examined the output……
See on admiringlight.com

Now that the new Fuji X-E2 is officially released (see our announcement post with a short preview), it is time to compare the camera to its predecessor and see what has changed. In this article, I will show feature differences between the Fuji X-E2 and the older X-E1, which we have recently reviewed (and really liked). And by the way, we are giving one awaythis December! Please keep in mind that this comparison is purely based on specifications. A detailed comparison with image samples and other comparisons will be provided in the upcoming Fuji X-E2 review…..
See on photographylife.com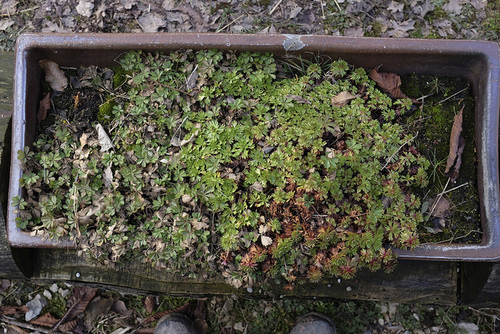 Please note the following general discoveries:
 X100S sensor appears to be a little less sensitive than X100 sensor.
Fuji has changed the gradation of their film simulation modes in the X100S, notably Provia, which now offers more shadow contrast and is now at the same level as Astia in this respect.
Auto-WB can yield different results in the X100S and X100.
If not noted otherwise, all JPEG SOOC samples were processed in-camera with standard settings for sharpening, NR, color and contrast.
See on www.flickr.com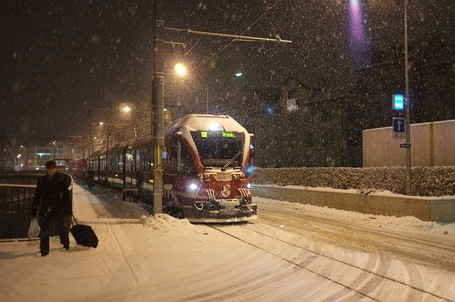 It took a while for my second post in my comparison. The last couple of days have been busy. I've had the chance to shoot the three cameras at some social events here and there – running into many low-light situations. So my next point of comparison is:
Autofocus:
I love the way all three cameras look and handle with all those external controls. And I love the excellent lenses – particularly the Fujinon 35mm 1.4. However, I am again and again frustrated by the performance of the autofocus. From my experience, there is no difference between the Fujifilm X-E1 and the X-Pro1 in terms of autofocus performance with the latest firmware on both cameras. Similar findings have been made elsewhere. Autofocus struggles in low light and with backlit subjects. I came from using manual lenses on a Sony Nex-7, so I am not a "spoiled" DLSR-user, but I somehow feel I am missing much more shots with the Fujifilm X-Pro1 and X-E1 than with manual focussing on the Nex-7 (using focus peaking). I had several situations where the AF (slowly) hunted and my subjects were getting impatient. Of course I am really talking low-light here – shooting around ISO 1600 to 6400 with the lens at 1.4. Quite surprisingly, my impression is that the Fujifilm X100 actually seems to struggle less with autofocus than the other cameras (comparing those with the 35mm 1.4). Maybe the reason is just that the X100 needs to move less glass, so hunting is possibly quicker. Nevertheless, I felt less frustrated with the X100 than with the other two cameras. I would be very interested hearing other peoples thoughts on this.
From the point of view of autofocus performance, I would definitely keep the X100, because the main purpose of that camera (to me) is that it can always with me. For such a camera, I don't expect lightning fast AF performance. However, I would expect a little more from the X-Pro1 and the X-E1.
Autofocus for me is really the one reason that sometimes makes me doubt, whether switching to Fujifilm X system was really the right decision, considering that a small DSLR (e.g. Pentax K-5 II) would just give me much more reliable autofocus. Autofocus is perfectly OK if you shoot outdoors and shoot mainly static or slowly moving subjects. So for one part of my photography this is perfectly OK. However, shooting my children outside, at home or at events is currently another big part of my photography. So I would really like to own a main camera system that can cover both needs……
See Part1
See full article on www.fujifilm-x-opinions.net
The Fujifilm X (APS-C) "trinity" is complete! Within a couple of weeks I went from having no camera at all (I had just sold my Sony Nex-7 and was waiting for the Fujifilm X-E1) to having the complete set of Fujifilm X cameras with APS-C sensor. Just a quick look back, why this happened:
The Sony Nex-7 was a nice and very capable camera, but it somehow just felt bit more like a computer than a camera and it wasn't that great at high ISO. It seemed to have just a bit too many pixels for the size of the sensor.
Then I read about the Fujifilm X-E1 and felt that this would be a great camera for my needs. At the same time I had also considered an X100 as a camera to have always with me. However, I couldn't justify the cost (knowing that the X-E1 was on order). Just one week after I had received my Fujifilm X-E1, I happened to see a great offer for an almost brand new X100 on ebay for something like 500 USD. So I made up my mind and bought the X100 and – as I wrote in another post – fell in love with this camera (more so than with the X-E1). Despite some small quirks, the X100 (with the latest firmware) feels like an extremely well thought-out camera. And in my opinion the X100 is surprisingly responsive. Actually, it feels more responsive than my X-E1 with the Fujinon 35mm – probably due to heavier glass that has to be moved in the 35mm lens. One of the reasons why I fell in love with the X100 was the great optical viewfinder which brought back fond memories of shooting with rangefinder film cameras some 15 years ago. This made me think if the X-Pro1 wouldn't a better choice for me, because it shares the nice optical viewfinder (OVF) with the X100…..
See full review on www.fujifilm-x-opinions.net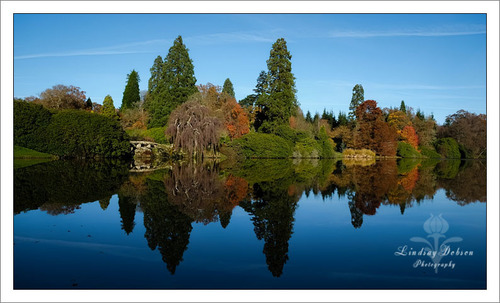 So how do I feel about my new cameras? Well I'm delighted with both of them. I was more or less able to predict how the XE1 would perform based on my ownership of existing X cameras and my familiarity with the brand. But the OMD was something of a revelation, I really didn't expect a micro 4/3 camera to produce images which were often difficult to distinguish from those of the Fuji, even in low light. There really is very little between them. Fuji grain is quite fine and the images are very smooth, but you really only notice that at pixel peeping level or in very large prints. The native auto white balance of the Fuji is slightly cooler than that of the OMD in bright daylight (and vice versa indoors or under artificial lighting) but both are equally pleasing and can be tweaked to taste in-camera. Much is said of the beauty of Fuji colours and also of the pleasing colour rendition from the OMD. Again, I like both equally and they can be adjusted to suit you, or in my case to perfectly match each other on occasions when I'm shooting both cameras together. It should be mentioned that many OMD images floating about the Internet have a rather orange tinge to them – that is easily managed in camera and can be turned down to suit your needs. Overall I found the image quality of both cameras to be quite close in most scenarios, with the Fuji having a small advantage at very high ISO levels and with fine detail at pixel level (the XE1 lacks a high pass filter). The Fuji applies less aggressive sharpening at standard in-camera settings than the OMD and I will be reducing the in-camera sharpening on the Olympus from now on. The default noise reduction on the Fuji appears less aggressive than that of the Olympus. Dynamic range is a strength of Fuji X cameras and has historically been a weakness of Micro 4/3 sensors – but not any more – even pushing up the in-camera contrast on the OMD and shooting in harsh sunlight revealed no particular weaknesses.
So which camera do I prefer? That's quite a difficult question, both are capable of producing outstanding images. After all, most people do after all judge cameras according to the finer points of the pictures they produce, often at the expense of overall performance. And it's the latter where the Olympus really excels. A few weeks ago I created a blog post entitled "Fujifilm XE-1 – Will it Be Love?" and in response to that I can say "a fondness". In the room with the snake the Fuji really struggled to lock focus at times and the slight lag of the EVF added to my frustrations. However the OMD nailed the shots easily (despite having a cheap and slow zoom on at the time). And of course the OMD is not only faster but is also weather proofed which is a great bonus for me, amongst its other performance attributes. So whilst I greatly admire the XE1 for its outstanding images, classic looks and wonderful build quality, it's rather like a luxury saloon car – pleasurable to handle providing you're not in too much of a hurry. The OMD on the other hand is a bit like a highly specc'd modern sports car – a little sharper around the edges but your journey will be fast and fun. I can see my infatuation with the OMD continuing and thus far it is the camera I reach for the most, but both cameras have a firm place in my kitbag.
See comparison and pictures on lindsaydobsonphotography.com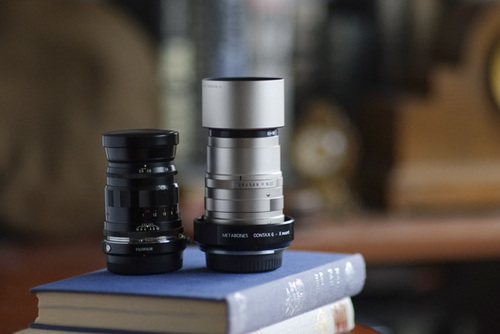 After having read thread on Fuji X forum asking advice of an 85-90mm for the X Pro 1. As usual there were a number of opinions expressed. This inspired me to do a little comparison of what I had to see the differences. Nothing technical here just one set up. With a minimum focus distance for each lens and a shot at between 1 meter fifty and one meter eighty. The three lenses are A Nikkor 85mm f/1.4 AF-D, Zeiss / Contax G 90mm f/2.8 and a Voigtlander 75mm f/2.5. All were shot wide open with the exception of an additional series at f/2.8 for the Nikkor. ISO was at 2500. Handheld focused using the 3X magnifier, focused on the aperture setting. Straight out of camera jpeg, no sharpening, no adjustments of any kind, just size reduction. A pity I did not have the one lens that was brought in the thread, an Leica 90mm Elmarit, oh well maybe next time.
See on gambofoto.blogspot.nl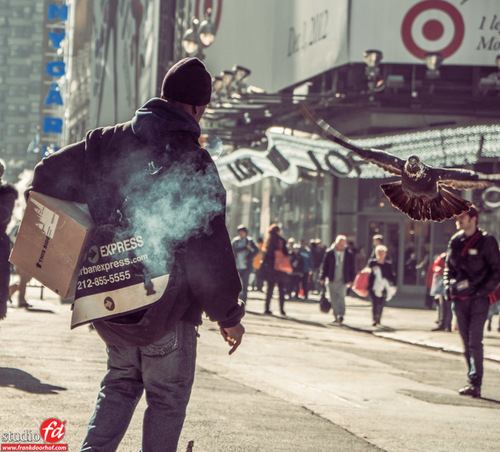 How is the sharpness of the Fuji 18-55 lens
Well according to some people all zooms are "evil" and only primes are great, well I don't agree…. I do find that GOOD primes are sharper than most zooms, however I find primes for street style photography rather limited and in the end it's all about getting the shot. And let's be honest in the studio primes are great but on the street I think they aren't, and let's look at the focus point of the Fuji series……yep it's the perfect travel/street syle camera. Now some people will not agree about this prime story from me, but imagine it like this "Sometimes you want to show a whole person, sometimes just a face, with a prime you can't switch that fast (change lenses), with a very good zoom this problem is solved.
How is the focus in the X-E1
VERY VERY good, since the 2.0 upgrade the X-pro1 was already a huge improvement, and for my "Feeling" the X-E1 seems a bit faster and more accurate, but I would have to have them next to each other, this however…. proves that Fuji is making a very fine camera with the E-1M. It's a street photographers dream camera.
How is the EVF
Well this was something I was very afraid off in the start but seeing the fact I was already used to the Fuji cameras my "switch" to an EVF was much less problematic than I thought. For the Sony I can say that the EVF is VERY fast, it's a very accurate tool for seeing what you're doing, and then you press the shutter button and you have what you see, I call it WYGISWYS (What You Get Is What You See). For the X-E1 the story is about the same, the EVF looks really good and is very fast, I would have to do a test side to side to make a real decision but how the EVF performances now….. I think both do MORE than fine with an EFV. Do remember you will have to get used to the EVF, but if you do, there probably is no turning back.
Part 1 of Frank's trip to New York
See on www.frankdoorhof.com


If you're looking for a small mirrorless camera with a viewfinder, the Fuji X-E1 and Sony NEX-6 are two of the best options out there. But which is the better choice for your style of shooting? The Camera Store's Chris Niccolls and Dave Paul put these two powerful compacts to the test!

See on www.youtube.com

I recently got my Fujifilm X-E1 body and was immediately very impressed with the AF speed, as was everyone else who tried it. It appeared snappier than the X-Pro1, but although I knew the X-Pro1 had improved lately with the new v2.0 firmware, I wanted to see if there was actually any difference between the two with the same lens attached. Wilkinson Cameras in Kendal kindly lent me a 2nd 35mm lens for the weekend so I could try out both cameras side-by-side with the same lens. Having the same lens was essential because the AF performance on these cameras depends greatly on the lens attached. I chose the 35mm as I thought that it is probably the lens most people own and use as their primary lens. It's also the middle performer in terms of AF speed so we can get a good comparison out of it. The video of the comparison is posted below. I won't ruin the result for you by telling you here – watch the video and see for yourself! I think most people will be quite surprised by the conclusion.
See on www.photomadd.com