comparison
Currently I'm putting Fuji's highly acclaimed X-T1 through its paces. It came with the standard 18-55 zoom but I have managed to borrow a remarkable little pancake, the 27mm f/2.8. I reckon it is just about the bee's knees when it comes to street photography. My first question, though, is how this combination compares with the lionised X100/S/T, the camera that started Fuji on to X series road in 2010. It seems incredible now that we have seen the X cameras spawn like crazy from such a simple beginning. But, more important, Fuji has launched perhaps the most comprehensive array of pro-quality lenses ever seen in such a short period. The X100 range with its 35mm-equivalent fixed focal length and ingenious hybrid viewfinder has rightly won its place high on the list of streettog desirables. This little Leica M3 lookalike is probably the most popular go-to camera for street enthusiasts……
Source: macfilos.com
Having owned my X100s for just a little over a week now and more or less taken it everywhere, I thought it would be an idea to talk about my initial impressions of it against my X-Pro1 which through 12 months of ownership I've had a bit of a love/hate relationship with. At times I feel the X-Pro1 is the best camera I've ever owned and at times I've felt I should sell up and start over with a completely different system. Coming from a pretty simple DSLR system of a Canon 5D Mark1 and a couple of primes to the Fuji X-Pro1 was certainly an eye opener for sure. Having always had that nagging feeling in the back of my mind that the X100 was the camera I really should own, I had the option to pick one up recently. I could have added another lens, or maybe even two to my X-Pro1 but felt now was the time to finally buy into the X100. I picked up a soon to be replaced almost new X100s which is perfect for everyday carrying around and with the 23mm fixed focal length is ideal for just about, well everything…….
Source: daveyoungfotografia.co.uk
In this post I'll address what I see as the major differences between Fuji's X-E1 and their newly released body update, the X-E2. The refreshing thing about how Fuji is operating these days is all their recent X-Series cameras (aside from the X-A1) share the same APS-C "X-Trans CMOS" sensor so picture quality is nearly identical across all the bodies with the possible exception of the X-E2 and its Lens Modulation Optimizer (more on that later). Removing picture quality from the equation makes doing a head to head comparison much easier. But there are still some notable differences. Let's take a look……..
Source: www.fujivsfuji.com
I have wrote many times on this blog how I'm not going to upgrade to a new camera. I am anti G.A.S. But I recently ran into a deal where a X-T1 was $400 off. I could not pass that up so I decided to get it. When you shoot a lot, you know when you need to upgrade. I was getting to that point with my X-E1. I was shooting about 5000 photos a month. The X-E1 felt sluggish. I knew I had to upgrade, but the prices felt too high for me. I remember upgrading from an X100 to an X100s. That was a mistake. It was not a huge upgrade so I felt like I wasted my money. Then how is the X-T1 compared to a X-E1? It's a huge difference. It seems like a worthy upgrade to me. I could not believe how fast it was. Everything felt lighting quick. When I first turned on my X-T1, my mouth dropped when I experienced how fast the AF was. Then I realized I didn't even have High Performance mode on. I didn't even get the latest lens firmware to take advantage of the Phase Detection pixels! Once I did that, the AF became even faster……
Source: jwctp.wordpress.com
Finally I got time to compare raw output from Fujifilm X-PRO 1, Sigma DP2M and Nikon D800E. The test below is very much unscientific, it was conducted just out of my own curiosity. All three cameras are totally different beasts and putting them side by side might be not fair, but I as many others was wondering how uncommon CFA (X-Trans and Foveon, APC-S) sensors stack up against leading 24×36 Bayer.
Shooting conditions:
All cameras were set to: AWB, RAW, on a tripod with self-timer, aperture @ f/8, auto-focus
Nikon D800E: lens Nikkor AFS 50/1.4, post processed in ACR 8.6
X-Pro1: lens Fujinon XF 35/1.4, post processed in Iridient Developer 2.4.3
DP2M: lens Sigma 30/2.8, post processed in SPP 5.5.3 ……
Source: vkphotoblog.blogspot.de
This is not a contest to see which lens is best. They are both exceptional at what they do, but do have differences that make them suitable for different tasks when shooting portraits. For this very reason, for my Nikon system I keep both the Nikon 85mm f/1.4 and the Nikon 105mm macro lenses for photographing beauty and portraits. I do comparison shoot-out like this with new equipment so I can gain experiential knowledge I can apply to later shoots. It helps me decide quickly what lens I need in any given situation. For most portrait situations it isn't going to make much of a difference, but when you need a distracting background thrown completely you'll be wishing you had the f/1.2 aperture of the Fuji 56mm, and when you try to move in for a tighter composition with the model's face you will appreciate the macro capabilities of the Zeiss Touit 50mm allowing you to get as close as 1:1…..
Since I made the jump from DSLR to mirrorless, I had been waiting for the lens that would fill the void left by my 14-24mm ultra-wide to wide angle zoom. It was on the roadmap, but months away, and Fujifilm didn't have a prime that that got even close to a 14mm full frame equivalent. 3rd party offerings like Zeiss's Touit 12mm got us closer, but still not quite to the width I was used to, and its sharpness had been called into question. Fujifilm's FUJINON XF 10-24mm ƒ/4 covers an extraordinary range, from 15mm, all the way to 36mm. That's 1mm narrower on the wide end than I had on full frame, but a full 12mm more on the opposite end of the focal range. The question is, can the 10-24mm ƒ/4 produce photos of a standard of quality that truly realizes its convenience? ….
Source: www.fujivsfuji.com
I've had the pleasure of using the X100s for a year now and I have to say I am completely smitten with it. It is a brilliant size that can fit into pockets and thus be carried everywhere. Chase Jarvis famously said "the best camera is the one that's with you" and for me that quote resonates with this camera. The retro styling means that people either pay no attention to me or ask why I'm still shooting film, combining that with the silent shutter means that this is brilliant for street/documentary photography……..
Source: bencherryphotos.tumblr.com
If you're looking for an X-series AF tracking test using a manic springer spaniel as the test subject then you are definitely in the right place! My spaniel, Charlie, is the ultimate test subject that I put all my cameras through to determine their auto focus capabilities and limitations. This was previously conducted when i moved from a Canon 1Div to the 5Diii, which was dramatically better, with a very high hit rate using the wonderful Canon 70-200mm F2.8 IS ii. Now the time has come to test the Fujifilm X-T1, 55-200mm lens and a prototype of the 18-135mm lens. I did try this test with the X-Pro1 about this time last year and the results were almost laughable… The X-T1 is an entirely different beast. What I have found so far is that once it locks on to a subject this camera is very good at tracking and seemingly with all Fuji lenses. However, there's tracking and then there's Canon 5Diii AI Servo… So how did the X-T1 and the latest telephoto lenses hold up against the ultimate action combo? Well I have to say I am extremely impressed by the results. So much so I'm not sure whether people can tell the difference. Each camera was set to ISO800, F5.6 (yes I know this means the 18-135mm was wide open) and used centre point continuous focus. Each lens was fully extended.. I didn't hold back the zoom of the 55-200mm, woops forgot the crop factor………
Source: bencherryphotos.tumblr.com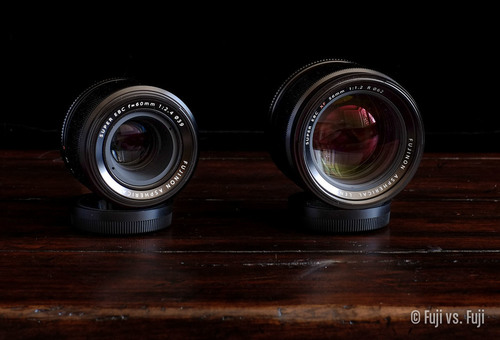 While these lenses are fairly close in focal length, they are clearly built for different purposes. I've been waiting for a portrait lens for almost a year now, ever since I sold my Nikon 85mm ƒ/1.4 AF-D. The FUJINON XF 56mm ƒ/1.2 fills that void admirably aside from the true focal length difference, and is actually usable out to the edges of the frame unlike the Nikon. Finally I can get back to portrait work. The FUJINON XF 60mm ƒ/2.4 Macro seems built for carefully considered images and precise focusing. It was always sort of a stop gap for Fujifilm shooters wanting a flattering portrait lens, and it still is the prime to beat for most flattering focal length in my view. It's a very good lens and does what it does well, but it's not a dedicated portrait lens, nor was it ever intended to be. I always figured I'd borrow a 60mm ƒ/2.4 for this comparison, but with the support of my awesome readers, I was able to afford to buy one, and I'm happy to have it. Not only so I can continue testing and adding to articles like these, but macro work is something I haven't had a chance to do much of and the 60mm ƒ/2.4 is a great starting point. I can also see myself packing it instead of the 56mm ƒ/1.2 for landscape shooting since it's so much lighter and very sharp edge to edge. 39mm filters aren't exactly expensive either…….
See on www.fujivsfuji.com