comparison
This is not a contest to see which lens is best. They are both exceptional at what they do, but do have differences that make them suitable for different tasks when shooting portraits. For this very reason, for my Nikon system I keep both the Nikon 85mm f/1.4 and the Nikon 105mm macro lenses for photographing beauty and portraits. I do comparison shoot-out like this with new equipment so I can gain experiential knowledge I can apply to later shoots. It helps me decide quickly what lens I need in any given situation. For most portrait situations it isn't going to make much of a difference, but when you need a distracting background thrown completely you'll be wishing you had the f/1.2 aperture of the Fuji 56mm, and when you try to move in for a tighter composition with the model's face you will appreciate the macro capabilities of the Zeiss Touit 50mm allowing you to get as close as 1:1…..
Since I made the jump from DSLR to mirrorless, I had been waiting for the lens that would fill the void left by my 14-24mm ultra-wide to wide angle zoom. It was on the roadmap, but months away, and Fujifilm didn't have a prime that that got even close to a 14mm full frame equivalent. 3rd party offerings like Zeiss's Touit 12mm got us closer, but still not quite to the width I was used to, and its sharpness had been called into question. Fujifilm's FUJINON XF 10-24mm ƒ/4 covers an extraordinary range, from 15mm, all the way to 36mm. That's 1mm narrower on the wide end than I had on full frame, but a full 12mm more on the opposite end of the focal range. The question is, can the 10-24mm ƒ/4 produce photos of a standard of quality that truly realizes its convenience? ….
Source: www.fujivsfuji.com
I've had the pleasure of using the X100s for a year now and I have to say I am completely smitten with it. It is a brilliant size that can fit into pockets and thus be carried everywhere. Chase Jarvis famously said "the best camera is the one that's with you" and for me that quote resonates with this camera. The retro styling means that people either pay no attention to me or ask why I'm still shooting film, combining that with the silent shutter means that this is brilliant for street/documentary photography……..
Source: bencherryphotos.tumblr.com
If you're looking for an X-series AF tracking test using a manic springer spaniel as the test subject then you are definitely in the right place! My spaniel, Charlie, is the ultimate test subject that I put all my cameras through to determine their auto focus capabilities and limitations. This was previously conducted when i moved from a Canon 1Div to the 5Diii, which was dramatically better, with a very high hit rate using the wonderful Canon 70-200mm F2.8 IS ii. Now the time has come to test the Fujifilm X-T1, 55-200mm lens and a prototype of the 18-135mm lens. I did try this test with the X-Pro1 about this time last year and the results were almost laughable… The X-T1 is an entirely different beast. What I have found so far is that once it locks on to a subject this camera is very good at tracking and seemingly with all Fuji lenses. However, there's tracking and then there's Canon 5Diii AI Servo… So how did the X-T1 and the latest telephoto lenses hold up against the ultimate action combo? Well I have to say I am extremely impressed by the results. So much so I'm not sure whether people can tell the difference. Each camera was set to ISO800, F5.6 (yes I know this means the 18-135mm was wide open) and used centre point continuous focus. Each lens was fully extended.. I didn't hold back the zoom of the 55-200mm, woops forgot the crop factor………
Source: bencherryphotos.tumblr.com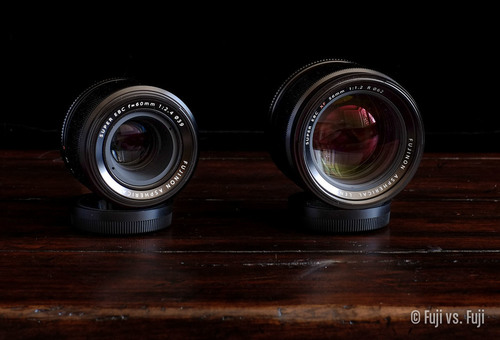 While these lenses are fairly close in focal length, they are clearly built for different purposes. I've been waiting for a portrait lens for almost a year now, ever since I sold my Nikon 85mm ƒ/1.4 AF-D. The FUJINON XF 56mm ƒ/1.2 fills that void admirably aside from the true focal length difference, and is actually usable out to the edges of the frame unlike the Nikon. Finally I can get back to portrait work. The FUJINON XF 60mm ƒ/2.4 Macro seems built for carefully considered images and precise focusing. It was always sort of a stop gap for Fujifilm shooters wanting a flattering portrait lens, and it still is the prime to beat for most flattering focal length in my view. It's a very good lens and does what it does well, but it's not a dedicated portrait lens, nor was it ever intended to be. I always figured I'd borrow a 60mm ƒ/2.4 for this comparison, but with the support of my awesome readers, I was able to afford to buy one, and I'm happy to have it. Not only so I can continue testing and adding to articles like these, but macro work is something I haven't had a chance to do much of and the 60mm ƒ/2.4 is a great starting point. I can also see myself packing it instead of the 56mm ƒ/1.2 for landscape shooting since it's so much lighter and very sharp edge to edge. 39mm filters aren't exactly expensive either…….
See on www.fujivsfuji.com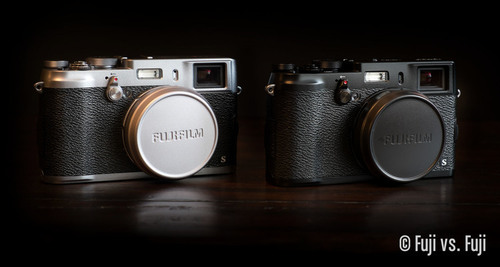 The latest Fuji camera to hit the streets is the FUJIFILM X100S Black Edition. Unlike with the X100LE, the X100S Black doesn't come with any extra goodies in the box like a case, filter attachment, or hood. It also doesn't come with a premium price over it's silver sibling. You can buy a brand new X100S in black for the same price as the X100S in silver. If you can find one in stock of course. I managed to get my hands on one, and I decided to dedicate a vast amount of time and effort to compare and contrast the real world differences—of which there are some—between the old and busted silver X100S, and the shiny new black one. Let's have a look. Well, they definitely both come in boxes, that's good. But what's this? There seems to be an extra marking on the black one. It clearly reads "Black". If you're fortunate enough to live in Canada, as I do, it will also include the word "Noir". Our first difference! This begs the question, will the silver boxes be revised to include a sticker with proper denotation of the fact that the camera is in fact silver? Moving on…..
See on www.fujivsfuji.com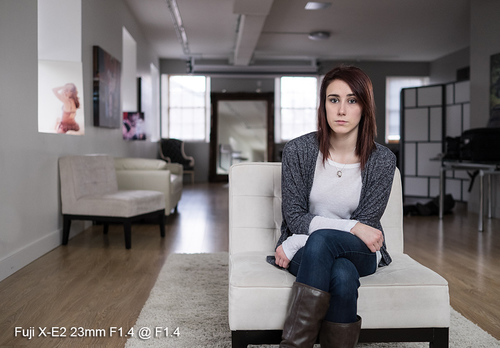 A lot of people (as in photographers that I know) have been talking about replacing or augmenting their current DSLR systems with mirrorless systems. The benefits are hard to ignore (See: Comparing the Fuji X-E2 and the Canon 5D Mark III) as mirrorless systems are less expensive and lighter and smaller. There are always trade offs of course and the mirrorless systems are often more awkward to use quickly and difficult for those with larger hands. For me personally, the portability side of mirrorless systems more than makes up for the downsides. But what about lenses? How do focal lengths differ between the systems?  This isn't so much a mirrorless vs DSLR debate as much as a cropped vs full frame sensor. While there is one full frame mirrorless system (The Sony A7 and A7R), it currently lacks options for native lenses and costs more than double than the more popular cropped mirrorless models (Olympus OM-D E-M1, and Fuji X-E2 and just announced Fuji X-T1)……..
See on andrewvanbeek.com
Well here it is! The one many of you have been waiting for, lol. Just got back from a quick 24 hour trip to Vegas and snapped a few shots while there with the Fuji X-E2 and 23 1.4, the Sony A7 and 35 2.8 and the Olympus E-M1 and 17 1.8. I mainly shot with the Fuji..say..85% of the time as I will be doing a review of it here soon but just for fun (key words, "just for fun") decided to take a couple of similar shots from each camera to see which one I liked best. When I say "see which one I liked best" I mean image quality, rendering and usability of the camera itself……
See on www.stevehuffphoto.com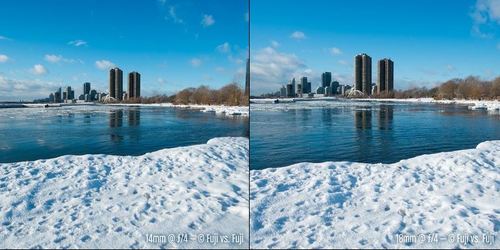 Conclusion
Given the compact size, light weight, and faster aperture, I'd say the FUJINON XF 18mm ƒ/2 was made with street photographers in mind, more so than landscape fans. The creamier bokeh also suggests it could be useful for wife-angle portraiture. In some way, the FUJINON XF 18mm ƒ/2's characterisitcs remind me of the old Nikkor 85mm ƒ/1,4 AF-D; optimized for centre sharpness and soft backgrounds. The FUJINON XF 14mm ƒ/2.8 is stellar, and a must-have for Fuji landscapers. While bigger than the 18mm, it's still relatively small and lightweight. It also provides excellent handling and super sharp images. It currently its own spot in my Billingham.
See on www.fujivsfuji.com
On the face of it, the idea of comparing the results from a smaller APS-C 16mp sensor to those from a larger full frame 36mp sensor is a completely lopsided affair, and something I did not intentionally set out to do it. Quite by accident, while testing the Sony A7r for another blog review I intend to post later this week, I discovered that some images taken by the lower 24mp Leica M 240 were really quite close in quality to the A7r, and this started me wondering about how much of an improvement a high resolution camera like the A7r would be over something like the Fuji X series. So, just for the fun of it, I set up a comparative situation to see how close I could come to the full frame image quality of the Sony A7r while using the smaller sensor of the Fuji X-E2…..